Here are a couple of stories that came across my desk that I think are relevant and interesting to the powersports business community.
---
1 – U.S. PWC May retail registrations declined vs. May 2021: SSI – From Powersports Business
BMO Capital Markets analyst Gerrick Johnson has provided Powersports Business with a research note following the release of preliminary data from Statistical Surveys Inc. (SSI).
"Preliminary data from Statistical Surveys (SSI) indicates May U.S. boat industry retail registrations declined -17% y/y (against a -7% comparison). Registrations also declined -23% on a two-year basis and -17% versus 2019. On a sequential basis, versus April, total registrations increased +21% owing to normal seasonality.
READ THE ENTIRE POST HERE – https://powersportsbusiness.com/top-stories/2022/06/28/u-s-pwc-may-retail-registrations-declined-vs-may-2021-ssi/
---
2 – Tucker Powersports Looks at Impact on Dealers After Federal Trade Commission Action Against Harley-Davidson – From Tucker Powersports
FORT WORTH, TX – June 28, 2022
Background: The Federal Trade Commission announced a complaint against Harley-Davidson on June 23, 2022, ordering the company to "fix warranties by removing illegal terms and recognizing the right to repair, come clean with customers, and ensure that dealers compete fairly with independent third-parties."
Link to Federal Trade Commission Press Release: https://www.ftc.gov/news-events/news/press-releases/2022/06/ftc-takes-action-against-harley-davidson-westinghouse-illegally-restricting-customers-right-repair-0
Statement from Marc McAllister, President and CEO of Tucker Powersports
"The announcement from the FTC has a tremendous impact on dealerships, independent shops and consumers. All dealerships in the US, including Harley shops, will benefit from being able to offer their customers more choices. Ultimately, this means that consumers get to choose the products that are right for their bike and their riding, not what was right for the manufacturer. At Tucker, we will continue to offer our dealers great replacement parts and accessories that they can now consider for every one of their customer's bikes."
About Tucker Powersports
Featuring the most powerful portfolio of parts, accessories and apparel brands in the powersports industry, Tucker distributes top brands and offers its own brands, including Answer, Biker's Choice, BikeMaster, Bully Locks, CoverMax, DragonFire Racing, Kuryakyn, First Gear, ProTaper/ProTaper Sport, QuadBoss, Speed and Strength, and TwinPower.
---
3 – BMW MOTORRAD USA AND CALIFORNIA SUPERBIKE SCHOOL RENEW RELATIONSHIP – From Motorcycle & Powersports News
BMW Motorrad USA announced its renewed relationship with long time partner The California Superbike School. BMW Motorrad USA and the California Superbike school enter their 13th year of collaboration, providing student riders with the opportunity to learn and improve their skills on one of the school's 31 advanced BMW S 1000 RR motorcycles. California Superbike school itself celebrates 42 years of helping thousands of students of all skill levels become better and safer riders not only on the track but, more importantly, on the street.
READ THE ENTIRE POST HERE – https://www.motorcyclepowersportsnews.com/bmw-motorrad-usa-california-superbike-school-renew-relationship/
---
4 – BRANDS THAT SHINE TO GROW SBS PRESENCE IN THE U.S. – From Motorcycle & Powersports News
SBS is enforcing its presence in the U.S. with a new partnership with Brands That Shine, the sales accelerator for quality brands worldwide.
A key motivation for SBS to engage in this partnership is the dedicated passion for motorcycles and equipment with which the Brands That Shine organization, with lead brand ambassador Jessica Shine, drives around making dealership visits throughout the U.S. The goal is to assist and grow sales of present distributor sales reps.
READ THE ENTIRE POST HERE – https://www.motorcyclepowersportsnews.com/brands-that-shine-grow-sbs-presence-us/
---
5 – American Motorcyclist Association Welcomes Michael Kula – From American Motorcyclist Association
The American Motorcyclist Association (AMA) has tapped longtime industry veteran Michael Kula as its Manager of Business Development. Kula, whose career spans three decades in the motorcycle industry in sales, advertising and public relations, has spent the last seven-and-a-half years as Sales Director for EPG Media/Rider Magazine.
Before that he spent time with Bonnier Corporation and VerticalScope in various sales roles. Kula spent nearly 13 years with Marshall Advertising working on the Yamaha Motorcycle account, and also worked with PR firm Paine & Associates on the Suzuki Motorcycles account. Kula will focus his efforts primarily on partnership and marketing initiatives.
"There's a lot of exciting stuff happening at the AMA," Kula said. "The magazine has been revitalized and is now the largest-circulation motorcycle publication in North America; there's a brand-new website in the offing; the organization's social media efforts are buzzing; and the AMA's events, led by AMA Vintage Motorcycle Days in July, are impressive, so I'm very excited to be joining the team."
Kula will report to AMA Communications and Editorial Director Mitch Boehm and will continue to be based in Southern California.
"We're very happy to have Michael Kula join the AMA team," said Boehm. "He's an industry pro and a guy with the high level of sales and marketing expertise we need to help promote our event and media assets — which are world-class — and strengthen membership. We've got a lot of exciting new things percolating at the AMA, and Michael will be a key factor in helping us get where we're headed as the AMA approaches its 100th Anniversary in 2024."
Mr. Kula can be reached at mkula@ama-cycle.org.
---
6 – Volcon Debuts Its All-Wheel Drive, Fully Electric UTV, The Stag – Opens Pre-Orders
WITH CLASS-LEADING 125 HP AND 265 LB-FT OF TORQUE, THE VOLCON STAG WILL OFFER EXHILARATING PERFORMANCE AND AN UNMATCHED DRIVING EXPERIENCE. INCORPORATING THE OPTIONAL PADDLE SHIFTERS WITH OVERBOOST MODE THE STAG'S ELECTRIC POWER PLANT WILL PRODUCE A BLISTERING OUTPUT EXCEEDING 140 HP.
Austin, TX | July 1, 2022: Volcon Inc. (NASDAQ: VLCN), ("Volcon" or the "Company"), the first all-electric, off-road powersports company, is redefining the off-road experience with the reveal of the Volcon Stag today. Built by enthusiasts for enthusiasts, the Stag is purpose-built with today's leading technologies. Beginning now, powersports enthusiasts, outdoor adventurers, and hard-working professionals alike will be able to reserve their very own Stag by visiting www.volcon.com/stag.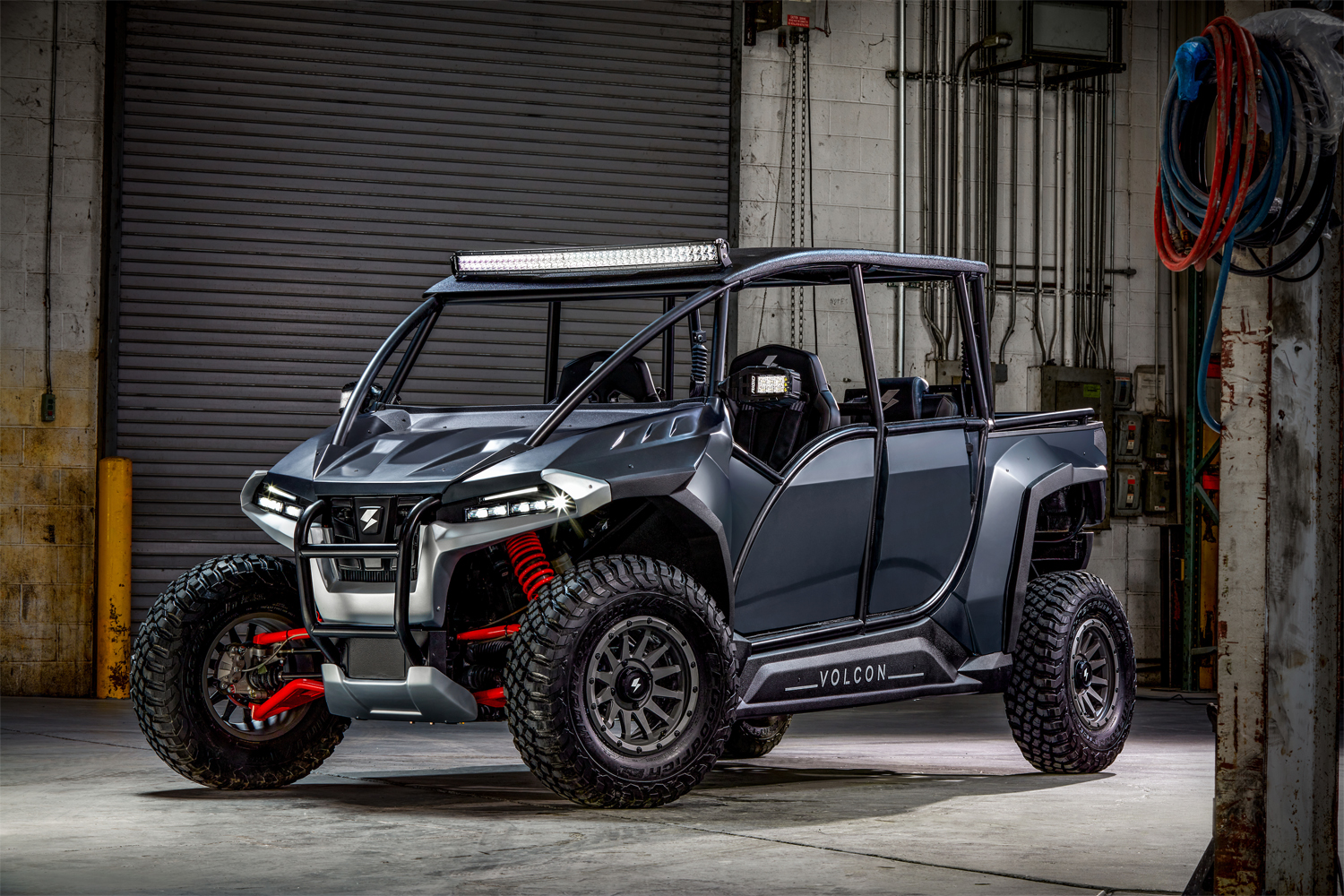 "We envisioned the Volcon Stag to be the most cutting-edge off-road vehicle in its class. Utilizing the latest EV drivetrain technologies, and keeping our focus on performance and user experience have led us to launch what we believe is a UTV that will provide an experience unmatched by any other UTV in its class," said Jordan Davis, Volcon CEO. "We believe the near-silent drivetrain, class-leading horsepower and torque, and an amazing driver interface are going to revolutionize the powersports industry. The anticipation leading up to the launch here at Volcon has been palpable, and we are so excited to be opening up reservations for the Stag today!"
With class-leading 125 hp and 265 lb-ft of torque, the Volcon Stag will offer exhilarating performance and an unmatched driving experience. Incorporating the optional paddle shifters with overboost mode the Stag's electric power plant will produce a blistering output exceeding 140 hp.
Selectable driving modes will optimize performance and range according to the driver's needs. ECO mode will maximize range with smooth power delivery, while Sport mode will provide a more aggressive throttle response for quicker acceleration. In Tow mode, the vehicle's maximum speed will be restricted to build torque progressively for more control while pulling a trailer or other towable accessory. The Stag's 7.2 kW onboard charger will allow the vehicle to be charged in less than 6 hours when using Level 2 charging.
The 4WD system, activated on-demand, will enhance the Stag's off-road capability in any terrain by automatically engaging the front wheels whenever the rear wheels lose traction and by managing the power distribution between wheels assuring better stability when cornering. Additionally, Crawl mode will allow the vehicle to move slowly without using the throttle so the driver can manage the speed just by using the brakes.
The Stag's driver-centric cockpit is developed with two innovative displays that deliver unparalleled Human machine integration, providing full command and control of the vehicle.
Sharing the user experience will be made easier than ever before by capturing and creating content with two built-in cameras and additional cameras planned to be available as accessories in the future. The Stag will come with onboard computing hardware to process video clips of the action and a special rail for additional camera mounts, making every experience a shareable one. Its unique features make it easy for the driver to interact with friends and community in real-time with access to social media and other sharing platforms using the Volcon App and a Sim Card (where cell service is available, based on the user's cellular service plan and coverage).
The main dashboard will display essential information such as speed, battery charge, driving mode, brake regeneration, and energy consumption, while the large central display will be equipped with camera view, a route planner, off-road gauges, device connectivity (where cell service is available, based on the user's cellular service plan and coverage), and info about the vehicle status, providing details for both rider and passengers.
Driver and passenger enjoyment were top of mind as the Stag's cockpit, rear seating, and cargo area are designed to accommodate up to four people, and gear for their adventure, without compromising leg room or comfort. For additional cargo space, the rear seats will fold down to expand the cargo space to over 26 cu ft. With 1,550 lbs of payload and 2,000 lbs of max towing capacity (with towing mode selected), the Stag will be ready for a hard day's work or exploration in the back forty.
The Stag's suspension will include fully adjustable shocks, specially designed to ensure great handling. The batteries and motor position contribute to a low center of gravity, which significantly improves stability when cornering and offers a better ride experience in over any terrain.
High-performance BF Goodrich Mud-Terrain T/A KM3® tires come standard and are designed to enhance electric UTV vehicle performance, resulting in improved range for even more adventure.
A complete line of accessories will be available to build a machine that fits a wide variety of user needs, including half and full windshields, hard storage, soft storage, winch mounting, front bumper options, sound systems, and additional lighting.
Stag Specs
Horsepower: 125 / above 140 hp*
Torque: 265 lb-ft
Range: above 100 miles
Charge Time: less than 6 hours**
Motor: 107 kW
Battery: 42 kWh
Top Speed: 80 mph
Payload: 1,550 lbs
Bed Volume: 13.4 / 26.7*** cu-ft
Wheel Base: 121″
Vehicle Width: 64″
Towing: 2,000lbs****
Capacity: 4 people
Drivetrain: 4WD on demand
* with optional power boost
** with level 2 charging
*** with rear seats folded
**** with Tow Mode engaged
All components, having already been thoroughly tested and validated, will offer Volcon UTV buyers peace of mind and confidence in knowing the drivetrain is backed by world-class research and development. Volcon believes the Stag will deliver a unique driving experience, combining performance and excitement that only an EV can provide, with innovative technology and connectivity, and flexible utility that will make the vehicle perfect for adventure and work.
Volcon expects to begin delivering the Stag to dealers for customer purchase in Summer 2023, with Starting MSRP of $39,999 USD.
Reserve your Stag today by visiting: www.volcon.com/stag
About Volcon, Inc
Volcon Inc. is the first all-electric powersports company producing high-quality off-road vehicles. Based in Round Rock, Texas, Volcon joins many major electric vehicle manufacturers near Austin, Texas, an area that is poised to become the electric vehicle capital of the world.
Volcon was founded with the mission to enhance the outdoor experience while reducing the industry's environmental footprint so that adventurers and workers alike can enjoy the outdoors and preserve it for generations to come. Volcon produces all-electric, off-road vehicles designed to elevate the adventure experience and help people get things done at work and on the home front.
Volcon Contacts
For Media: media@volcon.com
For Dealers: dealers@volcon.com
For Investors: investors@volcon.com
For Marketing: marketing@volcon.com
For more information on Volcon or to learn more about its complete motorcycle and side-by-side line-up, visit: www.volcon.com
Forward-Looking Statements
Some of the statements in this release are forward-looking statements, which involve risks and uncertainties. Although the Company believes that the expectations reflected in such forward-looking statements are reasonable as of the date made, expectations may prove to have been materially different from the results expressed or implied by such forward-looking statements. The Company has attempted to identify forward-looking statements by terminology including "believes," "estimates," "anticipates," "expects," "plans," "projects," "intends," "potential," "may," "could," "might," "will," "should," "approximately" or other words that convey uncertainty of future events or outcomes to identify these forward-looking statements. These statements are only predictions and involve known and unknown risks, uncertainties, and other factors. Any forward-looking statements contained in this release speak only as of its date. The Company undertakes no obligation to update any forward-looking statements contained in this release to reflect events or circumstances occurring after its date or to reflect the occurrence of unanticipated events. More detailed information about the risks and uncertainties affecting the Company is contained under the heading "Risk Factors" in the Company's Annual Report on Form 10-K and subsequently filed Quarterly Reports on Form 10-Q filed with the SEC, which are available on the SEC's website, www.sec.gov.
Share