The AIMExpo has just announced that the Dealer registration is open for their 2018 event. If you are a dealer in the United States and have the slightest bit of interest in improving your business then you need to get to this show. Sure it's Vegas and flying there from the East Coast can be a little pricey, but you owe it to your bottom line. And dealer principles, this isn't a trip for you and your wife and kids, it's for you, and your parts manager, accessory manager, and service manager to attend.
There are dealer seminars you can sign up for where you can learn the latest trends in all aspects of your business. Plus where else would you have the opportunity to speak directly with the people behind the brands you sell?
So there are my 2 cents on why you need to go to Vegas in October. What are you waiting for?
Complete AMIExpo Press Release below.
FREE registration now open for the 2018 AIMExpo presented by Nationwide!
Registering to attend this year's show in Las Vegas is EASY! Click on the link below for Motorcycle & Powersports News preferred access registration. You can also register other attendees from your dealership. It's simple and it's FREE!
AIMExpo presented by Nationwide is THE Powersports Industry's Expo, and it's going to be the best one yet! This year's show forms the cornerstone of Industry Week in Las Vegas with Monster Energy Cup and Las Vegas BikeFest. With the Mandalay Bay serving as our venue and housing partner, there are many great dining and entertainment venues for after show hours networking. Join us October 11-14 as Powersports takes center stage under the bright lights of Las Vegas!
With FREE registration you will:
IMPROVE your business by attending the FREE Powersports DEALER Seminars presented by Powersports Business
CONNECT face-to-face with 500+ motorcycle and Powersports exhibitors including top distributors Parts Unlimited/Drag Specialties and Tucker Rocky
SEE New 2019 Model and Product Launches
SAVE with exclusive show specials
Test ride the newest models from your favorite OEMs with DEMO rides at AIMExpo Outdoors!
If you have any questions about the registration process or the show, please contact Jack Young, Operations Manager (949) 517-7513 or jyoung@mic.org
REGISTER TODAY to attend the 2018 AIMExpo presented by Nationwide.
See you in Las Vegas,
The AIMExpo Team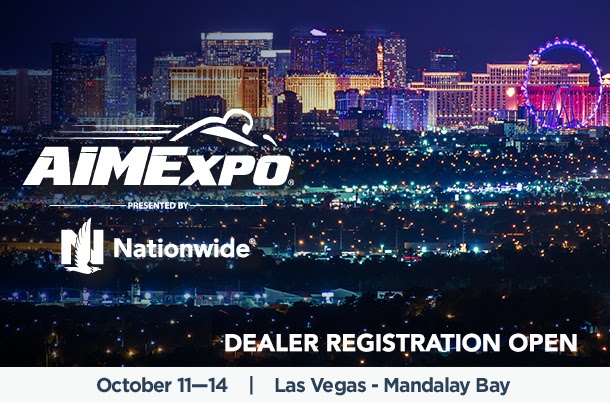 Share