Here are a few stories that came across my desk that I think are relevant and interesting to the powersports business community.
---
1 – American Landmaster Launches 2022 Lithium-Ion 4×4 UTV Side-By-Side
American Landmaster has announced the release of their new 2022 Landmaster EV 4X4 Lithium-Ion UTV side-by-side. Authorized American Landmaster dealers will have the new EV 4X4 machines available in their showroom starting September 2022.
The all-new Landmaster EV 4×4 is built on the same chassis as the original, first-of-its-kind EV lithium side x side, launched in 2021, including fully independent L-ROSS suspension, automotive grade ball joints & bushings, and weather-sealed electrical connectors. According to David Piercy, Director of Marketing for American Landmaster, "Two years ago, we created the first-ever, purpose-built Lithium-Ion utility vehicle, and we are extremely excited to continue the growth of this category with our 2022 EV Lithium 4X4 line-up."
The 2022 Landmaster EV 4X4 will continue to drive innovation in the lithium utility vehicle sector with a best-in-class 160 amp-hour power plant, super duty 4WD transaxle, and on-demand 4WD coupled with a rear locking differential. The vehicle is capable of up to 50miles on a single charge, opportunity charging for 10 minutes, 20 minutes, or an hour, and can be fully recharged in less than 8 hours. An on-board charger, low maintenance battery, and on-dash battery storage switch are all standard features designed to create a best-in-class ride experience, whether hunting, trail riding, or working in various commercial applications.
"The Landmaster EV 4×4 is perfectly suited for job sites in the commercial space due to its minimal labor & maintenance costs, combined with emission-free and extremely low noise levels." Comments Andy Carney, Director of Commercial Sales for American Landmaster. The Landmaster EVs also come equipped with several standard safety features including: 4-wheel hydraulic disk brakes, full access to speed control, 4-wheel parking brake lock, ROPS certified cage, 3-point seatbelts, and an entire range of common commercial safety accessories.
EV 4X4 LITHIUM – SPEC'S
The standard suspension system will provide 500 lbs bed capacity, while the optional HD suspension system will provide up to 700 lbs bed capacity. The EV 4X4 is capable of towing up to 1,500 lbs, with a total vehicle capacity of up to 1,100 lbs. Optional accessories will include a 3,000lb electric winch, HD oversized steel cargo bed, steel-framed weather enclosure, hunting/cruising/commercial packages, and a rear cargo bed/flip seat to provide seating for up to (4) people.
According to Andrew Flood, Director, Eastern Regional Sales, "The hunting community has been ready for a fully functional lithium powered 4wd side x side for a long time. We have taken our experience with the original EV 2WD, along with the voice of the customer and dealer input, and created the best, dollar-for-dollar, Lithium-Ion 4X4 available."
FACTORY-INSTALLED VEHICLE PACKAGES AVAILABLE FOR THE EV
UNTAMED
The Untamed package is designed for the outdoor enthusiast, providing an extreme array of outdoor & hunting gear. Electronic power steering, rear gun racks, front hood rack, custom Desert Tan or OD Green frame & dashboard, roof, and windshield are just some of the features for this package.
CRUISER
The Cruiser package is set up for the recreational adventure seeker, complete with electronic power steering, locking center console, split windshield, 25″ Premium road and turf tires, and a USB port to charge cell phones & tablets.
COMMERCIAL
The Commercial safety kit includes a strobe light, horn, back up alarm, and brake lights. Coupled with the standard ROPS Roll Over protection cage, 4-wheel hydraulic disc brakes, 4-wheel parking brake lock, zero-watering lithium batteries, zero fumes/low noise and 3-point seat belts standard, nearly all worksite safety protocols can be satisfied.
Corporate Information: At American Landmaster we're building high quality, American Made UTVs at an incredible value for our customers. Our UTVs are built from the ground up in Columbia City, IN. American Landmaster's mission is to serve your family or business with a UTV that brings others together and accomplishes what you need.
For more information about our units, visit AmericanLandMaster.com. Headquarters and retail showroom are located at 2499 S. 600 E. Suite 102, Columbia City, IN 46725.
---
2 – KTM hosts REV Dealer Summit in Charlotte – From Powersports Business
Dealerships have been posting for the last few days from something called the KTM Husqvarna GasGas REV Dealer Summit in Charlotte. It appears from afar to set the mark for the largest 2022 OEM dealer event of its kind, which is a fantastic sign of the elevated status of the partnership between the KTM brands and their dealerships.
READ MORE HERE – https://powersportsbusiness.com/top-stories/2022/07/19/ktm-hosts-rev-dealer-summit-in-charlotte/
---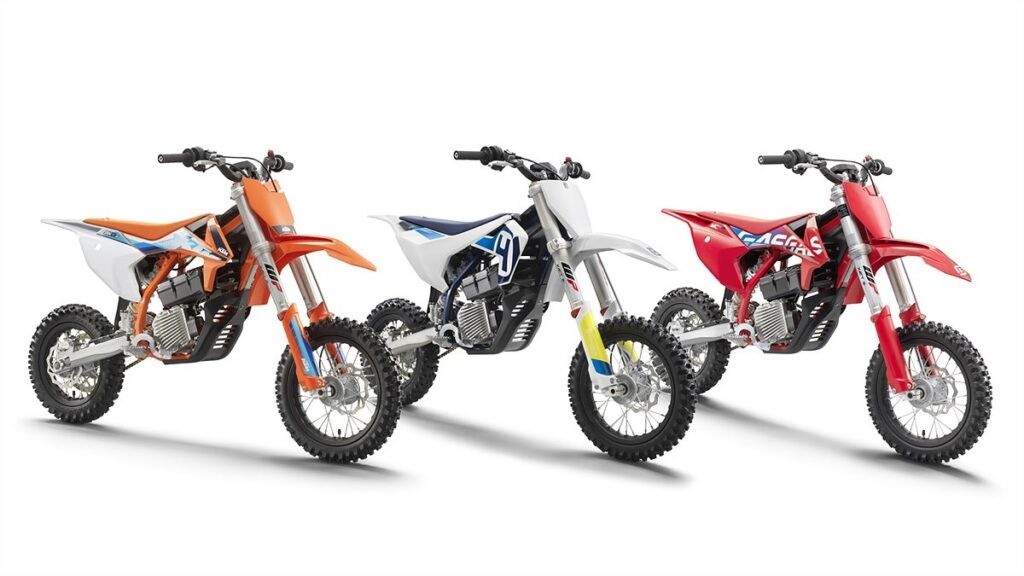 3 – KTM AG PRESENTS ITS GROWING RANGE OF ELECTRIC SPORTMINICYCLES AT THE NORTH AMERICA DEALER SUMMIT – From KTM AG
Charlotte, NC, July 20, 2022 – KTM AG, Europe's leading manufacturer of powered two-wheelers with its motorcycle brands KTM, Husqvarna Motorcycles and GASGAS, presented its comprehensive electric sportminicycle lineup at its KTM North America Dealer Summit in Charlotte, North Carolina last weekend.
The current range offers electric bikes for young riders with different skill sets, from first balance bikes to advanced competition models. In 2022, the range has been expanded with the addition of the new SX-E 3, EE 3 and MC-E 3, which bridge the gap between the group's electric balance bikes and the advanced SX-E 5, EE 5 and MC-E 5 models. By the middle of this decade, the electric lineup will feature more than 20 electric offroad motorcycles from all brands, ranging from beginner to competition-level models, aimed at young talents who are taking the future of motorsports to the next level.
With decades of expertise in the engineering and manufacturing of motorcycles, KTM AG is carefully assessing the opportunities for electric mobility and developing products that are sustainable both ecologically as well as economically.
"Everyone is talking about e-mobility these days. At KTM AG we are constantly pursuing developments in this field, living up to our responsibility as an innovative, sustainable company," says Hubert Trunkenpolz, Chief Marketing Officer at KTM AG. "We strongly believe that e-mobility plays a role when it comes to short distance, urban mobility and small engine size. In the offroad segment, we need to consider the circumstances on the tracks, such as limited availability to charge big batteries."
Strong dealer partnerships is one of the main pillars of success for KTM AG. As the world's market leader in offroad competition motorcycles, the company is a solid partner to its global dealership network. KTM AG is committed to meeting the high expectations of riders and dealers as well as society, as a reliable manufacturer in the powered two-wheeler industry.
"Our relationships with our dealers, their feedback and input have always been invaluable to us. That's why we are proud to present our range of electric motorcycles for the youngest riders for the first time here in the world's biggest offroad motorcycle market. It was great to spend a couple of days together with our partners, riding the newest generation of motorcycles and sharing our vision and plans for the future," says Florian Kecht, Chief Sales Officer at KTM AG. "We are committed to the brick-and-mortar business and will continue to supply our dealers with a wide, best-in-class product range that meets the expectations of all our stakeholders, now and in the future."
About KTM AG
KTM AG is Europe's leading powered two-wheeler (PTW) manufacturer. With its KTM, Husqvarna Motorcycles and GASGAS motorcycle brands, it ranks among the European technology and market leaders, particularly in the premium motorcycle segment. In addition to combustion engine vehicles, its product portfolio includes vehicles with innovative electric drives, making KTM AG an industry pioneer in two-wheel e-mobility as well.
---
4 – Twisted Throttle LLC Joins Vision X – From Twisted Throttle LLC
Twisted Throttle and its house brands, DENALI Electronics and DRYSPEC, have joined the Vision X group effective July 1, 2022.
For more than a decade, Vision X has been the contract manufacturer of lamps designed by DENALI Electronics. By joining the Vision X team, DENALI gains increased access to technology, manufacturing capabilities, and global market access.
"We originally selected Vision X as the manufacturer of lamps for DENALI Electronics due to their products' outstanding quality and durability. Their industrial products were developed to withstand the abuse of the harshest environments in the world, including the vibration and hot, corrosive environments encountered in Australian mines, the freezing temperatures of Alaskan winters, and even the rigors of applications in NASA's space program. We took that build quality and applied it to building high-performance lighting in complete plug-n-play vehicle-specific kits for motorcycles. The combination of our companies will allow us to scale our design approach to many more vehicle types. We are excited about what this means for our customers and the opportunities for growth moving forward."​
-Erik Stephens, CEO & Founder of DENALI Electronics and Twisted Throttle
The leadership team and staff of Twisted Throttle and DENALI Electronics will remain in place, as will Twisted Throttle's commitment to its existing customers, brands, and websites. The group will now have warehouse facilities in both Washington and Rhode Island, increasing delivery speed to all North American customers.
"DENALI and Twisted Throttle are highly complementary to Vision X with established product development, e-commerce, marketing, and distribution teams. We look forward to accelerating each other's business growth."
-Tony Georgitsis, President of Vision X
About Vision X:
Vision X, a division of Brown & Watson International, is located in Auburn, Washington, in the Greater Seattle Area. Established in 1997, Vision X Lighting's products have consistently astounded customers with their lighting's ability to perform in harsh environments and unbeatable light output. The engineering, product development, and marketing are conducted from the Vision X USA office, while Vision X Asia is home to the manufacturing, testing, and inventory logistics departments of Vision X Global Lighting. Today, Vision X Lighting has strong partnerships spanning across the globe where they continue to develop the most advanced lighting products in the world. https://visionxusa.com
About DENALI Electronics:
DENALI offers complete vehicle-specific solutions for LED lighting and electrical accessories for the motorcycle, powersports, and automotive industries. Safety is our number one priority. No matter your vehicle, DENALI LED lighting will help you see and be seen. https://denalielectronics.com/
About Twisted Throttle LLC:
Founded in 2002, Twisted Throttle is your one-stop shop for bolt-on adventure and sport motorcycle accessories from your favorite brands like DENALI, DrySpec, R&G, Barkbusters, Givi, MRA Windshields, and Kaoko. Whether you just bought a brand new model or picked up a project bike to get running again, Twisted Throttle is the place to find the add-ons you need; premium LED lighting, hard and soft luggage, protection parts, and more! https://www.twistedthrottle.com/
---
5 – Tucker Powersports, Kuryakyn and BikeMaster to have Huge Presence at Sturgis Motorcycle Rally – From Tucker Powersports
Tucker Powersports, the nation's premier powersports product distributor, and its Kuryakyn and TwinPower brands will roll into South Dakota next month for the Sturgis motorcycle rally for the largest rally program the company has ever executed. Rally attendees will see the three brands at multiple locations in the Sturgis area with a crew of employees ready to serve customers at the event.
At the Buffalo Chip campground, the company has signed a multi-year deal with the Chip's Fozzy's Cycle Shop, an on-site motorcycle repair facility. Fozzy's is a Tucker dealer and will be able to offer the distributor's full range of parts, accessories and apparel. The relationship with the Buffalo Chip extends the brands' visibility to two additional display locations at the campground and numerous other branding opportunities.
In the city of Sturgis, Kuryakyn and TwinPower will have nearly 4,000 square feet of display space outside the J&P Cycles Store on Lazelle Street, the main route through the city. J&P will provide retail support and technicians will be available for customers who want to purchase products and have them installed immediately.
Tucker will send a full crew of employees to staff the event for the duration of the rally, which is the biggest manpower commitment that the company has ever made to a consumer event.
"The Kuryakyn brand has been known for its presence at the top rallies in the country. We're happy to continue that tradition and to add the great products from TwinPower to the mix as well," said Tucker's Vice President of Sales Brad Turner.
The company's Sturgis Rally events will run at all locations from Friday, August 5 through Saturday, August 13.
ABOUT TUCKER POWERSPORTS
Featuring the most powerful portfolio of parts, accessories and apparel brands in the powersports industry, Tucker distributes top brands and offers its own brands, including Answer, Biker's Choice, BikeMaster, Bully Locks, CoverMax, DragonFire Racing, FirstGear, Kuryakyn, ProTaper/ProTaper Sport, QuadBoss, Speed and Strength, and TwinPower.
ABOUT KURYAKYN
Since 1979 Kuryakyn has been delivering quality parts to motorcyclists around the world. Known for its extensive lineup of custom and performance accessories, Kury has now become a leader in motorcycle and UTV bags, LED lighting and audio components.
ABOUT TWINPOWER
Since 1982, TwinPower has been designing and producing quality parts and accessories for the American V-Twin enthusiast. Driven by the same passion that fuels the American V-Twin scene, TwinPower is relentless in its pursuit of quality, functionality, and value. The TwinPower team will not offer a Twin Power product to its customers unless they are proud to sport it on one of their own rides.
---
6 – July 16, 2022: New Set Up in Kazakhstan – Almost Ready To Go – From Ural Motorcycles
The process of setting up our new assembly facility is very near completion (!) We are now in the last phase of the set up: bringing in the necessary pieces of assembly equipment and filling warehouse shelves with parts and components.

We're moving some old (refurbished) assembly fixtures from Irbit, however most of the equipment, hand tools, work benches, test stands, compressors, quality control "tunnel" and other pieces are brand new.

The trial shipment of spare parts has successfully made its way from Kazakhstan to IMWA in Redmond. Factory is now putting together two large air shipments to fulfill backorders and warranties, and also gearing up to restore "normal" way of supplying parts to our distributors with the shipments of bikes.

We received the first two shipments of production parts from our Asian suppliers in Petropavlovsk last week. There are more production parts on their way to Kazakhstan from other Asian suppliers, as well as from Europe. We're very close to completely restoring all incoming logistics.

Most importantly: the first truck with motorcycle assembly sets has arrived at IMZ-Kazakhstan from Irbit. We're expecting the second shipment from Irbit to arrive in Kazakhstan next week. The team of workers from Irbit is going to Petropavlovsk to assist with the assembly of the first shipments of bikes in the next few days.

If everything goes well, we expect the first shipment of bikes from our new assembly shop to depart around July 25th. It will be heading to the US with ETA sometime early to mid-September. Following production orders are booked for Japan, Australia and Europe.
Wish us luck and follow us on social media channels for updates.
We thank you for being there for us, stay tuned for more developments!

Ride safe and be well!
The Team at Ural
---
7 – DEI names Matthew Botos as Lead Engineer and Designer – From Powersports Business
Matthew Botos has been announced as Lead Engineer and Designer at Design Engineering Inc. Botos joined the DEI team May 10 and is responsible for designing and engineering new products and improving current products. He has been designing new products and taking them to market for 16 years and brings extensive experience in mechanical engineering, computer-aided design, computer-numerical control (CNC) machining and information technology to his new role. Additionally, Botos has manufactured parts for the aftermarket electric motorcycle sector, specifically the Sur-Ron.
He has a love for motorcycles that began at an early age and is excited to continue DEI's commitment to providing customers with the highest-quality heat and sound insulation products on the market. "Working at DEI is a perfect fit for my passions," said Botos. "The sky is the limit for companies like DEI who have the foresight and flexibility to adapt in an ever-changing world."
"It's great to have Matt on the team and we're thrilled to work with him on developing new products," said John Gabriel, Division Manager of DEI Powersports.
Botos has been riding dirt bikes and motorcycles since he was 10 years old and currently rides a 2016 KTM 350 SX-F. His motorsports interest is primarily focused on motocross, and he has a fondness for electric motorcycles.
---
Share