Here are a few stories that came across my desk that I think are relevant and interesting to the powersports business community.
---
1 – Motorcycle Industry Council Announces New Board Members – From The Motorcycle Industry Council
The ballots for the 2023 Motorcycle Industry Council Board of Directors election have been counted. MIC welcomes the return of Directors Jeff Brown of EagleRider and Tim Calhoun of Tim Calhoun Powersports Consulting, and announces the addition of Marc McAllister of Tucker Powersports. McAllister will assume the seat recently vacated by Comoto Holdings' Nicole Allen.
"There was a lot of interest in this year's elections, both in the number of highly qualified candidates and voter turnout," said Chuck Boderman, MIC board chairman and vice president, General Administration Business Unit, American Honda Motor Co., Inc. "I am looking forward to working with Marc on the Board and to Tim and Jeff's continued contributions. Finally, I want to thank Nicole for her service over the last two years."
"The MIC is where the powersports industry comes together. I am joining the board to further strengthen the Association and our industry by adding an aftermarket distributor's perspective," said McAllister.
"It has been my sincere pleasure to serve on the MIC board of directors for the last four years, and I look forward to continuing to serve," said Brown. "With my background in the motorcycle experience segment, I have a valuable perspective on the MIC's vital market expansion initiative and can help bring new riders into our great sport. I currently sit on the MIC market expansion task force and look forward to also continuing in that capacity. It's an exciting time in our great industry and I look forward to helping the MIC in every way that I can."
"I am excited to be reelected to the MIC board," said Calhoun. "I want to thank the members for trusting me to represent them. I look forward to collaborating with staff to bring increased value to aftermarket members: improved reporting, more accessible and useable data, improved business resources for aftermarket members, and outreach to an international audience to create a clearer pathway to enter the U.S. powersports market."
The MIC board includes representation from across powersports. The full board roster is:
Chairman Chuck Boderman, American Honda Motor Co. Inc.
Vice Chair Bill Jenkins, Kawasaki Motors Corp., U.S.A.
Secretary/Treasurer Jim Woodruff, National Powersport Auctions
Derek Brooks, Yamaha Motor Corporation, U.S.A.
Jeff Brown, EagleRider
Tim Calhoun, Tim Calhoun Powersports Consulting
Kerry Graeber, Suzuki Motor USA, LLC
Robin Hartfiel, Dealernews
John Hinz, KTM North America, Inc.
Erik Larson, Piaggio Group Americas
Joey Lindahl, Polaris, Inc.
Rod Lopusnak, Triumph Motorcycles America
Marc McAllister, Tucker Powersports*
Shawn McLean, BMW Motorrad USA
Jeff Proctor, BRP, Inc.
ABOUT THE MOTORCYCLE INDUSTRY COUNCIL
The Motorcycle Industry Council, under its marquee market expansion brand, Ride With Us, is working to introduce everyone to the incomparable thrill of riding a motorcycle. The MIC is a not-for-profit trade association representing motorcycle manufacturers, distributors, aftermarket companies, dealers, retailers, and a variety of related organizations providing vital support to the powersports industry. The MIC advocates for fair policy and regulatory environments, works to deliver valuable data to the industry, and strives to bring the joy of riding to everyone, everywhere.
Established in 1914, the MIC is headquartered in Irvine, Calif., with a government relations office in metropolitan Washington, D.C. Keep up with the industry association on Twitter @followMIC, online at MIC.org, and through the weekly MIC RideReport.
* New board member.
---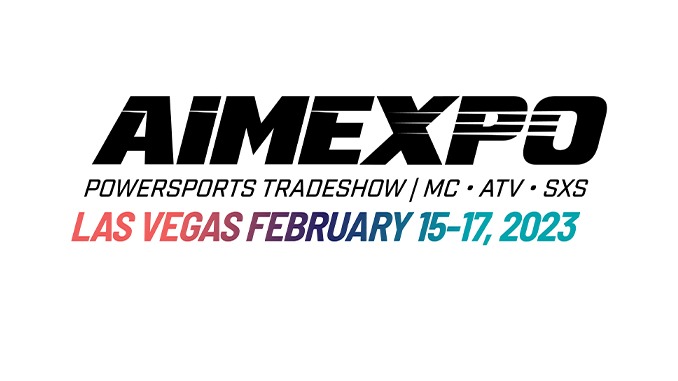 2 – AIMExpo 2023, The Epicenter of Powersports – From MIC Events
North America's premier powersports trade show is fast approaching, and if registrations are any indication, the whole family is going to be here. Attendee registrations are outpacing last year by more than 20%, and companies new to AIMExpo are continuing to sign up for show space, joining an impressive list of legacy exhibitors.
"Not only is our show floor more than twice the size it was last year, we're also seeing nearly double the number of exhibitors over 2022 — and the show floor is nearly sold out," said Andre Albert, Director of Marketing and Events, Motorcycle Industry Council. "We are successful because of the ongoing support from our long-time exhibitors, many who have attended each year since AIMExpo's inception."
Suzuki Motor USA, LLC, has been leading the way among major OEM exhibitors since 2012.
"Every year, AIMExpo provides the platform for the industry to come together and stay connected," said Kerry Graeber, Senior Vice President, Division Manager of Sales and Marketing at Suzuki. "Suzuki was one of the first OEM supporters of AIMExpo and firmly believes in the value that this event provides to our industry. For us that means connecting with powersports leaders, building new relationships, showcasing key new product and program offerings, and gaining valuable market insight through conversations with dealers."
AIMExpo will be the show debut of the all-new 2023 Suzuki GSX-8S and V-STROM 800DE line. Through Suzuki's engineering excellence, both motorcycles are new from the ground up featuring a brand-new parallel-twin 776cc engine making them serious competitors in their respective classes. Joining the new middleweight motorcycles will be the thoroughly refined 2023 V-STROM 1050 line.
These exciting new products along with the multi award-winning GSX-S1000GT+ high- performance sport tourer and Hayabusa, Suzuki's legendary hyper-performance sportbike, will be featured in the Suzuki display along with a presence from Suzuki's Genuine Parts & Accessories showcase highlighting ECSTAR Oil & Chemical products and genuine Suzuki apparel.
Suzuki is looking forward to meeting with dealers from around the country to discuss business and interact with Suzuki leadership while sharing more about what Suzuki has in store for 2023 and beyond.
"We are incredibly grateful to Suzuki and all our legacy exhibitors for recognizing the value that AIMExpo delivers to powersports," Albert said. "And for helping us bring the industry together, all under one roof."
For the full (and growing) list of exhibitors, go to www.AIMExpousa.com. Companies looking to exhibit are encouraged to contact AIMExpo without delay. The show floor is 97% sold out!
---
ABOUT SUZUKI
Suzuki Motor USA, LLC (SMO) distributes Motorcycles, ATVs, Scooters, Accessories, and ECSTAR Oils & Chemicals via an extensive dealer network throughout 49 states. Suzuki Motor Corporation (SMC), based in Hamamatsu, Japan, is a diversified worldwide manufacturer of Motorcycles, ATVs, Scooters, Automobiles, Outboard Motors, and related products. Founded in 1909 and incorporated in 1920, SMC has business relations with 201 countries/regions. For more information, visit www.suzuki.com.
ABOUT AIMEXPO AND THE MOTORCYCLE INDUSTRY COUNCIL
AIMExpo, the premier powersports trade event, is produced by the Motorcycle Industry Council. MIC exists to preserve, protect, and promote motorcycling through government relations, communications, media relations, statistics and research, aftermarket programs, data communications standards, and involvement in technical and regulatory issues. As a not-for-profit national industry association, the MIC seeks to support motorcyclists by representing manufacturers, distributors, dealers, and retailers of motorcycles, scooters, ATVs, ROVs, motorcycle/ATV/ROV parts, accessories, and related services, and members of allied trades such as insurance, finance and investment companies, media companies, and consultants. The MIC is headquartered in Irvine, Calif., with a government relations office in metropolitan Washington, D.C. First called the MIC in 1970, the organization has been in operation since 1914. Keep up with the industry association on Twitter @followMICand at MIC.org.
---
3 – AIMExpo 2023 Show Overview – From MIC Events
Open only to dealers and industry professionals, AIMExpo is North America's powersports trade show supporting and growing the powersports industry. As a platform for brands, manufacturers, and distributors to launch new products and engage with dealers, media outlets and influencers, AIMExpo provides a gathering place for powersports to engage, learn about and discuss the important issues currently facing our industry, and take part in education opportunities that drive profitability. All in one place, at one time!
Powersports generates over $40 billion US dollars in consumer spending each year. An industry of this size needs an annual place to learn, network and keep up to speed on current consumer trends. AIMExpo is that place.
AIMExpo Disruptive Thinking education is a combination of the MIC Symposium taking place on the show floor and AIMExpo Dealer Excellence class room sessions presented by McGraw Powersports.
AIMExpo Dealer Excellence presented by McGraw Powersports
Designed to cover a latitude of topics that will help drive profitability at the dealer level, seminars will range from day-to-day operations and latest marketing tactics to fostering a community around your dealership. The AIMExpo Dealer Excellence tracks will provide you with take-home ideas and inspiration you can implement now for immediate results.
MIC Symposium
The Motorcycle Industry Council's Communication Symposium is designed to bring current information and economic forecasts, financial trends, and guidance for the future. Professional analysts and Economists will tell you what has been happening and what's on the horizon, allowing you to better position your dealership and/or business for the future. The symposium sessions will take place throughout the show on the AIMExpo Disruptive Thinking stage.
Keynote Presentation
Keynote speeches are an integral part of our education lineup. Speakers that inspire and inform will be coming to address AIMExpo attendees. Line-up to be announced soon.
AIMExpo Industry Party powered by Tucker
Powersports is a hard working industry and you deserve a night off to celebrate with your peers. The AIMExpo Industry Party powered by Tucker is that night. Reconnect with industry friends, network with leadership and enjoy a night with your team… powered by Tucker Powersports.
Powered by SP Connect, the Dealer Recharge Zone will be centrally located on the show floor, where attendees can take a comfortable time out, charge devices and network at the show.
The e-bike market is growing fast. This additional category within powersports is set to grow from $49.7 billion in 2022 to $80.6 billion by 2027. To help support this growth and integration into the powersports industry, AIMExpo will have an e-bike pavilion with an indoor demo course where attendees can try the latest e-bike products from some of the biggest brands in the segment.
New products are what drive our industry. To help highlight the latest products, AIMExpo will host a centralized place on the floor for new products – New Product Central. NPC will have some of the latest products on display as well as a new product presentation stage where participating brands can show and talk about their latest products with our New Product Host. All dealers and media are invited to attend these presentations.
All MIC members have COMPLIMENTARY access to the MIC Business Center, featuring:
Workstations with charging capabilities
Lounge area when you need a break
Access to laptops and printers
Use of private meeting rooms on the show floor (up to 8 ppl)
Complimentary beverage service (Tuesday afternoon through Friday)
Complimentary lunch (Wednesday through Friday)
Complimentary secure luggage storage
MIC Welcome Breakfast
For the first time ever, we are inviting all attendees to join the MIC and its data partners for breakfast and industry networking on the show floor. The MIC Welcome Breakfast sponsored by Competitive Analytics, Consumer Research Solutions, S&P Global, SSI and MIC Bankcard takes place Thursday, February 16 from 8:15am – 9am outside the MIC Business Center.
The four wheel and side-by-side category of powersports continues to grow. To highlight this growing segment, there will be a four wheel feature on the AIMExpo show floor that will showcase some of the latest products and vehicles in the category.
Not an exhibitor yet?
Click below to exhibit at the biggest and most important powersports trade show in North America:
---
ABOUT AIMEXPO AND THE MOTORCYCLE INDUSTRY COUNCIL
AIMExpo, the premier powersports trade event, is produced by the Motorcycle Industry Council. MIC exists to preserve, protect, and promote motorcycling through government relations, communications, media relations, statistics and research, aftermarket programs, data communications standards, and involvement in technical and regulatory issues. As a not-for-profit national industry association, the MIC seeks to support motorcyclists by representing manufacturers, distributors, dealers, and retailers of motorcycles, scooters, ATVs, ROVs, motorcycle/ATV/ROV parts, accessories, and related services, and members of allied trades such as insurance, finance and investment companies, media companies, and consultants. The MIC is headquartered in Irvine, Calif., with a government relations office in metropolitan Washington, D.C. First called the MIC in 1970, the organization has been in operation since 1914. Keep up with the industry association on Twitter @followMICand at MIC.org.
---
4 – Triumph Testing Sustainable Fuels for a Greener and Cleaner Future – From Triumph Motorcycles Ltd
As part of Triumph's commitment to a more sustainable motorcycling future, a dedicated new testing programme for sustainable fuels has been established at the Brand's Global R&D facilities in Hinckley, UK.
Working in partnership with Dorna, this project has been set up to deliver a move to E40 fuel in the Moto2TM World Championship by 2024, with a focus on a transition to E100 by 2027.
Sustainable fuel testing to date has encompassed all dimensions of race engine performance development, where Triumph is the sole engine supplier to Moto2TM, to ensure the new fuel standard is not only competitive but will also continue to deliver the exciting triple powered, torque rich, record breaking performance that the riders love.
Hand-in-hand with developments in electric motorcycle technology, demonstrated by Triumph's TE-1 prototype, and the ongoing efforts on reducing carbon and other emissions beyond current European and worldwide legislation, this sustainable fuels development programme further underlines Triumph's focus on ensuring that motorcycling can continue to be enjoyed responsibly by riders and fans for many years to come.
Steve Sargent, Chief Product Officer: "Ultimately, our aim is always to take all the learnings we gain from racing to make our road bikes even better, which of course encompasses not just performance but also their impact on the environment. I can tell you that everybody here at Triumph is very excited to be involved in such significant developments at such a pivotal moment in motorcycle history."
ABOUT TRIUMPH
First established in 1902, Triumph Motorcycles celebrates 120 years of motorcycle manufacture in 2022. For more than three decades, Triumph Motorcycles has been based in Hinckley, Leicestershire, and has produced iconic bikes that perfectly blend authentic design, character, charisma and performance.
Through its global dealer network of 701 dealers, in 2021 Triumph sold a record number of 81,541 motorcycles, representing a growth over the prior year of 29%.
This focus, innovation and engineering passion has today created a broad range of bikes suited to all motorcycle riders, including the stunning new Speed Triple 1200 RR, Tiger Sport 660 and Trident 660, all-new transcontinental Tiger 1200 and epic Tiger 900, world leading Rocket 3 R and GT, high performance Street Triple 765 RS, iconic Scrambler 1200, and the legendary Triumph Bonneville family updated for 2021, including the Bonneville Bobber, Thruxton RS, Speed Twin 900, Scrambler 900, and the iconic Bonneville T120 and T100, plus an exciting and accessible A2 range of Triumph motorcycles.
Triumph currently employs around 2000 personnel worldwide and has subsidiary operations in the UK, North America, France, Germany, Spain, Italy, Japan, Sweden (Scandinavia), Benelux, Brazil, India, China and Thailand as well as a network of independent distributors. Triumph has manufacturing facilities in Hinckley, Leicestershire, and Thailand plus CKD facilities in Brazil and India.
The Triumph Bonneville, famously named to celebrate Triumph's 1956 land speed record on the Bonneville Salt Flats in Utah, USA, was the original British superbike and a race-winner straight out of the crate, chosen by famous motorcyclists of the past for its legendary handling, style, and character. Updated for 2021 with even more performance, capability and style, it's that handling, character and iconic looks, married to modern rider-focused technology that makes the new Bonneville family THE authentic modern classic choice today.
Triumph has a glorious racing history, competing in and winning races in almost every class and field of motorcycle sporting achievement. From winning the second ever Isle of Man TT in 1908, through to 1960s road and track domination in Europe and America, right up to contemporary racing achievements with the Triumph triple powered 2014 and 2015 Supersports titles and World SuperSport racing, Isle of Man Supersports TT wins in 2014 and 2019, courtesy of Gary Johnson and Peter Hickman, and in 2022, with another victory at the legendary Daytona 200 by Brandon Paasch on the Street Triple 765.
Triumph's racing legend continues as the exclusive engine supplier to the FIM Moto2™ World Championship since the start of the 2019 season. Triumph Motorcycles provides all teams with race-tuned 765cc triples, each of which is based on the class-leading Street Triple RS powerplant. Redefining the class and breaking record after record in the inaugural year, including the first ever +300km/h Moto2™ top speed, the 2020 season got even faster with another 11 all-time lap records and seven different winners from 15 races. In 2021, Triumph announced the renewal of the contract as the exclusive engine supplier to the FIM Moto2™ World Championship for three more years.
Triumph's racing activities are further bolstered by a return to the World Superbike paddock in 2022 with a factory-supported race team, Dynavolt Triumph, in the World Supersport Championship.
In 2021 Triumph announced their forthcoming entry into the Motocross and Enduro worlds as well as a new factory racing effort, with a commitment to top tier championship racing in both Motocross and Enduro series.
---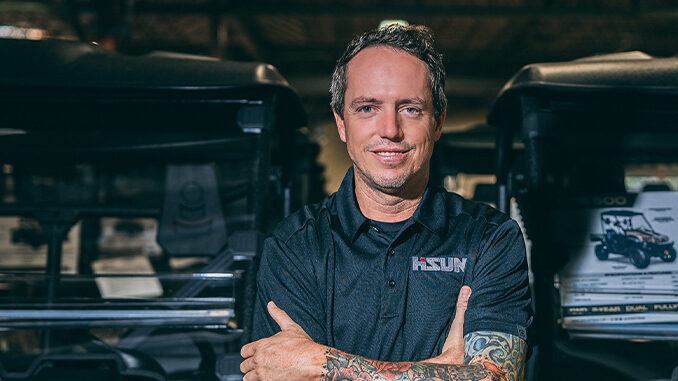 5 – HISUN USA Adds Industry Veteran James Wagner as District Sales Manager for Mountain Region – From Hisun Motors USA
HISUN USA is again proud to announce the addition of another powersports industry veteran to its growing list of new employee hires, with James Wagner assuming the role of District Sales Manager in the newly formed Mountain Region. Wagner has been tasked with expanding the HISUN USA dealer network in Utah, Colorado, New Mexico, the Oklahoma panhandle, and West Texas in his new DSM role.
James Wagner got an early start in the powersports industry. At age 15, he began working at a motorcycle dealership in Albuquerque, New Mexico. After working for several years at shops around Albuquerque, he landed his first outside sales position with Fox Racing in 2003. Thereafter, he continued in successive outside sales roles with major distributors Western Power Sports, Parts Unlimited, and Tucker Powersports. He also owned his own business for six years, promoting off-road motorcycle races.
After 20-plus years in the powersports industry, Wagner is excited about his new challenge and opportunity. He looks forward to bringing his enthusiasm and excitement for the sport and industry to the HISUN USA sales team. But more than anything, he enjoys the people he meets in powersports. Having grown up riding and racing motocross, and because he started working at motorcycle dealerships at such a young age, his roots run deep in both the industry and sport.
Wagner believes in a customer service approach based on honesty and integrity. "It's all about the relationships," explains Wagner. "Do what you say you're going to do. Show up when you say you are. If you don't know or have an answer—find out. You have to be aware of the needs of your dealers while at the same time looking out for the company's best interest and understand that the two don't always align. Finding a common balance between the two is key."
"We're thrilled to add another industry veteran to the HISUN USA sales team," said Jason Walling, National Sales Manager for HISUN USA. "James is one of those industry 'lifers,' who eat, sleep, and breathe powersports, who's been around this industry his entire life. We couldn't be happier to add another outstanding representative to the HISUN USA sales team with the depth of knowledge and level of experience James brings to his new DSM role."
HISUN USA proudly welcomes James Wagner as District Sales Manager in the Mountain Region.
JOIN HISUN MOTORS USA
It's a great time to join Team HISUN! HISUN USA continues to grow, improve, and better serve its customers with an expanding line-up of Powersports models. If you are interested in joining the team, visit the HISUN USA Careers page for current job openings. Careers at HISUN USA
FOR EVERY DAY USE
www.hisunmotors.com
---
6 – European ATV/UTV manufacturer launches in U.S – From Powersports Business
Quad-X, a European ATV equipment manufacturer based in Ireland, will showcase its machinery at the World Ag Expo in Tulare, California, Feb. 14-16. The manufacturer offers over 140 ATV and UTV attachments made to ease jobs around the farm, yard or garden. Quad-X is looking for suitable dealers and distribution partners in the U.S. with the resources and drive to represent its extensive range of quad and side-by-side machinery.
Quad-X is renowned for its range of weed control attachments that are ideal for use in awkward areas, wet ground or areas difficult to access with a tractor. The manufacturer is a pioneer in weed wiping technology and offers multiple weed wipers suitable to use with any quad, UTV or 4×4. Rather than spraying chemicals from a boom, the weed wiper has rollers which 'wipe' the weeds with herbicide, leaving the grass and surrounding area untouched. With no off spray/drift, the process is environmentally friendly, and the amount of chemicals used is reduced.
Quad-X offers a wide range of sprayers and spray booms that can fit on any ATV rear rack. For UTVs, Quad-X offers a special frame on skids that can be easily placed in the cargo bed, so that a variety of tanks and booms can be used.
Based in the Emerald Isle of Ireland, which is well known for its abundant rainfall and green landscape, Quad-X is well placed to design, test and manufacture its wide range of ATV mowers. The quad mowers models include the Compact Rotary, Wildcut, Flail, Pro Flail, Power Shredder and Strimit. Each model is designed for a wide range of mowing tasks such as lawn cutting, topping paddocks and shredding dense vegetation. The Strimit is a towed strimmer, which is ideal for cutting around posts, under fences and along pathways and verges.
Trailers are commonly used ATV attachments. Quad-X offers a wide range of stock trailers, plastic and steel tipping trailers and bale transporters. The manufacturer's unique Dump Trailer has become a favorite among landscapers, farmers and ground care professionals that need a commercial spec trailer with a capacity up to one ton. With options for manual, hydraulic or electric hydraulic tip, the trailer is equally at home behind a large ATV, UTV or compact tractor.
Quad-X manufactures a range of fertilizer sowers, electro broadcasters and salt spreaders that can fit on any ATV or UTV. It also offers a range of stock feeders and muck spreaders. A special range of front mount equipment includes yard scrapers, sweepers, snowplows and front buckets. Quad-X leveling equipment includes a range of arena levelers for equestrian customers, rollers and chain harrows.
---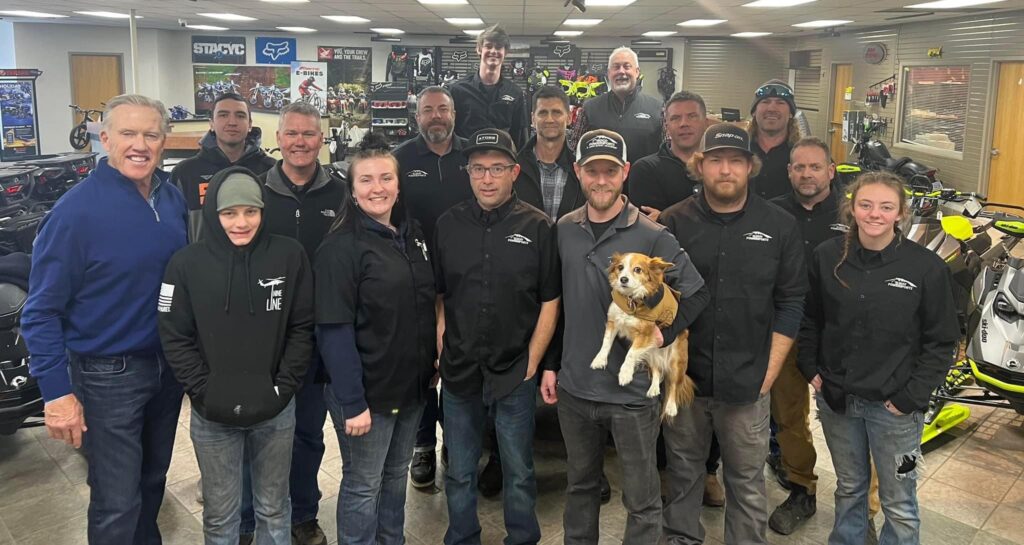 7 – Elway Powersports acquires Wyoming dealership – From Powersports Business
Elway Powersports has acquired TNT Motorsports in Laramie, Wyoming, marking its fifth dealership purchase in under two years. The dealership name will be changed to Elway Powersports of Laramie and will continue to represent Can-Am, Ski-Doo, Sea-Doo, Honda and Yamaha.
Nestled at the base of the Snowy Range Mountains, the former TNT Motorsports has been servicing customers since 1997, when the Andy and Joy Thompson first opened the dealership.
READ THE ENTIRE POST HERE – https://powersportsbusiness.com/top-stories/2022/12/22/elway-powersports-acquires-wyoming-dealership/
---
8 – BIPARTISAN BILL TO PROMOTE ELECTRIFICATION OF OFF-ROAD VEHICLES INTRODUCED – From Motorcycle & Powersports News
Rep. Dean Phillips (MN-03) announced the introduction of a bipartisan bill aimed at promoting electrification in the off-road vehicle market. H.R. 9481, the Michael F. Donoughe Tax Credit for Off Road Electric Vehicles Act, would promote a greener tomorrow by making electric vehicles more affordable. This end-user tax credit, similar to what already exists for automobiles, will enable middle-class consumers, farmers and small businesses to purchase electric off-road vehicles for work and recreation. Currently, less than 1% of off-road vehicles on the market are electric.
"We didn't leave the Stone Age because we ran out of rocks," said Rep. Phillips. "We found a better way of doing things! Congress should support our transition to a green economy by providing incentives for American families and businesses who adopt new, efficient technology. I'm grateful to bipartisan colleagues and local innovators like Polaris for being partners in that effort and am looking forward to seeing more electric vehicles on, and off, the roads in Minnesota and across the country."
The legislation is named in memory of Polaris Chief Technology Officer Mike Donoughe, who passed away this summer and spearheaded electrification for Polaris, a Minnesota-based company.
"The growth and interest in electrification is happening across various sectors and the off-road vehicle segment is no different," said Polaris CEO Mike Speetzen."We have seen the advantages that electric technology can provide to off-road vehicles and their performance, especially for those who use their vehicle for utility purposes. We believe the 'Michael F. Donoughe Tax Credit for Off Road Electric Vehicles Act' will help promote the electrification of off-road vehicles and make them more affordable to the agricultural and outdoor industry professional. On behalf of the entire Polaris team, we also are honored and deeply appreciative of Rep. Phillips's decision to name the bill after the late Mike Donoughe, a Polaris leader who passed away unexpectedly last summer. Mike was truly passionate about advancing electrification in off-road vehicles and he played a guiding role in our efforts."
The legislation brings new, green choices within reach for agricultural and outdoor industry professionals in America's heartland. Technology has made electric off-road vehicles the workhorses of the hauling, plowing and hunting industries on America's farms, ranches and other locations with tough-to-navigate terrain. If enacted, the Michael F. Donoughe Tax Credit for Off Road Electric Vehicles Act would create a federal tax credit equal to 10% of the purchase price of a new qualified plug-in electric off-road vehicle, up to $2,500. Qualified off-road vehicles include:
Off-highway vehicles designed primarily for non-road use and travel over rough terrain
Vehicles propelled primarily by an electric motor which draws electricity from a battery with a capacity not less than 6 kilowatt hours
Vehicles that achieve a speed of 40 mph
Vehicles that weigh less than 3,500 pounds
Vehicles that are assembled in North America
Vehicles that are purchased after Dec. 31, 2022.
READ THE ORIGINAL POST – https://www.motorcyclepowersportsnews.com/bipartisan-bill-promote-electrification-off-road-vehicles-introduced/
---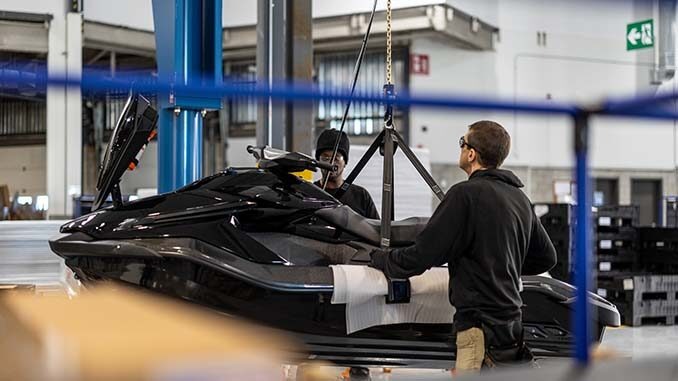 9 – Tiaga Begins Delivery of Orca Carbon Electric Watercraft in Florida – From Tiaga Motors Corporation
Taiga Motors Corporation ("Taiga" or the "Company") (TSX: TAIG), a leading electric off-road vehicle manufacturer, announced today it has commenced deliveries of its Orca™ Carbon personal watercraft in Florida. The Sunshine State boasts year-round waterway access and features the second highest electric vehicle (EV) adoption rate in the country.
"The impressive boating culture, paired with high-public awareness of EVs, positions Florida as a premiere destination for Taiga," said Sam Bruneau, CEO at Taiga. "We're thrilled to welcome the first Florida owners with our Taiga Service Providers program."
The Taiga Service Provider (TSP) program supports owners from vehicle pick-up to lifetime service and support. This innovative servicing model amplifies Taiga's geographic reach across the direct-to-consumer model in our mission to accelerate powersports electrification. The highly selective program seeks businesses in alignment with Taiga's standard of excellence, and most importantly, an unparalleled dedication to the customer.
Taiga initiated deliveries of Orca Carbon in July, and now marks its entry into the largest boating market in North America.
Orca Carbon was recently awarded Popular Science Best of What's New 2022, is a nominee for Boat of the Year 2022 by Boating Magazine, and recognized to TIME's List of Best Inventions of 2022 alongside Taiga's Nomad™ snowmobile.
Orca Carbon redefines the personal watercraft experience with silent operation, precise handling, and unreal power delivery. The personal watercraft features a unique carbon fiber composite hull hydrodynamically engineered for dynamic handling, matched with a floating seat and streamlined body in stunning color and finish combinations.
Taiga developed the world's first performance-focused, commercial electric off-road powertrain pioneering innovative technology to electrify the off-road segment. First debuting on Taiga snowmobiles, then fine-tuned for the Orca personal watercraft platform.
About Taiga
Taiga (TSX: TAIG) is a Canadian company reinventing the powersports landscape with breakthrough electric off-road vehicles. Through a clean-sheet engineering approach, Taiga has pushed the frontiers of electric technology to achieve extreme power-to-weight ratios and thermal specifications required to outperform comparable high-performance combustion powersports vehicles. The first models released include a lineup of electric snowmobiles and personal watercraft to deliver on a rapidly growing demand from recreational and commercial customers who are seeking better ways to explore the great outdoors without compromise. For more information visit www.taigamotors.com.
Forward-Looking Statements
This press release contains "forward-looking information" within the meaning of applicable securities laws, including statements with regards to the anticipated performance of customer deliveries, the ability to advance the Taiga Service Providers program in a measured manner and the associated benefits in respect thereof, including increased capacity. Forward-looking statements generally, but not always, can be identified using forward-looking terminology such as "outlook", "objective", "may", "could", "would", "will", "expect", "intend", "estimate", "forecasts", "project", "seek", "anticipate", "believes", "should", "plans" or "continue", or similar expressions suggesting future outcomes or events and the negative of any of these terms. Forward-looking information involves known and unknown risks and uncertainties, many of which are beyond the Company's control, that could cause actual results to differ materially from those that are disclosed in or implied by such forward-looking information. These risks and uncertainties include, but are not limited to, those described in the Company's management's discussion and analysis for the three and nine-month periods ended September 30, 2022, and under the "Risk Factors" section of the Company's annual information form filed on March 28, 2022 on the Company's SEDAR profile at sedar.com.
Forward-looking statements reflect management's current beliefs, expectations and assumptions and are based on information currently available to management. Readers are cautioned not to place undue reliance on forward-looking statements, as there can be no assurance that the future circumstances, outcomes, or results anticipated or implied by such forward-looking statements will occur or that plans, intentions or expectations upon which the forward-looking statements are based will occur. By their nature, forward-looking statements involve known and unknown risks and uncertainties and other factors that could cause actual results to differ materially from those contemplated by such statements.
All forward-looking statements included in this news release are qualified by these cautionary statements. Unless otherwise indicated, the forward-looking statements contained herein are made as of the date of this news release, and except as required by applicable law, Taiga does not undertake any obligation to publicly update or revise any forward-looking statement, whether because of added information, future events or otherwise.
---
Share