Here are a few stories that came across my desk that I think are relevant and interesting to the powersports business community.
---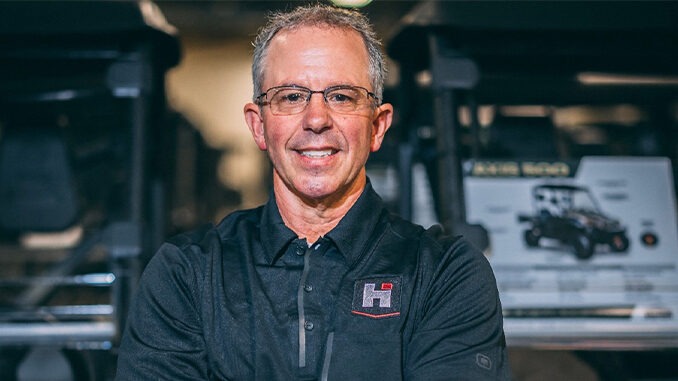 1 – Mark Francis Joins HISUN USA in Midwest Region District Sales Manager Role – From HISUN USA
HISUN USA has added another experienced industry veteran to its powerful team of powersports specialists, with the appointment of Mark Francis as Midwest region District Sales Manager. Francis brings 35 years of experience to his new DSM role and is tasked with further expanding the HISUN USA dealer network in Minnesota, Wisconsin, Iowa, Indiana, and Missouri, while supporting current dealers in the region.
Mark Francis has been around powersports for the majority of his life. Fresh out of Missouri State University with a BS in Industrial Management, in 1987, he started his first powersports industry job with Nichols Motorcycle Supply as an independent rep. After several years of selling brands like HJC from Castle, and products from Helmet House, Fox Racing, No Fear Sports Gear, Olympia, and others, in 1996, he moved to an outside sales role with Tucker Rocky Distributing. After 25-plus years with Tucker, Francis jumped at the chance to join the Hisun USA team in June of 2022.
With such an extensive career in powersports, Francis appreciates the opportunities powersports has given him. "Motorcycles became a part of my life at age nine as our family purchased motorcycles for our family," explains Francis. "I've ridden motorcycles almost my entire life, and my life and career revolve around powersports. The world looks better from behind a pair of handlebars. I feel like I won the lottery to have such a great opportunity."
Regarding business practices, Francis believes his management style parallels the HISUN USA philosophy of a collaborative and filter-free environment with people who want to win. He believes networking is one of the primary keys to business success and looks forward to combining his accumulated knowledge and experience with his industry connections to help Hisun USA reach its full potential. "I have always felt that the only way to succeed is to help my customers succeed," adds Francis.
"We couldn't be happier to have another industry legend like Mark join the HISUN USA sales team," shared Jason Walling, National Sales Manager for HISUN USA. "Mark's vast industry knowledge and real-world experience are a huge asset to our team as both a sales leader and a mentor to other team members. Mark has only been with us briefly and has already been a valuable addition to the HISUN USA family."
HISUN USA officially welcomes Mark Francis as District Sales Manager in the Midwest region.
JOIN HISUN MOTORS USA
It's a great time to join Team HISUN! HISUN USA continues to grow, improve, and better serve its customers with an expanding line-up of Powersports models. If you are interested in joining the team, visit the HISUN USA Careers page for current job openings. Careers at HISUN USA
FOR EVERY DAY USE
www.hisunmotors.com
---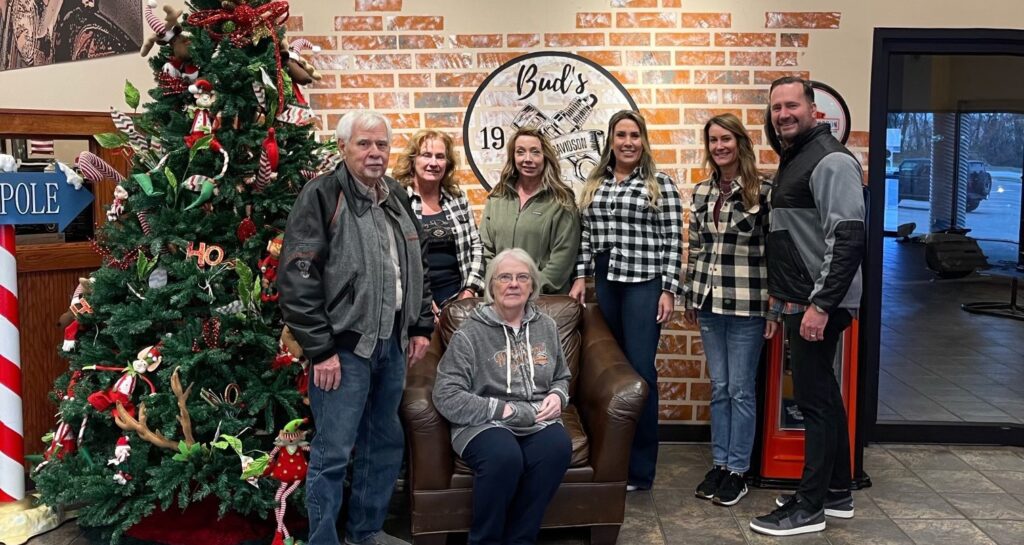 2 – Performance Brokerage Services announces sale of Indiana dealership – From Powersports Business
Performance Brokerage Services has announced the sale of Bud's Harley-Davidson in Evansville, Indiana from Morand Family to Evan Schipper.
Established in Evansville in 1965, Bud's Harley-Davidson has been family-owned and operated by four generations over the years. Prior to the sale, the business was run by the two granddaughters of the original owner and motorcycle enthusiast, Bud, who worked at the dealership until the age of 81.
READ MORE AT https://powersportsbusiness.com/top-stories/2023/01/04/performance-brokerage-services-announces-sale-of-indiana-dealership/
---
3 – SBS Friction names 2023 product series – From Powersports Business
SBS Friction A/S, a Danish manufacturer of brake pads for motorcycles, ATVs, side-by-sides and special applications, has introduced its aftermarket brake pads that have been refined and optimized for improved brake performance. The company announced its strategy to become the first brake pad production center in the industry to fully embrace a sustainable proof-of-business both in production and in output in 2021.
The new product series, SBS Better Brakes, has been available since Jan. 1, 2023. Customers can differentiate the new from the old by looking for the Better Brakes icon that will be located below the product reference codes. Customers will also be able to refer to the same product reference codes as the transition will happen continuously and encompass complete product ranges.
The first products to be transitioned and introduced in the new SBS Better Brakes-series are the popular SBS HF, SP, HS and MS ranges. These ranges comprise more than 70% of the brake pads sold by SBS. The product launch will follow the company's intention to transition products with high impact in focus. The transition of HF, SP, HS and MS compounds is expected to be completed by Q3 2023.
"We are always striving to create the better choice in brake pads, and we are doing exactly that with the new SBS Better Brakes-series," said Christel Munk Pedersen, CSO of SBS. "If we are to succeed, we are required to hit hard and with maximum effect from the beginning. That is why we have chosen to transition our fast-movers first and simply discontinue the old compound formulas. We continuously seek to improve the already well-established expectation of SBS brake product quality and what better way to do so, than with products that improve brake performance on millions of motorcycles and scooters worldwide. That we also benefit the environment, is indeed a positive added value."
READ MORE AT https://powersportsbusiness.com/top-stories/2023/01/04/sbs-friction-names-2023-product-series/
---
4 – Rieju reports all-time production record – From Powersports Business
Rieju has announced that it concluded 2022 with an all-time production record of 22,233 units. The record coincides with the company's 80th anniversary.
In 2006, the pre-crisis boom of 2008 left the company with excellent manufacturing figures, which were recently surpassed in 2022. Currently, the company exports 82% of its production to more than 60 countries, with France and Germany as the main countries. The company's foreign market continues to grow, as does its commitment to electric vehicles.
---
5 – NOHVCC announces 2023 annual conference details – From Powersports Business
NOHVCC has revealed that its 2023 Annual Conference will be held in St. George, Utah, Oct. 5-7.
NOHVCC had this to share:
After a great 2022 Annual Conference in Knoxville, Tennessee, we will all get together again in St. George, Utah in 2023 for the NOHVCC Annual Conference and Mobile Workshop.
Please keep an eye on NOHVCC's website for updates over the coming months. We will have a surprise or two! It is still very early, but time flies, and you can expect ever-increasing communication about the upcoming Conference as it draws nearer.
READ ENTIRE POST HERE – https://powersportsbusiness.com/top-stories/2023/01/05/nohvcc-announces-2023-annual-conference-details/
---
6 – AIMEXPO 2023 – Racking Up Great Numbers for Las Vegas – From MIC Events
"We have five spaces left," said Cinnamon Kernes, MIC vice president of market expansion, talking about the show floor at next month's AIMExpo. "We have an opportunity to potentially build more space, but it's pretty tight, definitely tighter than we've seen in a very long time, so we're excited."
In a new video, Kernes and Kurt Whittington, MIC event operations manager, provided a thorough update about the February 15-17 Las Vegas show, currently boasting nearly 300 exhibitors.
"We've had Triumph, Suzuki, and SSR on board for quite some time," Kernes said, speaking about OE representation at AIMExpo. "In the last month to six weeks we've added several more OEMs that we're excited to talk about. Some haven't been announced, but we've added Kawasaki to the lineup, we have KTM, Husqvarna, GASGAS…and we also have the Piaggio Group which includes, in case you didn't know, Aprilia, Vespa, and Moto Guzzi."
AIMExpo's three days of education are also packed, from the Disruptive Thinking talks to the MIC Symposium presentations and to a variety of dealership management sessions.
"I was talking to one of our partners that will be helping us with education and he made the statement when the going gets tough, the smart get going with knowledge," Kernes said. "We want this show to be…time really well spent and you're now armed with knowledge for future business success."
"The show floor is almost sold out and registration is trending at an all-time high so it means hotels are filling up," Whittington said, adding that attendees can still take advantage of room discounts by booking through the AIMExpo website – but the deadline is January 30.
---
---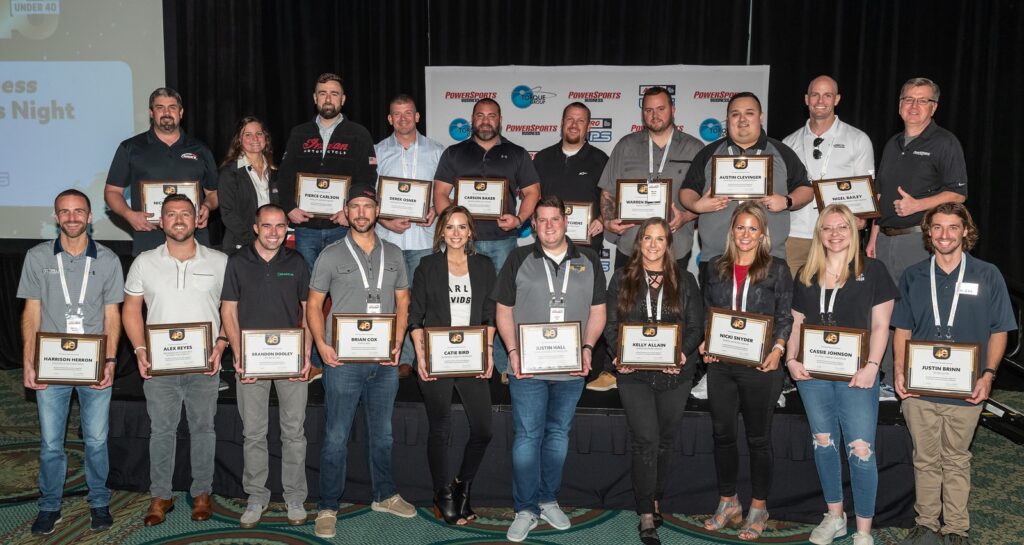 8 – 40 Under 40 – PSB recognizes the future of powersports – From Powersports Business
We see the future of the powersports industry, and it is bright. During the Accelerate Conference in Orlando in November, Powersports Business, along with program sponsors Torque Group and ABRG / WPS, recognized the industry-leading accomplishments of 40 professionals under 40 years of age. Nominated by their peers and chosen by our experienced panel, the professionals honored here are driving improvements in sales, customer service, marketing and more. And they're helping grow the industry locally and nationally.
READ THE ENTIRE POST HERE – https://powersportsbusiness.com/top-stories/2023/01/05/40-under-40-psb-recognizes-the-future-of-powersports/
---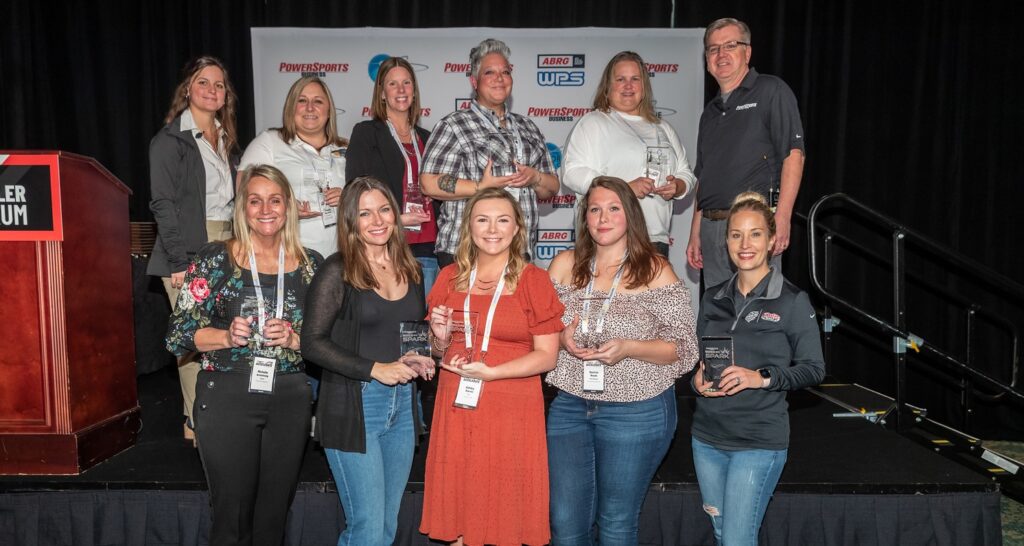 9 – Women With Spark- PSB honors women igniting progress – From Powersports Business
Powersports Business, along with our program sponsors Torque Group and ABRG / WPS, are proud to share the Women with Spark award and highlight the work of 31 women who spark improvements in the industry. We were happy to meet a few of them at the Powersports Business Accelerate Conference and congratulate them in person after sharing their achievements. Coworkers and industry peers nominated the honorees for their dedication, dependability, leadership skills and passion for the powersports industry. It is a privilege to honor these women who excel in their careers and improve our industry along the way.
READ THE ENTIRE POST HERE – https://powersportsbusiness.com/top-stories/2023/01/06/women-with-spark-psb-honors-women-igniting-progress/
---
Share