News and stories about powersports racing this week.
---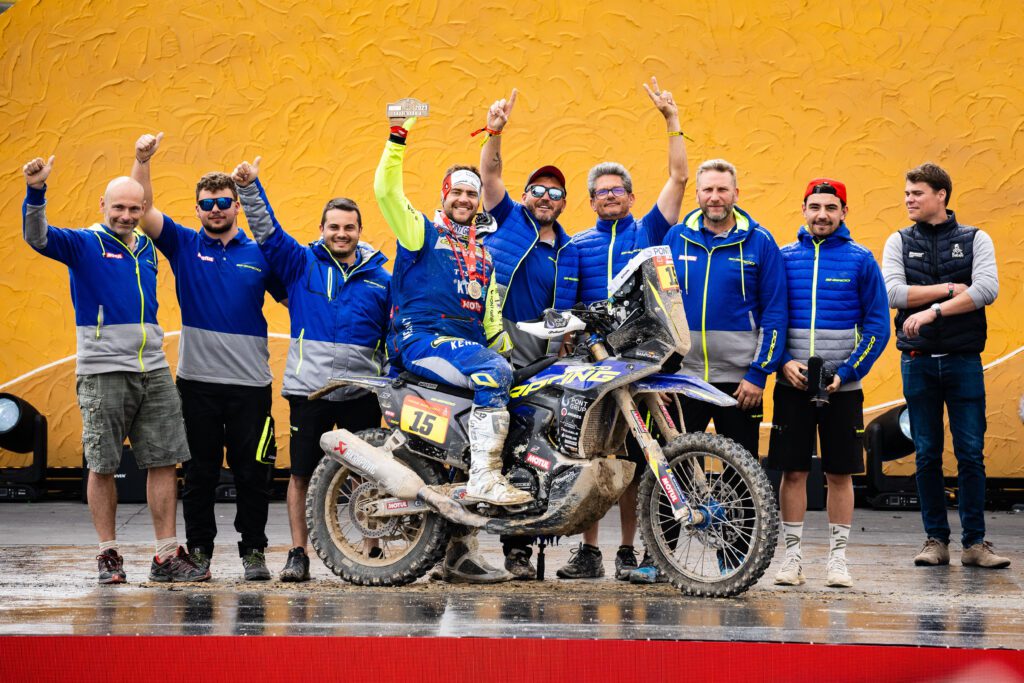 Sherco Race Report – Dakar 2023: Santolino finishes 9th overall !
On the program for the 14th and final stage of this 2023 Dakar, was a 417 km course from Al-Hofuf to Dammam, including 136 km of special. After more than 8,000 km in the Saudi desert, our Sherco Factory rider Lorenzo Santolino finished 9th overall!
The Spaniard rode an intelligent race for 2 weeks, making very few mistakes, sparing his 450 SEF Rally and limiting risk-taking while occasionally getting close to the race leaders. Often at the gates of the top 10, he was consistent and followed the team's strategy, he reached 9th place yesterday and never let go.
"I finished 9th, a very satisfying result. It was a difficult edition but we managed and our strategy allowed me to finish in the top 10, improving by two places on last year's results. I thank the entire Sherco Factory Rally team and all the people who supported me. Now it's time for the return trip home for a rest phase and to enjoy my family."
And on Harith Noah who was injured in a fall, he was repatriated to India and is continuing his recovery wearing a back brace. As for Rui Gonçalves who suffered a racing incident is doing well, anxious to get back into competition.
Cumulative ranking:
Lorenzo Santolino: P9, +1h 17 mins
---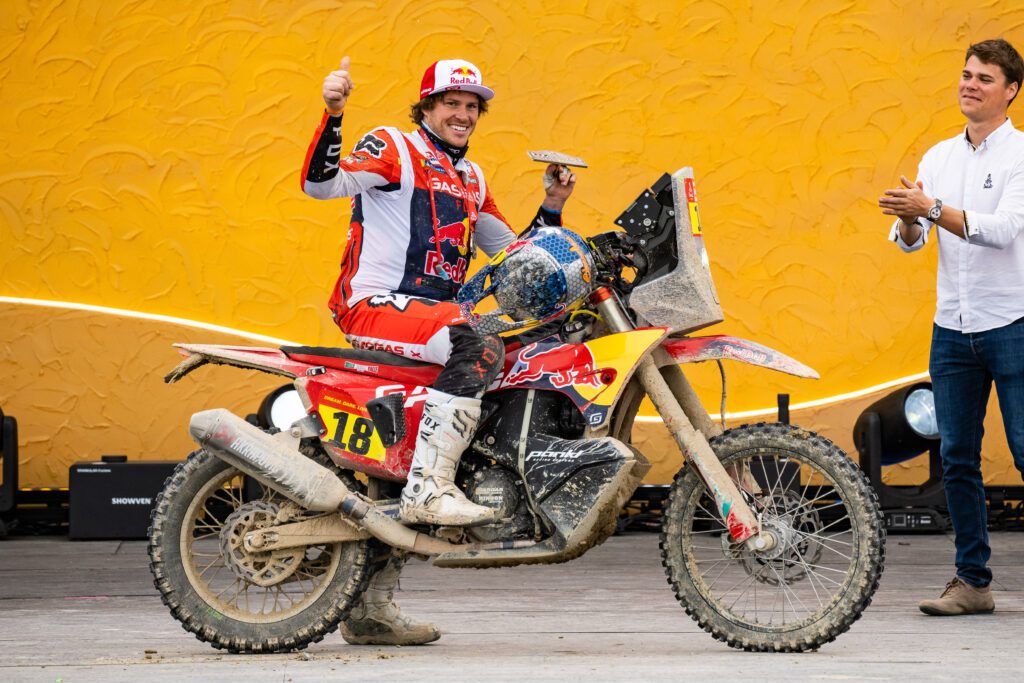 DANIEL SANDERS AND RED BULL GASGAS FACTORY RACING COMPLETE 2023 DAKAR RALLY IN SEVENTH OVERALL
And that's a wrap from the 2023 Dakar Rally! Signing off on what has been a truly wild two weeks of racing with a close runner-up finish on the 14th and final stage, Red Bull GASGAS Factory Racing's Daniel Sanders has brought his RX 450F home safely to secure a gritty seventh place overall result. Not a bad performance at all, especially when you consider that Sanders underwent no less than six operations in the last year following his crash at the 2022 Dakar, as well as getting pretty damn sick halfway through this year's event. Nice work, Daniel, that was a super-solid effort!
Seventh overall for Daniel Sanders at the 2023 Dakar Rally
Red Bull GASGAS racer completes his second Dakar
Daniel's RX 450F doesn't miss a beat through almost 45 hours of racing
Daniel Sanders: "It was going to be difficult today to make up any time but I did what I could and just missed out on the stage win, but overall, I'm super happy. It's been a long road to get here. After crashing here last year I've had six operations, which really limited my preparation, so it's been great to bounce back and be competitive. It's been an unreal experience and hopefully next year I can come in stronger and fitter and be more ready to go. The team has been amazing as always and I'm super happy to be here at the finish line in one piece."
So, GASGAS didn't win this time around, but it's been awesome to be back out in the desert and to kick off 2023 with some epic racing. Despite his sickness during the first week and riding with a decent size thorn in his arm for most of the rally, Sanders really did dig deep to complete the Dakar for the second time. Nice work, Chucky!
And that's all from Dakar 2023 and what a way to start the year! From the highs of Sanders winning a stage and leading the race for a couple days during week one, to Sam Sunderland's super-frustrating early departure, it's been a real rollercoaster.
As the dust, and mud, settles in the Saudi desert, it won't actually be too long until Red Bull GASGAS Factory Racing return to action. Up next, in late February, is the Abu Dhabi Desert Challenge, round two of the FIM World Rally-Raid Championship.
Norbert Stadlbauer – GASGAS Rally Team Manager: "The 2023 Dakar Rally is now over, and it's been a really crazy race for the team. It was so frustrating and disappointing to lose Sam, who was the reigning Dakar champion, on day one. Daniel performed very well despite missing most of last season through injury, and in week one he led for a couple of days and won a stage. Unfortunately, a brief illness while leading really effected his race but he kept on pushing to the end and finished seventh which is a great result considering all of the circumstances. I'm really proud of the whole team and we now look forward to the 2023 season."
Results (provisional): Dakar Rally 2023, stage 14
1. Kevin Benavides (KTM) 1:15:17
2. Daniel Sanders (GASGAS) 1:15:52
3. Toby Price (KTM) 1:16:12
Overall Provisional Classification (after stage 14)
1. Kevin Benavides (KTM) 44:27:20
2. Toby Price (KTM) 44:28:03
3. Skyler Howes (Husqvarna) 44:32:24
7. Daniel Sanders (GASGAS) 44:50:17
---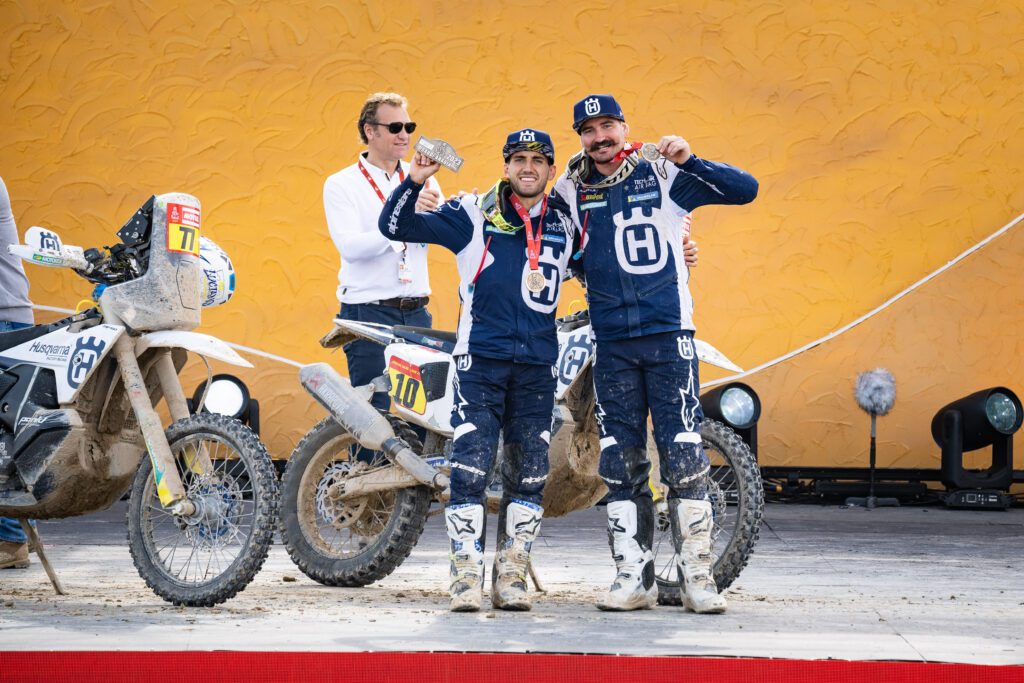 SKYLER HOWES CLAIMS 2023 DAKAR RALLY PODIUM
Husqvarna Factory Racing's Skyler Howes has battled through 14 stages of intense racing to finish the 2023 Dakar Rally in an excellent third place. In what has been a career-best ride for the American, Skyler led the race for a total of six stages and stayed in the hunt for victory right through to the very final timed special.
Coming into today's 14th and final stage, Howes trailed the leader by just one minute and 31 seconds – an incredibly narrow margin after well over 43 hours of racing. As the third-to-last competitor to set off into the special, Skyler had a comfortable advantage over the fourth-placed rider and knew, with the two front runners fighting it out behind him, a smooth, calculated ride to the finish was all that was needed to secure his podium result.
Completing the final stage as fifth fastest, Howes was overjoyed with his overall result of third place on what is his fifth Dakar Rally appearance. In just a few years, the 30-year-old has gone from promising privateer to top-three Dakar racer. His podium at this year's event added to his excellent 2022 season results bode well for Howes as he now looks ahead to the rest of the FIM World Rally-Raid Championship season.
With three stage wins at this year's event – the most of any rider at this year's race – Luciano Benavides enjoyed a highly positive, and highly rewarding time at the Dakar. By combining his skill in opening specials with precise navigation and the ability to ride largely error-free throughout the 14-day event, the Argentine was rewarded with sixth overall to equal his career-best result from 2020.
Skyler Howes: "I am so happy! It's been an incredible race with highs and lows, and it's come right down to the wire on this final day. I knew the guys behind me would be pushing so hard today, and to go into this final day less than two minutes behind after well over 40 hours of racing is incredible. I arrived at the finish safely, and it feels like a dream come true and such an honour to share it with two legends like Toby (Price) and Kevin (Benavides). Everyone knows what you have to go through to get to this point, and after all that hard work, it makes this moment feel so sweet. Of course I want to come back and see what the other two steps of the podium feel like. But to now be one of five Americans to reach the podium at Dakar, it feels amazing."
Luciano Benavides: "I'm really, really happy to reach the finish line. It's been a crazy, tough, and incredibly rewarding Dakar and I'm just over the moon to be here safely after what has to be one of the best races of my life. Thanks to my team for all their hard work, and it's because of them we finished the race really strongly. I came into this year's rally without a Dakar stage win, and now I have three. It's really given me motivation for the future and I'm looking forward to the season ahead even more now."
Norbert Stadlbauer – Rally Team Manager: "It's been an incredible Dakar Rally for Husqvarna Factory Racing, especially as the event will go down in history as one of the toughest and certainly one of the closest in history. Skyler has done an amazing job, mastering the rough terrain of the first week to lead the race for several days. He has worked so hard to get to this point and his podium finish is well deserved. Luciano, too, has ridden an exceptional race, not only topping three stages, but also showing incredible skill when opening the specials. Overall, it's been an amazing team effort by everyone involved here at the 2023 Dakar Rally."
2023 Dakar Rally – Stage 14 Provisional Classification

1. Kevin Benavides (KTM) 1:15:17
2. Daniel Sanders (GASGAS) 1:15:52
3. Toby Price (KTM) 1:16:12
4. Pablo Quintanilla (Honda) 1:18:32
5. Skyler Howes (Husqvarna) 1:19:02
6. Sebastian Buhler (Hero) 1:19:31
7. Luciano Benavides (Husqvarna) 1:21:04
2023 Dakar – Provisional Overall Classification [After Stage 14]

1. Kevin Benavides (KTM) 44:27:20
2. Toby Price (KTM) 44:28:03
3. Skyler Howes (Husqvarna) 44:32:24
4. Pablo Quintanilla (Honda) 44:46:22
5. Adrien Van Beveren (Honda) 44:47:50
6. Luciano Benavides (Husqvarna) 44:50:02
---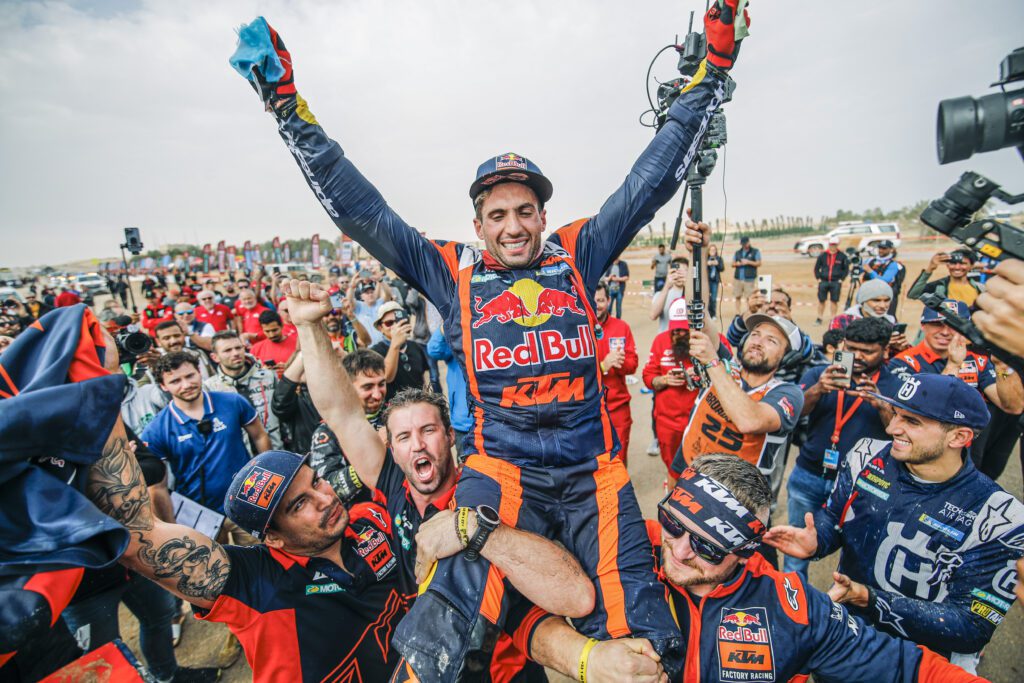 KEVIN BENAVIDES AND KTM WIN THE 2023 DAKAR RALLY
Red Bull KTM Factory Racing's Kevin Benavides has won the 2023 Dakar Rally! At the end of what has been a hugely successful race for the team, Benavides led home a KTM one-two with Toby Price securing second place, just 44 seconds behind his teammate. The result marks KTM's 19th victory at the iconic rally-raid event.
Taking the win on the 13th and penultimate stage yesterday, Kevin Benavides closed down the gap to provisional rally leader Toby Price to just 12 seconds. And with the start order reversed for the final day of racing from Al Hofuf to Dammam, the two KTM 450 RALLY racers would set off right from the back – Benavides leaving three minutes ahead of his teammate.

Although the final timed special had been regarded as a relatively simple sprint to the finish, the 136 kilometers of gravel tracks, sand, and dry lake beds threw up a considerable challenge to all riders. However, it was Benavides who piled on the speed and mastered the terrain to take his second consecutive stage win of the event, and more importantly, the overall rally victory.

Kevin's journey through the 14-stage race has been one of outstanding consistency. Even though the Argentinian didn't pick up one single second in bonus time for opening any stages, he finished inside the top 10 every day for the whole two weeks of racing. It was this skillful and calculated approach to the event that earned him his second career Dakar Rally victory.

The result makes it two Dakar titles for Benavides – 2021 and 2023 – and marks KTM's 19th win at the Dakar.

Kevin Benavides: "It's been an amazing day! I just focused on every kilometer from the first to the last. I didn't think about the position or the result I just gave my 100 percent over the whole stage and tried to enjoy the day. The special was really fast and tricky, and so muddy – thankfully I didn't make any big mistakes, but it would have been easy to have an issue out there today. I have worked so hard for this. This year's rally has been one of the closest ever and there wasn't a single day where you could afford to ease off. I couldn't have done it without the support of my team, and all my family and friends. It's going to take a little while to sink in, I can't describe this feeling right now."

Leading the standings going into the 14th and final stage of the race by just 12 seconds, Toby Price was the last rider to enter the special. Aiming to chase down Benavides who had set off three minutes ahead of him, Toby got his head down and gave his all right from the start. A couple of issues early in the stage cost the Aussie the valuable seconds he needed to stay in front, and despite clawing back close to one minute on the latter half of the special, it wasn't quite enough to overhaul the flying Benavides.

Toby has produced an incredible performance over the course of the two-week race. Securing no fewer than 10 top-five stage results, and a win on the event's opening prologue, the two-time Dakar champion was undoubtedly the man to beat throughout the rally. Missing out by less than one minute after more than 44 hours of racing is of course frustrating, but knowing he gave his absolute all every single day, Toby is happy with how he rode and with the hard-fought runner-up result he's secured at the world's toughest rally-raid.

Toby Price: "So, so close. Yeah, a great job from Kevin, he did really well today. I knew it was going to be tight, and of course I pushed right from the start all through the stage. I just missed three waypoints by virtually meters, and it dropped me back. Obviously, the goal is to win, and it's frustrating to miss out by such a narrow margin. But I'm fit, healthy, and I'm going home with a trophy, so that's the most important thing. I'm ready for another one next year."

After a heavy crash on stage two where he injured his wrist, Matthias Walkner demonstrated his grit and drive by continuing with the rally. As his condition improved, the Austrian was able to deliver stronger and stronger stage results as the race went on. At the close of stage 12, Matthias had moved back up to a highly commendable ninth overall. Unfortunately, disaster struck on the penultimate stage 13 of the event where a heavy crash off the top of a dune left Walkner with considerable back pain. Thankfully, after being airlifted to hospital for further checks, the 2018 Dakar winner was found to not have broken any bones or suffered any serious injury. We wish Matthias all the best for a speedy recovery.

Norbert Stadlbauer – Rally Team Manager: "It's been an incredible Dakar – one of the toughest in history and definitely the closest! It's been such a close battle inside the Red Bull KTM team with Toby and Kevin separated by just 12 seconds going into the final day today. Thankfully, the performances of both riders gave KTM a one-two in the race, with Kevin earning his second win and the 19th for KTM. Of course, you can't have two winners, but Toby claiming second place is still an incredible achievement and down to the hard work he has put in over the two weeks. The team have also done an amazing job, not just at the event, but also over the whole of the past year building up to this race. Now it's time to celebrate before we look ahead to the next race in the season."

Pit Beirer, KTM Motorsports Director: "Beside the riders, I'm maybe the happiest man on the planet right now. It's amazing after this long journey and this tough race, to have only 12 seconds separating the two guys coming into this final day. And then for them to push so hard over the stage and reach the finish line safely and in first and second is incredible. After around 5,000 kilometers and over 40 hours of racing, to have them so close is unheard of, and the whole team did an amazing job to get them here in this position. What it came down to was basically a motocross race for 130 kilometers. Both riders did an amazing job, and even though you can only have one winner, I'm hugely proud of them both, as the pressure was really on today. KTM now have 19 wins at the toughest offroad race in the world, but we won't stop there. We're already looking forward to this season and then the 2024 Dakar next year."

Provisional Results – 2023 Dakar Rally, Stage 14

1. Kevin Benavides (ARG), KTM, 1:15:17
2. Daniel Sanders (AUS), GASGAS, 1:15:52 +0:35
3. Toby Price (AUS), KTM, 1:16:12 +0:55
4. Pablo Quintanilla (CHL), Honda, 1:18:32 +3:15
5. Skyler Howes (USA), Husqvarna, 1:19:02 +3:45

Provisional Standings – 2023 Dakar Rally (after 14 of 14 stages)

1. Kevin Benavides (ARG), KTM, 44:27:20
2. Toby Price (AUS), KTM, 44:28:03 +0:43
3. Skyler Howes (USA), Husqvarna, 44:32:24 +5:04
4. Pablo Quintanilla (CHI), Honda, 44:46:22 +19:02
5. Adrien Van Beveren (FRA), Honda, 44:47:50 +20:30
---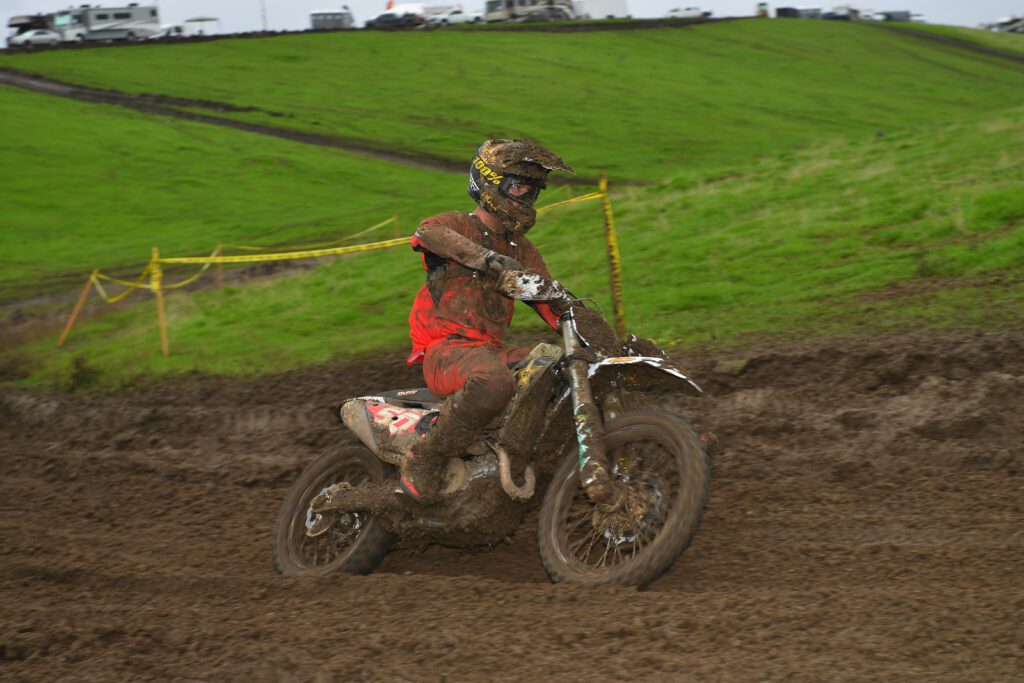 HARD-FOUGHT EIGHTH FOR WALTON IN NGPC SEASON-OPENING ROUND
The 2023 AMA National Grand Prix Championship (NGPC) took off with the SoCal GP at American MX in Delano, California, over the weekend and Rockstar Energy Husqvarna Factory Racing's Austin Walton opened his campaign with a hard-fought eighth position in the Pro class.
Current series number two Walton entered this season with high hopes riding the FX 450 and, despite challenging conditions following ongoing rainfall in the area, his race started in a convincing fashion. He completed the opening lap in sixth and moved into fourth on lap three, however, a mishap on lap four cost him any chance of the podium. After briefly dropping to 10th, Walton managed to climb to eighth by the race's end to earn valuable points.
"It was a little muddy today and didn't go as planned for me, but I've got to stay positive after this first race," Walton reflected. "We've got plenty more races to go and this was an odd one, very technical in the conditions. I had one decent crash out there, took me a second to get up and once I did, I was like, 'alright, I've got to be smart' and that was the plan from there. We had to be as smart as possible and as the race went on the track got a little more tacky, so there was a whole lot to think about. We have to take what we can, we're healthy going into the rest of the season, and I'm definitely excited to turn things around at the next one."
Next Round (2): Taft, California – February 5, 2023
Pro Results – Round 1
1. Ryan Surratt (Honda)
2. Dare Demartile (Beta)
3. Dante Oliveira (KTM)
…
8. Austin Walton – Rockstar Energy Husqvarna Factory Racing
Pro Championship Standings
1. Ryan Surratt – 30 points
2. Dare Demartile – 25 points
3. Dante Oliveira – 21 points
…
8. Austin Walton – Rockstar Energy Husqvarna Factory Racing, 13 points
---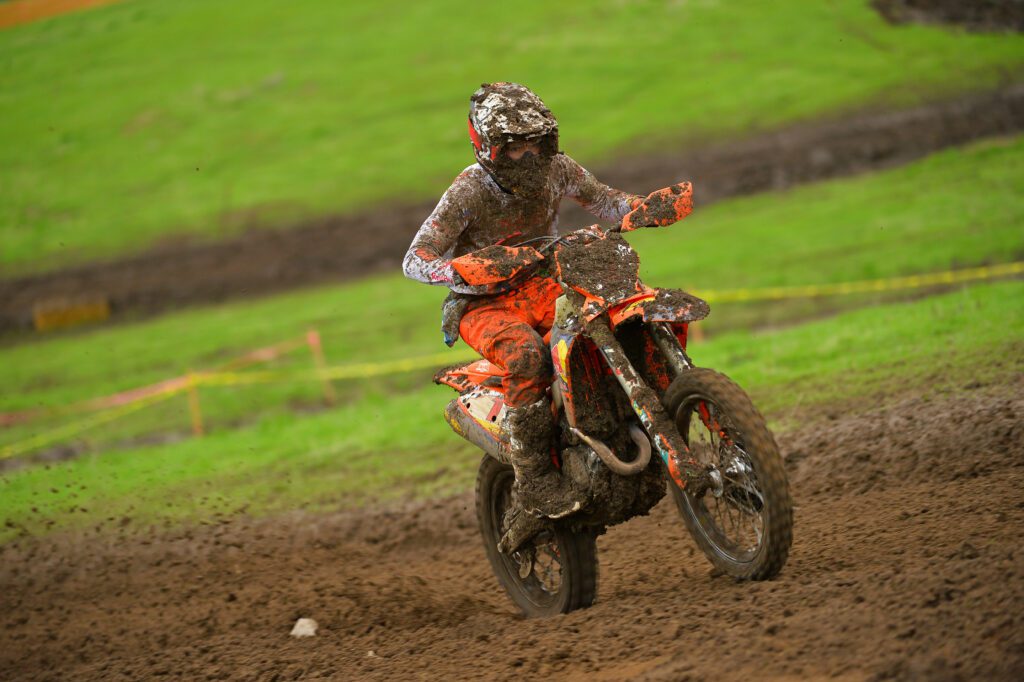 DEFENDING PRO CHAMPION OLIVEIRA EARNS PODIUM IN OPENING ROUND OF NGPC
DELANO, Calif. – FMF KTM Factory Racing's defending AMA National Grand Prix Championship (NGPC) Pro class champion Dante Oliveira has claimed a podium result in the opening round of the 2023 season at the American MX venue in Delano, California, as teammate and brother Mateo Oliveira finished with a fifth-place result in muddy, technical conditions.
Number one plate-holder Dante Oliveira ran as high as second position in the race's mid-stages and challenged for the lead, only to drop to seventh on lap six following a fall in the hot pits. From there, he quickly charged back up the order in recording some of the quickest lap times of the race, eventually working his way to third overall aboard his KTM 450 XC-F in a strong start to the series as he targets a fourth-straight Pro class title.
Dante Oliveira: "I was a little anxious starting today with how much rain we were getting and, being a grass track, it was super-slippery! Once we went off it was all good, we had some fun with the bike sliding around and the track came around big-time towards the end of the race. We had a couple of problems mid-race, but dialed them in and charged to the finish. All-in-all it was a good day, not where I want to be, but on the podium and starting the year solid. Thanks to the FMF KTM Factory Racing team and we'll get ready for the next one!"
Last year's Pro 2 champion Mateo Oliveira made his full-time transition to the Pro ranks in today's opening round at the SoCal GP on debut with FMF KTM Factory Racing, also equipped with a KTM 450 XC-F. Mateo completed lap one in seventh position and set his sights forward from there, making his way into the top five with three laps remaining and that's where he would stay for an encouraging result at Round 1.
Mateo Oliveira: "It was super-nasty out there after it rained all week and it was a technical track! I got a good start, almost holeshot and then went down on the first lap, so had to claw my way back from there. It was a grueling race, but I pushed hard and felt amazing in my first race with FMF KTM Factory Racing. I'm stoked with P5 to start the year and there's plenty of room for improvement within myself, so I can't wait to get on the box in the coming rounds."
In addition, it was once again a commanding performance from defending Pro Women's champion Brandy Richards, the KTM-supported rider powering to victory in class and also earning 30th place overall.
Brandy Richards: "I felt great coming into the weekend and we knew it was going to be a mudder, but we lucked out with the conditions on race day. I got an okay start, passed into the lead, and stayed super-consistent for the rest of the race to come out with the win. It was a good time!"
Round 2: Taft, California – February 5, 2023
Results: Round 1
Pro Results
1. Ryan Surratt, HON
2. Dare Demartile, BET
3. Dante Oliveira, KTM
OTHER KTM
5. Mateo Oliveira, KTM
Pro Women Results
1. Brandy Richards, KTM
2. Ava Silvestri, GAS
3. Mikayla Nielsen, KTM
Pro Championship Standings
1. Ryan Surratt, 30 points
2. Dare Demartile, 25
3. Dante Oliveira, 21
OTHER KTM
5. Mateo Oliveira, 16
---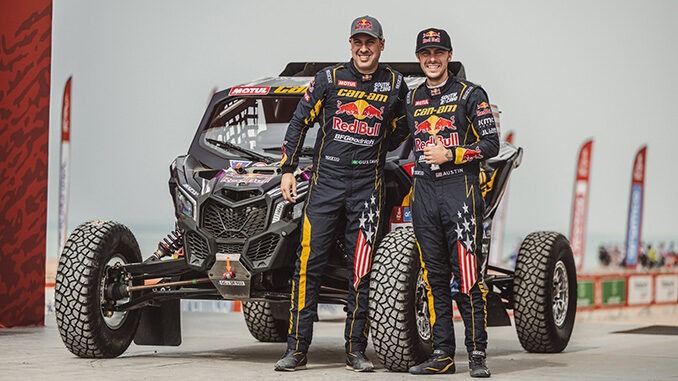 Can-Am Factory Racers Make History Winning Sixth Dakar Rally
Can-Am, a brand of BRP (TSX: DOO, NASDAQ: DOOO), has won its sixth straight Dakar Rally, winning both the T3 Lightweight Prototype class and T4 Modified Production class. Austin Jones and Seth Quintero, with the Red Bull Can-Am Factory Team, secured first and second overall in the T3 Lightweight Prototype class in their Can-Am Maverick X3 machines. In the T4 class, Eryk Goczal won in his Energylandia South Racing Can-Am machine, becoming the youngest Dakar Rally winner at 18-years old, followed by Rokas Baciuška of the Red Bull Factory Can-Am team in second, and Marek Goczal in third, for a T4 podium sweep. This accomplishment is a major statement at the world's hardest off-road race, with 15 days of racing and covering 8,500 kilometers of brutal Saudi Arabian terrain.
"Seeing our teams go out and already break boundaries, set new records, and reach new levels of success is truly inspiring for all of us." said Anne-Marie LaBerge, Chief Marketing Officer at BRP. "We congratulate the team and are eager to celebrate many more important milestones with them."
"The team performed exceptionally, taking home 25 out of the 26 cars. This Dakar was particularly challenging, and the fact that we achieved success in both T3 and T4 categories is a testament to our strength. We are grateful to all who contributed to our success and are now looking forward to a much-needed rest," said Scott Abraham, Team Principal of South Racing and Red Bull Can-Am Factory Team.
As the racing got underway in the T3 class, it was Francisco "Chaleco" Lopez who would jump to the early overall lead after the first two stages, but would relinquish the lead to Seth Quintero after brutal weather conditions struck on the third stage. Quintero then suffered his own technical issues during the fourth stage and would relinquish the lead, but luckily Austin Jones' win on stage three and other consistent finishes were adding up to keep him in the battle for the overall win. Jones grabbed the overall lead after stage 11 and never looked back, driving a smart and consistent race all the way to the finish. Jones and his co-pilot, Gustavo Gugelmini finished the 8,500 km race in 51:55.53, followed by Quintero in second, Cristina Gutierrez in fourth, and Chaleco in fifth. Every member of the Red Bull Can-Am Factory Team in the T3 class secured at least one stage win, for a total of 6 stage wins and 13 podium finishes throughout the race.
"The last leg was really hard. There was a ton of mud, and I was really anxious, but we managed to make it to the end. This has been the most difficult Dakar I've ever raced. We've had our share of highs and lows, but we kept going and here we are back-to-back champions! We're ecstatic, a big shout-out to the whole team and my navigator Gustavo who did an incredible job. It was an awesome journey around Saudi Arabia. I'm not thinking about next year yet, but I'll be back!" said Austin Jones, Red Bull Can-Am Factory Team Racer and youngest back-to-back two-time Dakar winner.
The T4 category was action packed from start to finish. A battle between Rokas Baciuška of the Red Bull Can-Am Factory Team and rookie Eryk Goczal of the South Racing Can-Am Squad, would keep the race exciting all the way to the checkered flag. would come out strong, with wins on stages one and four, but Baciuška would respond quickly with wins on stages five and seven that would give him the overall lead. The race remained tight between the two all the way to the final stage, with two racers trading wins throughout. Baciuška would maintain the overall lead until the last stage, where he encountered some issues, Goczal would go on to take the overall win, making him the youngest Dakar Rally winner in history. The rookie and his co-pilot, Oriol Mena, finished the race with an overall time of 53:10.14, followed by Baciuška in second, and Marek Goczal in third for a Can-Am podium sweep.
"This is my first Dakar. It's one of my dreams to be here, I couldn't be more thankful for my family and team, they made this all possible. We took a big risk to go for the overall lead a few days ago, I gave it everything I had and it paid off," said Eryk Goczal, Energylandia South Racing Can-Am Racer and rookie Dakar winner.
---
Share