News and stories about powersports racing this week.
---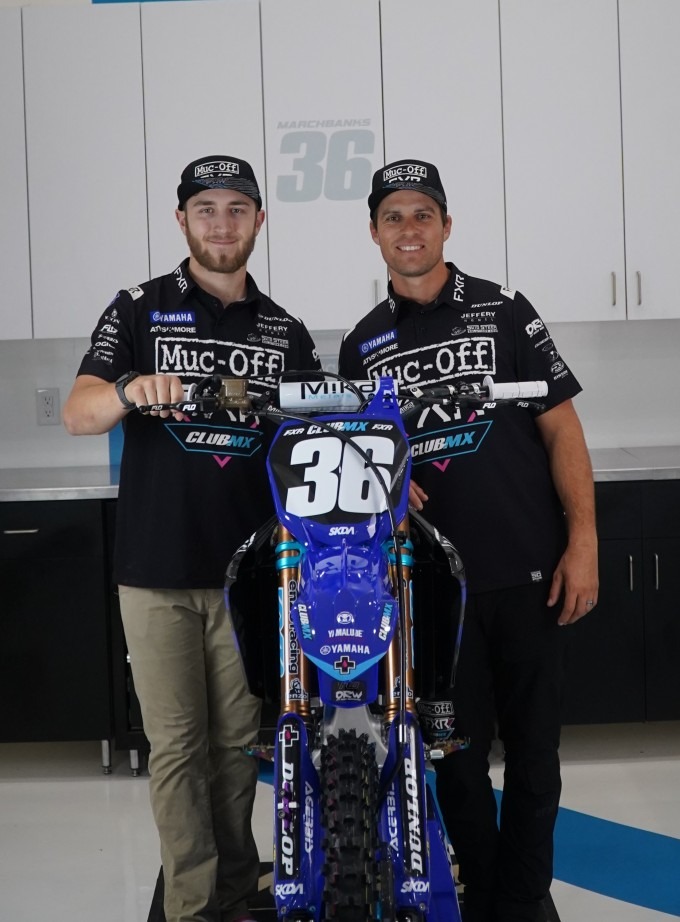 Garrett Marchbanks Extends Contract with Muc-Off/FXR/ClubMX for Multiple Years
CHESTERFIELD, SC – JANUARY 1, 2023: Garrett Marchbanks is one of the most decorated amateur racers to ever come through the sport and at a very young age won his first professional race at Daytona in 2020. He has the will and desire to improve his craft and continues to take the necessary steps to get back on the top step of the podium. Since returning to ClubMX in 2021 he has had flashes of brilliance that proves the breakout season is on the doorstep. It is not a matter of "if" but "when" he converts his skills to race wins. His bigger stature has come with the nickname Manchild and although that may seem like a detriment racing in the lights class against much smaller competitors, he uses it to his advantage. Over the course of the entire race, Marchbanks is always the fastest in the whoop section of the track, gaining him an advantage every lap. At any venue when the team gets to walk the track, Marchbanks' face will light up if the whoops are huge because he knows he has the upper hand against his competitors.
On the topic of his contract extension Marchbanks said: "I have a lot to prove still. ClubMX has given me every opportunity on and off the track and it is time for me to show what I can do. Sure, there are ups and downs but that is the nature of this sport – it's brutal. I want to be here and the team supports me through thick and thin so extending my contract made the most sense. As a racer, not having to worry about contact stuff eliminates that distraction. Now I can just focus on training and racing so I can get back on the box. I am super motivated this season; I know what I need to do and I'm going to get it done."
Marchbanks turned twenty-one last summer and it was like a switch flipped. He is on a situation where he is training with a two-time national champion – Jeremy Martin, veteran and Canadian national champion – Phil Nicoletti and the always fast – Enzo Lopes. The combination seems to really hit home for him, and it shows during the training sessions on and off the track.
Team owner Brandon Haas said: "ClubMX was founded on the principle of giving riders a chance in the sport. Garrett has a long history training at ClubMX from when he was a boy on minis. I know what he is capable of, and it is up to us to get the results out of him. There was never a question about extending his contract for two reasons: 1. I know he can win and 2. We don't cast off our riders just because they didn't have a great season. We are in this for the long haul and we are going to do it together. I knew extending his contract would be one less distraction. Think about it from our position as a privateer team, who's better than Garrett Marchbanks? This will make more sense to everyone when we start racing again.
Look for Marchbanks to line up next for the Monster Energy Supercross Eastern Regional series. The number 36 will be hard to miss. Follow the season long excitement of Garrett on Instagram @gmarchbanks36 and ClubMX @clubmx for the latest news and results.
---
Suzuki Supercross Riders Set for 2023
BREA, CA — Suzuki Motor USA, LLC is pleased to announce its continuation with HEP Motorsports for the 2023 season. Suzuki will support two squads under the HEP Motorsports umbrella: Progressive Insurance ECSTAR Suzuki and Twisted Tea Suzuki Presented by Progressive Insurance.
Progressive Insurance ECSTAR Suzuki
Progressive Insurance ECSTAR Suzuki will include Ken Roczen (94) on the Suzuki RM-Z450, while riding the RM-Z250 will be Dilan Schwartz (85), and Marshal Weltin (50).
Roczen, who has a strong affiliation with the brand and won his most recent AMA championship with Suzuki, will be reunited with the RM-Z450, and bring his exciting style, determination, and grit back to the RM Army. Schwartz is back on a Suzuki for 2023 after a rollercoaster season in 2022. After impressive performances aboard the RM-Z450 at the beginning of last year's motocross season, Weltin joins the RM Army full-time and is looking to build on his momentum.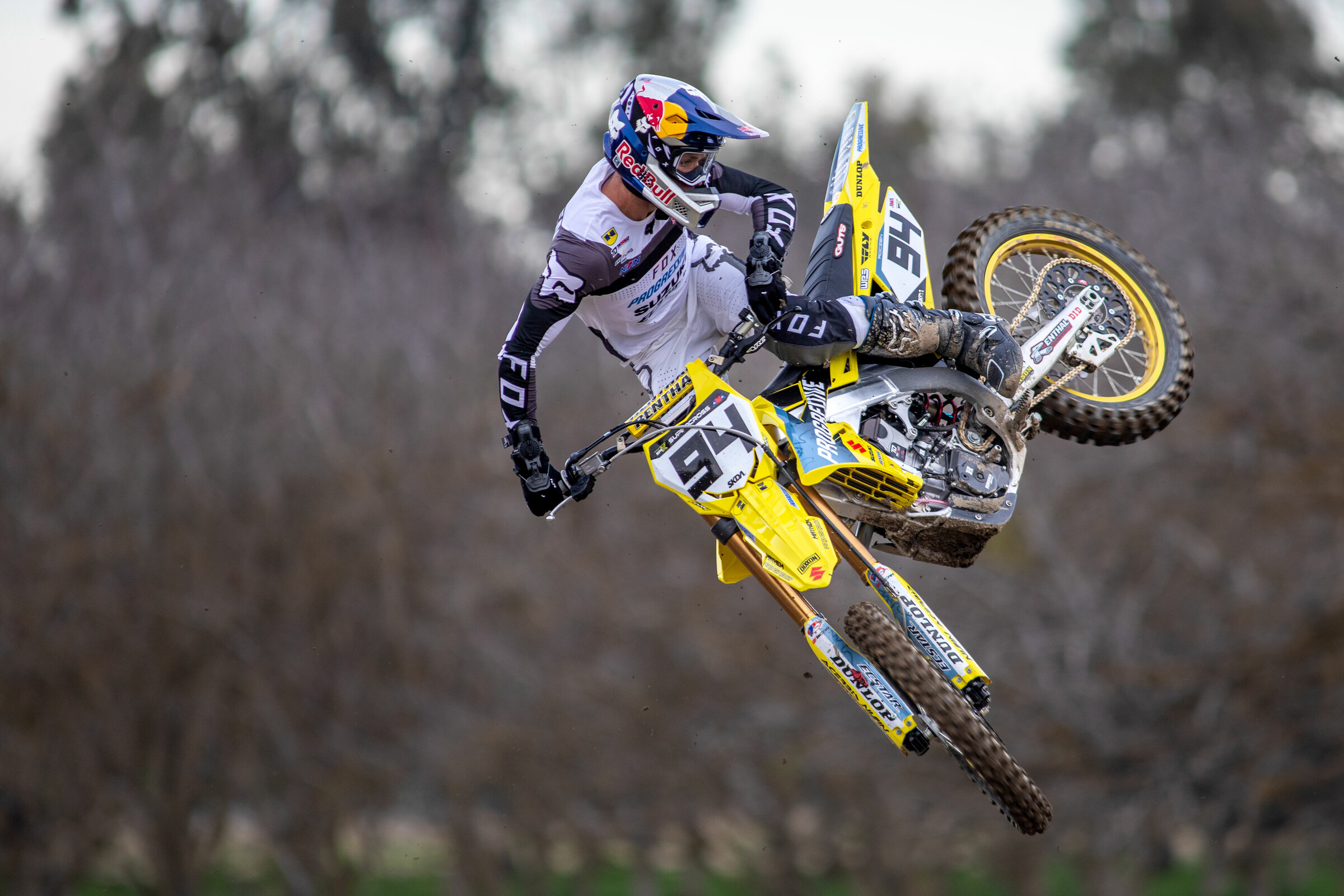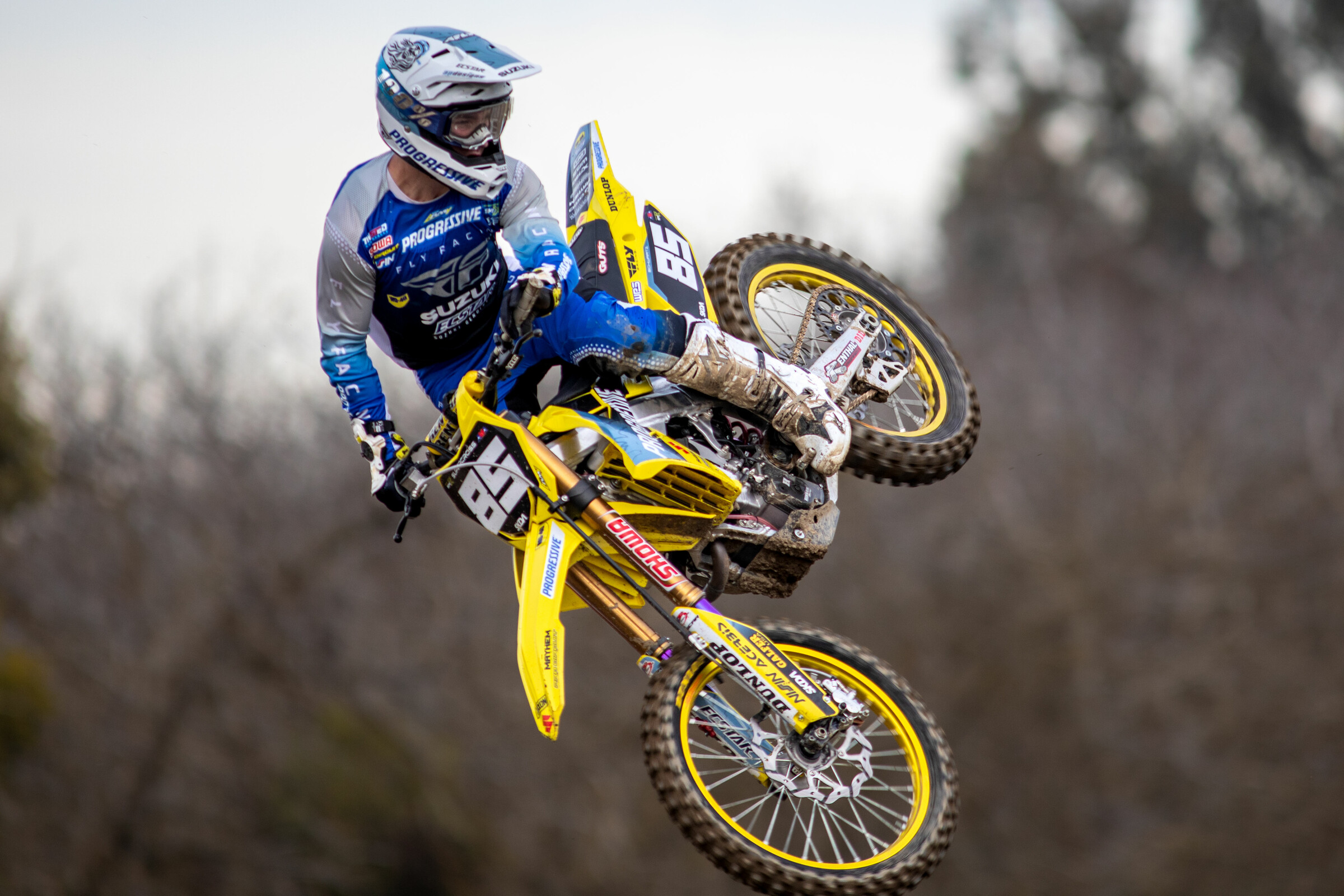 Twisted Tea Suzuki Presented by Progressive Insurance
The Twisted Tea Suzuki Presented by Progressive Insurance effort on 450s continues with veteran rider Kyle Chisholm (11) from Clearwater, FL, crowd favorite Shane McElrath from Canton, NC (12) and Brandon Hartranft (37), who hails from Brick, NJ. [Note: Hartranft is out with injuries and McElrath is his fill in.]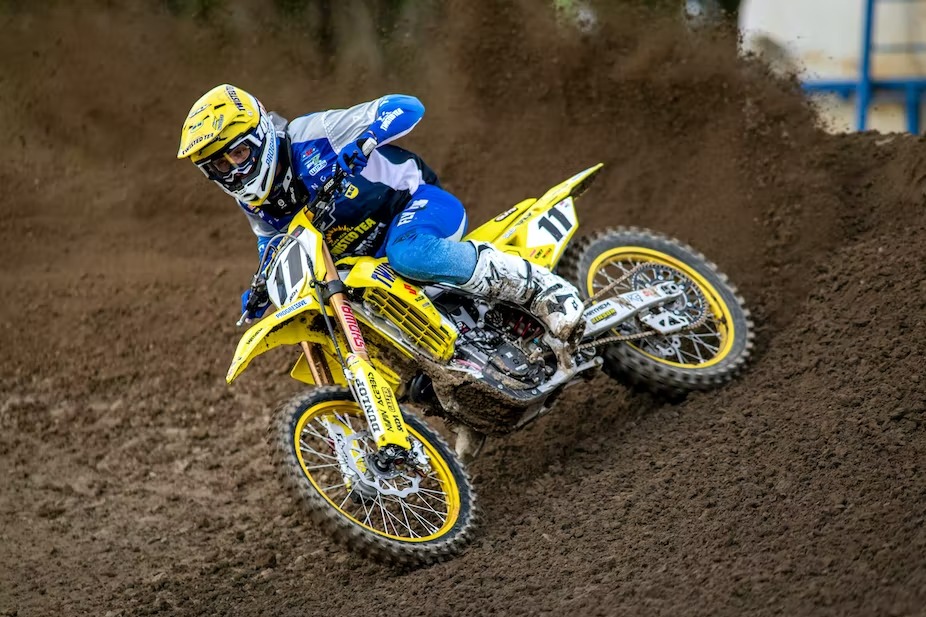 Joining the team for 2023, Chisholm brings solid racing and set-up experience to the team and is looking forward to competing aboard the RM-Z450. Alongside Chisholm, the exciting racecraft of McElrath augments the RM Army, and McElrath is looking to make serious strides in 2023. Back again with the Twisted Tea Suzuki Presented by Progressive Insurance team is Hartranft. Injured at a pre-season training session incident, Suzuki Motor, USA wishes Brandon a speedy recovery as he looks forward to returning to the track.
"We are excited to take on the 2023 Supercross season. Our program has grown for 2023, and we are in the best position possible to have a successful 2023 campaign," commented HEP Motorsport's Team Principle, Dustin Pipes. "Testing and development have been going well and we are still finding new advancements to help the riders take the next step. With these new additions, it is an exciting time to be a fan of Suzuki Racing and we are eager to show off our hard work at the first event in Anaheim."
Suzuki is excited to compete in the 2023 Supercross season and looks forward to seeing the entire RM Army at the venues and tracks throughout the year The 2023 Supercross season debuts on January 7th, 2023, at Angel Stadium for Anaheim 1.
For more racing news, results, and special team content please visit suzukicycles.com/racing/motocross.
---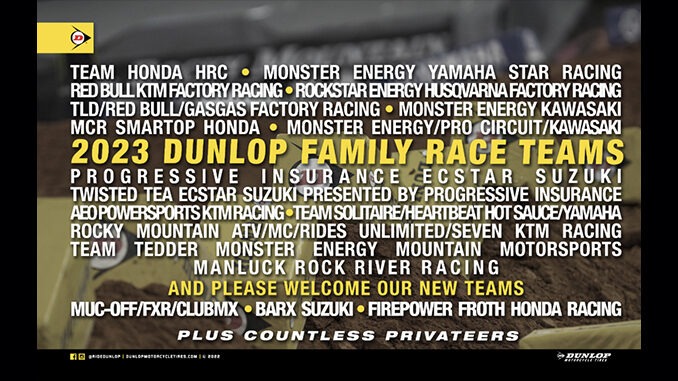 Dunlop Grows Their Family for 2023
After a highly successful 2022 series, Dunlop is set to take on the 2023 season of the Monster Energy AMA Supercross Championship, increasing support and adding to their esteemed Dunlop Family. Dunlop, as the longest running sponsor of Monster Energy Supercross, will continue to be the "Official Motorcycle Tire" with trackside support available to all racers for tire fitting and technical assistance.
Last year, for the 13th consecutive season, Dunlop riders swept all three Supercross championships including all 102 available podium opportunities throughout the 17 rounds. This brings Dunlop's unparalleled total to 173 AMA SX and MX Championships, an accomplishment far and above any other tire manufacturer. Overall, in the premier 450SX class, Dunlop riders finished in the top 14 positions, and 19 of the top 20, once again confirming the Dunlop Domination.
Dunlop is proud to continue their support and relationships with all their top teams from 2022 and pleased to add the Muc-Off/FXR/ClubMX, Firepower Froth Honda Racing and BarX Suzuki teams to the Dunlop Family for 2023!
Dunlop's 2023 Monster Energy AMA Supercross Championship Teams include:
Team Honda HRC
Monster Energy Yamaha Star Racing
Red Bull KTM Factory Racing
Rockstar Energy Husqvarna Factory Racing
Troy Lee Designs/Red Bull/GASGAS Factory Racing
Monster Energy Kawasaki
MCR Smartop Honda
Monster Energy/Pro Circuit/Kawasaki
Progressive Insurance Ecstar Suzuki
Twisted Tea Ecstar Suzuki presented by Progressive Insurance
AEO Powersports KTM Racing
Muc-Off/FXR/ClubMX
Firepower Froth Honda Racing
BarX Suzuki
Team Solitaire/Heartbeat Hot Sauce/Yamaha
Manluk Rock River Racing
Team Tedder/Monster Energy/Mountain Motorsports/KTM Racing
Rocky Mountain ATV/MC / Rides Unlimited / Seven / KTM Racing
"Having raced on Dunlop's for as long as I can remember, a big advantage to staying with the brand is the predictable performance of the Dunlop tire throughout the race. Having consistent feel and traction gives me the confidence to push my limits on the track," says 2020 and 2022 Monster Energy AMA Supercross Champion, Eli Tomac.
Team Dunlop Elite alumni, Carson Mumford, added, "I'm so pumped to be back with my Team D family. Running Dunlop's will definitely help me and my BarX Suzuki teammates go to the next level in 2023."
With this support, of the AMA Pro riders earning top 100 racing numbers in 2023, the first 46 race on Dunlop's, and over 80% of those top 100-numbered riders will be on Dunlop tires! Dunlop continues to use these top professional Supercross and Motocross racers to push the tires to the absolute limit to help develop new technologies utilized in Geomax tires.
"Having all these teams and riders choose to race on Dunlop tires shows our dedication to the sport, our product development and support is at the highest level!" said Mike Buckley, Dunlop Motorcycle's Vice President of Sales and Marketing. "Without the leadership and hard work of our professional racing management directed by Broc Glover and Brian Fleck, none of this would be possible. Supercross riders have a choice in tires, and we want to thank all of the teams and riders who choose to race on Dunlop tires in 2023."
---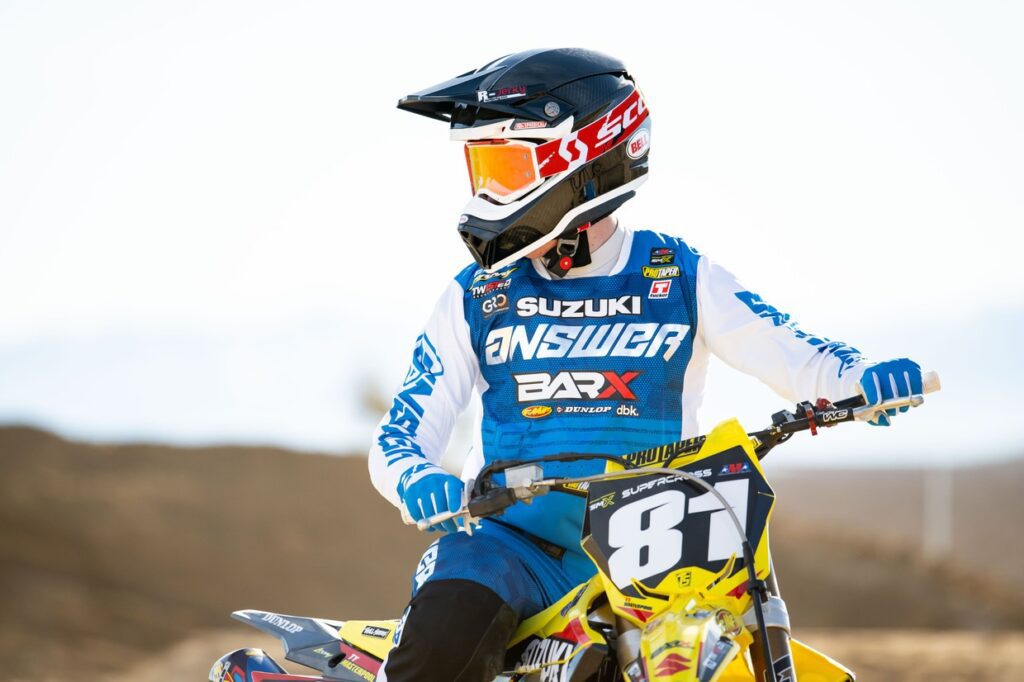 Answer Announces Partnership with BarX Suzuki 250 Team for 2023 Season
Answer Racing today announced its sponsorship of the BarX Suzuki racing team for the 250cc class in the 2023 Supercross and motocross seasons.
The BarX Suzuki team, which features riders Derek Drake, Carson Mumford, Robbie Wageman and Ty Masterpool, will sport Answer Racing jerseys, pants and gloves for their races in 2023. Team jerseys and pants will be from the company's Elite product line and each race will feature a different color scheme, including an All-American design for Military Appreciation Day at the race in San Diego.
"Everyone at Answer Racing is thrilled to return to Supercross and motocross racing in 2023, this partnership with BarX Suzuki makes it really special. We are confident this will be a breakout year for these motivated young riders," says Brent Ash, Brand Manager for Answer Racing.
"BarX is a great addition to Answer Racing's support of elite amateurs and grass roots marketing efforts. Their young team will be exciting to watch," says Nick Wey, Brand Ambassador for Answer Racing.
"We are thankful to have the support of Answer, with the style and quality they bring, our riders' confidence is over the top," said Myron Short, managing partner of Team BarX. "BarX Suzuki has very big goals for this year, and we strive to achieve them. Our riders and crew are working very hard leading into the 2023 season."
"Wearing our top-of-the-line Elite gear, with a dynamic set of BarX and Answer Racing colors and graphics, will give the athletes a look that will stand out from the rest of the class," Ash continued.
Answer Racing apparel products have long been the standard for high performance racing and off-road riding gear. The 2023 Supercross season will kick off at Angel Stadium in Anaheim, California on January 7, 2023.
About Answer Racing
Answer Racing was started in 1976 with a goal of providing hardcore motocross enthusiasts with products they could trust. Decades of champions were forged in the hearts and minds of Answer Racing's creative engine. Fast forward to today and Answer Racing has not lost sight of the original vision, putting its nearly five decades of experience behind bars into every product. More information can be found at answerracing.com.
---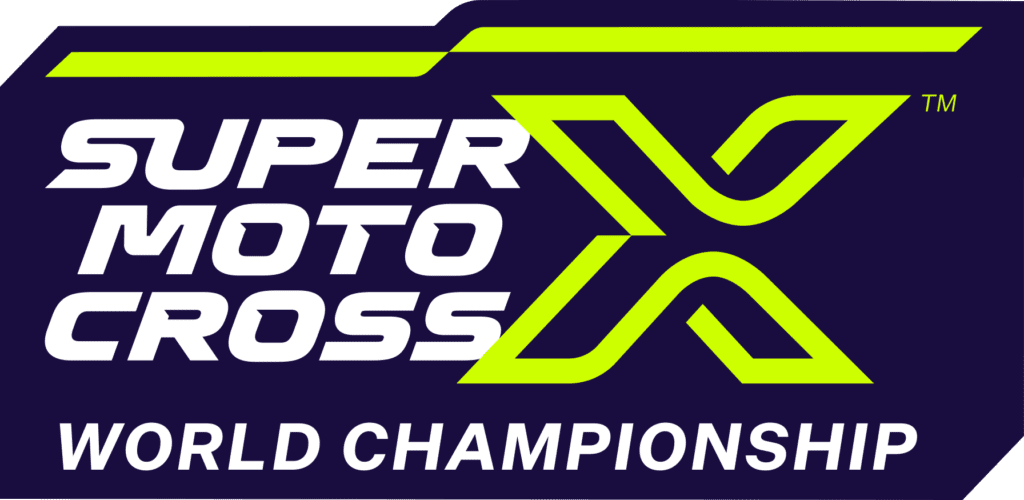 zMAX Dragway and Chicagoland Speedway Set to Host First-Ever SuperMotocross World ChampionshipTM Playoff Rounds
ANAHEIM, Calif. (January 6, 2023) – During a press event for the opening round of the Monster Energy AMA Supercross Championship and subsequently, the SuperMotocross World Championship, the SuperMotocross League announced that zMAX Dragway and Chicagoland Speedway will host the first-ever SuperMotocross World Championship Playoff Rounds in September after the Monster Energy AMA Supercross Championship and AMA Pro Motocross Championship both conclude.
SuperMotocross World Championship Playoff 1 will take place on Saturday, September 9 at zMAX Dragway in Concord, North Carolina and Playoff 2 will take place on Saturday, September 23 at Chicagoland Speedway in Joliet, Illinois As previously announced, the SuperMotocross World Championship Final will take place on Saturday, October 14, in Los Angeles at the Los Angeles Memorial Coliseum.
"The design from the get-go was to make sure that each part of the country was represented so fans would have an opportunity to experience SuperMotocross first-hand," said Dave Prater, Vice President of Supercross, Feld Motor Sports. "It was important to have one playoff in the East, a second in the Midwest, and then the final on the West Coast making each round easily accessible to each region. zMAX Dragway, Chicagoland Speedway and the Los Angeles Memorial Coliseum all provide the perfect footprint to create world-class SuperMotocross tracks and a one-of-a-kind fan experience that will blend elements from both Supercross and Pro Motocross."
zMAX Dragway is situated adjacent to Charlotte Motor Speedway in Concord and is the world's first four-lane dragway. Built in 2008, zMAX is considered the "Bellagio of Dragstrips" for its expansive layout, large capacity grandstands and 40 luxury suites. zMAX is going to provide a layout where our track builders can create lanes suited for grandstand and suite viewing while also allowing fans to "line the fence" as they typically would at an outdoor Pro Motocross event.
"Innovation and entertainment are at the core of everything we do, so adding a SuperMotocross event to our portfolio at zMAX Dragway just makes sense," said Charlotte Motor Speedway Executive Vice President and General Manager Greg Walter. "Fans who visit us expect big action and big fun, and that's exactly what SuperMotocross provides. We couldn't be more excited to make some Playoff history in September."
Chicagoland Speedway sits right outside of Chicago in Joliet and will be easily accessible for fans traveling by car or plane with its central location and multiple airports. The 1.5 Mile D-shaped tri-oval Speedway sits on over 900 acres of land which will provide enough room for the track builders to get creative with the layout. Being a world-class facility, Chicagoland provides all the modern amenities motorsports fans expect when purchasing an event ticket. Chicagoland Speedway is no stranger to marquee events as they hosted Indy Car Series races for more than 10 years and NASCAR Cup Series races for nearly 20 years.
"As a proud partner of Supercross at Daytona International Speedway for over 50 years, we look forward to welcoming the first-ever SuperMotocross World Championship Playoffs to the Midwest at Chicagoland Speedway," said Chip Wile, senior vice president and chief track properties officer, NASCAR. "With a thrilling season of motorsports ahead, we are excited to see riders return to Daytona and Chicagoland for intense two-wheel action this season."
The best of both worlds, the SuperMotocross World Championship is going to boast first of its kind track designs that will utilize a unique combination of both Supercross and Motocross obstacles. Each track layout will be unique unto itself but include five fundamental, yet essential elements of both disciplines – big air, long rhythm sections, rollers, fast straightaways, and elevation.
The SuperMotocross World Championship playoff races and final will operate under a two-moto format for both the 450cc class and 250cc class. Each moto will be 20 minutes, plus one lap, in which Olympic Scoring will determine an overall finishing position for which SuperMotocross Championship points will be awarded.
The SuperMotocross World Championship series will boast the sport's largest payout of $10 million over the course of the full 31-event season. Prize money is being added to both the Supercross and Pro Motocross Championships, leaving $5.5 million up for grabs for the playoffs and final. A guaranteed $1 million will go to the 450cc champion and $500,000 to the 250cc champion.
All 17 rounds of the 2023 Monster Energy AMA Supercross Championship and 11 rounds of the Pro Motocross Championship are on sale. Tickets for the SuperMotocross World Championship Playoff Rounds and Final will go on pre-sale, Tuesday, January 31, followed by public on-sale Tuesday, February 7. Sign up here to become a priority customer and learn more about these events as they go on sale – SuperMotocross Priority Sign-up. To purchase tickets and stay up to date on the latest news and highlights, visit SuperMotocross.com, SupercrossLIVE.com or ProMotocross.com.
---
Share