News and stories about powersports racing this week.
---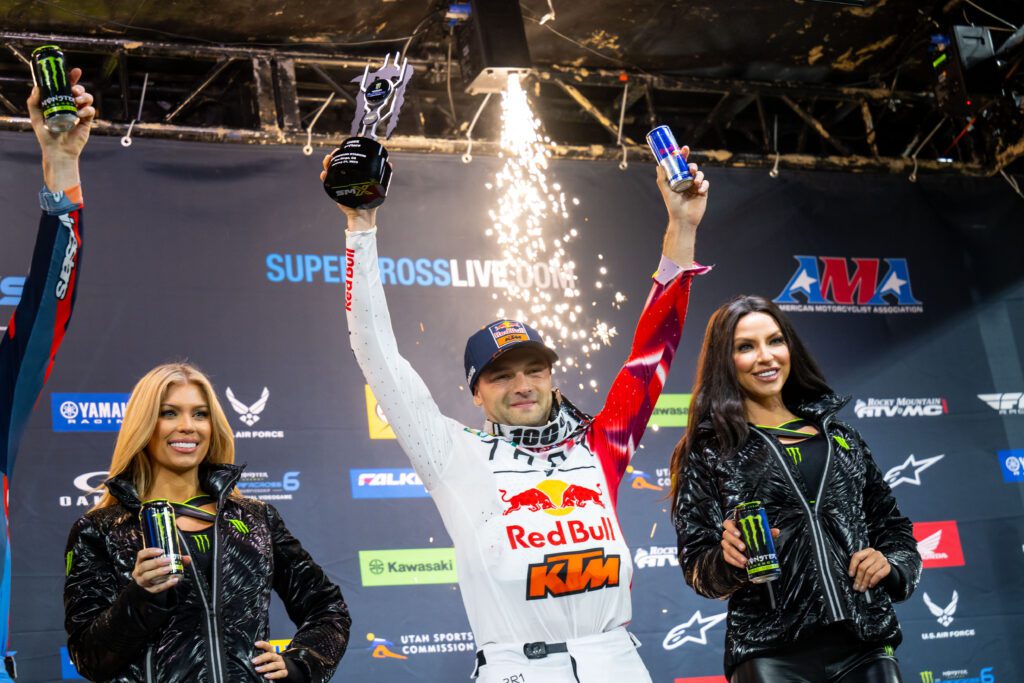 SAN DIEGO 450SX PODIUM MAKES IT TWO IN A ROW FOR RED BULL KTM FACTORY RACING'S WEBB
SAN DIEGO, Calif. – Two-time 450SX champion Cooper Webb has made it two podiums in a row to commence the 2023 AMA Supercross Championship, the Red Bull KTM Factory Racing rider claiming a convincing runner-up result in San Diego riding the KTM 450 SX-F FACTORY EDITION. Premier class teammate Aaron Plessinger charged to ninth position in the Main Event, recovering from a difficult start to salvage a top-10 finish.
Webb qualified third fastest on combined times during the afternoon and carried that form to earn fifth place in his Heat, but it was the Main Event where he brought it all together in the second stop of the new SuperMotocross World Championship. The 27-year-old made a strong start into P2 during the early laps, before making his way into the lead by the end of lap four. He was bumped back a place on the following lap and that's where he would remain, with second repeating his result from Anaheim's opener two weeks prior.
Cooper Webb: "Tonight was good, I got off the start strong and that was key in the way the track developed. I was able to lead some laps, which was cool, but the pace was pretty strong and I made a few mistakes in the middle of the race. The lapped riders helped me in the end to edge closer to Eli [Tomac] and it was pretty hectic with all that going on, so it was a tight finish, but overall I'm happy with how the season has started and am looking to push forward from here. It was positive for me to see what it takes to win at this point of the year, being so close tonight, so we'll learn from the few mistakes and keep fighting on."
Also equipped with the KTM 450 SX-F FACTORY EDITION, Plessinger only managed to qualify in 14th, before quickly turning that around in his Heat race for sixth position despite being caught up in an early incident. The opening lap of the Main Event saw him positioned outside of the top 15 in the early stages, however, he put his head down and made a series of critical passes from there. In the end, Plessinger made his way into ninth place to take home important championship points two rounds into the new season.
Aaron Plessinger: "San Diego was a challenging day for me, even if the result was close to round one. Although practice didn't go as planned, I was riding good in the Heat race, got a pretty good start, and then got caught up in a crash that I couldn't avoid, so came from dead last to sixth in that. In the Main Event, I got a horrible start and worked my way back to ninth, which is not what we wanted, but we'll get better as we go. I have to focus on starts this week and come out swinging when we head back to Anaheim."
The third of Red Bull KTM Factory Racing's regular 450SX contenders, Marvin Musquin, was ruled out of the San Diego round following an untimely mid-week practice crash that resulted in a wrist injury.
Unfortunately for Red Bull KTM Factory Racing 250SX West rider Maximus Vohland, mishaps in both his Heat race and the Last Chance Qualifier meant he was unable to transfer through to the Main Event. Vohland qualified in eighth position during the afternoon, before a first turn incident upon the restarted first Heat saw him cross the line in 13th place. From there, he recovered from a poor start in the LCQ to make his way into a transfer position, only to go down in the final laps and finish in P8 onboard the KTM 250 SX-F FACTORY EDITION. Now 12th in the point standings, Vohland will look to return stronger next weekend at Anaheim 2.
Maximus Vohland: "Timed qualifying went well, being inside the top eight. In the first Heat race I had a very bad start, made my way up to sixth, and then the red flag came out. On the restart I crashed in the first turn and, with only two laps to go, I was outside of the top nine and had to go to the LCQ. In the last chance, I worked my way up to a qualifying position, but then made a mistake on the last lap and went down, unfortunately putting me out of the main. Of course, I'm very disappointed, but I'm healthy and will be back at A2″
Next Race: January 28 – Anaheim, California
Results 450SX Class – San Diego
1. Eli Tomac (USA), Yamaha, 25 laps
2. Cooper Webb (USA), KTM, +1.148
3. Justin Barcia (USA), GASGAS, +10.251
OTHER KTM
9. Aaron Plessinger (USA), KTM
13. Justin Hill (USA), KTM
Standings 450SX Class 2023 after 2 of 17 rounds
1. Eli Tomac, 52 points
2. Cooper Webb, 46
3. Chase Sexton, 39
OTHER KTM
9. Aaron Plessinger, 29
13. Justin Hill, 18
16. Marvin Musquin, 11
Results 250SX West Class – San Diego
1. Jett Lawrence (AUS), Honda, 19 laps
2. RJ Hampshire (USA), Husqvarna, +3.613
3. Cameron McAdoo (USA), Kawasaki, +4.871s
OTHER KTM
9. Derek Kelley (USA), KTM
12. Joshua Varize (USA), KTM
DNS. Maximus Vohland (USA), KTM
Standings 250SX West Class 2023 after 2 of 9 rounds
1. Jett Lawrence, 52 points
2. RJ Hampshire, 46
3. Cameron Mcadoo, 42
OTHER KTM
8. Derek Kelley, 27
12. Maximus Vohland, 18
18. Joshua Varize, 11
---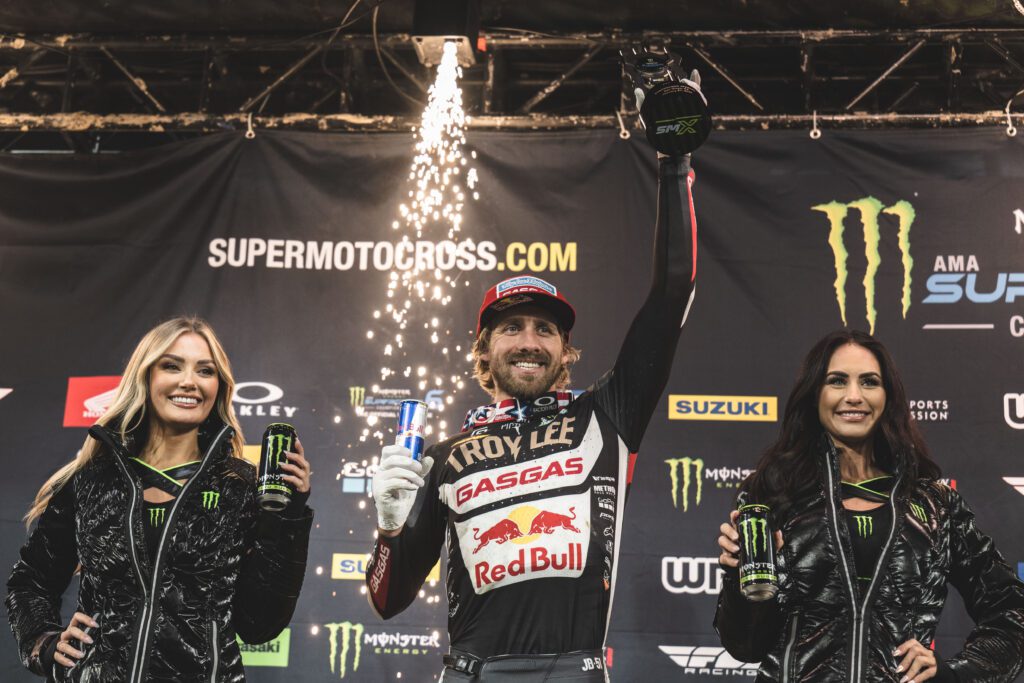 JUSTIN BARCIA BATTLES TO HIS FIRST PODIUM OF '23!
The Troy Lee Designs/Red Bull/GASGAS Factory Racing Team nearly scored podium finishes in both classes.
Justin Barcia grabbed his first podium of the '23 season.
Pierce Brown got to showcase his true speed after a rough start at A1.
450SX
A third-place finish in his heat race showed that Justin Barcia was ready to battle for a podium spot by the end of the night. When the gate dropped in the main event, Barcia was in sixth place early on aboard his MC 450F Factory Edition before working his way into the top three at the three-quarter mark.
Justin Barcia: "In the heat race I was hitting the whoops really well, and staying with Eli, which was sick. Towards the end I had a few mistakes and Anderson got around me good, which was a bummer. But I ended up third and got a solid gate pick. In the main event, I got off to a good start. There was a lot of pressure, and some awesome battles. It was super-gnarly and the track broke down a lot, but I ended up third. I had a lot of fun, and I'm stoked to regroup before heading into Anaheim 2."
250SX West
Coming off a tough start to the season at A1, the unexpected weekend off was well-timed for Pierce Brown as he scored some extra time to rebound. As usual, he showed serious speed after qualifying in third spot, while also finishing second in his heat race aboard his MC 250F Factory Edition. In the main event, he came home with a solid night, finishing in fifth.`
Pierce Brown: "We have a lot to build from. I got third in qualifying, second in the heat, and then fifth in the main. I need to clean a bunch of stuff up to get closer to that front group and fight for some wins. But we made it out alive, so we're going to get back to work this week and hopefully bounce back and build off of it next weekend."
Next Event (Round 4): January 28, 2023 – Angel Stadium of Anaheim in Anaheim, California
Results – 2023 AMA Supercross Championship, Round 3
250SX West – Main Event
Jett Lawrence (Honda) 19 laps; 2. RJ Hampshire (Husqvarna) +03.613; 3. Cameron Mcadoo (Kawasaki) +04.871… 5. Pierce Brown (GASGAS) +34.393; 18. Geran Stapleton (GASGAS); 20. Dylan Woodcock (GASGAS); 22. Mitchell Harrison (GASGAS)
450SX – Main Event
Eli Tomac (Yamaha) 25 laps; 2. Cooper Webb (KTM) +01.148; 3. Justin Barcia (GASGAS) +10.251 … 20. Justin Starling (GASGAS)
250SX West Rider Point Standings
Jett Lawrence (Honda) 52pts; 2. RJ Hampshire (Husqvarna) 46; 3. Cameron Mcadoo (Kawasaki) 42 … 11. Pierce Brown (GASGAS) 18; 23. Geran Stapleton (GASGAS) 5; 24. Jerry Robin (GASGAS) 5; 26. Dylan Woodcock (GASGAS) 3; 29. Mitchell Harrison (GASGAS) 1
450SX Rider Point Standings
Eli Tomac (Yamaha) 52pts; 2. Cooper Webb (KTM) 46; 3. Chase Sexton (Honda) 39 … 6. Justin Barcia (GASGAS) 33; 18. Justin Starling (GASGAS) 7
---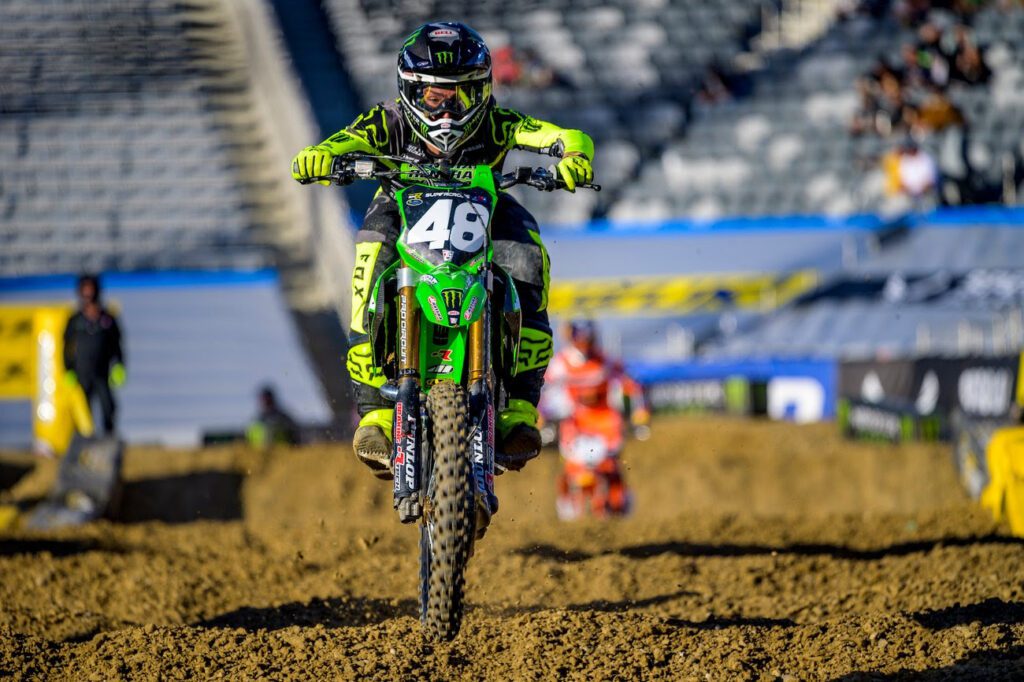 Monster Energy®/Pro Circuit/ Kawasaki's Cameron McAdoo Secures Second Consecutive Podium Finish in San Diego
Foothill Ranch, Calif. (January 22, 2023) – Following the rescheduling of Round 2 due to inclement weather, the Monster Energy® AMA Supercross Championship resumed this weekend for Round 3 in San Diego, California. A new venue to the series proved advantageous for the Monster Energy/Pro Circuit/Kawasaki team, as Cameron McAdoo achieved his second consecutive podium finish in the 250SX Western Regional Championship with a strong third place performance in front of a sold-out crowd at Snapdragon Stadium. In the 450SX Class, Monster Energy Kawasaki teammates Jason Anderson and Adam Cianciarulo navigated the technical track layout among the best and for a period of time at the front of the field, finishing seventh and eighth place, respectively.
With eagerness to return to the track after a weekend off, Monster Energy/Pro Circuit/Kawasaki's McAdoo quickly established that his podium performance at Round 1 in Anaheim was no fluke by setting one of the fastest lap times in practice. Throughout the morning sessions, McAdoo consistently demonstrated his skill by stringing together impressive laps and finished qualifying in sixth with a lap time of 51.732.
In the 250SX Heat 1, McAdoo reached the first turn running near the back of the field but quickly advanced with calculated passes on the opening lap. A red flag caused by a downed rider, resulted in a restart, during which McAdoo made quick work of his competition to secure a fifth-place finish and a direct transfer to the 250SX Main Event.
At the gate drop of the 250SX Western Regional Main Event, McAdoo had a much better start, reaching the first turn inside the top-five. A strong start aboard his KX™250 proved beneficial as McAdoo secured third place early in the race and began his charge for second. After a multi-lap battle for second, McAdoo secured the runner-up position just before the halfway mark. However, a small mistake by the Iowa born rider opened the door for his competition and he dropped to third place. Determined to regain his position, McAdoo rode strong and ultimately finished the race in third place, securing his second consecutive podium finish of the season.
"Racing at Snapdragon Stadium was a refreshing experience, I enjoyed being at a new venue and learning the new layout. The night began with an eventful Heat Race, but I was pleased to transfer directly to the Main Event. I had a much better start in the Main Event, which allowed me to move into second place early. However, there are areas of my performance that I still need to improve, which cost me the runner-up finish. Nonetheless, there's still plenty of racing left in the season and we will keep our goal of winning the 250SX Western Regional Championship in mind, and work on improving during the week in practice before returning to Anaheim next weekend."
– Cameron McAdoo
Monster Energy Kawasaki's Anderson and Cianciarulo took on the technical track layout from the very beginning of day by being the first riders out onto the race track during 450SX qualifying sessions. This strategy allowed both riders to be the first to experiment with different line selection before setting out to record a fast lap. The No.21 KX™450SR rider proved to have the better line choice of them all as he set the fastest lap in the first qualifying session of the morning with a 50.639. Meanwhile, Cianciarulo clocked in a 51.723 for ninth quickest. When both qualification sessions concluded, Anderson had the sixth fastest lap (50.587), and Cianciarulo had logged the seventh fastest time (50.821).
In the first 450SX Heat Race of the night, Anderson launched from the gate into fourth place. He quickly took control of third by the end of the opening lap and remained comfortably in the position for most of the race. As the laps wound down, Anderson closed in on second place and made a thrilling last-lap pass to finish second.
In the second 450SX Heat Race, Cianciarulo had an excellent start off the gate, reaching the first turn in second place. The Florida-native stayed close behind two-time Pro Motocross champion Ken Roczen, studying his lines, and waiting for an opportunity to strike. However, Cianciarulo would fall victim to a hard-charging rider in third, who passed both him and the leader on the last lap, resulting in Cianciarulo finishing third in the Heat Race.
In the 450SX Main Event, Cianciarulo launched out to another top-two start with Anderson close behind in fourth. The No.9 brought the crowd to their feet as he completed the pass for the lead on the former two-time supercross champion Cooper Webb before the end of Lap 1. Cianciarulo held on strong to the lead during the opening laps meanwhile, Anderson maintained a strong fourth place position. As the race progressed, Anderson was able to make a pass into third. However, a small mistake by Anderson at the halfway mark resulted in a tip over and pushed him outside the top-10. Despite the setback, Anderson was able to quickly regain his pace and make a charge towards the front and ultimately finished in seventh place. Cianciarulo rode consistently up front with the championship contenders and ultimately secured an eighth-place finish, earning Kawasaki two top-10 finishes.
"I had a positive start to the day, setting the fastest lap time in the first qualifying session. However, the starts proved crucial tonight on the technical track layout, forcing me to work my way back through the pack in both my heat and Main Event races. Still, I felt comfortable with the KX450SR as the night progressed, but unfortunately a small mistake during the Main Event cost me a podium position. I am confident in the performance of my race bike and my training and will keep grinding this week to improve and be more competitive next weekend."
– Jason Anderson
"Overall, I'm pleased with my performance tonight, particularly my strong starts and ability to contend with the lead group in the Main Event. There certainly is still room for improvement but, I believe tonight marked a step forward from my previous race. I will keep working hard week by week and with the support from the fans and the team at Monster Energy Kawasaki, aim for an even better race next weekend."
– Adam Cianciarulo
---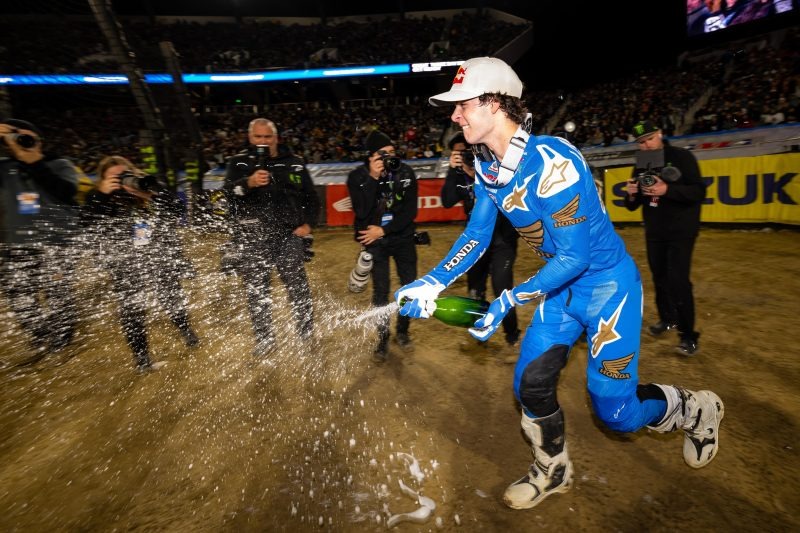 Jett Lawrence Lands Another 250SX West Win
Following an unexpected week off, AMA Supercross returned to action at a new venue—San Diego's Snapdragon Stadium—where Team Honda HRC's Jett Lawrence was once again flawless in the 250SX West class, dominating all 19 laps and taking the win aboard his CRF250R. After scoring the holeshot, the Australian managed his lead, riding within himself but turning up the pace whenever the gap started to shrink. In the end, his winning margin was 3.6 seconds, capping off a perfect day on which he had also been the top qualifier and a heat-race winner.
The 450 class was more about damage control for the squad, as Chase Sexton suffered a heat-race crash and was forced to advance to the main event via the last-chance qualifier. Colt Nichols took the main-event holeshot on his CRF450R, and Sexton—despite being saddled with a poor start position—was fifth out of turn 1. Lap 2 saw Sexton get knocked to the ground by another rider and complete the next lap in ninth place. He advanced to sixth by lap 9, then took another position on lap 15, and that's where he stayed for the final 10 laps. Meanwhile, Nichols struggled following his stellar start and ended the day in 12th.
NOTES
Rain has been an issue in Southern California for much of the new year, so in an effort to find good dirt for testing during the week leading up to race day, Team Honda HRC spent time at a pair of private tracks—Carson Mumford's on Tuesday and Derek Kelley's on Wednesday. Press day was canceled on Friday in order to give Dirt Wurx more time to prepare the track, which was good for Saturday.
Race day itself featured dry weather, though evening temperatures were chilly—50º Fahrenheit and 77% humidity for both main events.
Jett Lawrence was perfect in 250SX West daytime qualifying, topping both timed sessions and turning a best lap that was .262 seconds better than the next-best rider. Chase Sexton was second-best in 450 qualifying, with Colt Nichols eighth.
Lawrence also topped his 250SX West heat race, finishing over five seconds ahead of second place. Other Red Riders to advance from the heats included SmarTops/MotoConcepts Racing's Mitchell Oldenburg and Anthony Rodriguez, as well as Fire Power Honda's Wilson Todd.
Sexton's 450 heat race didn't go as planned, as he went down at the end of the whoop section, then had his bike run into and damaged. He dominated the last-chance qualifier, but was stuck with a poor gate pick. Nichols finished fourth in heat 1, and Fire Power Honda's Dean Wilson was eighth in heat 2.
Both main-event holeshots went to Red Riders—Lawrence and Nichols in 250SX West and 450SX, respectively.
Lawrence's San Diego success marked the ninth 250SX main-event win of his career, and the 16th podium.
Following the race, Lawrence took part in the official press conference.
Through two rounds, Lawrence has a maximum 52 points—six ahead of his closest competitor in the 250SX West title chase. Sexton is third in the 450SX points battle, 13 behind the leader. Nichols sits 10th in the premier division.
Next, Team Honda HRC returns to Anaheim for the year's third AMA Supercross round, on January 28. It will be the season's second stop at Angel Stadium, and its first Triple Crown.
Chase Sexton 23
"San Diego was a little bit eventful for me. I qualified second but had a big crash in the heat race and had to DNF. I went to my first LCQ ever but was able to get through there. I made the main event and was riding good but got taken down by another rider and fell back to 10th. I made my way back to fifth, but it was definitely a mediocre night. At least we're healthy and we can try to come out swinging for A2."

Colt Nichols 45
"The night was difficult, to say the least. Once again, I got off the gate really well. I have a lot of confidence with this bike getting off the gate, which is reassuring, and something good I'll take from tonight. After that, there weren't a whole lot of positives. I just didn't really have much intensity. I felt like I was just riding around, not really racing the track. I just need to be a little smarter, get some time under our belt. Overall, we live to fight another day—on to Anaheim."

Jett Lawrence 18
"This track was much more predictable compared to Anaheim; it was more racing this week compared to the last race, where we were more trail riding, and I had a blast being back at normal speed. My biggest thing is putting myself in a good position to podium or win every round—just going the smarter route, trying to make it through the night."

Lars Lindstrom
Team Manager
"It was nice to have a dry race even after all the rain. Jett rode awesome all day, being fastest in both qualifiers and winning both the heat and the main; he was in total control. The 450 heat race was pretty scary, with Chase having a good get-off and a DNF. Luckily, he was okay and was able to win the LCQ. In the main event, both riders got good starts. Colt wasn't aggressive enough in the first couple of laps, which he's working on. Another rider took Chase out, and we can't be in a position to let that happen. It's a decent result for the night for what it could've been, but we need to be better."
---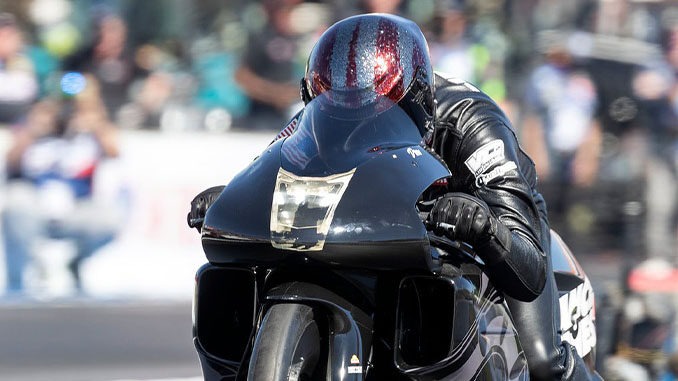 Vance & Hines Shakes Up NHRA PSM Team
Vance & Hines today announced the members of the Vance & Hines/Mission/Suzuki NHRA ProStock Motorcycle (PSM) Team, which will feature four-time champion Eddie Krawiec and 29-year-old Gaige Herrera competing for the 2023 championship. The riders will be aboard Suzuki Hayabusa motorcycles. Six-time champion Andrew Hines returns as crew chief in 2023.
Gaige Herrera is a fourth-generation racer who has had success in XDA's Pro Street and Outlaw racing classes, with race wins in both classes earned over the past several years. Herrera is no stranger to fast bikes, having numerous runs in the 6.30's over 200 MPH. He is a long time Suzuki rider, holding the record for the fastest Nitrous Suzuki Hayabusa in the country. He's also familiar with great equipment, since he's been a customer of Vance & Hines for the past five years.
In 2022, Herrera competed in six NHRA events, his first taste of NHRA PSM racing. He qualified in four of the six races he entered. Herrera impressed the Vance & Hines team when he rode Eddie Krawiec's Suzuki in a test following the Las Vegas round in October.
"This is such a tremendous opportunity," said Herrera. "I never expected to get a call with an invitation to join the Vance & Hines team, and when I told my dad (long time drag racing fixture Augustine Herrera), he was as excited as me."
"We love finding and supporting talented riders," said Terry Vance, co-founder of Vance & Hines. "We have another guy on the team that we hired before he had ever qualified for an NHRA PSM race. That worked out really well."
Eddie Krawiec's success in PSM is unquestioned. A member of the Vance & Hines team since 2007, Krawiec has accumulated 49 NHRA PSM wins and four championships (2008, 2011, 2012, 2017). He was the first member of the team to enter the Denso 200 MPH Club with a current top speed of 203.49 MPH.
"This will be my second year on the Suzuki Hayabusa and I'm ready for a big year for me and for the team," said Krawiec.
Andrew Hines, a six-time NHRA PSM champion, leads the team as Crew Chief again this year. Andrew is the son of Vance & Hines co-founder Byron Hines and has notched 56 race wins in the PSM class.
"I watched Gaige's first run at the US Nationals and immediately knew this guy was something special, he's a long-time Suzuki rider and it was easy to see how confident he was on the bike," said Andrew Hines. "I can't wait to help him develop into a championship level rider in PSM on one of our bikes."
Suzuki continues its partnership with the Vance & Hines team and will have a significant presence at several of the stops on the 2023 schedule. The Suzuki display will host rider autograph signings at most races and Suzuki's 2023 motorcycles will be on display for race attendees.
"We're happy to continue our relationship with the Vance & Hines squad for 2023," said Kerry Graeber, Senior Vice President, Sales & Marketing at Suzuki. "We look to continue our shared history of success in NHRA drag racing and welcome Gaige to the team to pilot the legendary Hayabusa ProStock motorcycle alongside Eddie and crew chief Andrew."
The 2022 NHRA Pro Stock Motorcycle season begins at the Gatornationals in Gainesville FL March 9-13, 2023. The PSM schedule includes 15 stops in 2023 with the finale at the In-N-Out Burger Finals in Pomona, California.
Share