News and stories from the world of the Powersports business.
---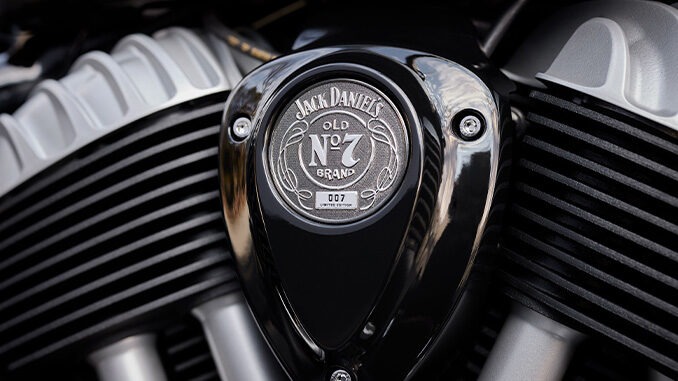 Indian Motorcycle & Jack Daniel's Celebrate American Craftsmanship with Old No.7-Inspired, Limited-Edition Indian Chief Bobber Dark Horse
Indian Motorcycle, America's First Motorcycle Company, and Jack Daniel's®, America's first registered distillery, have once again partnered for a celebration of American craftsmanship with the creation of the 2023 Jack Daniel's®Limited Edition Indian Chief Bobber Dark Horse. The seventh limited-edition offering from the two iconic American brands, and developed in partnership with Klock Werkssm Kustom Cycles, the latest model draws its inspiration from Jack Daniel's® legendary Old No. 7®Tennessee Whiskey.
Hand painted and highly exclusive, Indian Motorcycle will produce only 177 units for global distribution. Building upon the Indian Chief Bobber Dark Horse's mechanical style, where its steel-tube frame and powerful Thunderstroke 116 motor take center stage, the Jack Daniel's® Limited Edition Indian Chief Bobber Dark Horse includes several fine-touch details that make the bike truly one of a kind. The bike features Jack Daniel's® branding throughout, and, for the first time ever, real Jack Daniel's Old No. 7® whiskey mixed directly within the bike's Super Graphite Metallic paint.
"The Jack Daniel's® Limited Edition Indian Chief Bobber Dark Horse is yet another powerful and dynamic representation of the quality, craftsmanship and attention to detail that is core to both of our brands," said Aaron Jax, Vice President for Indian Motorcycle. "This time, we decided to pay homage to Jack Daniel's® iconic Old No. 7® – the most iconic of Jack Daniel's®whiskeys – pairing it with the Chief Bobber Dark Horse. Both products are timeless American originals that share a combination of no-nonsense simplicity and premium quality."
With a mean attitude and old-school muscle, the 2023 Jack Daniel's® Limited Edition Indian Chief Bobber Dark Horse features several design elements that make this bike truly exclusive. Jack Daniel's® branding will be found throughout the bike including the front and rear fenders, stamped on its solo seat, and on a Montana Silversmiths® Badge with each bike's unique serial number. For ultimate exclusivity, Jack Daniel's® signature can be found on the rear fender and etched into the exhaust. The 2023 Jack Daniel's® Limited Edition Indian Chief Bobber Dark Horse touts a tank with a single Indian Motorcycle Script "I" along both sides. The Thunderstroke 116 engine features non-machined highlighted cylinders and heads, Cloud Silver painted rockers and pushrod tubes – giving it a throwback style that delivers a raw metal look.
The limited-edition motorcycle also features white center rims, a solo-saddle seat, a tinted Klock Werkssm Flared Deflector, a Pathfinder 5 ¼ Adaptive LED Headlight, which monitors the bike's lean angle to maximize nighttime illumination, three ride modes, and a four-inch touchscreen powered by RIDE COMMAND with Bluetooth®, weather and traffic overlays, turn-by-turn navigation, and more.
"At Jack Daniel's® we live by the motto, 'Every day we make it, we'll make it the best we can.' Indian Motorcycle shares that philosophy, which is why this partnership has been such a success," said Greg Luehrs, Director of Sponsorships and Partnerships for Jack Daniel's®. "To think that a handshake agreement has given way to seven years of incredible limited-edition motorcycles is truly amazing, and it's only appropriate to honor Jack's tried and true Old No. 7, with this seventh collaborative offering."
For Jack Daniel's® and Indian Motorcycle, craftsmanship is about the fundamentals. And no two products better represent the fundamentals than Old No. 7® and the Indian Chief. For the Indian Chief, the fundamental element is the frame. When designing this bike, it was important to get the stance right and maintain a simple, mechanical design. The Chief's no-nonsense design is a modern homage to the glory days of American motorcycling with iconic V-twin style, combined with modern performance and ride-enhancing technology. For Old No. 7, the fundamental element is cave spring water from Lynchburg, TN– clean, pure, crisp, and a constant 56-degrees – the very lifeblood of Jack Daniel's® Tennessee whiskey.
Starting at $24,499, the Jack Daniel's® Limited Edition Indian Chief Bobber Dark Horse is exclusively available through Indian Motorcycle dealerships. The order window opens March 14, 2023, at 12:00 p.m. EST, and will close once all bikes are sold. The Jack Daniel's® Limited Edition Indian Chief Bobber Dark Horse will begin shipping to Indian Motorcycle dealers throughout the U.S. and Canada in March 2023. Riders can learn more at their local Indian Motorcycle dealership, by visiting IndianMotorcycle.com, or by following along on Facebook, Twitter and Instagram.
---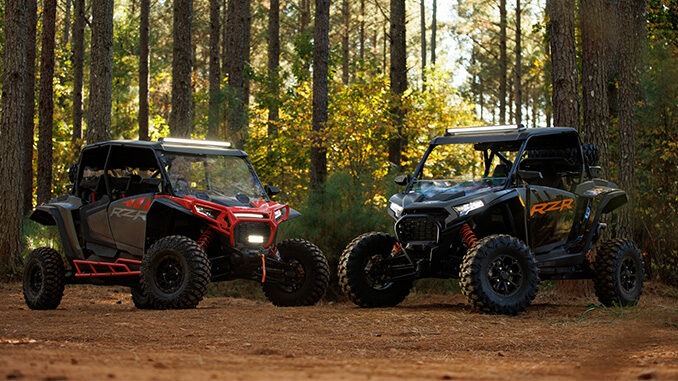 Polaris Unleashes Revolutionary New Generation of the RZR XP – The Industry's Best-Selling Sport Side-By-Side
Polaris Off Road, the leader in off-road vehicle innovation, today unleashed the next generation of the industry's best-selling sport side-by-side, the RZR XP. The all-new 2024 RZR XP has been completely redesigned from the ground up to raise the industry standard for sport side-by-sides to an entirely new level – delivering class-leading durability, comfort and performance.
Stronger than ever before, the Polaris RZR XP chassis provides improved trail agility and rugged durability in rough conditions. It showcases a new, aggressive style, with integrated doors, LED accent lights and an upgraded level of fit and finish delivering a premium experience. A newly designed, reinforced driveline withstands rough terrain with stronger half shafts, prop shaft, and bearings. The RZR XP's optimally-tuned Walker Evans Racing® Needle Shocks, with 16-position adjustability, provide a plush ride, while a redesigned cockpit improves legroom and line of sight for drivers and passengers. Featuring responsive acceleration thanks to an all-new ProStar 1000 Gen 2, 114-horsepower engine, the RZR XP also provides extra traction through technical terrain via Polaris' fast engaging on-demand All Wheel Drive system.
"The multi-terrain category is the largest segment in the performance side-by-side industry, and we're proud to deliver an all-new vehicle that's head and shoulders above anything else available today," said Reid Wilson, Vice President, Polaris Off Road Recreation. "In 2014, the RZR XP 1000 started it all for multi-terrain sport side-by-sides, and now, we're building upon that legacy – taking what has long been the standard and making it even better in every possible way."
Inspiring riders to break free from the mundane, the RZR XP delivers a rugged design, all-day comfort, and the legendary performance that unlocks new experiences. With over 60 all-new accessories, the RZR XP offers engineered customization options for riders who like to navigate the trails or get off the beaten path. Plus, Pro Armor will be the only aftermarket brand with a full range of launch-ready accessories like cages, doors, storage, seats, bumpers and more.
Rugged Design
Featuring an all-new rugged design, the 2024 RZR XP is designed to keep riders out with their crew even longer. A stronger, redesigned chassis increases strength and stiffness, providing improved agility, while a redesigned driveline from front to back results in stronger half shafts, prop shaft and bearings that allows riders to stay out all day long.
In addition, an integrated front bumper and full-coverage skid plate provide durable protection to the front of the vehicle, the driveline, and engine components. The RZR XP also offers toolless access and a removable rear bin for easy maintenance work, while new mounting and ducting create a cooler running CVT that increases belt life.
Built with a purposeful design, the RZR XP comes with a new mounting location for the Pro HD 4,500 LB winch, allowing it to take center stage with an integrated fairlead that doubles as a styled cover. Also available to the RZR XP is a pivoting spare tire carrier, with a strategic mounting location in the rear that does not sacrifice cargo space. With accessory options available for seamless integration, riders can enjoy full coverage fender flares and a stamped aluminum roof that adds increased strength and a unique design element.
All-Day Comfort
To enhance the experience and keep the ride fun for all riders, the RZR XP delivers a smooth ride with optimally-tuned shocks and a redesigned cabin. Tuned for customers most used speeds and terrain, the Walker Evans Racing® Needle Shocks' available 20.5 inches of usable travel provide a comfortable ride to keep you out with your crew longer.
Featuring all-new, in-cab ergonomics, Polaris fully maximized seating by adjusting the front seats one-inch lower and 1.5-inches back – resulting in a sportier driving position with increased leg room. By elevating the rear seats by 2 inches, the sight line is improved for rear passengers.
Adding convenience, Polaris redesigned the RZR XP's cargo space to keep items secure, but within reach for easy accessibility. The all-new RZR XP also features full doors, an available roof, new LED lights that illuminate the trails, and new illuminated in-cab switches for easy visibility at night.
To extend the ride across terrains and seasons, the RZR XP accommodates upgraded upper doors with a molded sealing surface between the front and rear doors to keep the heat in and the cold out. Riders can enjoy a more comfortable ride by adding a heater and windshield wiper kit to dial in temperature control and increase visibility while riding. Pack all the essentials with RZR's first tonneau cover, which allows riders to turn the entire bed into a storage box. Additional storage upgrades for the RZR XP includes nesting cargo boxes and coolers, as well as in-cab storage bags to keep the essentials close.
Legendary Performance
Built to unlock outdoor experiences, the 2024 RZR XP delivers responsive power and control.
Packing an all-new 999cc, 114-horsepower engine, RZR XP delivers power to the ground quickly for responsive acceleration from corner to corner.
With fast engaging all-wheel drive and a lower-geared transmission, riders receive extra traction and smooth, responsive power that improves handling through technical terrain. New body styling provides an improved line of sight over the hood, allowing drivers to easily pick their line during technical riding.
Designed with customization in mind, the RZR XP offers six plug-and-play Polaris PULSE ports and is factory prewired throughout the vehicle. An available 900W charging system provides plenty of power to run all electronic accessories added to the machine.
To maximize the experience, riders can crank up the volume with a Stage 5 Audio Upgrade from Rockford Fosgate® – complete with four 100W speakers and a 12″ 400W subwoofer. With a focus on better sealing and visibility for windshield offerings, the RZR XP cage includes a contoured A-pillar for the first time ever and a dash pocket that helps reduce dust intrusion and wind noise. With a flat viewing area and tight seal, the Lock & Ride poly rear panel offers maximum rearward visibility and reduces rear air swirl in the cab.
Shipping to dealers in April, RZR XP is available in two and four-seat configurations in three trims: Sport, Premium and Ultimate.
RZR XP 1000 Sport:
Starting at $20,999 US MSRP, riders can get into the RZR XP 1000 Sport, featuring in-mold color, 29″ Trailmaster X/T, color-matched seats and springs, LED headlights, illuminated in-cab switches, and a new digital display.
RZR XP 1000 Premium:
The RZR XP 1000 Premium starts at $22,999 US MSRP, and includes a painted body with premium graphics, 30-inch Trailmaster X/T 2.0, color-matched dash, seats and springs, PMX head unit, a Rockford Fosgate® Stage 1 Audio, a poly roof and four-point harnesses.
RZR XP 1000 Ultimate:
Rounding out the lineup is the RZR XP 1000 Ultimate, starting at $25,999 US MSRP. Available with a premium painted body and two premium color and graphics options, RZR XP 1000 Ultimate offers Polaris' industry-leading seven-inch touchscreen display powered by RIDE COMMAND, a Rockford Fosgate® Stage 2 Audio, 900W operating system, along with front and rear LED accent lighting.
Also created specifically for the RZR XP are four rider inspired accessory collections, built for a variety of riding terrains that include trail, mud, backcountry and all-season.
To learn more, please visit Polaris.com/RZR or join the conversation and follow on Facebook sm, Instagram sm, YouTube sm and Twitter sm.
---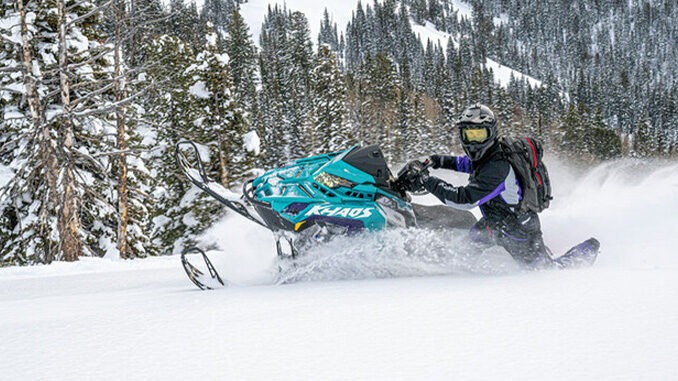 Polaris Announces 2024 Snowmobile Lineup Featuring New Deep Snow Innovation and SnowCheck Ship Guarantee Program
With today's introduction of its 2024 snow lineup, Polaris Inc. (NYSE: PII) is building on its comprehensive snowmobile and snow bike portfolio with new and enhanced rider-driven innovations and features that deliver performance, control, and agility, including the new Series 9 325 track and Timbersled's new RIOT Gen 2 system. The 2024 lineup is complemented by more than 250 new parts, apparel and accessories that provide even more personalization options. This year, Polaris is making its SnowCheck program even more compelling with the launch of a SnowCheck Ship Guarantee*, which promises all 2024 SnowCheck orders will ship by November 30, 2023.
"Everything we do starts with our riders in mind," said Jenny Nack, vice president and general manager, Polaris Snow. "The 2024 Polaris snowmobile and Timbersled lineup is one of our most refined and complete in recent years. And our new Ship Guarantee will give SnowCheck customers confidence that their customized snowmobile will not only deliver the best riding experience but will also arrive in time for winter."
Building on an industry-leading snowmobile portfolio, the 2024 lineup offers new options for deep snow riders, along with feature and performance enhancements for trail riders. Highlights include:
Polaris is introducing an all-new Series 9 325 track, the largest in the industry, that further elevates Polaris RMK to the top of the mountain. A SnowCheck exclusive option, the new 3.25″ track propels riders through the deepest powder with a design that spools up instantly and delivers a new level of traction and lift. The Series 9 325 track is joined by other SnowCheck-exclusive features including the factory-mod power of the Patriot 9R and the turbocharged Patriot Boost.
As the newest engine, the four-stroke ProStar S4 offers enhanced efficiency and durability across INDY, Voyageur, and Titan snowmobiles. From its smooth throttle response, to less maintenance and easier ownership, it continues to deliver spirited performance, with the capability and fun to hit the trails, haul gear, and enjoy the winter.
The 2024 lineup boasts an optional 7-inch display powered by RIDE COMMAND technology. The Polaris-exclusive offering, RIDE COMMAND is the sport's first and most dedicated GPS mapping and rider connectivity technology without needing cellular connection. RIDE COMMAND continues to set the standard allowing riders to plan routes, organize and track riding groups, and offers industry-leading Bluetooth® connectivity on a full color, glove-friendly touchscreen 7S Display.
"We never stop looking for ways to improve the riding experience," said Nack. "Whether through bold, game-changing innovations like Patriot 9R and the Matryx platform, or our ongoing efforts to tune and enhance quality and performance, the passion and commitment of our team to continually raise the bar is always there."
To complement the 2024 lineup, Polaris is launching nearly 250 new accessories, parts and apparel. Mountain riders can discover increased comfort and customization options with our new handlebar gauntlets, new colors in our backcountry handguards, and new options in our signature Lock & Ride Flex Storage bags. Trail riders have expanded auxiliary lighting options, as well as added accent lights to enable even more personalization. Those looking for extra storage needs may be interested in the new towable Adventure trailer, featuring independent suspension and a taillight.
SnowCheck – the industry's most comprehensive customization spring order program – launched for 2024 snowmobile model ordering on March 6 and will run through March 29. This year, exclusivity and customization remain at the forefront with models, engine options, technology features, and specific colors available only through the pre-order program. Riders that order through the 2024 Polaris SnowCheck program will also receive up to a three-year extended warranty and a shipment guarantee that provides riders with the confidence their sled will ship by November 30, 2023 or customers receive $1,500 off at purchase.
Full details on the 2024 lineup of Polaris snowmobiles, along with the SnowCheck spring order program and associated Ship Guarantee, can be found at PolarisSnowmobiles.com.
2024 TIMBERSLED UNLOCKS MORE RIDING FREEDOM
Timbersled is long regarded as the industry leader that revolutionized the sport of snow biking. The 2024 lineup demonstrates continued innovation, providing riders the ultimate in control, performance, and agility.
For 2024, that evolution of ultimate riding freedom continues with the introduction of the RIOT Gen 2. The RIOT Gen 2 system will join the technical terrain focused ARO on the Gen 2 platform, and both will be available in Premium and Pro trim levels. The new system features a narrowed rail stance, a new lightweight track, and an overall weight reduction, making the new RIOT more agile and more responsive. Available exclusively in the Pro package, RIOT Gen 2 also features responsive QDT belt drive technology. These options along with the youth focused Timbersled Ripper and exclusive color choices easily makes the 2024 Timbersled lineup the most extensive in the industry.
Discover the complete 2024 lineup at Timbersled.com, along with the latest in partnered accessories and details for the SnowCheck spring order program.
---
EagleRider Secures Exclusive Deal to be the Only Company to Offer Rentals and Tours on the New Harley Davidson Pan America in United States
EagleRider, in partnership with Harley-Davidson, announced today that the company has been chosen as the exclusive provider of rentals and tours of the H-D Pan America in the United States.
Motorcycle enthusiasts have been praising the Pan America, which Hot Cars named "one of the most badass motorcycles Harley Davidson has ever made," due to its high-tech features and impressive power, making it comfortable for distance riding in all types of terrain.
Adventure seeking travelers who want to be one of the first to experience how Pan America feels on the road can now sign-up to ride this coveted bike for any one of the three newly launched EagleRider tours rolling out in Alaska.
"EagleRider customers and Club Members continue to benefit from our rich partnership with Harley Davidson," said Shawn Fechter, SVP of Strategic Growth & Marketing for EagleRider. "It's an incredible opportunity to be one of the first people in the world to experience riding the new H-D Pan America on an itinerary of this level that travels the last great Western Frontier."
With Pan America Alaska tours lasting anywhere from 7 – 15 days depending on the tour, these adventures are literally built for travelers who want to be the first to checkoff "bucket list" travel experiences such as flying over the Arctic Circle with a stop in one of Alaska's most remote villages, to enjoying some of the freshest salmon in the world at a traditional Salmon Bake, and to riding one of the most iconic destinations in Alaska, Denali National Park, and its peak that rises to an elevation of 20,300 feet.
The tour also includes a chance to ride two of the most remote stretches of paved roads in Canada, Yukon, and Alaska, the famed Alaskan Highway and the Tok Highway, which offers long stretches in between remote towns and true frontier wilderness.
To be one of the first to secure these amazing experiences, interested traveler seekers should visit:
---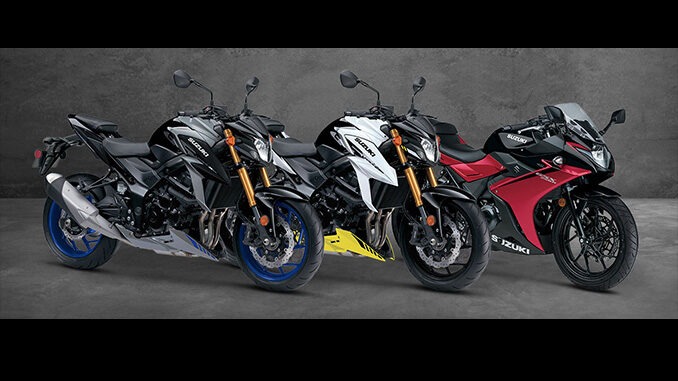 Suzuki Announces Returning Motorcycles to Round Out 2023 Line-up
Suzuki Motor USA is proud to announce three popular motorcycles to complete the 2023 model lineup: the GSX-S750Z ABS, GSX-S750Z, and GSX250R ABS. These models feature proven designs and advanced technology, making each ideal for riders of all skill levels looking for some excitement in style.
The 2023 GSX-S750Z/ABS models blend GSX-R750-derived engine performance with aggressive naked sportbike styling that's ready to turn heads as the performance leader in its class. The 2023 GSX-S750Z ABS features a Metallic Oort Gray No. 3 and Glass Sparkle Black color scheme, while the GSX-S750Z comes in a vivid Pearl Brilliant White and Champion Yellow No. 2 combination.
Key Features:
Fuel-injected, 749cc, four-cylinder engine using GSX-R architecture delivers a torque-rich, sportbike experience.
Advanced Traction Control* lets the rider select sensitivity to match road conditions, and the unique GSX-S750 chassis integrates the best qualities of a tubular girder streetbike frame and a twin-spar sportbike frame, providing precise handling.
Fitted with KYB suspension and radial-mounted Nissin four-piston brake calipers with wave-style rotors up front, ensuring strong and consistent braking performance. The GSX-S750Z ABS is equipped with a compact, smooth-operating Anti-lock Braking System (ABS)**.
Aggressive streetfighter styling with ergonomically comfortable, yet sporty riding position is achieved with a wide, cast aluminum handlebar, a well-positioned seat, and foot pegs.
2023 Suzuki GSX-S750Z ABS
MSRP $9,149
Click Here for More Details
2023 Suzuki GSX-S750Z
MSRP $8,649
Click Here for More Details
The confidence-inspiring GSX250R ABS sportbike features a new, two-tone Metallic Diamond Red and Pearl Nebular Black color scheme bringing big bike impact to the 250 class. The fully faired, quarter-liter sportbike delivers easy-to-control performance, great fuel efficiency, nimble handling, and modern styling inspired by Suzuki's championship-winning sportbike heritage.
Key Features:
The fuel-injected, parallel-twin engine delivers smooth, responsive power with exceptional fuel economy estimate that delivers a riding range of over 250 miles***.
Reverse-lit LCD instrument panel, distinctive position lamps, and surface-emitting LEDs in the taillight.
Comfortable, roomy ergonomics for rider and passenger, with a slim fuel tank, and a low seat height perfect for new riders.
Ten-spoke, cast aluminum wheels, ABS-equipped** front disc brake with petal-type rotors, and well-tuned suspension components combined with an exceptional chassis that's more than ready for any riding assignment.
2023 Suzuki GSX250R ABS
MSRP $4,999
Click Here for More Details
Suzuki is excited to bring back these fan-favorite motorcycles to the 2023 Suzuki lineup. With Suzuki's engineering excellence, impressive handling, and striking design elements, the GSX-S750Z ABS, GSX-S750Z, and GSX250R ABS are sure to provide riders with an unforgettable sportbike experience.
With a comprehensive 12-month unlimited mileage limited warranty and longer coverage periods with other benefits available through Suzuki Extended Protection (SEP), these 2023 Suzukis may be personalized with a wide range of Genuine Suzuki Accessories available at Suzuki dealers. For more information, please visit SuzukiCycles.com.
Note: SUZUKI MOTOR CORPORATION reserves the right to add any improvement to change the design or to discontinue any Suzuki Genuine Accessories at any time without notice. Some Suzuki Genuine Accessories might not be compatible with local standards or statutory requirements. Please check with your local AUTHORIZED SUZUKI DEALER for details at the time of ordering.
*The Traction Control System is not a substitute for the rider's throttle control. It cannot prevent loss of traction due to excessive speed when the rider enters a turn and/or applies the brakes. Traction control cannot prevent the front wheel from losing grip.
**Depending on road surface conditions, such as wet, loose, or uneven roads, braking distance for an ABS-equipped vehicle may be longer than for a vehicle not equipped with ABS. ABS cannot prevent wheel skidding caused by braking while cornering. Please drive carefully and do not overly rely on ABS.
***Suzuki's fuel economy estimates are based on EPA exhaust emission measurement tests conducted by Suzuki and are intended for comparison purposes only. Your actual mileage may vary depending on how you ride and maintain your vehicle, road and driving conditions, tire pressure, engine break-in, accessories, cargo, rider and passenger weight, and other factors.
---
Share