News and stories about powersports racing this week.
---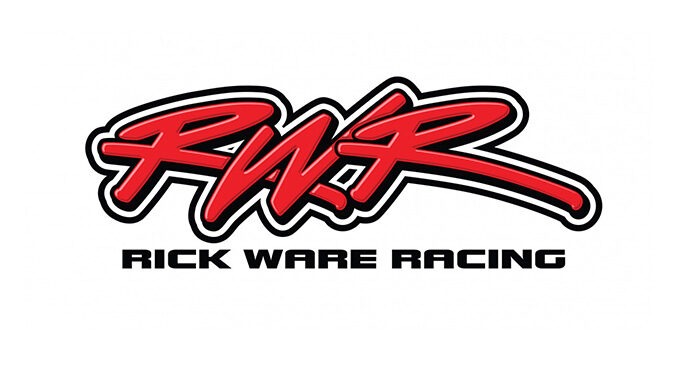 Rick Ware Racing Joins the American Flat Track Championship
Rick Ware Racing will field two entries in the Progressive American Flat Track Championship for the 2023 season. The series kicks off with a double-header event at Daytona International Speedway on March 9 & 10.
Former Mission SuperTwins presented by S&S Cycle Champion Briar Bauman and Shayna Texter-Bauman, the winningest rider in Parts Unlimited AFT Singles presented by KICKER history, have signed on with the team. Bauman will compete with a KTM 890 Duke R in the Mission SuperTwins class, while Shayna will campaign a KTM 450 SX-F in the Parts Unlimited AFT Singles Class.
This adds another element to the expansion efforts of RWR as it continues to grow its motorsport platform. Currently, it fields entries in the NASCAR Cup Series, IndyCar, NHRA (Top Fuel), IMSA (LMP2), AMA Supercross and FIM World Supercross Championships. These respective schedules will see RWR compete in seven different countries all over the world.
"This is another step for RWR in growing our marketing value and expanding with new sponsors." said Rick Ware. "We're looking forward to joining the AFT series and chasing wins with Championship-caliber riders. Shayna and Briar are welcome additions to the existing RWR driver/rider roster and we can't wait to see what they can do."
"We won a FIM World Supercross Championship last year in our first foray back into two-wheel racing in over a decade. My expectation is for this program to be just as successful."
Progressive AFT is sanctioned by AMA Pro Racing, whose primary investor is Jim France, CEO of NASCAR, and headed up by newly-named CEO, Gene Crouch.
"We'd like to extend a warm welcome to Rick Ware Racing as they join the Progressive AFT family," said Gene Crouch, CEO of AMA Pro Racing. "RWR is an extremely successful and professional operation, and there's destined to be a great deal of excitement as they enter the sport backing two of our most popular and talented riders in Briar and Shayna."
---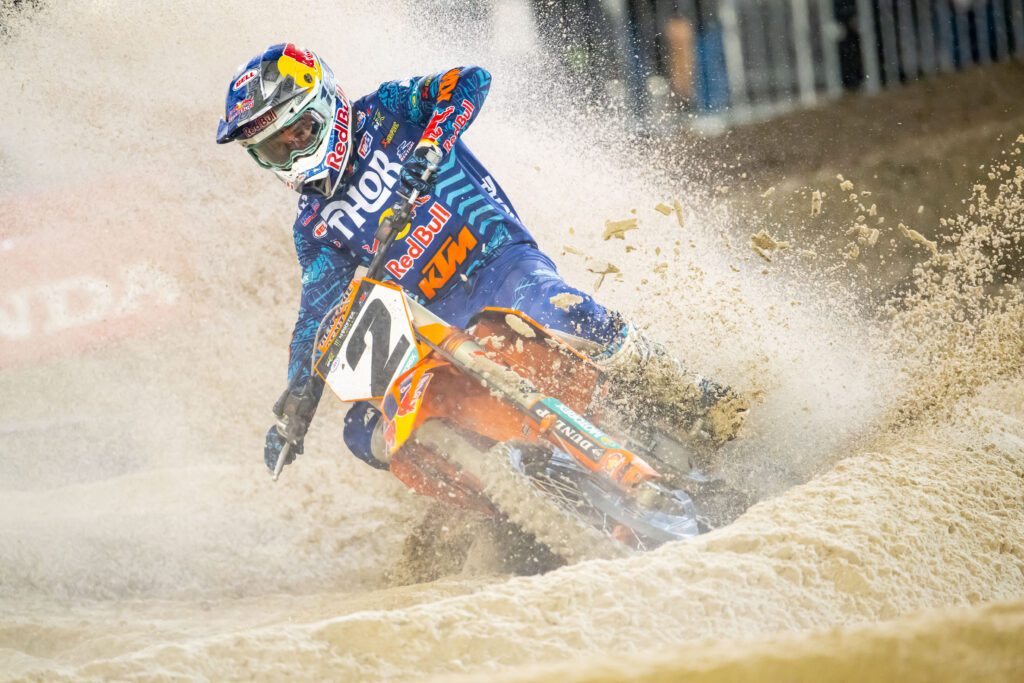 COOPER WEBB AND RED BULL KTM KEEP 450SX PRESSURE ON WITH SECOND AT DAYTONA
Red Bull KTM Factory Racing's Cooper Webb has maintained pressure in the 2023 AMA Supercross Championship 450SX title race, scoring his fourth-consecutive podium finish with second place at Daytona, as team-mate Aaron Plessinger rode to ninth. In 250SX East, Tom Vialle was in podium contention but ultimately ended his night with a crash in the Main Event.
Posting the seventh fastest time in qualifying, Webb was inside the top three during the opening lap of Heat 2. Swiftly making his way up to second, the two-time premier class champion narrowly missed out on victory at the conclusion of the outing onboard his 2023 KTM 450 SX-F FACTORY EDITION.
A strong start in the 450SX Main Event saw Webb charge to the early lead, setting the pace throughout much of the opening half of the race. Despite being regulated to second soon after, he kept his head down and rode to a commendable runner-up result, taking the checkered flag just 1.791s from the win. That finish sees him maintain second in the standings, just five points from the red plate.
Cooper Webb: "Daytona has always been good to me, I've been on the podium here every time I have raced and been close [to the win] twice now. It's been good competition for sure, we [Webb, Eli Tomac, and Chase Sexton] each have our strengths and I think we are elevating Supercross at the moment. I am sure we will all look back in 10 years and relish it, but right now, it's every man for themselves. Moving forward, I really like Indy, Detroit, Seattle, and Salt Lake, so a lot of good rounds coming up."
A 10th-fastest qualifying lap provided Plessinger with a decent platform to launch into Heat 1 and showing solid pace throughout the race he worked his way up to fourth. The 2023 KTM 450 SX-F FACTORY EDITION rider was seventh after lap one of the Main Event, eventually finishing the race in ninth position.
Aaron Plessinger: "Daytona was looking to be fun and I enjoyed the track. I qualified 10th and it actually went pretty well – I felt good throughout the day. In the Heat race, I got an alright start and worked my way into fourth. In the Main Event, I got an okay start and was trying to move forward, but I lost my flow and kind of struggled throughout the rest of the main. We will go back, do some homework, figure out what I did wrong, and come out swinging for Indianapolis."
Daytona marked the fourth round of the 250SX Eastern Regional series, with Vialle sixth fastest at the conclusion of qualifying, in his first visit to Daytona International Speedway. Grabbing the early lead in Heat 1, the French rookie onboard his 2023 KTM 250 SX-F went on to secure a solid P2 finish to commence the night show.
After a great start to the Main Event, Vialle's maiden appearance at Daytona was unfortunately brought to a premature end when a heavy fall while running in second position ruled him out of contention. The double MX2 World Champion was unable to complete the race.
Tom Vialle: "First time for me in Daytona was pretty good, I felt great in the practice and qualified sixth. I had a great start, I was first in the Heat on the start and I finished second, felt good. I had another great start in the Main Event and when Hunter Lawrence passed me, I was sitting well in second position, but on lap three I tipped over on a triple – I landed a little bit short and just tipped over. For sure, that was frustrating because I feel like we could have delivered a strong result, but that is how it is and we are going to do a great week with training and be ready for next weekend."
Next Race: March 11 – Indianapolis, Indiana
Results 450SX Class – Daytona
1. Eli Tomac (USA), Yamaha, 17 laps
2. Cooper Webb (USA), KTM, +1.791s
3. Chase Sexton (USA), Honda, +12.046s
OTHER KTM
9. Aaron Plessinger (USA), KTM
12. Justin Hill (USA), KTM
15. Josh Hill (USA), KTM
Standings 450SX Class 2023 after 8 of 17 rounds
1. Eli Tomac, 186 points
2. Cooper Webb, 181
3. Chase Sexton, 176
OTHER KTM
6. Aaron Plessinger, 135
14. Justin Hill, 73
17. Josh Hill, 42
Results 250SX East Class – Daytona
1. Hunter Lawrence (AUS), Honda, 13 laps
2. Max Anstie (UK), Honda, +9.127s
3. Haiden Deegan (USA), Yamaha, +24.514s
OTHER KTM
17. Jack Chambers (USA), KTM
22. Tom Vialle (FRA), KTM
Standings 250SX East Class 2023 after 4 of 9 rounds
1. Hunter Lawrence, 99 points
2. Max Anstie, 85
3. Haiden Deegan, 74
OTHER KTM
8. Tom Vialle, 53
26. Jack Chambers, 17
---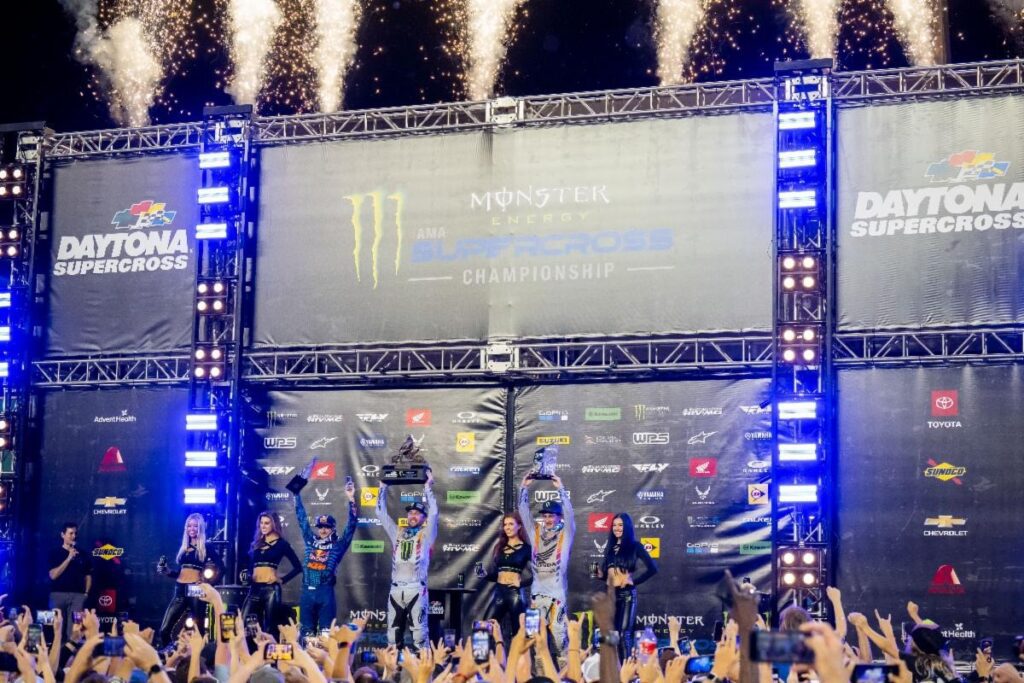 Tomac Wins Daytona Supercross for Record Seventh Time
Monster Energy Yamaha Star Racing's Eli Tomac took a hard-earned Monster Energy AMA Supercross victory at the 53rd running of the Daytona Supercross, stretching his record number of wins at the venue to seven.
The 53rd running of the Daytona Supercross delivered thrills from the opening ceremonies to the final lap of the 450SX Class Main Event. Photo Credit: Feld Motor Sports, Inc.
Red Bull KTM's Cooper Webb was close but had to settle for second place at Round 8 on the unique track built into the trioval of the Daytona International Speedway. Team Honda HRC's Chase Sexton had some close calls but no crashes to finish third on the high-speed Supercross track. In the fourth round of the 10-round Eastern Regional 250SX Class series, Team Honda HRC's Hunter Lawrence took the Daytona win in convincing style.
Eli Tomac won the event for the seventh time, extending his record as the King of Daytona Supercross. Photo Credit: Feld Motor Sports, Inc.
When the gate dropped for the 450SX Class Main Event, Tomac grabbed the Holeshot but Webb took an outside line in the second corner and snatched the lead. Sexton held third place with Troy Lee Designs Red Bull GASGAS Factory Racing's Justin Barcia applying pressure to take over the spot. After one lap Monster Energy Kawasaki's Jason Anderson had made his way into fifth, and Rockstar Energy Husqvarna Factory Racing's RJ Hampshire sat sixth in his first 450SX Class Main Event after winning his Heat race.
With the rain coming down Webb held command of the race. Then approximately seven minutes into the 20-minute plus one lap race Webb and Tomac had a fierce exchange. The two racers traded the lead four times in one section, with Webb retaining the front spot after the two riders bumped entering a rutted, elevated corner. Tomac was sent wide, but not off the track. The incident allowed Sexton to close the gap and suddenly the top three in the points all had a shot at the Daytona win.
Nine minutes in, Webb hit neutral entering the high-speed rhythm just after the finish line. Tomac jumped past and locked down the lead. The front four, Tomac, Webb, Sexton, and Barcia were still close, with less than four seconds separating the four riders.
Then Sexton made a big mistake in one of the rutted rhythm sections. Barcia tried to capitalize, Sexton blocked, and the riders came together right before a triple jump. The contact sent Barcia off the track but not down. Less than a lap later Sexton stalled his bike braking for the tight, elevated corner. Barcia tried to jump past on the corner's exit and the riders came together again. The second incident went worse for Barcia and he found himself down on the Florida soil. Barcia was able to remount in time to stay in front of Anderson in fifth.
In the late laps Webb made a push to get back to Tomac. The KTM rider closed the gap down to 1.4 seconds as the racers reached the white flag. But Tomac laid down a mistake-free final lap and kept his Yamaha up front. When Tomac crossed the checkers he stretched his all-time Daytona win record to seven and took sole possession of third in all-time 450SX Class wins, just one behind James Stewart who was in the broadcast booth calling the race alongside Ricky Carmichael and Daniel Blair.
Hunter Lawrence was back to his winning ways with a strong victory at Daytona.
Photo Credit: Feld Motor Sports, Inc.
In the Eastern Regional 250SX Class Fire Power Honda's Max Anstie jumped out in first with the Holeshot but down the first straight Monster Energy Yamaha Star Racing's Nate Thrasher took over the lead. One turn later Red Bull KTM's Tom Vialle took the top spot from Thrasher. Lawrence was up near the front and as the racers went through the sand section for the first time he collided with Thrasher. Lawrence got the position and Thrasher went down and fell back to last place. Lawrence sped forward, blitzing past Vialle and into the lead on the first pass through the whoops.
Muc-Off FXR ClubMX Yamaha's Jeremy Martin held third with Monster Energy Pro Circuit Kawasaki's Chris Blose behind and Monster Energy Yamaha Star Racing's Haiden Deegan in fifth. Then Vialle crashed hard in the short rhythm after the whoops, giving up his second place spot. Four and a half minutes into the 15-minute plus one lap race, with light rain coming down, Deegan moved confidently past Martin to take over third place. With 8:22 left on the race clock Thrasher reached tenth and looked to have the speed to reach the top five. Half a lap later Thrasher landed on a Tuff Blox, crashed hard, and looked out of the race; but Thrasher re-joined and worked his way back up to tenth by the finish.
The win by Lawrence matched his brother's victory in 2022, making the Lawrence brothers the first in the sport's history to each have a Daytona Supercross win. This augments their other 'first' this season as being the only brother duo to simultaneously lead both the Eastern and the Western Regional 250SX Class points. Anstie earned his second runner-up finish of 2023 and rookie Haiden Deegan earned his career-first podium finish in only his fourth professional Supercross race.
The series heads to Indianapolis next weekend where Lucas Oil Stadium will host Round 9 of both the 17-round 2023 Monster Energy AMA Supercross season as well as the brand-new 31-round SuperMotocross World Championship series. The inaugural series incorporates Supercross, Pro Motocross, and three hybrid-style events to crown one SuperMotocross World Champion in each bike displacement class. The 2023 seasons combine for the largest total purse of any off-road motorcycle racing series with a 10 million dollar purse.
All 31 rounds are streamed live on Peacock. Select rounds will also show domestically on NBC, USA Network, and CNBC. International coverage of all 31 events is provided through the SuperMotocross Video Pass at SuperMotocross.tv. For video highlights, race results, the full schedule, and ticket information please go to SupercrossLIVE.com.
450SX Class podium (racers left to right) Cooper Webb, Eli Tomac, and Chase Sexton.
Photo Credit: Feld Motor Sports, Inc.
450SX Class Results
Eli Tomac, Cortez, Colo., Yamaha
Cooper Webb, Newport, N.C., KTM
Chase Sexton, Clermont, Fla., Honda
Justin Barcia, Greenville, Fla., GASGAS
Jason Anderson, Rio Rancho, N.Mex., Kawasaki
Justin Cooper, Tallahassee, Fla., Yamaha
Ken Roczen, Clermont, Fla., Suzuki
RJ Hampshire, Minneola, Fla., Husqvarna
Aaron Plessinger, Hamilton, Ohio, KTM
Christian Craig, Clermont, Fla., Husqvarna
450SX Class Championship Standings
Eli Tomac, Cortez, Colo., Yamaha (186)
Cooper Webb, Newport, N.C., KTM (181)
Chase Sexton, Clermont, Fla., Honda (176)
Jason Anderson, Rio Rancho, N.Mex., Kawasaki (148)
Ken Roczen, Clermont, Fla., Suzuki (138)
Aaron Plessinger, Hamilton, Ohio, KTM (135)
Justin Barcia, Greenville, Fla., GASGAS (132)
Christian Craig, Clermont, Fla., Husqvarna (103)
Joey Savatgy, Clermont, Fla., Kawasaki (85)
Colt Nichols, Murrieta, Calif., Honda (84)
250SX Class podium (racers left to right) Max Anstie, Hunter Lawrence, and Haiden Deegan.
Photo Credit: Feld Motor Sports, Inc.
Eastern Regional 250SX Class Results
Hunter Lawrence, Wesley Chapel, Fla., Honda
Max Anstie, Cairo, Ga., Honda
Haiden Deegan, Tallahassee, Fla., Yamaha
Jordon Smith, Ochlocknee, Ga., Yamaha
Jeremy Martin, Rochester, Minn., Yamaha
Chance Hymas, Pocatello, Idaho, Honda
Chris Blose, Phoenix, Ariz., Kawasaki
Coty Schock, Dover, Del., Honda
Cullin Park, Clermont, Fla., Honda
Nate Thrasher, Livingston, Tenn., Yamaha
Eastern Regional 250SX Class Championship Standings
Hunter Lawrence, Wesley Chapel, Fla., Honda (99)
Max Anstie, Cairo, Ga., Honda (85)
Haiden Deegan, Tallahassee, Fla., Yamaha (74)
Jordon Smith, Ochlocknee, Ga., Yamaha (71)
Jeremy Martin, Rochester, Minn., Yamaha (71)
Nate Thrasher, Livingston, Tenn., Yamaha (70)
Chance Hymas, Pocatello, Idaho, Honda (60)
Tom Vialle, Murrieta, Calif., KTM (53)
Chris Blose, Phoenix, Ariz., Kawasaki (53)
Michael Mosiman, Minneaola, Fla., GASGAS (51)
---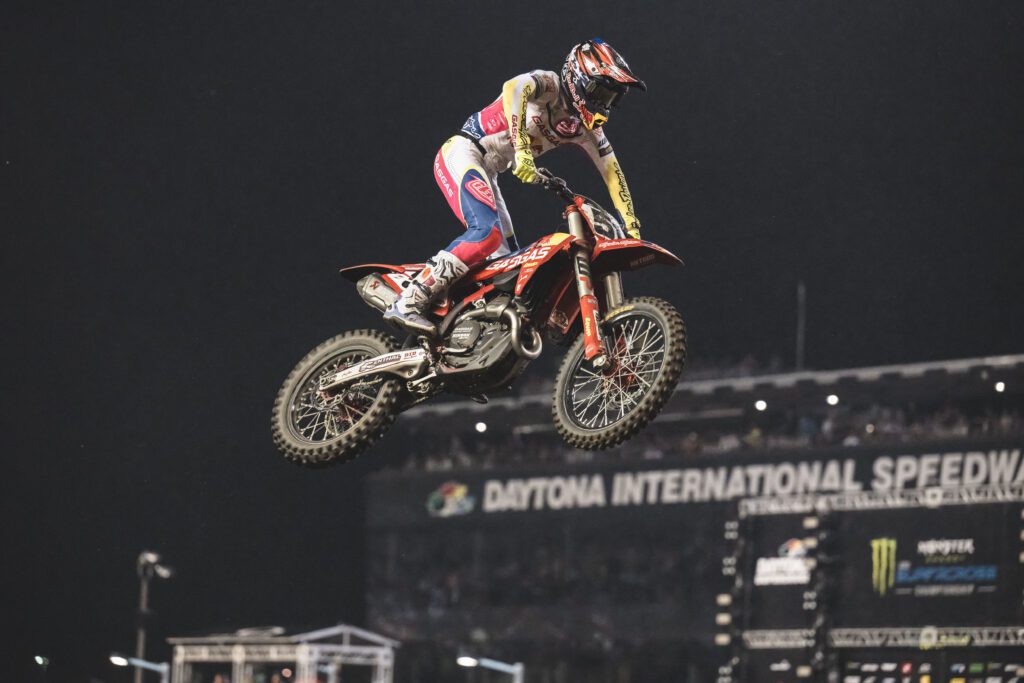 JUSTIN BARCIA NARROWLY MISSES PODIUM FINISH AT DAYTONA SUPERCROSS
Bike Week and a visit to Daytona International Speedway always bring a little extra excitement to the AMA Supercross season and adds a bit of extra motivation to the riders on the Troy Lee Designs/Red Bull/GASGAS Factory Racing Team.
Troy Lee Designs/Red Bull/GASGAS Factory Racing Team was feeling the positive vibes from the World Center of Racing
Justin Barcia just missed visiting the podium for the second time this season.
Michael Mosiman had his best qualifying effort of '23
450SX
With a P6 in qualifying and a third-place finish in his heat race, it was clear that Justin Barcia was on the gas and feeling good aboard his MC 450F Factory Edition at Daytona. After rounding the first turn in the main event, Justin was among the leaders and maintained close contact with them in pursuit of a podium spot. After one off-track excursion and a close encounter that momentarily put him on the ground, he ultimately finished fourth on the night.
Justin Barcia:"This was my best practice and qualifying of the year. That was awesome, and I ended up P6. Very happy with that. In the heat race, I didn't get the best start but had some of the fastest lap times and moved up to third. In the main event, I got a good start and was running fourth. I had the leaders in front of me, and tried to make a pass and got a little tangled. Then I came back, tried to make another pass, and got tangled again. Fourth was all it wrote. I'm really disappointed. It definitely was a podium night with my speed and the bike was really good. I really like Indy. It's a good vibe there and a good stadium. I do well there, and I want to be on the podium."
250SX East
With a P4 qualifying effort, Michael Mosiman went into the evening's racing with a positive outlook. He also scored a fourth in his heat race despite a minor tip-over. A poor start had Michael charging forward from 11th to sixth before a hard crash ended his night.
Michael Mosiman: "You know what? Today had a lot of positives. I was riding a lot better. I felt like my bike was in a good spot. I felt fast and in control. I felt good in my heat race, and just felt racy. In the main event, I didn't have the best gate pick and slid off the gate. I made the most of it, got banged around a little bit, and just tried to make my way up through the pack. I think I was in sixth, catching fifth, and I caught a haybale and got bit. It's super tough to end my night on a crash. I'm not stoked on that. But I can't let the sour ending take the place of so many of the positives. So, we're going to focus on the positives, focus on the good riding, and try to carry that momentum into the next one."
Next Event (Round 9): March 11, 2023 – Lucas Oil Stadium in Indianapolis, Ind.
Results – 2023 AMA Supercross Championship, Round Eight
250SX East – Main Event Results
1. Hunter Lawrence (Honda) 13 laps; 2. Max Anstie (Honda) +09.127; 3. Haiden Deegan (Yamaha) +24.514 … 21. Michael Mosiman (GASGAS)
450SX – Main Event Results
1. Eli Tomac (Yamaha) 17 laps; 2. Cooper Webb (KTM) +01.791; 3. Chase Sexton (Honda) +12.046 … 4. Justin Barcia (GASGAS) +23.001; 18. Justin Starling (GASGAS)
Championship Standings – After Six Rounds
250SX East
1. Hunter Lawrence (Honda) 99 points; 2. Max Anstie (Honda) 85; 3. Haiden Deegan (Yamaha) … 10. Michael Mosiman (GASGAS) 51
450SX
1. Eli Tomac (Yamaha) 139 points; 2. Cooper Webb 132; 3. Chase Sexton (Honda) 132; 3. Cooper Webb (KTM) 83 … 7. Justin Barcia (GASGAS) 97; 21. Justin Starling (GASGAS) 18
---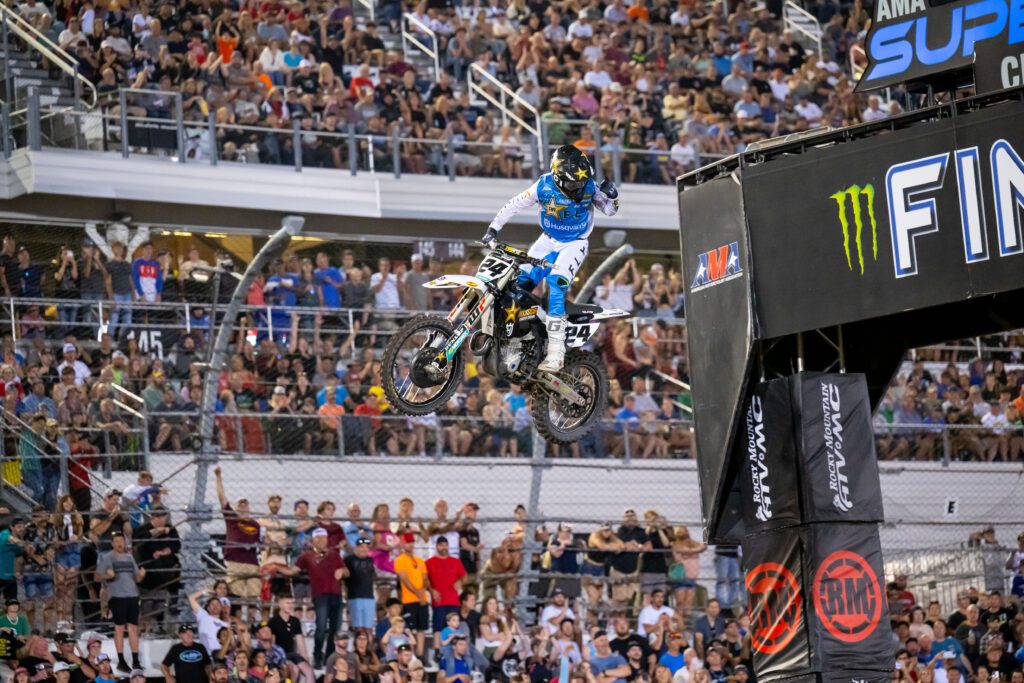 RJ HAMPSHIRE IMPRESSES IN 450 GUEST APPEARANCE AT DAYTONA SUPERCROSS
It's not uncommon to see experienced 250 riders make a guest appearance in the 450 class when the AMA Supercross series moves to Daytona International Speedway for Bike Week. This time around it was RJ Hampshire's turn to make the jump up for a sample of 450 action at the World Center of Racing, and he made a quick impression on the tough circuit aboard his FC 450 Rockstar Edition.
450MX
When the gate dropped for the second 450 heat of the night, it was RJ Hampshire jumping into the lead, followed by his Rockstar Energy Husqvarna Factory Racing teammate, Christian Craig. RJ held the lead until the finish, trailed by of a trio of championship contenders; with Craig finishing fifth. In the main event, both riders battled in the top ten, with Hampshire ultimately finishing eighth, and Craig tenth.
"Man, it was an awesome day, and an awesome experience," Hampshire said. "Murph pushed hard for it, believed I could do it, and we got all the other guys on board. I was just happy I was able to prove myself today. We were solid from the beginning of the day, really. My qualifying times were decent, P5. I holeshot the heat, led a few laps, and then reality hit that I might win this thing. I won my first heat, my first time ever trying to do it, and first ever race on a 450, so that was awesome. The main event start was decent and I just kind of rode my own race. I didn't really race anyone hard and wanted to finish in the top ten of my first main and I did that. I'm just really stoked on our whole day and like I said, for the team giving me a chance to come out here and race tonight."
250 MX
In the 250 class, Talon Hawkins showed improved qualifying speed aboard his FC250, trimming about ten positions from his average position. He also moved from 18th to 11th in his heat race, and ultimately qualified for the main event via the LCQ. In the main, he ran as high as eighth position before a crash dropped him to 18th in the final result.
"Daytona was pretty good," said Hawkins. "I got my best qualifying position so far, so that's definitely something to be happy about. I ended up in the LCQ after the heat race…I just had a little spill, so I have some corrections to make and some stuff to work on. But I was running P8 in the main and had a little mishap and went down. That caused a little bike problem…my fault. I've got to stay off the ground and keep on keeping on. I know what to work on, so we'll get back to Baker's Factory and make something happen next weekend."
Next Event (Round 9): March 11, 2023 – Lucas Oil Stadium in Indianapolis, Ind.
Round Eight Results: Daytona
250MX East Results
1. Hunter Lawrence (Honda)
2. Max Anstie (Honda)
3. Haiden Deegan (Yamaha)
…
13. Hardy Munoz (Husqvarna)
18. Talon Hawkins – Rockstar Energy Husqvarna Factory Racing
450MX Results
1. Eli Tomac (Yamaha)
2. Cooper Webb (KTM)
3. Chase Sexton (Honda)
…
8. RJ Hampshire – Rockstar Energy Husqvarna Factory Racing
10. Christian Craig – Rockstar Energy Husqvarna Factory Racing
250MX East Rider Point Standings
1. Hunter Lawrence – 99 points
2. Max Anstie – 85 points
3. Haiden Deegan – 75 points
…
14. Hardy Munoz – 31
31. Talon Hawkins – Rockstar Energy Husqvarna Factory Racing – 31 points
450MX Rider Point Standings
1. Eli Tomac – 186 points
2. Cooper Webb – 181 points
3. Chase Sexton – 176 points
…
8. Christian Craig – Rockstar Energy Husqvarna Factory Racing – 103 points
25. RJ Hampshire – Rockstar Energy Husqvarna Factory Racing –15 points
26. Malcolm Stewart – Rockstar Energy Husqvarna Factory Racing –15 points
---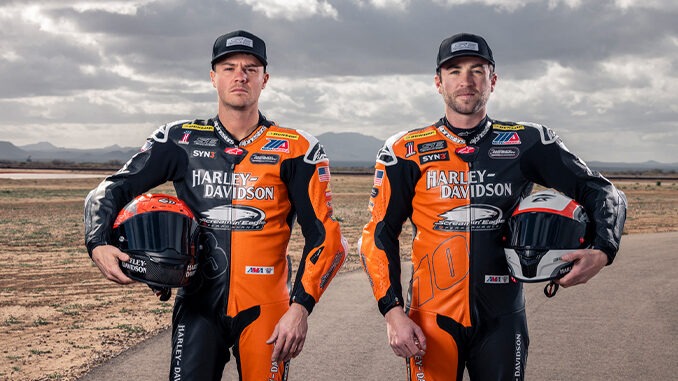 Harley-Davidson Factory Team set to open 2023 MotoAmerica King of the Baggers season at Daytona International Speedway
The Harley-Davidson® Screamin' Eagle® factory racing team is prepared to open the 2023 racing season March 9-11 at Daytona International Speedway, site of the first two rounds of the MotoAmerica Mission King of the Baggers roadracing series. Kyle Wyman and his brother Travis Wyman return to ride the team's race-prepared Harley-Davidson® Road Glide® motorcycles powered by modified Screamin' Eagle® Milwaukee-Eight® 131 Performance Crate Engines. The Harley-Davidson factory team will leave nothing on the track as they fight to bring the championship title back to Milwaukee.
"In our 120th Anniversary year, we're coming at it bigger and better than ever before, as we compete to win the championship and bring back the #1 plate to Milwaukee where it belongs," said Jochen Zeitz, Chairman, President and CEO, Harley-Davidson. "Our Screamin' Eagle factory racing team is ready for the season – and with Kyle and Travis on the track, I'm excited for what is set to be a great season of racing for our community of racers and fans alike."
The King of the Baggers series offers exciting competition between American V-Twin touring motorcycles prepared for competition and equipped with a fairing/windscreen and saddlebags. The 2023 season will see the King of the Baggers series expanded from seven to 14 races over seven double-header weekends held in conjunction with the MotoAmerica Superbike Series.
A fan feature for the 2023 season is the Harley-Davidson® 120th Anniversary VIP Ticket Package. Offered as a three-day or one-day package, these special VIP passes include admission with fan zone and paddock access, all the MotoAmerica races including the Mission King of the Baggers practice sessions, qualifying and racing action. Each pass also includes access to premium parking reserved for Harley-Davidson motorcycles on all three days of the race weekend, and participation in Harley-Davidson parade laps around the track on Friday and Saturday.
For the 2023 season, the Harley-Davidson factory team will be sporting custom designed livery, honoring Harley-Davidson's 120th anniversary aboard their race-modified Road Glide motorcycles, Milwaukee-Eight® 131 Performance Crate Engine. The team bikes also feature upgraded suspension components, including Screamin' Eagle/Öhlins Remote Reservoir Rear Shocks, plus competition exhaust, race tires and lightweight bodywork.
Harley-Davidson invites you to kick off the 2023 MotoAmerica King of the Baggers season with some adrenaline pumping action. Today, Harley-Davidson is premiering 'Push the Limit,' a film that shares the story of defending champion Kyle Wyman, teammate Travis Wyman and the Harley-Davidson Screamin' Eagle race team's 2022 championship pursuit. Check it out on Harley-Davidson's YouTube channel.
The Wyman Brothers
Travis Wyman, the owner of Travis Wyman Racing based in Las Vegas, finished second in points during the 2022 King of the Baggers season, with one race win (Road America) and three second-place finishes. The 31-year-old racer returns for his second full season with the Harley-Davidson factory team.
"I am excited about my second season on the factory H-D team and ready for the expanded schedule this year," said Travis. "My consistent finishes last year put me in contention for the title going into the last round. With the two-race format, if Saturday does not go well, you get another shot on Sunday rather than waiting for the next race weekend. As other teams get these bikes figured out, I expect the level of competition to be tougher this season. Our Harley team is going to need to be on its game at every race."
Kyle Wyman, 33, won three 2022 King of the Baggers races (Atlanta, Monterey and New Jersey) and had two other podium appearances to finish third in season points. Wyman began racing professionally in flat track aboard a Harley-Davidson® XR750 and formed Kyle Wyman Racing at the age of 21 to compete at the highest level of professional road racing in the United States. Kyle Wyman is the 2019 Daytona 200 winner. He was King of the Baggers champion in 2021, riding for the Harley-Davidson factory team.
"It will be an honor to represent the Harley-Davidson brand during this 120th Anniversary season," said Kyle Wyman. "It is incredible to be a part of the enduring history of Harley-Davidson. I've spent much of the off season working with the team to further develop our Road Glide race bikes, and I have a lot of confidence going into 2023. We will continue to see lap records fall this season, and everyone on the grid will be quicker."
Available Support
In addition to competing in the series, the H-D Screamin' Eagle team continues to work directly with MotoAmerica to promote the series by supporting all Harley-Davidson competitors. Select performance products developed for the 2022 factory team bikes are available to all qualified racers. Teams should reach out directly to their local Harley-Davidson® dealership for availability and pricing.
Top squads expected to run Harley-Davidson® bikes at the front of the field include the four-rider Team Saddlemen effort with returning veteran racers Cory West and Patricia Fernandez-West along with Frankie Garcia and class newcomer Jake Lewis, all competing on race-modified Harley-Davidson® Road Glide® motorcycles, prepared with the assistance of Hoban Brothers Racing. The Vance & Hines Racing team returns to the King of the Baggers series with proven series front runners James Rispoli and Hayden Gillim, also campaigning race-prepared Road Glide motorcycles.
MotoAmerica Mission King of the Baggers Contingency
Harley-Davidson will offer more than $185,000 in cash contingency for qualified Harley-Davidson racers competing in the Mission King of the Baggers series, with a contingency payout from first to 10th place in all 14 races and a $35,000 series championship bonus. Terms and conditions apply; please see www.MotoAmerica.com for full details, eligibility requirements and deadlines.
About the Screamin' Eagle® Milwaukee-Eight® 131 Performance Crate Engine: The Screamin' Eagle® Milwaukee-Eight 131 is a powerful street-compliant performance engine offered by Harley-Davidson. Built from the bottom up in Milwaukee, this 131-cubic-inch (2147cc) Screamin' Eagle® crate engine delivers 131 ft-lb of torque to the rear wheel, and may be installed in 2017-later Harley-Davidson Touring models.
2023 Mission King of the Baggers Schedule
(Two full races each weekend)
March 9-11: Daytona International Raceway – Daytona Beach, Fla.
April 21-23: Michelin Raceway Road Atlanta – Braselton, Ga.
June 2-4: Road America – Elkhart Lake, Wis.
July 7-9: WeatherTech Raceway Laguna Seca – Monterey, Calif.
July 28-30: Brainerd International Raceway – Brainerd, Minn.
September 8-10: Circuit of the Americas – Austin, Texas
September 22-24: New Jersey Motorsports Park – Millville, N.J.
Harley-Davidson stands for the timeless pursuit of adventure and freedom for the soul. Go to H-D.com to learn more about the complete line of 2023 Harley-Davidson® Grand American Touring, Sport, Adventure Touring, Cruiser and Trike motorcycles, Harley-Davidson Certified™ pre-owned motorcycles, Harley-Davidson® Genuine Motor Parts & Accessories, Harley-Davidson® MotorClothes® apparel and gear, and Harley-Davidson Financial Services.
---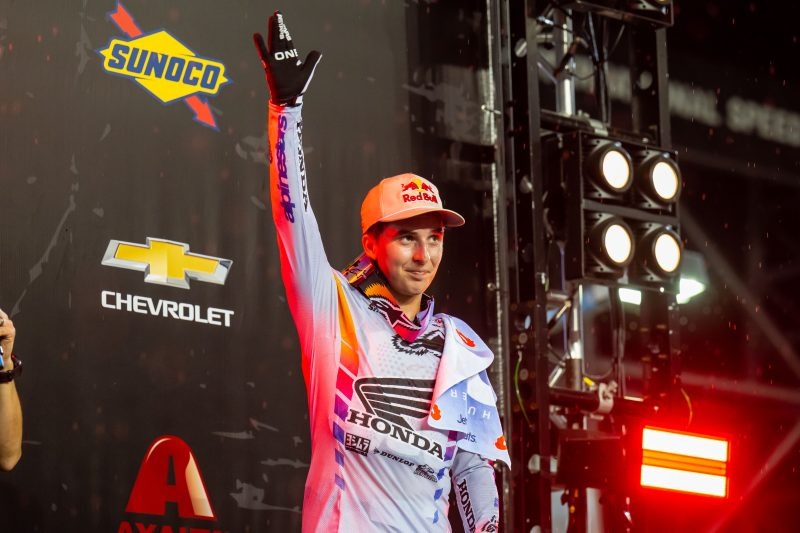 Hunter Lawrence Takes Daytona Supercross 250SX East Win
For the third time in the four rounds run thus far, Team Honda HRC's Hunter Lawrence scored the 250SX East victory on Saturday night. This time it was at legendary Daytona International Speedway, and it extended his lead in the title chase to 14 points. Meanwhile, Chase Sexton qualified fastest and notched his seventh podium result in eight 450SX rounds, keeping him in title contention.
The 250SX East main-event start saw Lawrence exit turn 1 in third place and quickly put an aggressive pass on Nate Thrasher before taking the lead from Tom Vialle just before the end of lap 1. From there, the Australian powered his CRF250R to the win, finishing with a cushion of nearly 10 seconds on fellow Red Rider Max Anstie, of the Fire Power Honda squad. After completing lap 1 in 17th place, Lawrence's teammate Chance Hymas put on an inspired charge through the pack, eventually finishing an impressive sixth—the best result of his young career.
In the 450SX main event, Sexton exited turn 1 in third place and fought hard throughout the race, holding the position to the finish.
NOTES
Following last week's race in Arlington, a number of Team Honda HRC technicians traveled directly to Florida, where they tested with the riders in the unique conditions that Daytona is known for.
Longtime Honda rider and 2018 Daytona Supercross winner Justin Brayton served as the Grand Marshal for this year's race. As part of his official duties, he participated in press day and rode a lap aboard a CRF450RWE for the TV track description.
Team Honda HRC hosted a group of motorcycle YouTubers in the pits on Saturday morning. Represented were Yammie Noob, Meghan Stark, Chase on Two Wheels, Her Two Wheels and Life of Burch, all of whom got a tour of the team tech truck and participated in a track walk. In the days following the race, the YouTubers were scheduled to check out Daytona Bike Week on Honda Rebel 1100T DCT cruisers.
Team Honda HRC riders Chase Sexton, Colt Nichols, Hunter Lawrence and Chance Hymas all participated in Daytona press day on Friday.
While not quite as convenient as the Tampa Supercross, Daytona was still a home race for Sexton and Lawrence, just one and a half hours from the former's Clermont house and two and a half hours from the latter's Wesley Chapel residence.
As has been a relatively common occurrence this season, Team Honda HRC riders topped qualifying in both classes at Daytona, with Sexton best in 450SX and Lawrence fastest in 250SX East. Nichols was 13th in the first premier-class qualifier but crashed and sat out the rest of the event. Hymas was a career-best third in the first 250SX East qualifier and ninth in the combined times.
Lawrence and Hymas put in a strong showing in the second 250SX East heat race, battling near the front throughout. Lawrence put a late pass on Jordon Smith to take the win, with Hymas posting a career-best third. Fire Power Honda's Max Anstie, Phoenix Racing Honda's Cullin Park, TiLube Honda's Michael Hicks and Valley Ford-sponsored Red Rider Jeremy Hand finished sixth through ninth. Phoenix riders Coty Schock and Jace Owen advanced through the first heat, and Caden Braswell (also a Phoenix rider) made it through the last-chance qualifier. Nine of the 22 riders in the main event were CRF250R-mounted.
Sexton finished third in the second 450SX heat after recovering from a poor start that had him seventh off the start. Fire Power Honda's Dean Wilson was seventh in the first heat race.
Lawrence posted the fastest lap time in the 250SX East main event.
Sexton and Lawrence both took part in the post-race press conference at Daytona.
Lawrence's Daytona win extended his 250SX East title-chase lead to 14 points. Sexton now sits 10 points behind Tomac in the 450SX championship battle, and five behind Cooper Webb.
Sexton's third-place finish extended his personal podium-streak record to six straight. It was also the 18th premier-class podium finish of his career.
Lawrence's 250SX win was the eighth of his career, and it put him on the list of Honda-mounted Daytona support-class winners with Keith Turpin, Brian Swink, Doug Henry, Davi Millsaps, Trey Canard, Justin Barcia and his brother Jett Lawrence.
With the first four 250SX East rounds in the books, Hymas will now sit out the remainder of the AMA Supercross series, following a plan set by the team prior to the season. The rookie will now turn his attention to preparing for his first full AMA Pro Motocross season.
The day after the Daytona Supercross, Sexton attended the Grand Prix of St. Petersburg, which was the opening round of the 2023 IndyCar series. Sexton paid a visit to the paddock of the Honda-powered Chip Ganassi Racing squad and made a guest appearance on the NBC broadcast.


Chase Sexton 23
"Speedways are cool to come to. You have to be very precise, but you can also gain a lot of speed and push the rhythm at the speed you're comfortable with. Daytona is just a different animal though. My speed's good; I've just got to limit the mistakes. I've got to keep pushing and get to these guys at the front. It's good to be on the podium, but we all want to win."

Colt Nichols 45
"It was a tough day at work in Daytona. I took a hit in Q1 and landed on my noggin pretty good. The team and I decided it would be best to sit out the rest of the day and get myself right. Thank you to my team and the people in my corner. It's been a rough few weeks, but I'll be back."

Hunter Lawrence 96
"The bike was great; we didn't really change anything all day. It's cool when you can just trust in your setup and not try to reinvent the wheel. Early in the main, I just kept getting roosted in the sand and had to race hard to get to the front. I just didn't look back after that. This was where I got my first heat-race win too [in 2021], so it's pretty cool to capture a main-event win here."

Chance Hymas 832
"Today was alright. I qualified third in the first practice, but they made a ton of changes during the day and it felt like a new track. I got to run up front with Hunter in the heat race, which gave me some confidence. In the main, I got bottled up on the inside in the first corner and was basically dead last at that point. I'm happy to have worked my way up to sixth by the end of the race. Overall, my riding was good and improvements were made, even if we aren't where we want to be yet."

Lars Lindstrom
Team Manager
"It was a busy week, testing down at the riders' facilities and trying to make improvements. It was successful and we learned a lot, which should help us the rest of the series. Once again, we qualified fastest in both classes which was awesome. Unfortunately, Colt had a pretty hard get-off, and it made sense to let have him take the night off, which I know was a bitter pill for him to swallow. Hunter crushed it in the main, and it was great to see Chance ride through the pack and be strong the entire race. I think Chase once again had everything he needed to win, and he was clearly the fastest on the track, but he couldn't get into a rhythm and settled for third, which is still great to be on the podium."
---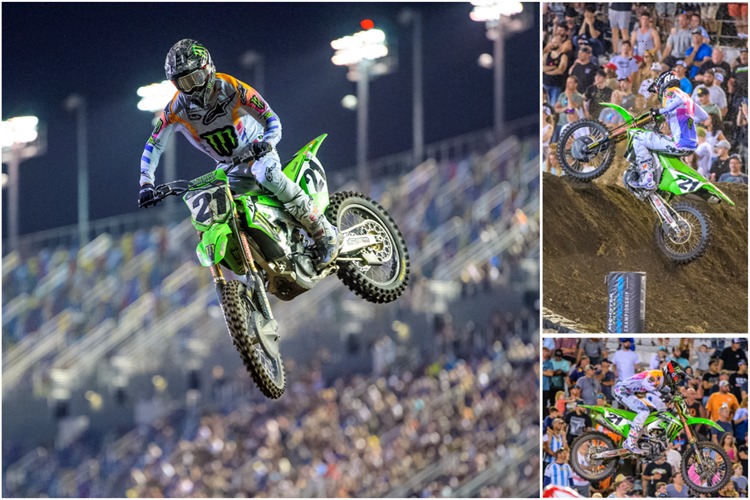 MONSTER ENERGY® KAWASAKI'S JASON ANDERSON SECURES FIFTH PLACE FINISH AT DAYTONA INTERNATIONAL SPEEDWAY
The iconic Daytona International Speedway played host to the world's premier supercross racers for Round 8 of the Monster Energy® AMA Supercross Championship where Monster Energy Kawasaki rider Jason Anderson secured his third consecutive top-five finish. In the 250SX Class, Monster Energy/Pro Circuit/Kawasaki's Chris Blose displayed an impressive come-from-behind performance to secure a season-best seventh place.
When qualifying sessions began, a motivated Anderson was one of the first riders to hit the Daytona race course. The No.21 KX™450SR rider showed impressive pace while focusing his time on track to explore various lines and generate a sense of how track conditions will deteriorate throughout the day. In the final session, Anderson applied the knowledge gained from earlier in the day to secure the third fastest lap time (1:12.889) in 450SX qualifying.
In 450SX Heat 2, Anderson launched out the gate running in fifth and masterfully moved up to fourth through the first rhythm section. The New Mexico-born rider continued to race forward after taking control of fourth and within two laps was challenging at the front of the field. Anderson then displayed the superior cornering ability of his KX450SR by skillfully executing an inside line pass in Turn 1 to advance into third. The No.21 rode consistent laps until a last-lap pass moved him back to fourth. Despite his best efforts to regain the position, Anderson crossed the line fourth.
As light showers began to fall at the start of the 450SX Main Event, Anderson emerged from the first turn in seventh before quickly advancing to fifth as he reached the infamous Daytona sand. Once in fifth position, Anderson settled into a comfortable pace and steadily extended his advantage over sixth place. As racing progressed, the No.21 Kawasaki momentarily mounted a challenge for fourth but was unable to close in on the competition to attempt a pass and ultimately finished the race in fifth. Anderson's top-five finish solidifies his hold over fourth place in the championship points standings.
"The track layout this year was nearly identical to the Daytona track we raced on last year, so our bike setup was very similar to last year's settings. However, this track broke down differently and became a lot deeper which made it difficult to get comfortable. The rain we had leading up to the Main Event also made the dirt very slick in some spots. I tried my best to adjust to the changing track conditions throughout the race but, to be honest, I just couldn't get myself in a rhythm. Overall, we still had a solid weekend and earned valuable championship points."
– Jason Anderson
As 250SX qualifying began, Blose deployed a calculated plan of attack as he elected to give space between himself and the rest of the field. The open track allowed Blose to locate his preferred lines before attempting a fast lap. Blose's strategy proved to be beneficial as he improved his lap times with each time on track to log the 10th fastest lap in 250SX qualifying despite the rapidly deteriorating track conditions.
When the gate dropped on 250SX Heat 1, Blose executed a well-timed jump to emerge from the first turn in seventh. Amidst all the chaos of the opening lap, the No.57 KX™250 rider managed to latch onto the rear wheel of the rider ahead and challenge for sixth. Blose's relentless pressure intimidated the rider ahead, allowing him to gain control of sixth by the midway point. Looking for more, the Arizona native closed in on another competitor as he continued to link together consistent laps. With only a minute of racing left, Blose made the pass for fifth stick and maintained track position to the finish.
In the 250SX Main Event, Blose again launched out to a seventh-place start and with a combination of clever line selection and veteran experience, the No.57 swiftly moved into fifth by the third corner of the opening lap. Running in fifth, Blose looked ready to secure his first top-five finish of his season until a mistake near the mechanic's area resulted in a tip-over. Despite a quick remount, Blose was shuffled back outside the top 10. As racing continued, the Monster Energy/Pro Circuit/Kawasaki rider proved his racecraft by climbing up the running order with each lap. Blose achieved his impressive come-from-behind performance through consistent riding and the ability to capitalize on the mistakes of others to finish seventh when the checkered flag flew.
"Even though I've only been with the Monster Energy/Pro Circuit/Kawasaki team for a short amount of time, I feel like I'm starting to find my stride and confidence. From the start of the first practice to the Main Event, I felt extremely comfortable on the KX250 and that showed in my riding tonight. Even with a tip-over in the sand section during the main I was still able to move up the field and finish in seventh, my best result of the season so far. I'm looking forward to another week of practice with the team and feel like we can be in the hunt for a top-five finish soon."
– Chris Blose
---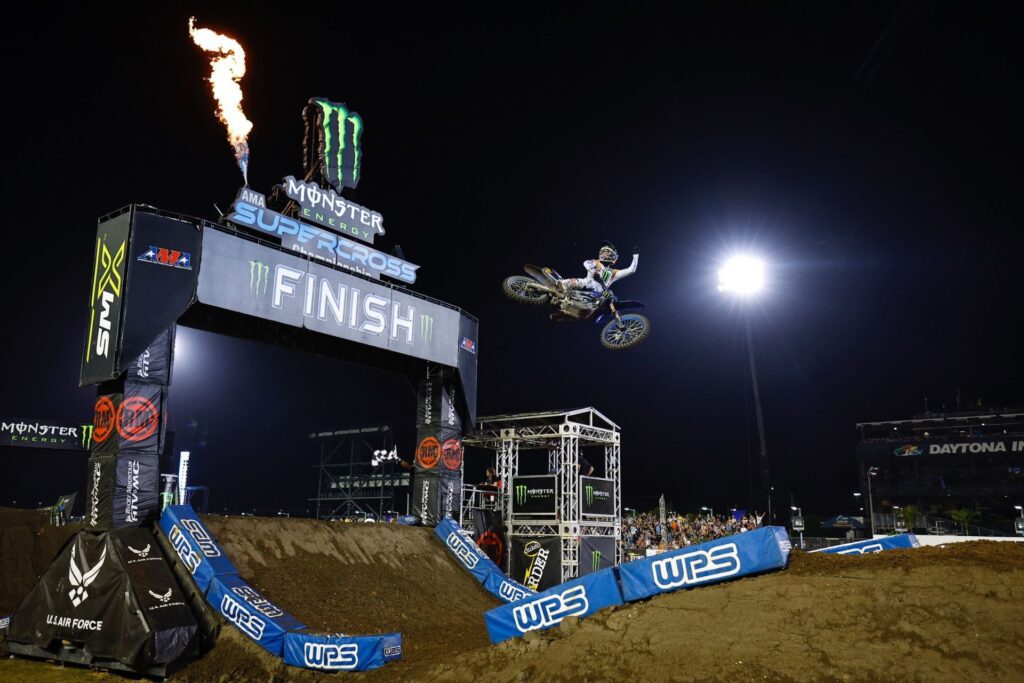 Tomac Reigns Supreme with Seventh Daytona Supecross Victory
Monster Energy Yamaha Star Racing's Eli Tomac continues to add to his legacy, both in the Monster Energy AMA Supercross Championship and at the Daytona International Speedway, scoring his seventh win last night at the iconic race track in Daytona Beach, Florida. It was another epic battle between 450SX championship rivals, with Tomac scoring his fifth win of the season and strengthening his points lead. Rookie Justin Cooper earned a career-best finish in sixth. Dylan Ferrandis was hoping to return to racing but, unfortunately, wasn't feeling 100% and ultimately withdrew from the night show.
Although Tomac wasn't in his comfort zone during the day, he had a good qualifying result in fourth. Once the racing got underway, the reigning 450SX champ came out swinging with the heat race win. In the main event, he grabbed the holeshot, and although he was shuffled to the runner-up spot behind his title rival, he reclaimed the lead around the halfway mark. Tomac kept cool under pressure and rode on to his seventh win at the Daytona International Speedway. The victory not only broke the record he set last year for Daytona Supercross wins but also tied NASCAR legend Richard Petty for overall wins at the venue. Tomac's 49th-premier class win in Supercross also moves him closer to James Stewart who sits in runner-up spot on the all-time win list with 50 victories.
In his final 450 race of the season, Cooper was looking to keep learning and to earn his best result before switching gears to preparing for the outdoor season aboard the YZ250F. The New Yorker had a solid qualifying result in ninth and was fifth in his heat race. One of the most demanding tracks on the calendar had an extra element of challenge when it started to rain off and on during the main events. Cooper got a good start inside of the top 10 and was able to make his way forward from ninth to sixth despite the tricky track conditions. He had his sites set on a top five and looked to make the pass but ultimately settled with a career-best result in the 450 class and crossed the line sixth.
The Monster Energy Yamaha Star Racing team heads to Indianapolis, Indiana, on Saturday, March 11, for Round 9 of the Monster Energy AMA Supercross Championship and ththe SuperMotocross World Championship Series at the Lucas Oil Stadium.
Eli Tomac
Monster Energy Yamaha Star Racing
"It was an excellent night of racing for us. Daytona literally just feels like home to me. Every time the lights come on here, I just basically become one with the track. We went to battle again with Cooper (Webb) there in the main event. A lot of lines were changing throughout the race. Then at one point, we even made contact and then I finally got into the lead and just felt really good on the motorcycle. This was one of the best times that I've felt on a motorcycle racing here, so that was awesome. It's pretty crazy to be tied with the NASCAR Champion, Richard Petty, with seven wins here. That's a cool thing, and I'm just thankful for everything."

Justin Cooper
Monster Energy Yamaha Star Racing
"It was tough like I expected. We even got a little bit of rain for the main event. The track definitely deteriorated, but they fixed some parts of the track that would have been really bad if they didn't touch them after the 250 main. We just ticked off the laps. I had a really good pace going in the beginning and made a bunch of passes. Then I settled in behind Jason (Anderson), and I started running his pace. From there on, I had a couple of close calls with him, and I got alongside him a couple of times, but he was able to hold me back there. I was definitely pushing for that fifth spot but came up a little bit short and got sixth. It's a career-best for me, so all in all, it was a great night. Now we get ready for the outdoors.

Jeremy Coker
Monster Energy Yamaha Star Racing 450 Team Manager
"It was a great night for the team. I don't exactly want to say that Eli struggled earlier in the day, but he wasn't in his comfort zone. When it was time to race, it was incredible. At the end of the day, it's the race that matters, not qualifying. He rode phenomenally tonight, and to get seven wins here is amazing. Unfortunately, Dylan wasn't quite feeling back to 100% yet. He's going to keep working on getting ready to come back."
---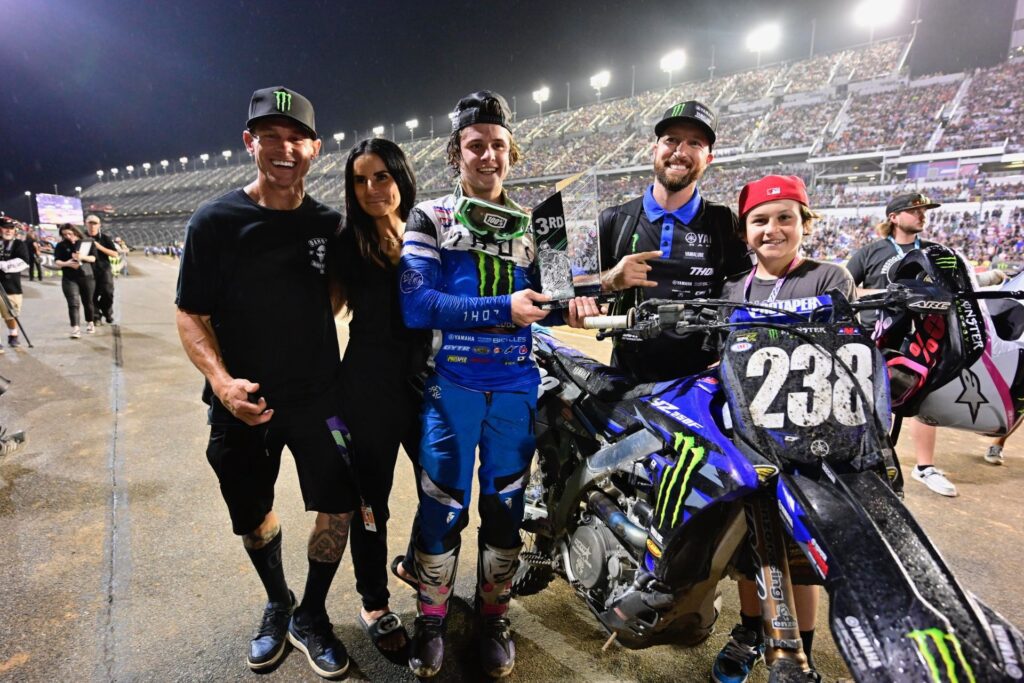 Deegan Breaks Through for First 250 Podium in Daytona
Monster Energy Yamaha Star Racing's Haiden Deegan rode to his first career 250SX podium finish at the fourth round of the Monster Energy AMA Supercross 250SX East Championship at the Daytona International Speedway in Daytona Beach, Florida. After being so close twice this season, the 17-year-old claimed third in the main event, moving up to third in the championship standings. Teammate Jordon Smith also rode strong on the unique track to finish a few seconds behind Deegan in fourth. Last weekend's winner Nate Thrasher overcame a few mishaps in the main event to climb back from next to last to 10th.
With this being his first trip to Daytona, Deegan utilized the qualifying time to get comfortable with the track and found himself eighth overall after the two sessions. The Californian's strong start in the opening heat race helped him stay with the front pack and finish third. When the gate dropped for the main event, Deegan grabbed a decent start and funneled into seventh after the opening lap. He moved up to fourth by the third lap and made the pass to third on the following lap. Deegan ticked off the laps and held on to claim his first career podium in only his fourth professional race.
Smith has enjoyed success at the famed Daytona Supercross, and he carried that confidence all day, starting with a solid qualifying session where he finished third. He was quick off the start in his heat race and led the first three laps before moving into second, where he would finish. In the main event, Smith found himself just behind his teammate Deegan in eighth off the start. He followed Deegan through the pack and even was able to get around him briefly before settling into fourth, where he would cross the finish line. Smith is now tied for fourth in the points standings.
Notoriously confident at speedway-style race tracks, Thrasher started the day in quick fashion as the second-fastest rider in timed qualifying. He carried that speed into the heat race, where he claimed his second heat race win of the season. With another good start in the main event, Thrasher was trying to make quick work to the front but went down in the sand section and got going again in 20th. He made up ground in the following laps but went down again and fell back to 20th. With less time than before to make up positions, Thrasher put his head down and picked off half the field by the end of the race, finishing a hard-fought 10th. Thrasher moved a few spots in the championship standings and is now sixth.
The Monster Energy Yamaha Star Racing team heads to Indianapolis, Indiana, on Saturday, March 11, for Round 5 of the Monster Energy AMA Supercross 250SX East Championship and the ninth round of the SuperMotocross World Championship at Lucas Oil Stadium.
Haiden Deegan
Monster Energy Yamaha Star Racing
"Daytona was a good one for me. Qualifying went alright, and we ended up where we usually would be. Daytona is definitely a 'man's track,' so you had to adapt to it, and it was rough. My heat race was good. I had a few passes and ended up third. Then in the main event, I didn't get a great start, but I knew I had the speed for a podium. I put my head down and started charging, ending up in third. Jordon (Smith) and I had a couple of good battles – it was fun racing."

Jordon Smith
Monster Energy Yamaha Star Racing
"Daytona was a little bit up and down for me. We battled from a bad start in the main to finish fourth. I'm looking forward to Indianapolis!"

Nate Thrasher
Monster Energy Yamaha Star Racing
"The day started off well. I was P2 in qualifying and got the heat race win. I was feeling pretty good and felt my speed was there. I got a good start in the main, but unfortunately, I went down in the sand and then was coming back through the pack and went down again. We're going to put it behind us and come back stronger at Indy."

Jensen Hendler
Monster Energy Yamaha Star Racing 250 Team Manager
"Overall, the weekend was great. Haiden ended up with his first podium with a third-place finish, and Jordon was just off the podium in fourth. Although some unfortunate things happened to Nate in the main, he never quit and came back to finish 10th. We're excited to get back in the stadiums next weekend. Also, it was great to see Justin get sixth, which was a career-best for him on the 450. It was a great ride on a really tough track. We're excited to take that momentum into the outdoors with him on the 250."
---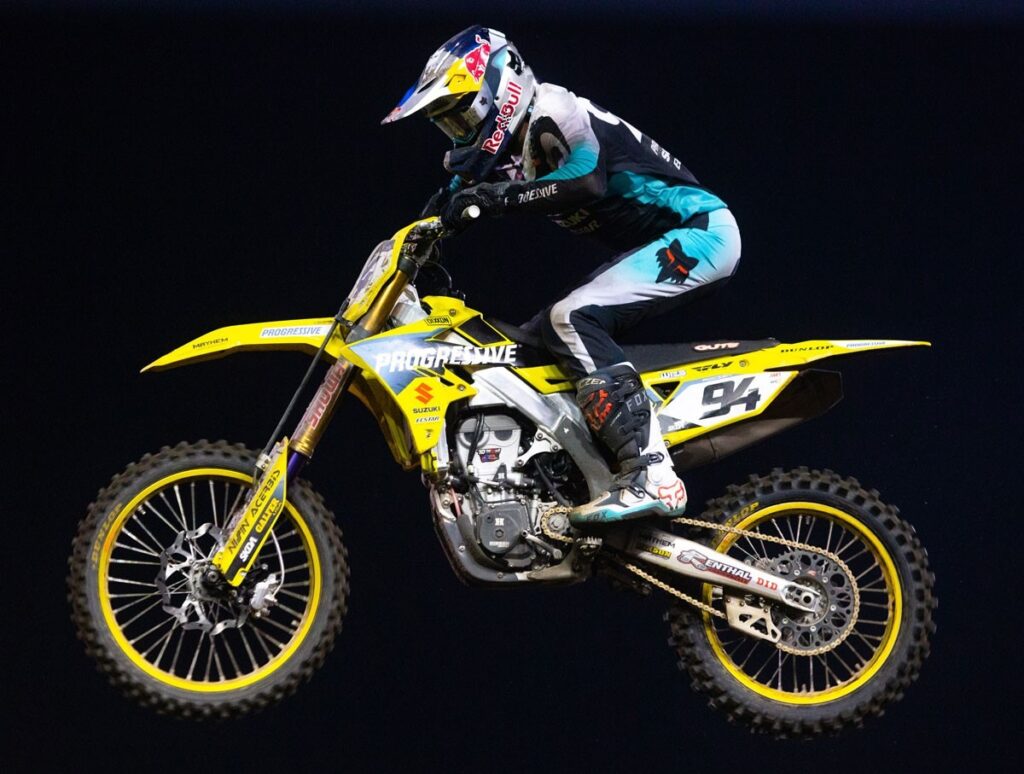 Suzuki Racers Light Up Daytona Supercross
Progressive Insurance ECSTAR Suzuki's Ken Roczen and his Suzuki RM-Z450 delivered a top ten result and retained fifth overall in points at the Daytona Supercross, round eight of the 2023 Monster Energy AMA Supercross season. Twisted Tea Suzuki presented by Progressive Insurance's Shane McElrath delivered his best result of the season aboard his Suzuki RM-Z450 on a track built into the trioval of Daytona International Speedway. And 250 class racer, Twisted Tea Suzuki's Marshal Weltin, earned enough points to advance his Suzuki RM-Z250 three positions in the 250 East standings.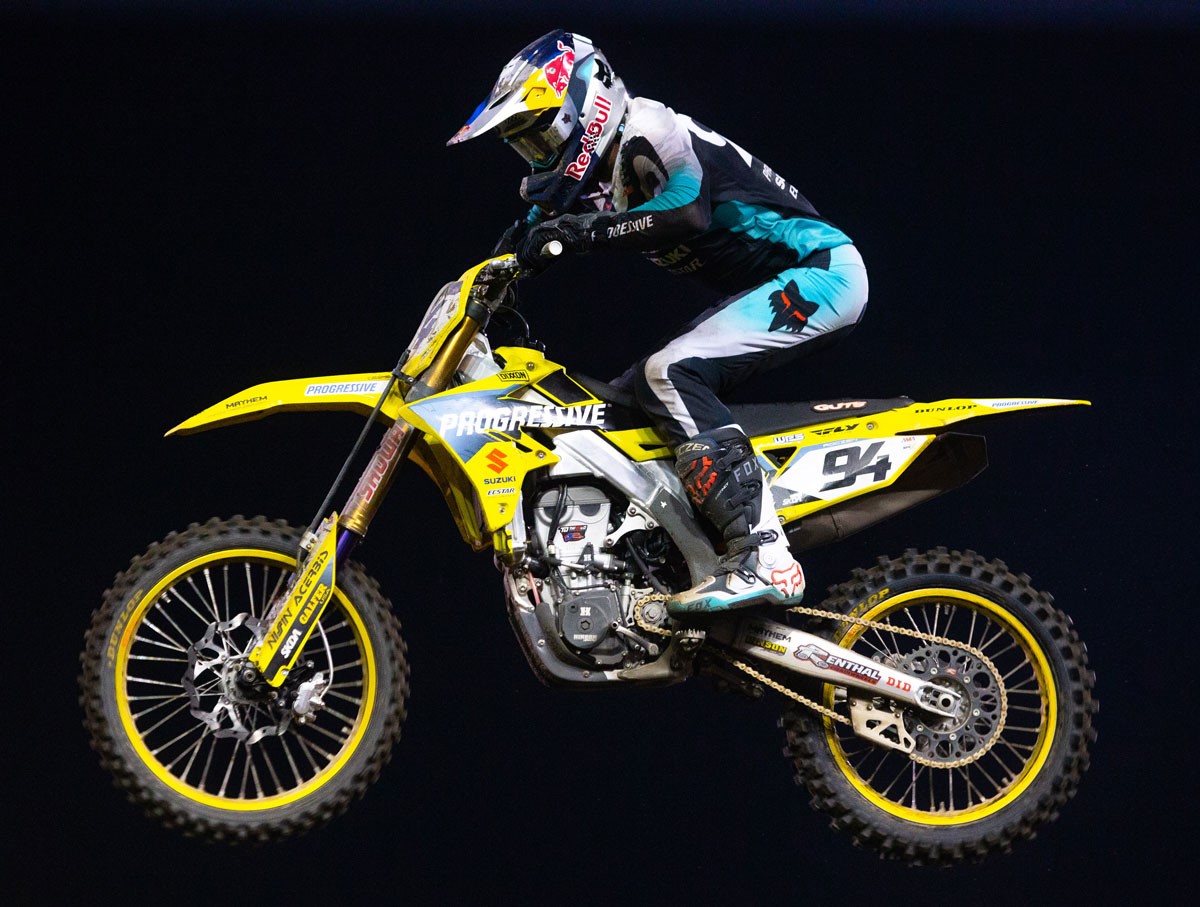 Ken Roczen (94) started the day with blazing fast lap times in qualifying, finishing second in both the first and second sessions for a second place overall in qualifying.

Ken Roczen's qualifying speed earned him the first gate pick in heat one. Emerging from the first corner in fifth place, Roczen put his Suzuki RM-Z450 into second place before the third turn and battled for the lead throughout the race. Unfortunately, a poor start in the main, in fifteenth place, put the German racer's speed to the test. Roczen put his Suzuki's power to the ground and quickly picked off riders to deliver a top ten result.

"I was up on the board pretty much every practice, I had a really good heat race, but unfortunately messed up the start in the main," said Roczen. "With a better start, my result could have been a lot better. What I'm most excited about is that I haven't really done any bike adjustments today. I could simply just ride the track and ride my bike. I'm really excited to be there. Our result doesn't really show how good we've been in the last week and we're going to continue working hard. I'm looking forward to Indy already."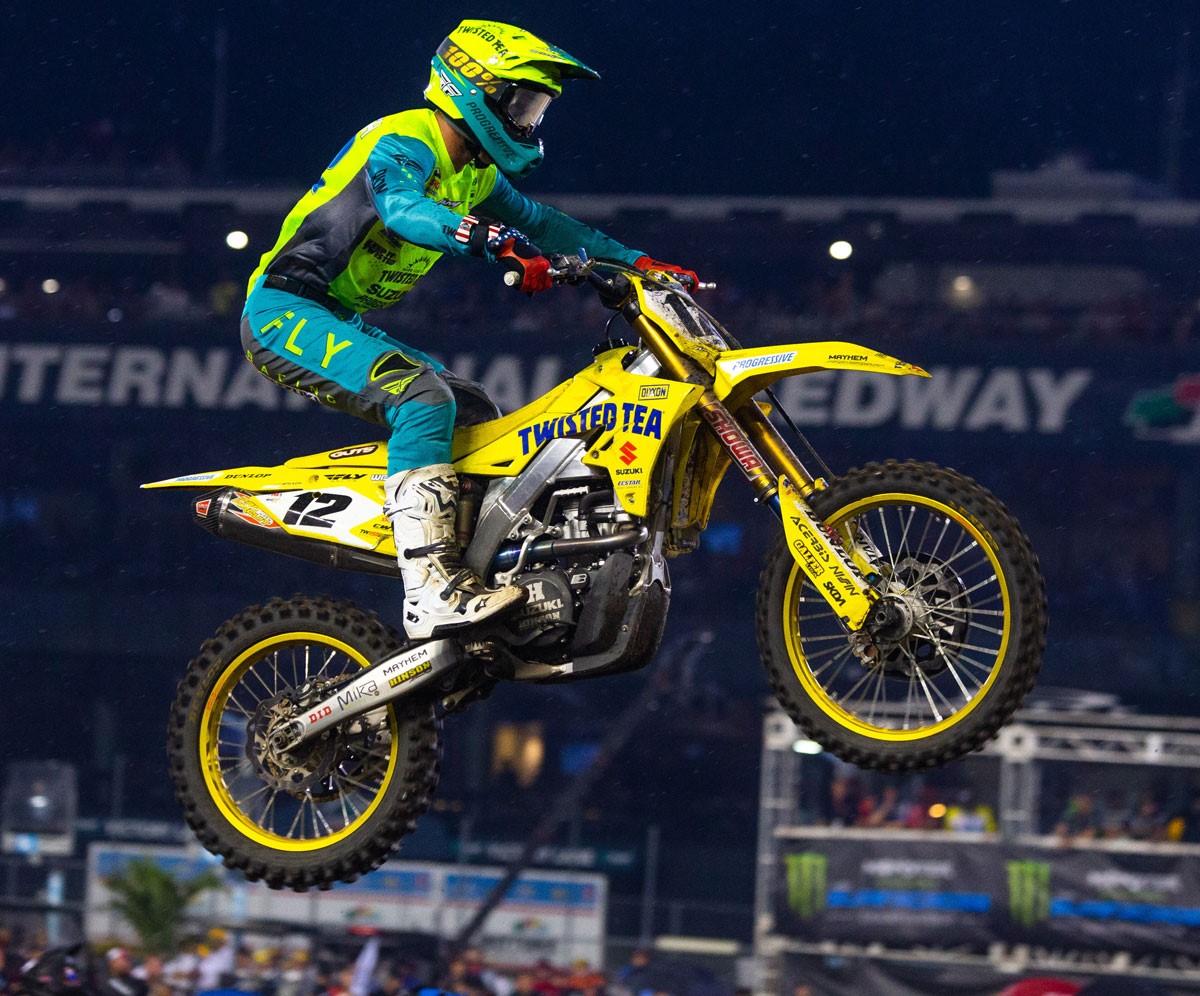 Shane McElrath (12) charged forward throughout the Daytona main event to deliver his best result of 2023.

Shane McElrath was also on the gas in the daytime qualifying sessions, landing his best qualifying spot so far this year on what's considered the most challenging track on the schedule. McElrath matched his best heat race finish for a direct transfer to the main. In the main, he demonstrated the progress he and the team have made and brought his Suzuki RM-Z450 in with his best result of the season.

"What a day it was today," exclaimed McElrath. "We're continuing to learn and continuing to get better. I'm super happy with the progress. I'm happy with how I rode tonight. My heat race was fairly good, I stayed with the guys ahead of me consistently. In the main, I didn't have a good start, but I fought hard for most of the race. That's the longest and the hardest that I've fought. I'm excited about it. We're in a good place to keep growing and to keep making strides and I'm excited."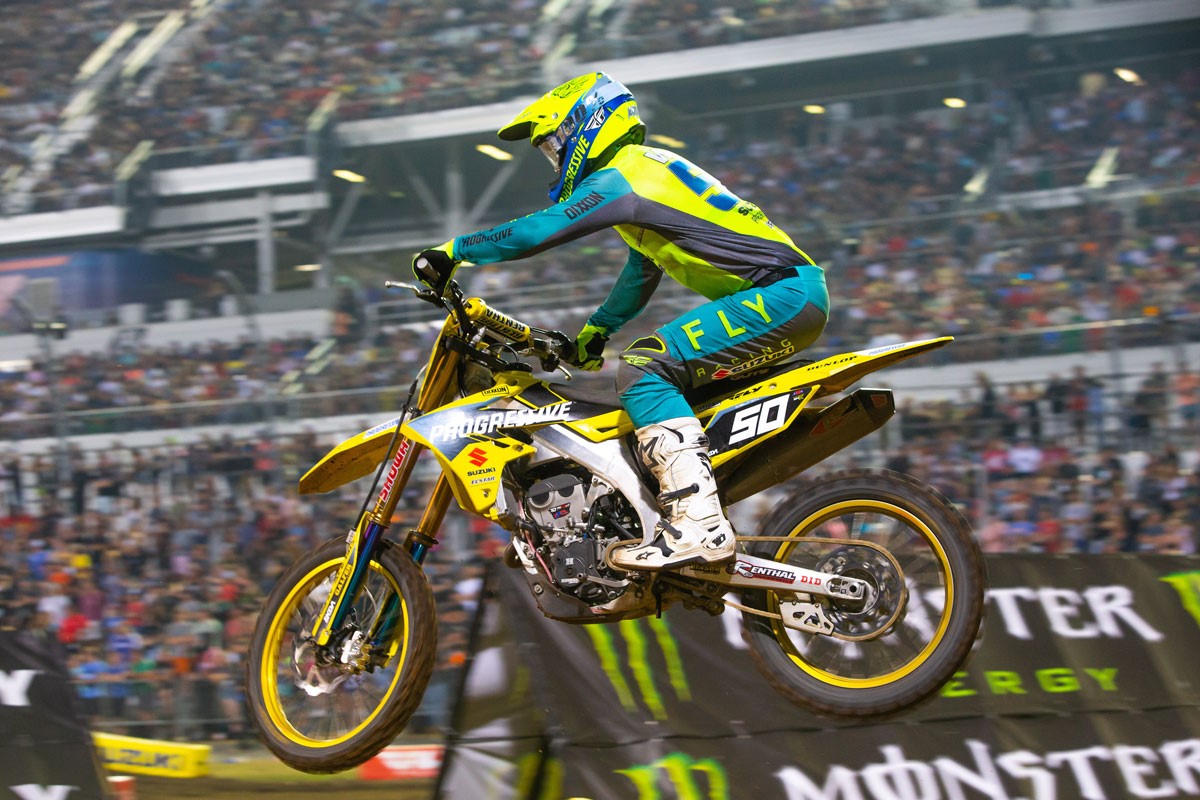 Marshal Weltin (50) was on the move in the main event. He gained positions as the track broke down throughout the 250-class main event.

Marshal Weltin was up to the challenge of the varying dirt conditions of the rutted and rough track. After earning a direct transfer to the main through his heat race, Weltin advanced his Suzuki RM-Z250 six positions throughout the main event and crossed the finish line with his best result thus far in 2023.

"Every session we progressed. I'm comfortable on the bike and learning, so we went into the night show feeling great," said Weltin. "My body's feeling good. We ended up ninth in the heat. Going into the main I had a good mindset, thinking I'm going to give everything I have and lay it all out there. There was a lot of carnage. It's tough here with the lights creating shadows; it was slick and then it started raining a little bit. I'm happy to come away with my personal best with an eleventh place. It's close to a top ten and it just feels nice to make progress week to week."

"It was a pretty good day," was how Twisted Tea/H.E.P. Motorsports/Suzuki presented by Progressive Insurance's Team Manager Larry Books summed up Daytona 2023. "We've been working really hard on Roczen's bike, and we made some big improvements. The result in the main event wasn't as good as we were expecting because of a bad start, but it just happens sometimes. He finished seventh in the main event. Shane McElrath finished thirteenth. His speed was better, his riding was better, so we're thinking bigger and better things are ahead for him. In the 250 class, Marshal Weltin finished eleventh. It was a good ride for Marshal. His start was terrible, so he had to come from behind and he outlasted the field; he was able to pass a lot of guys at the end. Eleventh is not bad, and I think we will build on that. We missed Kyle Chisholm. He had a crash during the week and was unable to race today, but we think he's going to be back at Indy next week."

The Suzuki riders and team members travel to Indianapolis for round nine of the 17-round Monster Energy AMA Supercross season. The track will return to a traditional supercross-style layout inside Lucas Oil Stadium. The location bodes well for the team – Ken Roczen won all three rounds inside the stadium in 2021 during the three-race Indianapolis residency of that season.

For more team news, and the latest from the Supercross season and SMX World Championship series, please visit SuzukiCycles.com/Racing/Motocross and HEPMotorsports.com.

Photos by BrownDogWilson Photography
---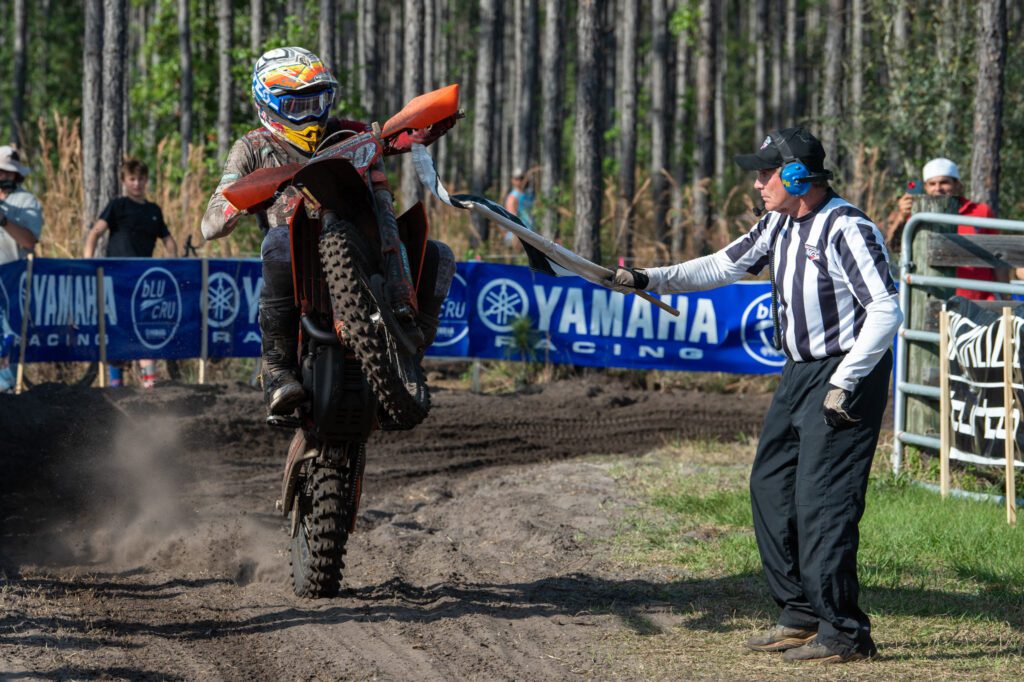 Moose Racing Wild Boar: Motorcycle Race Report
PALATKA, Fla. (March 6, 2023) – The Grand National Cross Country Series presented by Specialized, an AMA National Championship, (GNCC Racing) concluded its second round of racing on Sunday, March 5 in Palatka, Florida with the Moose Racing Wild Boar GNCC at Hog Waller Campground and ATV Resort. Getting a great jump off the line first to earn the $250 All Balls Racing XC1 Open Pro Holeshot Award was Rocky Mountain/Tely Energy KTM Racing's Ben Nelko, but as the racers made their way through the course on lap one it was Rockstar Energy Husqvarna Factory Racing's Craig DeLong emerging from the woods first. DeLong would hold the lead for the first couple of laps as FMF/KTM Factory Racing's Ben Kelley made his way up through the pack. Kelley would make the pass for the lead on the fourth lap, and he would continue to place a gap over the field for the final two laps of the race.
Ben Kelley (FMF/KTM Factory Racing) clinched his first win
since returning from injury. Photo: Ken Hill
Kelley would come through to cross the line first, earning his first win since his injury last season. Coming through in second was the hard-charging Rocky Mountain/Tely Energy KTM Racing's Steward Baylor. As the race got started Baylor would find himself at the back of the pack. As the race wore on, Baylor would continue to click off the positions and making the necessary passes to get to towards the front. DeLong would fall back to third as the checkered flag flew, rounding out the top three Wild Boar finishers. After running in second to start the race, and briefly holding the lead on the third lap of the race, AmPro Yamaha's Ricky Russell would cross the line in fourth to finish out his day. Magna1 Motorsports/Husqvarna's Jordan Ashburn would put in a good ride as he rounded out the top five in the XC1 Open Pro class. Babbitt's Online/Monster Energy/Kawasaki Team Green's Grant Baylor would cross the line sixth in the XC1 class, and ninth overall on the day. After earning the holeshot award, Nelko would remain seventh in XC1 for the duration of the race. Rockstar Energy Husqvarna Factory Racing's Trevor Bollinger returned to racing after he looked to have suffered from a minor injury at round one. Bollinger would come through eighth in the XC1 class and 17th overall in the Florida heat.
Steward Baylor (Rock Mountain/Tely Energy KTM Racing) battled back to earn second overall at round two. Photo: Ken Hill
Rounding out the top 10 in the XC1 Open Pro class were Babbitt's Online/Monster Energy/Kawasaki Team Green's Josh Strang in ninth and GASGAS/FXR/Scott Goggle's Layne Michael in tenth. FMF/KTM Factory Racing's Jonathan Girroir was having a good race running up in the third place position at the halfway point but was ruled out after completing three laps. Unfortunately for Canada's Tyler Medaglia and Coastal GASGAS Factory Racing's Thad Duvall, both would complete one lap before being forced to retire from the race.
Ryder Lafferty (center) earned his second-straight win in the XC2 class. Liam Draper (right) and Lyndon Snodgrass (left) rounded out the top three. Photo: Ken Hill
When the XC2 250 Pro class took off it was Chris Canning earning himself the $250 Steel City Men's Clinic XC2 250 Pro Holeshot Award. It wouldn't take Coastal GASGAS Factory Racing's Ryder Lafferty long to make the pass for the lead though after a brief battle with Liqui Moly Factory Beta Racing's Jonathan Johnson. Lafferty would lead from the second lap until the race was over, earning his second-straight win of the season. AmPro Yamaha's Liam Draper would make his way into second with just two laps remaining after starting back in the fourth place position on the day. The defending champion, Babbitt's Online/Monster Energy/Kawasaki Team Green's Lyndon Snodgrass would make his way up to round out the podium after a bad start put him back in ninth place at the beginning of the race.As the FMF XC3 class took off it was Bells Electric/Wossner Pistons/FXR's Toby Cleveland earning himself the $100 Lojak Cycle Sales FMF XC3 125 Pro-Am Holeshot Award. However, soon after they headed into the woods Cleveland would find himself battling with Hall's Cycle/Enduro Engineering/Moose Racing's Jhak Walker. As the group came through on the opening laps Walker would hold the lead, however out on lap three Cleveland would make the pass stick and continue to try and place a gap over the field. Walker would maintain his second place position until the checkered flag flew, while FXR/X Brand Goggles/6D Helmet's Dakoda Devore crossed the line in third at the round two in Florida.
Toby Cleveland (Bells Electric/Wossner Pistons/FXR) grabbed the Lojak Cycle Sales holeshot and never looked back as he earned the FMF XC3 class win.
Photo: Ken Hill
Earning himself his first Top Amateur award was 250 A competitor, Lane Whitmer. Whitmer would come through 19th overall on the day and first in the 250 A class to stand in the center of the podium for his first time in the three-hour afternoon race. Fellow 250 A competitors, Bolton Beroth and Jason Tino would round out the Top Amateur podium as the two finished 24th and 25th overall as well as second and third in the class. In the WXC class it was Trail Jesters KTM Racing's Korie Steede getting the early lead and earning herself the $100 Trail Jesters WXC Holeshot Award. Steede would continue to hold the lead in the sandy terrain as AmPro Yamaha's Rachael Archer and GASGAS/Over and Out /RG Factory Racing's Rachel Gutish would make their way into second and third for the opening laps.Steede would continue to maintain her lead for the duration of the race, crossing the line with over a minute lead on the rest of the pack. Archer would battle back and come through second overall as Gutish continued to push for that final podium position.
Korie Steed (Trail Jesters KTM Racing) grabbed the Trail Jesters holeshot, leading the way and earning her second-straight win in 2023. Photo: Ken Hill
Coming to earn the Youth overall and YXC1 Super Mini Sr. (14-15) class was Canyon Richards. As the day started out Richards would come through behind Ryan Amancio and the two would swap the lead position throughout the race. Richards would come through to see the checkered flag first as Amancio would unfortunately fall back to tenth after a last lap crash. Making his way through in second overall was YXC2 Super Mini Jr. (12-13) competitor, Caleb Wood as well as fellow YXC2 racer Mason Raynor rounding out the youth overall top three in Florida.Austin Tsakanikas and Brody Amos would battle back to finish second and third in the YXC1 Super Mini Sr. class, with Jiggs Fustini taking third in the YXC2 class. Linkin Bischoff came through to earn the 85 Big Wheel (11-15) class win. Travis Lentz would make his way to the center of the box in the 85 (12-13) class, and Gavin Abboud took home the 85 (7-11) class win. In the 65 (9) class Ryder White came through first earning the win, and Tripp Lewis would earn the win in the 65 (7-8) class. Addison Harris earned herself the Girls Super Mini (12-16) class win, while Bailey Walker clinched the Girls 85 (7-13) class win. It was Audrina Anello sitting atop the box in the Girls 65 (7-11) class, and Waylon Daughtry trying their hand at GNCC earning the Trail Rider (7-15) class win.
Canyon Richards battled back to earn the Youth Overall win in Florida.
Photo: Ken Hill
Next weekend The Specialized General will take place at Aonia Pass MX in Washington, Georgia. This will feature the first round of the 2023 Specialized Turbo eMTB GNCC National Championship on Friday afternoon at 4 pm. ATV Racing will take place on Saturday with Motorcycle racing on Sunday. Camping fees apply at this venue as it is an established campground. Camping is $15 per night ($45 for Thursday arrival, $30 for Friday and $15 for Saturday). Hookup and other specialty spots are available by calling Aonia Pass MX.Catch GNCC Pro ATV and Motorcycle Racing free via RacerTV.com all season long. Pro ATV Racing starts Saturday's at 2pm ET, with the exception of Big Buck, Snowshoe and Ironman events where they will start at 1pm ET. GNCC Pro Motorcycle Racing will begin at 1pm ET on Sunday's. Later in the year GNCC Racing will premiere on MAVTV with event highlight episodes.For more information on the GNCC series, visit the official website at www.gnccracing.com or call (304) 284-0084. Join the conversation on the series Facebook page, follow us on Twitter and Instagram, and be sure to always hashtag #GNCC.Facebook: @gnccracingInstagram: @gncc_racingTwitter: @gnccracingYouTube: @racertv
Ben Kelley (center), Steward Baylor (right) and Craig DeLong (left) rounded out the 2023 Moose Racing Wild Boar GNCC top three. Photo: Ken Hill
Moose Racing Wild Boar Results and Points Standings
Palatka, Florida
Round 2 of 12
Sunday, March 5, 2023
XC1 Pro Event Results:Ben Kelley (KTM)Steward Baylor (KTM)Craig DeLong (HQV)Ricky Russell (YAM)Jordan Ashburn (HQV)Grant Baylor (KAW)Ben Nelko (KTM)Trevor Bollinger (HQV)Josh Strang (KAW)Layne Michael (GAS)

*Overall National Championship Standings:Ben Kelley (55)Steward Baylor (55)Ricky Russell (39)Craig DeLong (37)Jordan Ashburn (32)Ryder Lafferty (29)Grant Baylor (27)Lyndon Snodgrass (25)Liam Draper (22)Angus Riordan (21)*Indicates that the Overall National Championship Standings will determine the 2023 National Champion.

XC2 250 Pro Event Results:Ryder Lafferty (GAS)Liam Draper (YAM)Lyndon Snodgrass (KAW)Grant Davis (KTM)Angus Riordan (KTM)Ruy Barbosa (HON)Cody Barnes (HON)Jonathan Johnson (BET)Mason Semmens (KTM)Jesse Ansley (KTM)

XC2 250 Pro Series Standings:Ryder Lafferty (60)Lyndon Snodgrass (46)Liam Draper (40)Angus Riordan (37)Ruy Barbosa (33)Cody Barnes (28)Mason Semmens (28)Grant Davis (27)Jonathan Johnson (24)Evan Smith (22)

To get the latest GNCC Racing clothing and merchandise visit https://www.mototees.com.
---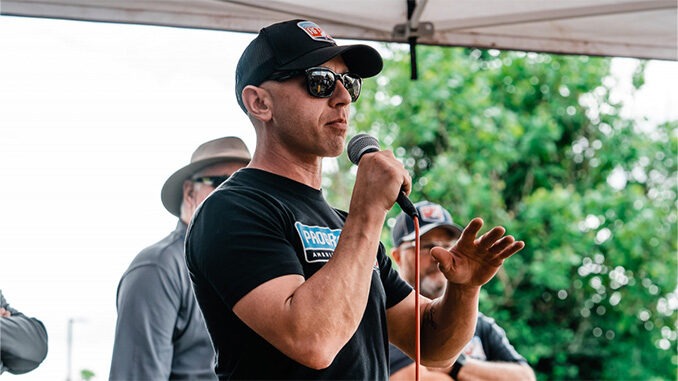 AMA Pro Racing Names Bryan Smith as the Series Director of Progressive American Flat Track
AMA Pro Racing is pleased to announce the appointment of Bryan Smith as the Series Director of Progressive American Flat Track. Smith will transition immediately from his current role as the Director of Industry Relations to the expanded role of AFT Series Director.
"Over the last year, Bryan has consistently demonstrated the leadership capabilities that are necessary to take on even greater responsibilities with the series," said Gene Crouch, CEO of AMA Pro Racing. "Bryan's ability to leverage the knowledge he's gained over the course of his motorcycle racing career as both a factory rider and championship-winning privateer will also be critically important as we form future strategies for the sport."
Smith first joined AMA Pro Racing in 2022 following a decades-long career as one of the sport's leading competitors. His accolades include winning the Grand National Championship as a Kawasaki-mounted privateer in 2016 before becoming a Factory rider, racing on the Indian Motorcycle and Harley-Davidson squads in subsequent seasons. His understanding of the sport as a competitor, tactician, historian, mechanically minded rider, and now series' staffer make him uniquely well suited to tackle his new role as Series Director.
"When I joined the Progressive AFT management team a year ago, I said my goals were to give back to the sport and see it grow," said Smith. "That's even more true today. I'm encouraged by what we've accomplished already, and I'm excited to embrace this new opportunity to create an even greater impact. I feel certain we're on the right path to take the sport to the next level."
In his new role, Smith will be responsible for managing all competition aspects of Progressive AFT, including season calendar and event planning, event operations, safety and track prep and series rules development. Smith will also continue to manage rider & team relationships and new rider evaluation.
"We are very excited to move Bryan into this new role," said Kevin Crowther, Chief Competition Officer of AMA Pro Racing. "Bryan has a wealth of knowledge from all levels of competition, and the experience he gained last year working with the paddock and the Progressive AFT staff has given him the tools that he needs to make a positive impact on the sport."
The 2023 Progressive American Flat Track season will launch with the hugely anticipated return of the DAYTONA Short Track I & II at Daytona International Speedway on Thursday, March 9 and Friday, March 10. Get your tickets now at https://www.tixr.com/promoters/americanflattrack.
For those that can't catch the live action from Daytona International Speedway, FansChoice.tv is the live streaming home of Progressive AFT Sign up now and catch every second of on-track action starting with Practice & Qualifying and ending with the Victory Podium at the end of the night at https://www.fanschoice.tv.
FOX Sports coverage, featuring in-depth features and thrilling onboard cameras, will premiere on FS1 from the Daytona Short Track I on March 18 at 10:30am ET (7:30am PT) and Daytona Short Track II on March 19 at 12:30pm ET (9:30am PT).
For more information on Progressive AFT visit https://www.americanflattrack.com.
---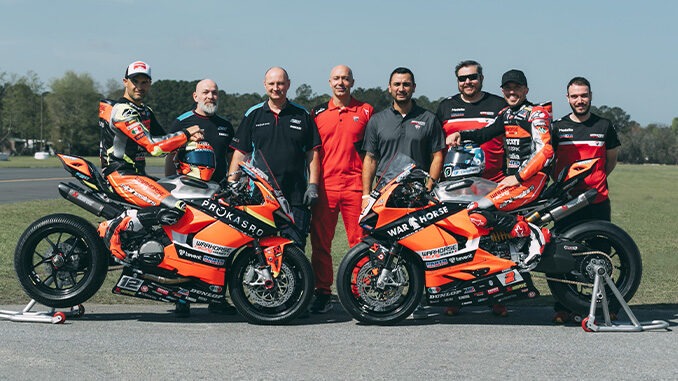 Warhorse HSBK Racing Ducati New York To Return To Daytona With a Two-Rider Line-Up
The Warhorse HSBK Racing Ducati New York team will bring the heat to Daytona International Speedway's high banks in Daytona Beach, Florida, with both Josh Herrin and Xavi Forés set to compete on Ducati Panigale V2 machinery.
Herrin's 2023 Daytona 200 will be one in which he hopes to add to his 2010 race victory. Should he do so, he would join a select group of established stars to have taken a victory in the great race on two different brands and capacities.
For journeyman Forés, the Daytona 200 will signal yet another new race in his arsenal ahead of his MotoAmerica Supersport Championship debut at Road Atlanta on April 21-23. The Spaniard spent 2022 competing in select rounds of the WorldSBK Championship for Barni Ducati, alongside a full season of the FIM Enel MotoE World Championship for Pramac Racing, and the Endurance World Championship (EWC) for Team ERC Endurance Ducati. Xavi will be aboard his Warhorse HSBK V2, displaying the World Endurance Team ERC livery. He will also have his team ERC crew members who will be assisting Xavi's fight for the 200 win.
Xavi Forés (Warhorse HSBK Racing Ducati New York – Ducati #12)
"It's going to be my first time at Daytona and I'm really excited," Forés said. "I really hope to do well because I was racing in the Endurance World Championship the past few years so I'm used to long races with pitstops. My endurance team will come to Daytona to help, which will be a bonus for everyone on the HSBK team," said Forés. "I've been riding the Ducati Panigale V2 in Spain this last month and I feel really strong on this bike. I've been able to do some fast lap times but I know racing in America will be a new challenge. I will return to Spain after Daytona as my partner and I are expecting a new baby soon, and then all three of us will move to America for the season, so this year will be very exciting."
Josh Herrin (Warhorse HSBK Racing Ducati New York – Ducati #2)
"I'm super pumped about returning to Daytona," Herrin said. "It's going to be a really exciting race. "The 200 is one of my favorite events. I feel we've always done well there, but it's a big effort and not just a short 20-lap race. There are a lot of pieces to the puzzle to win there—lots of drafting and pit stops, and it's such a hard place on the bike with forces you don't get anywhere else," Herrin said. "I'm excited to get a second chance on the V2 before I ride in MotoAmerica Superbike, and having Xavi Forés in the team will be really cool. After seeing how the V2 performed last year, I know we'll be in the mix. I've been putting in a lot of work on the bicycle over the past three months and have dropped 15 pounds from where I was last year, so I'm feeling great, I know the bike will be fast, and I can't wait to get going."
The 81st running of the Daytona 200 is scheduled for March 9-11, 2023.
---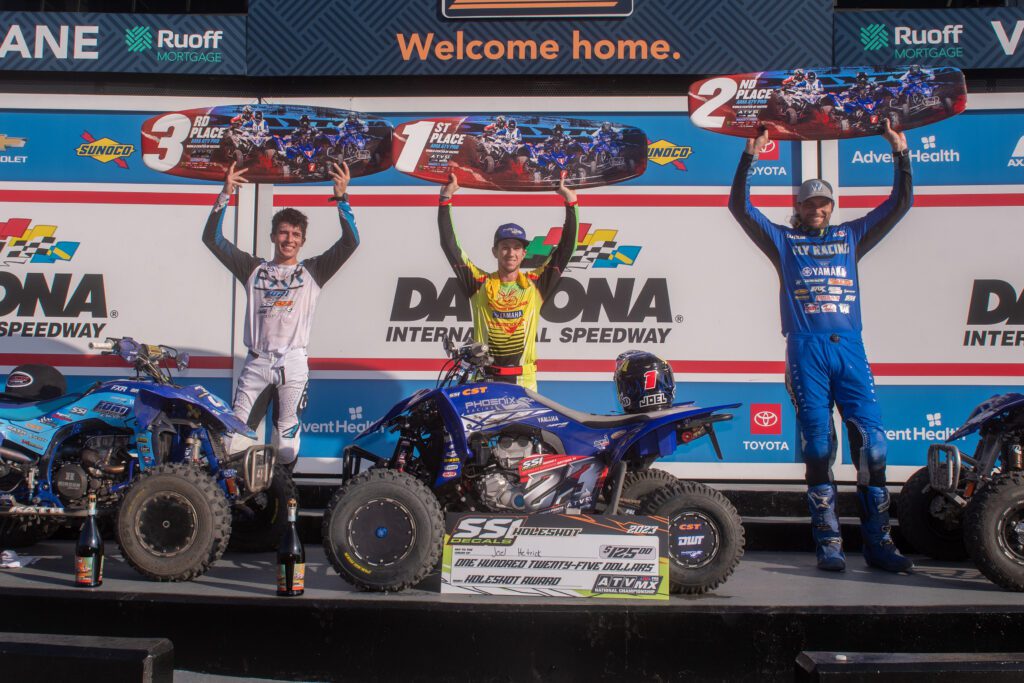 Hetrick Goes 1-1 at 2023 ATVSX Inside Daytona International Speedway
Daytona Beach, Fla. (March 10, 2023) – The first round of racing for the AMA Pro ATV and Pro Sport racers in the 2023 ATV Motocross National Championship (ATVMX), an AMA National Championship, was greeted with warm sunshine as the season kicked off in grand style within the high banks of the Daytona International Speedway. It did not take long for the riders in the Pro ranks to show their pleasure with this year's track which featured enough challenges to keep everyone honest while giving them the room they needed to make the necessary passes. With a very strong spectator turnout, the days racing was soon underway as cheers and support rang out from the bleachers.
Hetrick earned the overall win after going 1-1. Photo: Ken Hill
Returning champion, Phoenix Racing Yamaha's Joel Hetrick had all the attention as he worked the Daytona track securing the fastest lap time of the day. Hetrick's history here has been built on success and on the agony of defeat as things spiraled out of control, however this season he left with nothing but success as he captured his heat win and would race unchallenged to take the victory in the main. Leaving Daytona with a dominating victory has many discussing his success will carry him to another number one plate at seasons end.One rider that has his sights set squarely on taking back the championship is that of Wienen Motorsports/Maxxis/SSi Decals/Fly Racing/Yamaha's Chad Wienen who also would claim his heat race win and would come up just short as he solidly took second in the main. Wienen looked great and showed explosive speed on a very rough track. His ability to out muscle Hetrick has been a strength, however he left Daytona once again in the shadow of Hetrick. This season's points war is now underway, and the technician of many championship seasons will have to put together a very serious plan to strike down his number one competitor.Ford Brothers Racing/Fly/SSi Decals/Maxxis' Bryce Ford was already having a solid day and would find him upfront in second as the main got underway. Ford settled into third and put in an impressive ride, landing him on the podium with a well-earned third. Look for Ford to have several rounds where we could see him battling for a win as the young Texan is hungry to leave his mark this season.
Wienen came through to earn second overall on the day. Photo: Ken Hill
Fourth place is where Rastrelli Racing/FXR/Rocket Machine Design's Jeffrey Rastrelli was when the race ended, and he was hungry for more. Rastrelli has had his struggles that have set back his program but his will to win has never wavered. Leaving Daytona healthy and facing another Florida track at round two, look for Rastrelli to once again be on the hunt for the podium.GennUSA Racing/Integrated Financial Concepts/CST Tires' Nick Gennusa would round out the top five earning fifth and while he wanted more, he seemed satisfied with his efforts, especially after falling ill and suffering through the race. Gennusa should be yet another rider we see in the top five at every round this season.Usually, the racers get a gap in the schedule after the opening round however a week and a half are all that separates the first two rounds forcing any racer on the mend to do so quickly. The first page in the 2023 season has been written but the story remains untold!
Ford went 2-3 to earn third overall. Photo: Ken Hill
For more information on the ATV Motocross National Championship, visit the series official website at www.atvmotocross.com or call (304) 284-0101. Join the conversation on the series social media channels, along with receiving the most up-to-date news and exclusive content.Facebook: @atvmotocrossInstagram: @atvmotocrossTwitter: @atvmxdotcomYouTube: @atvmotocross
ATVSX Overall Top Three atop the podium in Daytona International Speedway.
Photo: Ken Hill
Daytona ATV Supercross Results and Points Standings
Daytona Beach, Florida
Round 1 of 10
Tuesday, March 7, 2023AMA Pro Class Event Results:Joel Hetrick (1-1)Chad Wienen (1-2)Bryce Ford (2-3)Jeffrey Rastrelli (3-4)Nick Gennusa (2-5)Logan Stanfield (5-6)Max Lindquist (4-7)Zack Decker (4-8)Kevin Saar (3-9)John Glauda (5-10)Overall National Championship Standings:Joel Hetrick (25)Chad Wienen (22)Bryce Ford (20)Jeffrey Rastrelli (18)Nick Gennusa (16)Logan Stanfield (15)Max Lindquist (14)Zack Decker (13)Kevin Saar (12)John Glauda (11)
---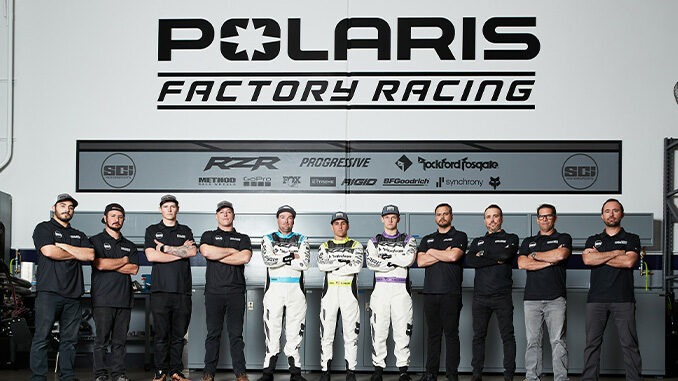 Polaris Leads a New Era in Off-Road Racing with Industry's First Comprehensive Factory Racing Program & Purpose-Built Race UTV
– Polaris Off Road, the leader in off-road vehicle innovation, is establishing a new standard for off-road racing with the development of a comprehensive RZR Factory Racing program and the sport's first-ever purpose-built race ready UTV. Piloting three all-new Polaris-engineered race machines will be rising off-road stars Austin Weiland, Brock Heger and Cayden MacCachren. The trio of drivers are backed by the full power and innovation of Polaris engineering, along with an elite management team and crew made up of some of the sport's most proven and successful off-road racing veterans.
The new Polaris Factory Racing Program is unprecedented for its comprehensive nature, featuring a management team, crew chiefs and mechanics. This industry-leading crew has been completely curated by Polaris from the ground up with the complete hands-on support of Polaris engineering and its development of the purpose-built factory racing UTV. Typically, the term "factory racing program" has been used loosely to describe OEM-sponsorships and stock vehicle-oriented support for established independent racing programs with pre-existing management teams, crew chiefs and mechanics.
The new Polaris Factory Racing team will enjoy invaluable sponsorship support from a lineup of top brands that share the same commitment to premium quality and elite performance. Sponsors include Rockford Fosgate, Synchrony, Progressive Insurance, and GoPro. In addition, the team enjoys support from a who's who lineup of performance brands with long-histories in off-road racing that will provide critical products and technical support, including Fox Racing for vehicle livery and team apparel design, Fox Shocks for its industry-leading, semi-active Live Valve suspension technology, Polaris Engineered Lubricants, Rigid Lighting, BFGoodrich Tires and Method Race Wheels.
"Backed by nearly 70 years of innovation, Polaris is not only responsible for literally inventing the performance side-by-side category, it also has a long and storied history of winning at the highest levels of off-road racing, so it simply makes sense that we'd be driving the industry forward yet again with the first, full-fledged UTV class factory racing program," said Reid Wilson, Vice President, Polaris Off Road Recreation. "Racing is integral to everything we do, driving performance innovations that inspire the products we bring to showroom floors – ultimately pushing the industry forward and advancing the consumer side-by-side market. We're absolutely chomping at the bit to now showcase Polaris' engineering prowess and ingenuity through our new Polaris Factory Racing team."
While the brand-new RZR race machine takes center stage, Polaris hand-picked its team of highly trained off-road racing specialists and emerging young racing phenoms. Team operations will be based in Vista, Calif. Amongst the Polaris Factory Racing team's 12 full-time employees are more than 150 years of combined off-road experience, expertise and proven champions.
Engineering: Polaris Off Road
The development of the three purpose-built vehicles was led by Polaris Off-Road Racing Technical Director Robert Wilmot, overseeing a team of Polaris off-road engineers for whom racing and racecraft isn't merely a job, it's a personal passion. For these engineers, the development of a purpose-built factory racing UTV is literally a dream come true. Alongside Wilmot, the Polaris engineering team will assist in the progression of the program from standpoint of ongoing race vehicle testing and development.
Driver: Austin Weiland
Weiland has always had a passion for racing, transitioning through the youth ranks of karts, oval dwarf cars and eventually moving into short course off-road racing. He has been competing full-time in the Best in the Desert and SCORE series in the Production Turbo class, with notable wins in the 2021 Vegas to Reno, 2022 King of the Hammers Desert Challenge and 2022 Baja 400, 500 and 1000 wins.
Driver: Brock Heger
Emerging as the next big name in off-road racing, Heger has excelled in every discipline of racing and has over 100 wins and 200 podiums to his name. Most recently, Heger has raced in Pro-Lite short course trucks and Production UTV's in the Champ Off Road series, earning championships in both classes as well as competing full time in the SCORE Trophy Truck Spec class.
Driver: Cayden MacCachren
A third-generation racer from one of the most iconic families in off-road racing history, MacCachren, will pilot the the team's third vehicle. The offspring of off-road royalty, it's no surprise that MacCachren followed in his father Rob's footsteps to become a championship racer. In just four short years, he has collected as many year-end championships, along with multiple race wins at varying levels of the sport.
Team Principals: Craig Scanlon & Travis Clarke
The team will be run by long-time off-road racing veterans and team principals Craig Scanlon and Travis Clarke, a duo that packs two decades of combined off-road racing experience. The two have formed SCI (Scanlon Clarke Industries) as the program management arm of the Polaris Factory Racing team.
Formerly an executive for Polaris Off Road, Scanlon has been a driving force in the industry on and off the race course. In addition to his work for Polaris, Scanlon dove headfirst into his passion for off-road racing by creating Scanlon Motorsports Group, a professional racing program where he also served as driver, claiming his first UTV Pro Class victory at the 2019 Baja 500.
In addition to experience racing and winning in off-road cars himself, Clarke brings a wealth of experience in racing business and athlete management. Well established as one of the sport's premier sports marketing executives through his work with Wasserman Media Group, Clarke's client list includes some of the sport's more renown drivers. He's also been a key player in the ongoing evolution of King of the Hammers, driving critical sponsor support, instrumental to the overall progression of the premier U.S.-based off-road event. Outside of the off-road world Clarke has been responsible for establishing some of the top teams in Supercross/Motorcross, NASCAR and the rally racing community, including RCH, Two Two Motorsports, Ken Block's Hoonigan Racing Division and Pastrana Waltrip Racing.
General Manager: Ryan Thomas
Off-road industry veteran Thomas will oversee the team's day-to-day operations and manage driver and sponsor relations as the team's General Manager. Thomas has spent his lifetime on both the business and racing sides of the industry initially working for his family business , Chenoweth Racing Products, which developed some of the most successful cars in off-road racing history. Most recently, he was President of Ultra4Racing and prior to that spent ten years as Director of Wide Open Baja in Cabo San Lucas. Thomas also packs serious racing credentials from his days as a top-tier driver, with five Baja 1000 titles to his name.
Operations Director: Adam Arsenault
To manage the team's state-of-the-art 10,000 sq. ft. race shop in San Diego, Calif., the team tapped Adam Arsenault, who will serve as Operations Director. Since 2010, Arsenault, a Marine veteran himself, has owned and operated Broadsword Racing, an off-road team of active-duty military, veterans, and first responders. Arsenault brings the team a wealth of operational management skills learned throughout his 20-year military career in the Marines Special Operations Division, including mission planning, tactical communication, and navigation. In his role, he will manage the vehicle fleet, oversee the race parts inventory and develop and manage the race volunteer roster.
Crew Chief: Johnny Nelson
Former off-road racing co-driver Johnny Nelson will operate as the team's Crew Chief. After winning multiple Baja 500 and Baja 1000s as a co-driver, Nelson shifted gears to the technical side as a mechanic, where he was voted SCORE Mechanic of the Year, an award he has won multiple times. In his role, Nelson will collaborate alongside Polaris engineering, manage the senior and junior mechanics, and develop and execute pre-run and race-day strategy.
Mechanics
The team will have three Senior and three Junior Mechanics to ensure the vehicles are race ready for each event. They will also be responsible for maintaining the shop, chase trucks, trailers, and pit equipment.
This Polaris Factory Racing team is driven by a singular goal – winning. In 2023, the team will compete in the SCORE International series and the Best in the Desert's Vegas to Reno race. The season will kick off at the San Felipe 250 on March 28-April 2, followed by the Baja 400 from May 31-June 4, Vegas to Reno on August 16-20, the Baja 500 on September 12-17, and the Baja 1000 on November 13-18.
Full details and information about the purpose-built Polaris Factory Racing UTV will be released on March 15. For information about Polaris RZR, visit RZR.Polaris.com, or join the conversation and follow RZR on Facebook, Instagram and Twitter.
---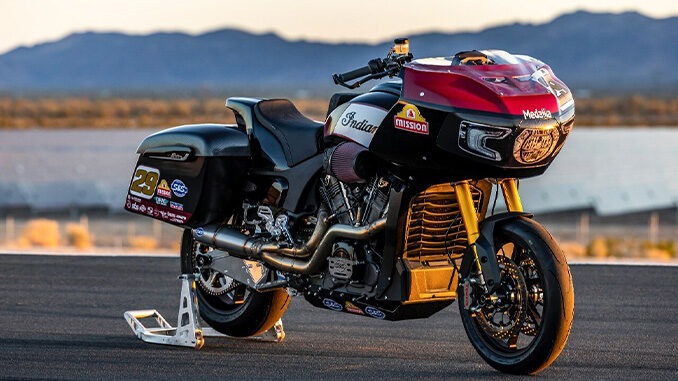 Indian Motorcycle Celebrates 2022 King of the Baggers Championship with Ultra-Limited Indian Challenger RR
 In celebration of Indian Motorcycle Racing and S&S® Cycle's 2022 King of the Baggers championship season, America's First Motorcycle Company today announced the retail availability of 29 highly exclusive Indian Challenger RR motorcycles. Built to 2022 race spec by the same S&S® hands that wrenched Tyler O'Hara's #29 championship-winning bike, each purpose-built Indian Challenger RR is available for die-hard track riders and collectors for a premium price of $92,229.
The Indian Challenger RR marks the first-time fans can purchase a purpose-built race bagger. Hand crafted and race-tuned with the same setup that won O'Hara's second King of the Baggers championship, Indian Motorcycle and S&S® are offering fans and collectors the unique opportunity to own a piece of history.
"Originally, the thought of road racing baggers was perplexing to many, and even downright offensive to some road racing purists. But in just three short years, King of the Baggers has emerged as the hottest thing in motorcycle racing as these bikes have rapidly evolved in their sophistication, and we thought it would be awesome to give people the opportunity to own the bike that holds the crown," said Gary Gray, Vice President – Racing, Technology and Service for Indian Motorcycle. "We're excited to embrace the fandom of bagger racing and celebrate our second title with this highly exclusive, special run of Indian Challenger RR motorcycles. This bike is the real deal, much like when we released the venerable FTR750, the Challenger RR is a true race bike and is not street legal. Put in the right hands, it will reach the podium in MotoAmerica's Mission® King of the Baggers race series."
Specs for the Indian Challenger Race Replica include the following:
S&S® 2-1 race exhaust
17″ race rims
Dunlop® race tires
S&S® billet adjustable triple clamps
Ohlins® FGR250 forks
TTX Ohlins® rear shock
S&S® chain drive conversion
Carbon Fiber saddle bags
Fiberglass rear fender
Saddlemen raised race seat
S&S® adjustable fairing mount
Aero headlight insert
Aero windshield
S&S® belly pan
S&S® rear set foot controls
S&S® camshafts
112 CID big bore cylinder/piston kit
S&S® air intake system with 78mm throttlebody
CNC ported cylinder heads
S&S® Billet adjustable rockerarms
Hayes® rear caliper, EBC rear rotor, SBS pads
Brembo® M4 front calipers, 330mm rotors, SBS pads
S&S® automatic chain tensioner
Maxx full adjustable ECM
AIM DL2 data logger/dash
Quickshifter kit
S&S® billet clutch cover
S&S® adjustable handlebars
S&S® race modified swingarm
Racing, and winning, has long been a core element within the Indian Motorcycle brand DNA. Founded by racers, driven to innovate by a desire to go faster and win races, Indian Motorcycle has been racing, and winning, for 122 years. From Oscar Hedstrom's endurance racing dominance at the turn of the century, to O.C. Godfrey winning at the famed Isle of Man in 1911, to Burt Munro's land-speed records, to the original Wrecking Crew's dominance in the '50s and the modern Wrecking Crew's six consecutive American Flat Track Championships from 2017-2022, to the 2022 Super Hooligan® Championship on the FTR, and the brand's two King of the Baggers Championships in 2020 and 2022 – the list of history-making racing milestones for Indian Motorcycle is unparalleled.
Riders can learn more by visiting IndianMotorcycle.com, or by following along on Facebook, Twitter and Instagram.
Share