This week in US powersports racing.
---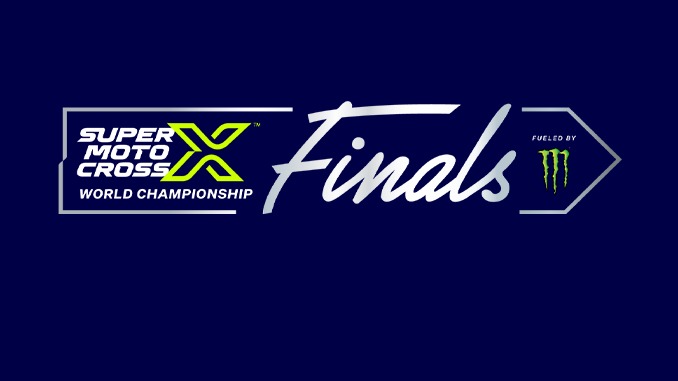 SuperMotocross World Championship Finalizes Field of 60 Racers Set to Contest Inaugural Playoff Round at zMAX Dragway
In conjunction with the American Motorcyclist Association (AMA) and AMA Pro Racing, the SuperMotocross (SMX) League has announced the final field of racers that will contest the inaugural SuperMotocross World Championship Playoff round this Saturday, September 9, from zMAX Dragway in Concord, North Carolina. A total of 60 athletes, split evenly across the 450cc and 250cc divisions, will tackle the one-of-a-kind track layout currently being constructed at "The Bellagio of Dragstrips" for the first of three postseason races. Live broadcast coverage from Playoff 1 will be featured on USA Network, beginning at 12 p.m. PT / 3 p.m. ET, with live, extended streaming coverage on Peacock, beginning with Race Day Live at 6:30 a.m. PT / 9:30 a.m. ET. Additionally, international coverage will continue to stream exclusively via SuperMotocross Video Pass.
During an exclusive virtual press conference with the media on Tuesday morning, hosted in conjunction with NBC Sports, SMX personnel confirmed the final entry list for each respective class of competition. The top 20 points earners in the 450cc and 250cc divisions from the regular season have secured seeds into the Main Event Motos at Playoff 1, Playoff 2, and Final, and will enter the opening race at zMAX Dragway with points based on their finishing position in the regular season standings. The top seed in each respective class, the Team Honda HRC duo of Chase Sexton (450cc) and Hunter Lawrence (250cc), will lead the field into action with 25 points apiece.
NBC Sports' Leigh Diffey, play-by-play announcer for the Finals in Los Angeles said, "If you put it in terms of the NFL, unless your team wins the Super Bowl you're hanging onto the divisional champion or conference champion, but nobody remembers that, they only remember the Super Bowl Champion and that's where we're at now with SuperMotocross and that's how this will resonate around the world….regarding international riders around the world coming here to compete, they know in order to be regarded as the best in the world this is the series they need to compete in."
Due to various circumstances across each division, the seeded field has been adjusted to reflect the current status of each athlete. In the 450cc class, Monster Energy Yamaha Star Racing's Eli Tomac will be forced to forgo the SMX Playoffs as he continues to recover from a ruptured achilles suffered earlier this season. As a result, the seeded premier class field will consist of 19 racers and will in turn provide three transfer positions out of the Last Chance Qualifier (LCQ). In the 250cc class, Team Honda HRC's Jett Lawrence will contest the 450cc division as the third seed and will forgo his spot in the 250cc field. An additional vacancy will come from Team Honda HRC rookie Chance Hymas, who continues his recovery from a torn ACL suffered this summer. With the absence of two seeds, the 250cc class will provide four transfer positions out of the LCQ.
Athletes occupying positions 21 through 30 in the regular season standings automatically earn positions in the LCQ for each class at each respective playoff round. However, additional confirmations for the final SMX entry list have seen the group of LCQ participants expand in each division. In the 450cc class, injuries and other factors have led to notable exceptions that include Jose Butron (21st), Christian Craig (22nd), Lorenzo Locurcio (24th), Benny Bloss (28th), Romain Pape (29th), and Joey Savatgy (30th). Alternatively, those vacancies have allowed for the confirmations of Josh Cartwright, Jerry Robin, Jeremy Hand, Bryce Shelly, Jace Kessler, and Max Miller.
450cc SMX Playoff 1 LCQ Entrants (Unseeded)
#60 Justin Starling
#69 Phil Nicoletti
#80 Kevin Moranz
#91 Jeremy Hand
#93 Jerry Robin
#434 Bryce Shelly
#511 Jace Kessler
#519 Josh Cartwright
#604 Max Miller
In the 250cc division, injuries and other factors have led to notable exceptions that include Enzo Lopes (21st), Jeremy Martin (22nd), Mitchell Oldenburg (25th), Nate Thrasher (26th), Daxton Bennick (28th), Stilez Robertson (29th), and Cameron McAdoo (30th). As a result, those vacancies have allowed for the confirmations of Austin Forkner, Coty Schock, Preston Kilroy, Josh Varize, Michael Hicks, Hunter Yoder, and Luke Neese.
250cc SMX Playoff 1 LCQ Entrants (Unseeded)
#41 Derek Kelley
#42 Joshua Varize
#55 Austin Forkner
#57 Chris Blose
#67 Cullin Park
#71 Preston Kilroy
#125 Luke Neese
#285 Coty Schock
#460 Michael Hicks
#508 Hunter Yoder
"You can see the importance rising each and every weekend for these riders…to be a part of the inaugural season of the SMX World Championship and the SMX Playoffs that start this weekend at zMax Dragway, it's special. Not many times in life do you have opportunity to be a part of inaugural events and I think it comes at a great time within the sport," said lead broadcast analyst and 15-time AMA Champion, Ricky Carmichael.
The broadcast talent bringing the action from zMAX Dragway to viewers around the world will feature the best of both the Monster Energy AMA Supercross Championship and the Pro Motocross Championship, sanctioned by AMA Pro Racing. Play-by-play duties will be handled by Jason Weigandt, who will be joined in the announcers booth by Ricky Carmichael and James Stewart, a pair of AMA Hall of Famers with decorated resumes that make them ideal for the role of color analysts. Additionally, trackside reporting duties will be shared by Will Christien and Jason Thomas, as they bring the breaking news from the paddock, mechanics area, and team manager tower.
An action-packed schedule from Concord will feature two days of on-track action and fan activities at zMAX Dragway. Friday "FanFest" will kick off with a pre-race press conference at 11 a.m. ET, followed by free practice for both classes starting at 12:15 p.m. ET, as riders will get their first glimpse at the unique challenges of a hybrid track design consisting of the best elements of the Supercross and Pro Motocross disciplines.
FanFest Friday also includes a pit bike race that will feature Carson Brown, Brian Deegan, Ryan Villopoto and others. The pit bike superpole will take place at 4:30 p.m. ET, followed by a live SMX Insiders show at 6:00 p.m. ET, hosted by Jason Weigandt and Jason Thomas. The SMX Insiders show will also feature special guests Ricky Carmichael, James Stewart, and Ryan Villopoto. The two moto format pit bike race will follow starting at 7:00 p.m. ET.
Gates open at 8 a.m. ET on Saturday morning for FanFest, before qualifying gets underway at 9 a.m. ET. Opening ceremonies for the inaugural SMX Playoff round will commence at 2:30 p.m. ET, followed by a historic first gate drop at 3 p.m. ET.
---
Dunlop marks over a decade as the official Progressive American Flat Track tire across all categories
It's with immense pride that Dunlop marks over a decade as the official Progressive American Flat Track tire across all categories! Every year, the anticipation grows as North America's leading flat-track racing series keeps reaching new heights. The exhilaration of the 2023 American Flat Track Series culminated in a spectacular double-header finale at the Springfield Mile in Springfield, Illinois. Both the 2023 American Flat Track SuperTwins and Singles Series reached an intense climax, with multiple contenders in the running for the respective championships until the very end.
As the two-season finale rounds approached, the gap in the Mission SuperTwins presented by S&S Cycle championship stood at a mere one point. Returning champ Jared Mees on his Indian Motorcycle/Rogers Racing/SDI Racing FTR750 and up-and-coming SuperTwins racer Dallas Daniels on his Estenson Racing Yamaha MT-07 DT were set to battle it out on the legendary Springfield Mile. The decisive moment came when Jared Mees edged out two-time SuperTwins champ Briar Bauman by a mere .075 seconds on Saturday, extending his points lead by eleven points leading up to Sunday. After a runner-up position on Sunday, Mees clinched the title with a margin of sixteen points while racing on his reliable and trustworthy Dunlop DT4 tires. This makes it his third in a row and a total of nine championships for Mees, tying Scott Parker for most of all time!
On another front, in the Parts Unlimited AFT Singles class, reigning champion Kody Kopp entered with a significant thirty-five-point advantage. With a win on Saturday by the Red Bull KTM Factory Racing contender, he locked in his second consecutive championship, surpassing Tom Drane by forty-one points.
In the Royal Enfield Build. Train. Race. Women's Championship, Morgan Monroe emerged as the dominant force, securing her title with a margin of fourteen points and leading in three series races.
Mike Buckley, Senior VP of Sales and Marketing at Dunlop Motorcycle Tires, remarked, "The 2023 American Flat Track races have offered some of the most gripping moments in recent memory. With the championship battles stretching to the last event, it underscores the neck-and-neck competition we've seen. The continued progress across series, categories, motorcycles, and the outstanding performance of DT4 tires stands as a testament to AFT's unwavering commitment and the collective efforts of all racers, teams, and patrons. Our association as the official tire partner of American Flat Track, which has now been extended, is truly a privilege."

---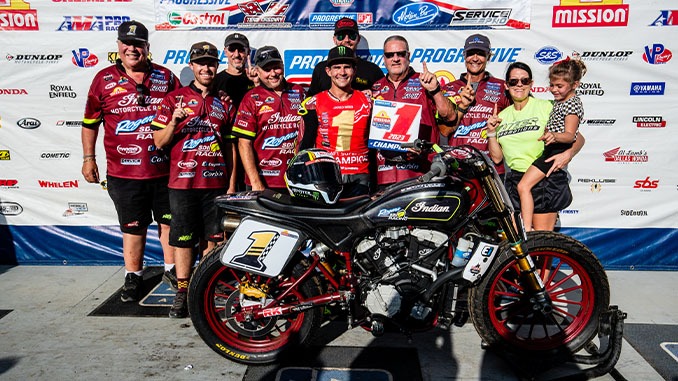 Jared Mees Wins Historic Ninth-Career Grand National Championship at Springfield Mile, Ties Scottie Parker's All-Time Record
Before the 2023 Progressive American Flat Track season began, the prospect of tying Scottie Parker's all-time career championship record loomed large. Despite fierce competition against the ultra-consistent, young talent of Dallas Daniels, Jared Mees reminded everyone that he's still at the top of his game. With each checkered flag, Mees inched closer and closer to his career goal of tying Scottie Parker's historic all-time championship record.
Through more than three-quarters of the season, Mees trailed Daniels, as back-to-back wins to start the season and a podium streak of 13 races kept Daniels at the top of the leaderboard. Mees had a strong run for himself, winning six of eight races between the Senoia Short Track and the Orange County Half-Mile and securing a 14-race podium streak starting at the Dallas Half-Mile until the season's finale at Springfield Mile II. Mees finished the season with nine wins.
"It's what you wake up for every day. It's what you train for," said Mees, "Hats off to Scottie Parker – that's the guy that keeps me going. He kept me going year after year, race after race. He's still the best in my book, and it's an honor to match something that he did."
"There's no questioning Jared's talent on a dirt oval, but what's made him one of the sport's greatest of all time is his persistent drive and dedication to training," said Gary Gray, Vice President – Racing, Service and Technology for Indian Motorcycle. "No one works harder than Jared, and it's been an incredible honor to have him represent Indian Motorcycle since our return to professional racing back in 2017."
Mees' ninth-career championship also marked a historic seven-consecutive AFT SuperTwins championships for Indian Motorcycle Racing and the FTR750. The 2023 victory marked Mees' third in a row, while he's also the holder of the 2017 and 2018 titles aboard the FTR750. Briar Bauman owns the FTR750's other titles, winning in 2019 and 2020 as a member of the Indian Wrecking Crew.
---
Cooper Webb Signs A Multi-Year Deal With Monster Energy Star Racing Yamaha
MARIETTA, Ga. – Monster Energy Yamaha Star Racing is excited to announce a multi-year deal with Cooper Webb to race the premier class of the Monster Energy AMA Supercross, Pro Motocross, and SuperMotocross World Championship. The muli-time champ joins Eli Tomac and Justin Cooper for a potent three-pronged effort next year aboard the YZ450F. This weekend, Webb will kick off his reunion with the team in front of the home crowd at the inaugural SMX World Championship Playoff 1 at the zMax Dragway at Charlotte Motor Speedway in Concord, North Carolina.
Webb made his pro debut with the Monster Energy Yamaha Star Racing team in 2013. Together, they notched an impressive tally of wins in the 250 class and earned back-to-back Monster Energy AMA Supercross 250SX West Championships in 2015 and 2016, as well as the 2016 Pro Motocross 250MX title. Webb went on to be a title contender in the 450 class with a pair of Monster Energy AMA Supercross 450SX titles (2019, 2021) and has 21 victories in the class thus far. The North Carolina rider is excited to return with the team where he started and to make his debut aboard the all-new YZ450F this weekend as the sport begins a new era with the SMX World Championship Finals.
Jim Roach – Yamaha Racing Department Manager for YMUS
"We're excited to announce Cooper Webb's return to the Monster Energy Yamaha Star Racing team. We're also really excited for the upcoming 2024 season with a strong three-rider lineup to continue to pave the way for success in the premier class. Cooper is a proven title contender and is hungrier than ever. Together, we enjoyed a lot of success in the 250 class and are looking forward to having him back and seeing what we can do with the all-new YZ450F."
Jeremy Coker – Monster Energy Yamaha Star Racing 450 Team Manager
"Reuniting with Cooper Webb signals not just a homecoming but also a bright horizon for the team. We're all pretty excited to get going and to see the legacy he will build in this new chapter with his home team."
Cooper Webb – Monster Energy Yamaha Star Racing
"I'm super excited to be racing for the Monster Energy Yamaha Star Racing team again. It feels like a family reunion. It's all the people that I started my career with, and I can't wait to go racing with them again.
"Racing in Charlotte for me is a dream come true. It's my home race. The last time we raced there, I had probably my best race ever. I'm really looking forward to getting back to the gate with this team and this bike and starting off my new chapter well."
---
Share