News and stories from the world of Powersports business.
---
Kawasaki Announces New 2024 PWC Models
The Kawasaki Jet Ski® watercraft model range is known for being the only one for good times, and for 2024, returns with the JET SKI® ULTRA® 310X, JET SKI® ULTRA® 160 LX-S and JET SKI® ULTRA® 160 LX models. These 2024 models are set to hit the showroom floors at Kawasaki dealers across the nation starting this fall.
Jet Ski Ultra 310X
JET SKI® ULTRA® 310X
The Kawasaki Jet Ski Ultra 310 series boasts a liquid-cooled, supercharged, in-line 4-cylinder, 1,498cc engine and digital fuel injection. Riders can select from four power modes (full, middle, low and SLO) to suit riding conditions or their skill level. Its race-inspired hull allows the Jet Ski Ultra 310 to be handled with accuracy and precision. Kawasaki Launch Control Mode (KLCM) offers two modes to benefit acceleration, while Kawasaki Smart Reverse with Deceleration (KSRD) allows for reverse assist options when navigating tight spots. A 7" TFT instrumentation adorns the dash of the Ultra 310 series and features Bluetooth® connectivity as well as multiple display modes. The large-capacity 32.8-gallon front storage area and 10.6-gallons of storage on both the left and right side of the unit offer plenty of space to store items, while its impressive 21.1-gallon fuel tank allows riders to cover plenty of distance without refueling. The 2024 3-passenger supercharged Jet Ski® Ultra® 310X comes in an Ebony / Neon Red colorway with an MSRP of $19,199.
JET SKI® ULTRA® 160 LX-S / JET SKI® ULTRA® 160 LX
The Jet Ski Ultra 160 models are powered by the highly acclaimed engine found in the Jet Ski® STX® 160 series while adding many of the innovative features and equipment found on the Jet Ski Ultra 310 series. The Jet Ski Ultra 160 LX-S is powered by a liquid-cooled, in-line 4-cylinder, 1,498cc engine and digital fuel injection that is paired with a race-proven hull for precision and control. It comes equipped with four power modes (full, middle, low and SLO) for riders to select from, Kawasaki Launch Control Mode (KLCM) that offers two modes, Kawasaki Smart Reverse with Deceleration (KSRD), Kawasaki Smart Steering (KSS), 7" TFT instrumentation with Bluetooth® connectivity and multiple display modes, electronic cruise control, rearview camera, ULTRA deck, and a large capacity 21.1-gallon fuel tank. A highly functional storage system offers plenty of room with 44.5-gallons of storage. In addition to all of the great features found on the Jet Ski Ultra 160 LX-S, the Jet Ski Ultra 160 LX comes equipped with a meter visor, 3-position ERGO-FIT® adjustable LXury seat, and premium JETSOUND® 4s integrated audio system. For 2024, the 3-passenger Jet Ski Ultra 160 LX-S comes in a Ebony / Candy Steel Furnace Orange colorway, with an MSRP of $17,199. The Jet Ski Ultra 160 LX is available in a Ebony / Metallic Shadow Gold colorway, with an MSRP of 18,199.
---
UBCO launches first of its kind, Hunt Edition Bike in partnership with Shane Dorian
Electric adventure motorcycle company, UBCO, has launched the first-ever, limited run of 2X2 Hunt Edition bikes. The Hunt Edition is a collaborative project with Shane Dorian, hunter and pro surfer, that focuses on utility and function for sportspeople at all levels.
New Zealand designed, the bikes are built to handle any terrain, from mud to sand, steep inclines, and dirt tracks. Importantly, the bikes are whisper quiet and carry no spark flash, which makes accessing isolated areas with minimal disturbance to wildlife easy with reduced fire risk. With the latest performance features of the classic UBCO 2X2, the Hunt Edition comes outfitted to carry more with the addition of cargo decks, molle panels and plenty of carry capacity (335lbs).
Shane Dorian, who has been involved in the bike's design from the beginning says "The UBCO Hunt Edition is a hunter's dream bike. With a 75-mile range, AWD, and full suspension, I can get me everywhere I need to hunt with only the twist of a throttle. The 335 lb weight capacity allows me to extend my hunts and bring home more meat. The experience of using a silent, electric AWD vehicle to hunt, especially one as tough as the UBCO is unbeatable."
Specifically, new features of the bike include: Peak Design Phone Mount, Molle Panels for extra storage, Barebones Living Japanese Nata Tool, waterproof center carry all, UBCO front and rear cargo decks, Giant Loop Proghorn straps and a free 3 month OnX Hunt Elite membership.
"We want to make adventure more accessible" says Phill Harrison, UBCO's SVP of Marketing and Corporate Development. "Here we combine the durability UBCO is known for with increased functionality for hunters. The idea of this bike is to help bridge the gap between utility and recreation, providing a tool for hunters to get where they need to, using a lighter and more agile form factor, while still being able to pack out effectively. We know more and more people are interested in gathering their own food in sustainable and ethical ways, and we hope this bike can help fuel this movement".
UBCO's AWD bikes and batteries are designed in New Zealand and assembled in the USA. Created to have the lightest touch on the environment while being built to last, never disposable.
UBCO provides test rides for anyone looking for a hands-on experience, connecting customers with their nearest dealer, office or upcoming event. From October 1, customers can purchase the UBCO Hunt Edition from $6,499 including tax via UBCO's website or any UBCO dealer with a range of finance options available.
---
Angel Sánchez Appointed CEO of Dainese Group
Dainese Group, a leader in outdoor sports apparel and equipment, is pleased to announce the appointment of Angel Sánchez as its new Chief Executive Officer (CEO), effective from 2nd of November. Sánchez has previously held CEO and senior leadership roles at leading international groups including Keter, ABM Italia and Conserve Italia. At the same time, Cristiano Silei, CEO of Dainese since 2015, becomes non-executive Chairman of the company.
Sánchez brings with him deep knowledge and experience with a track record of leading Consumer companies through periods of accelerated growth. Prior to joining Dainese, Sánchez was CEO of Conserve Italia, one of the largest Food and Beverage cooperatives in Europe, which includes brands such as Cirio, Yoga and Valfrutta, where the businesses doubled EBITDA during his time at the helm. He has also previously held the position of CEO of ABM Italia, a European leader in the manufacturing of cabinets, shelving and other storage products, until the company was successfully sold to Keter, the world's leading manufacturer of high-quality consumer plastic products. At Keter, Sánchez was Chief Marketing Officer before his promotion to deputy CEO and Head of Europe.
Angel Sanchez, Dainese CEO
Supported by majority shareholder Carlyle (NASDAQ: CG), the global investment firm, Dainese Group, is a leader in the outdoor sports apparel and equipment, and brings together the Dainese, AGV and TCX brands, as well as the recently signed license with Momo Design. Since partnering with Carlyle, Dainese has continued its trajectory of double-digit growth reaching c. €300m of topline in 2022 and maintaining best-in-class profitability. The Group is investing to support its expansion strategy and in 2022 established a direct presence in China and opened a new production facility in Vietnam. As CEO, Sánchez will be responsible for leading the company into its next stage of growth, including continuing the international expansion of the Group, development of its multi-channel proposition and its shift toward an increasingly Direct-To-Consumer distribution strategy.
"I am excited to join Dainese, a company and a brand I have admired for many years," commented Angel Sánchez. "I look forward to harnessing the power of the respective brands of the Group and capturing the multiple growth opportunities that lie ahead, including continuing to expand its direct-to-consumer channels and growing its presence in high potential markets, such as China."
Massimiliano Caraffa, Managing Director and Partner leading Consumer & Retail for the Carlyle Europe Partners advisory team, said: "We are pleased that Angel has joined Dainese at this important moment in the Group's history. I have known Angel for years, and he brings with him a wealth of experience and an exceptional track record that make him the ideal candidate to lead Dainese as it embarks on this next phase of growth. I would also like to take this opportunity to thank Cristiano for his leadership of Dainese, and I am delighted that the company will continue to benefit from his considerable industry expertise and knowledge as he takes on his new role as non-executive Chairman."
Commenting on the appointment of Sánchez, Cristiano Silei, said: "It has been an honor to lead Dainese for the past 9 years. Dainese is a phenomenal business with significant growth potential, and I am truly excited to welcome Angel and support him as we continue to consolidate the company's leadership positioning in R&D, innovation and technical excellence, whilst accelerating our international expansion."
---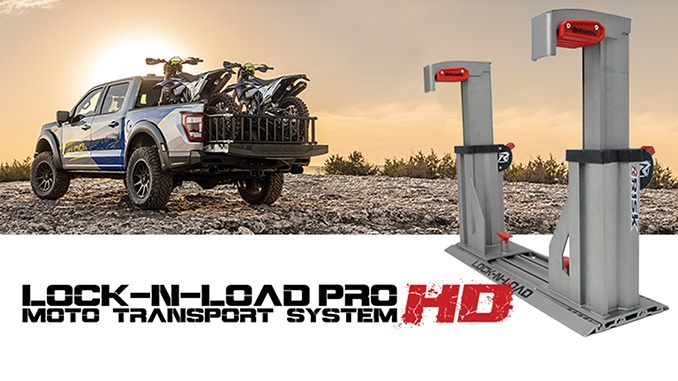 NEW from Risk Racing: The Lock-N-Load PRO HD
Risk Racing, the pioneer behind strapless motorcycle transportation, is once again elevating the game with the introduction of their Lock-N-Load PRO HD Motorcycle Transport System.
Risk Racing revolutionized bike hauling years ago with the original Lock-N-Load and Lock-N-Load PRO, bidding farewell to cumbersome tie-down straps. Now, they're taking versatility and usability to the next level.
The new Lock-N-Load PRO HD is designed to transport a wider variety of bikes than its predecessors, including heavier Enduro-style motorcycles. Ranging from small trail bikes like the Honda XR150L and Kawasaki KLX230, to larger enduro bikes like the Suzuki DR 650 and KTM 690 Enduro. The HD can even handle small adventure bikes such as the BMW G 310 GS and KTM 390 ADVENTURE (current weight limit of 400lbs).
Similar to the Lock N Load PRO and PRO Mini, the Lock-N-Load PRO HD is designed to grip the bike by the foot pegs, distributing the load evenly to minimize the risk of blown fork seals and ensuring both the front and rear remain secure. Say goodbye to a web of tie-down straps and inconvenient wheel chocks, as the Lock-N-Load PRO HD secures bikes quickly, as well as saves valuable space in trucks, vans, trailers, or toy haulers. When not in use, the system can be effortlessly removed from the floor, leaving only the low-profile aluminum base plate. The uprights, crafted from extruded aluminum, are durable, lightweight and easy to store.
Due to the reinforced design of The Lock-N-Load PRO HD, it is the strongest, most robust option for customers who haul their bikes in small trailers with limited suspension, or for customers who drive on rough terrain to get to their riding destination.
The Lock-N-Load PRO HD can be easily mounted in trucks, vans, trailers, or toy haulers with all necessary hardware included. Additional mounting plates are also available for multiple hauling locations or vehicles. Riders can mix and match sizes and locations in a trailer, making it adaptable for changing needs.
The Lock-N-Load PRO HD is available now at a retail price of $349.99. Find it at your local dealer or visit riskracing.com for more information on proper fitment or call 704-508-1031
---
Share