News and stories from the world of Powersports business.
---
Turn 14 Distribution appoints President of Owned Brands, Robert Schuetz
Turn 14 Distribution, the industry leader in performance parts distribution, announces the appointment of the President of Owned Brands, Robert Schuetz. Bob is an established leader within the performance aftermarket and OE industries. His resume includes world-renowned companies like Warn Industries Inc, Ohlins USA, and KW Automotive, NA, where he held executive leadership positions of Vice President and President within these organizations.
Bob will oversee the establishment, structure, development, and daily operations of our owned brands team with its headquarters in the Dallas, Fort Worth area. He will lead the product development, R&D, brand management, and marketing of the manufacturing brands Turn 14 Distribution acquired through Tucker Powersports purchase.
"I'm excited to be a part of the rebirth of the brands we've acquired from Tucker Powersports, and I look forward to earning the trust of our longstanding partners and internal team as we seek to maximize our potential in each respective marketplace," said Bob Schuetz, Turn 14 Distribution President of Owned Brands.
"Bob has years of expertise and industry know-how to spearhead our manufacturing efforts with our brands as we move forward," said Jon Pulli, CEO of Turn 14 Distribution.
---
Indian Motorcycle, Slingshot, Polaris Triple Down for AIMExpo in Vegas
AIMExpo is excited to announce the return of Indian Motorcycle, Slingshot, and Polaris displays at the upcoming 2024 event taking place in Las Vegas. The latest models will be on showcase during AIMExpo 2024, from Tuesday through Thursday, February 6-8.
"Everyone is excited for AIMExpo, which gives us the perfect opportunity to strengthen our relationships with dealers, media, and others in powersports, and to support growth and education within the industry," said Joey Lindahl, marketing director for Slingshot and Motorcycle Industry Council board member representing Polaris Inc. "We'll have a sizeable footprint on the AIMExpo show floor to display an assortment of two, three and four-wheeled vehicles."
"We're happy to see the return of Indian and Slingshot to the AIMExpo floorplan and even more excited that Polaris is joining with their 4-wheel line-up for the first time. With three separate booths and over 2,500 square feet of exhibit space, there is going to be a prominent presence on the show floor by the Polaris brands," said Cinnamon Kernes, MIC vice president of market expansion and events. "Their dedication to helping the powersports industry grow, not just through participation at AIMExpo, but through the development of their wide-ranging products from two-wheels to four, is truly appreciated and we look forward to their participation contributing to our best show yet.
To date, over 15 OEMs, several major distributors, and hundreds of powersports companies have already committed to 2024. The more than 225,000-square-feet show floor at the Las Vegas Convention Center is already 95 percent sold out.
Additional show features include AIMExpo's Disruptive Thinking stage, which will feature an impactful education program delivered by Motorcycle & Powersports News and AIMExpo; New Product Central, two e-Bike demo tracks, the Dealer Recharge Zone, the MIC Business Center, the AIMExpo Industry Party powered by Turn 14, and more.
---
Husqvarna Motorcycles Unveils 2024 Norden 901
Husqvarna Motorcycles is pleased to introduce the 2024 Norden 901, which offers improved performance and technology thanks to multiple technical enhancements for 2024. An incredibly popular machine since its introduction in 2021, the Norden 901 ensures all adventure enthusiasts can explore the world their way.
The machine of choice for many adventure riders, the 2024 Norden 901 is wrapped in new gray and yellow graphics, while underneath, it retains the same proven, torquey, 889 cc parallel-twin engine. Together with its light steel trellis frame, WP APEX suspension, and multiple ride modes, the Norden 901 continues to offer outstanding comfort, particularly on longer rides when navigating rugged and challenging landscapes.
Husqvarna Motorcycles' lean-angle sensitive Cornering Motorcycle Traction Control (CMTC) now offers 10 different levels of rear wheel slip, which can be selected when the optional Explorer Mode is engaged. With a setting to suit all riding abilities, those with more experience will enjoy drifting through turns, while riders new to travel machines will benefit from confidence-inspiring traction when negotiating technical corners and unpredictable terrain.
Rounding out the new features found on the 2024 Norden 901 are a new USB port and Hazard Warning lights, which can be quickly switched on in the event of an emergency.
Underlining the premium build quality of the Norden 901, the components used on this versatile machine are all chosen for their performance and durability. The Pirelli Scorpion Rally STR tires, Bosch Cornering ABS, a Power Assist Slipper Clutch (PASC), and multiple ride modes combine to create the ultimate riding experience.
Technical highlights:
New gray and yellow graphics create a distinctive appearance
Revised Cornering sensitive Traction Control allows for 10 levels of adjustable rear wheel slip with optional Explorer Mode engaged
New USB port on the left side of the dashboard
New Hazard Warning system
Bosch Cornering ABS
Chromium-molybdenum steel frame with engine as stressed member
889 cc parallel-twin engine with class-leading power and torque
Adjustable WP APEX suspension provides exceptional comfort both on-road and off
Four selectable ride modes (Street, Rain, Offroad, optional Explorer)
Ride-by-wire throttle with adjustable response (in Explorer mode)
Standard Easy Shift function (up and down Quickshifter)
PASC Slipper clutch
Tubeless spoked wheels with Pirelli Scorpion Rally STR tires for balanced performance on and offroad
Large capacity, five-gallon (19-liter) fuel tank provides extended range
Optional Connectivity Unit provides TbT+ navigation, telephone calls in/out and music selection from the rider's smartphone
The Husqvarna Motorcycles Functional Apparel Collection comprises quality riding gear designed specifically for global adventures. Complementing the unique design of the Norden 901, each piece of apparel has been developed to keep riders warm, dry, and comfortable in all weathers and seasons.
Allowing riders to personalize their Norden 901, Husqvarna Motorcycles' Technical Accessories features multiple luggage solutions and quality components that further enhance this exceptional travel machine.
Husqvarna Motorcycles' 2024 Norden 901 will be available from this winter onward at authorized Husqvarna Motorcycles dealers.
---
KTM Steps Up its Mini-Cross Offering with the 2024 KTM SX Mini Range
Following the successes of the full-sized KTM SX range, the 2024 KTM SX Minis hit the track with a completely fresh approach in the development of race-ready motocross machines aimed at grassroots racing.
Using scientific and statistical data, the 2024 KTM 50 SX has been developed to be as close to a scaled-down version of a full-size KTM SX machine as possible, with careful consideration paid to young riders' needs and body proportions. This approach began early on in the design and development phases of the 2024 KTM 50 SX and all of its individual components.
Likewise, the development of the 2024 KTM 65 SX was done in close cooperation with a number of international test riders, who have been successfully racing and testing the different development stages over the last two years. This has resulted in a brace of mini-crossers that not only look like miniature READY TO RACE motocross machines but also share a superior level of quality and attention to detail.
With top-level handling and performance being a critical and essential part of mini-cross, both the 2024 KTM 50 SX and 2024 KTM 65 SX are built around a new, advanced steel frame with a lightweight, polyamide glass fiber reinforced steel, two-piece subframe.
This has allowed for a revolutionary change in how riders grow and advance with their machines. The new frame allows for adjustability to cater to a rider's height, ensuring young riders and racers are confident and in control of their machine. Suspension, handlebar position, bodywork, and subframe are now height adjustable to match the growing needs of young riders. Seat height is adjustable between 24.9 inches (634 mm) to 26.8 inches (683 mm) for the 2024 KTM 50 SX and 28.7 inches (730 mm) to 29.9 inches (760 mm) for the 2024 KTM 65 SX.
At the heart of the 2024 KTM 50 SX beats a new engine with upped displacement and increased power, delivering serious racing performance for the most competitive youngsters on the starting line, but also being incredibly rideable to suit a range of ability levels. Among other updates, a new, larger one-piece radiator keeps temperatures in check, while a new digital ignition provides more ignition power and reduces trackside maintenance.
Likewise, the new KTM 65 SX benefits from updates to the engine, radiators – basically now the same design as the big SX machines – air box, and features a new digital ignition, all aimed at keeping the KTM 65 SX at the front of the pack.
Regarding suspension updates, both mini-crossers feature the latest in suspension technology, with a 35 mm USD WP XACT AER fork taking charge at the front. On the rear, an all-new fully adjustable WP XACT monoshock is fitted for perfect balance and damping characteristics, with both models benefiting from revised fitment and geometry.
For model year 2024, the KTM 50 SX FACTORY EDITION will also find its way onto the racetrack, boasting a list of top-shelf high-performance components over and above the standard 2024 KTM 50 SX spec sheet.
Staying true to its name, the 2024 KTM 50 SX FACTORY EDITION is wrapped in a Red Bull KTM Factory Racing-inspired graphics kit, with an orange, high-grip diamante KTM FACTORY SEAT. Performance is also upped, thanks to a full FMF exhaust system and Iridium BRISK FE-specific spark plug, making it the ideal choice for young up-and-coming champions.
The 2024 KTM Sportminicycle range is the perfect representation of KTM's dedication to mini-cross, with the same amount of energy and attention to detail by the same passionate team in Austria who are also in charge of the race-proven full-size models.
The 2024 KTM Sportminicycle range will be available in authorized KTM dealers from November onward.
---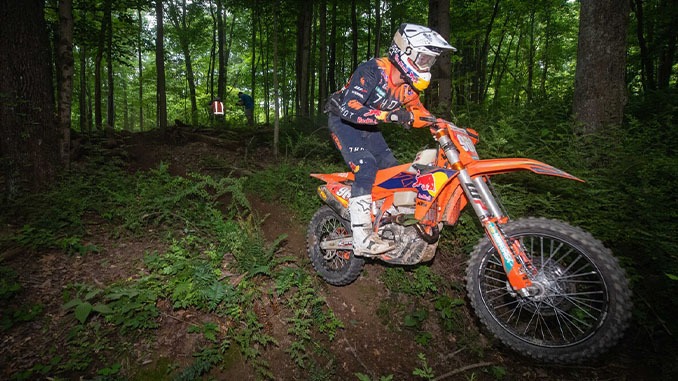 Refined and Ready To Race for You: 2024 KTM 350 XC-F Factory Edition is Now Pounding the Trail
The KTM 350 XC-F almost needs no introduction. The reams of usable, lightweight power and acute, competitive handling have contributed to countless victories, podiums, and titles in the arena of cross country and offroad racing.
The 2024 KTM 350 XC-F FACTORY EDITION, on the other hand, takes this race-bred machine to a whole different level.
The 2024 KTM 350 XC-F FACTORY EDITION is the latest expression of KTM's desire to put the equipment ruling offroad circuits into the hands of every willing and capable rider. The bike builds on the KTM 350 XC-F and some of its major attributes, such as the latest 48 mm WP XACT Suspension (with full 300 mm travel), using closed cartridge spring forks with a mid-valve piston concept that optimizes the oil flow for fast and consistent damping. The fully adjustable system also has new protection rings and a hydro stop to be fully configured for the trail ahead. The 2024 KTM 350 XC-F FACTORY EDITION is armed with a host of performance parts to upgrade it to the ultimate offroad tool and to be a demon for delivering the goods in the heat of competition.
We all know about the versatility of the KTM 350 XC-F – Kailub Russell's eight GNCC titles will forever testify to the strength of this platform – and the 2024 KTM 350 XC-F FACTORY EDITION puts the data, knowledge, and learning of the FMF KTM Factory Racing team directly onto showroom floors. READY TO RACE? Absolutely. Prospective riders will notice the 2024 race-themed livery (orange frame and graphics) that pairs the bike with the conquering FMF KTM Factory Racing riders, but will also appreciate the range of technical add-ons that make the new version of the bike such a mouth-watering acquisition.
Firstly, the attachment of a titanium FMF FACTORY 4.1RCT SILENCER will help shed weight and boost the bike's sea of torque even further, and harness even more potential from the 350cc DOHC engine. Other additions for those thirsty for a racing 'edge' include a high-strength, fork-mounted FACTORY START DEVICE with two selectable preloads to ensure the best possible getaway from a standing start. At the other end of the 2024 KTM 350 XC-F FACTORY EDITION, a special REAR SPROCKET helps to reduce rotating masses and vibration, shaves yet more pounds, and augments transmission efficiency, while also looking pretty cool.
The CNC-milled aluminum and anodized FACTORY TRIPLE CLAMP brings increased precision, stability, and alignment to settings and handling with a special emphasis on the geometry, steering stem stiffness, and customization of the closed cartridge WP suspension. The FACTORY WHEEL SET provides more weight saving and further robustness for the competitive considerations of the 2024 KTM 350 XC-F FACTORY EDITION. The anodized hubs and aluminum spoke nipples are two more specs of a component that will also impact general handling.
The 2024 KTM 350 XC-F FACTORY EDITION will pull and power its way through mud, ruts, rivers, rocks, and whatever terrain it faces, but when 'the show' has to be stopped, the bike can depend on high-performance, stainless steel WAVE BRAKE DISCS front and rear. The front-end has a floating unit with an anodized inner-ring, while the rear has a solid design, all geared towards longer-lasting braking power and durability. The BRAKE DISC GUARD is incredibly light and made from a state-of-the-art, two-component, injection-molding process, meaning it is very strong to bat away stones and other obstacles. For convenience in racing situations, the wheel can be changed and the brake can be serviced without having to remove the guard.
On the theme of protection, a HINSON OUTER CLUTCH COVER brings extra 'armor' to the motor and the optimized SKID PLATE makes sure that the most stubborn of rocks and the gnarliest of hits will not cause extra problems. You, the rider, can count on prime grip and resilient performance of the FACTORY RACING SEAT that also adds to the aesthetic of this prime-time and unmissable FACTORY EDITION machine.
Dominate the field on a 2024 KTM 350 XC-F FACTORY EDITION, available now at authorized KTM dealers.
---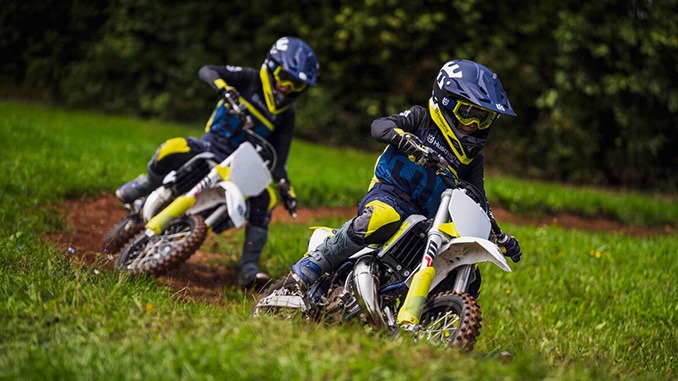 Husqvarna Motorcycles Reveals 2024 Range of Competition-Focused Minicycles
Husqvarna Motorcycles is pleased to reveal its highly-anticipated 2024 minicycle line-up. Receiving several technical upgrades to maximize both performance and reliability, the all-new TC 50 and TC 65 two-stroke machines also offer adjustable ergonomics for the first time ever. In addition, the class-leading TC 85 remains unchanged for 2024 and features the latest technology and race-tested components to give aspiring youngsters a competitive edge over their rivals.
Utilizing much of the same technology found on the full-size motocross machines, the TC 50 provides the youngest racers with a highly capable, competition-focused motorcycle. Including a new, more powerful engine, larger one-piece radiator, and digital ignition, the TC 50 is ready to match the potential of any young racer. Using statistical scientific data throughout the design process, the ergonomics have been perfected for youngsters and with adjustable bodywork, WP suspension, and multiple handlebar mounting positions, riders can continue racing the TC 50 as they grow in size.
The TC 65 offers the same adjustment options as the TC 50, which allows riders to continue developing their motocross skills aboard a familiar machine. A new, more compact, and fully adjustable WP shock is setup to improve the balance of the TC 65, and thanks to its revised mounting position on the new frame, more energy is now absorbed for greater comfort. Together with significant updates to the engine, which includes a new DS clutch and steel basket, more durable gearbox, and machined crankcases, the on-track performance of the TC 65 reaches a higher level for 2024.
Shared updates to both the TC 50 and TC 65 – including new exhausts, updated jetting, and larger footpegs – boost the overall performance and rideability, while all-new bodywork and graphics replicate the full-size models. Each machine is then equipped and finished with components from leading offroad brands including BRISK spark plugs, Formula brakes, MAXXIS tires, ODI grips, and Twin Air filters, creating a pair of best-in-class motocross machines.
The proven, 2023 FIM Junior Motocross World Championship and AMA Amateur National Motocross Championship-winning TC 85 completes Husqvarna Motorcycles' minicycle line up for 2024. Continuing to be the perfect platform for riders progressing from the TC 65 before they transition to a full-size machine such as the TC 125, the TC 85 offers youngsters the highest levels of performance, handling, and reliability.
2024 Technical Highlights:
Striking new white, gray, and yellow graphics highlight Husqvarna Motorcycles' Swedish heritage
New, scaled down bodywork replicates the look and feel of the full-size models
Improved TC 50 and TC 65 engines – broader and stronger power delivery
New TC 50 and TC 65 frames – significantly improve handling characteristics
New aluminum handlebars on the TC 50 and TC 65 – updated bend for a modernized feel
Adjustable ergonomics – allow the TC 50 and TC 65 to be customized for each rider
Premium components – improve quality, performance, and durability
Easily adjustable WP XACT forks and XACT PDS shock – optimal performance and low weight
MAXXIS MAXXCROSS MX-ST tires for exceptional straight-line stability and excellent traction
Formula brake components give each machine best-in-class stopping power
Formula hydraulic clutch assembly on the TC 65 and TC 85 – consistent action and durability
High-grip seat cover on all models – maximum comfort and control
Black Excel rims and CNC-machined hubs for TC 85 – low unsprung weight and greater stability
To personalize and further enhance the performance of the minicycle machines, the Husqvarna Motorcycles Technical Accessories range includes a high-quality selection of competition-focused engine and chassis upgrade options.
In addition, youth racers can ride in style thanks to the comprehensive Functional Offroad Apparel Collection. Featuring items such as the Kids Railed Helmet, Kids Railed Goggles, and Kids Railed Jersey and Pants, all clothing is performance-focused ensuring both comfort and protection for riders of all ages and abilities.
The 2024 minicycles motocross line-up will be available from this fall onward at authorized Husqvarna Motorcycles dealers.
---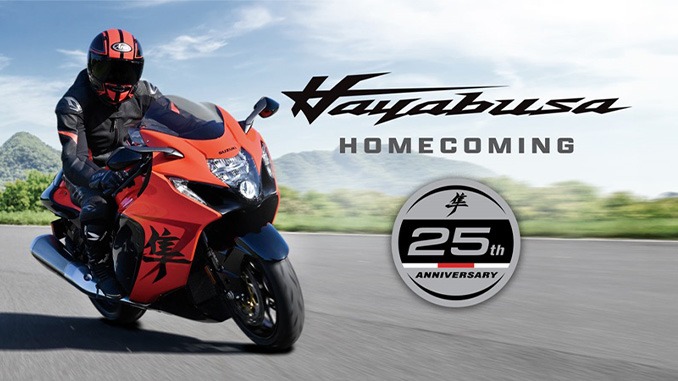 Suzuki Announces Hayabusa Homecoming – 25th Anniversary Celebration
Suzuki Motor USA invites Suzuki owners to join the Hayabusa Homecoming, a commemoration of the 25th Anniversary of the legendary Suzuki Hayabusa during the In-N-Out Burger Finals at the NHRA Camping World Drag Racing Series. Happening November 11th at one of the birthplaces of professional drag racing; In-N-Out Burger Dragstrip, Pomona, CA.
This event is open to anyone attending the In-N-Out Burger Finals. Owners of Suzuki and Suzuki Hayabusa motorcycles will receive free grandstand entry for Saturday, VIP Suzuki Parking for the day, and an In-N-Out Burger lunch voucher.
Hayabusa Homecoming will be held at the Suzuki display located within the NHRA midway from 9:00 AM – 4:00 PM on Saturday, November 11th. Suzuki motorcycle owners attending the Hayabusa Homecoming will receive free entry to the races on Saturday, and there will be special activities throughout Saturday for all who stop by the Suzuki display. Planned events for the Hayabusa Homecoming include:
Free grandstand entry for Saturday at the In-N-Out Burger NHRA finals to the first 200 Suzuki motorcycle riders who register online.
Free VIP Suzuki motorcycle parking near the NHRA Midway (Suzuki and Hayabusa owners only.)
A complimentary In-N-Out Burger lunch voucher. (Suzuki and Hayabusa owners only.)
The first 200 Suzuki Hayabusa riders to register will also receive an exclusive Hayabusa 25th Anniversary gift pack commemorating the famed sportbike.
An appearance by the Moore Mafia's Chris Moore, a renowned drag bike builder and YouTuber who will be running his custom Turbo Hayabusa on the historic NHRA Pomona track, showcasing the jaw-dropping performance of the Suzuki Hayabusa.
Exclusive Q&A Session and fan interaction with Chris Moore and the Vance & Hines/Mission Suzuki Pro Stock Motorcycle team members:

Current NHRA Pro Stock Motorcycle Championship series leader Gaige Herrera.
Four-time Pro Stock Motorcycle NHRA World Champion Vance & Hines rider Eddie Krawiecz.
Six-time Pro Stock Motorcycle NHRA World Champion Vance & Hines team Crew Chief Andrew Hines.

Vance & Hines Hayabusa and Chris Moore's custom 25th Anniversary Suzuki Hayabusa drag bike on hand at the Suzuki display.
Attendees can have their photo taken on a real Vance & Hines Pro Stock Hayabusa.
NHRA Pro Stock Motorcycle class autograph session with Suzuki racers.
See all of the latest Suzuki models on display, get Suzuki swag and more.
Watch the Vance & Hines/Mission Suzuki Gen3 Hayabusas go down the track at over 200 mph.
Hayabusa Homecoming attendees will experience not only world-class Hayabusa NHRA drag racing competing on the legendary Pomona track, they will also be on-hand to celebrate the Hayabusa's redefinition of motorcycle performance since 1999. Suzuki owners can pre-register for the Hayabusa Homecoming by scanning the QR code below.
Stay tuned for more information and updates at SuzukiCycles.com or follow Suzuki social channels @SuzukiCycles. November 11 approaches as quickly as the Hayabusa does so do not miss out on the Hayabusa Homecoming. It will be a great day for all Hayabusa and Suzuki fans!
Attendance for this exclusive celebration is extremely limited and limited to Suzuki motorcycle and Suzuki Hayabusa owners. Hayabusa Homecoming registrants will also receive access to exclusive Suzuki ticket pricing to purchase additional In-N-Out Burger Pomona Finals tickets directly from NHRA.
Join Suzuki and experience the Hayabusa Homecoming 25th Anniversary party, interact with the legendary Vance & Hines/Mission Suzuki team, and witness championship-caliber drag racing with Suzuki!
About Suzuki:
Suzuki Motor USA, LLC (SMO) distributes Motorcycles, ATVs, Scooters, Accessories, and ECSTAR Oils & Chemicals via an extensive dealer network throughout 49 states. Suzuki Motor Corporation (SMC), based in Hamamatsu, Japan, is a diversified worldwide manufacturer of Motorcycles, ATVs, Scooters, Automobiles, Outboard Motors, and related products. Founded in 1909 and incorporated in 1920, SMC has business relations with 201 countries/regions. For more information, visit www.suzuki.com.
---
Share