News and stories from the world of Powersports business.
---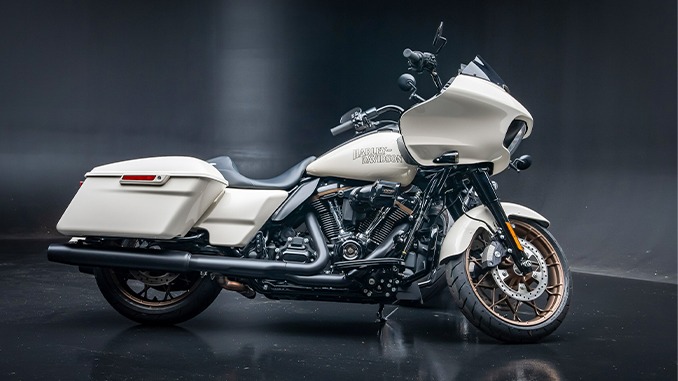 Daytona Beach Area CVB's Inaugural Harley Dream Giveaway Begins
The Daytona Beach Area Convention and Visitors Bureau, promoter of the Southeast's best motorcycle rally Biketoberfest®, has partnered with Dream Giveaway®, a prominent national organizer of charitable programs, to put together the ultimate prize package for motorcycle enthusiasts.
The inaugural Harley Dream Giveaway, brought to you by Biketoberfest®, will begin on Oct. 1, 2023, and run through Sept. 3, 2024. Participants may purchase tickets to win two Harley-Davidson motorcycles, the 2023 Harley-Davidson Road Glide ST and a 2023 Harley-Davidson Sportster S, both of which are being provided at cost from Teddy Morse's Daytona Harley-Davidson. In addition, the prize package will also include a brand-new custom double trailer provided by The Ultimate Trailers and a trip to next year's Biketoberfest® with accommodations at the Hard Rock Hotel Daytona Beach.
You can enter to win the Harley Dream Giveaway with as little as a $3 tax-deductible donation to Dream Giveaway's charities. Additional multi-ticket packages are available at graduated pricing levels. Tickets will be available for purchase onsite at Biketoberfest® and through multiple platforms including:
Biketoberfest.org
Biketoberfest® mobile app
Biketoberfest® social media channels
DreamGiveaway.com
The proceeds from the Harley Dream Giveaway will benefit New Beginning Children's Homes (NBCH), which is a 501(c) (3) organization providing safe housing, care and education to foster children and youths in need. Through the Dream Giveaways grants are also provided to support a variety of other charities including Mothers Against Drunk Driving (MADD), Victory Junction, Fire Department Coffee Foundation and National Guard Educational Foundation, to name a few.
The winner will be contacted directly and announced on Biketoberfest.org as well as Dreamgiveaway.com. A VIP event awarding the motorcycles and trailer will take place at next year's Biketoberfest®, which is scheduled for Oct. 17-20, 2024.
"We're proud to partner with Dream Giveaway on this special opportunity that will award two Harley-Davidson motorcycles and a trailer to one lucky winner, but also benefit worthy charities that can continue their missions of helping others," said Lori Campbell Baker, Executive Director of the Daytona Beach Area CVB. "The Harley Dream Giveaway will also bring a year-round presence to Biketoberfest®, one of the top fall motorcycle rallies that attracts visitors to Volusia County."
---
Cardo Systems and 509 Transform Motorcycle Helmets with Fully Integrated Communication Technology
Cardo Systems, global market leader in wireless communication systems for powersports, has joined forces with leading powersports apparel brand 509 to introduce the Mach V Commander, a groundbreaking motorcycle helmet that transcends the conventional. The Mach V Commander features a fully integrated state-of-the-art Cardo communications system with in-helmet audio and microphone enabling seamless communication and connectivity for you and up to 14 users. The helmet also boasts the industry's leading JBL sound quality and noise cancellation capabilities.
This innovative collaboration catapults 509 into the heart of the motorcycle community, as the Mach V Commander helmet sets a new standard for communication and connectivity on the open road. Marrying 509's acclaimed craftsmanship with Cardo Systems' cutting-edge communication technology, riders can effortlessly converse with fellow riders, manage calls, and enjoy music while on the move.
"As the vanguard of powersports communication, we're thrilled to collaborate with 509 to help enhance motorcyclists' safety and offer a fully integrated communication system to help make the riding experience even better," said Shachar Harari, VP, Business Development & OEM at Cardo Systems. "This partnership presents a phenomenal opportunity to deliver best-in-class communication coupled with the renowned craftsmanship that both our brands are known for."
Designed to be more than just a piece of protective gear, the Mach V Commander helmet by 509 represents a leap forward in motorcycle helmet technology. With the ability to effortlessly connect to 15 riders within a range of one mile, the Mach V Commander redefines communication on the open road. Its integrated Cardo System ensures crystal-clear audio quality, allowing riders to communicate with exceptional clarity amidst the ever-changing environments of the open road. Safety and comfort are paramount, with features like an impact-resistant visor, controllable chase light, and advanced moisture control contributing to an enhanced riding experience.
"We are elated to unveil the Mach V Commander helmet, featuring integrated Cardo Systems, to the vibrant street rider community," said Bill Hartlieb, Global Product Director at 509. "Through our collaboration with Cardo Systems, we created a product that authentically elevates connectivity, convenience, and safety on the road."
Innovation, safety, and seamless communication converge in the Mach V Commander helmet with integrated Cardo Systems. Designed for the modern motorcyclist, this collaboration between Cardo Systems and 509 sets a new standard in helmet technology. Discover the future of motorcycle helmets with the Mach V Commander by Cardo Systems and 509.
Key Features of the Mach V Commander Helmet with Cardo Communication System:
Group Communication: With Cardo Communication System, riders can stay connected with up to 14 fellow riders within a range of up to 1 mile (1.6 kilometers) through mesh connectivity or connect via Bluetooth® for music, phone, or map capabilities.
Superior Audio Quality: The integrated Cardo Communication System ensures crystal-clear sound, with JBL speakers and PSI (Pressurized Sound Isolation) earmuff system for isolation, passive noise canceling, and custom fit.
Voice Command and Hands-Free Operation: Riders can keep their hands on the handlebars and their focus on the road, as the Mach V Commander Helmet supports voice commands for seamless operation, making communication effortless and intuitive.
Enhanced Safety and Comfort: The Mach V Commander Helmet incorporates the safety performance features motorsports riders have come to expect from 509, an impact-resistant visor, controllable chase light, Fidlock® Magnetic Chinstrap, and excellent moisture control with the patent-pending Venturi Venting System.
The Mach V Commander Helmet with Cardo Communications System is available for purchase on Ride 509 and at authorized 509 retailers nationwide.
For more information about Cardo Systems, visit cardosystems.com or join the conversation on Facebook, Twitter, and Instagram and see all the latest videos on YouTube.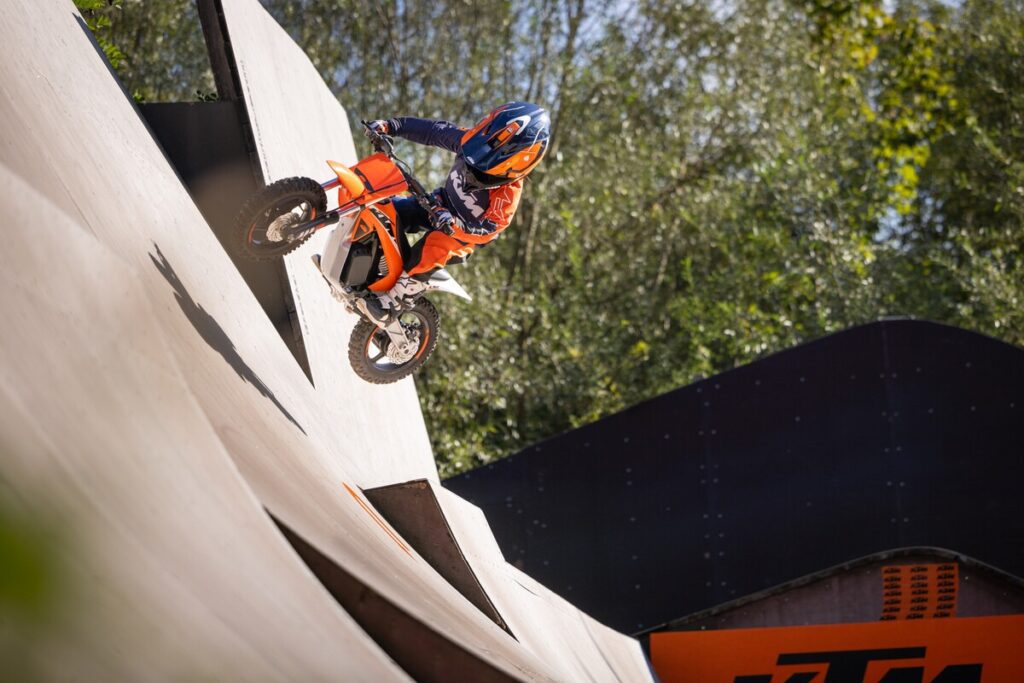 KTM BRIDGES THE CIRCUIT GAP WITH THE ALL-ELECTRIC KTM SX-E 2
Designed to be a true grassroots entry into the motorcycle world, the KTM SX-E 2 provides the ideal platform for young riders to find their feet – and throttles – anywhere the terrain allows.
Following the successes of both the KTM SX-E 5 and KTM SX-E 3, the all-new KTM SX-E 2 rolls up to the starting line as a real-world intermediary package, bridging the gap between mini-cycle and motorcycle, complete with modern, striking graphics, top-quality materials, and high-end components.
The KTM SX-E 2 is designed and built around a center tube Aluminum Extrusion Frame concept that reduces the number of components needed. With fewer connections and mounting points, the chassis provides maximum durability and rigidity, striding the line perfectly between balance, strength and safety. At the rear, the subframe is made from a high-quality glass-fiber reinforced, impact-resistant plastic composite for low weight and added shock absorption.
Providing the forward drive for the KTM SX-E 2 is a lightweight, maintenance-free 1.8 kW HUB Motor powered by a water-resistant BLi300 Lithium-ion power-tool-type battery, delivering a maximum of 50 Nm. Being devoid of any additional parts like chains or sprockets, this "HUB-Motor-Concept" keeps weight low and provides added safety in the event of a crash.
However, the real perk comes with the ease of swapping the battery with one easy movement, extending ride time with multiple batteries, and easy battery replacement in case of damage. This also acts as an anti-ride device, with the battery simply removed.
Charging is taken care of by an external charger supplying up to 500 W that can be connected to any 110- or 230-volt socket, taking approximately 60 minutes to achieve a full 100% charge.
Upfront, a non-adjustable WP Hydraulic Fork with 90 mm travel takes care of the bumps, while a preload adjustable 34 mm hydraulic monoshock takes care of matters at the rear. The monoshock is mounted directly to the swingarm, offering 70 mm of travel, and is perfectly matched to the front forks in terms of exceptional balance and damping characteristics.
Young riders find their feet easily thanks to a 2-level adjustable seat height. In standard configuration, the seat height is 470 mm but can easily be increased to 500 mm by lifting the bodywork and seat unit and mounting the rear shock in an alternative position. This, along with the ability to lower the front fork in the triple clamp and adjust the heights of the foot-peg carrier, means the rider can grow with the KTM SX-E 2.
In keeping with its smaller dimensions, the KTM SX-E 2 is fitted with lightweight 10″ black powder-coated aluminum HPDC wheels front and rear, wrapped in KENDA tires, supported by a set of radial, hydraulic 140 mm disk brakes on the front and rear, with the brake pads being compatible with high-end market bicycle brake pads for easy availability. The hand levers are adjustable to fit smaller hand sizes.
From a safety and usability standpoint, the KTM SX E-2 is fitted with a roll-over sensor that cuts power in the event of a crash or tip-over. A wrist lanyard key also provides a direct connection between the riders and the kill switch, which stops the motor in the event of an uncontrollable riding scenario.
As an added safety feature, the electric motor is activated by rolling the throttle forward. Once turned 'on', a haptic 'vibration' is sent through the grip mimicking the subtle idling vibration of a combustion engine, indicating to the rider that the bike is ready to go. This stops any unwanted or sudden acceleration when mounting the KTM SX-E 2. An illuminated multifunctional display located next to the throttle also makes keeping an eye on selected ride modes and battery life simple, with different colors indicating which ride mode is selected, as well as what level the battery is at.
The KTM SX-E 2 once again showcases KTM's commitment to the next generation of champions, particularly aspirant riders starting at the absolute grassroots level, merging "big" bike feel with all-electric starter packages.
For more news about the all-electric 2024 KTM Mini model range, visit KTM.com or your nearest authorized KTM dealer.
---
Share