This week in US powersports racing.
---
Guillem Farres joins Rockstar Energy Husqvarna Factory Racing for 2024
Rockstar Energy Husqvarna Factory Racing has welcomed Guillem Farres for the 2024 SuperMotocross World Championship (SMX) season, joining RJ Hampshire and rookie Casey Cochran within the three-rider 250 Class program.
The 20-year-old Spaniard will be onboard the FC 250 leading into next year, committed to the AMA Supercross Championship, in addition to the AMA Pro Motocross Championship and SMX Finals Series.
Farres first arrived in U.S. competition during the late stages of the 2022 outdoor season, immediately displaying front-running potential with a series of top-10 results. He continued that trend in the opening part of the 2023 series and scored a top-five moto finish at the beginning of Pro Motocross, however, was unfortunately injured in round three and didn't return to action.
An opportunity to join Rockstar Energy Husqvarna Factory Racing is an exciting one for Farres, set to make his 250SX debut in 2024, before continuing to build upon his promise in 250MX, while training as part of the Baker's Factory program in Florida.
"I am really happy to be joining the Rockstar Energy Husqvarna Factory Racing Team for this upcoming season," Farres said. "I am also super-excited to start this new chapter of my career after a tough year due to injuries. Now, I am fully healed and ready to get on the new bike. I can't wait to get started at the Baker's Factory – it is an honor to be part of such a legendary program with Aldon [Baker] and all the guys."
Rockstar Energy Husqvarna Factory Racing Team Manager, Nathan Ramsey, said that Farres has been on the team's radar since his first appearance in AMA Pro Motocross and is confident that his capabilities will translate into strong results as experience continues to grow.
"Guillem caught our eye in 2022 when he came to the US for a couple of races," explained Ramsey. "Then when he started the 2023 MX series, he once again showed signs of great speed and potential. He has a great attitude and work ethic, which I believe will lead to great things in the future. The sky is the limit for Guillem and we are happy to welcome him to the Rockstar Energy Husqvarna Factory Racing team."
---
Rahals Add Two-Wheel Racing To Their Portfolios With The Creation Of Rahal Ducati Moto
Graham Rahal has been part of the auto racing world since before he was born but the six-time NTT INDYCAR SERIES race winner is branching out to the two-wheel racing world with the creation of Rahal Ducati Moto, a two-bike team with his father, 1986 Indy 500 and three-time INDYCAR champion, Bobby, that will compete in the Supersport class of MotoAmerica, North America's premier motorcycle road racing series. The riders of the two Ducati Panigale V2s will be announced at a later date.
Graham and Bobby Rahal will field an XPEL-sponsored, two-rider Rahal Ducati Moto team in the 2024 MotoAmerica Supersport Championship. The team will race Ducati Panigale V2s and three-time AMA Superbike Champion and 2009 World Superbike Champion Ben Spies will serve as the team principal.
XPEL, a leading provider of protective films and coatings, including automotive paint protection film, surface protection film, automotive and commercial/residential window films, and ceramic coatings will be the primary sponsor for the bikes in a multi-year deal. The San Antonio-based company also has a relationship with Rahal Paint Protection and the Bobby Rahal Automotive Group.
For as long as Graham Rahal can remember, he has had a fascination with Ducatis. He purchased his first one in 2007 – a yellow 1098S – with prize money from his Champ Car rookie season and he continued to collect various models over the years but owning a Ducati dealership – or two – or especially a Ducati race team was beyond his wildest imagination.
To set the team up with the best chance of immediate success, Rahal Ducati Moto is bringing in five-time AMA Champion, 2009 World Superbike Champion and MotoGP winner Ben Spies as team principal. The bikes will be prepared for competition for the 2024 season at Rahal Ducati Indianapolis in Brownsburg, Indiana, and then move to the all-new GR Brands headquarters in Zionsville, Indiana, which Rahal broke ground on earlier this year and is scheduled to be completed in the winter of '24.
The 2024 MotoAmerica season begins with the 82nd running of the historic Daytona 200, a non-points-paying Supersport race that will take place at Daytona International Speedway, March 7-9. New to the MotoAmerica series will be a round at Mid-Ohio Sports Car Course, August 16-18, the the home track for the Rahals, who previously resided in New Albany, Ohio. The 10-round Supersport schedule will be broadcast by MAVTV.
For more information about the series or team, visit www.motoamerica.com and www.rahalducati.com.
For more information on sponsorship and employment opportunities, please email [email protected].
QUOTEBOARD:
GRAHAM RAHAL, Rahal Ducati Moto Co-Owner: "This has been a long time coming and something I have wanted to do since we got the Ducati brands. Having a couple of those stores now has been great and we want to continue to build our relationship. There is no better way to do that than through the racing program and I am excited to get going. None of this would be possible without XPEL, a brand that I have a long-term relationship with through Rahal Paint Protection and I'm eager to see what we can do as a group in the MotoAmerica series. The series has been experiencing impressive growth in recent years and I'm excited to be part of it.
"Having Ben Spies as general manager is a real asset to our program. He gives us a lot of legitimacy but also brings a lot of success and is someone we can lean on to set our riders and team in the best place for success. This is going to be a great adventure for our organization and Ducati and something we can grow into the future and hopefully have some success on the Ducati Panigale V2."
BOBBY RAHAL, Rahal Ducati Moto Co-Owner: "I'm really pleased that Graham has been able to put this program together with XPEL in the MotoAmerica series. I have enjoyed working with (MotoAmerica founders) Richard Varner and Terry Karges through the Petersen Museum in Los Angeles and met Wayne Rainey a few years ago as well. I have always been a huge fan of motorcycle racing, particularly grand prix road racing, and have had the privilege to get to know Freddie Spencer, Eddie Lawson, Wayne Rainey and others over the years and have the greatest respect and admiration for what they were able to achieve all over the world. With Graham's Ducati dealerships, it certainly seems to make sense for us to be involved. He has a tremendous amount of experience with XPEL through his businesses and we have a growing relationship through our automobile dealerships in Pennsylvania and know them to be a leader in the industry so to join with them for Rahal Ducati Moto is something we are very proud of and looking forward to expanding the relationship with them for years to come."
MICHAEL MAYALL, XPEL Vice President of Corporate Development: "We are extremely excited to expand our partnerships in motorsports from four wheels to two with the Rahal Ducati Moto team and the MotoAmerica series. Joining forces with Rahal Ducati Moto and Ducati is a thrill for us. At XPEL, our motto is 'Protect everything,' and we're ready to bring our world-class protection to the premier motorcycle racing series."
BEN SPIES, Rahal Ducati Moto Team Principal: "I'm super excited about the project. I was approached a couple of months ago and asked if I wanted to be part of it to put my knowledge to use to help with the team and the riders and it was a no-brainer for me. Between bringing the Rahal name into the sport and partnering with Ducati, who is doing a great job globally, I think this is the perfect time for them to join forces and come into the series. The last two-to-three years have seen a pretty big uptick for MotoAmerica with the fans so there is a bit of a resurgence going on. The Rahals are coming in right now and will probably pull one or two other companies in to start a team and I look at that as a really good thing. I'm just excited to be back in the paddock and use some of my knowledge to help the team and definitely help the riders on the weekends with strategy and all of that. I'm looking forward to it."
WAYNE RAINEY, MotoAmerica President: "The Rahals are legends in motorsports. We've been in discussion with them for a while to get their group involved in motorcycle racing with MotoAmerica. I'm really excited because we know they are going to be a wonderful addition to our paddock and the series. Bobby and Graham Rahal have been involved in auto racing for a long time and have been successful in many different series, and they've earned a lot of championships. All of us are super excited to have a team with the Rahal's prestige in our motorcycle road racing championship. To me, it really shows how far MotoAmerica has come these last nine years."
---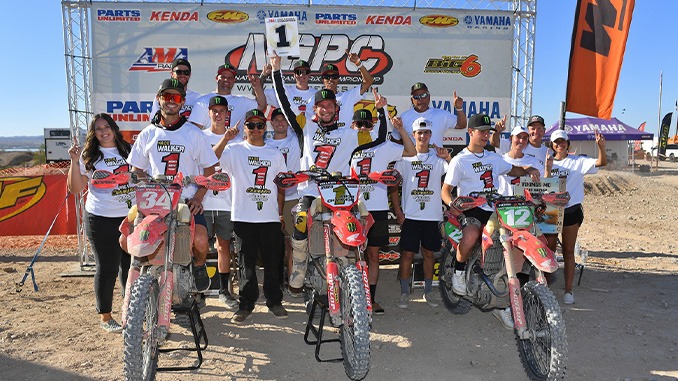 SLR Honda's Kade Tinkler-Walker Earns 2023 NGPC Pro II Title
This weekend at the series finale for the AMA National Grand Prix Championship (NGPC), held at Havasu Island MX Park, SLR Honda rider Kade Tinkler-Walker rode his CRF250RX to a dramatic Pro II class win, wrapping up the National Championship. The title caps an exciting season that saw Tinkler-Walker mount a come-from-behind charge in the points battle after missing the first round.
A former motocrosser who spent a decade competing in Europe, Tinkler-Walker returned to the U.S. one year ago and didn't have a ride lined up for the 2023 season. He showed up to the second WORCS round and finished just off the podium as a privateer, earning the attention of SLR owner Mark Samuels, who signed him for the remainder of the year. Having already missed the first NGPC event, Tinkler-Walker went on a tear, winning the next three rounds—all in Southern California (Taft, Blythe and Glen Helen). Still relatively unfamiliar with racing in high-speed terrain, he struggled on the wide-open courses at 29 Palms, California, and Primm, Nevada, finishing fourth at both. He was back on top in Delta, Utah, but the eighth round was canceled, robbing him of an opportunity to make up points. After working on his high-speed technique, he notched another win on the fast Ridgecrest, California, course, putting him in a tie for the points lead heading into this weekend's finale.
Following a poor start in Arizona, Tinkler-Walker was buried in the pack early, while teammate Parker Ross ran at the front. Tinkler-Walker remained calm and quickly began picking off riders, and when Ross suffered a fall, Tinkler-Walker moved into the lead. From there, the 26-year-old rode to a five-second win, wrapping up the crown with nine points to spare.
"It's turned out to be an awesome first year back in the States," said Tinkler-Walker, who had lived in Florida and Southern California before his stint in Italy. "I honestly didn't really know what I was doing at first, as I was new to off-road; I was good in the technical stuff, but I didn't have much experience holding it wide open, although I learned a lot during the season. Going into Havasu, I knew it was going to be super-hot, which stressed me a bit because I didn't have that in Europe, but I'm good in the sand. My start wasn't good, as usual, but I do better coming from behind. Once I got to the front, I just maintained and was able to take the win."
This is the third time that SLR Honda has earned the NGPC Pro II crown, as Tallon LaFountaine won it in 2020 and '21. Next up, Tinkler-Walker plans to make his debut in the SCORE Baja 1000, which SLR Honda has won the last five years in a row.
"Huge congratulations to Kade," said Brandon Wilson, Manager of Racing & Experiential Marketing at American Honda. "The off-road world is a unique environment, and while motocross is generally a great background, it usually takes riders some time to adapt. The fact that Kade was able to fit in so quickly is a testament to his natural talent, and I think the future looks bright for him. Congrats as well to Mark and the whole SLR team; it's great to see the NGPC Pro II crown back in their hands."
---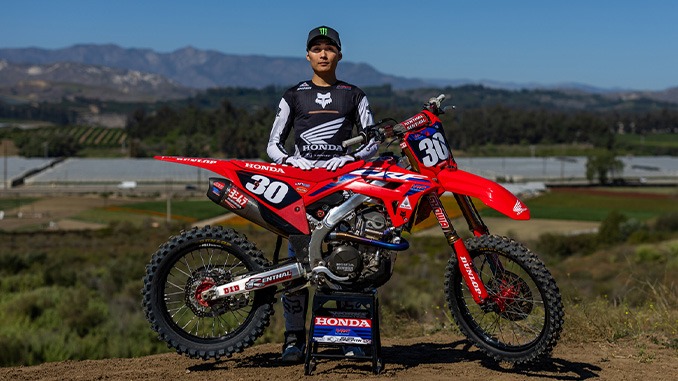 Jo Shimoda to Race for Team Honda HRC
Team Honda HRC announced today that Jo Shimoda will race a CRF250R for Honda's factory squad during the 2024 and '25 seasons. The Japanese native will race alongside teammates Jett Lawrence, Hunter Lawrence and Chance Hymas.
Born and raised in Suzuka, Japan, Shimoda began riding dirt bikes when he was 4 years old. After earning early success as an amateur racer in his home country, he sought out stiffer competition internationally. He competed in Europe (even racing against Jett Lawrence on occasion) and in the U.S., earning the 2016 Supermini 2 AMA Amateur National Championship at Loretta Lynn Ranch, at age 14. He signed with the Honda-supported Factory Connection team's amateur program in 2017, then turned pro near the end of the 2019 season. In 2020 (Shimoda's first full year as a professional), he finished third in the AMA 250SX East Region final standings, earning the AMA Supercross Rookie of the Year Award. With the Factory Connection team closing before the following season, Shimoda signed with Pro Circuit Kawasaki. In 2021 he became the first Japanese rider to win an AMA 250SX main event, finishing second in the East Region final standings. Last year saw him become the first Japanese rider to score an AMA Pro Motocross overall win, earning second in the 250 final standings. He was third in the same series earlier this year, also taking second in the inaugural SuperMotocross 250 class. So far in his career, Shimoda has collected three 250 overall wins in AMA Pro Motocross, one 250 Regional win in AMA Supercross and one 250 win in SuperMotocross.
"I'm super-stoked to join Honda's factory team," Shimoda said. "I feel like I've progressed a lot since I was with Factory Connection, and I hope that I can take the next step in my career, to win an AMA championship. I'm friends with the Lawrence brothers since we were teammates at Factory Connection, and they've shown that the bikes are capable of winning at the highest level. We've already started testing for 2024, and I can't wait for the season to start."
Shimoda is the first Japanese rider to sign a factory contract with American Honda, although Honda has fielded top Japanese racers in MotoGP, World Trials and even Formula 1.
"We're really pleased to welcome Jo back to the Honda family," said Brandon Wilson, Manager of Racing and Experiential Marketing at American Honda. "We hated losing him ahead of 2021, so it feels like a reunion. He has made great progress in the last few years, firmly establishing himself as one of the top riders in the 250 class. Rider-signing news is always exciting, but this one is particularly meaningful for our management and many of our associates, given the Japanese connection. That said, although he's already the most successful Japanese motocrosser to race fulltime in the U.S., Jo has his sights set on bigger goals, and we look forward to helping him achieve them."
Jo Shimoda
Birth Date: May 16, 2002
2016: Supermini 2 Champion at Loretta Lynn AMA Amateur National
2017: Signs with Factory Connection's amateur program
2018: Monster Energy Cup All-Stars winner
2019: Professional debut (races final three AMA Pro Motocross 250 rounds)
2020: AMA Supercross Rookie of the Year; 3rd in AMA Supercross 250 East final standings; 11th in AMA Pro Motocross 250 final standings
2021: 2nd in AMA Supercross 250 East final standings (1 win); 5th in AMA Pro Motocross 250 final standings
2022: 4th in AMA Supercross 250 West final standings; 2nd in AMA Pro Motocross 250 final standings (5 moto wins)
2023: 13th in AMA Supercross 250 East final standings; 3rd in AMA Pro Motocross 250 final standings (3 moto wins); 2nd in SuperMotocross 250 final standings (1 overall win)
---
Harley-Davidson Factory Team Announced for 2024 MotoAmerica Mission King of the Baggers Racing Series
The Harley-Davidson® Screamin' Eagle® factory racing team will compete in the 2024 MotoAmerica Mission King of the Baggers roadracing series with team riders Kyle Wyman and James Rispoli.
Kyle Wyman won seven races during the 2023 King of the Baggers season and finished third in the season championship. Kyle is the winningest racer in MotoAmerica King of the Baggers history, with 12 total race wins in the 24 events since the start of the series in the 2021 season, plus the 2021 season championship to his credit. And yet he's hungrier than ever after signing a new two-year contract with Harley-Davidson.
"Riding for the Harley-Davidson factory team has been a dream, and I'm excited to be given the opportunity to continue for two more seasons," said Kyle Wyman. "We've had a lot of success in the class, but we have come up short on the championship two years in a row. Our goal is to win back the title in 2024 and I look forward to getting started with testing in the coming months."
James Rispoli, riding for Vance & Hines Harley-Davidson, won two races in the 2023 King of the Baggers season, plus he scored five second place finishes and three third place finishes for second overall in the championship. Rispoli, who was signed to a one-year contract with the factory team, has a long history of racing Harley-Davidson motorcycles dating back to racing an XR750 as a teenager, and earning the nickname "Hogspoli" after winning the American Flat Track Production Twins championship aboard a Latus Motors Racing Harley-Davidson XG750R in 2020. He also won back-to-back AMA Pro Racing Supersport championships in 2011-2012. Rispoli fulfills a lifelong dream by joining the Harley-Davidson® Screamin' Eagle® factory racing team.
"I am stoked to have signed with Harley-Davidson. It has been a dream of mine to be a factory rider ever since I was a little kid," said James Rispoli. "Taking confidence and consistency paired with the backing of the factory, I know we are going to be a big threat in 2024. I am very excited to get to work."
Rispoli replaces 2023 factory Harley-Davidson rider Travis Wyman. "I want to thank Travis Wyman for his three seasons aboard the factory Harley-Davidson Road Glide, and at all times being a consummate teammate," said Jason Kehl, Harley-Davidson Director of Racing. "Travis joined this program mid-season in 2021 and has been invaluable in not only the development of our motorcycle, but also in building a factory racing program. Travis has been one of the fastest riders to ever race a Harley-Davidson, and we look forward to his continued contributions to our brand and to this program. We welcome James to the factory team after earning his seat riding in the King of the Bagger series the past two seasons. James brings with him an unrelenting desire to win for Harley-Davidson. With James now aboard, we focus on Daytona in March of 2024, kicking off the largest, most demanding, and fastest King of the Baggers season to date."
The King of the Baggers series offers exciting competition between American V-Twin touring motorcycles prepared for competition and equipped with a fairing/windscreen and saddlebags. The 2024 season will see the King of the Baggers series expanded to 16 races over eight double-header weekends held in conjunction with the MotoAmerica Superbike Series.
Share