This week in US powersports racing.
---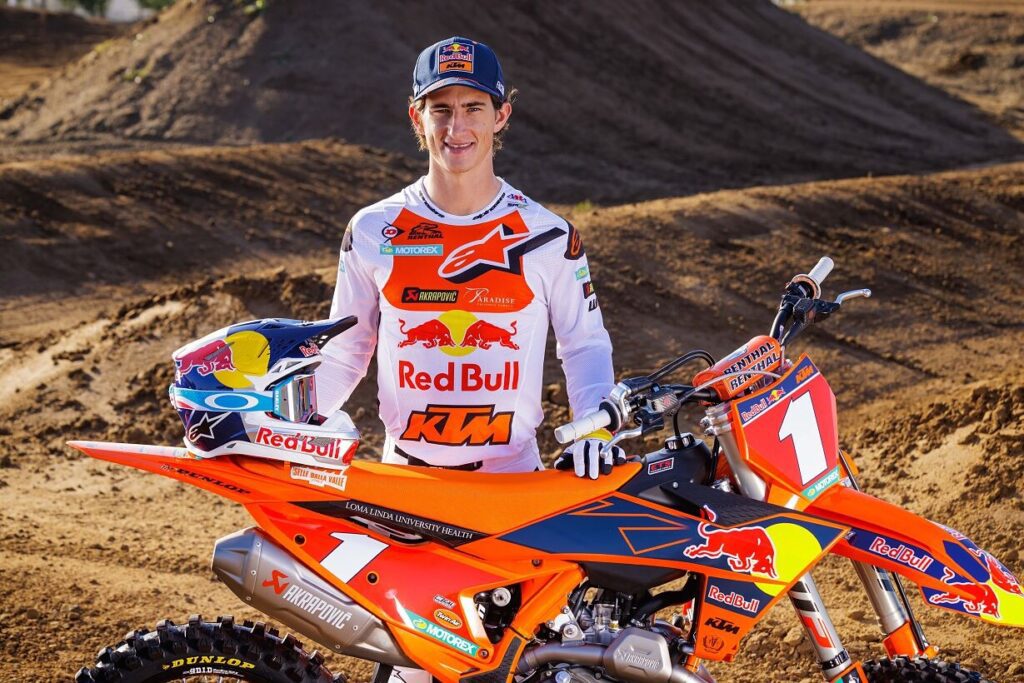 RED BULL KTM FACTORY RACING AND CHASE SEXTON OFFICIALLY UNITE FOR 2024 AND BEYOND
ntroducing Chase Sexton, the reigning 450SX Champion and latest addition to Red Bull KTM Factory Racing ahead of the 2024 SuperMotocross World Championship (SMX) season.
The 24-year-old will begin to defend his 2023 AMA Supercross Championship onboard the KTM 450 SX-F FACTORY EDITION when the gate drops in January at Anaheim 1, READY TO RACE into an exciting new era for both himself and the Red Bull KTM Factory Racing organization.
Sexton has officially united with KTM to contest the AMA Supercross Championship, AMA Pro Motocross Championship, and high-profile SMX Finals Series in a multi-year commitment, also adopting a striking, new single-digit career number of four entering this next stage of his professional career.
But first, the Illinois-raised Sexton will line up with the No. one plate in his 450SX title defense and is already getting down to business in a bid to commence his highly-anticipated partnership with KTM at the highest of levels together from the outset.
Sexton clinched a first-career premier class Supercross Championship in May this year with six Main Event victories to his credit and went on to claim fourth position in the final 450MX standings, despite missing multiple rounds in the first half of the outdoors.
He then placed P3 overall following the inaugural SMX post-season to complete the marathon 31-round schedule, winning the hybrid-type Charlotte event to open the playoffs, and once again established himself as a legitimate title challenger across each discipline in taking the championship down to the wire.
Chase Sexton: "I'm extremely excited to join the Red Bull KTM Factory Racing organization. Not only is the equipment top-notch, but the team personnel and their drive to win is, too. From the first time I walked in those doors, Roger [De Coster], Ian [Harrison], the team, and the entire KTM company have been nothing but accommodating. I think we have a bright future together and I'm eager to get to work."
Ian Harrison – Red Bull KTM Factory Racing Team Manager: "Our goal with Chase from the onset is to make him feel welcomed and truly at home with the Red Bull KTM Factory Racing team. During these early days, we are working toward preparing a great race package for both Chase and the team to build from. I really think that we can deliver the full factory support system that he longs for and deserves, and I also feel strongly that Chase will continue to elevate the team and our riders to a stronger position. We look forward to being in the fight in 2024 and thank him for trusting in us."
Roger De Coster – Director of Motorsports, North America: "We are always watching and looking at riders progressing through their early years and Chase's progress has been very impressive. I am impressed by his determination and tenacity on the track, as well as his professionalism in the way that he handles himself off the track, and our entire U.S. team is thrilled to have the opportunity to work and grow with Chase in the coming years. Our brand values align with those of Chase, so collectively we are really excited to see what the future has in store for both of us and what we can all achieve together."
The competitive debut of Sexton and Red Bull KTM Factory Racing is scheduled to take place at Round 1 of the 2024 AMA Supercross Championship – again doubling as the SMX season-opener – in Anaheim, California, on Saturday, January 6.
---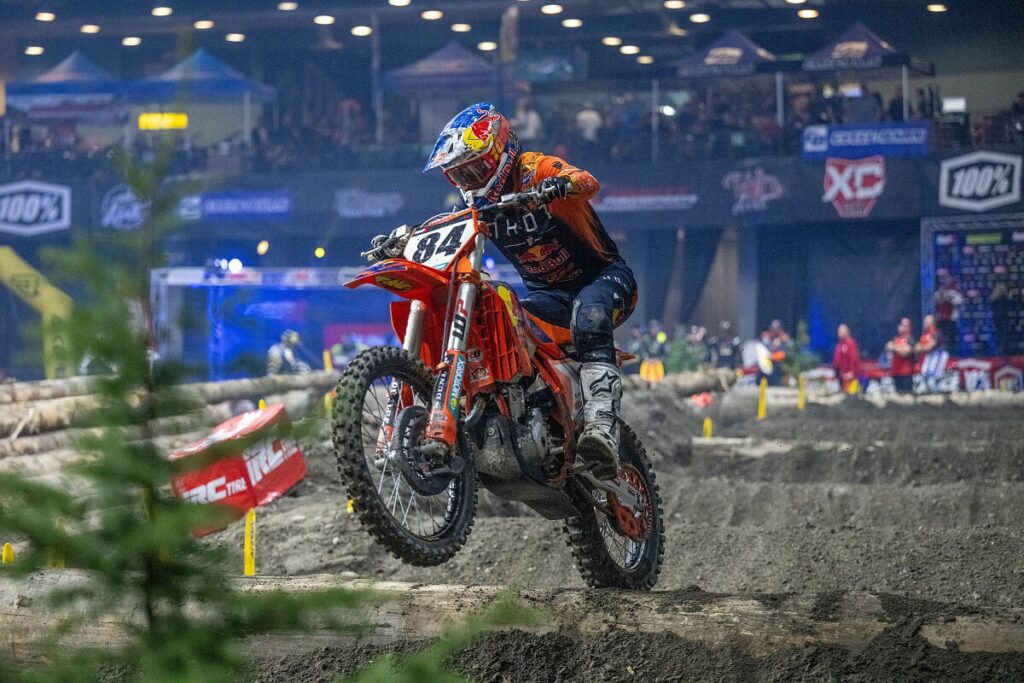 FMF KTM FACTORY RACING'S TRYSTAN HART OPENS 2023 AMA ENDUROCROSS SEASON WITH EVERETT TOP-FIVE
EVERETT, Wash. – The opening round of the 2023 AMA EnduroCross Championship took off in Everett, Washington, on Saturday evening, with FMF KTM Factory Racing's Trystan Hart beginning his title quest with a fifth-place result in the EX Pro Class.
In charging to the second-fastest time during the Hot Lap segment, Hart achieved comfort early in the day's proceedings on the tight circuit inside the Angel of the Winds Arena, coming to grips with the technical log and tire sections that characterized the circuit layout.
After a second-place start in the opening race, Hart secured the lead from lap two, maintaining position and a fast pace before a fall with one lap remaining relegated last year's runner-up to second position. A difficult start in the second outing saw the Canadian climb his way from the rear of the field forward, making a move for fifth place on the final lap.
Another mid-field start in the final race saw Hart begin his race in 10th place, making steady progress through the field and resulting in an eighth-place finish by race's end. Combined, those results saw him earn fifth overall for the event to open the new season.
The AMA EnduroCross Championship now heads to the Findlay Toyota Center in Prescott Valley, Arizona, for round two of the series on October 21.
Trystan Hart: "My day started off pretty good here at round one. I'm really excited to be back racing the EnduroCross championship this year after coming so close to the title last year. I was able to finish in P2 for both the Hot Lap and the opening moto, and then from there, honestly, I just struggled. Disappointing night to finish up fifth, but we'll regroup as a team and come out stronger in Arizona for the next round."
EX Pro Results – Round 1
1. Jonny Walker, Beta, 1-1-1
2. Cody Webb, Sherco, 7-2-3
3. Ryder LeBlond, Husqvarna, 5-3-4
OTHER KTM
5. Trystan Hart, KTM, 2-5-8
---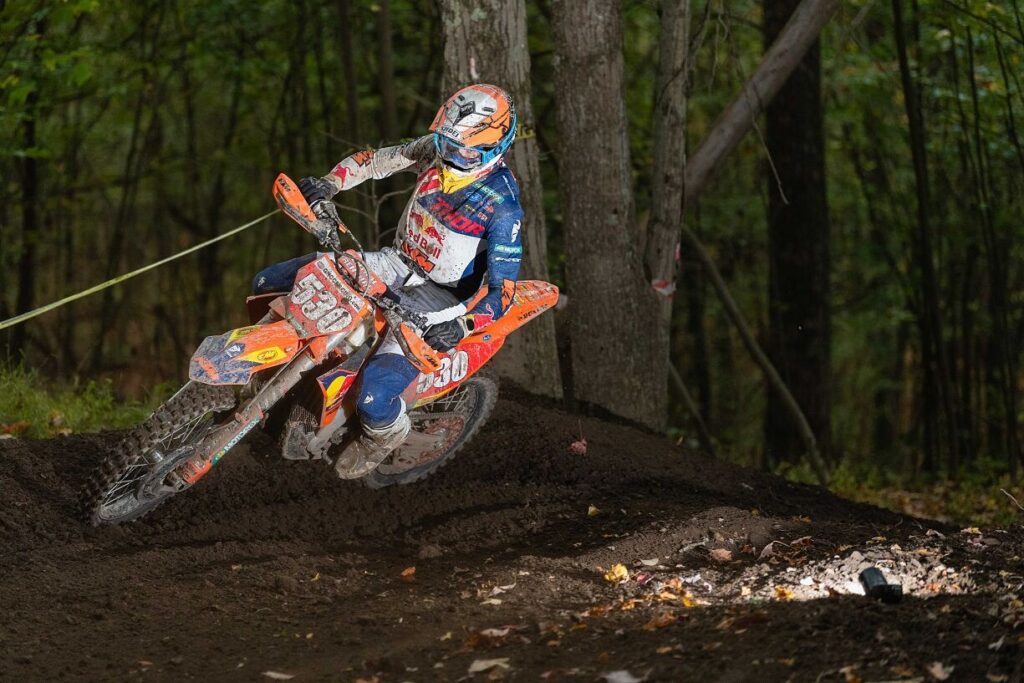 FMF KTM FACTORY RACING'S BEN KELLEY SALVAGES NINTH-PLACE FINISH AT THE BUCKWHEAT 100 GNCC ROUND
NEWBURG, W. Va. – FMF KTM Factory Racing's Ben Kelley raced to a challenging ninth-place finish in the XC1 Pro Class at The Buckwheat 100 on Sunday, maintaining third position in the 2023 Grand National Cross Country Series (GNCC) standings with a single round remaining in the season.
The 2021 XC1 Pro Class Champion, Kelley would power his KTM 350 XC-F to a top three start, only to experience a major fall during the opening stages of the race. Sending him to the rear of the field, Kelley charged his way back toward the front, managing to salvage ninth position by race's end.
After what has been a hotly-contested 2023 XC1 Pro Class Championship, Kelley now sits third place in the overall standings, 33 points from the lead as the series reaches the final round at Ironman Raceway, Indiana, from October 19-22.
Ben Kelley: "Rough day for me here at the Buckwheat 100. I got off to a good start, although had a big crash just a few miles into the race, which dropped me right down to the rear of the field. I tried to charge, although was a bit shaken up by the fall and struggled for comfort, which marked a very frustrating day for me and a big letdown to the entire team. After getting kicked around and having another couple of crashes, I decided to settle and bring it home in one piece in ninth place. We'll regroup and come back swinging for the final round!"
FMF KTM Factory Racing teammate Johnny Girroir, together with the team, made the difficult decision to sit out The Buckwheat 100 round, experiencing an untimely illness which unfortunately kept him out of action and on the sidelines.
The Buckwheat 100 weekend proved successful for KTM-mounted riders Angus Riordan and Mason Semmens, who experienced a strong day in West Virginia by finishing with P2 and P3 results in the XC2 Pro Class, respectivley. Meanwhile, Korie Steede earned a second-place finish in the WXC Class, which sees her maintain P2 in the series standings.
Next Race: Ironman Raceway – Crawfordsville, IN – October 19-22, 2023
XC1 Open Pro Results – The Buckwheat 100 GNCC
1. Craig DeLong, HQV, 2:54:26.932
2. Ricky Russell, YAM, +00.06.364
3. Josh Strang, KAW, +00.08.126
OTHER KTM
9. Ben Kelley, KTM
10. Steward Baylor Jr, KTM
11. Phillipe Chaine, KTM
Overall Championship Standings
1. Craig DeLong, 233
2. Steward Baylor Jr, 210
3. Ben Kelley, 200
OTHER KTM
8. Johnny Girroir, 124
---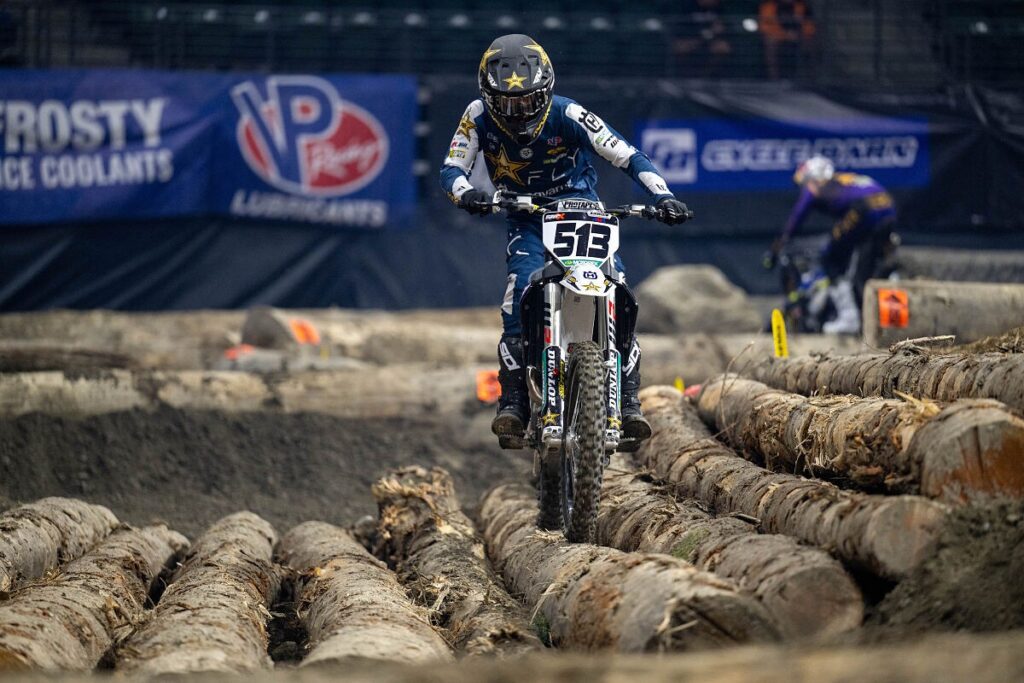 RYDER LEBLOND LANDS AMA ENDUROCROSS PODIUM WITH ROCKSTAR ENERGY HUSQVARNA AT SEASON-OPENER
Rockstar Energy Husqvarna Factory Racing's Ryder LeBlond raced to a third-place podium finish at the first round of the 2023 AMA EnduroCross Championship in Everett, WA, with EX Pro Class teammate Colton Haaker finishing one position behind in fourth position.
LeBlond posted the seventh-fastest time in the Hot Lap to begin the opener, before finishing moto one in fifth place. Race two saw LeBlond power his way up the order with a strong, convincing ride throughout the nine-lap affair, which resulted in P3, and set the stage for a solid overall result.
A fourth-place ride in the third and final encounter of the night in Washington saw LeBlond capture P3 overall with a podium result to commence his 2023 campaign.
"I wasn't the fastest out there tonight, although I put myself in a good position and that's what's required in this championship," commented LeBlond. "We saw how important consistency was last season, so I am really happy to come away from round one with a really strong result on the podium."
Claiming the sixth-fastest time in the EX Pro Hot Lap dash, Haaker stormed to the opening moto holeshot, leading the field around for the first lap of the race. After nine intense laps inside the Angel of The Winds Arena, Haaker crossed the line in third place, before a difficult start in moto two resulted in P8.
Another holeshot in the third and final race saw Haaker battle his way to a well-earned P2 moto finish, with his cumulative scores across the three races landing him in fourth place overall for the weekend and with an important haul of championship points.
"First round here of the EnduroCross season and we had some first race jitters, for sure," reflected Haaker. "The night started out rough for me and I really had to rely on the training I'd done entering round one to increase my confidence. I had two good motos, although a fall in race two really hurt my overall position… all-in-all, not a bad way to begin my season."
The next round of the 2023 AMA EnduroCross Championship takes place inside Findlay Toyota Centre in Prescott Valley, Arizona, which marks round two of the series on October 21.
EX Pro Results – Round 1
1. Jonny Walker, Beta, 1-1-1
2. Cody Webb, Sherco, 7-2-3
3. Ryder LeBlond – Rockstar Energy Husqvarna Factory Racing, 5-3-4
4. Colton Haaker – Rockstar Energy Husqvarna Factory Racing, 3-8-2
---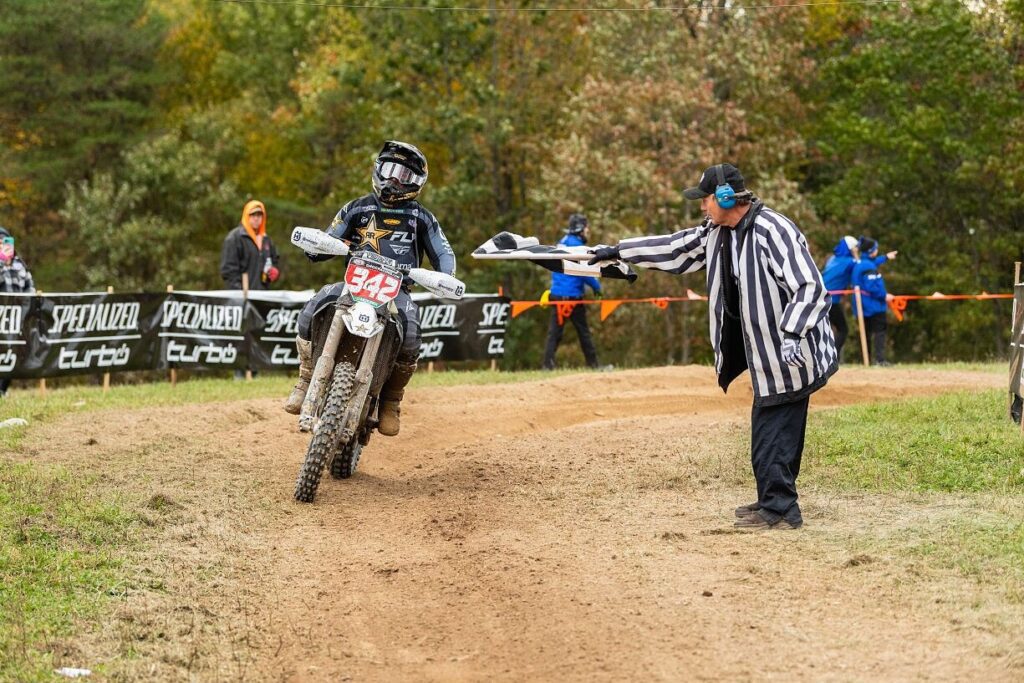 ROCKSTAR ENERGY HUSQVARNA FACTORY RACING'S CRAIG DELONG DELIVERS THE BUCKWHEAT 100 GNCC VICTORY
A pivotal penultimate round victory was delivered by Rockstar Energy Husqvarna Factory Racing rider Craig DeLong in the Grand National Cross Country (GNCC) Series at The Buckwheat 100, placing him at the top of the championship standings with just one race remaining in season 2023.
DeLong entered round 11 facing a deficit of five points in the XC1 Pro Class points, with a winner-takes-all scenario appearing as the only way to take this year's title. Arriving in West Virginia with a champion mindset, DeLong pieced together a flawless day, which saw him lead for the entirety of the seven-lap duration and capture his third GNCC win of the year.
Crucially, DeLong now sits 23 points clear atop the XC1 Pro Class standings heading into the final round in Crawfordsville, Indiana, adding to the incredibly competitive story that has been this year's Grand National Cross Country Series season.
"It goes without saying, today was a huge result," commented DeLong. "This year has been a massive battle and to grab the win here was just what we needed for our championship. I came into today with the mindset to win, I knew that we needed it, and I just put my head down and made it happen. The team and I worked great together today and now we've got one round left to seal this championship. We'll be ready for Ironman."
Teammate Trevor Bollinger continues his return to competitive GNCC form, powering his FX 350 up through the field following an 11th-place start. An impressive charge resulted in him equalling his season-best result of sixth position on Sunday.
"I had another solid day today, finishing with a P6 result," recalled Bollinger. "My health is continuing to come back to me and so are the comfort levels, so as we keep locking in as a team and get race laps under our belts, we will only get stronger. One round to go in this year's GNCC championship, so we're looking to finish the series off with a good result in Indiana."
The 12th and final round of the 2023 Grand National Cross Country (GNCC) Series takes place at the Ironman Raceway in Indiana between October 19-22.
Next Round (12): Ironman Raceway, IN – October 19-22, 2023
The Buckwheat 100 GNCC Results
XC1 Open Pro Class
1. Craig DeLong – Rockstar Energy Husqvarna Factory Racing
2. Ricky Russell, (YAM)
3. Josh Strang, (KAW)
4. Jordan Ashburn, (HQV)
…
6. Trevor Bollinger – Rockstar Energy Husqvarna Factory Racing
Overall Championship Standings
1. Craig DeLong – Rockstar Energy Husqvarna Factory Racing, 233 points
2. Steward Baylor Jr, 210
3. Ben Kelley, 200
…
17. Trevor Bollinger – Rockstar Energy Husqvarna Factory Racing, 50
---
Major Milestones Achieved During Historic SuperMotocross World Championship Inaugural Season
The landmark inaugural season of the 31-event SuperMotocross World Championship Series (SMX) recently concluded with the culmination of the historic postseason (Playoffs and Final) at the Los Angeles Memorial Coliseum, where two of the sport's youngest and brightest stars cemented their place in the history books.
On the heels of an impressive Rookie of the Year campaign, Monster Energy Yamaha Star Racing's Haiden Deegan, 17, captured the 250cc World Championship while Australian, Team Honda HRC athlete Jett Lawrence, 20, became the first-ever 450cc World Champion, which capped off his historic rookie season in the premier division.
As champions, Deegan and Lawrence were the two biggest financial benefactors of the SMX World Championship, which awarded the sport's largest prize payout of $10 million – $5.5 million of which was available for the final three postseason races. Deegan collected $575,000 in postseason earnings while Lawrence received $1.2 million, both of which included individual race purses and championship point funds.
Jett Lawrence celebrates after winning the first-ever SuperMotocross World Championship at the Los Angeles Memorial Coliseum. Photo Credit: Octopi Media, courtesy of Red Bull Content Pool
Collectively, more than 110,000 fans made their way through the postseason turnstiles in Concord, North Carolina, for SMX Playoff 1, Joliet, Illinois, for SMX Playoff 2, and in Los Angeles for the SMX World Championship Final, adding to the 192,000 that attended the 11 rounds of the Pro Motocross Championship, sanctioned by AMA Pro Racing this summer.
As a result of the creation of the SMX World Championship and the enhanced broadcast and streaming coverage, the outdoor season welcomed record attendance at several schedule staples – the Thunder Valley National in Lakewood, Colorado, the High Point National in Mount Morris, Pennsylvania, the RedBud National in Buchanan, Michigan, the Southwick National in Southwick, Massachusetts, and the Washougal National in Washougal, Washington. Legacy races at the Spring Creek National in Millville, Minnesota and the Unadilla National in New Berlin, New York saw capacity crowds of more than 20,000 apiece, the strongest attendance on the schedule.
As announced earlier in the year, the Monster Energy AMA Supercross Championship hosted 850,000 fans across its 17-round season this past winter and spring, bringing total combined attendance for the inaugural SMX World Championship to 1.152 million across all 31 races.
Official Monster Energy Supercross, Pro Motocross and SuperMotocross World Championship social handles have already generated more than 750 million impressions during 2023 and impassioned fans have engaged with the sport's racers over 50 milliontimes.
Domestically, NBC Sports' coverage of the 2023 SMX World Championship season surpassed 23 million hours of viewership consumption across NBC, USA Network, and Peacock, up 111% versus the comparable programming in 2022. Powered by Peacock, over 17 million digital hours of viewership were consumed – up 307% compared to last year.
Internationally, the SuperMotocross Video Pass, powered by the best-in-class service of Endeavor Streaming, brought the SMX World Championship into more homes around the globe than ever before as the platform hosted subscribers from more than 135 different countries. The top 10 countries for international streaming included Australia, Canada, Germany, Great Britain, France, Mexico, Netherlands, New Zealand, Sweden, and Switzerland.
The subscription base is also reflective of the international intrigue of the athletes competing in the SMX World Championship. A record number of 83 international competitors from 25 different countries registered to compete in either Supercross or Pro Motocross to try and earn a spot in the SuperMotocross World Championship Finals, fueled by Monster Energy. The top-20 in combined points were automatically seeded into the postseason races, while the final gate positions were determined through a Last Chance Qualifier (LCQ) race. The largest number of entrants came from Australia, Canada, England, and France, which is symbolic of the international streaming audience.
A younger demographic eager to consume social media content and shoulder type programming drove the creation of new media platforms to keep fans informed and engaged throughout the nine-month season. NBC Sports play by play commentator Jason Weigandt and reporter Jason Thomas anchor the weekly SMX Insiders show, while broadcast analyst Ricky Carmichael and multi-time AMA Champion Ryan Villopoto host the weekly Title 24 podcast. Fan engagement for the new episodic programs have surpassed 1.2 million and 883,000 views respectively and will continue to be a cornerstone of future programming.
From a pop culture standpoint, the sport hosted some of the biggest names in music, film, television, and entertainment as its lifestyle relevance continues to rise. Hip Hop icon and grammy award winning Wiz Khalifa joined reality TV star Christina Hall, IndyCar drivers Marcus Ericsson and Pato O'Ward, Green Day's Tré Cool, pro skateboarder Nyjah Huston and Columbian musician Feid in Anaheim back in January for Round 4 at Angel Stadium (Supercross' Anaheim 2).
As the SMX World Championship Final came to an iconic close at the Los Angeles Memorial Coliseum in September, Hollywood showed up in force to witness the crowning of the sports ultimate two-wheel champion. Film star and podcast personality Dax Shepard, Stephanie Beatriz of Brooklyn Nine Nine and Twisted Metal, Amanda Schull of Suits, Tiffani Thiessen of Saved by the Bell, and Justin Baldoni of Jane the Virgin were all in attendance. Other notable entertainers included Nathan Kress of iCarly, Kel Mitchell of Keenan and Kel, Beverley Mitchell of 7th Heaven, Gilby Clarke of Guns N' Roses, and icons of their respective sports – skateboarder Steve Caballero and former freestyle motocross star Carey Hart.
Tickets are on sale now for the 2024 Monster Energy AMA Supercross Championship and Pro Motocross Championship, sanctioned by AMA Pro Racing. The 2024 SMX World Championship Playoffs and Final locations and venues will be announced at Angel Stadium in Anaheim, California on January 5.
For more information about the 2024 SMX World Championship series, please visitSuperMotocross, SupercrossLIVE, or Pro Motocross Championship. For domestic and streaming options, visit Peacock and SuperMotocross.
---
Share