News and stories from the world of Powersports business.
---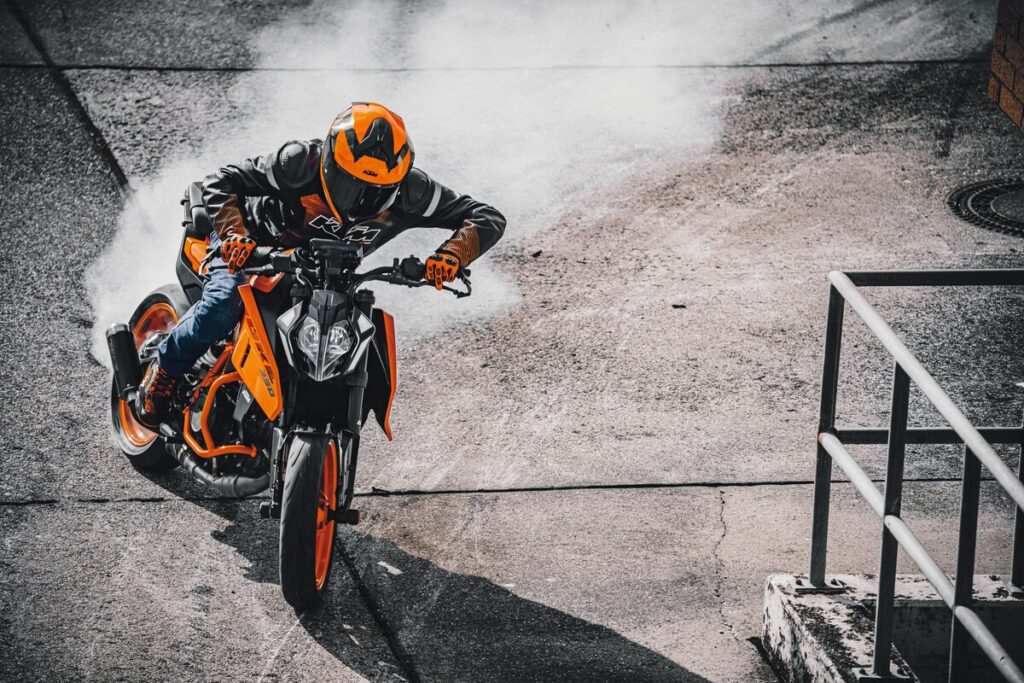 THE BRAND NEW 2024 SINGLE-CYLINDER KTM DUKE LINE-UP ROARS TO LIFE
KTM charges into model year 2024 with a brace of all-new single-cylinder DUKE models, bringing more punching power, improved handling, and clear differentiation of attitude between the displacements. In short, the all-new DUKE range cuts the bullshit, bringing more bike for your buck.
Adopting an all-out, no-compromise attitude, the all-new 2024 models represent the biggest change to the sub-500 cc capacity DUKE model range since the first KTM 390 DUKE landed in dealers. The result is a complete redesign, with new engines, an all-new chassis concept, and new styling which amplifies the typically aggressive KTM DUKE design language you've come to expect.
For 2024, a new 2-piece frame design – composed of an all-new steel trellis main frame with a pressure die-cast aluminum subframe – enhances dynamics by augmenting torsional rigidity. This also adds improved agility and enhanced feedback from the chassis, with new triple clamps and a revised offset, improving handling characteristics and giving riders greater control and stability.
The frame is now also mated to an all-new curved lightweight swingarm, which contours around a relocated rear shock absorber. This is mounted off-center to allow for a larger airbox design while reducing overall seat height. Speaking of which, the reduced seat height was purposefully engineered into the new DUKE design to allow for greater accessibility, without compromising on stability or handling.
Delivering the knockout punch is an entirely new generation of lightweight, compact single-cylinder engines. Dubbed the LC4c, the engine range is made up of a smaller 250 cc engine and a larger 399 cc engine, as found in the KTM 390 DUKE. Building from the experience gained with the previous generation, these powerplants are completely redesigned, with newly optimized cylinder heads and gearboxes, as well as meeting the latest emissions standards.
The 2024 KTM DUKE range also sets the benchmark for real-world technological advancement in the small displacement NAKED segment. Both models in the line-up feature the latest version of selectable Supermoto ABS, 5" dashboards, and smartphone connectivity as standard – with the ability to fit an optional Quickshifter+.
Bringing more DUKENESS to each division – apart from a new metal fuel tank and high-quality surface finishes – the 2024 DUKE stablemates have embraced their own identities with visual differences across the range.
2024 KTM 390 DUKE
Visually, the 2024 KTM 390 DUKE rightfully takes ownership as the leader of the pack. Signature Electronic Orange and Atlantic Blue color options dominate the visual impact, with longer tank spoilers featuring prominent air intakes, larger radiator covers, and external LED positioning lights completing the package.
Power is taken care of by an all-new lightweight 399 cc single-cylinder LC4c engine. Not only is it more powerful than the previous generation, it's also lighter, bringing a refreshed attitude to the KTM 390 DUKE. THE CORNER ROCKET is the perfect motorcycle for riders of any ability level looking for a light, agile machine to blast around tight apexes.
The 2024 KTM 390 DUKE also boasts a 43 mm WP APEX Open Cartridge front fork with 5-click adjustment on rebound and compression and a split piston rear shock absorber with adjustable rebound and preload. This means handling can be tailored to perfectly match the rider's needs.
Swing your leg over the new seat – 32.2 in (820 mm) seat height – and you'll be greeted by an all-new 5" TFT display, with selectable ride modes. The default setting is STREET Mode. RAIN Mode, as the name suggests, is selectable in adverse weather conditions for less aggressive throttle response and Cornering MTC as standard equipment.
TRACK screen is available on the KTM 390 DUKE for the first time. This standard feature unlocks a world of hooliganism, enlarged rpm display, launch control, for that perfect start and even a lap timer. Unnecessary info gets reduced to the bare minimum.
2024 KTM 250 DUKE
The 2024 KTM 250 DUKE casts a slim and compact shadow, thanks to smaller tank spoilers compared to the KTM 390 DUKE. These are aligned with painted headlight surrounds and a lower seat height of 31.4 in (800 mm). A new 5" LCD display, LED headlight, and all-new Electronic Orange and Ceramic White color options, set it apart from the rest of the range.
The 2024 KTM 250 DUKE also features an improved power-to-weight ratio over the previous generation, with a new Single Overhead Cam (SOHC) design that is lighter and simpler with fewer components, ride-by-wire, and a new Power Assist Slipper Clutch (PASC). The increased displacement also means more performance out of the compact single, while incredible rideability is maintained.

Suspension is taken care of by a non-adjustable 43 mm WP APEX Open Cartridge big piston fork setup with 150 mm of travel, and a WP APEX Emulsion shock absorber, with preload adjustability on the rear.

The all-new KTM 390 DUKE will arrive in authorized KTM dealerships this December, while the KTM 250 DUKE is slated for arrival in earlier 2024.
For more news about the 2024 KTM NAKED model range, visit KTM.com or your nearest authorized KTM dealer.
---
Turn 14 Powersports Owned Brands Leadership
Bob Schuetz was recently appointed President of the Turn 14 Distribution's Powersports Owned Brands team, which includes product development, R&D, brand management and marketing of the 11 brands acquired from Tucker Powersports. Bob has been a senior leader at top aftermarket companies like Warn Industries, Öhlins USA and premium suspension manufacturer KW Automotive.
Bob's connection to powersports started as a child with dirt bike adventures on the fire roads of New Jersey. When he started working as a pyrotechnician at Six Flags Great Adventure, he used ATVs almost daily. Warn Industries has a culture that is all about four-wheeling and while there, Bob became an avid side-by-side pilot. Öhlins USA exposed him to motorcycle racing, which started his love affair with two-wheeled competition. In addition to his affinity for powersports and competition, Bob is a passionate leader and is looking forward to impacting the industry through the Turn 14 Powersports Owned Brand team.
Staffing
The Turn 14 Powersports Owned Brands group includes seasoned employees from Tucker that have transitioned to roles with the new organization. This includes well-known names such as James Simonelli, Brent Ash, Aaron Whitney, Bill Mullins and Paul O'Brien. Each of the brands acquired from Tucker are using their new resources to develop products that will launch in 2024, several of which have been on dealer "wish lists" for many months. Marketing for Owned Brands will continue to be led by Lesley Madsen. Several of her team members from Tucker are now employees of Turn 14 Powersports, Owned Brands as well.
Office Location
The Turn 14 Powersports Owned Brands group will be based in the Dallas-Fort Worth area and are currently seeking a permanent location for the team's home.
AIMExpo News
Plans are underway for AIMExpo in February, Turn 14 Distribution is slated to host the Industry Party, an event that dealers and exhibitors use to reconnect and wrap-up the first day of the show. At AIME, the Turn 14 Powersports Owned Brands team will also be showcasing their newest products and sharing a glimpse of what's to come to show attendees.
Other Turn 14 News
Turn 14 Distribution will be the sole distributor for the company's Powersports Owned brands in North America.
To make the transition easy from Tucker Powersports to Turn 14 Distribution, dealers need only to call Turn 14 Distribution to establish an account. The new dealers will be welcomed by familiar faces, as key Tucker employees have made the migration to the Turn 14 Distribution staff. https://www.turn14.com/become_customer
What are the Owned Brands?
Here's a list of the powersports brands owned by Turn 14 Distribution: Answer, Biker's Choice, BikeMaster, DragonFire, FirstGear, Kuryakyn, ProTaper, QuadBoss, River Road, Speed & Strength and TwinPower.
About Turn 14 Distribution, Inc.
Turn 14 Distribution is an award-winning national warehouse distributor which sells vehicles, parts, and accessories into the automotive and powersports aftermarkets exclusively through the business-to-business channel. The company's Powersports Owned Brands team is responsible for product development, R&D, brand management and marketing for the 11 well-known brands of accessories, parts and apparel for on-road and offroad powersports fans. Turn 14 Powersports brands include Answer, Biker's Choice, BikeMaster, DragonFire, FirstGear, Kuryakyn, ProTaper, QuadBoss, River Road, Speed & Strength and TwinPower. Turn 14 Distribution is privately owned and operated.
---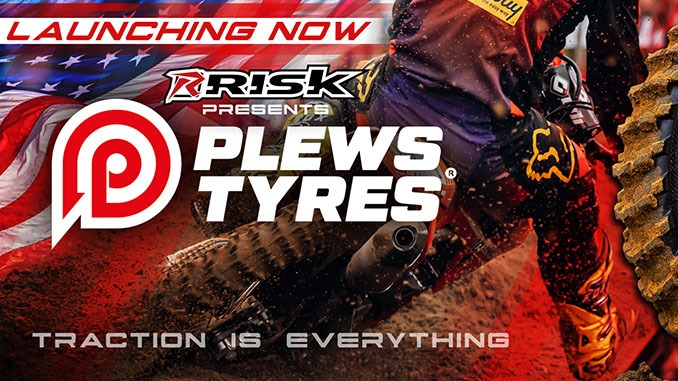 NOW LAUNCHING: Risk Racing X Plews Tyres
The Risk Racing brand has become known as synonymous with innovation by continuously bringing stand out products to the motocross industry. Today, they reinforce that standard by partnering with Plews Tyres to introduce Plews premium line of tires to the US market. Plews has created a line of modern dirt bike tires, quickly becoming a stand-out in the European market, and together with Risk Racing, they are partnering to bring their 100% "Factory-Spec" race winning tire technology to the USA.
Plews Tyres is not just another tire brand; it's the embodiment of off-road racing passion. Founded by Josh Plews, a name with a legacy in the tire industry, Plews Tyres is a culmination of racing pedigree and cutting-edge innovation. The Plews brand is committed to providing premium level, factory-spec, race-ready tires to weekend warriors and professional racers alike. Plews collaborates with award-winning British PHD chemists, ensuring that each tire's compound is designed with precision. Additionally, Plews utilizes the latest in engineering, laser scanning, and 3D printing techniques to stay ahead of the curve in tread design and carcass design. Plews R&D pushes the boundaries of tire technology, ensuring their tires are ultra-competitive in today's, and tomorrow's markets.
Risk Racing is thrilled to bring the entire Plews line of tires to the US market. At riskracing.com riders will find all of the necessary compounds, tread patterns and sizes needed to be competitive in motocross, supercross, off-road, enduro, and hard enduro. Risk Racing and Plews offer competitive, factory-spec tires that will fit all dirt bike sizes and riding styles.
James Burry, owner of Risk Racing, says, "Plews and I share a common commitment in providing innovative and problem-solving design to the moto market. Together, we're bringing a world-class, 100% dirt bike focused tire brand to the USA!".
Risk Racing invites everyone to experience the difference a factory-spec tire can make, and to join them on a journey where traction is everything, and victory is the ultimate destination.
View the entire line of Plews Tyres including The MX3 Foxhills hard terrain tire, MX2 Matterly intermediate terrain tire, The MX1 Hawkstone Soft "Scoop" tire, The Grand Prix enduro tire, and THE TOUGH ONE hard enduro "Gummy" tire at riskracing.com.
---
Share