News and stories from the world of Powersports business.
---
Automatic Distributors Rolling into Las Vegas for AIMExpo 2024
Automatic Distributors is the latest addition to the AIMExpo 2024 exhibitor roster. With a growing presence across the country, Automatic Distributors is gearing up for their debut presence at AIMExpo.
A family-owned company, Automatic Distributors is a full line distributor of powersports parts and accessories for streetbike, ATV, UTV, motorcross, snowmobile, marine, and trailer industries. Automatic carries more than 85,000 products from over 350 brands at very competitive prices. Dedicated to providing dealers with the highest level of customer service, Automatic is always looking for ways to assist in forward momentum and growing the market.
"We are increasing our footprint across the country and are looking forward to sharing specials and connecting with even more dealers at the show," said Jeff Graham, president and CEO, Automatic Distributors. "We just added a new Northern Nevada location and we're now able to provide even better service to the western part of the country."
"With the momentous addition of Automatic Distributors to AIMExpo 2024, we now have four major distributors exhibiting, helping to solidify this show as the cannot miss powersports event for 2024," said Cinnamon Kernes, MIC vice president of market expansion and events. "All the components of the event are coming together for this show to be a place where even more business gets done, more connections are made, and more actionable information is shared."
To date, more than 17 OEMs, four major distributors, and hundreds of powersports companies have committed to the 2024 show. The more than 225,000-square-feet show floor at the Las Vegas Convention Center is already 95 percent sold out.
Additional show features include AIMExpo's Disruptive Thinking stage, which will feature an impactful education program delivered by Motorcycle & Powersports News and AIMExpo; New Product Central, two e-Bike demo tracks, the Dealer Recharge Zone, the MIC Business Center, the AIMExpo Industry Party powered by Turn 14, and more.
---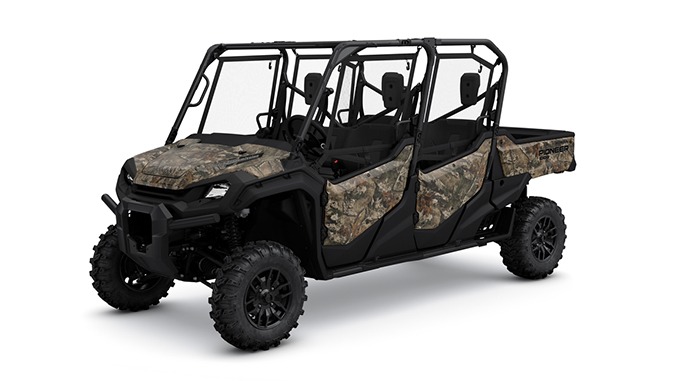 2024 Honda Pioneer 1000 Lineup Available in New TrueTimber Camo
American Honda today announced the return of its flagship multipurpose side-by-sides, the Pioneer 1000, Pioneer 1000-5 and Pioneer 1000-6 Deluxe Crew, for the 2024 model year. As part of a larger brand partnership between Honda and camouflage industry leader TrueTimber®, these models will be available in Atera Camo, a pattern designed by TrueTimber that is exclusive to Honda in the powersports industry. Other colors are available as well.
The Pioneer lineup is synonymous with well-rounded performance, offering utility on the job site and performance on the trail. As the largest, most capable multipurpose side-by-side in Honda's lineup, featuring best-in-class passenger space and robust storage solutions, the Pioneer 1000-6 Deluxe Crew has already developed a passionate customer base since its release last model year. Meanwhile, the Pioneer 1000 and Pioneer 1000-5 maximize versatility, with four distinct trim levels that are tailored to specialized driving experiences; these include the sporty Trail edition, the adventurous Forest edition, as well as the Deluxe and standard versions. As with all the vehicles in Honda's lineup, the Pioneer models stand out from the competition thanks to their rugged durability, reliable performance and renowned quality.
Pioneer 1000-6 Deluxe Crew
Since its introduction last year, the Pioneer 1000-6 Deluxe Crew is quickly becoming a staple on ranches, construction sites and trails across the country, thanks to its ability to get more done with unrivaled efficiency. A spacious six-person cab with best-in-class second-row space gets more workers to the job site, while the full-size cargo bed and various storage compartments carry loads of tools and supplies. The time-tested and famously reliable 999cc Unicam engine is matched with Honda's rock-solid automatic dual clutch transmission (DCT) for efficiency, durability and performance that owners can count on day in and day out. From taking on the toughest jobs to adventurous weekend rides with the whole family, the Pioneer 1000-6 Deluxe Crew is built to do it all—and bring everyone along.
MSRP: TBD
Colors: TrueTimber Atera Camo; Avenger Red; Black Forest Green
Available: December
Pioneer 1000
Whether one's pursuits include driving fence posts or navigating roots, rocks, hills and mud on the trail, the Pioneer 1000 platform offers a wide range of capabilities. As Honda's flagship multipurpose side-by-side, it touts exclusive features like the QuickFlip® seat system on the five-passenger versions and i-4WD on the Trail and Forest trim levels, as well as industry-leading build quality and durability.
Available in four unique trim levels—each with two- and four-seat configurations—the Pioneer 1000 platform is endlessly versatile and adaptable. The sport-focused Trail and adventure-ready Forest options are ideal for those who use their machine as an outlet for adrenaline and enjoyment, while the multifaceted Deluxe and value-focused standard versions offer impressive all-around performance for both work and play. From hunting and fishing to blazing trails and running cattle, the Pioneer 1000 lineup offers specialized performance for an array of driving experiences.
MSRP

Pioneer 1000-5 Trail: $22,399
Pioneer 1000-5 Forest: $22,399
Pioneer 1000-5 Deluxe: $20,399
Pioneer 1000-5: $18,999
Pioneer 1000 Trail: $20,999
Pioneer 1000 Forest: $20,999
Pioneer 1000 Deluxe: $18,999
Pioneer 1000: $17,599

Colors

Pioneer 1000-5 Trail: Matte Forged Bronze; Matte Metallic Blue
Pioneer 1000-5 Forest: TrueTimber Atera Camo
Pioneer 1000-5 Deluxe: Avenger Red; Black Forest Green; Shale Blue
Pioneer 1000-5: Avenger Red; Black Forest Green
Pioneer 1000 Trail: Matte Forged Bronze; Matte Metallic Blue
Pioneer 1000 Forest: TrueTimber Atera Camo
Pioneer 1000 Deluxe: Avenger Red; Black Forest Green; Shale Blue
Pioneer 1000: Avenger Red; Black Forest Green

Available:

Pioneer 1000-5 Trail: December
Pioneer 1000-5 Forest: December
Pioneer 1000-5 Deluxe: December
Pioneer 1000-5: January
Pioneer 1000 Trail: December
Pioneer 1000 Forest: December
Pioneer 1000 Deluxe: December
Pioneer 1000: December
---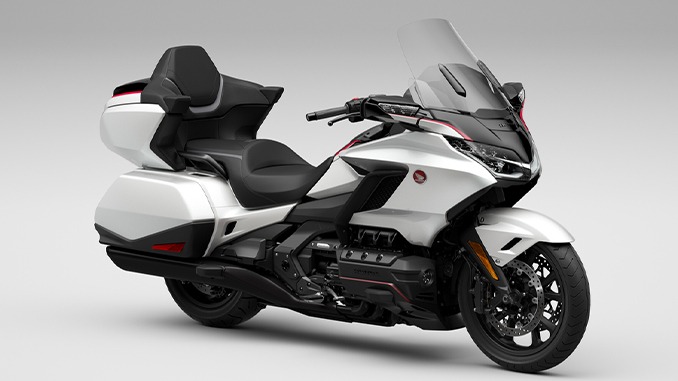 Honda Announces Return of Iconic On-Road Models for 2024
Renowned for its wide range of two-wheel offerings, American Honda today announced the return of six on-road motorcycle models, spanning the touring, cruiser and adventure categories. From beginner-friendly cruisers to advanced touring machines, the announcement showcases the depth of Honda's lineup and its commitment to riders of all segments and experience levels.
Headlining the announcement are the category-defining Gold Wing and the flagship Rebel 1100, both of which are offered in new colors for 2024. Well-equipped for long-distance rides, the comfortable Gold Wing leads the way when it comes touring performance. The Rebel 1100 offers the freedom, enjoyment and style of a modern cruiser, along with Honda's legendary reliability and ease of ownership. For 2024, the bagger-style Rebel 1100T is offered in a 6-speed manual transmission version, in addition to the automatic DCT version that was released last year.
Also included in the announcement are the industry's most popular entry-level cruisers, the Rebel 300 and Rebel 500, both sporting new colors. With a signature raked-out front end, the Fury continues to deliver classic chopper styling, but with refined Honda handling and a new color for 2024. Rounding out the announcement is the remarkably versatile NC750X, boasting comfort and convenience for around-town commuting and weekend adventures.
Gold Wing
When it comes to long, multi-day rides through winding backroads and stretches of open highway, few motorcycles can measure up to the smooth, gliding ride and refined technology of Honda's legendary Gold Wing. This touring icon continues to set the standard for the category with substantial storage capacity, a premium sound system, convenient navigation software and, most importantly, unmatched ride quality. Whether it's covering miles on the highway or carving through a scenic mountain pass, the Gold Wing's relaxed riding position, comfortable seat, robust wind protection and premium suspension amount to a remarkably luxurious experience for both the rider and passenger. Plus, with a famously smooth 1,833cc six-cylinder engine and available automatic DCT gearbox, hitting the open road has never felt this good.
MSRP

Gold Wing Tour Airbag DCT: $33,000
Gold Wing Tour DCT: $29,700
Gold Wing Tour: $28,700
Gold Wing DCT: $25,700
Gold Wing: $24,700

Colors

Gold Wing Tour Airbag DCT: Pearl White
Gold Wing Tour DCT: Gray Metallic/Black; Pearl White
Gold Wing Tour: Gray Metallic/Black; Pearl White
Gold Wing DCT: Matte Armored Green Metallic
Gold Wing: Matte Armored Green Metallic

Available: November
Fury
While many choppers compromise ride quality for styling, Honda's Fury is the rare exception. With unmistakable chopper styling and Honda's renowned fit, finish and functionality, the Fury offers the best of both worlds. Honda's engineers achieved impressive handling characteristics and suspension performance while maintaining the raked-out front end and hard-tail styling that defines the chopper category. Meanwhile, the 1,312cc liquid-cooled V-twin engine sounds as good as it looks and has plenty of torque on tap. For 2024, The Fury's head-turning style is amplified with a new Adventure Green color.
MSRP: $11,499
Color: Adventure Green
Available: December
Rebel 1100
From long-distance highway touring to relaxed weekend rides on winding backroads and spirited canyon carving, the Rebel 1100 embodies dynamic cruiser performance. For riders that gravitate toward the traditional cruiser experience, the Rebel 1100 (manual transmission) and Rebel 1100 DCT (automatic dual clutch transmission) boast sporty handling and a clean, contemporary design. The Rebel 1100T on the other hand, touts "bagger" styling with a large handlebar fairing and hard color-matched saddlebags that offer a combined 35 liters of space, giving riders added comfort and cargo storage for longer excursions. For 2024, the Rebel 1100T is offered with a 6-speed manual transmission, in addition to the automatic DCT version that was released last year.
MSRP

Rebel 1100T DCT: $11,349
Rebel 1100T: $10,699
Rebel 1100 DCT: $10,149
Rebel 1100: $9,549

Colors

Rebel 1100T DCT: Metallic Black; Matte Armored Green Metallic
Rebel 1100T: Metallic Black; Matte Armored Green Metallic
Rebel 1100 DCT: Gray Metallic; Metallic Blue
Rebel 1100: Gray Metallic; Metallic Blue

Available: January
Rebel 500
A modern cruiser through and through, the Rebel 500 is all about maximizing the freedom and exhilaration that can only be found on a motorcycle. Starting with its timeless yet aggressive styling, this hugely popular cruiser turns heads wherever it goes, with an iconic peanut fuel tank, blacked-out components and wide tires. The 471cc parallel-twin engine matches strong bottom-end torque with smooth delivery for a user-friendly powerband that makes the Rebel fun to ride, both in the canyons and around town. With relaxed ergonomics and well-balanced handling, the chassis and suspension prioritize rider comfort and control. The Rebel 500 is available in standard and ABS versions, as well as a limited-edition ABS SE trim level that comes with some of Honda's most popular accessories installed from the factory.
MSRP

Rebel 500 ABS SE: $6,999
Rebel 500 ABS: $6,799
Rebel 500: $6,499

Colors

Rebel 500 ABS SE: Pearl Smoky Gray
Rebel 500 ABS: Matte Laurel Green; Pearl Black
Rebel 500: Matte Laurel Green; Pearl Black

Available: January
Rebel 300
Approachable, stylish and fun are all adjectives that describe Honda's Rebel 300. Between the low seat height, comfortable ergonomics, balanced handling and linear power delivery, this model offers a sense of confidence that allows new riders to build their skills as they progress on their motorcycling journey. The reliable 286cc engine provides plenty of power for getting around town or cruising on the highway. Of course, the Rebel looks the part as well, with timeless cruiser styling that's amplified by the recognizable peanut fuel tank, blacked-out engine components and LED lighting. Available in standard and ABS versions, the Rebel 300 offers user-friendly performance that's particularly appreciated by new riders.
MSRP

Rebel 300 ABS: $5,149
Rebel 300: $4,849

Color: Pearl Black; Nitric Orange
Available: January
NC750X
As the jack-of-all-trades in Honda's on-road two-wheel lineup, the NC750X is as competent at making quick work of the daily commute as it is at getting off the grid on remote backroads. A powerful, liquid-cooled, SOHC 8-valve parallel-twin engine is paired with Honda's high-tech automatic dual clutch transmission for efficient power delivery and ease of operation. Meanwhile, the balanced chassis and quality suspension ensure nimble handling and a comfortable ride. For both commuting and exploring, the upright riding position optimizes rider comfort, and the robust storage solutions allow space for additional gear and supplies. Plus, with Honda's renowned reliability and an affordable MSRP, the NC750X offers a combination of adventure and utility that's tough to beat.
MSRP: $9,499
Color: Matte Nightshade Blue
Available: January
---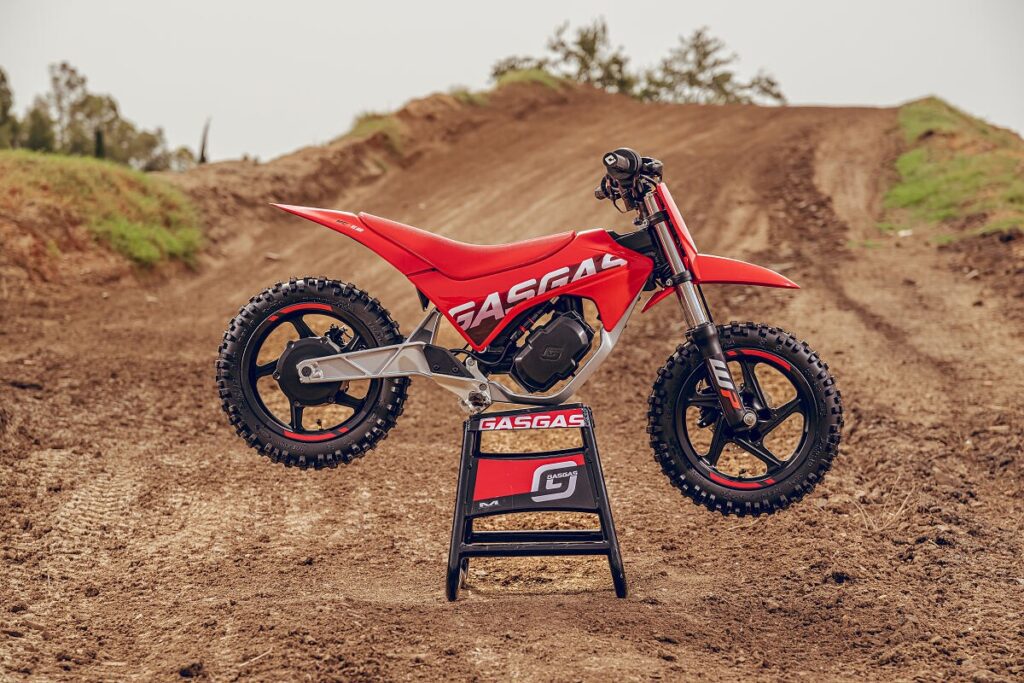 GASGAS EXPANDS ITS MINI ELECTRIC DIRT BIKE LINE-UP WITH THE RADICAL MC-E 2!
There's a brand-new GASGAS in town and we're stoked on it! The battery-powered MC-E 2 is designed for young kids to safely and easily discover the thrills of offroad riding. Make no mistake, this little red ripper raises the bar sky high! So high in fact that we're sure it'll leave all similarly sized and spec'd dirt bikes, e-powered or otherwise, in its dust. And the best part is, it's available right now at GASGAS dealers worldwide!
New MC-E 2 changes the game for kids learning to ride offroad
Adjustable in size, three ride modes, and disk brakes ensure safe progression
Find the awesome MC-E 2 today at your local GASGAS dealership
Watch the new MC-E 2 in action!
Modern in design, built with the latest technology, and so much fun to ride thanks to its low weight and WP suspension, every kid will absolutely love the MC-E 2. One of the bike's coolest features, hands down, is that it can be easily adjusted in size with basic tools. So as children grow, they can keep on riding the bike for a little while longer before jumping up to a bigger bike.
Parents will love the MC-E 2 too as it's assembled with quality components and needs little to no maintenance to keep it running sweet. Plus, three ride modes allow for safe and progressive learning and with the motor neatly housed inside the rear wheel's hub, there's no better or safer dirt bike out there. Trust us!
Technical Highlights – MC-E 2
Removeable Li-ion power tool battery – Easy to remove and recharge, the universal, power tool style fitment means fully charged spare batteries can be fitted quickly and easily.
Fast recharging – It only takes one hour for a full recharge with an 80% charge taking just 35 minutes!
Adjustable ergonomics – The MC-E 2 can be adjusted in size (between 90-130cm), so as children grow, they can continue developing their skills on the same bike. The standard seat height is 470mm but can be changed to 500mm relatively quickly with basic tools.
Low maintenance – Battery-powered. No chain, and no sprockets. Just simple, hassle-free riding!
Safety features – The motor only provides power after the throttle has been twisted forward slightly, from fully closed. Also, a rollover sensor cuts power when the MC-E 2 is laid down and there's a traditional kill switch for all other eventualities.
Disk brakes – No old-school drum brakes here! Front and rear disk brakes create some serious stopping power, which gives children complete control and a ton of confidence.
10" wheels – Strong, maintenance-free wheels with knobby tires from KENDA are designed for riding offroad.
Low center of gravity – Gives the bike a very lightweight feel, which makes it so easy to ride.
Lightweight – The MC-E 2's lightweight construction – it tips the scales at just 27 kilograms – means that youngsters can pick it up easily if they fall. Plus, being light makes the MC-E 2 far less tiring to ride than other bikes that are similar in size.
Modern design – The MC-E 2 is a brand new, modern dirt bike with graphics inspired by our big bikes.
Top speed of 33 km/h – Yeah, the MC-E 2 can be fast with mode three engaged! Mode two allows for speeds of up to 20 km/h while the lowest setting, mode one, lets kids get to grips with riding offroad safely with a modest top speed of 7 km/h.
Check out the full spec of the all-new MC-E 2 right here.
You can find the all-new GASGAS MC-E 2 in dealerships worldwide from October 2023. Availability may differ from country to country.
Explore imagery of the new MC-E 2 here.
For everything GASGAS, head to the website to discover our new models, the latest news, and the very best dirt bike videos.
---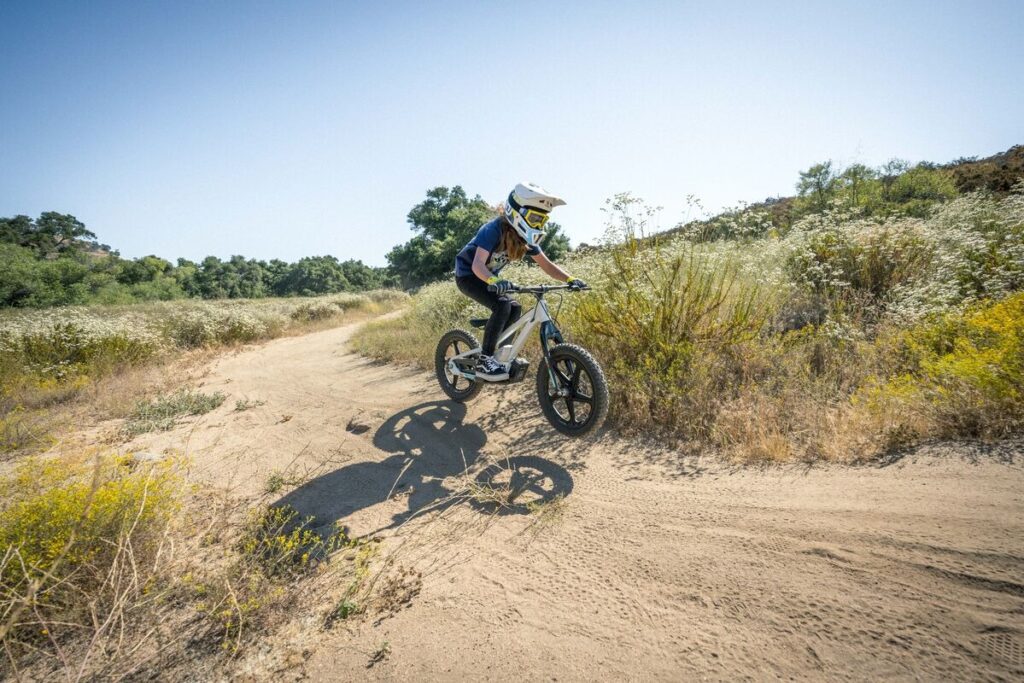 HUSQVARNA MOTORCYCLES LAUNCHES ALL-NEW EE 1.18 AND EE 1.20 ELECTRIC BALANCE BIKES
With the launch of the EE 1.18 and EE 1.20 by STACYCTM, there is now an electric balance bike in the Husqvarna Motorcycles line-up for every child up to 12 years old.
The sometimes-tricky transition from pedal to motorized power has never been simpler than it is with the Husqvarna Motorcycles EE 1 range. While the EE 1.12 and EE 1.16 already meet this challenge for the youngest learners, the arrival of the EE 1.18 and EE 1.20 means there is an offering for all junior age groups to hone their skills in preparation for the transition to full-blown motocross machines.
The new EE 1.18 is the next choice in the balance bike line-up for riders progressing across the EE 1 range. Sized to suit riders between the ages of 8 and 10, the EE 1.18 is complete with 18-inch wheels, hydraulic disc brakes front and rear, and a strong aluminum frame paired with a steel, BMX-style fork. Capable of handling offroad terrain with ease, the EE 1.18 is the perfect model for riders looking to take their skills to the next level.
Featuring three selectable ride modes, the EE 1.18 offers easy progression for all skill levels. For riders new to two wheels, the training mode has a top speed of 9 mph. The standard mode is set at 13.5 mph for those developing their skills, while more experienced riders can select the advanced mode for speeds up to 18 mph. The removable lithium-ion battery with a user-friendly power-tool style interface delivers 30 to 45 minutes of riding time with quick and easy changes to keep the wheels turning.Weighing just 31 lb including the battery, the EE 1.18 is lightweight and keeps most of its weight positioned low on the frame to ensure it is easy to handle, boosting a rider's confidence.
All the skills necessary to ride a powered two-wheeler can be honed on the Husqvarna Motorcycles EE 1.20. An all-aluminum, TIG-welded frame marshals the output of the 36 V brushless electric motor, a Manitou J-Unit Machete front fork with 80mm of travel absorbs the bumps, and hydraulic brakes front and rear provide confident stopping power. Innova pneumatic tires on 20-inch wheels provide confident grip as young riders master their machine and the terrain.
With the ability to select between three ride modes ranging from 10 to 20 mph, the EE 1.20 allows riders to learn the basics of their machine or open things up to a dirt-turning pace. With a light, yet serious build, the EE 1.20 can unlock endless riding potential.
Husqvarna Motorcycles EE 1.18 and EE 1.20 electric balance bikesembody everything that riding a powered two-wheeler should be – fun, exciting, and stylish. These new models are the perfect bridge from the smaller EE 1.12 and EE 1.16, along with the EE 2, EE 3 and EE 5, to the full minicycle range and the next step when junior riders have the confidence to test their newfound skills in competition.
EE 1.18 Technical Highlights
Perfect for 8-10 years olds under 115 lb
Seat height: 21-inch and 22-23-inch inseam
Weight: 31 lb including battery
40Vmax Voltage (36Vnom) 3Ah – 21700 battery
30-45 minutes run time
1.5 hr charge time
Full aluminum, TIG-welded frame with proprietary shaped tubes
18-inch wheels with pneumatic tires
Hydraulic brakes front and rear
Fork: steel BMX-style
Proprietary throttle assembly with STACYCTM (custom grips)
Custom 19mm handlebar
Displays power mode and battery level simultaneously
Three power selection modes:
o Low/Training mode ~ 9 mph
o Med/Standard mode ~ 13.5 mph
o High/Advanced mode ~ 18 mph

EE 1.20 Technical Highlights
Perfect for 10-12 years olds under 115 lb
Seat height: 23-inch and 24-26-inch inseam
Weight: 33 lb including battery
40Vmax Voltage (36Vnom) 6Ah – 18650 battery
30-60 minutes run time
3 hr charge time
Full aluminum, TIG-welded frame with proprietary shaped tubes
20-inch wheels with pneumatic tires
Hydraulic brakes front and rear
Manitou J-Unit Machete front fork, 80mm travel
Proprietary throttle assembly with STACYCTM (custom grips)
Custom 19mm handlebar
Displays power mode and battery level simultaneously
Three power selection modes:
o Low/Training mode ~ 10 mph
o Med/Standard mode ~ 15 mph
o High/Advanced mode ~ 20 mph
Junior riders can dress for their offroad adventures with Husqvarna Motorcycles, too. For optimum protection and unrestricted performance, a comprehensive Functional Offroad Apparel Collection, designed specifically for the champions of tomorrow, combines innovative technical features for improved comfort, protection, and style. Included in this are a specially-designed helmet and shirt for riders of the EE 1.12, EE 1.16, EE 1.18, and EE 1.20. There is the Kids Gravity Helmet produced exclusively for Husqvarna Motorcycles by Leatt, as well as the Kids Railed Jersey, both of which complement the style of the Husqvarna Motorcycles EE 1 range by STACYCTM.
The new EE 1.18 and EE 1.20 electric balance bikes will be available this fall at authorized Husqvarna Motorcycles Dealers.
---
FLY Racing and Kryptek Unite to Redefine Adventure Apparel
FLY Racing, a leading action-adventure apparel brand for motocross, street, BMX, MTB, ADV, snow, and watercraft riders, has joined forces with Kryptek, the epitome of technical hunting clothing with a strong military heritage, to introduce a thrilling fusion of style and performance to the world of outdoor sports apparel.
In its 25th year, FLY Racing is celebrated for its relentless pursuit of innovation, consistently delivering high-quality products designed to elevate rider performance and safety. From helmets to jerseys, pants to gloves, boots to goggles, and protective gear, FLY Racing is renowned for its cutting-edge technology and a meticulous attention to detail. Combining functionality with fashion, FLY Racing's products are designed to not only perform exceptionally but also make a striking statement on the track or the street.
Kryptek, deeply rooted in tactical military apparel attributes, has redefined technical and tactical outdoor adventure apparel. With combat-tested features and designs proven in the harshest environments under the most extreme conditions, Kryptek caters to outdoor adventurers who demand top-notch quality and uncompromising performance from their gear. This dedication to excellence forged in combat has been honed through real-world experience.
In this landmark partnership, Kryptek has licensed the use of its proprietary camouflage patterns to be featured on select FLY Racing apparel, offering outdoor enthusiasts an opportunity to embrace the essence of both brands.
FLY Racing introduces Kryptek's iconic camouflage patterns to its off-road product line, thus appealing to a broader demographic. Simultaneously, Kryptek's loyal following in the hunting and fishing community now has opportunity to explore FLY Racing's world of power sports apparel.
Key products include the 2024 F-16 riding wear, Kinetic S.E. helmet, and Focus goggles, all featuring Kryptek's renowned camouflage patterns. These products represent a harmonious blend of style and performance, providing riders with the ultimate off-road adventure kit.
Chip Jones, Sr. Director North American Apparel at FLY Racing, expressed enthusiasm for the partnership, stating, "We are excited to combine FLY Racing's passion for performance with Kryptek's proven tactical expertise and style. This collaboration will offer riders a blend of functionality and fashion that sets a new standard in the industry."
Anthony Armsby, Sr. Director of Marketing, also shared his thoughts: "Our partnership with Kryptek will allow us to reach a wider audience of adventure seekers. We believe that the marriage of their camouflage patterns with FLY Racing's motocross gear will bring a unique and appealing product to outdoor enthusiasts."
Tim Piver, Chief Executive Officer of Kryptek said, "Kryptek's advanced proprietary designs, are a great fit with FLY Racing and we are proud to partner with this exceptional brand."
With shared user demographics the collaboration extends the influence of both brands, ultimately benefiting riders and outdoor enthusiasts. This co-branded riding gear promises to redefine adventure apparel and raise the bar for outdoor enthusiasts. The products from this exciting partnership are available in dealerships now.
---
Share