This week in US powersports racing.
---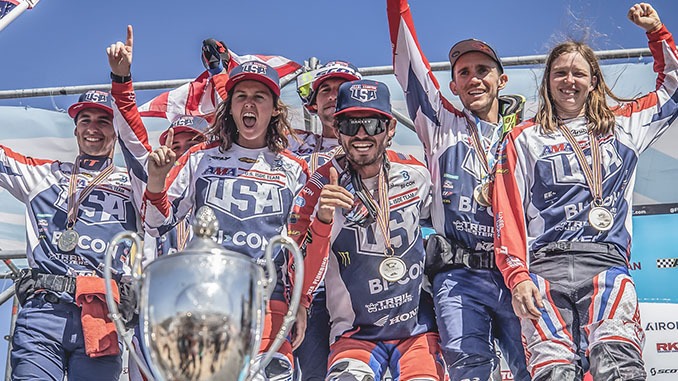 AMA Congratulates 2023 U.S. ISDE Team After Dominant Week In Argentina
The American Motorcyclist Association congratulates the United States World Trophy Team and Women's World Trophy Team, who each brought home first-place finishes at the 2023 International Six Days Enduro in San Juan, Argentina.
In addition to these resounding victories, the U.S. Junior World Trophy Team added a second-place finish. The U.S. also saw success from its club teams, with the U.S. Club Team XC Gear finishing first among club teams, while the U.S. Team GTBN earned second.
Several riders also forged individual success during the grueling six-day competition, with Women's Trophy Team rider Brandy Richards taking the overall win in the Women's class while Josh Toth emerged victorious in the C2 Club Class and Jaden Dahners triumphed in the C1 Club class.
"The American Motorcyclist Association is incredibly proud of all three of our trophy teams and our collection of club teams, who excelled down in Argentina this past week," AMA Director of Racing Mike Pelletier said. "We're so grateful for the competitive drive and determination that each of our riders showed while representing their country and the AMA, and their efforts resulted in a strong showing for the U.S. in this year's ISDE."
Despite battling extreme heat throughout the six-day event, the U.S. World Trophy Team and Women's World Trophy Team outpaced the field to claim their third and fourth respective ISDE titles.
Members of the U.S. World Trophy Team included Dante Oliveira, Taylor Robert, Johnny Girroir and Cole Martinez, who outpaced second-place France and third-place Great Britain for the world crown. Oliveira, Robert and Girroir finished third, fourth and fifth, respectively, in individual competition enroute to the team victory.
"It's been a dream week for us," Robert said post race. "We did everything right each day and always tried to have our four riders inside the top ten as much as possible."
Spearheaded by Richards' individual victory, the U.S. Women's Trophy Team — which included Rachel Gutish and Korie Steede alongside Richards — saw all three of its riders cross the finish line to capture victory, while Australia and FIM Latin America rounded out the podium.
The U.S. Women's Trophy Team battled injury and hardship on the journey to victory. Gutish battled through the last three days of the competition with a separated shoulder and broken rib, while Richards suffered through a broken collarbone during the last few days of the competition.
"My team (was) relying on me," Gutish said. "That's really all there is to it. I knew that if we wanted to win, I needed to finish."
The U.S. Junior World Trophy Team, helmed by Mateo Oliveira, Kai Aiello and Grant Davis, surged to victory in Day Six's motocross test to pass Sweden and finish second overall, falling just short of first-place France.
The trio of Toth, Ryan Surratt and Austin Serpa pushed U.S. Club Team XC Gear to the overall club title, beating out GTBN and Argentina on the podium.
"It's been an epic week," Toth, who also claimed the individual C2 Club Class title, said. "The team rode amazing and gave our best each day. It's an incredible feeling to stand on top of the podium."
For more information regarding the 2023 ISDE, visit https://fim-isde.com/.
---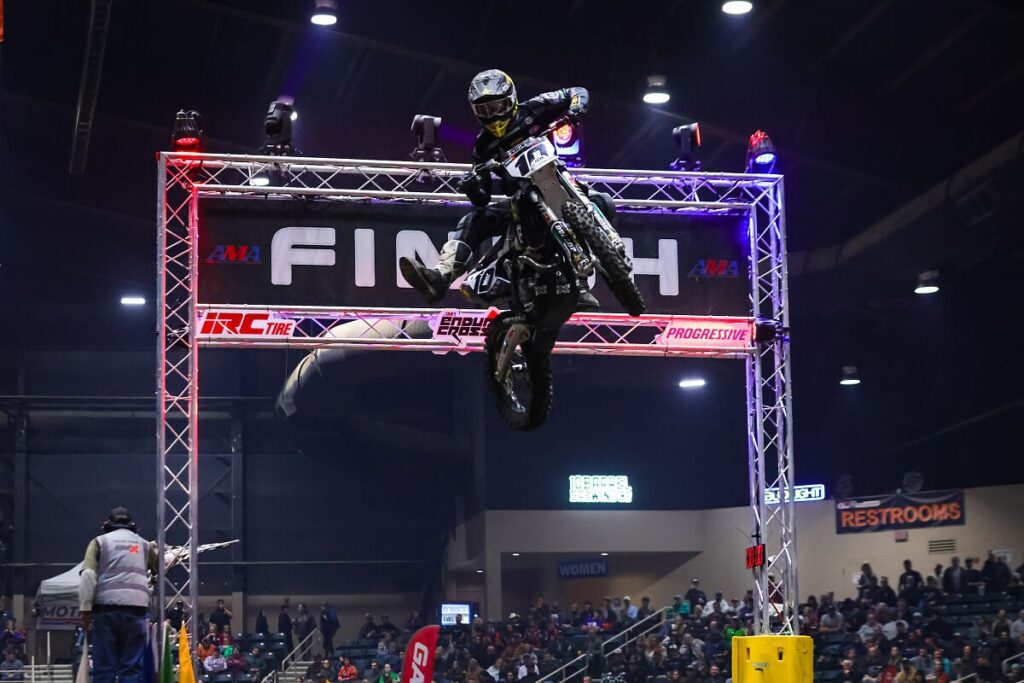 COLTON HAAKER KEEPS AMA ENDUROCROSS TITLE HOPES ALIVE WITH TIMELY REDMOND VICTORY
Round 5 of the 2023 AMA EnduroCross Championship marked an ultra-successful night of racing for Rockstar Energy Husqvarna Factory Racing's Colton Haaker, who posted a strong haul of results across the three-moto format, earning the overall victory in the EX Pro Class inside Redmond's First Interstate Bank Center.
Haaker started his weekend by posting the second-fastest time in the Pro Hot Lap session, dialing in his FX 350 to the circuit's tight, technical nature from the outset. A strong launch in the opening race saw him race to a convincing victory, setting the stage for a solid night of racing ahead.
A holeshot in Moto 2 saw the number 10 sprint to an early lead, maintaining control of the race at the front for the majority of the moto, before finishing P3 after a mishap with a lapped rider on the final lap, netting him a strong overall position to enter the third and final encounter.
After securing the holeshot in Moto 3, Haaker again sprinted early, opening a three-second gap over second place, which earned him the race win and the overall round win in convincing fashion.
With his Redmond result, five-time AMA EnduroCross Champion Haaker now sits in third place in the series point-standings, and within striking distance of the championship as the season heads to Reno for the final round.
"Stoked to get the win here in Redmond!" recalled Haaker. "I should have won all three, but just a mistake with the lapper in Moto 2 meant that I missed out right at the end with that one, which was disappointing, although to get a win feels amazing. We've had a decent year, just little things… it's been a full year since I've been mentally in the zone to compete for wins. Last year really set me back, I had to face whether or not I could still do it at the highest level, so to win here means a lot, and I feel like I really am back in it."
Teammate Ryder LeBlond pieced together a consistent outing in Oregon, beginning with the fifth-fastest lap-time in the Pro Hot Lap session. A mid-field start saw LeBlond power his way into fourth place during the opening moto and claim P4, which he would back up in Moto 2 with another top-five score in fifth place.
A sixth-place finish in Moto 3 gave LeBlond fifth place overall for the round, as he maintains fifth place in the season standings with one round remaining.
"Out here in Redmond for Round 5," commented LeBlond. "We ended up P5, which was a mediocre night for me – I didn't feel good in practice, however, by race time I was able to turn it around. My speed was good in the end, just average starts, which has been the story of my season in a way. We'll work on them and return strong for the final round in Reno."
Round 6 of the 2023 AMA EnduroCross Championship heads to Reno, Nevada, on November 18, which marks the final, title-deciding round of the season next weekend.
EX Pro Results – Round 5
1. Colton Haaker – Rockstar Energy Husqvarna Factory Racing, 1-3-1
2. Trystan Hart, KTM, 2,1,3
3. Jonny Walker, Beta, 3-2-2
…
5. Ryder LeBlond – Rockstar Energy Husqvarna Factory Racing, 4-5-6
EX Pro Championship Standings
1. Jonny Walker, 124 points
2. Trystan Hart, 117
3. Colton Haaker – Rockstar Energy Husqvarna Factory Racing, 112
…
5. Ryder LeBlond – Rockstar Energy Husqvarna Factory Racing, 83
---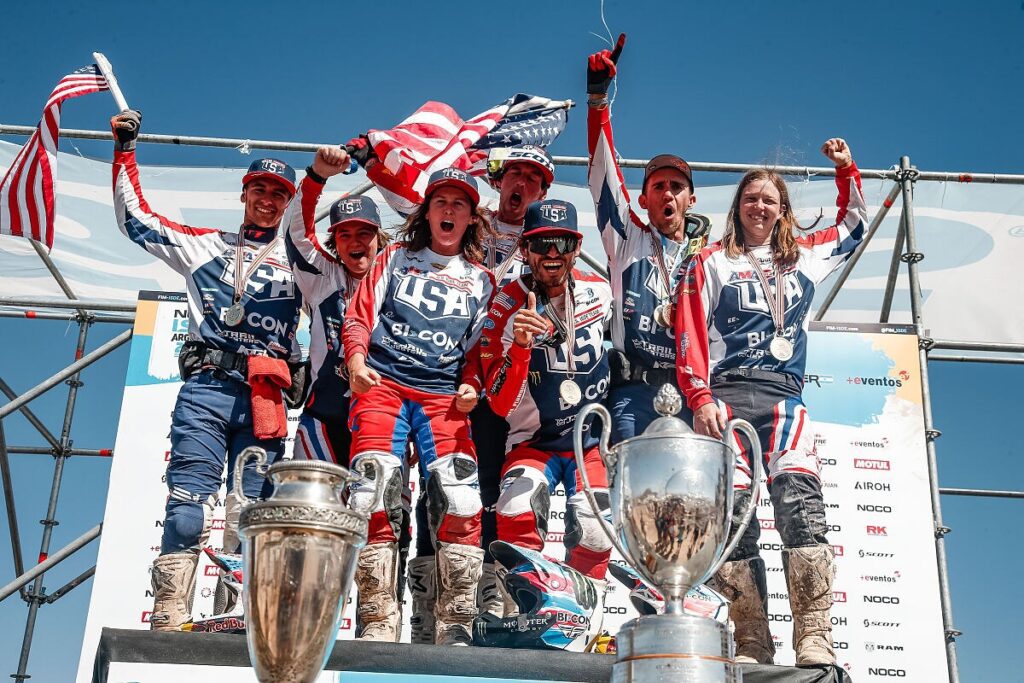 UNITED STATES TEAMS CROWNED 2023 WORLD TROPHY AND WOMEN'S WORLD TROPHY CHAMPIONS
SAN JUAN, Argentina – Team USA's World Trophy and Women's World Trophy Teams clinched victory at the 97th International Six Days Enduro (ISDE) in Argentina on Saturday, after six grueling days of competition saw each member post consistently strong results throughout the varying terrain to walk away as this year's champions. The U.S. Junior World Trophy Team claimed a convincing second place overall.
WORLD TROPHY TEAM (WT)
Entering Day 6 with a sizeable margin atop the WT leaderboard, a consistent set of finishes was all that was required for Team USA to capture its first ISDE crown since 2019. FMF KTM Factory Racing regular Dante Oliveira didn't get the memo, however, as he rocketed his 450 XC-F to the lead and never looked back, racing to the overall final moto win for the day, and P2 in the individual E2 Class standings. That also positioned him third overall for the week.
After announcing his retirement in the lead-up to the 2023 edition, ISDE legend Taylor Robert walks away a champion following a standout performance, earning multiple top-three overall times across the Six Days, and finishing in third position in the E2 Class as the curtains close on what has been an illustrious career. He was a brilliant fourth overall in the individual standings, instrumental in Team USA's success.
Johnny Girroir overcame a head cold midway through the event to log a strong haul of finishes in Argentina, taking fourth place on Day 6, while sealing P4 in the E2 Class and fifth overall, equipped with his 350 XC-F. Combined with the efforts of Cole Martinez (Honda), immense consistency secured the United States team victory at the iconic event for its 97th edition.
Dante Oliveira: "The Six Days is over! I got the win in the final moto here and the team absolutely killed it! So stoked to do this with the crew after all the work we've put in, and now we're the 2023 ISDE Champions, baby! Let's go!"
Taylor Robert: "Finished on top here in Argentina – that's the way to do it. It's an incredible feeling to wrap up this year's ISDE Championship, it's such a famed, tough, and grueling event, and taking the win here is a storybook ending to my career. Thank you to everyone who has made it possible."
Johnny Girroir: "This has been one hell of a week. Lots of ups and downs, but as a team, we totally killed it. This is so awesome, representing the United States, getting the win, this feels great."
JUNIOR WORLD TROPHY TEAM (JWT)
An eventful final moto saw Team USA's Junior World Trophy Team put in a final dash toward the top spot, as they sat third entering Day 6. A spirited charge by eventual winner Mateo Oliveira, who earned a dominant win in the JWT category on the day as well, combined with a P2 ride from Kai Aiello (Husqvarna Motorcycles) and KTM-supported Grant Davis in sixth place, pushed the Team into a hard-fought second position at the conclusion of this year's ISDE.
Mateo Oliveira: "Today was so crazy, I have no words to describe it! I went down off the start and really had to charge my way back through the field, and then found out that the JWT Team moved up to second position after today also. I'm just so stoked that all of our teams are on the podium, and I was able to secure an ISDE final moto win – it's been a long time coming for me, so to cap it off with Dante getting the WT win and Taylor going out on top is just amazing. I'm speechless!"
WOMEN'S WORLD TROPHY TEAM (WWT)
In what was a dominant performance for the Women's World Trophy Team in San Juan, KTM-supported Brandy Richards was the pace-setter once again as she captured the Day 6 victory, finishing off the top spot of the podium only once across the Six Days completed. Korie Steede posted a strong ride to finish in P4, with Rachel Gutish (GASGAS) in P6, marking a successful outing for Team USA, and crowning them ISDE champions for the first time since 2021.
Brandy Richards: "This week was quite the week! It's a massive effort to keep everything together, making sure we're well-rested and that the bikes are ready to perform the following day. Coming into the final moto, I wanted to do well and I'm happy with how I finished, and I'm just so proud of the women on our team, so excited that we all finished and got the job done."
Korie Steede: "This feels so special! Our team really killed it this week, putting in really fast, consistent times on tracks that were hugely demanding and super technical. It hasn't been easy for us at all, and I'm just so proud of everyone, and proud to be champions this year."
World Trophy Classification (After Day 6 of 6)
1. USA, 16:31:10.03
2. France, +17:03.71
3. Great Britain, +18:23.74
4. Chile, +55:05.56
5. Venezuela, +2:31:26.31
Junior World Trophy Classification (After Day 6 of 6)
1. France, 12:55:52.59
2. USA, +5:20.92
3. Sweden, +26:09.74
4. Argentina, +45:10:60
5. Czech Republic, +1:04:37.26
Women's World Trophy Classification (After Day 6 of 6)
1. USA, 14:43:34:90
2. Australia, +6:47:43.12
3. Latin America, +7:36:11.70
4. France, +11:52.13.89
5. Argentina, +15:15:59.72
---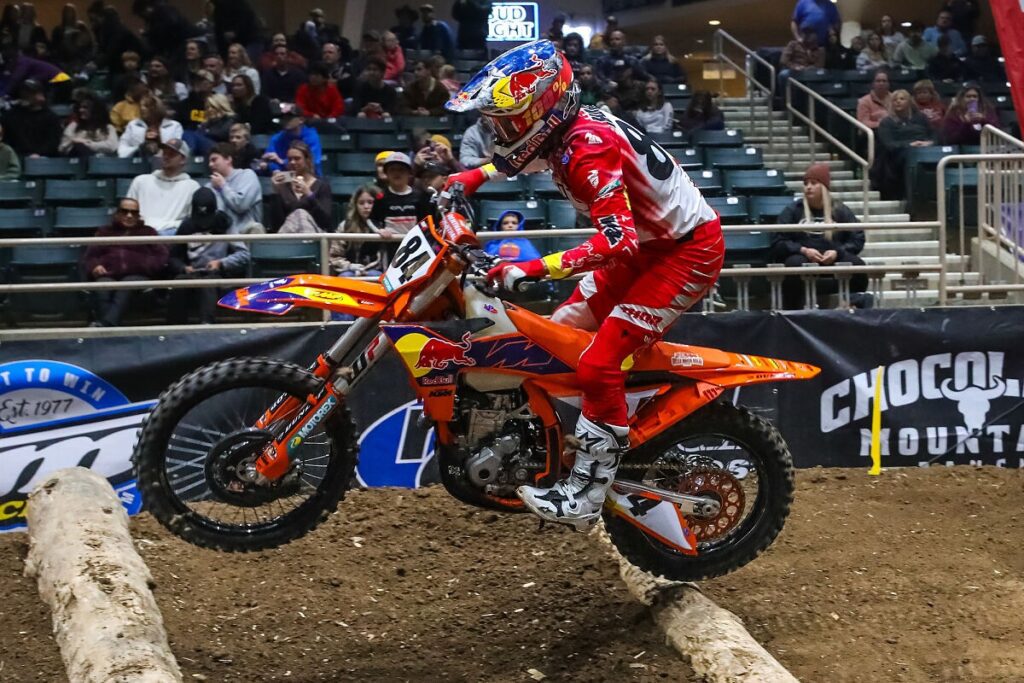 REDMOND RUNNER-UP INCHES FMF KTM FACTORY RACING'S TRYSTAN HART TOWARD AMA ENDUROCROSS LEAD
REDMOND, Oreg. – FMF KTM Factory Racing's Trystan Hart pieced together a decisive night of racing at Round 5 of the 2023 AMA EnduroCross Championship, charging to second overall in the EX Pro Class and further closing in on the points-lead with just one round remaining.
Opening the Redmond, Oregon, round by posting the third-fastest qualifying time during the Pro Hot Lap segment, Hart acclimatized to the technical track layout as he tuned his KTM 350 XC-F accordingly to the surrounding terrain.
Launching off the line for Moto 1, the Canadian was in the fight from the outset, battling inside the top-five as he inched his way closer toward the front of the field. A late-race charge saw the number 84 collect a strong second-place finish to begin the evening.
Hooking up again off the start in Moto 2, Hart sliced his way into second place by the midway mark of the race, maintaining pressure on the leader as less than a second separated the pair, before a last lap move saw Hart take P1, and claim an exhilarating race win to lead the round points overall heading into the final outing.
Moto 3 saw Hart race to another race podium after a challenging start saw him work his way through the pack, this time securing third place, and reducing the gap in the championship standings to just seven points with a single round remaining in Reno, Nevada, next weekend.
Trystan Hart: "Finished up Round 5 here with second on the night! It was super-tight racing between me and Colton [Haaker] with a winner-take-all in the final race. I didn't get the jump in Moto 3, and that was important on this track, as it was hard to pass. We made up a lot of points today here in the championship – now we'll look ahead to Reno!"
The final round of the 2023 AMA EnduroCross Championship heads to Reno's Reno-Sparks Livestock Event Center, Nevada, for Round 6 of this year's series on November 18.
EX Pro Results – Round 5
1. Colton Haaker, Husqvarna, 1-3-1
2. Trystan Hart, KTM, 2-1-3
3. Jonny Walker, Beta, 3-2-2
EX Pro Championship Standings
1. Jonny Walker, 124 points
2. Trystan Hart, 117
3. Colton Haaker, 112
---
Share