This week in US powersports racing.
---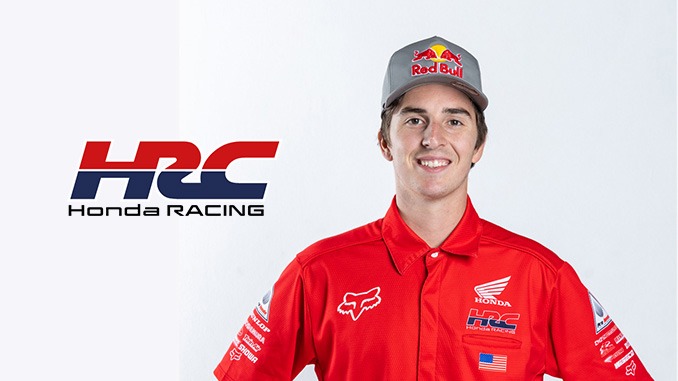 Honda Confirms Hunter Lawrence to Campaign CRF450RWE in 2024
Team Honda HRC confirmed today that Hunter Lawrence will move up to the 450 class for the 2024 season, competing in the AMA Supercross, AMA Pro Motocross and SuperMotocross series. The 24-year-old Australian, who last season earned crowns in the 250SX East Region and 250 outdoor series, will campaign the factory Honda CRF450RWE alongside his brother, Jett Lawrence.
A native of Landsborough, Queensland, Australia, Hunter raced Down Under and in Europe before signing with American Honda's Factory Connection satellite squad for the 2019 season. He was promoted to Team Honda HRC for 2021, and after his first two years with Honda's factory squad saw him finish second and third in the indoor and outdoor series, respectively, he delivered championships in both series in 2023.
"I'm proud of what I've accomplished in my 250 career, but it's exciting to move up to the premier class for 2024," Hunter Lawrence said. "I feel like my style is well-suited for the CRF450RWE, and off-season testing has been going well so far. I enjoyed battling with Jett in the 250 class before he moved up, and I'm looking forward to doing that again now that we're both on the big bike. I've got a great team around me, and I can't wait to get back in action at Anaheim 1."
"It's a pleasure to move Hunter up to the CRF450RWE," added Brandon Wilson, Manager of Racing and Experiential Marketing at American Honda. "Since joining our team three years ago, he has consistently made a positive impact, in terms of results but also for the constructive, optimistic influence that he invariably brings. Last season saw him earn the 250 titles that we all knew he was capable of, but he's also a very good 450 rider. We look forward to him adding to his success now that he's in the premier class."
Hunter Lawrence
Birth Date: August 1, 1999
2013: 2nd in FIM 85 Junior World Championship
2015: 3rd in FIM 125 Junior World Championship; Australian 125 and 250 Junior Motocross Champion
2017: 9th in 2017 FIM MX2 final standings; MX2 winner at Motocross of Nations (Team Australia)
2018: 3rd in FIM MX2 final standings; 2nd in MX2 at Motocross of Nations (Team Australia)
2019: 10th in AMA Pro Motocross 250 final standings
2020: 13th in AMA Pro Motocross 250 final standings
2021: 2nd in AMA Supercross 250SX West Region final standings; 3rd in AMA Pro Motocross 250 final standings
2022: 2nd in AMA Supercross 250SX West Region final standings; 3rd in AMA Pro Motocross 250 final standings; 2nd in MX2 at Motocross of Nations (Team Australia)
2023: AMA Pro Motocross 250 National Champion; AMA Supercross 250SX East Region Champion; 9th in SuperMotocross 250 final standings; 2nd in MX2 at Motocross of Nations (Team Australia)
---
Gaige Herrera Wins 10th Pro Stock Motorcycle Race at NHRA Nevada Nationals
For the third-straight race, Vance & Hines/Mission Suzuki teammates Gaige Herrera and Eddie Krawiec faced off in the final round, with Herrera once again prevailing to win his 10th race of the season at the NHRA Nevada Nationals at The Strip at Las Vegas Motor Speedway in Las Vegas, Nevada, on Sunday.
Race Highlights
Gaige Herrera qualified No. 1 for a record-extending 13th time this season, set a new track elapsed-time record, and won his 10th race of the year.
Eddie Krawiec qualified second and advanced to a third-straight all-Vance & Hines final round.
In what has become a familiar refrain, Herrera qualified his Gen 3 Suzuki Hayabusa in the number-one starting spot for the 13th time in 14 races this season, set a new Las Vegas track elapsed-time record with a 6.760-second/199.82 mph run on Saturday, and advanced to the finals with a dominant march through Sunday's elimination rounds.
Herrera advanced on a round-one bye with a 6.786-second/198.41 mph run. In round two, he knocked off Mark Ingwersen (7.026 seconds/169.57 mph) with a 6.795-second/196.93 mph run that set up a match against Jerry Savoie in the semi-final round. Herrera beat Savoie (6.906 seconds/193.07 mph) with a 6.815-second/196.85 mph run to advance to a third-straight all-Vance & Hines/Mission Suzuki final-round matchup against Eddie Krawiec.
In the final round, Herrera denied Krawiec a long-sought 50th career win for the third-straight race and for a fourth time this season, knocking off his teammate with a 6.755-second/198.32 mph pass that was nearly a tenth quicker than the four-time champion's 6.847-second/198.70 mph run and that also set a new elapsed-time track record.
Gaige Herrera (79) makes it four wins in a row in Las Vegas.
Although Herrera came up just ten points shy of clinching his first NHRA Pro Stock Motorcycle world championship, he needs only to qualify for the field at the NHRA Finals in Pomona in two weeks to win the championship in his first full season as a rider. Only Krawiec, currently 181 points behind, has a mathematical chance to catch him in Pomona, which features a points-and-a-half format offering a maximum of 191 points to the winner.
"We had a little fun in the final round with a little staging battle on the starting line. Eddie revved his throttle and then I revved mine, but when he revved a second time, I knew he wasn't moving into the staging lights, so I had to go first. It was a fun round," Herrera said. "Even though I didn't wrap up the championship yet, I'd rather win it in Pomona because it's very close to my hometown in La Mirada. It has not set in yet what we've accomplished as a team this season. I've really bonded with the guys on the team and I'm having a lot of fun. I'm relaxed going into Pomona and the focus there will be on finishing with both Vance & Hines bikes one and two in the championship and getting Eddie his 50th win."
In the last three races, Eddie Krawiec has surged to second place in the Countdown to the Championship standings, widening the gap to the riders behind him with three consecutive final-round appearances.
Eddie Krawiec (7) sits second in the championship to his teammate after Las Vegas.
After qualifying second with a 6.830-second/198.85 mph run, Krawiec caught a lucky break in round one when he had to shut down early after spinning the rear tire on the starting line. Fortunately, he still advanced because his opponent Karen Stoffer could not make it to the starting line.
Krawiec came back strong in round two, defeating Steve Johnson (6.959 seconds/189.73 mph) with a 6.864-second/197.08 mph pass. In round three, Krawiec ran 6.845 seconds at 197.57 mph to overhaul Jianna Evaristo (6.897 seconds/193.29 mph) at the finish line in a close, come-from-behind victory that set up another all-Vance & Hines/Mission Suzuki team showdown in the finals.
"The staging battle was fun. I had to put my foot down and say I'm not going in first! I wish I had run a little quicker that round, but it was still a good race that got us one step closer to our goal of being one and two in the championship," Krawiec said. "It's a guaranteed Vance & Hines/Mission Suzuki championship, which is awesome and shows the level of our program. I'm going to Pomona to win. I have a history of winning the race there when I don't have a chance to win the championship, so that's my goal."
Vance & Hines/Mission Suzuki crew chief Andrew Hines marveled at the consistency of three straight all-team final rounds and attributed the team's success to its relentless focus on continuous improvement and a commitment to excellence.
The Vance & Hines Mission/Suzuki team is ready for the Finals in Pomona.
"I love a broken record," he said. "To have a rider and motorcycle so capable of perfection 95 percent of the time is mind-boggling, considering how close and competitive this class has been for so many years. Between the riding and tuning, we've learned so much along the way to make our Hayabusas the best in the class. We never let up. We push relentlessly to have our motorcycles be the epitome of what a Pro Stock Motorcycle should be. Our entire team pushes each other to be better, round after round to strive for perfection. Our goal is to finish one and two in the championship and get Eddie his 50th win. It's going to come down to him excelling as a rider, but I think good things are going to come at Pomona."
With one race remaining in the Countdown to the Championship, Herrera and Krawiec sit first and second in the Pro Stock Motorcycle championship standings with 2,690 and 2,509 points, respectively.
The Vance & Hines/Mission Suzuki team will be back in action Nov. 9-12 for the 2023 NHRA season finale at the In-N-Out Burger NHRA Finals at the In-N-Out Burger Pomona Dragstrip in Pomona, CA.
Alongside the finals, Suzuki is hosting the Hayabusa Homecoming, a commemoration of the 25th Anniversary of the legendary Suzuki Hayabusa on Saturday, November 11th. This event is open to anyone attending the In-N-Out Burger Finals. Showing appreciation for owners of Suzuki and Suzuki Hayabusa motorcycles, registrants will receive free grandstand entry for Saturday, VIP Suzuki Parking for the day, and an In-N-Out Burger lunch voucher. Attendance for this celebration is extremely limited, please visit https://suzukicycles.com/racing/hayabusa-homecoming to register today.
For the latest Suzuki team news, race reports, and information visit SuzukiCycles.com/Racing/Drag-Racing.
---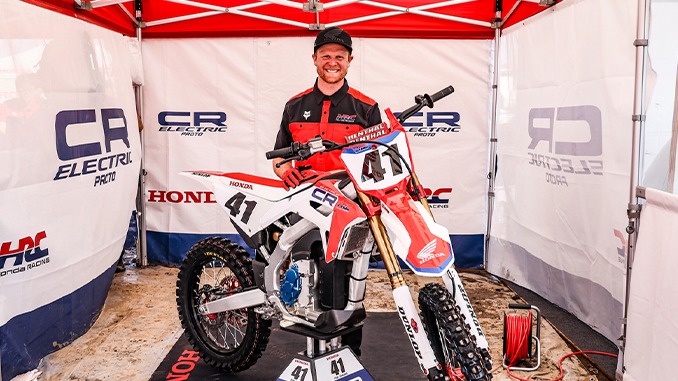 Honda CR Electric Proto Shows Leading Pace in Valuable Debut Weekend
After a successful qualifying run yesterday, Sunday's race day brought mixed fortunes for Team HRC but a race-leading demonstration of pace of the new CR Electric Proto at round 8 of the All Japan Motocross Championship.
In the morning's practice, Team Honda HRC advisor and test rider Trey Canard—racing as a wildcard entry—followed on seamlessly from his Saturday pace to go second-fastest on the all-electric #41, making its global competitive debut this weekend in the premier IA1 class against 450cc gas-powered machinery.
Then came the first-ever race for Honda's new prototype machine, in the form of the first moto. The opening race was smooth, with Canard starting strongly, settling into a rhythm and crossing the line second aboard the CR Electric Proto. As learning, development and ultimately the pace continued to improve throughout the weekend, Canard closed to just 0.7 seconds off the fastest lap and was looking fast.
In the second moto, Canard again started well and looked to be set to keep building on the weekend's momentum, but an early crash with moto 1 rival Jay Wilson unfortunately put him out of the race.
Returning for the third moto, Canard made best use of the Honda's instant electric torque and again started strongly, taking the lead exiting the first corner. In fact, Canard took two of the three holeshots on CR Electric Proto.
Starting to stretch that lead from his weekend-long rival, the #27 of Wilson, it would have been the perfect culmination of the weekend's learning and work on the CR Electric Proto to take the machine's first win in its first-ever competitive weekend—but unfortunately, as the track continued to get ever more rutted, Canard crashed with 12 and a half minutes remaining of the 15-minute race.
Nonetheless, with the opportunity provided by racing to learn, develop and prove the prototype machine in the heat of battle for the first time, it has been a successful and encouraging debut for the CR Electric Proto—a weekend that has provided valuable data for ongoing development of Honda's all-electric motocross initiative.
Trey Canard
"This weekend was definitely a big challenge for me, but it was a great race for our development. Each time I was on the track, we improved the motorcycle and the CR Electric Proto team adapted to the challenge. We had some shines of brilliance as a team, the starts being one of them, with two of the three holeshots. There were also some sections on the track that were very impressive, and that makes me excited for the future of this motorcycle. I'm disappointed to not finish all of the motos after all of the hard work the team has put in, but I think we showed that the potential of the bike is quite high, especially for our very first attempt at racing. I'm grateful to be a part of this effort, and I'm very proud of each and every person who has worked so hard."
Taichi Honda: Team HRC Team Manager
"First of all, I would like to thank the development team and everyone involved for preparing the CR Electric Proto to be ready for competition in such a short time.I would also like to thank Trey Canard for showing his potential, even though he has only had a few tests.We had three heats for the first time today, and we will take what we learned from each race and feed it back to the ongoing development of the CR Electric project."
---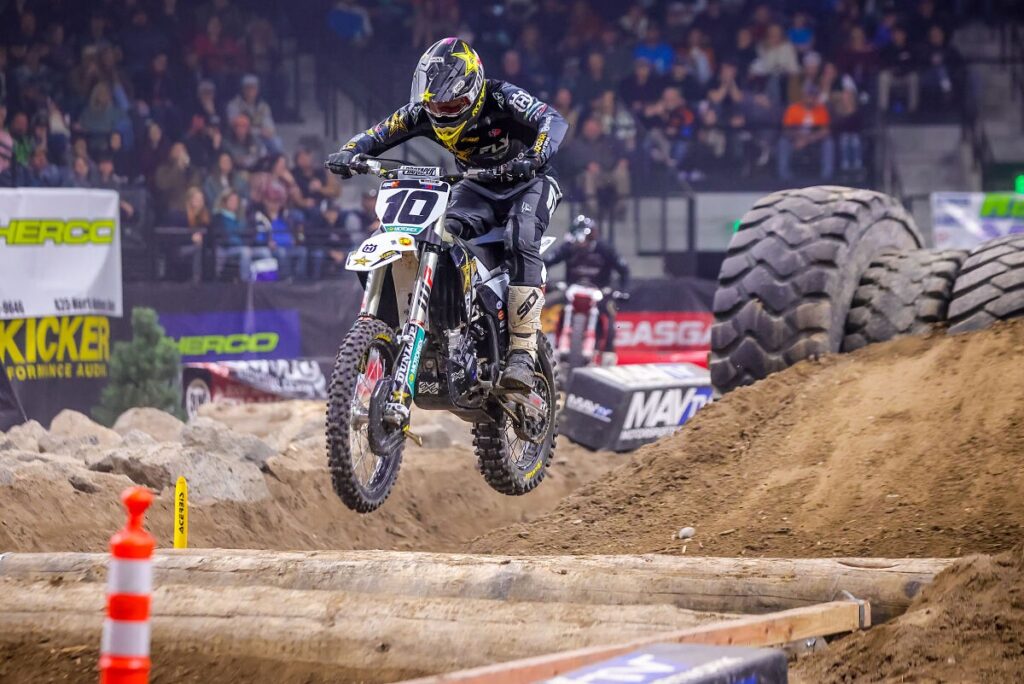 ENDUROCROSS CONSISTENCY FOR ROCKSTAR ENERGY HUSQVARNA'S COLTON HAAKER IN IDAHO FALLS
A podium finish on night two of this weekend's 2023 AMA EnduroCross Championship double-header in Idaho completed a fine outing for Rockstar Energy Husqvarna Factory Racing's Colton Haaker, backing up his fourth position on Friday and making for a consistent two rounds of nail-biting action.
Round 3 saw Haaker race to 4-1-5 moto scores, with mid-field starts the only thing holding him back as he demonstrated race-winning speed during the second moto of the night. His tally would place him just off the box in P4 overall.
The second leg of the double-header, Round 4 on Saturday, once again showed Haaker's poise and finesse onboard his FX 350, rocketing to a closely-contested fourth-place finish in the opening moto. A come-from-behind ride in Moto 2 saw the number 10 capture the lead by the mid-point, racing to a winning performance that saw Haaker fend off his nearest rivals for a decisive race victory.
Fourth place in the third and final moto was enough to seal the final step on the round podium for Haaker, who inched closer to the series lead with his Idaho Falls results, now sitting in P4 overall and only 21 points off the championship lead.
"It was an eventful night of racing here in Idaho!" recalled Haaker. "I really had to work for this one in each race, not getting the best of starts and then having to fight my way up into position. The track had a few passing opportunities if you were creative, so I found some lines that were working for me and that helped a lot. Rounds 3 and 4 were decent here, we showed a lot of promise with two race wins, although I just need to put it all together to get back toward the title fight."
Teammate Ryder LeBlond experienced a more difficult outing within Hero Arena, despite charging to a promising P3 finish during the opening race of Round 3. As is the nature of EnduroCross, the tight confines can lend itself to chaos at times, and incidents with other riders during races two and three resulted in 11-8 finishes, leaving LeBlond with seventh place overall on Friday evening.
A lowly start to Round 4's opening encounter saw LeBlond charge his way up through the field, as he crossed the line in 10th place. Consistent 6-5 results across the two remaining motos earned LeBlond another seventh-place overall for the weekend, and he's currently fifth in the standings.
"Not a great two nights of racing here in Idaho, and we salvaged what we could, although the starts really hurt us," commented LeBlond. "I put myself in bad positions across each of the rounds, which is on me, although we'll go back to work now and come back and aim for the podium at the next one."

Round 5 of the 2023 AMA EnduroCross Championship heads to Redmond, Oregon, at the First Interstate Bank Center on Saturday, November 11.
EX Pro Results – Round 3
1. Trystan Hart, KTM, 1-2-1
2. Jonny Walker, Beta, 2,4,3
3. Cody Webb, Sherco, 5-3-2
4. Colton Haaker – Rockstar Energy Husqvarna Factory Racing, 4-1-5
…
7. Ryder LeBlond – Rockstar Energy Husqvarna Factory Racing, 3-11-8

EX Pro Results – Round 4
1. Trystan Hart, Beta, 1-2-2
2. Cody Webb, Sherco, 2-3-1
3. Colton Haaker – Rockstar Energy Husqvarna Factory Racing, 4-1-4
…
7. Ryder LeBlond – Rockstar Energy Husqvarna Factory Racing, 10-6-5

EX Pro Championship Standings
1. Jonny Walker, 103 points
2. Trystan Hart, 92
3. Cody Webb, 92
4. Colton Haaker – Rockstar Energy Husqvarna Factory Racing, 82
5. Ryder LeBlond – Rockstar Energy Husqvarna Factory Racing, 67
---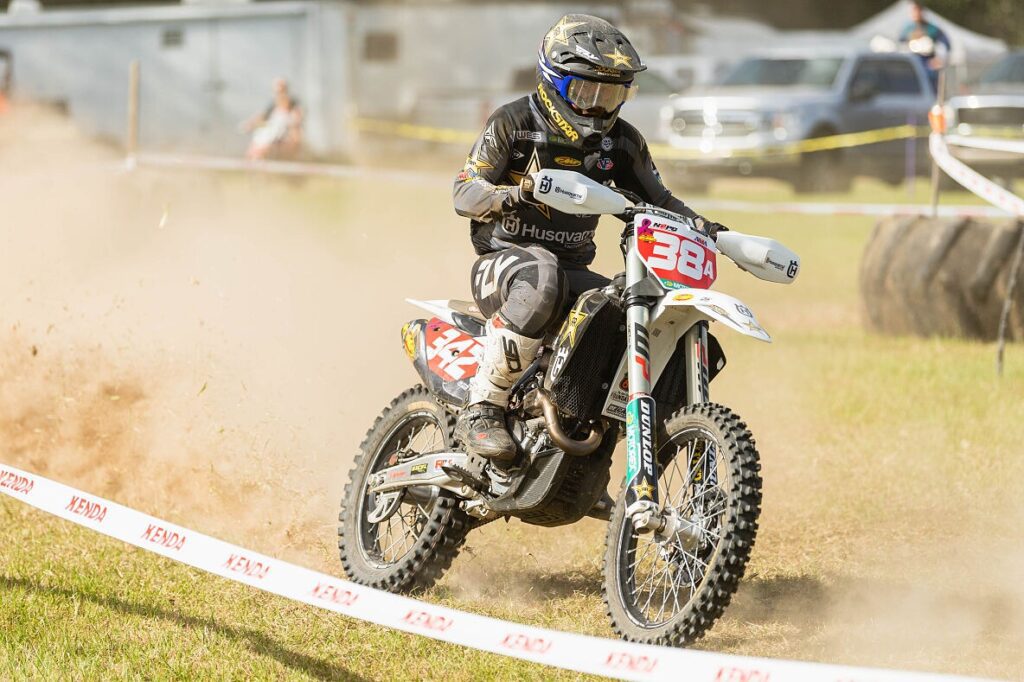 P6 FOR ROCKSTAR ENERGY HUSQVARNA'S CRAIG DELONG TO CONCLUDE 2023 NATIONAL ENDURO SEASON
Rockstar Energy Husqvarna Factory Racing's Craig DeLong delivered a solid day of racing at the ninth and final round of the 2023 AMA National Enduro Series (NEPG), securing sixth place in the NE Pro1 Class at the Gobbler Getter National Enduro in Stanton, Alabama, on Sunday.
On a dusty, technical circuit, DeLong posted a ride that saw him fluctuate between P5 and P8 in each respective test, eventually crossing the line in sixth position to conclude his National Enduro campaign for this year.
Completing a busy schedule of racing in 2023, DeLong's NEPG pursuit included victory at round four of the championship, along with a further six top-five finishes, which secured the FX 350 pilot fourth overall in the NE Pro1 Class series standings.
"Today was an okay day here in Alabama," said DeLong. "I rode smooth and consistent, only falling on one occasion early in the race. After last weekend's GNCC round I just wanted to finish the year healthy and with a strong result, which I think we achieved here today. I'm looking forward to defending the GNCC championship next year and contending for the Sprint series title."
Teammate Trevor Bollinger experienced a difficult day at the final round of the NEPG Series, with the Rockstar Energy Husqvarna racer tipping over during the opening test after running in P8, which resulted in a finger injury that forced him into an early retirement for the weekend.
Bollinger's 2023 campaign was marred by unfortunate injuries, including a broken scapula early on in the season, with a fifth-place result at the eighth round of the NEPG season showcasing his outright pace in enduro competition.
"I was really excited to finish the season off strong here in Alabama," commented Bollinger. "Unfortunately, a tip-over in the first test gave me a pretty severe finger injury to my pinky, which forced me to retire. We'll heal up over the off-season and put in a good pre-season to return strong for next year. Thank you to my team and all those in my corner."
NE Pro1 Class – Gobbler Getter results
1. Steward Baylor (KTM), 151:08.850
2. Grant Baylor (Kawasaki) +41.844
3. Josh Toth (GASGAS) +1:05:450
…
6. Craig DeLong – Rockstar Energy Husqvarna Factory Racing
NC. Trevor Bollinger – Rockstar Energy Husqvarna Factory Racing
---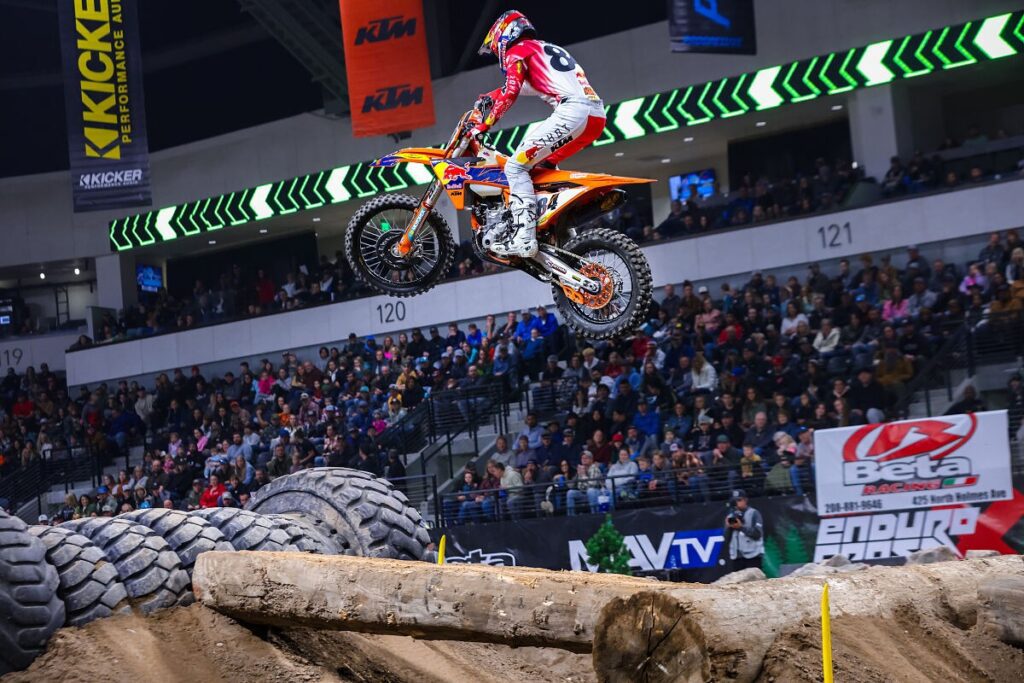 FMF KTM FACTORY RACING'S TRYSTAN HART SWEEPS IDAHO FALLS ENDUROCROSS DOUBLE-HEADER
IDAHO FALLS, Idaho. – Victory on both nights of competition at Rounds 3 and 4 of the 2023 AMA EnduroCross Championship has firmly placed FMF KTM Factory Racing's Trystan Hart in title contention following this weekend's double-header event in Idaho Falls.
Friday's action saw Hart capture a 1-2-1 moto scorecard, earning the Canadian his first EnduroCross overall round win of the season and setting the tone for Saturday, where he again managed to stand on top of the EX Pro podium.
The momentum continued as Hart powered his KTM 350 XC-F to the all-important holeshot in Saturday's opening moto, racing to a wire-to-wire victory with a comfortable gap of three seconds by race's end. Second place in the following moto after running down the leader then placed the number 84 in a strong position to capture his second successive round victory in Idaho.
Hart hooked up once more off the start in Moto 3, as he found himself in third position by the midway mark of the race, before completing a final-lap pass for second,earning him the round overall. Dual wins see Hart surge his way back toward the front of the series leaderboard, now sitting in P2 and just 11 points outside of the lead.
Trystan Hart: "Tonight was a crazy race, with three different winners across each moto. I got the first win and then Colton [Haaker] and Cody [Webb] rode strong to grab the other two. I put an aggressive move on Colton at the end there to get the overall, but two wins here in Idaho is a great way to get our season back on track! A big thank you to the team for all the testing we've done – you really have to earn your wins here in this series, although I feel like we're back on track now."
The 2023 AMA EnduroCross Championship heads to Redmond's First Interstate Bank Center, Oregon, for Round 5 of this year's championship on November 11.
EX Pro Results – Round 4
1. Trystan Hart, KTM, 1-2-2
2. Cody Webb, Sherco, 2-3-1
3. Colton Haaker, Husqvarna, 4-1-4
EX Pro Championship Standings
1. Jonny Walker, 103 points
2. Trystan Hart, 92
3. Cody Webb, 92
---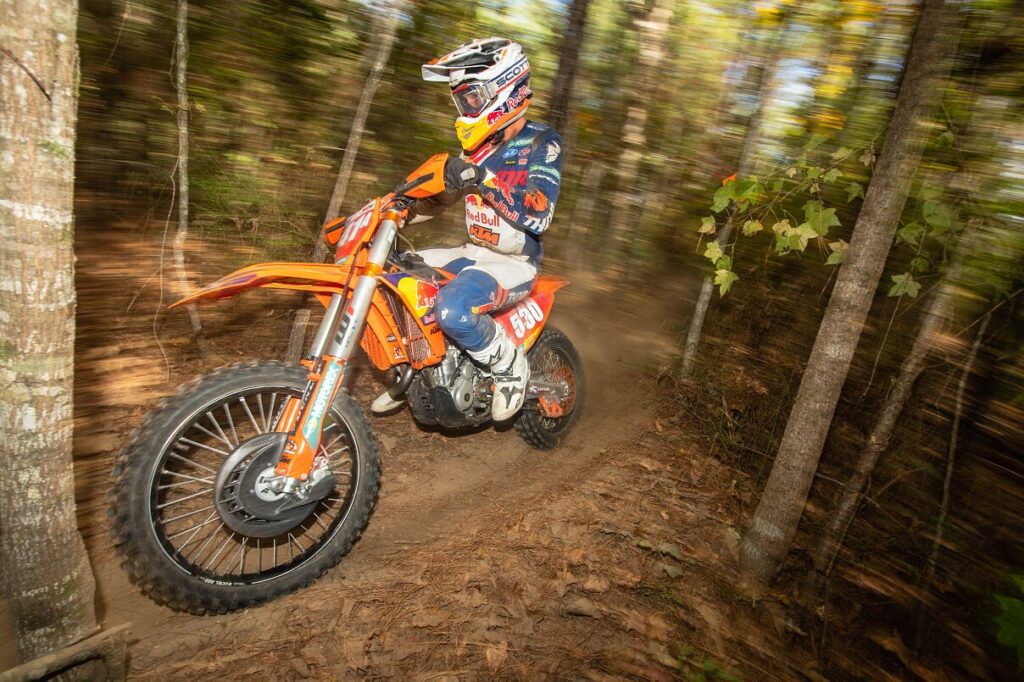 BEN KELLEY BATTLES TO SEVENTH POSITION IN GOBBLER GETTER NATIONAL ENDURO
STANTON, Ala. – FMF KTM Factory Racing's Ben Kelley completed his season with a seventh-place finish at the Gobbler Getter National Enduro this weekend, as KTM-supported Steward Baylor captured the NE Pro1 Class victory at the ninth and final round of the 2023 AMA National Enduro Series.
For Kelley, the dry and dusty terrain, combined with technical single-trail in his return to enduro competition, marked a challenging day, posting a measured ride aboard his KTM 350 XC-F to cross the line in seventh place after recording a pair of fifth-place times across the final two tests.
Contesting select National Enduro rounds this season, Kelley scored a season-high fifth-place finish at the seventh round of the championship, finishing with P8 in the NE Pro1 Class series overall classification.
Ben Kelley: "The conditions were very dry and dusty here in Stanton, with the beat up trails and tight single track making for a challenging and physical day. This being my first enduro in some time, I was off the pace of the leaders, although I did the best I could to fight hard in each test, finishing my race with two fifth place test times."
Entering the Gobbler Getter National Enduro Series round with the momentum of winning the previous three races, Baylor would prove once again to be the class of the field, with the KTM-supported racer posting the fastest test times in four of the seven stages en route to the overall round win.
A multi-time series champion, Baylor claimed runner-up in this year's AMA National Enduro Series, with four round wins achieved during the season.
NE Pro1 Results
1. Steward Baylor Jr, KTM, 1:51:08.850
2. Grant Baylor, KAW, +41.844
3. Josh Toth, GAS, +1.05.450
OTHER KTM
7. Ben Kelley, KTM, +5.36.218
---
Share