POWERSPORTS DIVISION
Working for Bel-Ray, I am often called upon to produce content for not only our website but for additional publications as well. Below is a recent article I wrote for our monthly Tech Notes Technical publication.
See more Bel-Ray Tech Notes here.
Why Bel-Ray Supports Powersports Racing
Since the early days of motorcycle racing, Bel-Ray has provided support and sponsorship to racers in their quest for victory. Racers like Roger DeCoster and Brad Lackey raced to World Championships using Bel-Ray products and proudly displaying the Bel-Ray logo. For Bel-Ray, however, racing is more than a sticker on a fender; it is more than an advertising or marketing opportunity. For Bel-Ray, supporting powersports racing is a chance to make a better product.
Professional racing puts finely tuned machines to the most extreme tests of performance. Under these tests, only the best products survive. Working with the top racers in the sport, Bel-Ray can take existing products and improve their performance. Additionally, these teams and riders help Bel-Ray develop and perfect new products for consumer use.
Bel-Ray's Blue Tac Chain Lube is an excellent example of a product developed through racing. Several years ago Bel-Ray was approached by a prominent World Superbike team to develop a chain lube that would not fling off under the demands and speeds of world championship racing. Bel-Ray R&D technicians and race team members worked together through several formulas to develop the chain lube that you see on dealers' shelves today. By using professional racing as a test bed, results can be obtained more quickly and in a more controlled environment than a typical focus group of retail consumers.
In 2012 Bel-Ray has been working very closely with the Rockstar Energy Racing Suzuki team to develop new products that will eventually find their way to dealerships around the world. Bel-Ray representatives are on site at racing events discussing with the riders and mechanics the pros and cons of various formulas and types of product. Samples of new products in use are typically obtained, following a day of racing, for analysis back in their lab. This lab work, coupled with real-world test data, results in the development of the highest performing products.
So when you see a Bel-Ray racer on TV or at an event, you will know they are making the product you use better.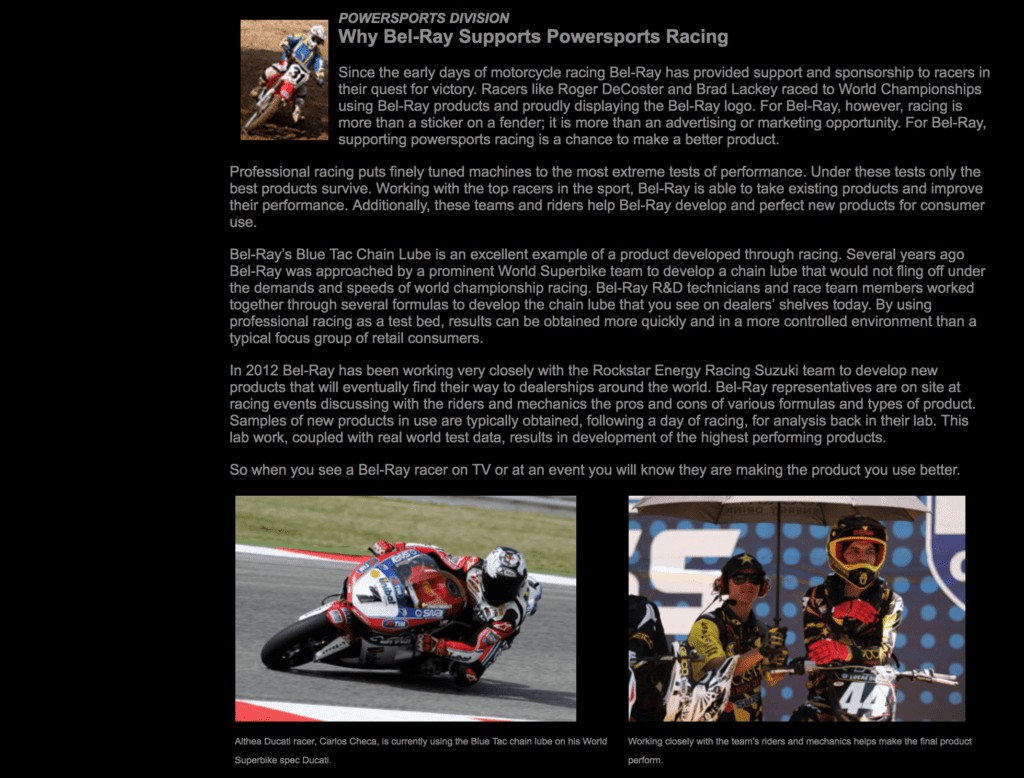 Share