Here are a few stories that came across my desk that I think are relevant and interesting to the powersports business community.
---
1 – JOINT ANNOUNCEMENT OF ARAI HELMET AND TUCKER POWERSPORTS – From Arai Helmet and Tucker Powersports
Arai Helmet and Tucker Powersports have decided to end our business relationship as of September 16, 2022. This decision was based on the business plans of both companies. Tucker and Arai appreciate the long relationship they have enjoyed and wish each other the best in their future endeavors.
Should you have any questions about Arai Helmet products, please do not hesitate to contact Arai Helmet. Arai's contact information can be found below:
Arai Helmet, Inc., Allentown, PA
Phone: 610-366-7220
For dealers: [email protected]

Dealers should contact Tucker Powersports about any pending orders with Tucker for Arai Helmet products or other helmet questions. Tucker will continue to sell through existing inventory of Arai Helmet products:

Tucker Powersports, Fort Worth, TX
Phone: 800-347-1010
Email: [email protected]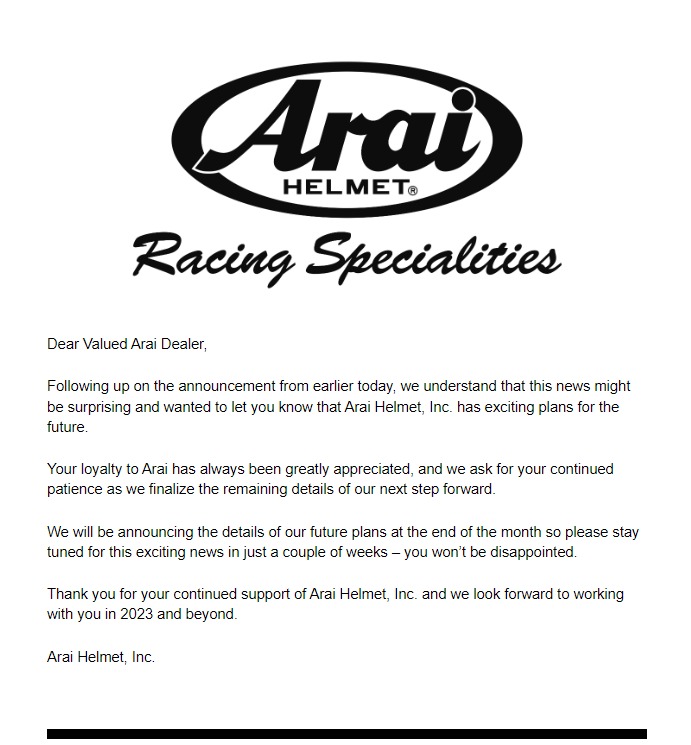 ---
2 – NPA names members of 2022 Winners Circle for sales success – From Powersports Business
National Powersport Auctions (NPA) has announced its 2022 Winners Circle members. Eight Territory Sales Managers from across the nation were acknowledged for exceeding annual sales goals.
"These sales managers crushed their territory goals and we are proud to have them as part of the NPA family. We look forward to another strong year from the entire team with our new territory goals," said Mike Murray, vice president of Sales.
SEE THE ENTIRE POST HERE – https://powersportsbusiness.com/top-stories/2022/09/19/npa-names-members-of-2022-winners-circle-for-sales-success/
---
3 – SEGWAY POWERSPORTS WELCOMES GABRIEL CRUZ AS MARKETING DIRECTOR – From Segway
Segway Powersports Inc., a growing manufacturer in the powersports Industry, has named Gabriel Cruz its new marketing director.
Cruz joins Segway with over 12 years of distinguished marketing performance, having driven growth and improvement within evolving organizations through the strategic vision and execution of creative marketing initiatives. During his most recent tenure as Director of Marketing for one of the Top 5 powersport OEMs in the U.S., Cruz led the brand to record profits during Covid-19 and played a key role in leading the brand's presence in the Canadian market, as well as launching its Mexican manufacturing facility.
Cruz was also tasked with developing new business, where he was able to create a marketing distribution system that accounted for over 120 new dealers and 46% of dealer revenue growth — unprecedented numbers for the company.
"It is an exciting time at Segway," says Shane Wilson, vice president of Segway Powersports Inc. "As we continue to grow, it is important that we are adding leading-edge professionals to our team. We are thrilled to have Gabriel join our team as he will be instrumental in propelling the Segway brand further along in our powersports journey."
In his new role as Marketing Director, Cruz is excited to be expanding and directing comprehensive growth of the Segway brand within the powersports Industry. His objective to enrich Segway's marketing efforts will be focused on creating healthy and dependable relationships with Segway's valued dealer partners.
ABOUT SEGWAY
Since 2012, Segway-Ninebot has been dedicated to leading the innovation of short-distance transportation and robotics. As a high-tech enterprise integrating R&D, manufacturing, sales, and service, Segway-Ninebot owns over 1,000 basic core patents in global industries which have been applied to products in multiple areas including innovative mobility, robotics, and the powersports industry. A subsidiary of the Segway-Ninebot Group, Segway Powersports shares the Segway mission, to infuse technology into innovative products that "simplify the movement of people and objects" and adhere to the motto "Fear No Place."
For more info: www.segwaypowersports.us and follow them on social media @segwaypowersportsus.
---
4 – KTM Will Assist MV Agusta With Distribution of Motorcycles in North America – From KTM
MV Agusta and KTM AG, a subsidiary of PIERER Mobility AG, have signed a commercial agreement for the distribution of the iconic Schiranna motorcycles in the U.S., Canada, and Mexico.
The deal, extending over several years, focuses on the distribution, the promotion and customer service of the MV Agusta range of motorcycles by KTM AG's North American subsidiary. On one hand, the strength of the brand and the exclusivity of its motorcycles, a symbol of Italy's design and engineering excellence, and on the other hand KTM AG's extensive and solid commercial organization, will support the growth of MV Agusta in the North American region.
The agreement is part of MV Agusta's strategic plan, which envisions a significant growth in the coming years. KTM AG group will create a dedicated US-based legal entity, which will be in charge of all MV Agusta operations in North America. Going forward, MV Agusta motorcycles will be distributed through both, select KTM AG dealers as well as existing and new MV Agusta stores.
Timur Sardarov, CEO at MV Agusta Motor S.p.A. commented: "I am thrilled by this agreement between two historic European motorcycle manufacturers. I am confident that KTM's extensive and professional sales organization paired with the strong appeal of our brand in the region will bring great benefits to both companies. Thanks to our cooperation we will create synergies that will enable us to accelerate our growth strategy in North America."
Hubert Trunkenpolz, Member of the Executive Board at KTM AG, said: "We are extremely excited to start a new partnership with such a historic motorcycle brand. Our brands are going from strength to strength everywhere in the world, particularly in North America where we will exceed 100,000-unit sales in 2022 with the KTM, Husqvarna and GASGAS motorcycle brands. Taking on the distribution of the MV Agusta brand will complement our extensive premium motorcycle range. With the addition of the most iconic Italian luxury motorcycle brand to our KTM North America operations, we are able to ensure support to all North American motorcycle enthusiasts as well as bringing exciting new business opportunities to existing and new dealers."
---
5 – YAMAHA BICYCLES EXPANDS SALES TEAM AS INVENTORY ARRIVES FOR U.S. MARKET
Yamaha Bicycles, a pioneering leader in e-bikes for nearly 30 years, is adding to its sales team, filling new positions in the Northeast and Midwest this year as inventory of new bike models arrive in retail. Danielle Strader has taken the newly created position of field sales and marketing representative for the Northeast region covering New York, Vermont, New Hampshire, Maine, Massachusetts, Rhode Island, Connecticut, New Jersey, Delaware, Maryland, the District of Columbia, Pennsylvania and Ohio, while Yamaha is also actively seeking to fill another new and similar position in the Midwest.
"We're expanding our regional sales force in lockstep with our ever-expanding network of retail partners and model lineup that now comprises some of the best-in-category fitness and commuter e-bikes, full suspension e-mountain bikes, and drop bar e-gravel bikes," said Drew Engelmann, national sales and marketing manager at Yamaha Power Assist Bicycles. "While we, along with the entire cycling industry, have been experiencing supply chain challenges, I'm excited to report that we now have new inventory actively shipping out to our retail partners across the country. The timing is perfect to bolster our team on the East Coast, with Danielle bringing such a wealth of experience in cycling and passion for the Yamaha brand."
Strader has worked professionally in the bicycle industry for over a decade as a bicycle mechanic and shop owner. She has also worked in non-profit advocacy and education for bicycle mechanics across the country, helping develop certification programs and resources. As a lifelong motorsports enthusiast, she is right at home at Yamaha as the company bridges the gap between the two industries.
"It is an extremely exciting opportunity to join this pioneering brand in power-assist bicycles and, of course, one of the world's leading brands in motorsports," Strader said. "Yamaha's team is as passionate as its customers, and we're still on the front end of what I expect is an extraordinary growth opportunity for e-bikes and the Yamaha Bicycle group in the U.S."
Next year will mark the 30th anniversary of when Yamaha launched the world's first electrically power-assisted bicycles in 1993. Since then, Yamaha has sold more than 5.5 million e-bikes worldwide, making it one of the largest e-bike original equipment manufacturers in the world. An overview of Yamaha's history in e-bikes is here: https://www.yamahabicycles.com/the-yamaha-evolution/
Yamaha Power Assist Bicycles is part of the Smart Power Vehicle Division of Yamaha Motor Corp., USA. The Yamaha Bicycles lineup includes a variety of power-assist bicycles for fitness, fun, commuting and serious recreation. View Yamaha's full line of Power Assist Bicycles at www.YamahaBicycles.com and find a local retailer at Yamaha's dealer locator. See future Yamaha Bicycle models at https://www.yamahabicycles.com/future-ebikes/.
---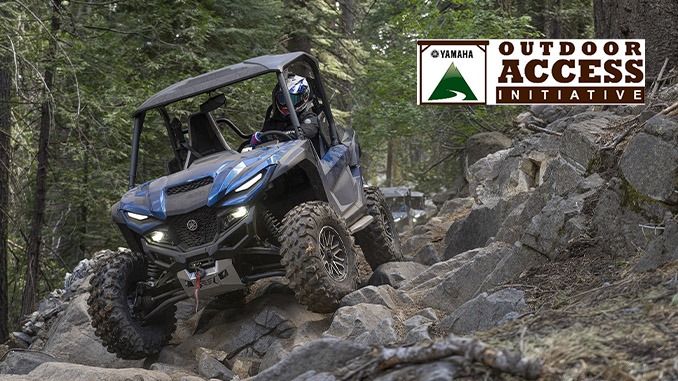 6 – Yamaha Pledges $500K, Urges All to Get Outdoors on September 24 – From Yamaha Motor Corporation USA
Yamaha Motor Corp., USA, is encouraging people to get outside and enjoy the outdoors on Saturday, September 24, 2022, in honor of National Public Lands Day and National Hunting and Fishing Day (NHF Day). In recognition of these events, the Yamaha Outdoor Access Initiative (OAI) is renewing its annual pledge to commit $500,000 to organizations supporting access to land for outdoor recreation and encouraging applications for grants before the next quarterly deadline on September 30.
National Public Lands Day invites volunteers nationwide to help restore and preserve public lands – from national parks to local urban green spaces – directly aligning with Yamaha OAI's goal of protecting public lands for outdoor recreation. To date, the Yamaha OAI program has contributed over $5 million in funding and equipment across more than 425 projects in the last 14 years to assist outdoor recreationists working to protect and improve access to public land and educate everyone on safe, sustainable recreational use. Yamaha OAI has proven to be the industry's most reliable partner and a significant resource for those who depend on access to public land for work and play.
Additionally, on September 24, National Hunting and Fishing Day is celebrating its 50th anniversary. NHF Day events are organized each year by Wonders of Wildlife to spread awareness of the conservation and economic benefits, as well as traditions and values of hunting and fishing. Yamaha OAI is a founding partner of Wonders of Wildlife's Live It! program and a supporter of its efforts to expand NHF Day events across the country. These events play a significant role in expanding awareness of the issues facing public access and outdoor recreation, and the Live It! program supports local conservation groups wanting to host or enhance NHF Day events, but are limited in their resources.
Since access to public land is best protected by visitors' responsible and sustainable practices, Yamaha OAI partners with Recreate Responsibly Coalition (RRC) on a variety of activities, including signage for land managers to educate visitors on appropriate, responsible use of trails and riding areas. Those interested in applying for the signs can simply complete a form at the following link: Yamaha OAI / RRC Responsible Use Signage Request.
"Last year we made a commitment to grant half a million dollars to outdoor projects, and we're proud to say we exceeded that goal," said Steve Nessl, Yamaha's Motorsports marketing manager. "Our lives are rooted in the outdoors and Yamaha's direct and significant financial support of Wonders of Wildlife, Recreate Responsibly, and so many other outdoor organizations help make recreation on public lands possible. In celebration of National Hunting and Fishing Day and National Public Lands Day, we're excited to renew our annual commitment to make a minimum of $500,000 available in 2022 to organizations who help create opportunities for outdoor recreation."
The Yamaha OAI program encourages riding clubs, land stewardship associations, and public land managers to work together with Yamaha dealers to identify projects and apply for support. Yamaha OAI is a one-stop resource for outdoor organizations seeking support for their next project. Visit YamahaOAI.com for application details, or examples of some typical projects the program supports for inspiration.
The application deadline for consideration in the third quarter of the 2022 funding cycle is September 30, 2022. Submission guidelines and an application for a Yamaha OAI grant are available at YamahaOAI.com. Connect with Yamaha on social media via @YamahaOutdoors or search any of the following hashtags on all platforms: #Yamaha #YamahaOAI #REALizeYourAdventure #ProvenOffRoad #AssembledInUSA
About the Yamaha Outdoor Access Initiative
Since 2008, the Yamaha Outdoor Access Initiative has led the Powersports industry in supporting responsible access to our nation's public lands for outdoor enthusiasts. With more than $5 million contributed to 425 projects across the country, Yamaha has directly and indirectly supported thousands of miles of motorized recreation trails, maintained and rehabilitated riding and hunting areas, improved staging areas, supplied agricultural organizations with essential OHV safety education, built bridges over fish-bearing streams, and partnered with local outdoor enthusiast communities across the country to improve access to public lands. Each quarter, Yamaha accepts applications from nonprofit or tax-exempt organizations including OHV riding clubs and associations, national, state, and local public land-use agencies, outdoor enthusiast associations, and land conservation groups with an interest in protecting, improving, expanding, and/or maintaining access for safe, responsible, and sustainable public use.
Updated guidelines, an application form, information, and news about the Outdoor Access Initiative are available at YamahaOAI.com. For specific questions about the Yamaha Outdoor Access Initiative, call the dedicated hotline at 1-877-OHV-TRAIL (877-648-8724), email [email protected], or write to:
Yamaha Outdoor Access Initiative
Yamaha Motor Corp., USA
3065 Chastain Meadows Parkway, Bldg. 100
Marietta, GA 30066
About Yamaha Motor Corporation, USA
Yamaha Motor Corporation, USA (YMUS), is a recognized leader in the outdoor recreation industry. The company's ever-expanding product offerings include Motorcycles and Scooters, ATV and Side-by-Side vehicles, Snowmobiles, WaveRunner Personal Watercraft, Boats, Outboard Motors, Outdoor Power Equipment, Power Assist Bicycles, Golf Cars, Power Assist Wheelchair Systems, Surface Mount Technology (SMT) and Robotic Machines, Unmanned Helicopters, Accessories, Apparel, Yamalube products, and much more. YMUS products are sold through a nationwide network of distributors and dealers in the United States.
YMUS has a corporate office in California, two corporate offices in Georgia, facilities in Wisconsin and Alabama, and factory operations in Tennessee and Georgia. Additional U.S.-based subsidiaries include Yamaha Marine Systems Company (YMSC) with divisions Bennett Marine (Florida), Kracor Systems (Wisconsin) and Siren Marine, Inc. (Rhode Island), Skeeter Boats (Texas), with division G3 Boats (Missouri), and Yamaha Precision Propeller (Indiana).
ATVs over 90cc are recommended for use only by riders 16 years and older.
SxS Vehicles are recommended for use only by licensed drivers 16 years and older.
---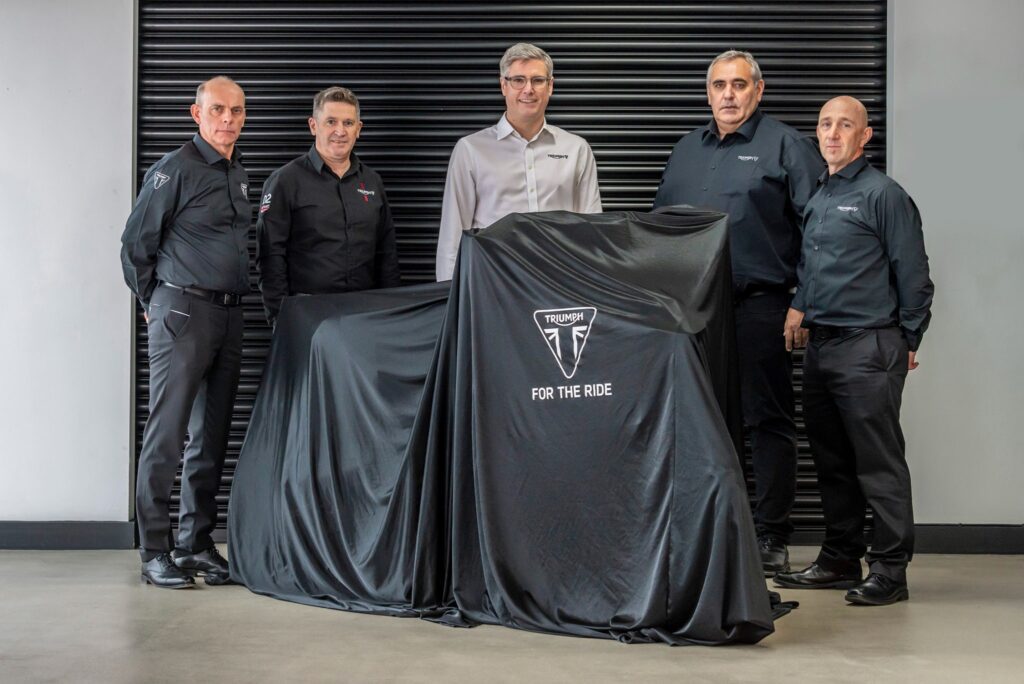 7 – TRIUMPH RACING: MOTOCROSS WORLD CHAMPIONSHIP TEAM ANNOUNCEMENT – From Triumph Motorcycles
Triumph Motorcycles confirms plans to compete in the prestigious FIM Motocross World Championship in 2024, with a factory supported race programme under an all-new Triumph Racing banner.
This landmark new Triumph Racing Team has been set-up in partnership with Thierry Chizat-Suzzoni, one of the sport's most experienced and successful team owners, who will field two of Triumph's all-new 250cc 4-stroke MX bikes in the 2024 MX2 class and will add an entry into the 450cc MXGP class in 2025.
Under the new Triumph Racing banner, which will now cover all of Triumph's racing-related activities including Moto2 and Supersport racing, the partnership between Triumph and Thierry will encompass his well established and highly successful team structure and facilities. Further under-pinning the ambition and commitment to win central to this new partnership, Triumph is also pleased announce that his long-standing Team Manager, Vincent Bereni, will continue leading the team with a full crew of highly experienced technical staff all focused on bringing Triumph to the pinnacle of motocross racing performance.
The new long-term partnership between Triumph and Thierry reflects a shared goal and commitment to build depth and success into Triumph Racing's approach to competition. As a part of Triumph Racing's portfolio of commitments, Thierry and Vincent's team will focus on the FIM Motocross World Championship – in MX2 and MXGP, together with development of technology and talent to build Triumph's future strength in international motocross racing.
Thierry and Vincent's past racing record speaks for itself – with over 80 MXGP World Championship victories and a huge reputation for technical and preparation excellence. Backed by Triumph's in-house motocross design engineering department, which is responsible for the concept and development of its all-new MX and Enduro motorcycle range, Triumph Racing is committed to building its resources and performance capability with world-class knowledge and experience.
Triumph Racing is based at Triumph's Global Headquarters in Hinckley, UK, where the brand's research, design, engineering development and prototype build are located, and the Motocross World Championship team will be based at Thierry's race facility near Eindhoven in Holland, where race team personnel, operations and competition development will be housed. Engineering groups at the Triumph factory and the race team are working closely together on continuously enhancing chassis and engine performance through an intensive testing schedule underway in the USA, UK and mainland Europe, building towards the first MX2 Grand Prix of the 2024 FIM Motocross World Championship.
Testing of the new Triumph motocross and enduro bikes is well underway and information on the specifications, performance characteristics and components of each model will be released in due course, along with more news on Triumph Racing's entry into further top-tier Championships and categories.
Nick Bloor – CEO, Triumph:
"Our new partnership with Thierry demonstrates Triumph's long-term commitment to competing at the highest levels of racing. We share a passion for delivering world-class performance, and the experience Thierry and his team bring will prove invaluable in our ambition to make our mark on a very competitive championship. Our entry into the FIM Motocross World Championship with a Factory supported Triumph Racing team signifies a landmark moment at the beginning of our new top-tier off-road racing campaign".
Thierry Chizat-Suzzoni – Triumph Racing Team Owner (MX2 and MXGP):
"Triumph have made a major commitment to build an MX bike and go racing in the FIM World Motocross Championship. I am happy that my team is going to be the official Triumph Racing Team in MX2 and MXGP. Nick Bloor and the Triumph Board of Directors have made their long-term ambitions for the project very clear and I see a huge amount of passion from everyone at the Factory. I am happy with progress on the bike, it looks great, has speed on the track and Vincent and my staff are working with the engineers at Hinckley on building it into a competitive package for entry into the MX2 Championship in 2024. MXGP continues to grow around the world, I am very happy to be back and looking forward to going racing with Triumph".
David Luongo – CEO, Infront Moto Racing:
"It is a great news! Probably one the most important in recent years. Infront Moto Racing will welcome a new manufacturer in the MX2 and MXGP World Championship. We are talking about one of the most emblematic motorcycle brands in the world. Triumph will join our championship from 2024 with a full program in MX2 and MXGP categories. This is a very important announcement and is a fantastic sign about the interest and the importance of MXGP in the international motorsport scene. During the last 20 years, MXGP has been growing and has established globally. With an average of 19 events per year, it gives the best platform for manufacturers to develop their bikes, components and to advertise them worldwide. From Asia to South America, going through Europe, MXGP is covering all the different markets and is touching most of the off road fans in the world. It is with a great pride and excitement that we welcome Triumph to MXGP and we wish them a lot of success in the years to come and a great competition with the other Factory Teams already present!"
Jeremy Appleton – Global Racing Manager, Triumph:
"The launch of Triumph Racing is a pivotal step in our journey to bring Triumph to the pinnacle of racing across an even wider range of disciplines. Building on Triumph's success as the sole engine supplier to the Moto2 World Championship and our participation in Supersport racing, the move into MX2 and MXGP opens the door on a strategically important new chapter in top-tier off-road racing. We well know the demands of World Championship competition and that is the reason for forming the partnership with Thierry. Together with Vincent, their approach to racing and development of performance is impressive and we are looking forward to building the project together and adding to the success that they have already achieved in the Motocross World Championship"
Ricky Carmichael – Global Off-Road Ambassador, Triumph:
"I'm really excited about today's news. It's been a long time coming. Since the start of this project with Triumph, I have been amazed at just how hard everyone has been working. It must not go without mentioning, the whole R&D and engineering group that have been a part of the development of the motorcycles have done an absolutely incredible job. From the first stages of the prototypes, I was really taken back at how well the performance was, since then, being in the UK testing the newest developments, I can tell you that it has the capabilities of winning at the highest level and I personally believe the riders, from professional to amateur, across the entire range of off road models, will really like what has been developed!"
---
8 – Ski-Doo offers 14th year of free Avalanche Awareness Seminars – From Powersports Business
Ski-Doo believes in creating safe experiences for all riders and embarks on its 14th year of backcountry rider education with free avalanche awareness and avoidance seminars for snowmobilers.
Riders of all brands, at all levels of experience, are welcomed and encouraged to attend the in-person events with their fellow back country explorers to increase or refresh their knowledge in a fun atmosphere. The leader in avalanche safety gear, Backcountry Access (BCA), will again join the effort to support these seminars with equipment and in-depth knowledge of backcountry recreation safety.
READ MORE HERE – https://powersportsbusiness.com/top-stories/2022/09/23/ski-doo-offers-14th-year-of-free-avalanche-awareness-seminars/
---
Share