Here are a few stories that came across my desk that I think are relevant and interesting to the powersports business community.
---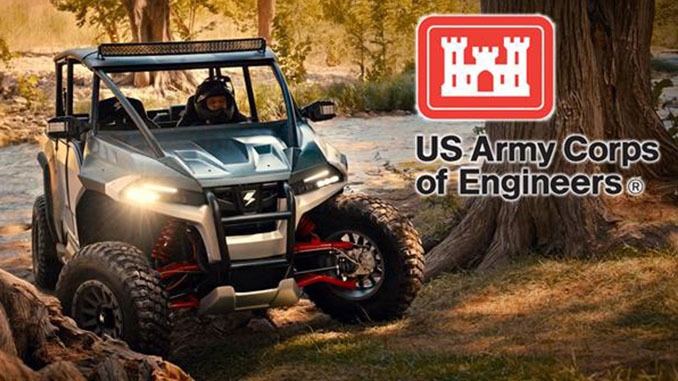 1 – Volcon Awarded First Stag UTV Order with US Army – From Volcon, Inc.
Volcon Inc. (NASDAQ: VLCN) ("Volcon" or the "Company"), the first all-electric, off-road powersports company, announced today that it has been awarded its first order to deliver two Stag UTV vehicles to the U.S. Army under the management of the U.S. Army Engineer Research and Development Center's (ERDC) Construction Engineering Research Laboratory (CERL).
The Stag, the Company's first all-wheel drive, fully electric UTV, powered by General Motors electric propulsion system technology, is expected to be delivered to two U.S. Army locations in mid-2023.
View the Volcon Stag in action here: https://www.volcon.com/stag
Awarded through the Department of Logistics (DLA) Tailored Logistic Program (TLSP), to be fulfilled by Noble, the slightly modified commercial version of the Stag will include a fully enclosed cabin, and will be evaluated to support the U.S. Army Corp of Engineers (USACE) disaster and emergency response missions, in accordance with the National Response Framework (NRF). Missions include emergency power support, emergency infrastructure assessments, debris removal, and urban search and rescue, which require rapidly deployable and energy efficient systems to successfully initiate and conduct emergency response, disaster, and contingency operations. In addition, ERDC-CERL's intent is to introduce the Stag to soldiers rotating through their training sites and look for other opportunities for military applications.
"This award is a significant first step into the federal government marketplace," says the Company's Vice President of Global Defense and Government Programs, Richard Tannery. "Given the increasing demand for government fleet electrification via the Department of Defense's Operational Energy Strategy, and now via executive order, we are well positioned to develop and deliver high performance electrified platforms to meet a diverse array of government applications."
As Volcon continues to enter new sales channels, their ability to rapidly prototype and leverage strategic partnerships and innovative collaborations has been met with increased interest by various defense and government entities to meet the aggressive timelines for fleet electrification.
About Volcon, Inc
Volcon Inc. is the first all-electric powersports company producing high-quality off-road vehicles. Based in Round Rock, Texas, Volcon joins many major electric vehicle companies located near Austin, Texas, an area that is poised to become the electric vehicle capital of the world.
Volcon was founded with the mission to enhance the outdoor experience while reducing the industry's environmental footprint so that adventurers and workers alike can enjoy the outdoors and preserve it for generations to come. Volcon produces all-electric, off-road vehicles designed to elevate the adventure experience and help people get things done at work and on the home front.
Volcon's first product, the innovative Grunt, combines a fat tire physique with high-torque electric power and a near-silent drive train which started shipping in September of 2021. Future two wheel models may include the Runt, which is a youth-sized version of the groundbreaking Grunt, and an e-Bike, the Brat. The Stag and Project X are expected to be Volcon's venture into the rapidly expanding world of UTVs and are expected in future years as the company continues to expand.
Volcon Contacts
For Media: [email protected]
For Dealers: [email protected]
For Investors: [email protected]
For Marketing: [email protected]
For more information on Volcon or to learn more about its complete motorcycle and side-by-side line-up, visit: www.volcon.com
Forward-Looking Statements
Some of the statements in this release are forward-looking statements, which involve risks and uncertainties. Although the Company believes that the expectations reflected in such forward-looking statements are reasonable as of the date made, expectations may prove to have been materially different from the results expressed or implied by such forward-looking statements. The Company has attempted to identify forward-looking statements by terminology including "believes," "estimates," "anticipates," "expects," "plans," "projects," "intends," "potential," "may," "could," "might," "will," "should," "approximately" or other words that convey uncertainty of future events or outcomes to identify these forward-looking statements. These statements are only predictions and involve known and unknown risks, uncertainties, and other factors. Any forward-looking statements contained in this release speak only as of its date. The Company undertakes no obligation to update any forward-looking statements contained in this release to reflect events or circumstances occurring after its date or to reflect the occurrence of unanticipated events. More detailed information about the risks and uncertainties affecting the Company is contained under the heading "Risk Factors" in the Company's Annual Report on Form 10-K and subsequently filed Quarterly Reports on Form 10-Q filed with the SEC, which are available on the SEC's website, www.sec.gov.
---
2 – Tucker Powersports Named Exclusive Distributor of Australia's High-Tech Forcite Helmet – From Tucker Powersports
Tucker Powersports today announced an exclusive distribution agreement with Forcite, the Australian maker of the Forcite MK1S, a high-tech motorcycle helmet with an integrated action camera, premium audio and a patented, LED display for road alerts and navigation. Tucker will distribute the helmet to its dealer network in the United States as part of this multi-year agreement.
Developed over six years at a cost of $5.8 million, the Forcite MK1S helmet does away with the need for bulky clip-on cameras or headsets and can alert riders of upcoming dangers before they arrive. Forcite launched its technology-heavy motorcycle helmet in Australia in 2020 and is expanding to the UK and EU in Q4 of 2022. There are currently over 2000 Forcite helmets in use in Australia.
The helmet was designed by a team of motorcyclists led by Co-Founders Alfred Boyadgis and Julian Chow who collaborated on R&D with riders, capturing thousands of points of on-road feedback, The helmet uses a patented, rider alert system and LED display to deliver information that improves the motorcycle riding experience with high-quality audio, instructions to ease navigation, and alerts to upcoming road hazards.
"We are constantly seeking partners and products that enhance the adventure of riding a motorcycle," said Tucker President and CEO Marc McAllister. "Forcite is clearly focused on that riding experience and on the future of our favorite pastime."
"We've created a motorcycle helmet that looks slick, and also packs a punch with cool features that lift the riding experience," said Alfred Boyadgis, co-founder of Forcite. "This new partnership with Tucker Powersports promises to deliver as both companies look to the future of what's possible in the motorcycle category."
The features of the Forcite MK1S are unmatched in the motorcycle helmet market and operate as a system (helmet, built-in electronics and a related Forcite app) to provide an engaged and connected riding experience.
The stylish helmet shell is hand-laid carbon fiber which has tremendous strength and makes the Forcite MK1S the lightest smart helmet on the market. It includes an eight-vent system for optimized airflow and meets ECE and DOT testing standards.
The Forcite helmets deliver road alerts and navigation through a unique, in-helmet LED display and audio cues which communicate navigation maneuvers, live traffic alerts, speed traps, road hazards and traffic enforcement. Positioned at the bottom of the visor, the in-helmet display is designed to be non-distracting, allowing riders to keep their eyes up and focused on the road ahead.
The Forcite MK1S also features high-end, in-helmet audio powered by removable, 40mm Harman Kardon speakers, which are integrated into the helmet's interior design, not a customer add-on. The speaker system is paired with two omni-directional microphones which are tuned for vocal clarity and wind reduction, allowing riders to take calls and create "voice over" video.
A built-in action camera offers HD 1080P resolution and automatically adjusts for low-light and night-time filming.
The helmet's face shield is a Pinlock 120 anti-fog shield and includes a quick release as well as a locking switch for track and high-speed use. The padding is 3D-formed foam with a contoured fit and cheek pads. A special neck roll design with a chin curtain reduces wind noise and results in even better audio quality.
The Forcite MK1S will be available in early 2023. Suggested retail price for the black, full-face helmet is $1099.
ABOUT TUCKER POWERSPORTS
Featuring the most powerful portfolio of parts, accessories and apparel brands in the powersports industry,Tucker distributes top brands and offers its own brands, including Answer, Biker's Choice, BikeMaster, Bully Locks, CoverMax, DragonFire Racing, FirstGear, Kuryakyn, ProTaper/ProTaper Sport, QuadBoss, Speed and Strength, and TwinPower.
About Forcite
Forcite is a Sydney-based technology company that has created a mass-produced smart motorcycle helmet with ECE and DOT certification, patented visual alerting system, integrated camera and audio technology. Co-Founders Alfred Boydgis and Julien Chow set out to create a helmet using technology available in high-end automobiles to help motorcycle riders avoid road hazards and enhance their ride. To date, over 2000 Forcite Helmets are in use in Australia. The company begins distribution in the UK, EU in 2022 and USA in Q1 of 2023.
---
3 – Accelerate Conference adds 27th state with California 5-location dealership on board – From Powersports Business
The 2022 Powersports Business Accelerate Conference added another influx of dealership registrations over the weekend, including a five-location dealership group in California, another five-location group from Florida and a three-location dealership from Wisconsin.
READ MORE HERE – https://powersportsbusiness.com/top-stories/2022/10/11/59336/
---
4 – BRP's collection receives prominent design awards – From Powersports Business
BRP has added four design and innovation awards to its existing collection, linking the design and powersports worlds. The Sea-Doo Switch received its fourth design award of the year, earning a gold award in the Automotive & Transportation category of the International Design Excellence Awards (IDEA).
READ MORE HERE – https://powersportsbusiness.com/top-stories/2022/10/12/brps-collection-receives-prominent-design-awards/
---
5 – Honda Makes Major Investment in Ohio to Create New Electric Vehicle Hub – From Honda
Honda today announced two major investments in Ohio, including $700 million to re-tool several of its existing auto and powertrain plants for production* of electric vehicles and $3.5 billion with LG Energy Solution (LGES) to establish a previously announced joint venture facility to produce the battery modules to power them, pending final government approvals. The JV battery plant will be located in Ohio's Fayette County, about 40 miles southwest of Columbus.
The announcement, held 45 years to the day after Honda announced its first production facility in Ohio — October 11, 1977 — will transform Honda's Marysville Auto Plant (MAP), East Liberty Auto Plant (ELP) and Anna Engine Plant (AEP) for the electrified future, including the creation of over 300 new jobs. Honda plans to begin production and sales of Honda EVs in North America in 2026, based on its new Honda e:Architecture. The $700 million re-tooling will enable AEP associates to produce the battery case, to be combined with the battery modules from the JV plant on a sub-assembly line at MAP, with the complete battery unit then installed in EVs built by associates at both MAP and ELP.
These Honda facilities, along with the new EV battery plant, will serve as a new EV hub in Ohio, and play a key role in developing the company's knowledge and expertise in EV production that will be shared across Honda's North American auto production network in the coming years. Honda's EV hub will leverage the company's longstanding production, product development, and purchasing operations located in Central Ohio.
As part of its goal to achieve carbon neutrality for all products and corporate activities by 2050, Honda announced a vision to make battery-electric and fuel cell electric vehicles represent 100% of its vehicle sales by 2040 in North America.
"This is a very challenging time for our entire industry, but also a very exciting time as Honda invests in full electric vehicle production in the Buckeye State," said Bob Nelson, executive vice president of American Honda Motor Co., Inc. "Honda has built hybrid-electric vehicles in Ohio for a number of years, and the experience and expertise of our associates in manufacturing, product development, and purchasing will serve as an important foundation as we transition to the electrified future."
Honda produced and sold a record of more than 100,000 electrified vehicles in the U.S. last year, including the Accord Hybrid, CR-V Hybrid and Insight hybrid sedan. Honda's new investment in its Ohio plants will support production of electric vehicles and EV components.
New EV Battery Production Joint Venture
Honda will obtain the battery modules from a new joint venture (JV) between Honda and LGES, subject to customary closing conditions, including regulatory approvals. That JV production facility represents a commitment to invest $3.5 billion in Fayette County, Ohio, and will employ 2,200 associates, who will produce pouch-type batteries to be provided to Honda plants for EV production.
Pending regulatory approvals, the joint venture between Honda and LGES will be established in 2022, with the overall investment projected to reach $4.4 billion. The two companies plan to begin construction in Fayette County in early 2023, in order to complete the new production facility by the end of 2024. This will enable the start of mass production of battery modules using advanced pouch- type, Li-ion cells by the end of 2025, with an annual production capacity of approximately 40GWh.
"Honda is proud of our history in Ohio, where our U.S. manufacturing operations began more than four decades ago. Now, as we expand Honda's partnership with Ohio, we are investing in a workforce that will create the power source for our future Honda and Acura electric vehicles," said Nelson. "We want to thank the leaders of the state of Ohio, as well as in Fayette County, Jefferson Township, Jeffersonville, and Washington Court House for welcoming this new joint venture between Honda and LG Energy Solution and giving us another Ohio community to call home."
Honda Manufacturing in North America
Honda has produced automobiles in North America for 40 years, beginning in November 1982 at the Marysville Auto Plant. Honda began manufacturing operations in North America in 1979 with motorcycle production in Marysville, Ohio.
Over the past four decades, Honda has steadily grown local production capabilities and now employs more than 30,000 associates at 18 plants with the annual capacity to produce 1.86 million automobiles, nearly 4 million engines, 500,000 power equipment products and 300,000 powersports products, as well as the HondaJet advanced light jet and GE Honda HF120 turbofan engines. In 2021, more than 95% of all U.S.-sold Honda and Acura automobiles were made in North America.
Cumulatively, Honda has invested nearly $24.6 billion in its North American manufacturing capabilities, including more than $3.6 billion over the past five years alone. The company works with nearly 800 original equipment suppliers in North America with cumulative parts purchases of more than $535 billion.
Learn more with the Digital FactBook.
* using domestic and globally sourced parts
---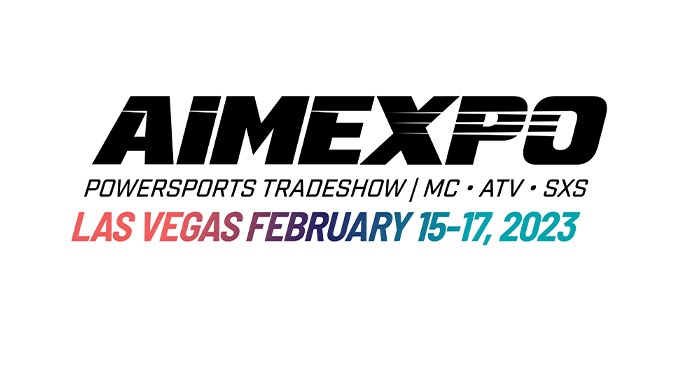 6 – AIMExpo Brings Largest-Ever E-Bike Pavilion to Powersports Show Bakcou, Recon Power Bikes, Surron among exhibit anchors – From MIC Events
The Motorcycle Industry Council's American International Motorcycle Expo is expanding the powersports trade show experience with its largest-ever E-Bike Pavilion and indoor demo course dedicated to this fast-growing market, with powerhouses Bakcou, Recon Power Bikes, and Surron Canada/USA among exhibitors.
"With nearly 2,000 dealers from around the country in one place, this is the perfect opportunity for e-bike manufacturers to showcase their products and make the right connections," said Andre Albert, director, marketing and events at AIMExpo. "And dealers or retailers considering adding e-bikes to your sales floor, this is where you want to be to try the products, ask the questions, and get the information you need to grow your business."
"AIMExpo is a must-attend event for Surron as we grow our operations and dealer network in North America," said Graeme Jones, director of marketing, Surron Canada/USA. "One of the biggest draws for us is the convenience of networking with dealers, industry, and media all in one place. The floor is always buzzing with positive energy, and the ability to offer demo rides will allow potential new dealers, partners, and customers to feel our product in the truest sense. We can't wait."
The e-bike market is estimated to grow from $49.7 billion in 2022 to $80.6 billion by 2027, according to market research platform MarketsandMarkets, and AIMExpo's E-Bike Pavilion brings new focus to this flourishing segment to the powersports industry. E-bikes are unique in that they appeal to two customer bases and bring them together: consumers from traditional motorcycle and scooter markets, and traditional bicycle consumers. E-bikes also help riders explore new options for commuting, recreation, transportation, and mobility.
AIMExpo, North America's largest powersports tradeshow, will be at the Las Vegas Convention Center February 15-17, 2023. For more information, go to www.AIMExpoUSA.com or click the link below to register. https://www.xpressreg.net/register/AIME0223/landing.asp
ABOUT AIMEXPO
AIMExpo is North America's largest Motorcycle and Powersports Tradeshow and Lifestyle event with international reach. A progressive and comprehensive B2B platform that connects businesses to accelerate opportunity among exhibiting brands, distributors, dealers, media, enthusiasts and the riders of tomorrow. This annual gathering attracts the influential leaders of the industry that are driven and focused on progressing the business of powersports.
ABOUT THE MOTORCYCLE INDUSTRY COUNCIL
The Motorcycle Industry Council, under its marquee market expansion brand, Ride With Us, is working to introduce everyone to the incomparable thrill of riding a motorcycle. The MIC is a not-for-profit trade association representing motorcycle manufacturers, distributors, aftermarket companies, dealers, retailers, and a variety of related organizations providing vital support to the powersports industry. The MIC advocates for fair policy and regulatory environments, works to deliver valuable data to the industry, and strives to bring the joy of riding to everyone, everywhere. Established in 1914, the MIC is headquartered in Irvine, Calif., with a government relations office in metropolitan Washington, D.C. Keep up with the industry association on Twitter @followMIC, online at MIC.org, and through the weekly MIC RideReport.
---
7 – 2LaneLife and Top Motorcycle Rental Company EagleRider Announce Partnership, Discounts – From 2LaneLife
With a shared passion for motorcycles and exploring the open road, 2LaneLife is excited to announce a partnership with EagleRider – the world's leading motorcycle rental and tour company with over 200 locations worldwide.
From exploring national treasures to mind-blowing scenery, there's no better way to build memories than on a motorcycle, which the 2LaneLife team knows very well and documents on their popular YouTube® channel. And they want more people to experience that magic.
Whether looking to rent Harley-Davidson® motorcycles or any of the other options EagleRider provides, riders can now receive a 5% discount when booking through the 2LaneLife website or or receive 2 extra rental credits by using the code 2LaneLife when signing up for Club EagleRider during checkout.
"EagleRider couldn't think of a better way to celebrate our 30th Anniversary than kicking off this relationship with 2LaneLife," stated Joe Arellano, Senior Marketing Manager at EagleRider. "These two embody our core values and the reason EagleRider was founded many years ago: For the love of motorcycles, traveling the open road on two wheels and fulfilling dream rides around the world."
To learn more about the 2LaneLife collaboration with EagleRider and begin your next adventure, visit the following link: https://2lanelife.com/blogs/eaglerider/rentals
Also, be sure to subscribe to 2LaneLife's YouTube channel: https://www.youtube.com/2lanelife
---
Share