Here are a few stories that came across my desk that I think are relevant and interesting to the powersports business community.
---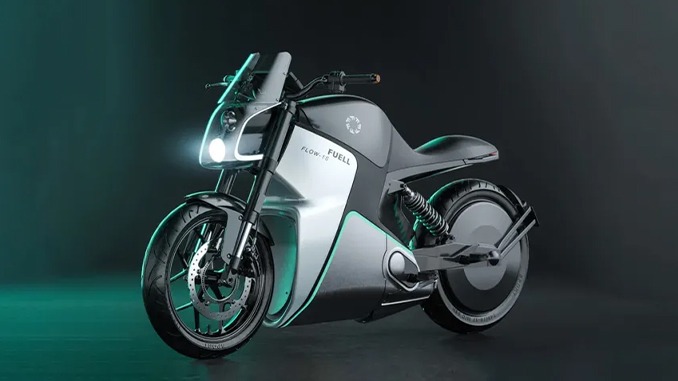 1 – FUELL Fllow – PreOrders are opening now! – From FUELL Inc.
We are thrilled to (re-)introduce you to the FUELL Fllow e-commuter: the brainchild of our legendary CTO, Erik Buell, and his great engineering team at FUELL.
Fllow is a modern "e-commuter" with a 10Kwh battery, an innovative wheel motor with a power of 47hp (optional 15hp), a highway-capable top speed, a high-voltage architecture, and a sub-30 minute fast charging time. All this is packed in a machine weighing less than 400 lbs.
You might remember FUELL Fllow from the reveal of the brand back in 2019. As a result of the global pandemic, FUELL had to slow down this project as supply chains were heavily disrupted, and specific development with suppliers had to be postponed.
Fast forward to today, and there is much good news for Fllow. The supply chain is returning to normal, and suppliers are ready to re-engage with FUELL to continue the development of specific technologies and parts.
Simultaneously to this pre-order campaign, FUELL is also building its network of importers, wholesalers, and dealers, and interested parties can contact [email protected]
The FUELL Team is at your disposal for any questions!
About FUELL Inc.
Founded in 2018 with the Franco-American convergence of Erik Buell, legendary engineer and founder of Buell Motorcycles, and François-Xavier Terny, serial entrepreneur with a sharp focus on innovation in product, process and business models, FUELL is a manufacturer of premium electric mobility solutions for urban center dwellers.
The company's products are designed starting with a blank sheet, rethinking every feature and component to deliver innovative, premium products for those seeking to rely on electric two-wheeled forms of transportation.
FUELL presents the best of personal mobility and freedom for premium customers, while offering unparalleled safety and advanced technology integrated with all the benefits of electric powertrains.
FUELL Inc. – [email protected]
---
2 – Garage Composites broadens ownership group – From Powersports Business
Garage Composites has announced the expansion of its ownership group with the addition of Glorita "Glo" Cuiffi. Cuiffi, chief operating officer of the company, is becoming a partner in the company that operates across North America and overseas in the powersports, marine and bicycle industries.
Cuiffi has been with the company for nearly five years during which Garage Composites rapidly expanded its dealership peer advisory groups (20 clubs) across multiple industries and diversified its training opportunities. The Denver-based company now provides F&I and service advisor training in addition to its in-depth service manager, sales manager and general manager training.
"We're going to continue to expand our training opportunities to our dealer-members who rely on us to provide a foundation of education to improve their profitability and customer and employee satisfaction," Cuiffi said.
Before joining Garage Composites, Cuiffi spent more than 17 years with Scott Fischer Enterprises, eventually becoming part of the Harley-Davidson dealership group's executive group.
"Glo brings tremendous industry experience to our organization," said Tony Gonzalez, CEO of Garage Composites. "It is not often that you can find someone that has the boots on the ground experience in retail combined with the business acumen to be a solid consultant. Glo will be a hands-on owner and will continue to make her mark on our family of clients."
"As well as being a client and friend in our 20-Clubs for years, Glo was the chief operations officer for the Scott Fisher Enterprises (SFE)," said Sam Dantzler, president of Garage Composites. "During her tenure there, SFE was in the process of acquiring multiple rooftops, including both Harley-Davidson and Powersports. From store operations and general management to multi-rooftop acquisitions and coordination, Glo has all the boxes checked. We are super excited to have Glo join us on the ownership team."
SEE ORIGINAL POST HERE – https://powersportsbusiness.com/top-stories/2022/11/21/garage-composites-broadens-ownership-group/
---
3 – DEALER NEWS: BARNEY'S CHANGES HANDS AFTER 76 YEARS – From Dealernews
Long before the purple dinosaur roamed the airwaves, Barney's Motorcycle & Marine was already a legendary dealership. However the story is just getting started as KC Wood and Todd Hempstead are selling all three Florida stores to another larger than life dealer, Dave Veracka in a deal brokered by George Chaconas and Courtney Bernhard from Performance Brokerage Services.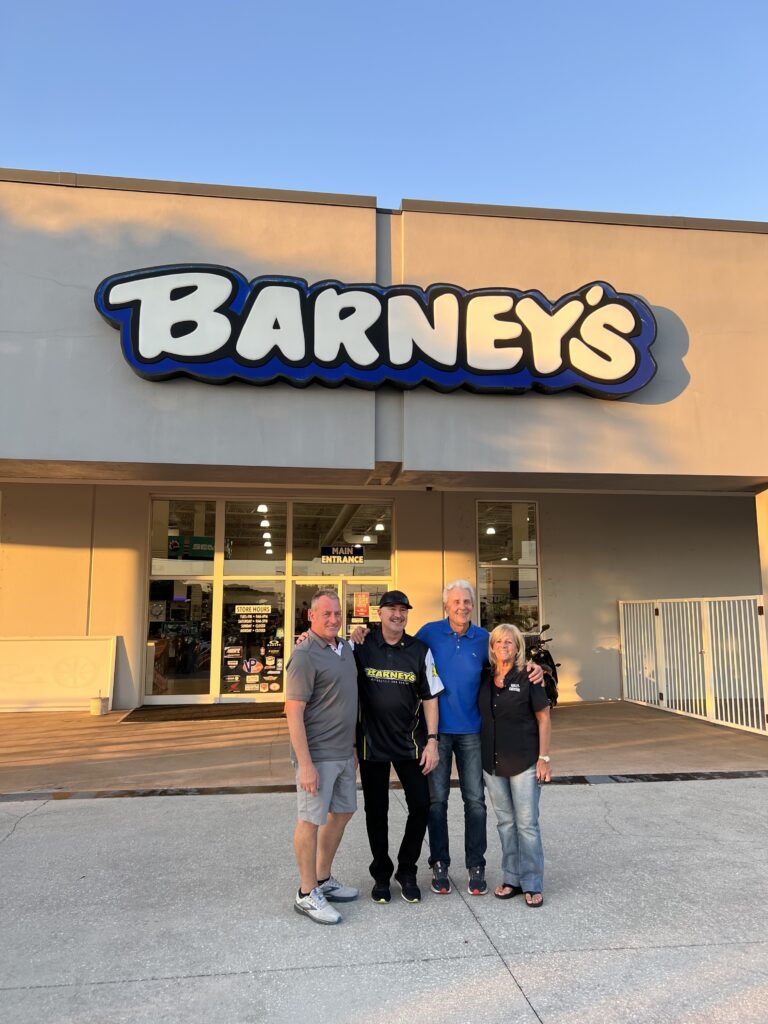 The story actually began in Bloomington, Illinois, with Harry "Barney" Barclay and his bride, Rosalee, a young couple in love. After World War II, with a shared passion for motorcycle riding and a $500 loan, Barney and Rosalee opened their first Indian dealership in Bloomington. Eager to share their love of riding with the community, the couple became very active in local riding groups, bike shows and racing. After realizing that their business had limited riding seasons in Illinois, the couple decided to move the dealership outside of Miami, where the business grew beyond their wildest dreams. In 1951, the dealership was relocated again to St. Petersburg, Florida, where the original building still stands, alongside a larger, well-recognized facility for motorists traveling to the beaches of the Gulf Coast.
KC Wood, grandson of the Barclay's, spent several decades working in the business with his uncle, Ray Hempstead. In 2004, Todd Hempstead — who had worked at Barneys as a teenager — decided to leave the software game and join his dad Ray and cousin, KC spent his time in St. Petersburg while Todd managed the Brandon facility and Ray oversaw the Brooksville location. Ray eventually retired and KC stepped into the role of President while Todd became VP. The dealership overcame many hurdles in its time including the gas crisis of the 1980's, recession, and even a fire at their St. Petersburg location. KC and Todd each brought their own individual strengths and would grow the dealership leaps and bounds offering on-road, off-road, and marine to suit the customers visiting any of their locations.
"After 76 years and three generations of owning Barney's Motorcycle & Marine, our family made the difficult decision to sell our three dealerships," said Wood after the sale. "When George Chaconas and Courtney Bernhard first reached out to us, we had not yet made the decision to retire. They provided valuable information as to what the sales process would entail, and before we knew it, they brought us an offer from a well-respected company in the industry. Being a large, multi-location dealer, our deal was quite complex. With George and Courtney's help, and with the resources they recommended, we successfully navigated the many twists and turns and made it to the finish line. Todd Hempstead and I would like to personally thank the team at PBS for their professionalism, industry experience, frequent communication, and persistence."
This is not Dave Veracka's first dealership. Veracka turned his passion for motorcycles into a career that began more than 50 years ago, when he opened his family's first Kawasaki dealership in Brockton, Massachusetts. In 2003, along with his partner, Veracka added his first Harley-Davidson dealership to the family. Over the years, Veracka and his sons, Paul and Michael, would continue their steady growth in the industry. In 2019, they made the decision to split the company into two groups; his sons took over the Harley-Davidson dealerships and Veracka established The Motorcycle Company, a new dealership consulting group.
While Paul and Michael continue to be very competitive in growing their footprints on the east and west coasts, they may just have a new competitor in town. Dave has come out of dealer retirement and is well on his way to building a powerhouse group of on-road, off-road and watercraft dealerships. The Barney's dealerships will remain at their current locations, but have been renamed the following:
Rockstar Powersports of Brandon at 9820 East Adamo Drive in Brandon, Florida
Rockstar Powersports of St Petersburg at 10411 Gandy Boulevard North in St Petersburg, Florida
Rockstar Powersports of Brooksville at 14430 Cortez Boulevard in Brooksville, Florida
READ THE ORIGINAL POST HERE – https://www.dealernews.com/Home/post/dealer-news-barney-s-changes-hands-after-76-years/2022-11-23
---
4 – Parts Canada named exclusive distributor for Highsider – From Powersports Business
Parts Canada has announced that Highsider, a premium brand of Paaschburg & Wunderlic, is now available in Canada and will be distributed exclusively by Parts Canada. Highsider headquarters reside in Hamburg, Germany.
As an innovative lighting technology and high-quality motorcycle accessory brand, the Highsider team strives to be the industry's trend setter. Highsider products are manufactured with the highest standards, following German engineering and principles. The company's products can be found on motorcycles around the world, improving performance and safety and providing a customized finish. Highsider is "German engineered for whatever you ride."
"This is a great brand and the technology they use raises the bar when it comes to developing excellent quality parts," said James Danyluk, president of Parts Canada. Highsider will be a great addition to our catalogues, and we look forward to having them on board with us."
"We are thrilled to partner up with Parts Canada and offer our products directly into Canada," said Kenny Ladoucer, product marketing manager of Highsider. "With this exclusive partnership, we are now able to provide faster shipping and easier access to Highsider products."
READ ORIGINAL POST HERE – https://powersportsbusiness.com/top-stories/2022/11/23/parts-canada-named-exclusive-distributor-for-highsider/
---
5 – NPA Florida relocates to new Lakeland facility – From Powersports Business
National Powersport Auctions (NPA) has moved its Florida operations to a brand-new facility in Lakeland, Florida. The new building is twice as big as the previous location and sits on a 45-acre property that is perfectly suited for wholesale buying and selling of powersports, RVs and marine inventory.
According to Motorcycle Industry Council data, there are nearly 500 dealers throughout the state and almost 900,000 motorcycles in use. NPA Lakeland strives to help with the growth of the powersports industry in the region and state. The excitement surrounding the new facility is mutual between NPA and Florida dealers.
"The response we've received from dealers has been overwhelmingly positive," said Jim Woodruff, CEO of NPA. "This is sure to be the premier destination for powersports dealers in the state to buy and sell their pre-owned inventory throughout NPA's nationwide network."
NPA Lakeland is easily accessible to Florida dealers all over the region and is equipped with many unique NPA features, such as a full-size boat and RV wash and inspection bay. "The area is centrally located and is convenient for our Florida dealers to get to from anywhere, which helps us better serve them," said Jeff Kinney, VP of operations. "Plus, the new building can accommodate more than 2,000 units per month."
Despite Hurricane Ian, the first scheduled auction at the 150,000- square- foot Lakeland facility was held successfully Oct. 27. Hundreds of bidders and buyers participated in person and online. Upcoming Lakeland auctions are Nov. 22 and Dec. 22. Auctions are held live and online via NPA Simulcast, with the in-person Preview Day the day before.
"We were fortunate not to have suffered any substantial damage from Hurricane Ian. The storm delayed some operations, but we're full throttle now," said Mark Clifford, eastern regional operations manager for NPA.
For more information about NPA's Lakeland facility, contact Mark Clifford at [email protected] or 813.522.5990. Dealers may also contact territory sales manager Chris Ramanauskas at [email protected] or 813.486.7262.
New NPA Lakeland Address: NPA Lakeland, 4035 Frontage Rd. N., Lakeland, FL 33810
READ THE ORIGINAL POST HERE – https://powersportsbusiness.com/top-stories/2022/11/23/npa-florida-relocates-to-new-lakeland-facility/
---
Share