Here are a few stories that came across my desk that I think are relevant and interesting to the powersports business community.
---
1 – Arrowhead Engineered Products Acquires Leading European Rider Gear and Parts Distributor Bihr – From Arrowhead Engineered Products
Arrowhead Engineered Products (Arrowhead), a global leader in aftermarket parts distribution, and the shareholders of Bihr today announced the acquisition of Bihr, a leading European distributor of parts, accessories and rider equipment for motorcycles, quads/ATVs, bicycles and scooters. Headquartered in Kontich, Belgium, Bihr is in 20 countries and wholesales 350 brands and 200,000+ SKUs to a network of more than 15,000 retail dealers.
"We seek to combine with highly successful and respected organizations, making every acquisition a success and accelerating our growth to be the largest off-road aftermarket parts supplier in the world," said John Mosunic, CEO of Arrowhead. "The combination of Bihr and Arrowhead creates a global leader in powersports with an undeniable value proposition for dealers."
Christophe Piron, former CEO of Bihr, joins Arrowhead Engineered Products as co-president of Europe and president of powersports Europe. He will serve on Arrowhead's executive committee.
"Bihr and Arrowhead create a company where the whole is greater than the sum of its parts," said Piron. "We are geared up to leverage our shared expertise to expand our offerings and customer reach."
Alcopa and the other shareholders invested in Bihr in 2010 and spearheaded the company's European development from its origins in France. Managing Partner Damien Heymans said, "We have been the proud shareholders of Bihr for more than 10 years and are convinced that Arrowhead is now the ideal partner to carry on with the company's growth."
"Bihr's first-class logistics, steadfast commitment to customer service and expanding portfolio of owned brands will be strong assets to Arrowhead. We are convinced that both parties will intensely benefit from this acquisition," said Axel Moorkens, managing director, Alcopa.
Bihr will continue to conduct business as usual, operating and shipping from its current locations.
Weil, Gotshal & Manges LLP advised Arrowhead Engineered Products on this transaction.
About Arrowhead Engineered Products
Based in Blaine, MN, Arrowhead Engineered Products is a leading global engineer and omnichannel distributor of non-discretionary, proprietary branded, aftermarket replacement parts. The Company leverages data and digital capabilities to provide mission-critical parts for outdoor power equipment, powersports, golf cars, specialty vehicles, agriculture, and other diverse markets. With distribution and sourcing locations in North America, Europe and Asia, Arrowhead Engineered Products employees service over 100,000 customers globally. Visit www.arrowheadepinc.com for more information.
About Bihr
Founded in 1975, Bihr is a leading European distributor of parts, accessories and rider gear for motorcycles, quads/ATVs, scooters and bicycles. Its portfolio of 350 brands and 200,000+ SKUs is distributed through a growing network of more than 15,000 dealers across 20 countries. With first-class logistics and a total storage area of more than 54,500 Square meters acrross seven warehouses, Bihr can supply almost all dealers in Erope within 24 hours. From the outset, the strength and foundation of Bihr's exceptional success have been based on comprehensive services and first-class logistics made possible by its more than 1,000 colleagues, including 100 in-house sales representatives and 40 customer service representatives. Bihr is a one-stop shop for every riding possibility.
About Alcopa
Alcopa is a Belgian family-owned investment company. Founded in 1937 and initially active in distributing motorcycles and cars, Alcopa is now a diversified firm with 635 million euros of assets under management, holding investments in thirteen European private companies. Alcopa is a long-term industrial partner taking significant positions in sustainable mid-sized European companies.
---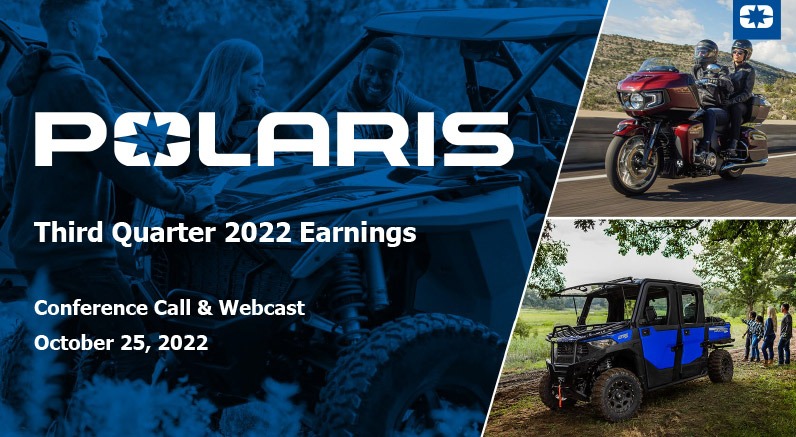 2 – Polaris Third Quarter 2022 Earnings Results – From Polaris
Click here if you want to download this article: POLARIS Third Quarter 2022 Earnings Results
FINANCIAL AND OPERATIONAL HIGHLIGHTS
Third quarter sales were $2,341 million, up 32 percent compared to last year
Third quarter reported diluted earnings per share from continuing operations was $3.17, up 69 percent versus last year; adjusted diluted earnings per share from continuing operations was $3.25, up 64 percent versus last year
Primary drivers in the quarter were higher volumes, strong pricing and favorable mix, supported by modest sequential improvement in supply chain
Retail sales for the quarter were down eight percent versus last year despite strong performance in Motorcycles, primarily driven by continued supply chain challenges and softness in Recreation Off-Road demand
---
3 – Parts Unlimited appoints central region sales rep – From Powersports Business
Parts Unlimited has announced its newest sales rep, Dylan Hoey. Hoey will represent the Southwest region covering central and north-western Texas.
His industry experience includes design and distribution of motorcycle parts at the vendor level, as well as distribution within other industries. Hoey rides street bikes and enjoys dirt and trail riding. In his spare time, he enjoys rebuilding and working on old bikes.
---
4 – Dealerships partner for acquisition in New York – From Powersports Business
Maddie's Motor Sports of New York has entered into a partnership with Motorcycles of Manchester (MOMS) in New Hampshire to acquire the assets of Ingles Performance of Phoenix, New York.
MOMS is a family-owned business that has become New England's powersports leader with locations throughout Massachusetts, Connecticut, New Hampshire, Maine, and now New York.
The new partnership will operate as Empire Powersports, LLC. Empire is managing daily operations of Ingles Performance. Pending OEM approval, the dealership will continue to carry Can-Am, Ski-Doo, Sea-Doo, Lynx and Polaris vehicles, and Triton trailers.
"I am very excited about the potential of this new venture between Maddie's and MOMS," said Maddie's VP Graham Marcus. "This new partnership will create a synergy between two of the largest dealership groups in the Northeast, and link these business entities into the future."
READ MORE HERE – https://powersportsbusiness.com/top-stories/2022/10/25/dealerships-partner-for-acquisition-in-new-york/
---
5 – Zero Motorcycles Partners with Rollick on Sales and Marketing Enablement – From Rollick
Rollick, the leading relationship technology provider for the Marine, Powersports, and RV industries today announced that Zero Motorcycles, the global leader in electric motorcycles and powertrains, has rolled out Aimbase, Rollick's industry-centric lead management platform. The company will soon include RollickDR, the digital retailing solution. The platform will provide dealers with a more tailored experience when handling leads across systems and primarily in their preferred CRM provider.
"We are constantly evolving to provide the most qualified leads to our dealers and to support Zero Motorcycle buyers throughout their customer journey," said Jackie Frenzel, Director of Dealer Network Development for Zero Motorcycles. "We are focused on investing in solutions that meet dealers on their terms while providing a modernized experience to engage and fast-track potential buyers."
Zero's brand marketing team will be able to use several different levels of segmentation and automation through Rollick's Aimbase platform. Dealers will be able to integrate Zero's leads into their existing sales process while also providing Zero with further visibility through lead disposition reporting. Rollick's digital engagement module, RollickDR, will enable a better buying experience for consumers wanting to complete more of their transaction online.
"Zero is a premium electric motorcycles and powertrains manufacturer and we are proud to partner with them to power the best buying experience for both dealers and potential customers," said Jeff Coffman, SVP, Enterprise Solutions and Marketing at Rollick. "When that experience starts on the brand website, Zero begins building loyalty before the customer steps foot in the dealership."
About Rollick, Inc.
Rollick connects manufacturers, dealers, and finance and insurance providers with in-market consumers in several recreation and industrial industries to deliver a seamless customer journey. Rollick's OEM solutions include new customer acquisition, enterprise lead management, customer experience/loyalty, and marketing automation. For more information, visit Rollick.
About Rollick's Aimbase Marketing Technology
Aimbase is the only marketing technology solution in the recreation and industrial equipment industries that combines enterprise lead management, marketing automation, and customer lifecycle management in one platform.
About RollickDR
Rollick's digital retailing solution provides a consolidated tool to help consumers gather detailed transaction information about a potential purchase and, when ready, provide all of the researched information to the dealer. With RollickDR, consumers can get pre-qualified for financing, review OEM & dealerships offers, estimate the value of a trade-in, schedule appointments, and reserve a vehicle in a simple interface that can be embedded on OEM and dealer websites.
About Zero Motorcycles
Zero Motorcycles is the global leader in electric motorcycles and powertrains. Designed and crafted in California, Zero Motorcycles combines Silicon Valley technology with traditional motorcycle soul to elevate the motorcycling experience for forward-thinking riders around the world.For more information, visit https://www.zeromotorcycles.com/.
---
Share