Here are a few stories that came across my desk that I think are relevant and interesting to the powersports business community.
---
1 – Dealer group acquires fourth location in Southeastern region – From Powersports Business
RedLine Powersports has recently announced the acquisition of Augusta Powersports, located in Augusta, Georgia. The dealer group is proud to expand its footprint into Georgia, both excited and dedicated to offer premier brands of on-road, off-road and watercraft manufacturers to adventure enthusiasts.
"Combining the brand strength of RedLine Powersports with the longevity and history of Augusta Powersports, our goal is to create lasting memories to all that walk through our doors within the greater Augusta market," said Jonathan Waters, founder of the RedLine Powersports Group. He went on to say that the entire organization is excited to build upon the successes of Augusta Powersports.
Located at 3125 Washington Road, RedLine will continue offering the major brands that customers are accustomed to including Can-Am, Polaris, Sea-Doo and Slingshot. As a full-service dealership, the service department will be staffed with Certified Manufacturer Trained Technicians and a fully stocked parts and accessories department.
Redline Powersports Group was founded in February 2020, with the acquisition of Redline Powersports in Myrtle Beach, South Carolina, by company president Jonathan Waters. Redline Powersports Group now has four locations which include Myrtle Beach, South Carolina, Sumter, South Carolina, Prince George, Virginia and Augusta, Georgia.
READ ORIGINAL POST HERE – https://powersportsbusiness.com/top-stories/2022/12/06/dealer-group-acquires-fourth-location-in-southeastern-region/
---
2 – Yamaha Watercraft recognizes 2022 District Manager of the Year
Yamaha Marine Business Unit has named Adam Williamson, Mountain West district manager, its 2022 District Manager of the Year.
The WaterCraft Group's District Manager of the Year Award is based on Yamaha boat and WaveRunner wholesale and retail sales attainments, employee evaluation scores, dealer CSI scores and dealer call count results, according to Yamaha WaterCraft National Sales Manager Mike VanWagenen.
"Adam is consistently among our top district managers, so it's no surprise that he earned this prestigious honor," said VanWagenen. "We're really proud of Adam's ability to connect and create relationships with dealers and their staff, and that skill will serve him well for years to come."
Adam started his career at Yamaha in 2016. In addition to Yamaha WaterCraft District Manager of the Year, he is a two-time West District Manager of the Year and a two-time Yamaha Gold Team award winner. Williamson, his spouse Kylie, and three children reside in Salt Lake City, Utah.
---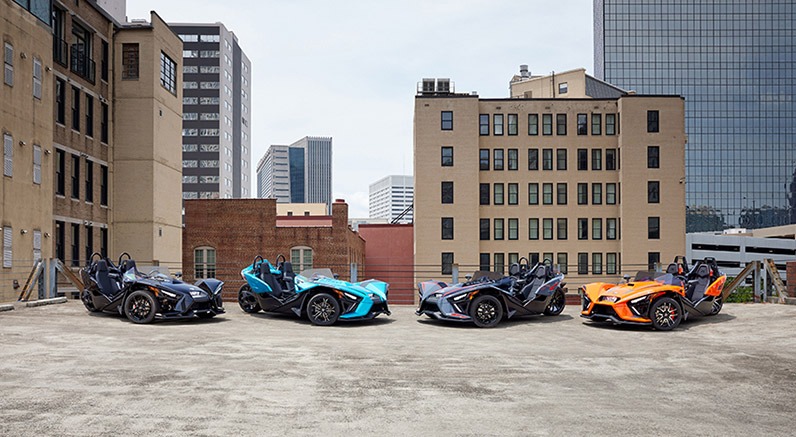 3 – Polaris Slingshot's 2023 Lineup Expands Factory Accessory Options, Adds Vibrant Paint Colors Across Lineup To Inspire Drivers To Design Their Own Ride Direct From The Factory
Whether Looking for an Epic Adventure Ride or a Canvas for Self-Expression, The New 2023 Slingshot Lineup Delivers Limitless Possibilities to Design Your Ride
Exciting & Vibrant Paint Colors Deliver a Slingshot Lineup Like Never Before
Brand-New Accessories include RAM® X-Grip Phone Mount, an Excursion Rearview Mirror & More than 50 New Color-Matched Accessories*
MINNEAPOLIS, MN (December 6, 2022) – Taking personalization and customization to the next level, Polaris Slingshot has unveiled its 2023 model year lineup. Featuring exciting and vibrant colorways, along with countless combination options direct from the factory, the 2023 lineup inspires drivers to design their own ride. Slingshot offers a host of accessories across style, comfort, sound, and technology that allow drivers to personalize their ride to best suit their lifestyle.
"Whether you're looking to elevate your everyday, escape on an epic adventure, or utilize the three-wheel canvas for self-expression, the 2023 Polaris Slingshot delivers limitless possibilities to design your perfect ride," said Chris Sergeant, Polaris Slingshot Vice President. "Each year we continue to evolve the lineup by listening to our riders, and this year is another example of thoughtful additions and enhancements that answer the call and serve our passionate owners."
Exciting New Colorways
Delivering an entirely new look for the Slingshot lineup, 2023 introduces a variety of traditional and exotic paint colors. While colors like Jet Black on the S with Technology Package, the SL's Cobalt Blue, and SLR's Red Shadow continue to be classic color options, head-turning paint schemes like the SL's Pacific Teal, the SLR's Lime Shadow, and the R's Miami Blue Fade available on select models deliver a pop of color and a vibrant design to the Slingshot lineup. For a full view of the lineup's available color options by model, visit Slingshot.Polaris.com.
Customer Requested Accessories
In response to customer feedback, Polaris Slingshot is introducing two new factory accessories for 2023. Slingshot adds convenience with a RAM® X-Grip Phone Mount and an Excursion Rearview Mirror, which will be available in spring 2023. The new Slingshot cell phone mounts to the center of the Slingshot dash – offering easy viewing and accessibility.
Enhanced Infotainment System
Slingshot's available 7-inch Touchscreen Display powered by RIDE COMMAND further enhances the user experience. Along with key vehicle information, the available integrated infotainment system offers mobile phone connectivity via Bluetooth® and USB. Drivers can seamlessly access Apple CarPlay®, along with turn-by-turn GPS navigation with connected services – which is standard on R models, but available via accessory upgrade for other RIDE COMMAND-equipped models.
More Customization Options than Ever Before
With more than 50 new premium painted accessories available, owners have even more options than ever to personalize their Slingshot. Whether adding color-matched painted parts or contrasting with pops of color, owners can design their ride with accessories like the Slingshade® top, Rear Fender, Exterior Painted Accents, Belt Guard and Front Grille. In addition, owners can add convenience and comfort by adding the Excursion Top, RAM® X-Grip Phone Mount, or a variety of integrated storage bags.
When building their ride on the Slingshot website, customers have several configuration options – making each vehicle assembled at the Slingshot factory personalized for each customer. After selecting their preferred model, paint color, transmission type, and either the sporty manual or accessible AutoDrive transmission, customers can pick and choose between different wheels, seats, and hoods. For example, any Slingshot model can be outfitted with the aggressively designed Vented Sport Hood or add Heated and Cooled Seats. In addition, customers can choose to upgrade select models by adding Aluminum Roll Hoops, adding XK Glow® Interior Lighting, or enhancing their sound with Stage 3 Audio by Rockford Fosgate®, which integrates speakers into the roll hoops placed directly behind each seat's headrest.
Available Key Accessory Upgrades
Vented Sport Hood, Excursion Top, and Slingshade®
Available in 16 different colors, the Vented Sport Hood improves aerodynamics and cockpit airflow via vented fenders and a hood scoop, while adding aggressive style. The Vented Sport Hood comes stock on the Slingshot R, but is available as an accessory upgrade for all other 2020-2023 models. For additional style and extra shade for sunny days, the Excursion Top and Slingshade® are the two available top options on select models. The Excursion Top elevates riding comfort with a canvas top that's easy to install and remove, ready for install on 2022 and newer vehicles. The Slingshade® sets the standard with its vertical opening T-Top panels featuring friction hinge technology and impressive fit and finish. Designed alongside the vehicle, Slingshade® flaunts sleek lines and automotive-grade finishes, color-matched to the vehicle. Getting in and out is easy with T-Top panels that feature tinted windows to retain overhead views and provide extra cockpit light. Slingshade® is available as an accessory upgrade for all 2020-2023 models.
Heated and Cooled Seats
The addition of Heated and Cooled seats extends the driving season and enhances the driving experience. The seats are powered by industry-leading Thermoelectric technology and flexible High-Tech Graphene material with three seat settings for optimal heating and cooling. Easy-to-access large control buttons are back-lit and feature haptic feedback.
Wheels
Slingshot offers premium wheels for outstanding performance and distinctive style. With the addition of the premium Brembo® braking system and its multi-piston, painted calipers and lightweight rotors, owners get the ultimate level of performance, aesthetics, and comfort.
Audio
Standard in all Slingshot models, with the exception of the S, is a state-of-the-art, 100-watt Rockford Fosgate® audio system. The addition of the Stage 3 Roll Hoop Audio Kit by Rockford Fosgate® in each headrest allows drivers to both upgrade their sound and customize their look by either matching or contrasting with their Slingshot's color scheme.
Lights
With the Interior LED Lighting by XKGlow®, drivers can now flaunt their true colors and match their driving mood by synchronizing the interior lights to change with their music through an exclusive Slingshot app. The lights include the full red, green, and blue color light spectrum for total customization.
2023 Vehicle Lineup
Pricing and color availability for the 2023 model lineup are as follows:
Slingshot S
The Slingshot S serves as the ultimate blank canvas ready for personalization. The S is available in Moonlight White in both a manual (Starting at $21,499 & $21,799 in California) and AutoDrive (Starting at $23,349 & $23,649 in California).
Slingshot S with Technology Package 1
Owners looking to take their S model to the next level can opt for Technology Package 1, which includes a 50-watt Rockford Fosgate® audio system with a 2.7-inch display, speaker pods and Rockford Fosgate® tweeters in the dash. Technology Package 1 also upgrades the S models with the vehicle security package and a standard Ripper Series Clear Wind Deflector to improve comfort. S with Technology Package 1 is available in Moonlight White and Jet Black in both a manual (Starting at $24,299 & $24,599 in California) and AutoDrive (Starting at $26,149 & $26,449 in California).
Slingshot SL
The Slingshot SL delivers next-level styling and is ready to personalize. The SL is available in four colorways with additional style components, premium paint finishes, a 100-watt Rockford Fosgate® audio system, and the seven-inch touchscreen display powered by RIDE COMMAND. The SL allows the driver to be seen and heard and takes the S to a whole new level. The 2023 SL models are available in Storm Gray, Cobalt Blue, Neon Lime, and Pacific Teal in both a manual (Starting at $27,499 & $27,799 in California; Starting at $34,799 CAD) and AutoDrive (Starting at $29,349 & $29,649 in California; Starting at $36,999 CAD).
Slingshot SLR
The SLR upgrades performance and features high-end style and comfort. Now available in three new colors, this model is full of powerful possibilities with a high-revving 203 HP Pro Star engine. The loaded SLR is factory finished with two-tone paint, extra exterior lighting, premium sport interior, and a 305mm rear wheel. 2023 SLR models are available in Red Shadow, Lime Shadow, and Cobalt Blue Fade in both a manual (Starting at $30,399 & $30,699 in California; Starting at $38,699 CAD) and AutoDrive (Starting at $32,249 & $32,549 in California; Starting at $40,899 CAD).
Slingshot R
The Slingshot R returns as the top-of-the-line model for those who love to stand out. Available in five colorways, the R turns heads with its enhanced bold multi-tone paint scheme, premium features, and standout style. The Slingshot R packs the 203-horsepower ProStar engine, Brembo® painted front calipers, paddle shifters (AutoDrive only), and the seven-inch touchscreen display powered by RIDE COMMAND with turn-by-turn navigation, connected services, and Apple CarPlay®. The R gets a high-performance facelift with an eye-catching Sport Vented Hood. 2023 R models are available in Desert Sky, Graphite Blue, Miami Blue Fade, Lime Dream, and Pacific Teal Haze in both a manual (Starting at $33,999 & $34,299 in California; Starting at $42,899 CAD) and AutoDrive (Starting at $36,149 & $36,449 in California; Starting at $45,499 CAD).
The 2023 lineup ships to dealers in early 2023. Consumers can learn more about the 2023 lineup at https://slingshot.polaris.com/en-us/.
Follow Slingshot on social media: Facebook.com/PolarisSlingshot, @Slingshot on Twitter and @PolarisSlingshot on Instagram. For information on Slingshot rental locations, visit Adventures.Polaris.com.
*Accessories available spring 2023
About Polaris Slingshot
Polaris Slingshot, a brand of Polaris Inc. (NYSE: PII), continues to define the category through style, ride experience and community with our three-wheeled autocycle. With AutoDrive and manual transmission options, an open cockpit, side-by-side seating, 5" ride height and a 2.0-liter 4 cylinder Pro Star engine, Slingshot comes in a variety of models that are sure to make a statement. Step into a Slingshot for an adventurous and unrivaled ride experience. Learn more, visit slingshot.polaris.com.
Slingshot is a three-wheeled motorcycle. It is not an automobile. It does not have airbags and it does not meet automotive safety standards. Three wheel vehicles may handle differently than other vehicles, especially in wet conditions. Always wear a DOT-approved full-face helmet and fasten seatbelts. The Driver may need a valid motorcycle endorsement. Drive within the limits of the law and your own abilities. Read, understand, and follow your owner's manual. Never drive under the influence of drugs or alcohol. Unless otherwise noted, trademarks are the property of Polaris Industries Inc. © 2022 Polaris Industries Inc.
ROCKFORD FOSGATE® is a registered trademark of Rockford Corporation.
Apple CARPLAY® is a registered trademarks of Apple Inc.
XKGLOW® is a registered trademark of Danial E. Julian DBA XKGLOW
Brembo® is a registered trademark of Freni Brembo S.p.A. Corp of Italy
---
4 – Greenger Releases All-New Electric Balance Bike and Enters E-Bike/Power Bank Segments – From Greenger Powersports
Learning to ride gets even easier today with the announcement of the Greenger Powersports SADDLEBACK. The All-New SADDLEBACK is an electric balance bike inspired by the mountains of Southern California.
Bringing to market an accessible-yet-exciting way to learn how to ride. The SADDLEBACK blends electronics, easy to use features, and proven engineering to create a fun training tool for young kids looking to explore the outdoors. Motocross enthusiasts remember Saddleback as a riding mecca back in the day. Riders would drive for hours to get a chance to turn the dirt of these pine lined mountains. Today, Saddleback is a destination for families and outdoor enthusiast of all kinds. The base of the mountains speckled with Suburban neighborhoods and a new generation of children. Children eager to explore in a quiet and friendly way.

Driven by a 22V 150W Ultra-Quite hub motor, the SADDLEBACK capitalizes on the long-lasting LG battery to keep the fun going for hours. The LG battery uses a toolless bracket to make it quick and easy to swap if needed. You have two sizes to choose from, 12" or 16". 3- adjustable speed modes, ultra- quite hub motor, disc brake. Even has a push mode for the younger ones. These stand out features allow the SADDLEBACK to grow with kids and their riding capabilities. The SADDLEBACK is the perfect bike to teach your children or grandchildren how to ride.
"With the success of the CRF-E2, it was a clear indicator kids of all ages want to ride." said Brad Chapman, Greenger Sales & Marketing Manager. "We want everyone to experience life on two-wheels powered by Greenger."
With the mindset that everyone should ride. Greenger will be releasing a family of models in 2023 to get the masses outdoors. Say hello to our family of e-bikes; Telluride, a city bike ready to glide through the streets of any downtown or cut through the winds of any neighborhood. Ozark, our folding recreational bike ready to be loaded for any trip and powered to help when needed. Shasta and Shasta ST, these adventure bikes are lock and loaded to get you up your local trail or that long adventure awaiting ahead. To ensure everyone has the power they need. Greenger will be releasing two Portable Power Stations, 1200w and 2000w, and a 200w Solar Panel for direct charging. Saddleback is available to order now 12" $749 and 16" $949 MSRP, shipping to dealers first week of December. All other models will be available Q1 of 2023. Head over to greengerpowersports.com for more information.

About Greenger Powersports
Serving the next generation of powersports enthusiasts, Greenger Powersports combines the best components and the most advanced technologies to deliver enjoyable, exciting riding experiences. A Southern California-based distributor of reliable electric powersports products that are safe, fun, and exhilarating to ride, Greenger owns over 20 technical patents, including those for its battery, motor, and controller. For more information, please visit greengerpowersports.com
---
5 – Western Power Sports Secures Distribution Partnership with 100% – Courtesy Western Powersports
(WPS), a nationwide distributor of powersports industry brands and products, today announced a partnership with 100%®, a premium sports performance brand and the number one goggle brand in the world, to distribute 100% products through the WPS dealer network.
The multi-year, open-ended partnership with 100% is WPS' second major distribution agreement in three months, having been named the exclusive U.S. distributor of Yoshimura products in September.
The initial 100% offering includes a full line of motocross goggles and gloves from the new Fall 2022 and Spring 2023 design collections featuring Armega® performance goggles. The Armega goggle is engineered to maximize protection while maintaining unmatched optical clarity with its category defining Ultra-HD lens. Products are in dealers' showrooms now and are available to order.
"In the last year we saw WPS transform its organization and bring its professionalism to such a level, that there was no doubt they could become a top-level distribution partner for 100%," said Ludo Boinnard, co-founder & CEO, 100%.
"We're proud to partner with 100%, the company that revolutionized moto goggles," said Steve Lester, president, Western Power Sports. "Their innovations with progressive technology and creative design electrify the industry. Competitive racers and weekend riders alike seek out the brand, and we're thrilled to give our dealers access to 100% products for their powersports customers."
The addition of the 100% brand rounds out WPS' goggle offering, which includes FLY, SCOTT, EKS and FMF.
About 100%
100%, based in San Diego, California, is an independent premium sports brand with a focus in performance eyewear, technical apparel, and sports protection. 100% empowers the most demanding athletes with the performance technologies and gear they need to compete at the top of a wide variety of sports.
About Western Power Sports
Based in Boise, Idaho, Western Power Sports (WPS) was incorporated in 1960 and distributes over 150,000 products that include offroad and street motorcycle, ATV, snowmobile, and watercraft parts and accessories to thousands of dealers nationwide. WPS joined Arrowhead Engineered Products in January 2022. WPS is currently the fastest growing nationwide delivery system of powersports industry products and delivers these products through its regional warehouse network, with locations in Idaho, California, Georgia, Pennsylvania, Indiana, and Texas. WPS strives to bring powersports dealers the best in service, product, and delivery—a formula that's proven very successful over the last 62 years.
About Arrowhead Engineered Products
Based in Blaine, MN, Arrowhead Engineered Products is a leading global engineer and omnichannel distributor of non-discretionary, proprietary branded, aftermarket replacement parts. The Company leverages data and digital capabilities to provide mission-critical parts for outdoor power equipment, powersports, golf cars, specialty vehicles, agriculture, and other diverse markets. With distribution and sourcing locations in North America, Europe and Asia, Arrowhead Engineered Products employees service over 100,000 customers globally.
---
6 – Tucker to distribute Dainese riding gear – From Powersports Business
Tucker Powersports and Dainese have signed an exclusive agreement and Tucker will now distribute the renowned motorcycle product line to its network of powersports dealers in the U.S. The multi-year agreement includes leather and textile riding gear, boots, shoes and Dainese's line of protective armor and airbag D-Air jackets and vests. Dainese products will be available through Tucker later this year.
Founded by Lino Dainese in Molvena, Italy in 1972, the Dainese company is a leader in the development of protective apparel for active sports. The current motorcycle product line includes D-Air airbag jackets and vests, a product made famous by MotoGP riders Valentino Rossi and Joan Mir, and includes numerous styles of leather and textile suits, jackets, pants and gloves, boots and shoes. The agreement also includes the distribution of Dainese's TCX-branded road, off-road and urban footwear.
"We're thrilled to add Dainese to our roster of great partner companies," said Marc McAllister, president and CEO, Tucker. "Our dealer network will make Dainese products easily available to riders looking for high-quality riding and protective gear."
"I'm excited about signing this agreement with Tucker Powersports, a new milestone in our journey of expansion and consolidation in North America," said Cristiano Silei, CEO, Dainese Group. "The U.S. market has always played a crucial role for our Group and I'm sure that choosing a distributor with such a widespread, structured sales network will allow us to achieve increasingly ambitious goals."
"The range of products that this partnership brings to Tucker is outstanding," said Jamie Kempinski, director of business development, Tucker. "Dainese's reputation for quality and their eye for style has all of us excited about adding their full motorcycle product line to our portfolio."
---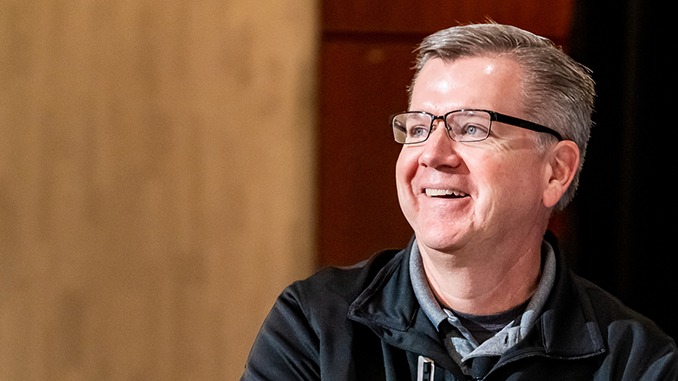 7 – Volcon Hires Powersports Industry Veteran Dave McMahon – Courtesy Volcon Inc
Volcon Inc. (NASDAQ: VLCN) ("Volcon" or the "Company"), the first all-electric, off-road powersports company, announced today that Dave McMahon has been appointed Channel Marketing Manager. McMahon comes to Volcon with a deep understanding and skill set focused on powersports dealerships.
Previously, McMahon served as content director for the past 11 years at Powersports Business magazine, a Minnesota-based B2B brand under the EPG Brand Acceleration banner. He will now head up all channel marketing efforts at Volcon.
As part of his role at Powersports Business, McMahon guided and directed a series of annual in-person training events for dealership owners and staff. Most recently, he was part of the team that launched the Accelerate Conference, a dealer-focused event that attracted powersports dealership owners and operators from 25 states. In addition, McMahon has attended numerous OEM press events and dealer meetings. His content-creating skills are enhanced by his experience hosting webinars that have attracted thousands of dealers and industry professionals over the years. McMahon graduated with a Bachelor of American Studies degree from the University of Notre Dame.
"I'm beyond excited to have Dave on the team. His experience and extensive powersports background, as well as his proven ability to interact with dealers on a meaningful level makes him the ideal candidate for this role," said Melissa Coffey, Vice President of Global Revenue and Business Development at Volcon. "Dave's extensive understanding of dealers' needs and challenges is key to him being able to recognize what tools they require to effectively support the Volcon brand and vehicle lineup. I look forward to him integrating with the teams here at Volcon and rolling out his channel marketing strategies."
"I'm thrilled to be part of the cutting-edge team at Volcon," McMahon said. "The combination of vehicle performance and company culture attracted me from the start. The sales channel continues to grow thanks to Volcon's expertise as an EV leader, and I look forward to using my experience in the industry to help dealerships strengthen their partnership with Volcon. The Volcon electric powersports vehicles that land on dealership showroom floors and the company's vision from its leadership have me excited about the future of our brand."
The recent launch of the Volcon Stag, the company's flagship UTV, powered by GM Ultium batteries and electric components, has propelled the company into a position of high visibility within the off-road powersports community. Additionally, the company expects the recent introduction of the Brat, Volcon's first eBike, to reach a new and growing customer base. Volcon believes the addition of Mr. McMahon to the team will provide the much needed support of the dealer network while leveraging recent product launches & growing brand awareness.
Volcon Grunt Year End Sales Event: https://www.volcon.com/grunt-explore
Reserve a Volcon Stag (Powered by GM): https://www.volcon.com/stag
Reserve a Volcon Brat: https://www.volcon.com/brat
Volcon Inc. is the first all-electric powersports company producing high-quality off-road vehicles. Based in Round Rock, Texas, Volcon joins many major electric vehicle companies located near Austin, Texas, an area that is poised to become the electric vehicle capital of the world.
Volcon was founded with the mission to enhance the outdoor experience while reducing the industry's environmental footprint so that adventurers and workers alike can enjoy the outdoors and preserve it for generations to come. Volcon produces all-electric, off-road vehicles designed to elevate the adventure experience and help people get things done at work and on the home front.
Volcon's first product, the innovative Grunt, combines a fat tire physique with high-torque electric power and a near-silent drive train which started shipping in September of 2021. Future two wheel models may include the Runt, which is a youth-sized version of the groundbreaking Grunt, and an eBike, the Brat. The Stag and Project X are expected to be Volcon's venture into the rapidly expanding world of UTVs and are expected in future years as the company continues to expand.
Volcon Contacts
For Media: [email protected]
For Dealers: [email protected]
For Investors: [email protected]
For Marketing: [email protected]
For more information on Volcon or to learn more about its complete motorcycle and side-by-side line-up, visit: www.volcon.com
Forward-Looking Statements
Some of the statements in this release are forward-looking statements, which involve risks and uncertainties. Although the Company believes that the expectations reflected in such forward-looking statements are reasonable as of the date made, expectations may prove to have been materially different from the results expressed or implied by such forward-looking statements. The Company has attempted to identify forward-looking statements by terminology including "believes," "estimates," "anticipates," "expects," "plans," "projects," "intends," "potential," "may," "could," "might," "will," "should," "approximately" or other words that convey uncertainty of future events or outcomes to identify these forward-looking statements. These statements are only predictions and involve known and unknown risks, uncertainties, and other factors. Any forward-looking statements contained in this release speak only as of its date. The Company undertakes no obligation to update any forward-looking statements contained in this release to reflect events or circumstances occurring after its date or to reflect the occurrence of unanticipated events. More detailed information about the risks and uncertainties affecting the Company is contained under the heading "Risk Factors" in the Company's Annual Report on Form 10-K and subsequently filed Quarterly Reports on Form 10-Q and Current Reports on Form 8-K filed with the SEC, which are available on the SEC's website, www.sec.gov.
---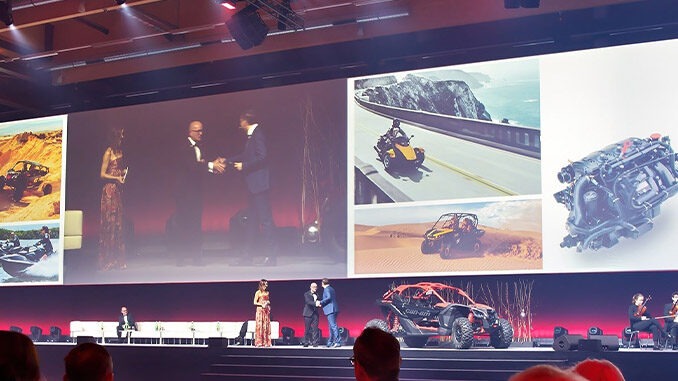 8 – BRP-Rotax celebrates 100 and two years of success with a grand gala to mark its centennial anniversary – From BRP Inc
Last Friday, BRP Inc. (TSX: DOO, NASDAQ: DOOO) proudly marked the 102nd anniversary of BRP-Rotax during an exclusive and unforgettable gala at the Wels Exhibition Center in Austria. Together with about 2,000 employees, partners and guests of honor, the Upper Austrian company commemorated historical milestones and successes in addition to celebrating the present and the future with promising projects that lie ahead.
"It is not every day that businesses get the chance to celebrate more than 100 years of existence. It takes ingenuity, grit, and resilience to achieve such a milestone," said Thomas Uhr, Chief Technology Officer at BRP. "I am honoured to celebrate BRP-Rotax's rich history with the people who have made the company what it is today, but even more so excited about what the future holds. With our unrivaled process and product expertise, and investments in R&D, we are shaping the mobility of tomorrow with the latest high-performance technologies that contribute to reducing our carbon footprint."
BRP-Rotax celebrates 102 years of success during a festive gala in Wels, Austria.
© 2022 copyright BRP-Rotax
"Every day, our teams create the best and most advanced propulsion systems for our customers around the world," added Wolfgang Rapberger, General Manager, BRP-Rotax and Vice-President, Global Sourcing & Operations, Powertrain. "They have been the driving force behind our incredible achievements for over 100 years and, together, we will continue to trailblaze the way to ground-breaking technologies. On behalf of the entire leadership team, I sincerely thank them for their commitment to BRP-Rotax."
From the patented freewheel bicycle hub to the founding of Rotax-Werk AG in 1920, BRP-Rotax grew over the decades to become a leader in the development and production of propulsion systems for the leisure and powersports sector. BRP (a division of Bombardier at the time) placed its first Rotax engine order in 1962 for Ski-Doo snowmobiles and acquired Rotax in 1970. Since the beginning of this success story, Rotax engines have been at the heart of the ever-growing roster of BRP products. In 2021, the 10 millionth engine from Gunskirchen was delivered to BRP in Canada, and the story lives on. BRP-Rotax is looking to the future by pushing the boundaries of innovation, developing new technologies for electric mobility.
A festive celebration with many highlights
The gala opened with an exciting time travel through the most important events in the company's history so that all guests could remember those precious moments. Everyone enjoyed a unique culinary experience and entertainment, while popular singer Cesar Sampson and the PT Art Orchestra provided the musical highlight of the evening. To the sounds of the local DJ duo MoBros, the festivities went on into the night.
Among the guests of honor, Claire Bombardier and Laurent Beaudoin, former Managing Director and CEO of Bombardier and Chairman emeritus of BRP, who played a key role in the acquisition of Rotax by Bombardier in 1970, in addition to some members of BRP's executive management team: José Boisjoli, President and Chief Executive Officer, Thomas Uhr, Chief Technology Officer, Anne Le Breton, Executive Vice-President, People & Culture, and Sebastien Martel, Chief Financial Officer. BRP-Rotax was also pleased to welcome the mayor of Gunskirchen, Christian Schöffman, Dr. Joachim Haindl-Grutsch, General Manager IV Upper Austria, representatives of the regional council for economic affairs, and many more partners and key players in the history of the company.
About BRP-Rotax
BRP-Rotax GmbH & Co KG, the Austrian subsidiary of BRP Inc., is a leader in the development and production of propulsion systems for the leisure and powersports sector. Founded back in 1920, BRP-Rotax has been committed to future-proof mobility and technological progress for more than 100 years. The innovative Rotax four- and two-stroke high-performance engines are used for BRP products such as Ski-Doo and Lynx snowmobiles, Sea-Doo personal watercraft, Can-Am on- and off-road vehicles as well as for karts and recreational aircraft. With sustainable products such as the first zero-emission Lynx HySnow snowmobile or the high-performance E20 e-kart series, BRP-Rotax is also a pioneer in the field of alternative powertrain models. The Upper Austrian company, headquartered in Gunskirchen, currently employs more than 1,700 people and produces engines for the global market.
About BRP
We are a global leader in the world of powersports products, propulsion systems and boats built on 80 years of ingenuity and intensive consumer focus. Our portfolio of industry-leading and distinctive products includes Ski-Doo and Lynx snowmobiles, Sea-Doo watercraft and pontoons, Can-Am on and off-road vehicles, Alumacraft and Quintrex boats, Manitou pontoons and Rotax marine propulsion systems as well as Rotax engines for karts and recreational aircraft. We complete our lines of products with a dedicated parts, accessories and apparel portfolio to fully enhance the riding experience. With annual sales of CA$7.6 billion from over 120 countries, our global workforce includes close to 20,000 driven, resourceful people.
Ski-Doo, Lynx, Sea-Doo, Can-Am, Rotax, Alumacraft, Manitou, Quintrex, Stacer, Savage, and the BRP logo are trademarks of Bombardier Recreational Products Inc. or its affiliates. All other trademarks are the property of their respective owners
---
9 – AIMExpo's 'New Product Central' puts The Best Innovations Front and Center – From MIC Events
AIMExpo is selecting up to 30 companies to give special on-stage presentations of their new product designs with host Kevin Dunworth, an award-winning bike builder and innovation leader, as guest interviewer.
"Our industry is developing and delivering new products and features faster than ever before," said Cinnamon Kernes, vice president of market expansion at the Motorcycle Industry Council, "And AIMExpo's New Product Central will bring these products — and the people behind them — to the forefront."
A camera crew will record each session, and the content will be available for use by the presenting companies for the rest of the year.
"As a life-long fan of innovation, I know the challenges of bringing new concepts and products to life," said Dunworth. "I can't wait to speak with each of these companies to learn more about what solutions and ideas they are bringing to the table, and ultimately how they are advancing our entire industry."
The AIMExpo team is currently reviewing applications for companies to be featured on this dedicated stage. Selections will be announced in January. Participating companies will be among exhibitors at AIMExpo 2023.
Commanding more than 250,000 square-feet of exhibit space at the Las Vegas Convention Center, AIMExpo will also feature a comprehensive education schedule focused on providing dealers with actionable content and information that they can use the moment they return to their shops.
---
10 – NEW PRODUCT from STKR / Risk Racing – From STKR / Risk Racing
After launching the FLI-PRO Telescoping Light earlier this year, STKR quickly became the market leader in lightweight telescoping pole lights. In less than a year, they are ready to release a new model simply named, The FLi. Like its predecessor, The FLi is a telescoping area light, however this version is focused on the basics of elevated lighting and knocking it out of the park.
The FLi Telescoping Area Light features a 360° flood light that fires a ring of high intensity LEDs down to the ground from a height of up to 6.5 feet when the pole is fully extended. The telescoping pole is constructed of reinforced fiberglass, like a premium fishing rod, making it both extremely lightweight and durable. Each extension of the pole uses a tight friction fit to lock in place independently allowing the user to select different heights all the way up to 6.5 feet tall. Weighing in at just a hair over 1 lb. and contracting down to only 20 inches, makes the FLi extremely easy to pack and transport.
The FLi is held steady by a lightweight tripod with a wide footprint. The tripod legs are independently adjustable to account for uneven surfaces, allowing users to ensure The FLi is perfectly vertical and stable. Each leg of the tripod also offers a hole for a ground spike (not included) for additional stability in high wind or unstable conditions.
Powered by a very capable 18650 lithium-ion battery with an impressive 2600mAh capacity, The FLi will power the LEDs up to 700 total True Lumens for approx. 2 hrs! The power can be dialed back by dimming the light output, which simultaneously conserves battery life for up to a 10-hr. run time. Turn to red mode to reduce eye dilation and preserve the user's natural "night vision", or switch to flashing hazard mode for emergency situations. When it is time to recharge, utilize the quick charging USB-C port.
The FLi design offers a simple and effective way to easily light up an entire area from 6.5 feet in the air. Use the FLi Telescoping Area Light when camping, working around the house, late nights in the backyard, garage projects, and more. This telescoping light is a must have for any family member, task, or hobby.
The FLi Telescoping Light is available now. For more information, please visit https://riskracing.com, or call Risk Racing at 704-508-1031
---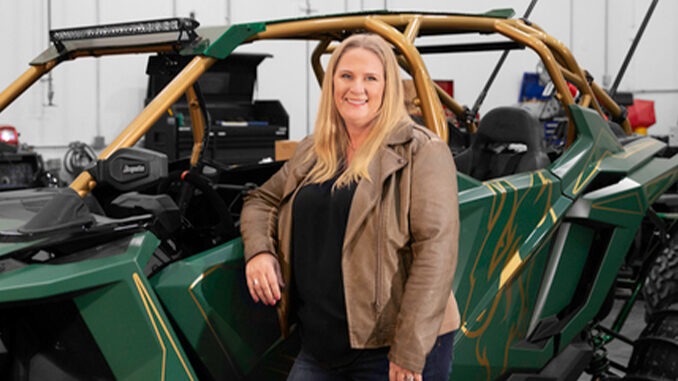 11 – Tucker Hires Dallas Cowboys Executive to Fill VP of Marketing Role – From Tucker Powersports
Tucker Powersports today announced the hiring of Lesley Madsen as the company's Vice President of Marketing. Madsen's role at Tucker is focused on delivering impactful marketing programs for the company's "owned-brands" as well as the products distributed by Tucker. Madsen left her role at Dallas Cowboys Merchandising to join Tucker earlier this month.
Tucker President and CEO Marc McAllister had earlier announced a restructure of the company's Sales and Marketing functions and his plan to bring new leadership into the company.
"Lesley's experience in marketing, brand building and distribution makes her a natural for this role at Tucker," said McAllister. "She will bring her strategic and analytical approach to our marketing efforts and will help us provide better support for our brands and our dealers."
"I grew up in a family that loved the outdoors," said Madsen. "My family's dedication to scouting gave us a true appreciation for outdoor adventure. This opportunity with Tucker gives me a chance to leverage my professional talent to support our dealers and customers who share the same passion."
Madsen's business background includes seven years with the merchandise arm of the Dallas Cowboys with responsibility for supporting retail and wholesale marketing and distribution for the Dallas Cowboys and 81Eighty organizations. Previous to the Cowboys, she held leadership roles in marketing, advertising, public relations advertising and digital communications with major brands in electronics and entertainment.
ABOUT TUCKER POWERSPORTS
Featuring the most powerful portfolio of parts, accessories and apparel brands in the powersports industry, Tucker distributes top brands and offers its own brands, including Answer, Biker's Choice, BikeMaster, Bully Locks, CoverMax, DragonFire Racing, FirstGear, Kuryakyn, ProTaper/ProTaper Sport, QuadBoss, Speed and Strength, and TwinPower.
---
12 – Royal Enfield continues to expand in Americas – From Powersports Business
Royal Enfield has expanded its reach in the Americas, specifically to Brazil, with the commencement of operations of its new CKD (complete knock down) assembly facility. This is a significant step forward in Royal Enfield's plans in Latin America, reiterating the brand's commitment to the region, as Brazil is a strong market for Royal Enfield.
Located in Manaus, capital of Amazonas state, the new facility is the fourth Royal Enfield CKD assembly unit across the world—after Thailand, Colombia and Argentina—in addition to its manufacturing and ancillary facilities located in India.
With an assembly capacity of more than 15,000 units per year, the local assembly unit in Manaus is a modern facility that will cater to growing demand in the country. The facility will engage in local assembly of the entire lineup of Royal Enfield motorcycles, including the Classic 350, the Meteor 350, the Himalayan, and the 650 twin motorcycles, Continental GT and the INT. With this setup, Royal Enfield can now ensure seamless and quicker delivery timelines for motorcycles in Brazil.
"Royal Enfield has been working extensively to grow the middleweight motorcycling segment globally," said B Govindarajan, CEO of Royal Enfield. "With markets like the Americas region, Europe and the Asia-Pacific growing significantly, it has been our strategic intent to be closer to these markets and grow the business. We commenced on this journey a couple of years ago and have set up strategic assembly facilities in Thailand, and in Argentina and Colombia in Latin America. Brazil has been a very strong market for Royal Enfield and is soon poised to be the single largest market for us outside of India. We have seen growth of more than 100% since 2019 here in Brazil. We are very happy to launch our fourth CKD facility globally here in Brazil and this is testament to our commitment to the region and the market potential, and to our growing community of riding enthusiasts in the market. We are confident that this facility will help us grow the mid-segment market here in Brazil while enabling us to efficiently cater to the growing demand."
Brazil has been a critical market for Royal Enfield since the brand's market foray in 2017. Having made significant strides in the country and across the entire Americas Region, Royal Enfield is now among the top five players in the midsize motorcycle segment in markets such as Brazil, Argentina, Colombia, Mexico and North America. With a burgeoning consumer base and a significant retail network in the region, the new local assembly unit will be a critical boost for business growth in the Latin American region.
SEE ORIGINAL POST – https://powersportsbusiness.com/top-stories/2022/12/13/royal-enfield-continues-to-expand-in-americas/
---
13 – DEALERNEWS TOP 100 RETURNS Kicking Off at AIMExpo – From Dealernews
Dealernews is bringing back its famed Top 100 Dealer Awards — the powersports industry's largest, longest running and most prestigious retail competition — with a special tribute at AIMExpo in Las Vegas, February 15-17, 2023. All AIMExpo attendees are invited to a reception honoring the Top 25 Dealers of All Time on February 16.
"We want to thank Dealers for all they do to sustain and grow our industry, support our sport, enhance our lifestyle, and serve as the pillars of our community," said Dealernews magazine owner (and former Top 100 winning Dealer) Bob Althoff. "The Dealers' impact, individually and collectively, is inspiring and vital to the future of powersports. It is high time we return to recognizing retail excellence. And where better to salute Dealers than at our industry's trade show?"
Kicking off the Top 100's return will be a salute to the Grand Prize winners from 1992-2016. "AIMExpo will be toasting the Top 25 of All Time with a cocktail reception immediately following Thursday's show," said Cinnamon Kernes, vice president of market expansion for the Motorcycle Industry Council. "All attendees and exhibitors are welcome to join in the tribute to these great Dealers — past, present, and future!"
"AIMExpo is the annual grand stage for the North American powersports industry," added Kernes. "It attracts influential industry leaders who are focused on progressing the powersports business. Together we can energize the industry. With invaluable Dealer education programs and networking opportunities like this, as a Dealer in the powersports business, you need to be here!"
Dealernews magazine launched its Top 100 program to spotlight the outstanding achievements of North America's powersports retailers in 1992, and with AIMExpo continuing to prioritize the industry with its trade-only format for 2023, the time and place to bring the program back was perfect. "For 25 years we recognized retail excellence by the Dealers of North America," Dealernews editor Robin Hartfiel said. "Since our awards program has always been about recognizing and honoring the people we respect the most, 'Top 100' has been the ultimate Dealer accolade since 1992."
AIMExpo is more than just a trade show. It is the place where the $39.9 billion powersports industry gathers as a community to discover, explore, and experience the trends and products that shape the marketplace. Learning, growth, profitability, and change — and it all starts here. AIMExpo always offers FREE Dealers registration: https://www.xpressreg.net/register/AIME0223/landing.asp
---
14 – Powersports Business appoints new editor – From Powersports Business
EPG Brand Acceleration, the parent company of Powersports Business (PSB), announces the appointment of Glenn Hansen as PSB's interim Editor, effective immediately. Hansen has decades of experience in powersports media and marketing, including years of editorial leadership with EPG trade and consumer magazines.
After leading magazines in the PWC and ATV markets, Hansen worked with American Suzuki Motor Corp. as Advertising and PR Manager from 2003 through 2009. In 2010 he formed HansenHouse Communication, an independent content marketing agency, and served clients in powersports, automotive, and manufacturing industries with communication strategy and content creation.
"I worked at then Ehlert Publishing when Powersports Business was born," said Glenn Hansen, "and I'm thrilled to serve this brand again, and to work alongside a team of pros I admire and consider friends. I know the strong reputation the brand and its staff have earned and maintained in PSB's 25-year history, and I will do my best to build on that success."
Hansen joins PSB following the successful term of former editor-in-chief Dave McMahon. McMahon helped build PSB into the leading news source in the powersports industry as well as a multi-platform content provider. PSB recently held its Accelerate Conference, a multi-day business event serving powersports dealers and aftermarket professionals. McMahon recently joined Volcon, Inc., as the brand's Channel Marketing Manager.
"In his 11 years at the helm of Powersports Business," said Mark Rosacker, VP Trade Sales at Powersports Business, "Dave McMahon kept his focus on serving powersports dealers with useful and timely information. We're proud of the broad range of work Dave did to grow Powersports Business, and we wish him the best in his new venture."
David Voll, Sr. VP of Sales at EPG added, "It's great to have Glenn back in the fold. We know he'll continue the wonderful dealer connection established by Dave McMahon via our digital products, the magazine and our one-of-a-kind Accelerate conference."
Glenn Hansen joins Powersports Business as interim Editor.
---
15 – Can-Am and Red Bull join forces to Transform the Future of Off-Road Racing – From BRP Inc
BRP Inc. (TSX: DOO, NASDAQ: DOOO) is thrilled to announce that Can-Am and Red Bull have teamed up to revolutionize the world of off-road racing by creating the Red Bull Can-Am Factory Team composed of an impressive lineup of drivers that have dominated global FIA racing events over the past several years. Through this multi-year collaboration, both brands also aim to ensure the evolution of the Red Bull Off-Road Junior Team, a program designed to discover, develop, and grow the next generation of off-road racers.
"We are very excited about this collaboration with Red Bull. Both of our brands share a common passion and desire to push further, work harder, break boundaries and make the impossible possible," said Anne-Marie LaBerge, Chief Marketing Officer at BRP. "We can't wait to watch this new Red Bull Can-Am Factory Team take off and conquer everything that lies ahead of them on and off the race course, leading the way for future generations of racers from around the world."
The first race that the new Red Bull Can-Am Factory Racing Team will contest is the 2023 Dakar Rally, in the T3 and T4 vehicles classes. The new roster is composed of a 'dream team' of race winning drivers:
T3 Driver Lineup
T4 Driver Lineup
Rokas Baciuška, 23, Lithuania, 2022 Rallye du Maroc winner, 2022 World Rally Raid T4 Champion
These five drivers will look to take their performance to the next level in the 2023 Can-Am Maverick X3 as they tackle the grueling 15-day, 5,000 km Dakar Rally. The team will contest the top levels of off-road racing globally, including the World Rally Raid Series and key North American races. The platform of the team and its drivers will also mentor the up-and-coming athletes of the Red Bull Off-Road Junior Team.
"We couldn't be happier with our driver lineup for the 2023 Dakar Rally. I feel we have a good opportunity to win this race, especially with the Dakar-winning proven platform of the Can-Am Maverick X3," said Scott Abraham, Team Principal of South Racing and Red Bull Can-Am Factory Team. "The foundation of what we are building today with this new team and the evolution of the junior team program will help push the next generation of racers to new heights, and South Racing is thrilled to be able to lead this."
Through cooperation with Can-Am and South Racing, the Red Bull Off-Road Junior Team program will serve to create a career roadmap for young racers to follow their goals and dreams to the Dakar Rally. It will identify up and coming talent and help to support their racing on regional and national levels, before taking them up to the international stage. Throughout this process, young racers will learn mentoring and obtain guidance from seasoned professional racers. The Red Bull Off-Road Junior Team isn't just limited to racers, it is also looking to identify the future talents in engineering, mechanics, and marketing that can play pivotal roles in shaping the future of the racing industry.
---
Share