Here are a few stories that came across my desk that I think are relevant and interesting to the powersports business community.
---
Demo Days on the Show Floor Selected for Nearly 20 E-Bike Brands
Two-wheel test rides are returning to AIMExpo next month and they'll be right on the show floor, not far from the main stage inside the Las Vegas Convention Center. E-bike demos will be offered to attendees on all three days of the trade-only powersports show.
Wednesday, February 15, will be an exclusive day for Tucker Powersport brands including Bluetran, Cannondale, Evolve, Fantic, Land, Rambo, Rovoron, Segway, and UBCO.
Thursday, February 16, and Friday, February 17, will be for all brands including Bianchi, DŌST, Greenger, HOVSCO, QuietKat, Rawrr, Yamaha, and Zooz.
The nation's e-bike business is estimated to grow from $49.7 billion in 2022 to $80.6 billion by 2027, according to MarketsandMarkets.
"To help support this growth and integration into the powersports industry, AIMExpo will feature many e-bikes on the show floor," said Andre Albert, AIMExpo director of sales and marketing. "Our e-bike pavilion, indoor demo course, and even live presentations on-stage at New Product Central will showcase the expansion of this market and opportunities for dealerships. More and more e-bikes are out there on city streets and off-road trails across America and it's understandable. They appeal to both motorcyclists and cyclists and they're inviting for all sorts of new consumers, too."
---
Honda to make organizational changes, accelerate electrification
From Powersports Business –
Honda Motor Co., Ltd. has announced that it will make organizational and operational changes effective April 1. These changes will allow Honda to continue working toward the fulfillment of its vision to serve people worldwide with the "joy of expanding their life's potential" in the areas of mobility and people's daily lives.
With this year's changes, Honda will further solidify the direction of the organizational changes made last year with an eye toward the realization of carbon neutrality by 2050. Specifically, Honda will strive to further accelerate its electrification business and create new value by leveraging its broad and expanding range of mobility products and services.
Key points of the organizational changes include the creation of Electrification Business Development Operations, the reorganization of Regional Operations and the reorganization of Corporate Functions.
Read the entire post HERE – https://powersportsbusiness.com/top-stories/2023/01/25/honda-to-make-organizational-changes-accelerate-electrification/https://powersportsbusiness.com/top-stories/2023/01/25/honda-to-make-organizational-changes-accelerate-electrification/
---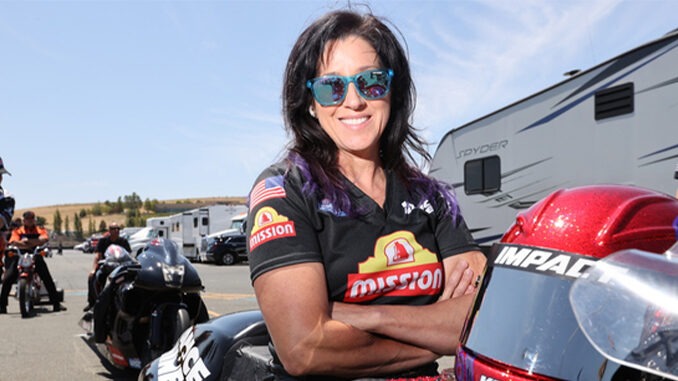 Breaking Records and Breaking Stereotypes NHRA Champ, Keynote Speaker Angelle Sampey to share How To Win It All
She's 5'1", 115 pounds and manages a 500-pound, 400-horsepower motorcycle at 200 miles per hour. Angelle Sampey, the winningest female racer in NHRA history, will join Kerry Graeber of Suzuki Motor USA to talk about grit, tenacity, and how to use the unexpected to break down barriers and achieve success in life and business. She'll be on the main stage Wednesday, February 15, as AIMExpo's keynote speaker.
"My life, my career has always been about never giving up and never giving in," said Sampey, the latest addition to AIMExpo's educational lineup. "Being a woman drag-racing motorcycles has taught me that there are no barriers you can't overcome and that you have the power to change people's minds. I hope that by sharing my story, I can help the powersports community realize just how much influence they have, especially as we work to bring more people into our awesome community."
"Angelle is a legend, with unparalleled success in the highly charged world of professional drag racing," said Graeber, senior vice president, division manager of sales and marketing at Suzuki Motor USA, LLC. "While our industry works hard to reach beyond our traditional customers, I'm eager to hear insights Angelle may have to help us inspire more people to ride. Angelle doesn't fit the traditional expectations many have about motorcyclists in general and her story will force us to rethink long-held, and outdated, perceptions about who our customers are."
Sampey began her professional racing career in 1996, and after just four entries, she won her first race in Reading, Pennsylvania. Not only did she win, she was also the number one qualifier and reset the National E.T. record. By 2001, Sampey became the winningest female racer and continues to hold that title with 46 wins and three NHRA Pro Stock Motorcycle world championships. But after the 2008 season, at age 38, she retired from drag racing to pursue another goal — starting a family. Little did she know, her racing career was far from over.
"It was scary to leave racing behind. It's what I knew, what I loved," Sampey said. "What I never imagined was how, by doing something different, I was able to achieve all my dreams and find even more success."
In 2014, Sampey received a call from a former team asking her to fill in after their rider had left. "I wasn't sure about it at first," Sampey said. "I was a mother now and didn't know if I still had the competitive fire in me. Boy was I wrong! But I have to thank the team for their open hearts and open minds, and their belief that a 40-something-year-old mother could be a fierce racer."
"They showed me again that we always have to look beyond the surface," she said. "We know that the powersports community is embracing and generous, but to many outside, we probably seem a bit intimidating. I want to explore how we can make our industry more approachable, and how all of you out there, especially at the dealerships, are the true ambassadors, you are the faces of powersports and you have the power to grow our community."
For a complete list of AIMExpo's 2023 educational offerings, go to www.AIMExpoUSA.com.
---
Parts Unlimited, Drag Specialties hires dual sales representative
Parts Unlimited and Drag Specialties has announced the addition of Trey Crouch, the newest dual sales rep, to its team. He will cover the Central region, including Iowa and South Dakota.
Crouch's industry experience includes parts and sales representation at the dealer level. He is also an avid Harley-Davidson rider, and dirt bike trail rides in the summer and mountain snowmobiles in the winter.
In his spare time, Crouch enjoys hunting, fishing and trail riding horses.
---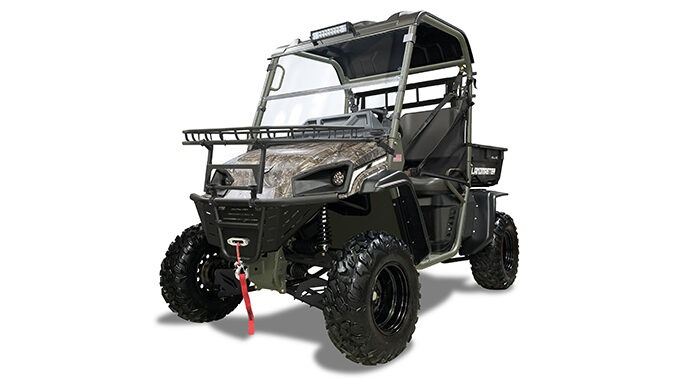 Landmaster Reveals New Upgrades to their Model Year 2023 UTVs
– Landmaster, American-made UTV manufacturer, has released a mid-model year upgrade to the 2023 UTVs. The new changes involve new improved engines, redesigning of the throttle and brake pedals, and new graphics to the outside of their vehicles. You can see all the changes by watching the video below.
The L5 and L7 models are now built with more powerful, higher-torque engines from Vanguard, a leader in the commercial engine sector. Additionally, the L5 and L7 now come standard with power steering (EPS). Having EPS makes steering your vehicle a smoother, more enjoyable experience, similar to your automobile.
The L5 is getting a huge upgrade from a 479cc carb engine to the more powerful 570cc Vanguard engine. This increase in power gives you roughly 18% more torque and more acceleration off the starting line. "Side-by-side to previous L5 with the 479cc engine, you'll notice a huge improvement and increase in power that the Vanguard 570cc engine gives you. That increase in punch of acceleration makes this a nice riding machine." says Bryan King, Product Engineer for Landmaster.
The L7 gets a huge expansion shifting from the Kohler EFI engine to the Vanguard 627cc EFI engine. Drivers will get 8% more torque to help with larger loads and hill climbs. Additionally, the Vanguard engine produces more top end speeds of 35mph+. Depending on your overall payload you could see speeds in the high 30's. "This is a great shift from Kohler to Vanguard. Vanguard has been a solid producer of quality engines for us across all our models. When we had dealers test drive models with the new Vanguard EFI engine, they immediately noticed the increase in power and acceleration." Comments Bryan King.
Another big change in the new 2023 models are the improved gas and brake pedal design. The pedals are now designed to provide added comfort for all types of passenger heights and sizes. Additionally, the new design is more comfortable when the driver needs to push the throttle pedal down for long periods of time, for example, when driving on long country roads.
Last, but not least, the Landmaster UTVs have been given a fresh, new look, inside and out, with their modern style badging. The new reflective decals for the model's name and branding elements are fixed to all sides of the vehicle, providing a modern sleek look and also aiding as a safety device at night. Additionally, the Landmasters are badged with an aluminum, American flag plate on the driver side, giving drivers a way to proudly show off their USA-made workhorse. The front emblem has been upgraded to a heavier-duty, automotive-grade molded emblem, giving the vehicle a nice professional first impression. And finally, driving the vehicle, you will notice new branding elements on the interior that give the Landmaster a nice finishing touch. "Quality is a huge focus for us at Landmaster, especially being an American made product. The branding of the vehicle serves as a catalyst to draw users in, and build their confidence in our quality. The new branding is bolder, purposeful, and all sourced domestically." states David Piercy, Marketing and Creative Director for Landmaster.
Learn more about Landmaster: www.Landmaster.com
---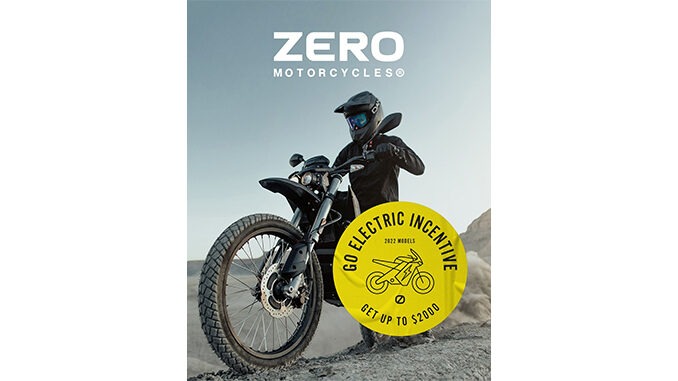 Zero Motorcycles Announces Exclusive "Go Electric" Incentive
Zero Motorcycles, the worldwide leader in electric motorcycles and powertrains, today announced a new incentive program to entice riders to make the change to electric. The "Go Electric" incentive program is a limited-time offer that allows buyers to receive an instant incentive of up to $4,250 on the purchase of a 2022 showroom model. As the leading brand in electric motorcycles, Zero Motorcycles is dedicated to delivering a truly transformative riding experience and is proud to make the experience more attainable than ever through this incentive.
The "Go Electric" program offers a rare opportunity for buyers to own a premium electric motorcycle at an unprecedented price point, as Zero Motorcycles are rarely available at a discount. The program is designed to encourage EV motorcycle adoption and make it more accessible for riders to join the rapidly growing EV revolution.
"Despite the current absence of federal tax incentives, Zero is making it easier than ever to switch to electric with an instant incentive on our latest showroom models," said Bill Stone, Zero Motorcycles National Sales Director. "Zero is dedicated to encouraging more EV adoption, and our program offers another opportunity to join the movement at a great price. Zero Motorcycles is more than a mode of transportation, it's a lifestyle choice for the forward-thinking individual who wants to make a difference in the world."
Zero Motorcycles was founded in 2006, operates in over 40 countries and has 10 full-sized consumer models built on three different platforms for both street and dual-sport use. Zero is proud to be the choice of tens-of-thousands of riders and hundreds of fleets and agency fleet operators all over the world. For complete details on the Instant Incentive or any other promotions, visit the Zero Motorcycles Promotions Page.
---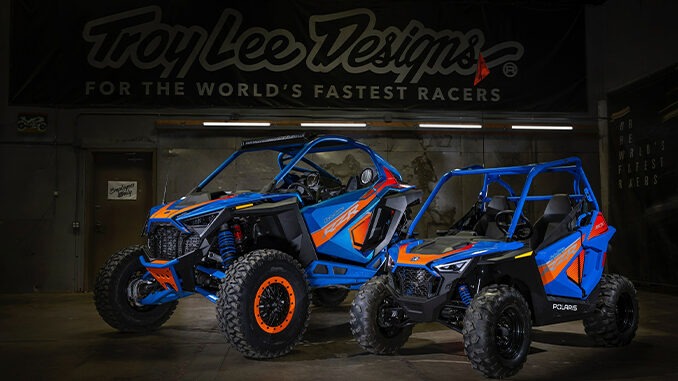 Polaris & Troy Lee Designs Combine Legendary Styling and Unparalleled Performance with All-New, Limited Edition RZR Pro R and RZR 200 Models
Pollaris Off-Road, the leader in off-road vehicle innovation, today unleashed two show-stopping limited edition offerings in partnership with iconic motocross, mountain bike and action sports brand Troy Lee Designs (TLD) – the 2023 Polaris RZR Pro R Troy Lee Designs Edition and matching RZR 200 EFI Troy Lee Designs Edition. While the RZR 200 EFI Troy Lee Designs Edition marks Polaris' first ever limited edition RZR 200, both limited edition models carry the vivid, race-inspired design aesthetic that has become the calling card for TLD for nearly 40 years.
The Polaris-TLD collaboration leverages the powerful influence of two industry leaders, combining the legendary artistry of Troy Lee with the performance-engineering prowess of Polaris. This is the second time the two brands have come together to deliver a dynamic limited edition offering, previously collaborating on a limited edition Polaris GENERAL in 2022.
"We're thrilled to continue our partnership with Troy Lee Designs, offering two limited edition RZRs that powerfully demonstrate our shared passion for off-roading and our commitment to premium style, performance and safety," said Reid Wilson, Vice President, Polaris Off Road Recreation. "This year, we selected the RZR Pro R and RZR 200 models for the simple fact that they are at the top of their class – the Pro R for its unmatched power and strength, and the RZR 200 for its unique blend of performance and safety features, ideal for unlocking the excitement of off-roading for the next generation of riders."
Since his early days painting helmets for professional motocross riders in the 1980s, Troy Lee has influenced generations of two-wheel off-road enthusiasts across the motocross and mountain biking industries. His use of bold, vivid colors and design motifs have shaped motocross and mountain bike style and elevated self-expression for riders at every level. Now with these new limited edition RZR models, TLD and Polaris are elevating self-expression for side-by-side drivers who live for the adrenaline rush and excitement of off-roading, whether out in the dunes or on the trails.
"The RZR Pro R and RZR 200 are both an incredible design canvas. The Pro R has power for days, suspension that delivers a ridiculously smooth ride, and strength to manage anything thrown its way, while the RZR 200 gives the next generation of rider the confidence to tackle the trails," said Troy Lee. "It's truly an honor to design our very own RZR Pro R and RZR 200, the ultimate proof points for Polaris' engineering prowess and commitment to driving the side-by-side industry forward."
Starting with the top-tier Ultimate trim, the RZR Pro R Troy Lee Designs Edition combines this artistic vision with the power, strength and control of the most revolutionary side-by-side on the market.
Featuring an industry-leading 2.0L four-cylinder engine that delivers an astonishing 225 horsepower, a welded one-piece cage, solid box chassis and stronger driveline, plus the adaptive DYNAMIX DV, and all-new Max-Link suspension, the Pro R was built to take drivers further and faster than ever before.
For the young, aspiring riders, Polaris is offering the RZR 200 EFI Troy Lee Designs Edition. Designed for children 10 years or older, the youth side-by-side packs industry-leading safety features, kid-friendly performance, and adjustability to allow the young rider to grow with their machine. Simply put, the RZR 200 EFI Troy Lee Designs Edition combines race-inspired styling, with kid-friendly performance that empowers young drivers to get out and ride.
2023 RZR Pro R Troy Lee Designs Edition $44,999 MSRP
2023 RZR Pro R 4 Troy Lee Designs Edition $49,999 MSRP
With approximately 1,000 units of each model available worldwide, the limited-edition RZR Pro R Troy Lee Designs Edition includes:
Custom Troy Lee Designs® Styling and Graphics – Exclusive Troy Lee Designs® graphics with electric blue and orange retro-styling, including custom-embroidered seats and limited edition interior identification badging displaying the unit number. Each unit also showcases painted color-matched factory accessories including front and rear bumpers, rock sliders, A-Arms, trailing arms and springs.
RIDE COMMAND+ – Coming factory installed, RIDE COMMAND+ delivers all the great features of RIDE COMMAND, including the industry-exclusive 7-inch glove-touch display powered, plus a whole new level of connectivity. The system includes remote vehicle location services, vehicle health monitoring, and over the air updates with new feature releases. GPS navigation and waypoints let riders save specific destinations and follow a guided route so they can find their way even outside of cell range.
Rockford Fosgate® Stage 4 H.O. Audio – Upgraded from the stock Stage 2 audio package, the Rockford Fosgate® Stage 4 H.O. audio system turns it up a notch providing the most demanding rider with an off-road audio experience like no other. Delivering powerful and crystal clear sound through 100W speakers and a 10″ 400W subwoofer – the new stainless steel tweeters and rear speaker grills, along with the blue hue backlighting, makes the system look as good as it sounds.
Pro Armor 5302 Beadlock Wheels and Maxxis Rampage Fury Tire – The Pro Armor wheels offer ultra-strong performance and undeniable style with a beadlock ring that seamlessly complements the look and style of this limited edition vehicle, while the 32×10-15 tires provide maximum amount of tread to grip rocks, sand and all other terrains with ease, offering optimal performance.
RIGID SR-Series 32″ Combo LED Light Bar – To keep riders out longer and more confidently into the night, the added 32″ RIGID light bar features a powerful 20k lumen output and is integrated forward-facing on the roof.
Storage Upgrades – Long days on the trail require additional supplies. With added Door Storage Bags, riders can keep their belongings secure and easy to access with these seamlessly fitting bags.
Added Strength and Protection – Equipped with Front and Rear Pre Runner Bumpers and Low-Profile Rock Sliders, these Factory Accessories add additional toughness and protection to the Pro R.
2023 RZR 200 EFI Troy Lee Designs Edition $7,499 MSRP
With only approximately 1,000 units available worldwide, the limited edition RZR 200 EFI Troy Lee Designs Edition includes:
Custom Troy Lee Designs® Styling and Graphics – Give the next generation of off-roader the most stylish ride with matching interior and exterior Troy Lee Designs® graphics and painted componentry, including ROPS and springs.
Industry-Leading Safety Technology – Parents can still expect the same top-of-the-line safety features like RIDE CONTROL powered by RIDE COMMAND, which includes helmet-aware technology, pin code start, digital speed limiting and geofencing.
Kid-Friendly Performance – With plenty of ground clearance and suspension travel, the RZR 200 has all the performance necessary to empower young off-roaders to ride confidently and tackle new terrain.
Grow With Polaris – With 180cc EFI engine, adjustable seat and steering wheel and available accessories, this is the perfect vehicle for young riders to grow with their side-by-side.
To learn more about the new RZR Pro R Troy Lee Designs Edition and the RZR 200 Troy Lee Designs Edition visit https://www.polaris.com/en-us/off-road/rzr/ or join the conversation and follow Polaris ORV on Facebook®, Instagram®, YouTube® and Twitter®.
---
Share