News and stories from the world of the Powersports business.
---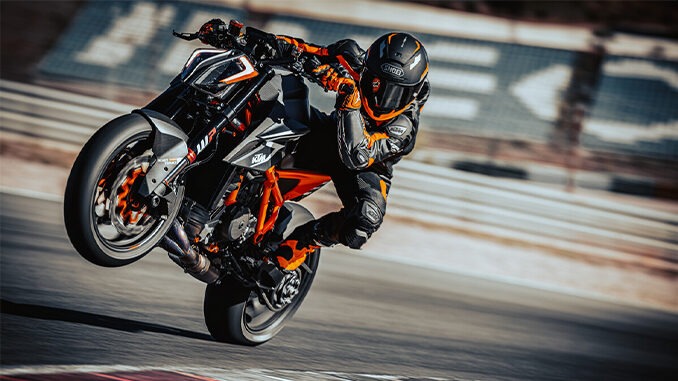 2023 KTM 1290 Super Duke RR – Limited Numbers, Unlimited Fury
Following the roaring success of the KTM 1290 SUPER DUKE RR in 2021, 500 units of the 2023 KTM 1290 SUPER DUKE RR will go into production, promising the same levels of ferocity but with a meaner, darker
The KTM 1290 SUPER DUKE RR will once again rip into the tarmac, leaving a deep, lasting impression as the ultimate numbers-limited Hyper Naked motorcycle in the KTM stable. The numbers tell the story – 1,301 cc, 180 hp, 180 kg, and 140 Nm, with a phenomenal 1:1 power-to-weight ratio, making it every bit as beastly as its predecessor, but with a darker shadow.
Sporting a gloss black and matt carbon base, contrasting white graphics, and striking orange accents, the 2023 KTM 1290 SUPER DUKE RR casts an ominous shadow with menacing intentions. This is further exaggerated with a collection of unique custom-made components, which are specific to the RR, adding more aggression and attitude.
With the KTM 1290 SUPER DUKE RR being 11 kg lighter than a standard KTM 1290 SUPER DUKE R EVO, it is equally at home decimating lap times as it is carving up mountain roads, providing riders with the ultimate Hyper Naked package.
However, it's the KTM 1290 SUPER DUKE RR's collection of WP Suspension's finest components that take it from a backroad brawler to an accomplished track day terror. Upfront, a fully adjustable WP APEX PRO 7548 Close cartridge fork has been tailored specifically for the RR, while a custom-made WP APEX PRO 7746 Shock takes charge of the rear. The WP APEX PRO 7117 steering damper keeps things in check and offers 30 clicks to dial it into your specification.
Carbon fiber is used extensively, with the subframe also receiving the lightweight carbon treatment, creating a unique single-seat unit. The LED taillights are incorporated into LED turn signals, as well as KTM's adaptive brake light as standard.
As an added extra to enforce the KTM 1290 SUPER DUKE RR exclusivity, owners will be presented with a bespoke carbon fiber box containing the keys to their new BEAST.
For the absolute power-hungry, a full system Akrapovič EVO line exhaust system is available as an optional extra, which adds even more bite to THE BEAST.
Notable features on the KTM 1290 SUPER DUKE RR include:
1:1 power-to-weight ratio
WP APEX PRO COMPONENTS Suspension
Akrapovič Slip-on exhaust
Exclusive carbon fiber bodywork
Lightweight lithium ion battery
Ultra-lightweight forged wheel
Carbon fiber subframe with a single seat
New, black CTG
Limited to only 500 units
Unique, branded carbon key box
Factory triple clamp
Adjustable CNC-machined rearset
Not only impressive when it comes to hardware, the KTM 1290 SUPER DUKE RR boasts the most complete track-orientated electronics pack ever seen on a KTM motorcycle – as standard, adding advanced TRACK and PERFORMANCE MODE. While the KTM 1290 SUPER DUKE RR already boasts a full range of exclusive components and bodywork, riders looking for more ferocity can browse a full range of specially developed KTM PowerParts, along with a dedicated range of KTM PowerWear. This includes a custom leather race suit, specifically completed with unique KTM 1290 SUPER DUKE RR branding and matching design.
The 2023 KTM 1290 SUPER DUKE RR will be available globally. Orders open today, 13 March and can only be secured through a select number of authorized KTM dealers.
---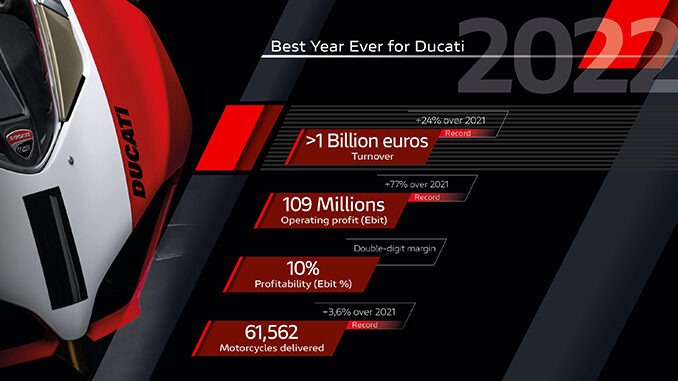 Ducati Overcomes 1 Billion Euros Revenue for the First Time in its History
Ducati closes a year full of successes posting record figures for sales, revenue and operating profit that add to the exceptional triumphs achieved by Ducati in the racing world, which has seen the Bologna-based motorcycle manufacturer win all titles in MotoGP and WorldSBK.
For the first time in its history, Ducati's revenue overcame 1 billion euros (1,089 million euros), marking an increase of 24 percent over 2021 (878 million euros), thanks to an attractive product portfolio that resulted in higher volumes in sales. Operating profit is also remarkable with a record 109 million euros, corresponding to a massive growth of 77 percent compared to 2021 (61 million euros). As a result, the profitability level also increased reaching a double-digit margin of 10 percent.
2022 was also exceptional in terms of commercial results. Ducati closed the year with a record of 61,562 motorcycles delivered to enthusiasts around the world, scoring a 3.6 percent growthover 2021.
Claudio Domenicali, CEO Ducati: "For the first time in our history, we passed the 60,000-bikes mark and we overtook 1 billion euros in revenue. This establishes 2022 as the best year ever for Ducati in several aspects, starting from the great sales and financial performance to the successes in MotoGP and WorldSBK. We are on a positive trend that in the last years has seen Ducati grow and establish itself as an increasingly solid company. As a brand that is an expression of Made in Italy, innovation, design and technology, we keep our focus on delivering exciting experiences on and off motorcycles to passionate Ducatisti all over the world."
Henning Jens, CFO Ducati: "I am glad that for the second year in a row we are able to announce a record financial performance and a growth in the profitability level for Ducati. Reaching such results despite the supply chain disruption that has heavily affected the automotive sector during the course of 2022 is a remarkable achievement of the whole Ducati Group. We were also able to pursue the self-financed investments plan in R&D, infrastructures and digitalization that was in our agenda for 2022."
The Sales network continued to grow over the past year, getting closer to Ducatisti around the world. At the end of 2022, there were 821 Ducati dealerships, the highest number ever, which, with the addition of new markets including Brunei, Ecuador, El Salvador and Mongolia, represent Ducati in as many as 96 markets.
For 2023, Ducati has presented eight new models to complete its wide range, and is able to offer all Ducatisti the most suitable bike to express their passion for two wheels.
Among the most awaited models there are the Multistrada V4 Rally, a bike for great travelers, and also the new Diavel V4, the model that won the "Most Beautiful Bike of the Show" award at EICMA. Also the brand-new, second generation of Scrambler Ducati, which confirms the simplicity and authenticity that have always represented essential values for all Scrambler Ducati enthusiasts, and has become more contemporary, colorful and now comes with an even more lively personality.
Starting in 2023 and until 2026, Ducati will be the sole supplier of motorcycles for the FIM Enel MotoE™ World Championship, which officially begins on May 13, 2023 at the French Grand Prix. With this project, Ducati is thoroughly studying the technologies for the future of the world of motorcycling, investing and experimenting to build expertise to be ready when battery technology should allow the creation of an exciting electric road bike with the weight, performance and range that enthusiasts expect from a Ducati.
In December 2022, Ducati opened the new "Finitura e Delibera Estetica" manufacturing that will host the last phase of the production cycle, which consists of the final dressing of the bikes carried out by Ducati with a tailored approach and meticulous attention to detail. The new building is the result of a significant infrastructure investment completely self-financed. Investments in the headquarters' infrastructure will also continue over the course of the coming years.
---
Share