News and stories from the world of the Powersports business.
---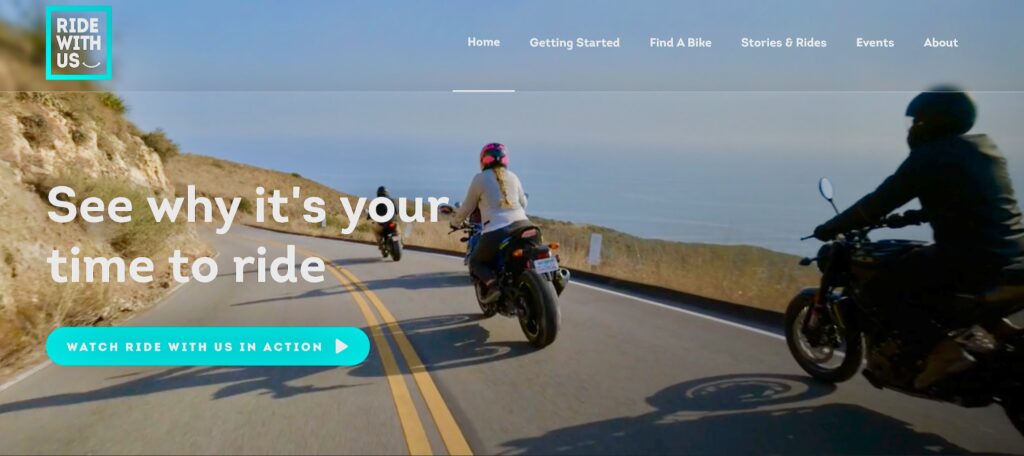 One-Stop New-Rider Portal Now Online as Moto Intro Series for 2023 Set to Begin
The 2023 MIC Ride With Us Moto Intros are set to kick off at Overland Expo West in Flagstaff, Arizona, May 19-21. It's the third consecutive season for Moto Intros, held at a variety of events and venues across the country, that put first-time riders on bikes with the help of Motorcycle Safety Foundation certified coaches.

The latest Moto Intro series will be backed by a brand new website recently launched by the Ride With Us market expansion program. It works as a new-rider portal, presenting all the relevant and helpful information needed along the way to becoming a motorcyclist.

"The online portal provides engaging content about bikes, gear, licensing, events, rental information, inspirational blog content, a motorcycle finder, and a motorcycle dealer locator," said Cinnamon Kernes, MIC vice president of market expansion and events. "Users can opt in to receive the monthly Ride With Us e-newsletter. To date, the opt-ins have been higher than expected. We know lead-generation and nurturing are key to helping potential riders continue their journey toward becoming lifelong enthusiasts. In the works are plans to nurture our leads via a new customer relations management system. With the new website we also launched a national advertising campaign. We are seeing good signs that the website and content are resonating with the desired end user, and the information we provide is driving the actions we are hoping for from potential new riders."

Some key results from the first two months of the Ride With Us advertising campaign:
1.2 million impressions
41,000 clicks to visit the website
61,000 page views, the top pages being "find a bike" and "getting started"
1,700 searches using the dealer locator
Nearly 300 people have subscribed to the Ride With Us database
"We will continue to hone the web experience and content to provide new riders what they need to move from the 'explore' to the 'engage' phases of becoming a motorcyclist," Kernes said. "Meanwhile, we are looking forward to getting back on the road with the latest Moto Intro series. We're scheduled again to be at every Overland Expo across the country. That's proven to be a great partnership for us where we can tap into adventure-seeking audiences and get new riders onto a motorcycle for the first time in a controlled and welcoming environment. It's free for Overland ticket holders and the 30-minute Moto Intro experience gives our guests that first feeling of being a motorcyclist, igniting the spark that will drive them toward becoming a rider."

Kernes invites anyone with questions about Ride With Us, or questions about how to get involved with Moto Intros, to contact her by email.
---
PSB opens 40 Under 40, Women With Spark, and Best-In-Class nominations
Powersports Business magazine opens the 40 Under 40, Women With Spark, and Best-In-Class nominations for 2023, due June 1. The awards will be handed out at the 2023 Accelerate Conference, which will be held on Nov. 5-7 at the Westin Galleria in Dallas, Texas. We can't wait to see you there!
This year we would like to recognize professionals from all parts of the industry, from dealerships to OEMs to parts vendors and more. Click the links below to nominate a peer for the 40 Under 40 or Women With Spark Awards and a dealership for the Best-In Class-Award:
READ MORE HERE – https://powersportsbusiness.com/top-stories/2023/04/12/psb-opens-40-under-40-women-with-spark-best-in-class-nominations/
---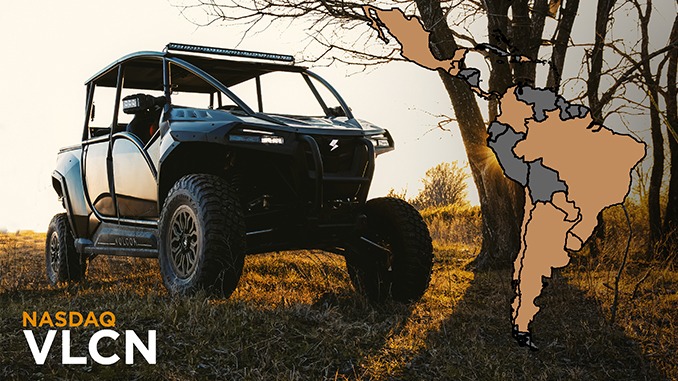 Volcon Continues Expansion in The Americas and Secures a $12.0 Million Minimum Purchase Requirement From Brazilian Importer
Volcon Inc. (NASDAQ: VLCN) ("Volcon" or the "Company"), the first all-electric, off-road powersports company, announced today it has entered into a multi-year distribution agreement (the "Importer Agreement") with Brazilian importer, Comfort Industria E Comercio LTDA ("Ventura Experience", or "Ventura") with a minimum purchase requirement of $12.0 million (up to 17.2 million if full sales forecast for Brazil is met) over a three year period beginning in 2023. The Importer Agreement was effective March 31, 2023, and includes up to five additional countries with up to $3.4 million of additional minimum purchase requirements (up to $4.8 million if sales forecast is reached). Sales in these additional countries is contingent upon approval from a component supplier to the Stag to sell into these countries.
The Importer Agreement will renew in 2026 if Ventura meets its sales performance targets outlined in the agreement and will renew thereafter for consecutive two-year periods. For each consecutive renewal period, and unless otherwise agreed, the minimum purchase requirements under the Importer Agreement will increase by 5% over the then existing minimum purchase requirements. With the Ventura relationship, Volcon seeks to expand its dealership network into several other countries in the South and Latin American regions via Ventura's established distribution network.
"We are thrilled to announce our new distribution agreement with Ventura, which will bring Volcon Electric Vehicles to five new countries in South America. Ventura is an impressive company with a proven track record in the industry, and we look forward to working together to bring sustainable and innovative products to customers throughout the region," said Melissa Coffey, Vice President of Global Sales and Business Development at Volcon.
"After a chance to visit each other's cities, teams and facilities, the opportunities to collaborate became clear to us. We knew we wanted to work with them and started putting steps in place to bring this relationship to fruition," said Cristian Liani, International Sales Manager at Volcon. Liani continued, "this agreement is a testament to the hard work and dedication of both teams, and we're excited to see what we can accomplish together."
"We are incredibly excited to partner with Volcon and bring their innovative, sustainable electric vehicles to our customers in Latin and South America. With our 40 years of powersports distribution expertise and Volcon's groundbreaking products, we have an opportunity to create a better, cleaner future. As an established leader in the industry, we recognize the importance of sustainable innovation and cannot wait to expand our portfolio with Volcon's all-electric powersports products. We are confident that our joint efforts will result in a successful and sustainable business venture, and we look forward to showcasing the Volcon line of products to our dealers and customers at our upcoming dealer conference in July. With our commercial headquarters in São Paulo and our extensive network of dealerships, we are well-positioned to help Volcon expand their dealership network throughout South and Latin America."
Ventura plans to launch the Volcon line of products this July at their bi-annual dealer conference where Volcon team members will participate in revealing the product lineup to dealers attending the conference. With Ventura's current UTV and four-wheel lineup being primarily diesel powered, they're excited to bring Volcon electric vehicles to their customers and community. Prior to the launch of Volcon products at their dealer conference, the Company plans to have members from Ventura join them in Austin this spring for its dealer demo day. Coffey continued, "A relationship of this kind has the potential to create endless opportunities for both parties, and we're ecstatic to start working together and exploring what the future holds."
About Ventura Experience
With 40 years in the market, Ventura is a leader in the segment of vessels from 18 to 45 feet. The brand inspired the aesthetic reformulation in the national speed boat market, becoming one of the most highly regarded boat brands ever produced in Brazil. With more than 20,000 units sold, the Shipyard produces vessels from 18 to 55 feet. With its factories in the Industrial Pole of Manaus/AM and Capitólio/MG, the shipyard also has commercial headquarters in São Paulo/SP, totaling more than 51,000 m² of the built area to all Ventura dealerships spread throughout the national territory. In these units, a team of professionals in tune with what is most modern in the world produces boats, quadricycles, and UTVs, which stand out for their innovation, technology, refinement, and unmistakable design.
About Volcon, Inc.
Based in the Austin, Texas area, Volcon was founded as the first all-electric powersports company producing high-quality and sustainable electric vehicles for the outdoor community. Volcon electric vehicles are the future of off-roading, not only because of their environmental benefits, but also because of their near silent operation, which allows for a more immersive outdoor experience.
Volcon's 2023 vehicle roadmap includes both motorcycles and UTVs hitting the market in North America. Its first product, the innovative Grunt, has been shipping to customers since late 2021 and combines a fat-tired physique with high-torque electric power and a near-silent drive train. Volcon just announced the launch of the Grunt EVO, an evolution of the original Grunt with a belt drive, an improved suspension and seat. Volcon also just announced the launch of the Runt LT, which is a fun-sized version of the groundbreaking Grunt, is better suited for small statured riders, more compact properties and trails, or as a pit bike at race events, while still delivering robust off-road capabilities. The Brat is Volcon's first foray into the wildly popular eBike market for both on road and off-road riding and is currently being delivered to dealers across North America. Volcon is also launching and currently delivering the Volcon Youth Line of dirt bikes for younger riders between the ages of 4 to 11. Volcon recently launched the Stag and entered the rapidly expanding UTV market. The Stag empowers the driver to explore the outdoors in a new and unique way that gas-powered UTVs cannot. The Stag offers the same thrilling performance of a standard UTV without the noise (or pollution), allowing the driver to explore the outdoors with all their senses.
Volcon Products:
Volcon Stag: https://www.volcon.com/stag
Volcon Brat: https://www.volcon.com/brat
Volcon Grunt: https://www.volcon.com/grunt-evo
Volcon Runt: https://www.volcon.com/runt-lt
Volcon Youth Line: https://www.volcon.com/youth
Volcon Contacts:
For Media: [email protected]
For Dealers: [email protected]
For Investors: [email protected]
For more information on Volcon or to learn more about its complete motorcycle and side-by-side line-up, visit: www.volcon.com
Forward-Looking Statement
Some of the statements in this release are forward-looking statements, which involve risks and uncertainties. Although the Company believes that the expectations reflected in such forward-looking statements are reasonable as of the date made, expectations may prove to have been materially different from the results expressed or implied by such forward-looking statements. The Company has attempted to identify forward-looking statements by terminology including "believes," "estimates," "anticipates," "expects," "plans," "projects," "intends," "potential," "may," "could," "might," "will," "should," "approximately" or other words that convey uncertainty of future events or outcomes to identify these forward-looking statements. These statements are only predictions and involve known and unknown risks, uncertainties, and other factors. Any forward-looking statements contained in this release speak only as of its date. The Company undertakes no obligation to update any forward-looking statements contained in this release to reflect events or circumstances occurring after its date or to reflect the occurrence of unanticipated events. More detailed information about the risks and uncertainties affecting the Company is contained under the heading "Risk Factors" in the Company's Annual Report on Form 10-K and subsequently filed Quarterly Reports on Form 10-Q and Current Reports on Form 8-K filed with the SEC, which are available on the SEC's website, www.sec.gov.
---
MIC OFFERING ONLINE EDUCATION
Text from Dealernews – AIMExpo's Dealer Excellence classrooms highlighted some of the latest information on ever-changing best-business practices for powersports retailers. In addition to being highlighted in upcoming editions of the weekly MIC RideReport newsletter, the Dealer Excellence recaps will be featured in upcoming editions of the weekly MIC RideReport newsletter.
Spread over three days, the Disruptive Thinking: MIC Symposium sessions up on the main stage examined big issues, challenges, and opportunities for the powersports industry. The session of note for us was when members of MIC's Dealer Advisory Council reflected on "The Challenges Facing Our Industry Today Compared to Yesterday and Tomorrow." The panel was led by August 2022 Cover Dealer and MIC DAC Chair Rick Alcon, dealer principal at Team R&S Powersports. He was joined by Dealernews' own Bob Althoff, dealer principal at A.D. Farrow Harley-Davidson and Brent Gyuricza, owner of Maverick Motorsports.
To see all the dealer-focused education sessions at AIMExpo and catch-up on the keynote and any other presentations you may have missed, videos of these sessions can now be viewed on the AIMExpo website:
https://aimexpousa.com/2023-education-videos/
The MIC's weekly newsletter also regularly features important updates about the association's activities and initiatives, with an occasional call to action as we all work to protect and preserve our industry. Subscribe to the MIC RideReport for free here:
https://mailchi.mp/11fa39907daf/6ryox011tw
---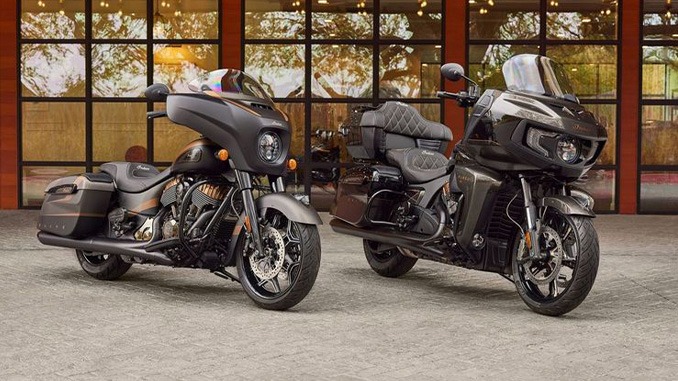 Indian Motorcycle Delivers Sophisticated Style & Best-In-Class V-Twin Touring Performance with New Indian Pursuit Elite, Announces Return of Highly Exclusive Chieftain Elite
Indian Motorcycle, America's First Motorcycle Company, today introduced the Indian Pursuit to its limited-edition Elite class of motorcycles and announced the return of its ultra-premium Chieftain Elite. Featuring premium componentry, each Elite model is crafted as the ultimate in American V-Twin style and exclusivity.
"When we first introduced the 2018 Chieftain Elite, we wanted to create an offering that was not just limited in quantity, but exclusive in nature with custom details straight from the factory," said Aaron Jax, Vice President of Indian Motorcycle. "Today, with jewel-like finishes, our Elite line of baggers and touring models truly represent the best-of-the-best and deliver a statement like nothing else on the road."
Indian Pursuit Elite
With only 150 units available worldwide, 2023 marks the debut for the Indian Pursuit Elite. Known as the most capable and refined American touring machine on the road, the Indian Pursuit Elite offers sophisticated style and unparalleled comfort and performance. Designed for riders who value the journey as much as the destination, the Indian Pursuit Elite is packed with premium amenities and advanced ride-enhancing technology to achieve a more comfortable ride.
Sophisticated Style
The Pursuit Elite's premium Super Graphite Metallic and Black Metallic paint with Shadow Bronze Chrome accents exude sophistication. Color-matched Elite badging and premium components complete the bike's beautiful design.
Best-In-Class Performance
Taking center stage of the Indian Pursuit Elite is the 108 cubic-inch, liquid cooled PowerPlus engine. With best-in-class 122 horsepower and 128 ft-lbs. of torque, the Indian Pursuit Elite delivers incredible V-twin touring performance with unmatched passing power.
Premium Amenities & Ride Enhancing Technology
The Indian Pursuit Elite allows riders to enjoy long, epic rides in comfort and style. Electronically adjustable rear suspension preload from Fox® allows riders to adjust their preload for optimal comfort and handling under varying conditions. Whether riding solo, two-up or carrying more cargo – the electronically adjustable rear suspension preload is managed from the convenience of the bike's infotainment system. Plus, the Indian Pursuit Elite offers Smart Lean Technology using a Bosch® Inertial Measurement Unit to tune traction control, ABS, and torque for even more control and unsurpassed handling. Backlit switch cubes improve the rider's ability to see the bike's controls at night, while the Pathfinder Adaptive LED Headlight combined with Pathfinder S LED driving lights and saddlebag lights deliver improved visibility and more eye-catching style in dark conditions. Providing a luxurious ride experience, both rider and passenger get a heated seat with adjustable controls on the seat and infotainment system, and premium styling.
In addition, each Indian Pursuit Elite is equipped with an industry-leading seven-inch touchscreen powered by RIDE COMMAND and offers Apple CarPlay® integration, turn-by-turn navigation, Bluetooth® connectivity, one year of RIDE COMMAND+ connected features and more. Riders can cut through road and engine noise with Powerband Audio which works seamlessly with the RIDE COMMAND system to set the mood for the trip. Built-in amplifiers, a 9-band equalizer, and 16 speakers provide crystal clear sound at any speed. Equipped with remote-locking storage, riders can keep all cargo protected inside the spacious, weatherproof saddlebags and trunk. For riders looking to achieve further customization, a quick release low profile trunk is available as a color-matched accessory.
Chieftain Elite
Designed for riders who demand the best of the best and want to stand out from the crowd, the 2023 Chieftain Elite features meaner and more aggressive styling with custom-inspired details straight from the factory. With only 175 units available globally the Chieftain Elite is a limited build and highly exclusive.
Custom-Inspired Style
The new Chieftain Elite's eye-catching paint scheme featuring Super Graphite Smoke is complemented by premium Shadow Bronze chrome finishes and Indian Motorcycle headdress floorboards.
Offering an even more custom look, the Chieftain Elite's open fender showcases a new 10-spoke precision machined front wheel. Standard to the Chieftain Elite is fender-to-fender, as the Adaptive Pathfinder LED headlight and rear saddlebag LED lights provide head-turning style at night. An adjustable tinted flare windshield raises or lowers to the rider's preferred position with the push of a handlebar-mounted button for ultimate comfort.
Unmatched, Air-Cooled Performance
Packing the most powerful Indian Motorcycle air-cooled engine, the Thunderstroke 116, the Chieftain Elite delivers 126 ft-lbs of torque. Rear cylinder deactivation improves rider comfort when riding through slower traffic, while three selectable ride modes, including Tour, Standard and Sport, allow riders to adjust the bike's throttle response to match their riding style.
Premium Amenities & Ride-Enhancing Technology
Like the Indian Pursuit Elite, the Chieftain Elite features the seven-inch touchscreen display powered by RIDE COMMAND with Apple CarPlay®, GPS with navigation, and RIDE COMMAND+ features, like live traffic and weather overlays, and a vehicle locator feature. As standard equipment, the 2023 Chieftain Elite features backlit switch cubes, an integrated PowerBand audio system, and includes ABS, keyless ignition, tire pressure monitoring, as well as weatherproof and remote-locking saddlebags with more than 18 gallons of storage. For riders looking to personalize their ride, color matched accessories are available including a quick release touring and low-profile trunk, as well as hard lower fairings.
Pricing for Indian Pursuit Elite and Chieftain Elite begin at $39,999 and $35,499, respectively, and will begin shipping to dealers around the world in spring 2023.
Riders can learn more at their local Indian Motorcycle dealership, by visiting IndianMotorcycle.com, or by following along on Facebook, Twitter and Instagram.
Bluetooth® is a registered trademark of Bluetooth Sig, Inc.
Apple CARPLAY® is a registered trademark of Apple Inc.
BOSCH® is registered to Robert Bosch GmbH
FOX® is a registered trademark of Fox Factory Inc.
Unless noted, trademarks are the property of Indian Motorcycle International, LLC
---
BCI launches 'Dealership Sales Training Master Class' online
Bob Clements International (BCI) has announced a new virtual sales training program, "Dealership Sales Training Master Class," which is designed to help dealerships sharpen sales skills and close more deals.
The program includes six one-hour live webinars and access to webinar recordings. In addition, those signing up for the program receive a Dealership Sales Training Master Class workbook to apply what's learned in the webinars as well as a copy of The 8 Greatest Sales Secrets in the World by Bob Clements to help master the art of selling.
Also provided is a complementary DISC assessment to help registrants understand their own personality and how to use it to sell more units.
The first live webinar starts on May 11; here's the full webinar roster (all dates are for 2023):
May 11 – Dare to be Different
June 8 – Instant Rapport & Mental Languages
July 13 – Hidden Personalities & Discovery
August 10 – Controlling with Questions & Presenting Solutions
September 14 – Handling Objections & Negotiating
October 12 – Closing & Filling the Funnel
More information can be found on BCI's website.
Share