News and stories from the world of Powersports business.
---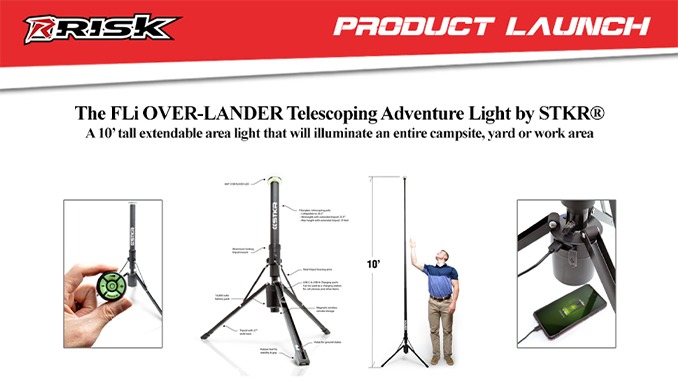 NEW! 10 ft Outdoor Adventure Light from STKR/Risk Racing
After launching the FLi Telescoping Light and the FLI-PRO Telescoping Light in 2022, STKR quickly became the market leader in lightweight extendable pole lights. In typical STKR fashion, they are taking their innovation to the next level and adding another groundbreaking light to the series with the FLi Over-Lander.
Extending to an impressive 10 feet, and emitting 2,600 True Lumens, the FLi Over-Lander is the tallest and most powerful telescoping area light in the STKR extendable light pole series. This powerhouse features a 360° flood light that fires a ring of high intensity LEDs from a height of up to 10 feet when the pole is fully extended. Each extension of the pole uses a tight friction fit to lock in place independently from 25 inches to 10 feet, allowing the user to select the exact height that works best for their situation.
For activities that require low light, the blinding 2,600 lumens can be dialed back, dimming light output and simultaneously conserving battery life. Turn to red mode to reduce eye dilation and preserve the user's natural "night vision", or switch to flashing hazard mode for emergency situations. All of these functions can be controlled at the base of the unit, or with the magnetic wireless remote. Use the wireless remote up to 50 feet away and store it in the base when not in use.
The FLi Over-Lander is fueled by an extraordinarily large 14,000mAh capacity battery pack, making this high-achieving light not only a full area lighting solution, but also a mobile power bank! Charge the Over-Lander with the quick charging USB-C input or rejuvenate your cell phone and other rechargeable equipment with the USB-A charging port.
The 10 ft telescoping pole is constructed of reinforced fiberglass which is extremely lightweight and ruggedly durable. Weighing in at just a hair over 4 lbs., and collapsing down to only 25 inches, the FLi Over-Lander is designed for easy pack and transport. The pole is held steady by a wide footprint, lightweight tripod that is constructed of steel and aluminum, ensuring its durability. An aluminum lock ring holds the tripod in place, while the rubber feet aid in stability and protect the surface the Over-Lander is placed on. Each leg of the tripod also offers a hole for a ground spike (not included) for additional stability in high wind or unstable conditions.
The FLi Over-Lander is an effective way to easily light up large areas from 10 feet in the air. Use the FLi Over-Lander Telescoping Area Light for camping, working around the house, late nights in the backyard, garage projects, and more. This telescoping light is a must have for any family member, task, or hobby.
The FLi Over-Lander Telescoping Light is available now. For more information, please visit STKRconcepts.com, or call STKR Concepts at 704-508-1031.
---
Indian Motorcycle To Serve As Official Partner Of Mission King Of The Baggers Series
MotoAmerica, North America's premier motorcycle road racing series, is proud to announce that Indian Motorcycle, "America's First Motorcycle Company," is again an official partner of the Mission King Of The Baggers series in the 2023 MotoAmerica Championship.
Indian Motorcycle is again an official partner of the 2023 Mission King Of The Baggers series with Tyler O'Hara attempting to defend his 2022 championship on his Indian Challenger.
Photo by Brian J. Nelson
Indian Motorcycles is defending its 2022 Mission King Of The Baggers Championship with Tyler O'Hara and Jeremy McWilliam spearheading the team's efforts in the seven-round, 14-race series. O'Hara won the title last year on his Mission Foods S&S Indian Challenger.
"The Mission King Of The Baggers series and its ever-growing fanbase has been a huge success and Indian Motorcycles has been a big part of that success," said MotoAmerica COO Chuck Aksland. "Last season saw the championship go down to the wire at the final event in New Jersey after seven races. The 2023 season, with its seven rounds and 14 races, promises to be the best yet and we've already seen that at the season opener at Daytona International Speedway and Road Atlanta. It's really exciting to see how much work and passion that Indian puts into this series. It's going to be a 14-race war and we know that Indian will be a big part of that battle. It's going to be a lot of fun to watch."
"Founded by racers who developed America's first motorized bicycles, Indian Motorcycle has been racing, and winning, in a variety of forms of motorcycle racing for 122 years," said Gary Gray, Vice President – Racing, Technology and Service for Indian Motorcycle. "MotoAmerica's Mission King Of The Baggers series has changed road racing, as the class has reached entirely new heights. With bikes improving, speeds increasing, and the competition at an all-time high, we couldn't be more excited to defend our King of the Baggers crown."
---
Report Highlights Rising Fatalities, Distracted Driving, Speeding, and Alcohol
Peak motorcycle riding season is underway just as the National Highway Traffic Safety Administration released a grim report showing traffic fatalities across the board up sharply from 2020 to 2021, with distraction, speeding, and alcohol as key factors. Motorcycle and scooter riders, with their smaller profiles, are at an even greater risk of not being seen by drivers, so the Motorcycle Safety Foundation is urging all roadway users to "Expect Us, See Us," and actively search for riders and stay focused on the road.

"The NHTSA data may be from 2021, but distraction, speeding, and driving or riding while under the influence continue to be problems today – however, these are all things we can change," said Rob Gladden, MSF vice president of training operations. "May is Motorcycle Safety Awareness Month and we want to call attention to how smart, attentive driving and riding behaviors can save lives."

Distraction-affected crashes rose 12 percent from 2020 to 2021, according to NHTSA, while speeding-related fatalities increased by 7.9 percent, and alcohol-impaired-driving fatalities rose 14 percent.

"One of the biggest risks to motorcyclists is drivers who don't see the rider and turn across their paths, even if they are not driving distracted," Gladden said. "So if you are distracted – using your cell phone, eating, or engaged with other passengers – the risks rise exponentially for riders. If driving, please be vigilant. Actively search for motorcyclists and look twice, especially before changing lanes or turning."

NHTSA also reported that in 2021, motorcyclist fatalities were up 7.7 percent from the year before, while passenger vehicle occupant fatalities rose 10 percent, large-truck occupant fatalities rose 23 percent, pedestrian fatalities increased 13 percent, and pedalcyclist fatalities increased 1.9 percent.

The number of alcohol-impaired riders involved in fatalities jumped 19 percent from 2020 to 2021, according to NHTSA. Among passenger car and light truck/SUV drivers, alcohol-impaired-driving fatalities were up 12 percent and 27 percent respectively, making it clear that if you drink, don't drive or ride. Alcohol not only affects a rider or driver's judgment, it also affects their perceptions and reaction time.
---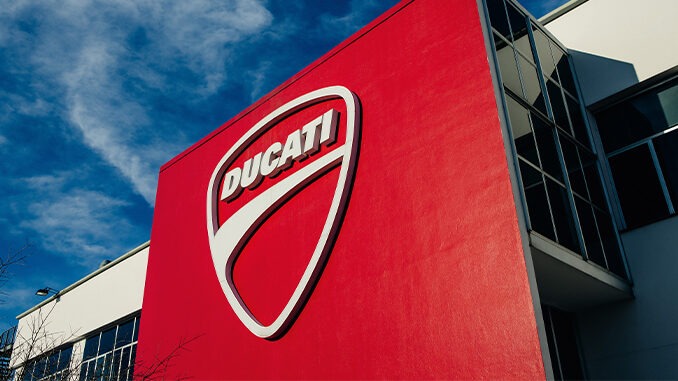 Ducati Posts Record Delivery Results for the First Quarter of 2023
Following on from a very successful 2022, which was the best year ever for Ducati in terms of deliveries, revenue and profitability, the Bologna-based manufacturer started 2023 with very positive results.
Deliveries set a new record in the first quarter of 2023 with 14,725 motorcycles conveyed to passionate customers worldwide marking a 9 percent increase compared to the same period of 2022.
Claudio Domenicali, Ducati CEO: "After closing our best year ever in 2022, we began 2023 with strong results that confirm a company strategy that is paying off with a great outcome. Based on these positive numbers, we continue working to achieve the best possible result, with the main goal to satisfy all passionate Ducatisti in our beautiful community".
These excellent results are highlighted throughout Ducati's top markets: Italy is in the first position with 2,717 motorcycles delivered and a growth of 7 percent compared to last year's period. The United States, the second-largest Ducati market, increased deliveries by 21 percent in the first quarter of 2023 with 1,677 bikes. Germany, in third position, also grew 21 percent compared to the same period in 2022 with 1,666 motorcycles delivered.
Francesco Milicia, VP Global Sales and After Sales Ducati: "The deliveries achieved in the first quarter of 2023 set a new record for Ducati, with growth in all main markets. Our trusted dealers in the world play an important part when it comes to achieving these results, and they will also be in the first line for the second edition of the 'We Ride As One' event that will take place on the next 6th of May. I want to thank them for their commitment to the brand along with our valuable Ducatisti".
The Multistrada V4 in all its versions is still the most successful motorcycle in the Ducati range with 2,668 models delivered worldwide over the first three months of 2023, followed by Monster with 2,005 motorcycles. The third most appreciated model is the DesertX with 1,442 deliveries, which confirms the brand's strategy to enlarge its product range and enter a new segment.
Ducati is present in over 90 countries with a widespread sales network that has more than 800 dealers and keeps growing. In fact, in 2023 the Bologna-based manufacturer plans to open 55 new dealers, some of which have already been inaugurated during the first quarter of the year. Among these, the first Audi Ducati Retail integration dealership in Switzerland opened in Volketswil (Zurich) in March.
---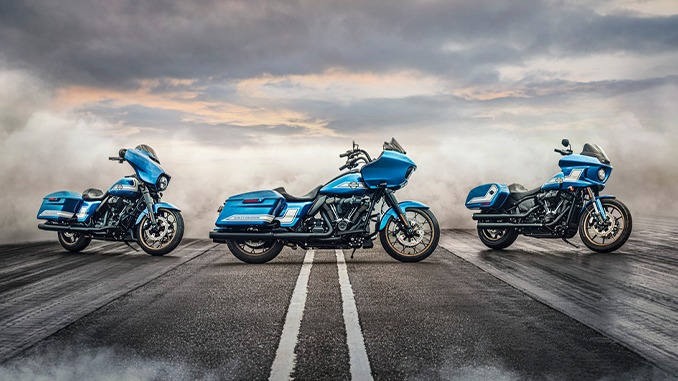 Harley-Davidson Enthusiast Collection Introduces Fast Johnnie
Harley-Davidson celebrates muscle car culture and its racing heritage with the introduction of Fast Johnnie, the 2023 addition to the Enthusiast Motorcycle Collection of limited run bikes featuring factory-direct custom paint and graphic treatments. Executed in Celestial Blue with white racing stripes, this special Enthusiast Collection paint scheme is offered factory-installed for three 2023 Harley-Davidson models: the Low Rider® ST, the Street Glide® ST and the Road Glide® ST motorcycles, with combined production limited to no more than 2,000 models globally.
Enthusiast Motorcycle Collection models celebrate Harley-Davidson riders and are inspired by their stories and legacies. The Fast Johnnie paint scheme taps into iconic design themes featured on high-performance muscle cars and pony cars of the 1960s and 1970s – contrasting "racing" or "rally" striping over a bold base color, and a clever or symbolic character or logo incorporated into the graphics package. Both elements served to create an obvious visual difference between the high-performance version of a car and the standard version of the same model. The Fast Johnnie character applied to the left side of the fuel tank also appears on the Harley-Davidson® Screamin' Eagle® factory team motorcycles raced in the MotoAmerica King of the Baggers series. It was inspired by the story of a piglet named Johnnie adopted in 1920 by Harley-Davidson racer and member of the infamous "Wrecking Crew," Ray Weishaar, which became a team mascot. The piglet often perched on a motorcycle fuel tank for a post-race victory lap and is usually cited as the source of the "Hog" moniker that to this day is often applied to anything Harley-Davidson.
"The striping graphic effect is a powerful signal to the generation that came of age during this era, and is still impactful today," said Brad Richards, Harley-Davidson Vice President of Design and Creative Director. "The Celestial Blue base color selected for Fast Johnnie recalls a popular tone from the muscle car era. For the graphic striping, we created a custom white color formulated to authentically reflect the era, executed in a classic thin-wide-thin pattern on the sides and top of the motorcycle bodywork. The look is a nod to pure Americana."
On the tank and front fender "Harley-Davidson" script replaces one of the thin stripe elements. Depending on the motorcycle model, the striping is applied to the front and rear fenders, the fuel tank top and sides, the front of the fairing and the side covers and saddlebags. The Enthusiast Motorcycle Collection logo is on the rear fender.
Low Rider® ST Fast Johnnie Enthusiast Motorcycle Collection
Strap down your bedroll and make a run for the border. The Harley-Davidson® Low Rider® ST model is an American V-Twin sport-touring bike for the rider who digs clean-and-lean West Coast style and craves the outrageous performance of the Milwaukee-Eight® 117 V-Twin powertrain. The Low Rider® ST model connects these riders with pure Harley-Davidson attitude. Mechanical features are identical to the 2023 Low Rider® ST model.
Special Styling Features
Celestial Blue with custom white detailing
Enthusiast Collection logo on rear fender
Graphic on both sides of the fuel tank – Fast Johnnie on left, Bar & Shield on right
Street Glide® ST Fast Johnnie Enthusiast Motorcycle Collection
Elevated pro-touring bagger performance and style for the rider who just can't get enough of either. The Street Glide® ST model pairs the muscular Milwaukee-Eight® 117 powertrain with tough West Coast styling influences and new dark-and-bronze finishes. Undiminished comfort and the iconic batwing fairing appeal to the traditionalist mindset. Meet the new breed of speed and style from Harley-Davidson. Mechanical features are identical to the 2023 Street Glide® ST model.
Road Glide® ST Fast Johnnie Enthusiast Motorcycle Collection
The sleek Road Glide® ST model projects more menace than ever and backs it up with the street-scorching power of the Milwaukee-Eight® 117 powertrain. West Coast styling elements and black-and-bronze finishes set this bike apart from the performance bagger crowd. Legendary comfort and the "sharknose" fixed fairing appeal to a rider who wants to make quick work of the open road. Mechanical features are identical to 2023 Road Glide® ST model.
Road Glide ST and Street Glide ST Special Styling Features
Celestial Blue with custom white detailing
Enthusiast Motorcycle Collection logo on rear fender
Graphic on both sides of the fuel tank – Fast Johnnie on left, Bar & Shield on right
Harley-Davidson® Genuine Motor Parts & Accessories offers color-matched King Tour-Pak® luggage carrier, Chopped Tour-Pak® luggage carrier, and saddlebag speaker lids.
Harley-Davidson stands for the timeless pursuit of adventure and freedom for the soul. Go to H-D.com to learn more about the complete line of 2023 Harley-Davidson Grand American Touring, Sport, Adventure Touring, Cruiser and Trike motorcycles, Harley-Davidson Certified™ pre-owned motorcycles, Harley-Davidson Genuine Motor Parts & Accessories, Harley-Davidson MotorClothes and gear, and Harley-Davidson Financial Services.
---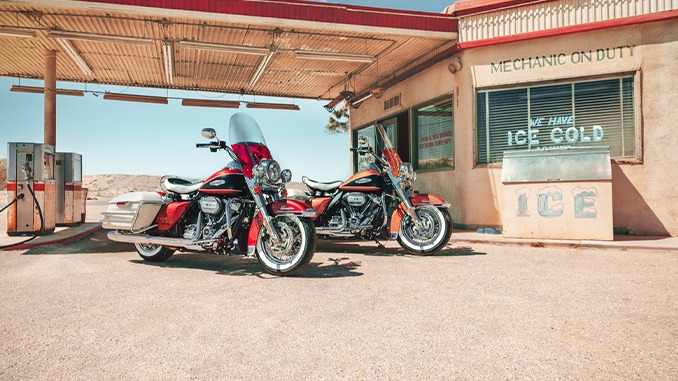 Harley-Davidson Launches a New Icon with Electra Glide Highway King
The Electra Glide® Highway King model, the third installment in the Harley-Davidson Icons Motorcycle Collection program, is an exercise in unabashed nostalgia. Laced wheels, wide-whitewall tires, a two-tone windshield, solo suspension seat and carefully curated colors are all inspired by a true Harley-Davidson icon – the 1968 FLH Electra Glide® model, a motorcycle that ruled the road in an era of paper maps and 15-cent burgers. The limited edition Electra Glide® Highway King model combines the flair of the Swingin' 60s with the comfort and technology of a modern Harley-Davidson® Grand American Touring motorcycle.
The Icons Motorcycle Collection is an annual program for the limited release of a new model that offers a fresh interpretation of an iconic Harley-Davidson® motorcycle. A limited collection, each model is individually numbered and produced only once. Global production of the Electra Glide® Highway King model will not exceed 1,750 examples.
The Icon
In 1968 the Electra Glide® model topped the Harley-Davidson® motorcycle line. Riders who wanted a little extra touring comfort and convenience could order theirs with the King of the Highway accessories group, which added fiberglass saddlebags, a windshield, a luggage rack over the rear fender, and engine guards.
"In its day this was a really deluxe motorcycle," said Brad Richards, Harley-Davidson Vice President of Design and Creative Director. "The colors we've selected for the Highway King model are reminiscent of the original color options offered in 1968. We carefully matched each color in the lower section of the windshield. In 1968, the accessory fiberglass saddlebags were only offered in white, so we've done the same in 2023. The result is a thoroughly modern motorcycle that looks unapologetically old school."
The Highway King model will be offered in two color options: Hi-Fi Orange (limited to 1,000 produced) and Hi-Fi Magenta (limited to 750 produced). Hard-shell saddlebags are finished in Birch White, and a Black Denim panel on the fuel tank is separated from the primary color with a Birch White accent stripe. The tank badge is very similar to the one used in 1968. An Icons Motorcycle Collection graphic and serialization badge is laser-etched into the console insert.
The detachable windshield features a tinted lower section color-matched to the paint color. A solo saddle with a black-and-white cover and a chrome rail, mounted over an adjustable coil spring and shock absorber, is another nod to the style of Harley-Davidson® FL models from the 1960s. Chrome steel laced wheels and wide whitewall tires add to the nostalgic look, as do the brilliant chrome front fender rails and saddlebag rails, front fender skirt, and Ventilator air cleaner cover. An Electra Glide script is placed on each side of the front fender.
The foundation of the Electra Glide® Highway King model is the single-spar Harley-Davidson® Touring frame with a rigid backbone design. The entire chassis is designed for the long haul. A single knob hydraulically adjusts the pre-load of emulsion-technology rear shock absorbers for optimal ride and control based on bike load. The 49mm forks with dual bending valve suspension technology deliver linear damping characteristics for a smooth ride.
A Milwaukee-Eight® 114 V-Twin engine delivers power with authority. For the rider focused on performance this engine accepts all applicable Harley-Davidson® Screamin' Eagle® Stage Upgrade kits. Standard electronic cruise control holds a steady speed for comfort on long rides. Halogen headlamp and auxiliary lamps provide outstanding illumination while maintaining the nostalgic styling. Reflex™ linked Brembo® brakes offer stopping power. A full suite of Rider Safety Enhancements by Harley-Davidson is standard, including Cornering Enhanced Anti-Lock Brake System, Cornering Enhanced Electronic Linked Braking, Cornering Enhanced Traction Control System, Cornering Drag-torque Slip Control System and Vehicle Hold Control.
Harley-Davidson stands for the timeless pursuit of adventure and freedom for the soul. Go to H-D.com to learn more about the complete line of 2023 Harley-Davidson Grand American Touring, Sport, Adventure Touring, Cruiser and Trike motorcycles, Harley-Davidson Certified™ pre-owned motorcycles, Harley-Davidson Genuine Motor Parts & Accessories, Harley-Davidson MotorClothes and gear, and Harley-Davidson Financial Services.
---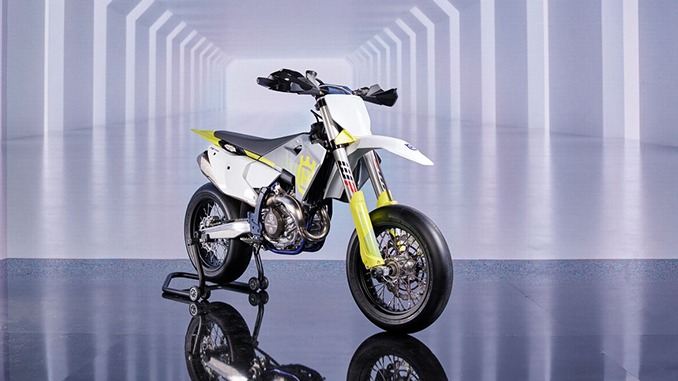 Husqvarna Motorcycle Reveals Exciting New Look for the 2024 FS 450
Enhanced with a stunning new look for 2024, Husqvarna Motorcycles' FS 450 continues to set the standard for supermoto racing machinery. Carefully refined and expertly crafted with competition-focused components to ensure outstanding performance, the FS 450 is a highly capable short circuit racer. The machine features a new high grip seat cover and white, gray, and yellow graphics for a truly distinctive appearance.
Powered by a proven 450 cc SOHC 4-stroke engine, the characteristics of the FS 450 can be fine-tuned by taking advantage of the easy-to-use handlebar-mounted Map Select Switch. The activation of Launch Control, Traction Control, and the innovative Quickshifter, for precise upshifts, can all be controlled, even under hard acceleration.
The hydro-formed chromium molybdenum frame ensures the highest levels of rider feedback with a polyamide-reinforced aluminum subframe aiding handling and ensuring comfort. With its engine positioned inside the frame to enhance mass centralization, and equipped with the latest WP suspension, the FS 450 delivers an exceptional on-track experience for riders of all abilities.
Assembled skillfully with quality, race-tested hardware including Alpina wheels, a Suter anti-hopping clutch, and high performance Brembo brakes, the FS 450 is built for racing and is unquestionably the most powerful, best handling, and most complete supermoto machine on the market today.
2024 Technical Highlights
New gray and yellow graphics create a distinctive look
New high-grip seat cover for improved control under hard acceleration
Ergonomic bodywork for unrestricted movement on the motorcycle
Hydro-formed chromium molybdenum frame designed to improve anti-squat behavior
Proven SOHC engine provides class-leading performance and low weight
Quickshifter ensures smooth and precise upshifting
High-performance Brembo hydraulic clutch system
Aluminum-polyamide hybrid subframe construction provides specifically calculated rigidity and advanced durability
WP XACT 48 mm front fork with AER technology offer progressive end-of-stroke damping
WP XACT rear shock features a CFD-optimized main piston and tool-free adjusters
Multifunctional Map Select Switch, which also activates the Quickshifter, Traction, and Launch Control
Premium-quality ProTaper handlebars
Electric starter powered by a lightweight Li-Ion 2.0 Ah battery
A selection of high-quality Technical Accessories is now available from Husqvarna Motorcycles dealerships, which allows all riders to customize their FS 450. Each component is designed to enhance on-track performance, reduce weight, or add durability to this exceptional supermoto machine. For enhanced rider protection and unrestricted performance, a premium collection of supermoto-specific Functional Apparel combines innovative technical features for improved comfort, protection, and style.
The 2024 FS 450 is arriving now at authorized Husqvarna Motorcycles Dealers.
---
Share