News and stories from Powersports racing in the United States.
---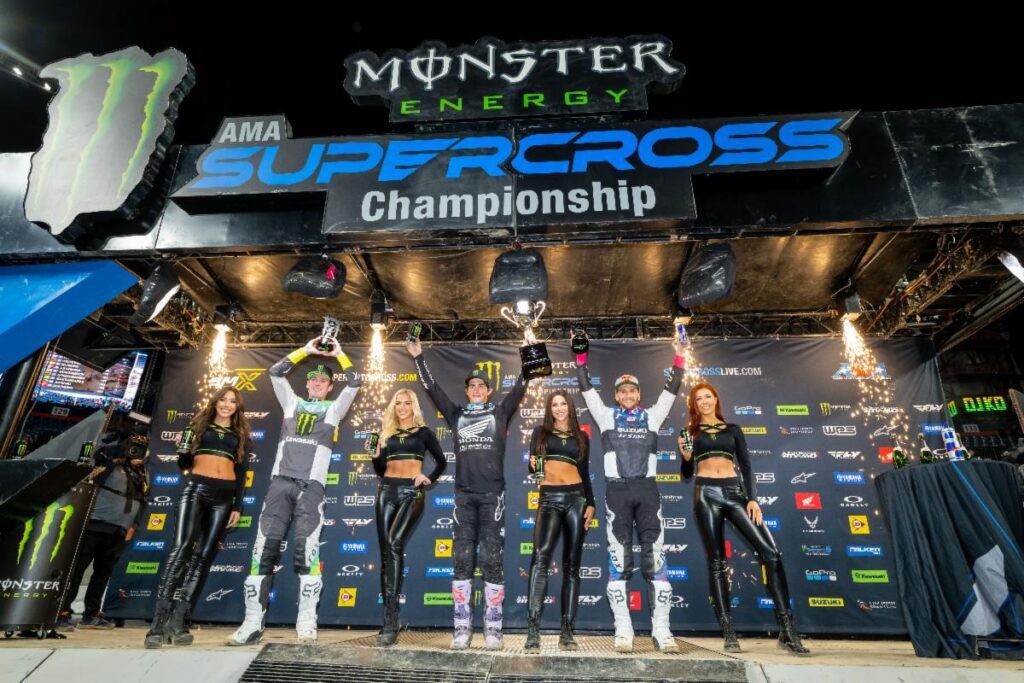 Chase Sexton Wins Denver Supercross and Likely the Championship Crown
Team Honda HRC's Chase Sexton took his fifth win of the year at a hugely-significant Round 16 of the 17-round Monster Energy AMA Supercross season. The win, coupled with what is likely a season-ending injury for Monster Energy Yamaha Star Racing's Eli Tomac, put Sexton as the 2023 champion if Tomac cannot line up at the final round next Saturday.
The 51,691 fans packed into Empower Field at Mile High witnessed one of the most dramatic Supercross championship reversals the sport has ever seen. Photo Credit: Feld Motor Sports, Inc.
Progressive Insurance ECSTAR Suzuki's Ken Roczen took second place with an incredible charge from the back of the pack inside Empower Field at Mile High. And Monster Energy Kawasaki's Adam Cianciarulo earned his first podium finish since Round 3 of 2021 in the race that also pays points to the all-new, 31-round SuperMotocross World Championship. In the Western Regional 250SX Class, Rockstar Energy Husqvarna Factory Racing's RJ Hampshire earned his first win of 2023 with his own thrilling charge. Team Honda HRC's Jett Lawrence took a hard-fought third in the Main Event to win the Western Regional 250SX Class Championship.
Chase Sexton was picture perfect on a night that changed everything and most likely made him the 2023 Monster Energy AMA Supercross Champion. Photo Credit: Feld Motor Sports, Inc.
Adam Cianciarulo grabbed the holeshot ahead of Twisted Tea Suzuki Progressive Insurance's Shane McElrath, Eli Tomac, and Team Tedder Monster Energy Mountain Motorsport's Justin Hill. Ken Roczen, on a recent podium streak, slid out in the first corner and started the race in dead last position while his teammate Shane McElrath leapt into the lead down the first rhythm section. Within three corners Tomac had moved into second, then took over the top spot before reaching the green flag. With his hometown race fans going wild, and with Chase Sexton back in sixth, it looked possible that Tomac could earn enough points to wrap up his third Supercross title. But Supercross is one of the toughest sports on the planet, and that fact took over the night, and the title chase, just two and half minutes into the race.
While leading, Eli Tomac stressed his left ankle on a jump take-off. He didn't crash but instantly lifted his foot from the peg while airborne. After landing he quickly brought down his bike's speed to roll the rest of the section. He immediately pulled off the track, holding his left ankle away from the bike, then rode instantly to the on-site Alpinestars Medical Rig. Before the race had ended the news was out: Eli Tomac had suffered a ruptured Achilles tendon and was out for the season.
In one instant Eli Tomac lost the points lead and most surely the title after a non-crash injury down one of the track's rhythm lanes. Photo Credit: Feld Motor Sports, Inc.
Inside the stadium, Cianciarulo held the lead over Sexton. Five minutes into the 20-minute plus one lap race Sexton took over the lead. By then Roczen had already made his way up to sixth place. Sexton steadily pulled clear of Cianciarulo while Roczen continued his charge, passing McElrath for third just eight and a half minutes into the race and gaining on Cianciarulo.
With 8:15 on the race clock Justin Hill took over fourth. Three and a half minutes after that Roczen was up to Cianciarulo and pressuring for the second place spot. Roczen quickly made his move and looked ahead 6.8 seconds to the leader. Roczen started to gain a little time on Sexton, but not at the rate he'd need to make a run at the win.
Interestingly, in a season that saw Sexton give up some big leads with unforced errors, the Honda rider remained composed and smooth. With the full pressure of the race and the title on him, he rode like a champion. Sexton took his fifth win of 2023 and with it jumped into the points lead by seven. If the early injury assessment of Tomac is accurate and he's truly out for the season, Sexton is mathematically the champion once Tomac officially does not show up and qualify for the final race.
RJ Hampshire put the pieces together and turned his incredible track speed into his first win of the season. Photo Credit: Feld Motor Sports, Inc.
When the gate dropped for the Western Regional 250SX Class Main Event, Red Bull KTM's Max Vohland jumped out ahead of Muc-Off FXR ClubMX Yamaha's Enzo Lopes, Monster Energy Yamaha Star Racing's Levi Kitchen, Monster Energy Pro Circuit Kawasaki's Carson Mumford, and RJ Hampshire. Jett Lawrence, after a difficult Heat Race, was back in tenth as the riders crossed the holeshot stripe. Just over two minutes into the 15-minute plus one lap race Kitchen had taken over the lead and Hampshire was up to second. Further back in eighth, Lawrence was carefully picking off riders but showed no panic – he needed only to finish in tenth or better to take the title with one round remaining in the 250SX Class.
Five and a half minutes into the race Lopes moved past Vohland to take over third position. The riders made contact in a tight corner, and Vohland tipped over. Lawrence seemed to benefit from the chaos and soon got into fourth place. As the race clock ticked down under eight minutes Lawrence overtook Lopes for third place but was over 12 seconds back from the leaders.
Hampshire used the race's midpoint to make a drive on Kitchen for the lead. The Husqvarna rider closed in, then leapt past when Kitchen made a small mistake in a short rhythm section. Kitchen recovered and retaliated immediately. Kitchen got back the spot as Hampshire went wide then shorted the track's big double jump. Hampshire was off the track, but he kept his bike upright. Over the closing laps Hampshire put in a heroic charge. He was the fastest rider on the track and quickly made up the five seconds his off-track excursion had cost him. With 40 seconds on the clock Hampshire blitzed the whoops and took the lead from Kitchen.
Kitchen had one last surge of speed on the final lap, but never got into position to make a pass attempt. Hampshire took the checkered flag and the Denver Supercross win. Kitchen was right behind in second, and Lawrence brought his Honda home in third to win the division title with one race – an East/West Showdown – left on the schedule.
Jett Lawrence became the 2023 Western Regional 250SX Class Champion just one week after his brother and teammate, Hunter Lawrence, took the Eastern Regional 250SX Class title. Jett Lawrence becomes one of only four riders to win 4 125/250 Class titles. Photo Credit: Feld Motor Sports, Inc.
Between now and the Supercross Final in Salt Lake City, fans have an incredible opportunity at some one-of-a-kind memorabilia in the 2023 St. Jude Love Moto Stop Cancer Supercross Auction. All money raised goes directly to the children at St. Jude Children's Research Hospital and the St. Jude mission of Finding Cures. Saving Children. The auction runs until Monday, May 15th at 11:59PM ET. The items in the auction were donated by the racers, teams, partners, and supporters of Monster Energy AMA Supercross. To see what's available to support the incredible St. Jude efforts and take home a piece of the 2023 season, please go to St. Jude Love Moto Stop Cancer Auction.
All-new for 2023 racing, the top 20 racers in combined championship points from the Monster Energy Supercross season and the AMA Pro Motocross season – scheduled for eleven rounds this summer – qualify for a spot in the all-new SuperMotocross World Championship. Riders who finish 21st – 30th in combined points, or those who earn a win yet don't have the points for a direct qualification, will race a Last Chance Qualifier for the final two spots on the SuperMotocross League starting gate. The all-new series creates the sports' first playoff season with two Playoff races and one Final race. The 450 class SuperMotocross World Champion will win a cool $1,000,000 payout along with the top spot in the history books. The 250 class champion will take home a $500,000 prize with their SuperMotocross World Championship title.
Tickets for next weekend's Supercross Final are on sale now. If you can't make it to Utah, each race of the 31-round SuperMotocross World Championship streams live on Peacock with select events also broadcast on NBC, USA Network, and CNBC. To purchase tickets, watch video recaps of the season, and get feature stories, race results, and streaming and broadcast airtimes please go to SupercrossLIVE.com.
450SX Class podium (riders left to right) Adam Cianciarulo, Chase Sexton, and Ken Roczen.
Photo Credit: Feld Motor Sports, Inc.
450SX Class Results
Chase Sexton, Clermont, Fla., Honda
Ken Roczen, Clermont, Fla., Suzuki
Adam Cianciarulo, New Smyrna Beach, Fla., Kawasaki
Justin Hill, Yoncalla, Ore., KTM
Shane McElrath, Oakland, Fla., Suzuki
Dean Wilson, Menifee, Calif., Honda
Josh Hill, Huntersville, N.C., KTM
Kyle Chisholm, Valrico, Fla., Suzuki
Grant Harlan, Decatur, Tex., Yamaha
Justin Starling, Riverview, Fla., GASGAS
450SX Class Championship Standings
Chase Sexton, Clermont, Fla., Honda (346)
Eli Tomac, Cortez, Colo., Yamaha (339)
Cooper Webb, Newport, N.C., KTM (304)
Ken Roczen, Clermont, Fla., Suzuki (303)
Justin Barcia, Greenville, Fla., GASGAS (267)
Jason Anderson, Rio Rancho, N.Mex., Kawasaki (242)
Aaron Plessinger, Hamilton, Ohio, KTM (213)
Adam Cianciarulo, New Smyrna Beach, Fla., Kawasaki (191)
Justin Hill, Yoncalla, Ore., KTM (191)
Dean Wilson, Menifee, Calif., Honda (182)
250SX Class podium (riders left to right) Jett Lawrence, RJ Hampshire, and Levi Kitchen.
Photo Credit: Feld Motor Sports, Inc.
Western Regional 250SX Class Results
RJ Hampshire, Minneola, Fla., Husqvarna
Levi Kitchen, Havana, Fla., Yamaha
Jett Lawrence, Zephyrhills, Fla., Honda
Enzo Lopes, Chesterfield, S.C., Yamaha
Mitchell Oldenburg, Godley, Tex., Honda
Max Vohland, Granite Bay, Calif., KTM
Derek Kelley, Riverside, Calif., KTM
Carson Mumford, Simi Valley, Calif., Kawasaki
Cole Thompson, Brigden, Ont., Yamaha
Robbie Wageman, Newhall, Calif., Suzuki
Western Regional 250SX Class Championship Standings
Jett Lawrence, Zephyrhills, Fla., Honda (197)
RJ Hampshire, Minneola, Fla., Husqvarna (163)
Enzo Lopes, Chesterfield, S.C., Yamaha (137)
Levi Kitchen, Havana, Fla., Yamaha (135)
Max Vohland, Granite Bay, Calif., KTM (121)
Mitchell Oldenburg, Godley, Tex., Honda (117)
Cameron McAdoo, Sioux City, Iowa, Kawasaki (101)
Pierce Brown, Sandy, Utah, GASGAS (98)
Cole Thompson, Brigden, Ont., Yamaha (87)
Derek Kelley, Riverside, Calif., KTM (86)
---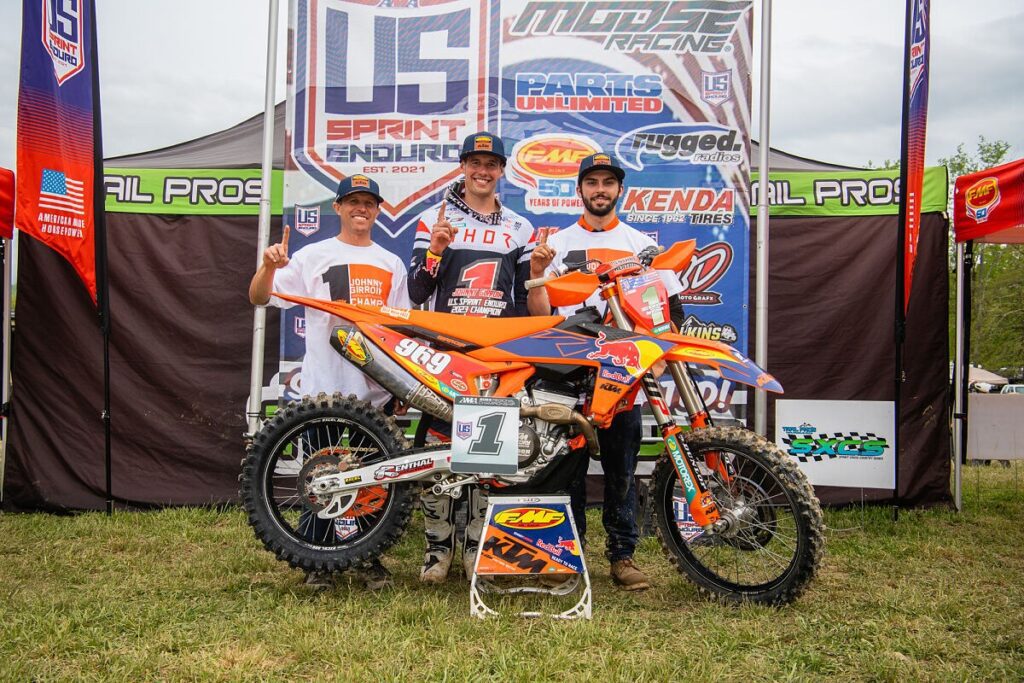 FMF KTM FACTORY RACING AND JOHNNY GIRROIR CLINCH 2023 AMA U.S. SPRINT ENDURO SERIES CHAMPIONSHIP
OLDTOWN, Md. – FMF KTM Factory Racing's Johnny Girroir has clinched the 2023 AMA U.S. Sprint Enduro Series title with two rounds to spare after winning the Pro 1 Class at the weekend's Promised Land MX U.S. Sprint Enduro, marking round six of the season.
In his first year with the FMF KTM Factory Racing Team, former Pro 2 champion Girroir has delivered an exceptional season to date across the opening six rounds, placing him in a position to secure the Pro 1 championship in Oldtown and that's exactly what he did onboard his KTM 350 XC-F.
Rain in the lead-up to the Maryland round made for slick conditions through much of day one, however, the weather remained clear over the course of Saturday. Rain overnight made for tougher, muddy conditions on Sunday, and with Girroir the first rider on the course both days, that was a challenge of its own.
Test times were extremely close all day on Saturday, with Girroir leading the way in Pro 1 and sitting a close fourth overall to seal the championship in the process, before day two saw Girroir earn his sixth Pro 1 round victory in a row and climb to second overall for the weekend.
Johnny Girroir: "Overall, it was a good weekend and I'm really happy to win the title with two rounds to spare. We will enjoy this one and I'd like to thank the whole FMF KTM Factory Racing Team, our supporters, and everybody who got us to this point of winning the championship. It's been a really good U.S. Sprint Enduro Series so far, so I'm looking forward to the next two!"
Next Race: High Voltage – Dilliner, PA – May 27-28, 2023
Pro 1 Results – Promised Land MX
1. Johnny Girroir, KTM
2. Zach Osborne, YAM
3. Joey Deneen, YAM
Pro 1 Championship Standings
1. Johnny Girroir, 355
2. Thad Duvall, 171
3. Layne Michael, 149
---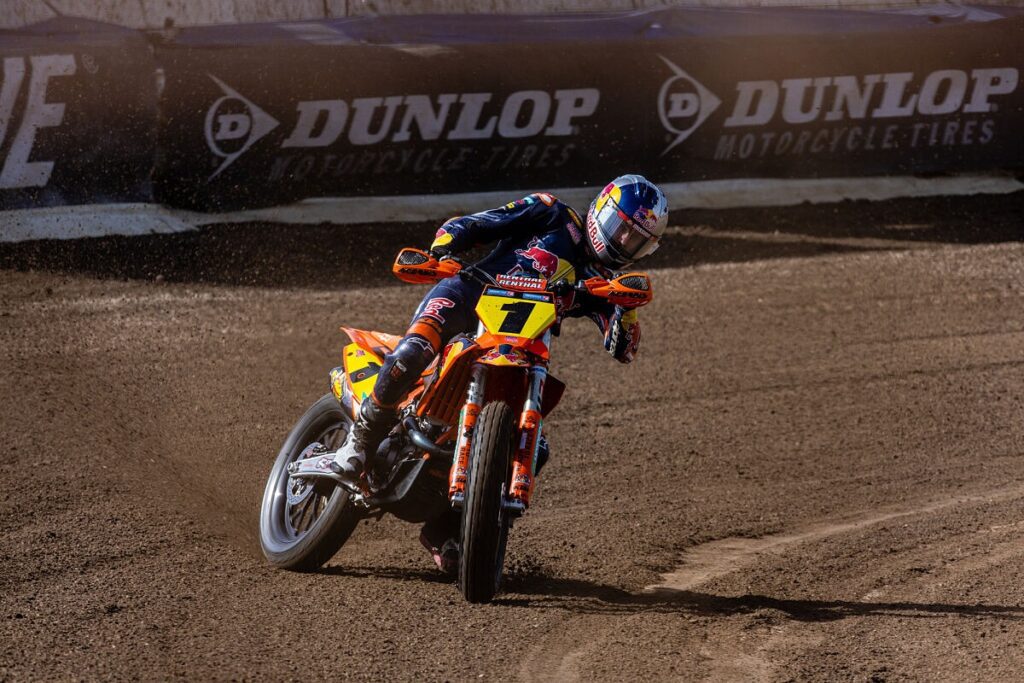 NEAR-PERFECT OUTING FOR RED BULL KTM FACTORY RACING'S KODY KOPP AT VENTURA SHORT TRACK
VENTURA, Calif. – Red Bull KTM Factory Racing's Kody Kopp has achieved a near-perfect outing in the sixth round of the 2023 American Flat Track Championship at the Ventura Short Track, taking the Main Event victory in the AFT Singles Class, while teammate Max Whale finished in fourth position.
Qualifying in second position, just 0.024s off the pole, defending champion Kopp looked right at home on the Southern Californian circuit, powering his #1 KTM 450 SX-F to victory in the opening Heat race of the event. The 18-year-old then took victory in the Dash-for-Cash, before going on to secure a stellar P1 ride in the Main Event to extend his points advantage in the championship.
Kody Kopp: "Man, that was a gnarly one. Probably the best battle I've ever had in a Main Event – Chase [Saathoff] and I were going back and forth, a little bit of cat and mouse, and put on a great show for the fans. I managed to win the Dash-for-Cash and the Main Event, putting us back to where we belong. This season will continue to be a dogfight until the end. Hats off to my team, Red Bull KTM, it was a great weekend."
Red Bull KTM Factory Racing teammate Whale shadowed Kopp in qualifying, landing position three on the timesheets by the session's end. With momentum on his side, Whale continued his form in the second Heat race of the night, crossing the line in third just 0.775s from the win, before bringing home his KTM 450 SX-F fourth place on the Main Event. He's third in the point standings.
Max Whale: "Today started out awesome and the track was unreal with loads of passing opportunities, which was good fun. I struggled a bit as the day went on, and messed up in the Heat, which put me on the second row and left me a little frustrated at myself, although I fought hard in the Main Event tonight for P4. I'm working hard, the team's working harder, so, Sacramento in one weekend's time. Let's go!"
Next Race: Sacramento Mile – Sacramento, California – May 13, 2023
Round 6 Results
AFT Singles Main Event
1. Kody Kopp, Red Bull KTM Factory Racing
2. Chase Saathoff, Honda
3. Morgen Mischler, Honda
4. Max Whale, Red Bull KTM Factory Racing
OTHER KTM
9. Justin Jones, KTM
10. Dalton Gauthier, KTM
15. Travis Petton IV, KTM
18. Logan Eisenhard, KTM
2023 AFT Singles Point Standings
1. Kody Kopp, 127 points
2. Dalton Gauthier, 108
3. Max Whale, 102
OTHER KTM
10. Justin Jones, 51
13. Logan Eisenhard, 27
14. Travis Petton IV, 24
17. Shayna Texter-Bauman, 22
22. Hayden Gillim, 14
23. Hunter Bauer, 11
24. Clarke Morian V, 10
25. Tanner Dean, 9
30. Olin Kissler, 4
---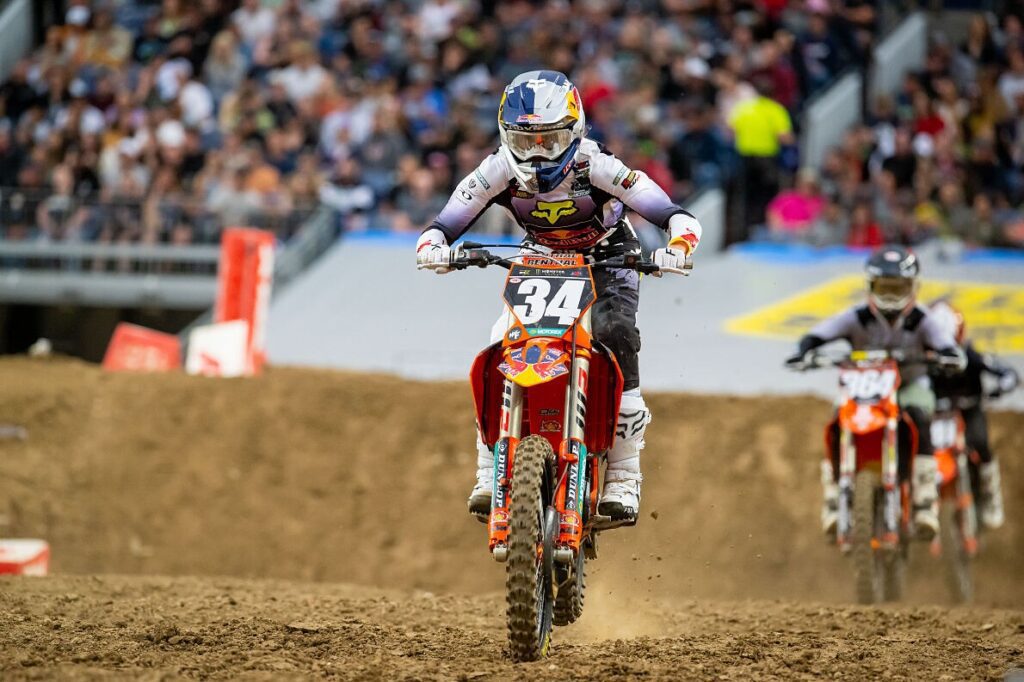 HARD-FOUGHT SIXTH FOR RED BULL KTM'S MAXIMUS VOHLAND IN DENVER SUPERCROSS
DENVER, Colo. – Red Bull KTM Factory Racing was solely represented by Maximus Vohland in round 16 of the 2023 AMA Supercross Championship, where the 250SX West contender rode to sixth position at the conclusion of the penultimate Main Event of the season.
With 450SX teammates Cooper Webb, Aaron Plessinger, and Marvin Musquin currently sidelined through injury, all attention was on 20-year-old Vohland in Denver and he started strongly by qualifying a convincing fourth place this afternoon.
Just two weeks after claiming a career-best result of P4 at East Rutherford, Vohland continued that impressive form by finishing third position in Heat 1 on his KTM 250 SX-F, completing the opening lap in fifth and climbing into P3 for a direct transfer into the Main Event.
A holeshot in the Main Event put Vohland in the lead over the course of the opening laps, before he settled into P3. A fall with just under 10 minutes to run, however, bumped him down the order, and he remounted to take the checkered flag in a hard-fought sixth place. He's still P5 in the western regional standings with a single round remaining.
Maximus Vohland: "I got off to a great start in the Main and went into the early lead, but I made some mistakes on lap three and then went down. After that, I just pushed as hard as I could to get back to sixth position, where I rounded out the race. Not what we wanted this weekend and I was really expecting a lot more of myself – I am really looking forward to making amends in the final race of Supercross season next weekend. I really want to finish out on the Salt Lake podium."
The 2023 AMA Supercross Championship finals will be hosted in Salt Lake City next Saturday night, where the second 250SX East/West Showdown will see Vohland once again joined by eastern regional teammate Tom Vialle to complete the season.
Next Race: May 13 – Salt Lake City, Utah
Results 250SX West Class – Denver
1. RJ Hampshire (USA), Husqvarna, 21 laps
2. Levi Kitchen (USA), Yamaha, +1.353
3. Jett Lawrence (AUS), Honda, +21.231
OTHER KTM
6. Maximus Vohland (USA), KTM
7. Derek Kelley (USA), KTM
14. Max Miller (USA), KTM
19. Kaeden Amerine (USA), KTM
Standings 250SX West Class 2023 after 8 of 9 rounds
1. Jett Lawrence, 197
2. RJ Hampshire, 163
3. Enzo Lopes, 137
OTHER KTM
5. Maximus Vohland, 121
10. Derek Kelley, 86
21. Joshua Varize, 33
22. Max Miller, 19
---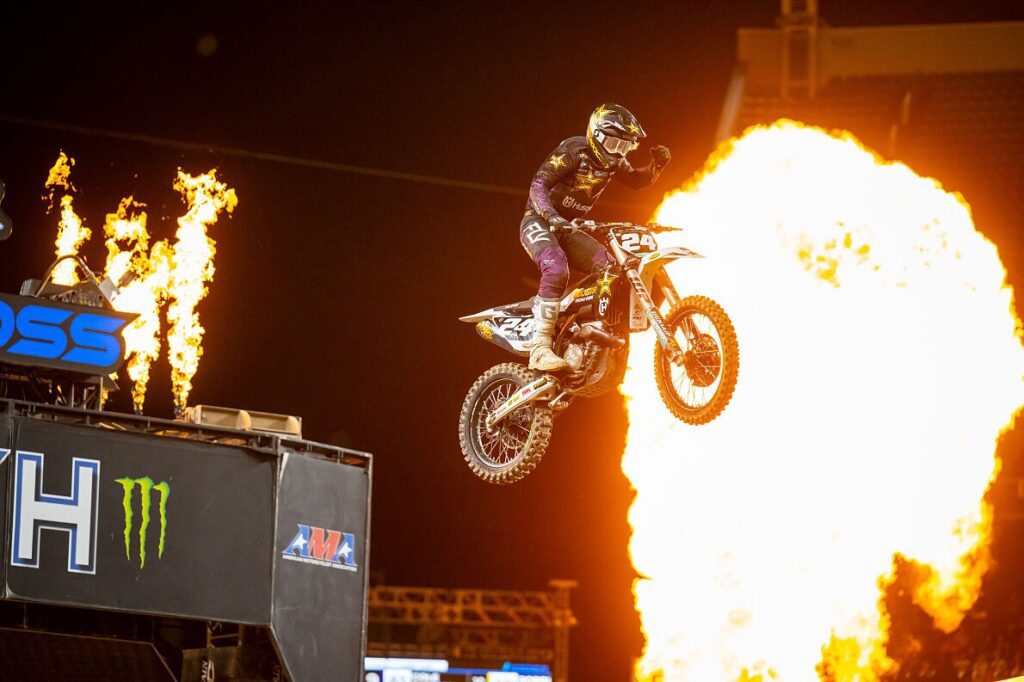 RJ HAMPSHIRE SCORES MILE HIGH WIN IN DENVER SUPERCROSS
The last time we saw RJ Hampshire in action, he was coated in mud from head to toe after a last-ditch effort to make a final corner pass in New Jersey. Heading into the penultimate round of the 2023 AMA Supercross season in Denver, RJ and the Rockstar Energy Husqvarna Factory Racing Team were looking for the win that had been oh-so-close but had proven elusive thus far.
250 SX
When the gate dropped for the main event, RJ Hampshire got a great start on his FC250 and was in the top three. He quickly moved into second place and began reeling in the leader. Near the midway point, he made a move for the lead and was there briefly before running out of room on the edge of the track. Once returning to the racing surface he was several seconds behind the lead, but was the fastest rider on the track. His never say die attitude paid off, and with a pair of laps left in the main, he moved back into the lead for good, scoring his first win of the season.

"It was an awesome day. I'm super-stoked for the Rockstar Energy Husqvarna Factory Racing Team, and to knock one of these wins off before the season is over was huge. We've built a lot of momentum; man; I don't take these for granted. I know how much work goes into this from the team side and myself, this motorcycle, and all our supporters. It's just really nice to give them a win… a little payback for all they do for us," said Hampshire. "I wasn't that fast in qualifying and didn't win my heat race. But I just had that feeling today that I would get it done. I had that big mistake about midway through the main event, but I really put a charge on there at the end and at least gave myself an opportunity to have a shot at the win. Sure enough, we pulled it off."

450 SX
It's been more evident than ever during the last couple of weeks that part of the challenge of the AMA Supercross season is making it to the end unscathed. The 450 side of the Rockstar Energy Husqvarna Factory Racing Team is working hard to be back on track with their FC 450 Rockstar Editions as soon as possible.

Next Event (Round 17): May 13, 2023 – Rice-Eccles Stadium in Salt Lake City, Utah
Round 16 Results: Denver
250 SX West Results
1. RJ Hampshire – Rockstar Energy Husqvarna Factory Racing
2. Levi Kitchen (Yamaha)
3. Jett Lawrence (Honda)

450 SX Results
1. Chase Sexton (Honda)
2. Ken Roczen (Suzuki)
3. Adam Cianciarulo (Kawasaki)

250 SX West Rider Point Standings
1. Jett Lawrence – 197 points
2. RJ Hampshire – 163 points
3. Enzo Lopes – 137 points

450 SX Rider Point Standings
1. Chase Sexton – 346 points
2. Eli Tomac – 339 points
3. Cooper Webb – 304 points
…
11. Christian Craig – Rockstar Energy Husqvarna Factory Racing, 150 points
29. RJ Hampshire – Rockstar Energy Husqvarna Factory Racing, 15 points
31. Malcolm Stewart – Rockstar Energy Husqvarna Factory Racing, 15 points
---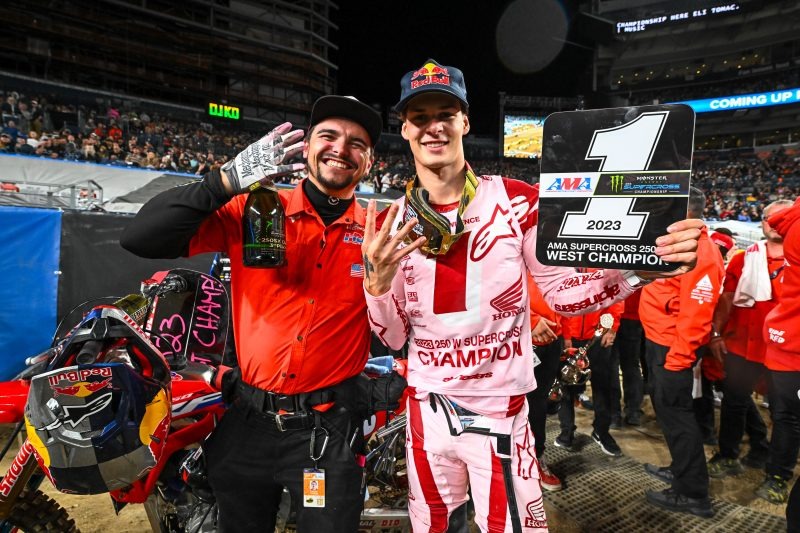 2023 AMA 250SX West Region Championship to Jett Lawrence
DENVER, Colorado (May 6, 2023) — Just one week after Honda earned its 19th AMA Supercross support-class championship at the hands of Hunter Lawrence, Jett Lawrence delivered the 20th. The Team Honda HRC rider took his CRF250R to a safe third-place finish today at the Denver round of the 250SX West Region Championship, raising his points lead to an insurmountable 34, with one round still remaining.
A native of Landsborough, in Queensland, Australia, Lawrence enjoyed a successful amateur career at home and in Europe before moving to the U.S. with his family in 2019, to ride for the Factory Connection Honda satellite team (initially as an amateur). Lawrence turned pro in 2020 and moved to Honda's factory squad for 2021, and in his three years with Team Honda HRC, he has enjoyed an incredibly successful 250 four-stroke career, establishing himself as the winningest AMA 125/250 Supercross/Motocross rider in Honda's history, with 26 victories across the two series. (The class, which is currently for 250cc four-stroke machines, used to be campaigned by 125cc two-strokes motorcycles.)
Lawrence earned the AMA Pro Motocross 250 Championship in 2021 and 2022, as well as the 2022 250SX East title, and this new West crown makes him only the fourth rider to have earned both regions' 125/250SX championships. Lawrence also joins James Stewart as the only riders to win both regions and two AMA Pro Motocross crowns. In addition, he is only the fourth rider to win four AMA 125/250 professional titles.
"That bike has just treated me so well," Jett Lawrence said on the podium following the race. "The team is unreal. We could be pitted out of a tent, to be honest with you—I wouldn't care. It's not even a team—it's a family. They've done [everything] for me and my brother."
The Lawrence brothers' performance this season has been nothing short of dominant. Jett has won five of the eight 250SX West rounds completed thus far, while Hunter has topped seven of the nine East rounds run to this point. (The series finale, a combined 250SX East-West Showdown, will run next week in Salt Lake City.) This marks the first time that siblings have won the East and West Region crowns in the same season.
Lawrence's latest championship is the sixth West Region title for Honda, with others having come with Ty Davis, Jeremy McGrath, Travis Preston and Eli Tomac. Including its 14 East Region crowns, Honda has a total of 20 across both regions. Eleven of those have come since 2010, the most of any manufacturer during that period. This is only the ninth time that a manufacturer has taken both regions' titles in the same year. (Of those, three were accomplished by Honda—in 1991, 2012 and 2023).
Still only 19, Jett will kick off his 450 career aboard the factory Team Honda HRC CRF450RWE on May 27, when the AMA Pro Motocross series commences in Pala, California.
"What an incredible AMA Supercross 250 season for Honda, and what a 250 career for Jett!" said Brandon Wilson, Manager of Sports and Experiential at American Honda. "We knew when we hired Jett ahead of the 2021 season that he was going to be special, but I don't think anyone could have predicted the success that he has already enjoyed; of the five championships that were on the table since he joined our team, he has earned four, and this one was the most dominant yet. It's been an amazing run aboard the CRF250R, and we can't wait to see what he does with the CRF450RWE."
Lawrence's 2023 250SX West Championship continues a successful season in which Honda marks the 50thanniversary of its first production motocross bike, the CR250M Elsinore, which Gary Jones rode to Honda's first AMA Motocross Championship in 1973.
NOTE: Statistics compiled with assistance from Fowler's Facts.
---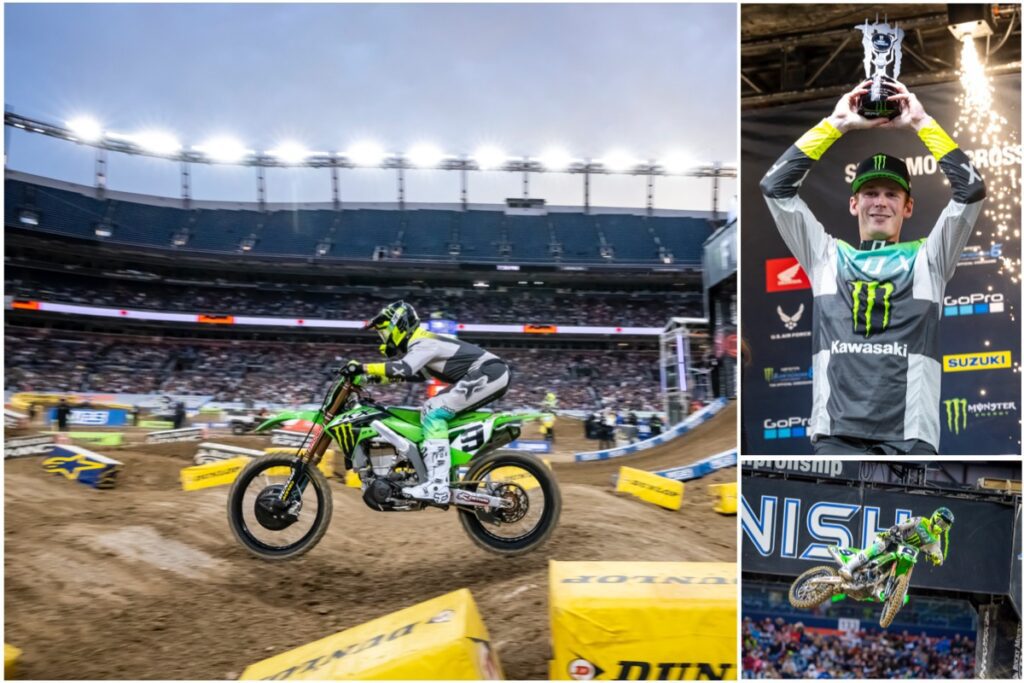 Monster Energy® Kawasaki's Adam Cianciarulo Secures First Podium of the Season at Penultimate Round of the
Monster Energy Supercross Championship
Foothill Ranch, Calif. (May 7, 2023) – The Monster Energy® Supercross Championship traversed over 1,000 miles through Interstate 70 from Nashville, Tennessee, to Denver, Colorado, for Round 16 of the series from Empower Field at Mile High Stadium. Monster Energy® Kawasaki's Adam Cianciarulo proved he remains a top contender with a strong third-place performance enroute to earning his first podium finish of the 2023 racing season. Kawasaki teammate Jason Anderson sat out the Colorado round due to a neck injury sustained the previous week. In the 250SX Class, Monster Energy®/Pro Circuit/Kawasaki rider Carson Mumford battled up front early before crossing the finish line in eighth place.
With mild temperatures providing ideal riding conditions, Monster Energy Kawasaki's Cianciarulo placed Team Green on the leaderboard during the first morning 450SX qualifying session with a 45.927 for third quickest. Looking to capitalize on his consistent finishes, the No.9 experimented with different line selections during the final qualifying session and recorded a 44.714 lap time, placing Cianciarulo fourth fastest overall.
At the start of 450SX Heat 1, Cianciarulo emerged from the first turn in fifth. The Florida-born rider executed swift passes in the opening corners to move up into third before the end of Lap 1. Showing glimpses of his race-winning speed from seasons past, Cianciarulo moved into second with half of the heat race remaining and began looking for opportunities to make a pass for the lead. Unwilling to give up, the No.9 chased down the leader through to the finish and ended the race a close second.
When the 450SX Main Event gate dropped, Cianciarulo launched his KX™450SR out to a superb second-place start. The No.9 showed impressive race craft as he stayed competitive against the fastest supercross racers in the world and took over the lead after the front runner exited the race early. Once in the lead, Cianciarulo and Sexton shortly jockeyed over control of the lead before he moved into second place. As the race progressed, Cianciarulo found himself in another intense battle, this time for the right to second place. The No.9 displayed impressive defensive skills as he rode strong to hold onto the position until ultimately dropping to third. With a comfortable gap and time quickly winding down, Cianciarulo rode smart through to the finish and secured his first podium of the 2023 Monster Energy Supercross season.
"I can't even begin to describe how incredible this podium finish feels. The team and I have been working tirelessly to get here and to finally be standing on the podium again, after so much hard work, is just surreal. The journey to get here has been full of ups and downs but none of it would be possible without the amazing support from my team and everyone around me. This is a major accomplishment for us, but we still have bigger goals in mind and we're going to keep working until I'm back to being as competitive as I know I can be."
– Adam Cianciarulo
Monster Energy/Pro Circuit/Kawasaki's Mumford showed early promise, quickly placing his KX™250 on the leaderboard in the first timed qualifying session before dropping to sixth (46.861). The young rider out of Carlsbad, California showed veteran-like adaptability as he adjusted to the changing Denver SX track conditions in the final 250SX Class qualifying session of the day to set a 46.274 lap time, good for seventh fastest.
In 250SX Heat 2, Mumford placed Kawasaki inside the top three with a superb start aboard his KX250 race machine. The No.52 spent the first half of the race jockeying amongst the top three and momentarily took control of the lead before a lapped rider allowed the opposition to slip by dropping Mumford to third where he would ultimately finish the race.
When the gate dropped on the 250SX Main Event, Mumford emerged entering the first turn in fourth. Determined to move up, Mumford stayed in close range of the riders ahead, looking for any opportunity to make a pass. As the race progressed, the No.52 shuffled down the running order but rode a consistent race for the remaining laps until he crossed the finish line in eighth position.
"I had a good start to the evening, leading laps in my heat and running near the front during the Main Event. Unfortunately, little mistakes throughout the race allowed others to get by me and hindered my ability to make up any positions towards the end. The team and I will focus on riding clean laps, mistake-free during this week of practice, and come out for the final round next weekend ready to battle for a top-five finish."
– Carson Mumford
---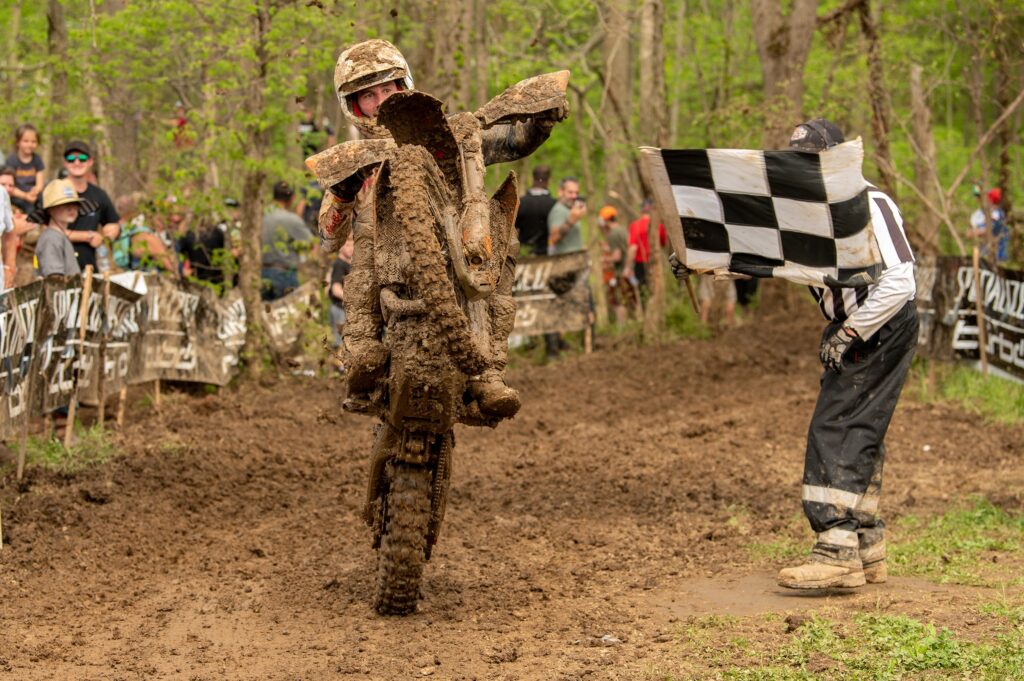 AMSOIL Hoosier: Motorcycle Race Report
CRAWFORDSVILLE, Ind. (May 8, 2023) – The Grand National Cross Country Series presented by Specialized, an AMA National Championship (GNCC Racing) saw completely different conditions on day two of the AMSOIL Hoosier event. The rain fell overnight causing muddy, slick conditions on Sunday morning, but as the sun came out throughout the afternoon hours the mud was becoming tacky for the afternoon racers.
When the XC1 Open Pro class took off it was Magna1 Motorsports/Husqvarna's Jordan Ashburn earning the $250 All Balls Racing XC1 Holeshot Award. The battles were on throughout the duration of the race. Rocky Mountain ATV*MC/Tely Energy KTM's Steward Baylor would hold the early lead, but Ashburn would take over the lead on lap three and hold it for the next couple of laps. Unfortunately, a mechanical issue would take him out of the running on the fourth lap.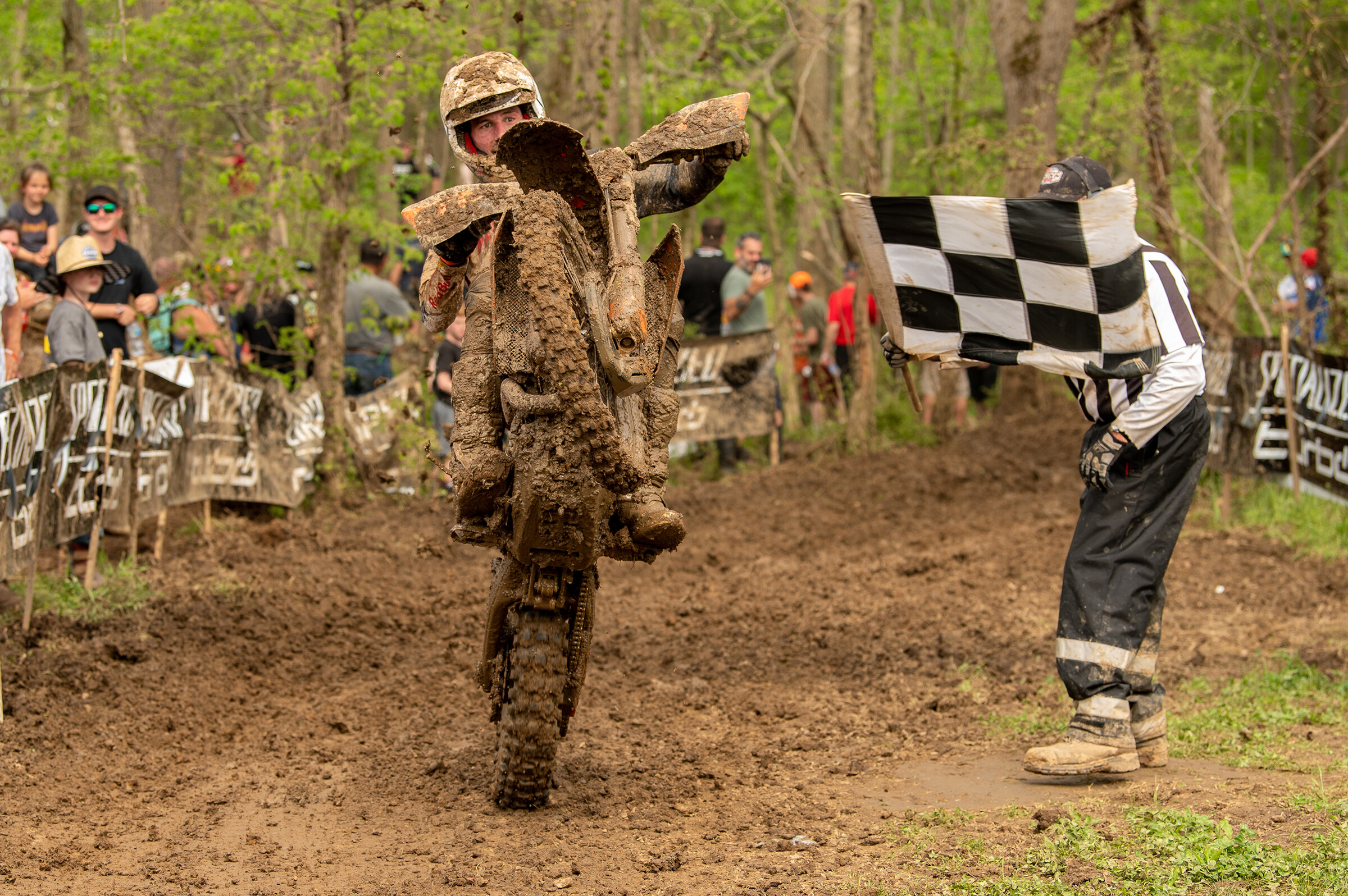 Baylor would once again take over the lead, but he would have company from both FMF/KTM Factory Racing riders, Ben Kelley and Jonathan Girroir. As the two-lap card came out it would be Girroir leading the way with Baylor and Kelley running second and third. Girroir would continue to push throughout the last lap and come through to earn his first-ever overall XC1 Open Pro win, making him the sixth different winner in six races.
Baylor would come through to earn second overall on the day, while Kelley would hold on for third in the XC1 class and fifth overall as Witkowski and Draper of the XC2 class would finish third and fourth overall on the day.
Rockstar Energy Husqvarna Factory Racing's Craig DeLong would battle back-and-forth throughout the day to earn fourth in the XC1 class. DeLong would start back in fifth on the first lap and fall as far back as sixth for the next couple of laps. As the race wore on, DeLong continued to push forward to make his way up to fourth for the final three laps.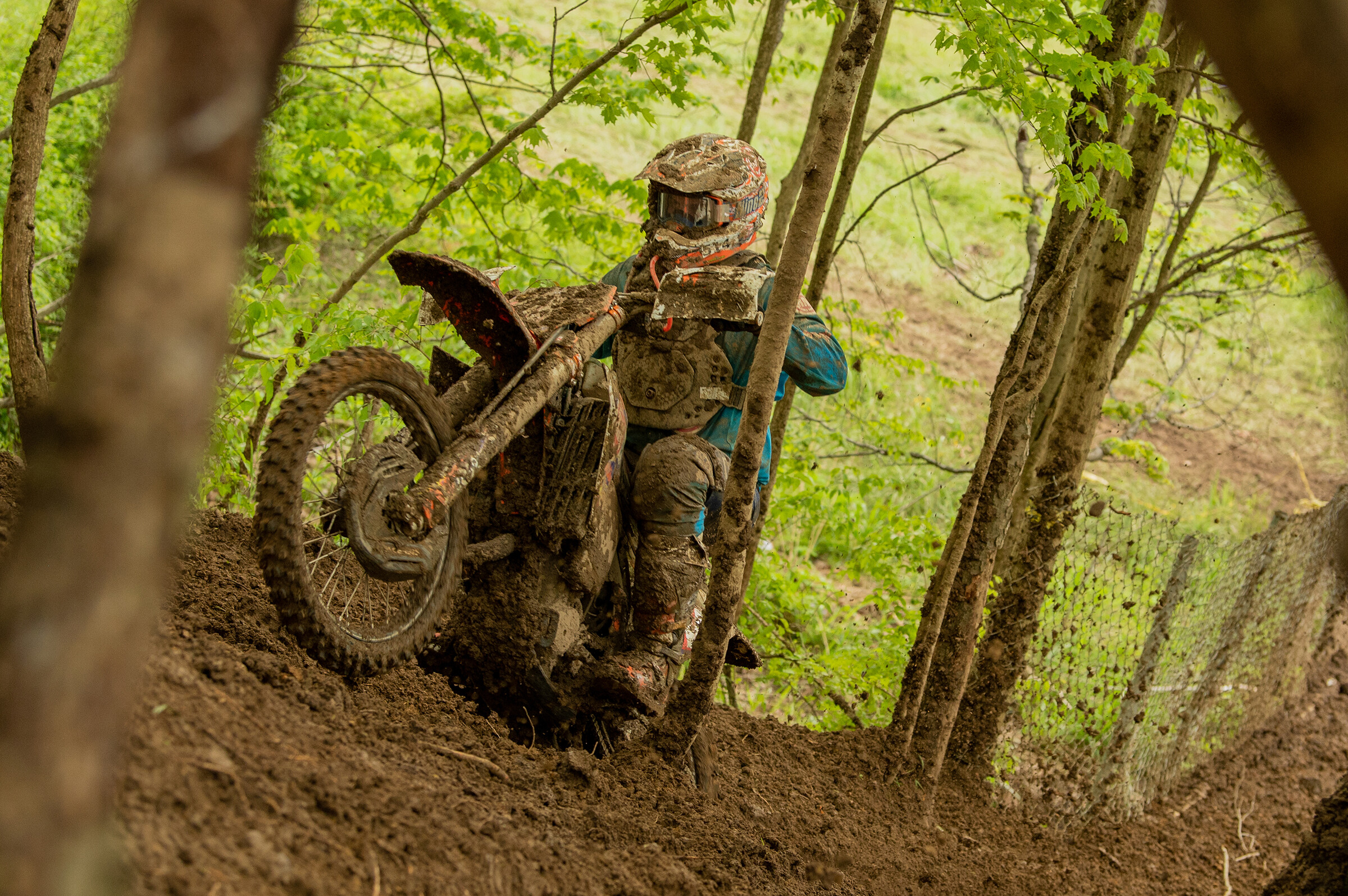 Earning fifth in XC1 at the sixth round was Babbitt's Online/Monster Energy/Kawasaki Team Green's Josh Strang. Strang would have his work cut out for him as he started back in seventh for the first half of the race. Strang would make his way to fifth on the sixth lap of the race and remain there for the remainder of the day.
After a great start to the day, AmPro Yamaha's Ricky Russell found himself up in third and second for the first couple of laps. Unfortunately, right after the halfway point of the race Russell would fall back to sixth and remain there until the checkered flag flew.
Ashburn would suffer a mechanical issue after running at the front of the pack, and ultimately be scored seventh in the XC1 class, as Babbitt's Online/Monster Energy/Kawasaki Team Green's Grant Baylor was able to earn eighth in the XC1 class after only being able to battle for two laps in Indiana.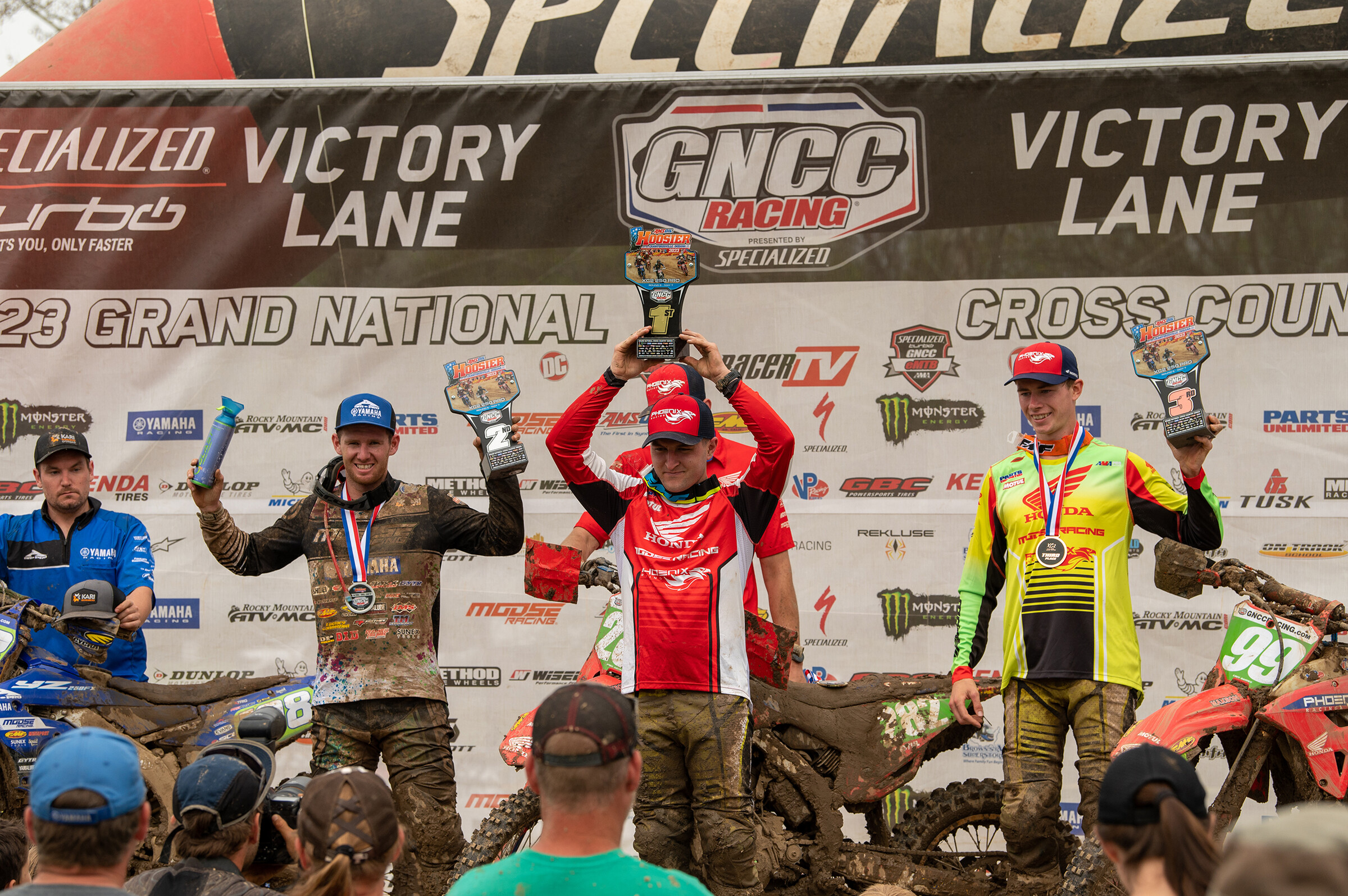 As the XC2 250 Pro line took off it was Liqui Moly Beta Factory Racing's Jonathan Johnson grabbing the $250 XC2 Steel City Men's Clinic Holeshot Award. It wouldn't take long for Phoenix Racing Honda's Michael Witkowski and AmPro Yamaha's Liam Draper to get to the front of the pack and battle for that lead position. Witkowski would hold that number one spot on the opening lap, but Draper would soon make the pass for the lead and hold it for the majority of the race.
However, on the last lap of the race Witkowski would maneuver around Draper when a lapped rider was unable to get out of their way. Witkowski would cross the line .953 seconds ahead of Draper to earn his first XC2 win of the season. Draper would earn second on the day in Indiana. Phoenix Racing Honda's Cody Barnes would round out the top three XC2 finishers as he made his way into third at the halfway point.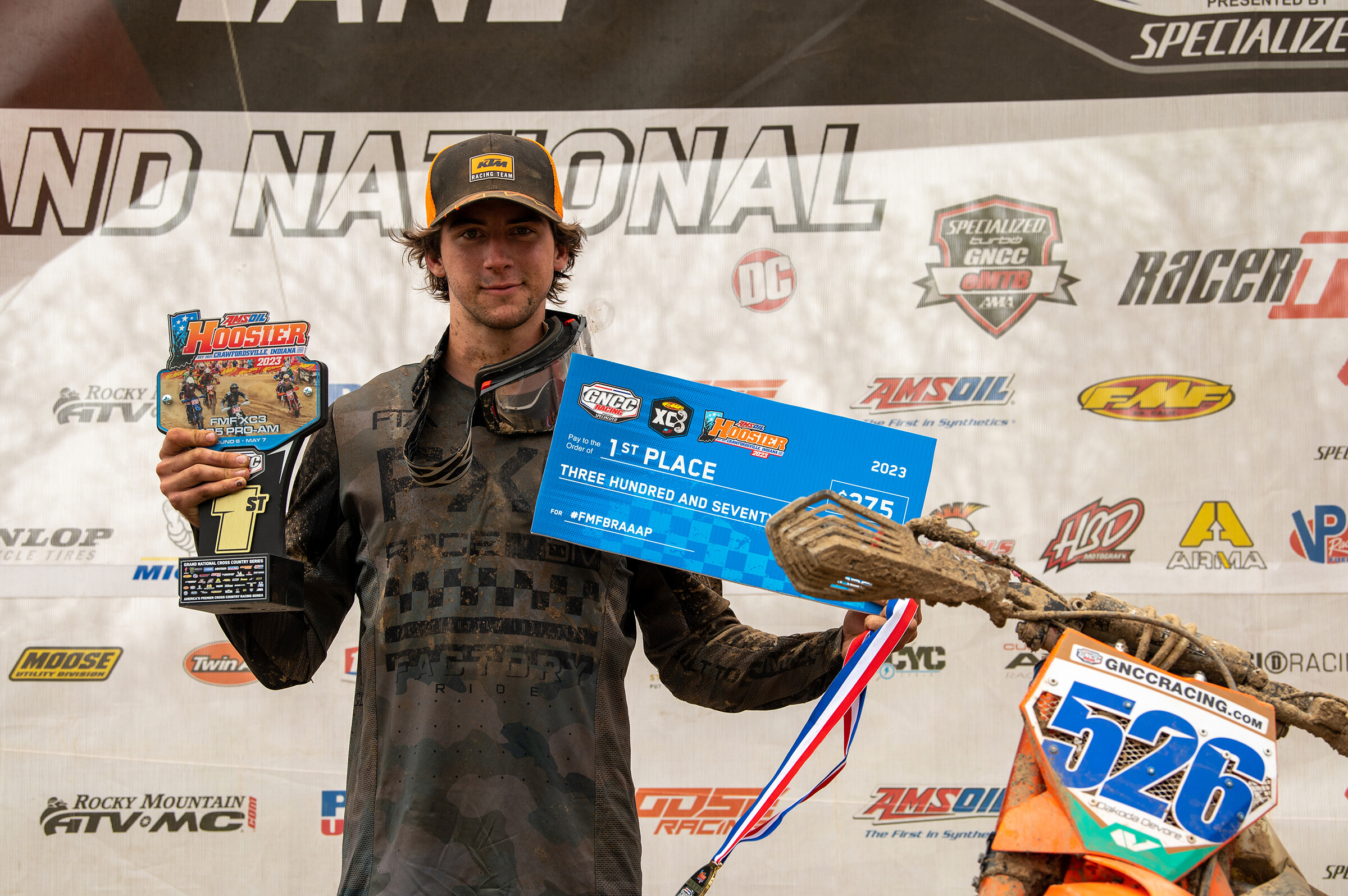 In the FMF XC3 125 Pro-Am it was FXR/X Brand Goggles/6D Helmet's Dakoda Devore leading the majority of the race and crossing the finish line first to earn his first XC3 win of the season. Liqui Moly Beta Factory Racing's Jason Lipscomb would battle with Devore for some part of the race, even holding the lead on the second lap of the day. However, Lipscomb would be unable to make another run for the lead as he came through three minutes behind Devore to earn second.
After a good start to the day by earning the $100 Lojak Cycle Sale's XC3 Holeshot Award, Beaver Creek Cycles/Bells Electric/Wossner Piston's Toby Cleveland would find himself having to make a long pit stop to work on the bike and battle back from ninth place on the opening lap. Cleveland would put his head down and push, making his way into third by the time the white flag was flying. Unfortunately, Cleveland would be unable to make a push for the front, but with a consistent finish, he continues to hold the lead in the points.
The Top Amateur honors went to Nicholas DeFeo who finished 16th overall on the day, while Joseph Cunningham came through 17th overall. Bolton Beroth rounded out the Top Amateur podium with a 19th overall finish on the day.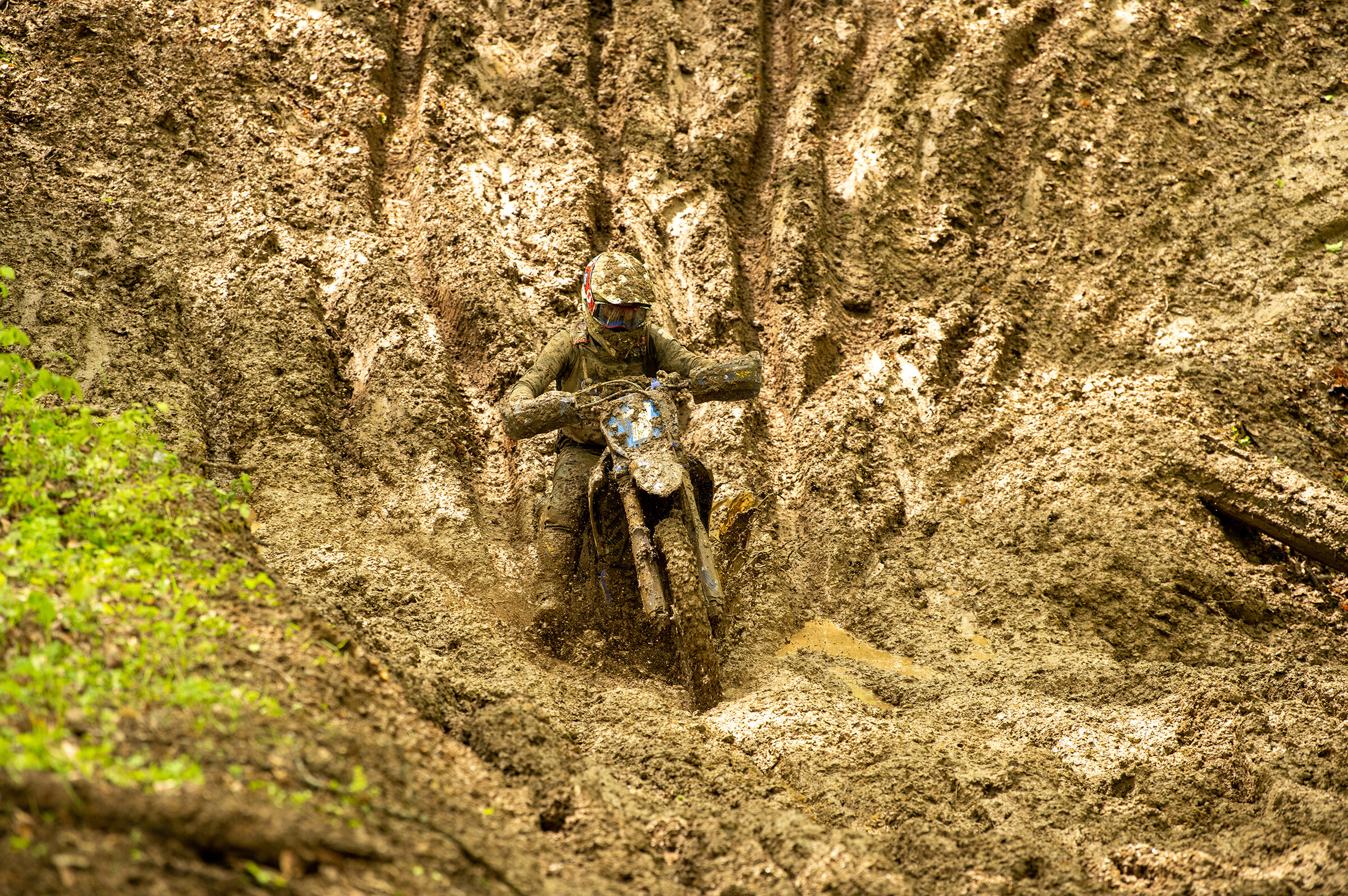 As the WXC line took off it was Trail Jesters KTM Racing's Korie Steede coming away with the $100 Trail Jesters WXC Holeshot Award to start the day. However, it would not take long for AmPro Yamaha's Rachael Archer to make the pass for the lead on the opening lap. Archer would put her head down and focus to place a gap over the rest of the field as she crossed the finish line with a six minute lead in the muddy conditions.
After grabbing the holeshot, Steede would find herself battling with GASGAS/Over and Out/RG Factory Racing's Rachel Gutish for the first couple laps of the race. As the two-lap board came out, Steede would make her way into second and continue to battle on through the conditions for that second place position. Gutish would try to hold onto the third but would face a mechanical that would make her unable to cross the finish line for the fourth and final lap. V3 CDR/Garrison Tree Service/Focus X/Enduro Engineering's Kayla O'Neill would capitalize as she ran fourth for the majority of the race, coming through unaware that she had earned her first-ever WXC podium finish with third on the day.
Earning the Youth Overall win at the Hoosier was YXC2 Super Mini Jr. competitor, Caleb Wood. This was Wood's first youth overall win, and his fourth YXC2 class win of the season. Canyon Richards would come through to earn second overall, and first in the YXC1 Super Mini Sr. class. Richards has earned three wins in the YXC1 class after six rounds of racing. Austin Tsakanikas came through to earn third overall in the youth race, and second in the YXC1 class.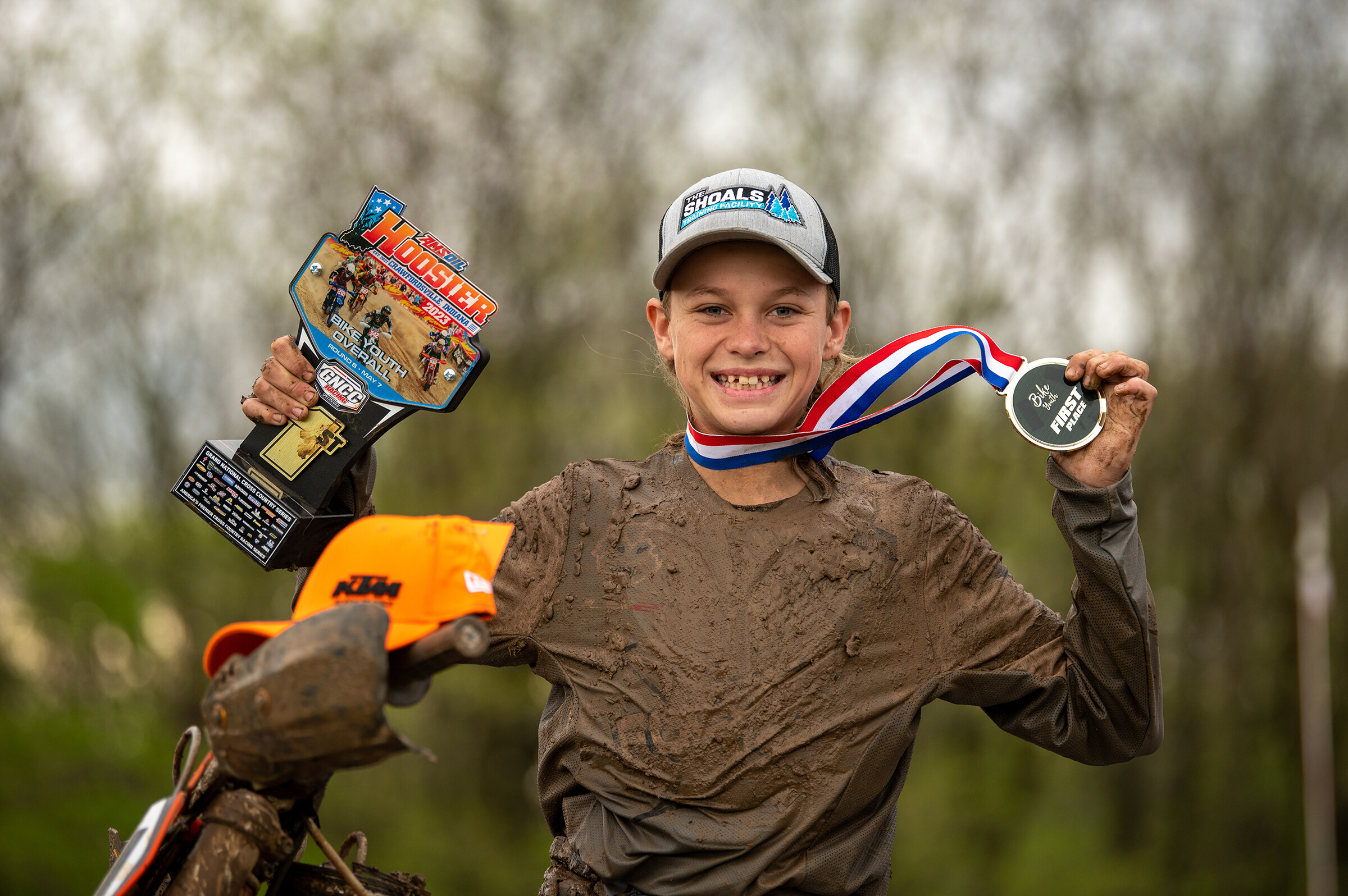 Coming through to earn third in the YXC1 class was James Jenkins as Mason Raynor and Jiggs Fustini rounded out the top three in the YXC2 class in Indiana. In the 85 Big Wheel (11-15) class it was Ryder Sigety coming through to earn the class win. Travis Lentz took home his sixth-straight win in the 85 (12-13) class, while Brody Boland earned the 85 (7-11) win.
In the 65 (10-11) class it was Beau Garetson earning the win, with Maverick Boyer taking home the 65 (9) class win. In the 65 (7-8) class, Tripp Lewis came away with the win at round six. Zoey Kimble would earn her first win of the season in the Girls Super Mini (12-16) class, while Sahara Robinson earned her fourth win in the Girls 85 (7-13) class. Earning her second win was Audrina Anello in the Girls 65 (7-11) class, while Crawfordsville's own Talon Pike came away with the Trail Rider (7-15) class win.
The AMSOIL Moto Hero was awarded to Robbie Hechinger from Brownsburg, Indiana. Robby is a deputy for the Montgomery County Sheriff's office in Crawfordsville, Indiana and has been on the force since 2014. He has been part of their K9 Unit since 2017, where he works with his K9 partner, Titan, who is an eight year old Belgian Tervuren. Robby has been racing dirt bikes for fun since 1996 and raced in the Warrior class on Sunday morning. Robby helps out at the Shaver family farm, and at their shop, Tom's Marine Sales. He also works for the sheriff's department at certain Ironman Raceway events. Robby was awarded a $250 AMSOIL shopping spree, a set of Kanati Truck tires courtesy of GBC, a Columbia Flag and Sign Co. American flag and gift certificate, along with a pair of 100% camo goggles.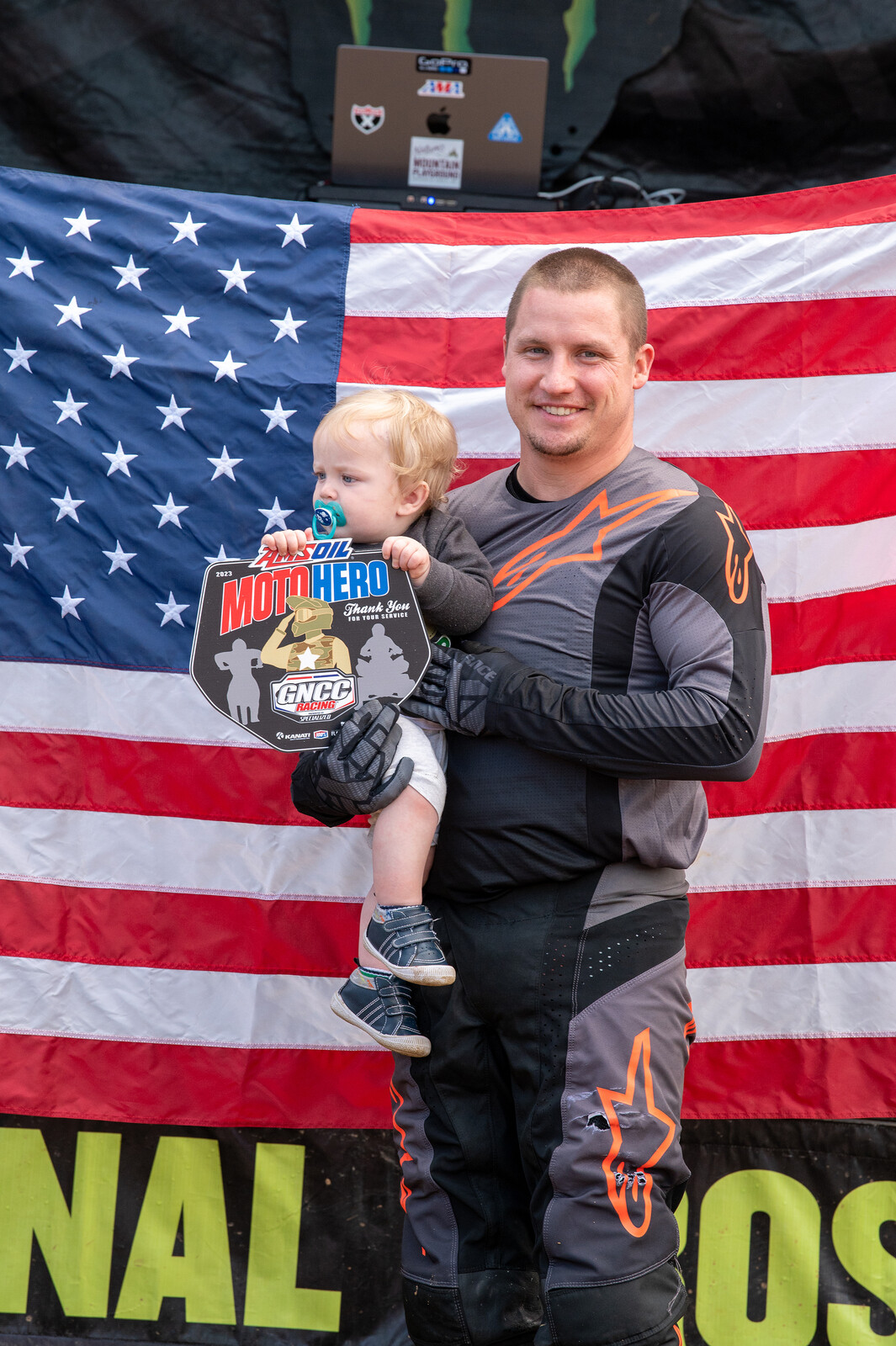 The next round of GNCC Racing will take place on May 20-21 in Millfield, Ohio at Sunday Creek Raceway with the seventh round of racing, The Wiseco John Penton GNCC. For more event information, or to buy tickets online and pre-register for the event, click HERE.
Catch GNCC Pro ATV and Motorcycle Racing free via RacerTV.com all season long. Pro ATV Racing starts Saturday's at 2pm ET, with the exception of Big Buck, Snowshoe and Ironman events where they will start at 1pm ET. GNCC Pro Motorcycle Racing will begin at 1pm ET on Sunday's. Later in the year GNCC Racing will premiere on MAVTV with event highlight episodes.
For more information on the GNCC series, visit the official website at www.gnccracing.com or call (304) 284-0084. Join the conversation on the series Facebook page, follow us on Twitter and Instagram, and be sure to always hashtag #GNCC.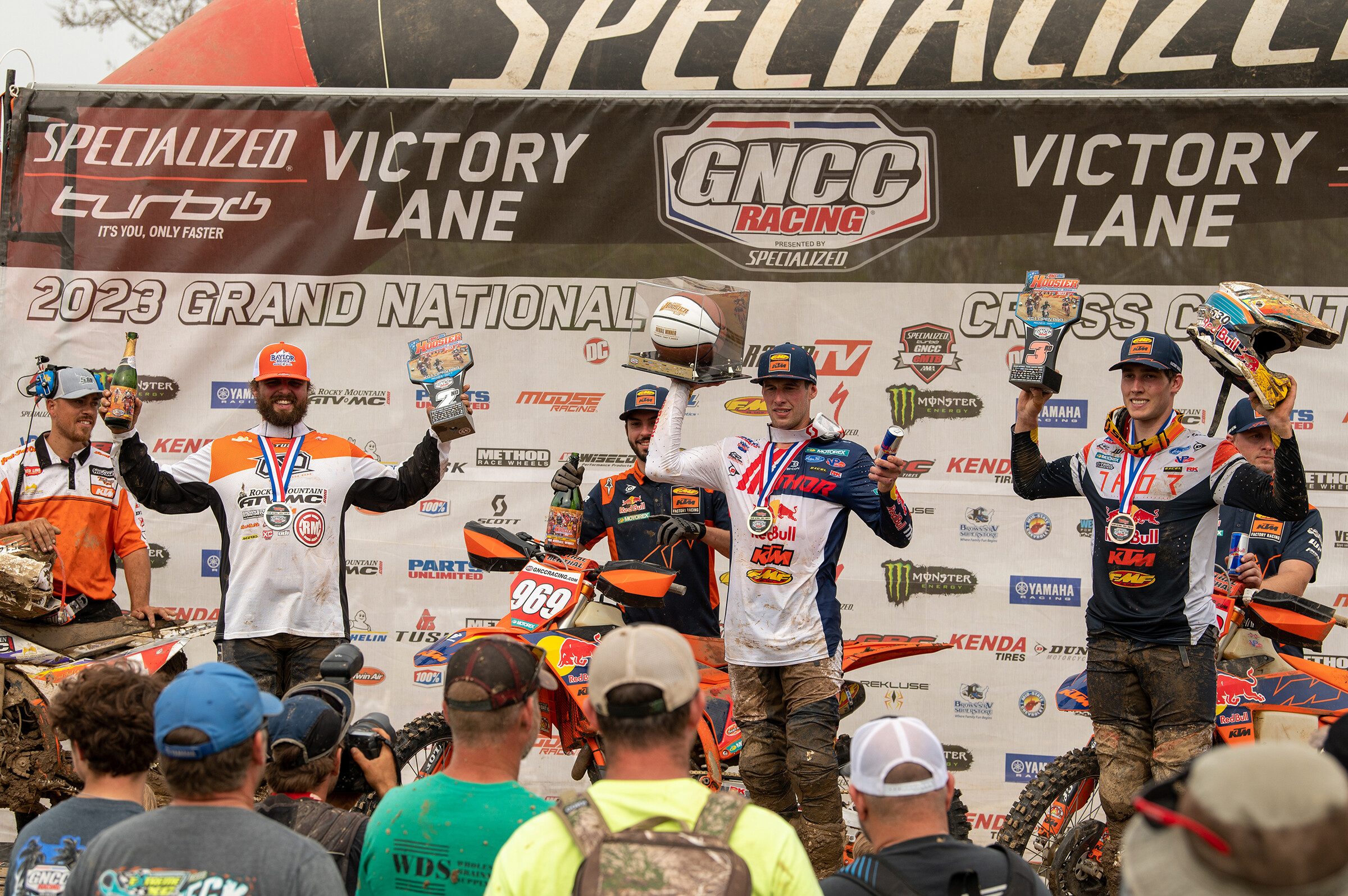 AMSOIL Hoosier Results and Points Standings
Crawfordsville, Indiana
Round 6 of 12
Sunday, May 7, 2023
XC1 Pro Event Results:
Jonathan Girroir (KTM)
Steward Baylor Jr. (KTM)
Benjamin Kelley (KTM)
Craig DeLong (HQV)
Josh Strang (KAW)
Ricky Russell (YAM)
Jordan Ashburn (HQV)
Grant Baylor (KAW)
*Overall National Championship Standings:
Ben Kelley (129)
Craig DeLong (124)
Steward Baylor (123)
Ricky Russell (86)
Grant Baylor (85)
Jordan Ashburn (80)
Josh Strang (79)
Ruy Barbosa (71)
Jonathan Girroir (69)
Cody Barnes (65)
*Indicates that the Overall National Championship Standings will determine the 2023 National Champion.
XC2 250 Pro Event Results:
Michael Witkowski (HON)
Liam Draper (YAM)
Cody Barnes (HON)
Ruy Barbosa (HON)
Ryder Lafferty (GAS)
Jonathan Johnson (BET)
Angus Riordan (KTM)
Evan Smith (BET)
Mason Semmens (KTM)
Nathaniel Tasha (KTM)
XC2 250 Pro Series Standings:
Ruy Barbosa (129)
Cody Barnes (116)
Angus Riordan (113)
Ryder Lafferty (112)
Liam Draper (109)
Mason Semmens (96)
Michael Witkowski (91)
Lyndon Snodgrass (83)
Evan Smith (82)
Jonathan Johnson (71)
To get the latest GNCC Racing clothing and merchandise visit https://www.mototees.com.
---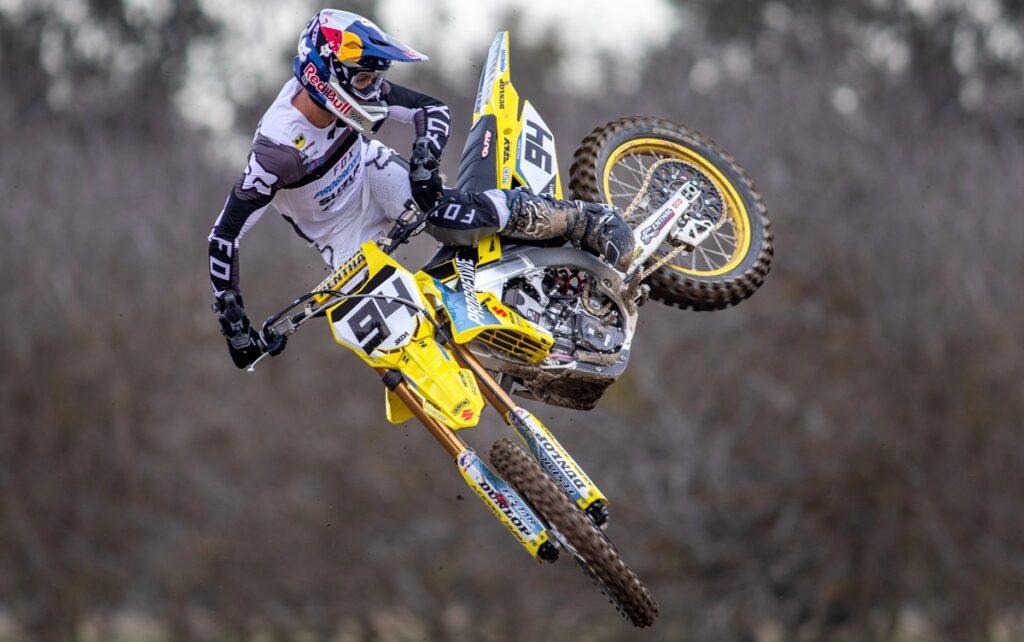 Ken Roczen Announces Commitment to World Supercross Championship
Ken Roczen has today confirmed his commitment to the FIM World Supercross Championship (WSX), announcing via a virtual media conference he will race in the Championship until 2025.
Already a rider for the Dustin Pipes-led Progressive Insurance ECSTAR Suzuki team in the US, Roczen will compete under the Pipes Motorsports Group banner in 2023, where he'll defend his current WSX (450cc) class World Title.
Roczen says returning to the World Supercross Championship for the next three years represents his commitment to becoming a supercross specialist and growing the discipline around the world.
"I had a great time in Cardiff and Melbourne last year, which made it easy to commit to the World Supercross Championship," said Roczen. "I'm hungrier than ever for race wins and will be giving it my all with my team to be standing on the top step when the season ends in Melbourne this November." – Ken Roczen | Defending WSX 450cc World Champion

"For supercross to grow as a sport around the world, I think it's really important that more riders focus solely on the discipline, which is why I'm concentrating on the World Supercross Championship and the AMA Supercross Championship in the coming years. I feel like my riding this year has been as good as ever, and I'm excited to see what I can do when focusing on one speciality.
"I'm particularly proud of what we've achieved this year with the Progressive Insurance ECSTAR Suzuki Team. Dustin, Larry and the whole team have put in a huge effort to make me as comfortable as I have been to race at the front all season long.
"For us to continue our supercross momentum together and take the sport we love to fans around the world is an amazing opportunity that I'm very grateful for. I'm ecstatic to have the opportunity to compete for a World Title at home in Germany, which is something I could only dream about until now."
SX Global CEO Adam Bailey said that today's announcement was not only a huge win for the sport but for fans who might not have had an opportunity to see one of the biggest names in supercross race in their country before.
"Supercross has an incredible following across the globe, and we know Ken is one of the most popular riders in the world, so having him commit to WSX for the next three years is a fantastic step towards our mission to build a truly global World Supercross Championship that fans, athletes, teams, sponsors and media partners are passionate about.
"I can't wait to see fans in new regions enjoy the best sport in the world firsthand. There's nothing more rewarding than seeing the enjoyment they get witnessing these incredible athletes race in person," said Bailey.
Pipes Motorsports Team Principal Dustin Pipes said Roczen's professionalism and experience are qualities the team is already familiar with. Now, they can build on that foundation as they embark on a new season of WSX racing.
"Ken is a champion in supercross both on and off the track, and we've already seen what he can achieve with our team in the States. That relationship and consistency now transfer to our World Supercross Championship team, so we're confident that Ken can deliver another World Title win, this time on a Suzuki, in 2023," said Pipes.
Fans can witness Roczen defend his WSX World Title at six World Supercross Championship rounds in the United Kingdom, France, Southeast Asia, Germany, Canada and Australia. To buy tickets, visit WSXChampionship.com
---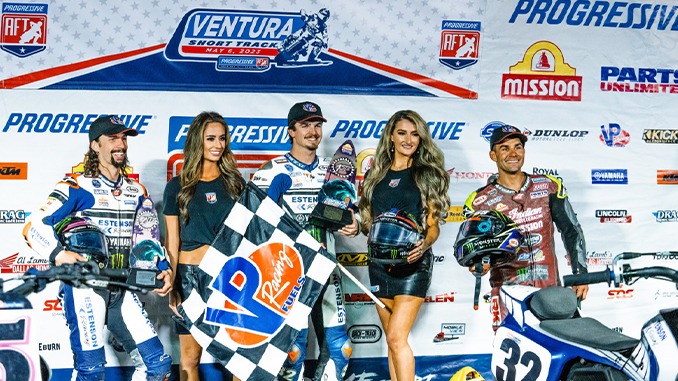 Daniels in Command at Inaugural Ventura Short Track
The dream season of ascending Progressive American Flat Track star Dallas Daniels (No. 32 Estenson Racing Yamaha MT-07 DT) continued with his convincing victory in Saturday night's inaugural Ventura Short Track at Ventura Raceway in Ventura, California.
As impressive as he was a year ago as a Mission SuperTwins presented by S&S Cycle rookie, Daniels has taken his game to the next level in 2023. The prodigious teenager extended his unblemished run of firsts and seconds this season with a calm and controlled performance en route to the top step on the box at the scenic ocean-adjacent venue.
Daniels' teammate, JD Beach (No. 95 Estenson Racing Yamaha MT-07 DT), shot off the line in first but held the position for less than a single quick circulation of the 1/5-mile clay oval. Beach did well to keep Daniels honest after being dropped to second and even reeled him back in at one point. But the relentless perfection of the title leader gradually stacked up to a near one-second advantage by the time the Main Event was seven minutes deep, with reigning champion Jared Mees (No. 1 Indian Motorcycle/Rogers Racing/SDI Racing FTR750) significantly further back in third.
Just when the podium order seemed all but academic, a red-flag reset occurred after Brandon Robinson (No. 44 Mission Roof Systems Indian FTR750) came out the worst of an accordion-style crash that marred the multi-rider fight for fourth. Jarod Vanderkooi (No. 20 JMC Motorsports/Fairway Ford Indian FTR750) got into the back of Johnny Lewis (No. 10 Moto Anatomy X Powered by Royal Enfield 650), leading directly to Robinson's spill. The fallen Robinson was subsequently clipped by Sammy Halbert (No. 69 Dodge Bros. Racing/Martin Trucking Harley-Davidson XR750) forcing a stoppage in the action.
But even after Beach, Mees, and the field being given a second chance, little changed at the front following the staggered restart. Daniels simply went back to piling up his advantage, ultimately scooping up a third win of the year to go with his three runner-ups.
Beach completed the Estenson Racing Yamaha 1-2, while Mees managed to score podium points on a night he never really felt at home on the track.
Likewise, two-time Grand National Champion Briar Bauman (No. 3 Parts Plus/Jacob Companies KTM 890 Duke) came away with fourth after running as low as ninth early.
Lewis held on for his second top five of the season in fifth, followed closely to the line by Halbert and Bauman's younger sibling, Bronson Bauman (No. 37 Fastrack Racing/2 Wheelz KTM 890 Duke).
Kolby Carlile (No. 36 G&G Racing/Yamaha Racing Yamaha MT-07) picked up his best result of the season in eighth, while Davis Fisher (No. 67 Rackley Racing/Bob Lanphere's BMC Racing Indian FTR750) and Vanderkooi rounded out the top ten.
As a result of the third triumph of his sophomore campaign, Daniels tightened his grip on the title fight. He opened his lead to 24 points over Mees (138-114) a third of the way into the season, while Beach moved back ahead of Bauman for third (97-94).
Parts Unlimited AFT Singles presented by KICKER
Like Daniels, Kody Kopp (No. 1 Red Bull KTM Factory Racing 450 SX-F) earned the third win of his 2023 season as he continued his Parts Unlimited AFT Singles presented by KICKER title defense in stellar fashion.
However, in contrast to his twin victory cruises at the DAYTONA double opener, Kopp was pushed to the brink by a hungry Chase Saathoff (No. 88 American Honda/Mission Foods CRF450R) under the lights at Ventura Raceway.
After a handful of hectic early laps, the two shook free from Saathoff's Turner Racing teammates, Morgen Mischler (No. 13 American Honda/Mission Foods CRF450R) and Trent Lowe (No. 48 American Honda/Mission Foods CRF450R). From that point on, the race became a two-rider duel for top honors.
While Kopp controlled the bulk of the tense contest from the front, the Honda pilot threw in a few late haymakers, including a skittering, crisscrossing double lead change that got the fans on their feet with less than 30 seconds remaining on the clock.
But a last-lap encore wasn't in the cards, as a minor moment on Saathoff's part with two laps to go allowed Kopp just enough air to power to the checkered flag firework-free.
Kopp said, "Chase is a helluva competitor. He was my fiercest rival and competitor growing up on 85s, 250s, and 450s. Man, that was probably the most fun race I've ever had – we were squaring each other up. I hope it was a fun one to watch."
Mischler held off Kopp's charging teammate, Max Whale (No. 18 Red Bull KTM Factory Racing 450 SX-F), to pick up his second consecutive podium, while Estenson Racing Yamaha's Trevor Brunner (No. 21 Estenson Racing Yamaha YZ450F) charged his way forward to fifth after getting off the line in ninth.
Dallas winner Lowe came home sixth, while Brunner's Estenson Racing Yamaha teammate, Tom Drane (No. 59 Estenson Racing Yamaha YZ450F), took seventh. Cole Frederickson (No. 151 Lehmann Racing/Miller Tree Service Honda CRF450R) fifth eighth, followed by Justin Jones (No. 91 NRC Racing/Elder Trucking KTM 450 SX-F).
Kopp's closest title rival, Dalton Gauthier (No. 79 D&D Racing/Certified KTM 450 SX-F) was the final rider in the top ten. That allowed Kopp to press his advantage up to a healthy 19 points (127-108) with Whale third at 102 and the on-form Saathoff fourth with 97.
Next Up:
Progressive American Flat Track will conclude its two-weekend California swing by going directly from the season's final Short Track into its first Mile with the Legendary Sacramento Mile at Cal Expo in Sacramento, California, on Saturday, May 13. Visit https://www.etix.com/ticket/p/7818909/the-mission-foods-legendary-sacramento-mile-powered-by-law-tigers–sacramento-sacramento-mile to secure your tickets today.
For those that can't catch the live action from the circuit, FansChoice.tv is the live streaming home of Progressive AFT. Sign up now and catch every second of on-track action starting with Practice & Qualifying and ending with the Victory Podium at the end of the night at https://www.fanschoice.tv.
FOX Sports coverage of the Ventura Short Track, featuring in-depth features and thrilling onboard cameras, will premiere on FS1 on Saturday, May 13, at 2:30 p.m. ET (11:30 a.m. PT).
For more information on Progressive AFT visit https://www.americanflattrack.com.
---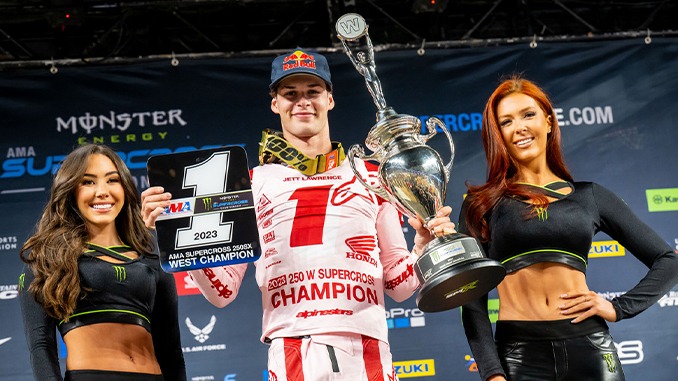 Second 250SX Title in Two Weeks for Team Honda HRC
On a dramatic evening in downtown Denver, Team Honda HRC continued its dream 2023 AMA Supercross season, collecting the 250SX West Region crown at the hands of Jett Lawrence (on the heels of Hunter Lawrence clinching the 250SX East crown last week). Meanwhile, Chase Sexton notched his second 450SX win in as many weekends and his third in four races. With title rival Eli Tomac suffering an injury, Sexton took over the points lead with one round remaining.
Following a poor start in the 250SX West main event, Lawrence was 10th on the first lap, but he knew he only needed a 10th-place finish in order to clinch the title. Riding safely to avoid jeopardizing the title, the young Australian was ninth after one lap, eighth a lap later, and he moved into seventh six laps in. At the halfway point of the 21-lap race, Lawrence sat in third place, and he held that position to the finish, celebrating his fourth AMA crown as he crossed the finish line.
In the 450SX main event, Sexton sat in sixth place after one lap, having been delayed in turn 1. He advanced to fourth by lap 3, and after Eli Tomac pulled off with an injury a lap later, the Illinois native found himself in second. He moved into the lead on lap 7 and rode smoothly to the finish, winning by over eight seconds. Meanwhile, Nichols rode extremely well early on, nabbing a strong start and running in the top five until suffering a scary crash. Fortunately, following a few scary moments, the Oklahoma native turned out to be relatively okay, and he looks forward to racing at the series finale.
NOTES
Chase Sexton, Colt Nichols and Jett Lawrence all took part in Media Day Friday
Many riders and team members were sporting special stickers honoring the late Wills Fedrick, the Monster Energy AMA Supercross Paddock Manager who lost his life last week.
A week after taking the 250SX East crown, Hunter Lawrence attended the Denver race to cheer his brother on to his championship. Hunter made a guest appearance in the booth for the broadcast during the 250SX West main event but left in time to congratulate Jett by the podium.
Daytime qualifying saw Team Honda HRC top the combined times in both classes yet again, with Sexton best in 450SX and Lawrence quickest in 250SX West. Nichols was a solid seventh in the premier division.
In 250SX West heat 2, Lawrence was caught up in a pile-up shortly after the start and remounted in around 15th place. He went into damage-control mode, riding fast but controlled until reaching fourth place on the penultimate lap, and holding that spot to the finish—two behind SmarTops/MotoConcepts Honda's Mitchell Oldenburg. KBR-sponsored Red Rider Luke Kalaitzian transferred from ninth place, and TDMX-back Brandon Ray made it in from the last-chance qualifier.
In the second 450SX heat race, Sexton and Nichols emerged from turn 1 in third and fourth places, respectively. After one lap, Sexton was up to second, and he took over the lead around the midway mark, then rode to a 1.5-second winning margin, with Nichols tallying a solid third-place finish. Also advancing from the heat was Fire Power Honda's Dean Wilson, while SmarTop/MotoConcepts Honda's Anthony Rodriguez and TiLube/Storm Lake Honda's Michael Hicks made it through from heat 1.
Sexton's 450SX win is his fifth this year and the sixth of his career. Lawrence's third-place finish is the 22nd 250SX podium result of his career.
Sexton's win moved Honda into a tie with Kawasaki for first on the Denver premier-class win list, with two.
Sexton and Lawrence both participated in the post-race press conference.
Team Honda HRC now heads west to Salt Lake City for the final AMA Supercross round of the year, with Sexton holding a seven-point lead in the 450SX title chase. Hunter and Jett Lawrence have already clinched the 250SX East and West titles, respectively, but they'll have a chance to go head-to-head since the finale is also an East-West Showdown.
Chase Sexton
"I think some of my crashes earlier in the season were caused by being negative and not having confidence in myself to win these races. In the middle of the season, I was definitely questioning whether I could lead and win an entire main event. I had some time to reset after Seattle and just clear my head. We got a little bit of testing done and I felt super solid on the bike. You have to try and stay positive when things like that are happening, and I knew I could dig myself out of it. It's never over until it's over. Obviously, we have another round, so we'll just have to go there and do the best we can."
Colt Nichols
"Denver was going pretty good until it wasn't. I made really good progress all day. I've been feeling more like myself on the bike the past two weeks. I just got tangled with another rider going for third place; it was a weird racing incident. I felt like I had a good shot of getting on the podium tonight, but I've just got to keep pushing. I'm a little banged up but excited to go racing next weekend."
Jett Lawrence
"The heat race didn't go as planned. One guy went left, I went left, and I just had nowhere to go. I was happy to at least qualify though. In the main event, the ruts after the gate were wrecked, and there were only a few good ones left. I found a decent one but just spun getting on the dirt, and there went my start! I knew I only needed 10th or better, so I could take my time and not push it. Once I got into third and saw where the other guys were, there wasn't much traction left in the dirt, and I didn't want to push it. We didn't quite equal Hunter when he won his championship, but we're still happy to walk away with the number 1 plate."
Lars Lindstrom – Team Manager
"This will probably go down as one of the most difficult mixes of emotions for any race that I've ever been involved in. First and foremost, my hat goes off to Jett on winning his fourth consecutive 250 championship—simply incredible, and I'm so excited to see him join the 450 ranks! He was in a class of his own this season, and it's perfect timing for him to move up. In the 450 class, it has been shocking how many riders have gotten injured in the last few weeks, and it was terrible to see what happened to Eli. He's a true legend in our sport, and I wish him a speedy recovery. Chase got his fifth win of the season, showing again that he's deserving of any success that's coming to him. It's a long, grueling season, and he's been strong throughout. Next weekend will be very interesting, that's for sure."
---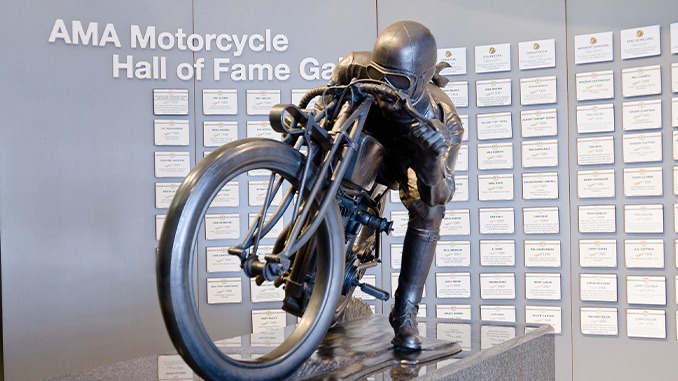 AMA Motorcycle Hall of Fame Announces 2023 Nominees
The AMA Motorcycle Hall of Fame is pleased to announce the list of nominees for the Class of 2023, and that voting is now open.
The AMA Motorcycle Hall of Fame selection committees have put forward 16 nominees from eight areas of influence: Ambassadors & Industry, Design & Engineering, Dirt Track, Leadership & Rights, Motocross & Supercross, Off-Road, Road Racing and Specialty Competition.
Nominees include:
Competition:
Jim Belland (Dirt Track)
Ryan Dungey (Motocross & Supercross)
Eraldo Ferracci (Road Racing)
Barry Hawk (Off Road)
Grant Langston (Motocross & Supercross)
Brent Thompson (Dirt Track)
Ryan Young (Specialty Competition)
Non-Competition
Rita Coombs (Ambassadors & Industry)
Robert Coy (Ambassadors & Industry)
Michael Czysz (Design & Engineering)
Travis Pastrana (Ambassadors & Industry)
Rodney Roberts (Leadership & Rights)
Paul Schlegel (Ambassadors & Industry)
Rick Sieman (Leadership & Rights)
Buddy Stubbs (Ambassadors & Industry)
Barry Willey (Design & Engineering)
"The AMA Motorcycle Hall of Fame nominees for 2023 include a diverse and accomplished group of men and women who've demonstrated exceptional achievements in competition, advocacy and promotion of the sport of motorcycling," said AMA President and CEO Rob Dingman. "They have contributed significantly to the advancement of motorcycling in various areas, from excelling in dirt track, motocross and road racing competition, to advocating for motorcyclists' rights, to creating enduring events that have helped grow motorcycling, to creating innovative motorcycle designs. We're honored to recognize this year's nominees and eagerly anticipate announcing the Class of 2023 soon."
Voting for the AMA Motorcycle Hall of Fame Class of 2023 is now open. Eligible voters include previous Hall of Fame inductees, members of the AMA and AMHF Boards of Directors, and members of the AMA Motorcycle Hall of Fame Category Selection Committees. AMA Life Members with at least 25 years of consecutive membership are also eligible to vote but should update their contact information to receive the latest updates and announcements pertaining to the voting process.
Voting ends Sunday, June 18 at 11:59 p.m.
Voting results will be announced soon after voting closes, and the AMA Motorcycle Hall of Fame induction ceremony will be held on Sept. 15, in Pickerington, Ohio.
To vote on this year's nominees, visit AmericanMotorcyclist.com/hall-of-fame-class-of-2023.
---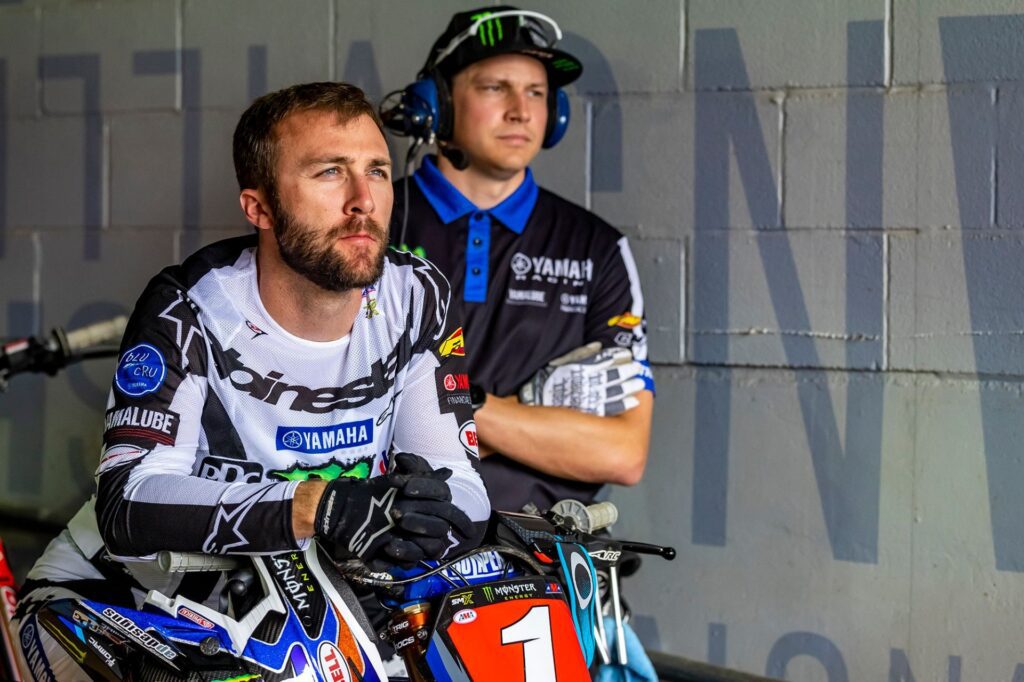 Tomac Sidelined with Injury at Denver Supercross
Monster Energy Yamaha Star Racing's Eli Tomac was on course for another top result at the penultimate round of Monster Energy AMA Supercross last night in Denver, Colorado. Unfortunately, the reigning 450SX champ and points leader was forced to withdraw from the main event with an injury, ending his title hopes as he will be sidelined to return to full fitness.
Tomac headed to his home-state supercross round at the Empower Field at Migh High feeling good and holding an 18-point lead in the championship. He qualified third overall and got a flying start in his heat race, leading the first four laps and ultimately crossing the line second. In the main event, he got another great start and quickly claimed the lead.

Tomac was running a good pace up front before unfortunately rupturing his Achilles tendon on Lap 3. He withdrew from the race and was evaluated on-site by the Alpinestars Mobile Medical Unit. Tomac sought further evaluation and will undergo surgery today to repair the injury. An update on his status will follow at a later date.
Share