This week in US powersports racing.
---
World's Best Amateur Athletes to Compete at First-Ever SuperMotocross World Championship Finals
On the heels of the most prestigious amateur national motocross event in the world coming to a close this past weekend (Monster Energy AMA Amateur National Motocross Championship), the SuperMotocross League announced today that three different classes of amateurs will be featured in the upcoming SuperMotocross World Championship Finals.
The best amateur athletes in the world will be lining up in three respective classes at the upcoming SMX World Championship Finals. Photo Credit: Align Media
The 65 World All-Stars Class (ages 7-11) will compete at zMAX Dragway at Charlotte Motor Speedway in Concord, N.C. on Saturday, September 9. The Supermini World All-Stars (ages 12-16) will compete at Chicagoland Speedway in Joliet, Ill. on Saturday, September 16 and the 250 World All-Stars (ages 14+) will compete at the Los Angeles Memorial Coliseum in Los Angeles, Calif. on Saturday, September 23.
Three different amateur classes will be featured at the upcoming SMX World Championship Finals. Photo Credit: Align Media
Each class will front a full 22 athlete starting gate and competitors will be hand selected from around the world by each Original Equipment Manufacturer (GASGAS, Honda, Husqvarna, Kawasaki, KTM, Suzuki, Yamaha, and Cobra), competing in the SMX World Championship.
Just like their pro counterparts, amateur competitors in all three classes will have two free practice sessions on Friday to learn the SMX track. Then, Saturday's schedule will include two 10-minute qualifying sessions for gate picks, followed by an 8-minute, plus one lap Main Event that will take place during the afternoon (Charlotte) or evening program (Chicago, Los Angeles).
Amateur athletes will be hand-selected by the OEMs to compete in the SMX World Championship Finals. Photo Credit: Align Media
With three rounds left in the Pro Motocross Championship, sanctioned by AMA Pro Racing – Unadilla, Budds Creek, Ironman, the playoff picture is coming into focus. Currently, Chase Sexton tops the 450cc Class with 590 combined points (Supercross and Pro Motocross), followed by Aaron Plessinger with 516 and Cooper Webb with 451. Jett Lawrence currently sits in fifth with 400 points but could easily surpass Webb if his perfect season (16-0) continues.
In the 250cc Class, Hunter Lawrence sits firmly in the top position with 524 combined points, followed by Haiden Deegan with 465 and RJ Hampshire with 460.
Due to the expansive footprints at both zMAX Dragway at Charlotte Motor Speedway and Chicagoland Speedway, camping is available at both locations. For a truly unique SMX experience that puts fans right in the middle of everything, both trackside and non-trackside camping options are available. Fans will also have access to a complete itinerary of Friday activities that include attending the pre-race press conference, watching the free practice sessions, and being part of the live SMX Insiders Show featuring Jason Weigandt, Jason Thomas, Ricky Carmichael, James Stewart, and others.
SMX Playoff 1 – zMAX Dragway at Charlotte Motor Speedway
SMX Playoff 2 – Chicagoland Speedway
All roads now lead to the SuperMotocross World Championship Finals as Playoff 1 will take place on Saturday, September 9 at zMAX Dragway at Charlotte Motor Speedway in Concord, N.C. Playoff 2 is set for Saturday, September 16 at Chicagoland Speedway in Joliet, Ill., followed by the SuperMotocross World Championship Final on Saturday, September 23 at the Los Angeles Memorial Coliseum in Los Angeles, Calif.
SuperMotocross World Championship Finals Schedule:
The SMX World Championship series pays the sport's largest prize payout of $10 million – $4.5 million is awarded throughout the Monster Energy AMA Supercross Championship and Pro Motocross Championship, leaving $5.5 million to be earned through the SMX World Championship Finals, fueled by Monster Energy. The 450cc Class SMX Champion is guaranteed a seven-figure payday of $1 million while the 250cc Class SMX Champion will take home $500K.
For more information about the 2023 SuperMotocross World Championship, purchase event or camping tickets to the SuperMotocross World Championship Finals, or learn more about how to tune in via television, domestic or international streaming, please visitsupermotocross.com and Peacock.
---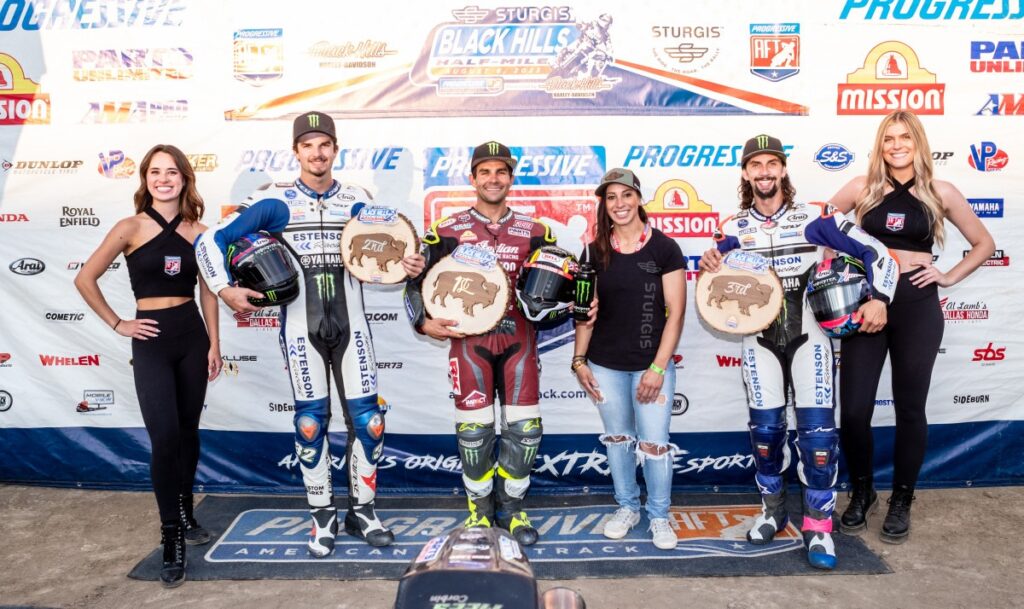 Mees Extends Title Lead with Dominant Black Hills Half-Mile
Reigning champion Jared Mees (No. 1 Indian Motorcycle/Rogers Racing/SDI Racing FTR750) fortified his Grand National Championship advantage with a trademark performance in The City of Sturgis Black Hills Half-Mile presented by Black Hills Harley-Davidson at Black Hills Speedway in Rapid City, South Dakota
Progressive American Flat Track, sanctioned by AMA Pro Racing, took the spotlight at the 83rd Sturgis Motorcycle Rally on Sunday night, and all of its superstars, Mees again shone the brightest. He looked nearly unbeatable entering the Mission SuperTwins presented by S&S Cycle Main and then proved those fears well founded as soon as the race began. He shot out into the lead from pole and stretched out a sizable gap within a matter of laps, extinguishing any hopes of an upset as he did so.
Drama-free at the front, the Main Event was anything but from second place on down the order. Despite being in desperate need of a runner-up finish to minimize the damage to his championship chances, Dallas Daniels (No. 32 Estenson Racing Yamaha MT-07 DT) found himself in fourth behind JD Beach (No. 95 Estenson Racing Yamaha MT-07 DT) and Briar Bauman (No. 3 Parts Plus/Jacob Companies KTM 790 Duke) and in danger of being displaced to fifth by Brandon Robinson (No. 44 Mission Roof Systems Indian FTR750).
Fueled by that desperation, Daniels somehow thread the needle, splitting Beach and Bauman to emerge from fourth in second with eight minutes to go. He and Estenson Racing teammate Beach then separated from the fight for fourth and flew their Yamahas in formation from that point forward.
However, Beach didn't appear to be content to merely follow Daniels to the flag, instead showing his teammate a wheel more than once as the race neared its conclusion. While Beach may have had some pace on Daniels, he was wise enough to hold off on anything but the cleanest of passes – an opportunity for which never showed itself.
As a result of Mees' victory and Daniels' runner-up, Mees now leads by 5 points (321-316) and has locked up the tiebreaker with just three races left to determine this year's champion.
Mees said, "It was a good day for us. We knew we needed to come in and do exactly that. We were dominant all day long. Jimmy Wood had the Öhlins suspension so hooked up – the Indian was probably one of the most hooked up motorcycles on a Half-Mile that I've ever been on, honestly. And Kenny Tolbert had the thing tuned-up perfectly, obviously. We were solid right off the truck, and that was a big key to today – not having to search for the speed."
Meanwhile, nine riders were in contention for fourth place in a wild fracas just behind the podium positions. Fourth and fifth, ultimately went to Davis Fisher (No. 67 Rackley Racing/Bob Lanphere's BMC Racing Indian FTR750) and Cameron Smith (No. 34 Martin Trucking/Fredericktown Yamaha MT-07). Brandon Robinson (No. 44 Mission Roof Systems Indian FTR750) held on for sixth, while Bauman suffered the most in the fray, dropping all the way down to 12th by the time he took the checkered flag.
Seventh was taken by Kolby Carlile (No. 36 G&G Racing/Yamaha Racing Yamaha MT-07) while Johnny Lewis (No. 10 Moto Anatomy X Powered by Royal Enfield 650), Jarod Vanderkooi (No. 20 JMC Motorsports/Fairway Ford Indian FTR750), and Bronson Bauman (No. 37 Fastrack Racing/2 Wheelz KTM 790 Duke) completed the top ten.
Parts Unlimited AFT Singles presented by KICKER
Reigning Parts Unlimited AFT Singles presented by KICKER champ Kody Kopp (No. 1 Red Bull KTM Factory Racing 450 SX-F) pulled off perhaps the most impressive of his seven race wins this season on Sunday at Black Hills Speedway.
Kopp not only had to work up through a talented field on a slick track after running as low as seventh early, he also had to somehow find a way around the race's heavy pre-race favorite, Tom Drane (No. 59 Estenson Racing Yamaha YZ450F), to complete that epic charge to victory.
Kopp exploited a high line no one else could quite master to slash up from seventh to second. That strategy could take him only that far, however, as Drane was too fast and too smart to simply power around. Instead, the factory Red Bull KTM ace applied as much pressure as he possibly could and then pounced as soon as Drane made a slight mistake as the two leapt out of Turn 4 with just two laps remaining.
Once into first, Kopp kept it together and held on by 0.227 seconds at the checkered flag.
"That was probably the toughest race of my career," Kopp said. "I really dug myself out of a hole after a terrible heat, but I knew we had the speed… (But) Tom made it so hard to do. I would roll him – I had a lot of entry speed into (Turn) 1 – but he would see me and come up and block, which is what you have to do at a track like this, and it would cost me all of my momentum. But he just slipped up once coming off 4, and that's all it took."
"Last year around this time, when we started thinking about the championship, I feel like I was settling for like fifths and sevenths. This year, I want to get eight wins like Dallas (Daniels did in 2020). This is huge for me and my team."
The two were joined on the box by Trent Lowe (No. 48 American Honda/Mission Foods CRF450R), who held off second factory KTM ace Max Whale (No. 18 Red Bull KTM Factory Racing 450 SX-F), by 0.096 seconds for the spot.
Early frontrunner and '22 Black Hills HM winner Trevor Brunner (No. 21 Estenson Racing Yamaha YZ450F) finished in fifth, just 0.005 seconds ahead of Chase Saathoff (No. 88 American Honda/Mission Foods CRF450R).
Rookie Declan Bender (No. 216 Killer Bee Racing/Luczak Racing KTM 450 SX-F) earned the best finish of his Progressive AFT career in seventh. He was followed by Dalton Gauthier (No. 79 D&D Racing/Certified KTM 450 SX-F), Travis Petton IV (No. 82 ECG Racing/3 Bros KTM 450 SX-F) and Tarren Santero (No. 75 Vinson Construction/Eric Hoyt Honda CRF450R) to round out the top ten.
Kopp now leads the championship by 49 points over Drane (298-249). Should he build that advantage by just a single point next weekend at his home race in Castle Rock, Washington, he'll successfully complete his title defense a full two rounds early.
---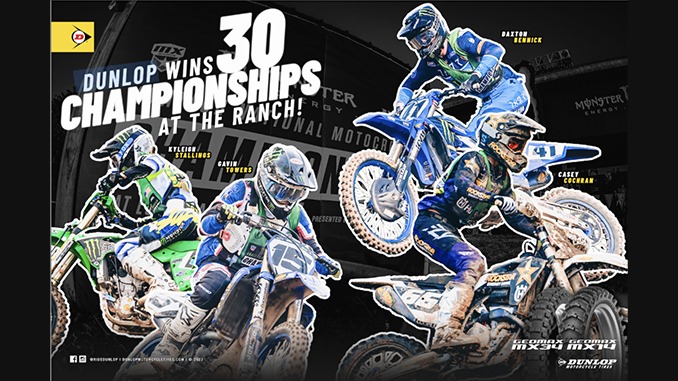 Dunlop: 42nd running of the Monster Energy AMA Amateur National Motocross Championship at Loretta Lynn's
At this year's 42nd running of the Monster Energy AMA Amateur National Motocross Championship at Loretta Lynn's, Dunlop riders dominated once again, winning 30 out of a possible 36 titles. This performance continues to give Dunlop a winning record at Loretta's nobody can touch: Over the past ten years, Dunlop riders have won an incredible 93% of the possible championships at Loretta's—including winning every title two years in a row.
This year, the weather was hot, humid, and rainy! Tire selection was key, and it was time for the Geomax MX14 to shine. All classes had to overcome the tough, muddy, technical conditions for their third motos to determine the class champions. The conditions were so intense that no racer won all six of their motos in two classes.
Team Dunlop Elite alum riders took home four championships this year. Daxton Bennick stood out among the riders, going 1-1-1 in the open pro sport class, while other alums such as Gavin Towers, Kyleigh Stallings, and Casey Cochran each grabbed titles for Team Dunlop. In addition, current Team Dunlop Elite riders Seth Dennis, Gavyn Welzien, Eidan Steinbrecher, Kade Nightingale, Beckham Smith, and LaLa Turner all had a great week with numerous visits to the podium.
Dunlop riders won four of the specialty awards, which are presented to riders with outstanding performances during the six-day event. Dunlop rider Klark Robbins received the AMA Motocross Youth Rider of The Year Award. Dunlop-mounted rider Jeremy Fappani was awarded the AMA Motocross Amateur Rider of The Year Award. Team Dunlop Elite alum Gavin Towers won the US Airforce award. And Team Dunlop Elite alumni Daxton Bennick earned the coveted AMA Nicky Hayden Horizon Award in his last amateur race before turning pro, winning the Open Pro Sport class and finishing second in the 250 Pro Sport class.
"It was a long, hot, humid, and wet week filled with a lot of great racing. For no one to sweep all six of their motos shows how tight and unpredictable the racing was," said Rob Fox, Dunlop Amateur Motocross Support Manager. "The weather threw a curveball for the third motos, and I am so glad that we have our Geomax MX14 sand/mud tires available for all sizes of racers. Prior to rain on the final days, the all-new MX34 front and rear tires were well received and perfect for the track. During/after the rain, the MX14 rear and MX34 front were the tires to have on the technical racetrack. We know riders have a choice in tires, and we want to thank all the riders for choosing Dunlop."
For sponsorship opportunities and more information, visit TeamDunlop.com
---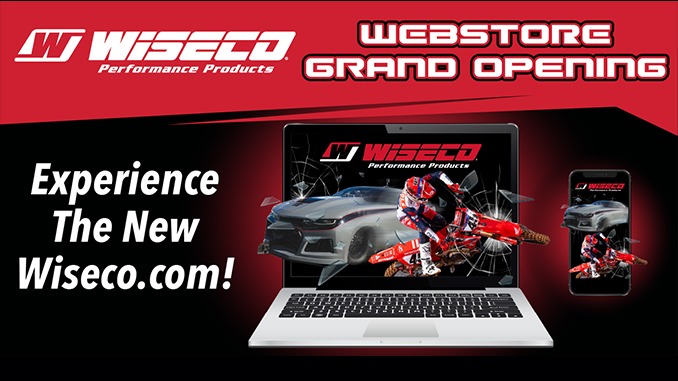 Wiseco Launches All-New Website to Enhance Customer Experience and Support Racing Community
Wiseco Performance Products, a prominent name in the Race Winning Brands (RWB) family and renowned icon in automotive and powersports forged pistons and performance products, is thrilled to announce the launch of its all-new website. This dynamic digital platform aims to provide enhanced support to customers and fellow racers while delivering a seamless shopping experience for high-quality performance components.
With the unveiling of the new website, customers can now conveniently purchase automotive forged pistons and piston components, as well as a comprehensive range of proven powersports performance components, directly from Wiseco. The intuitive interface incorporates model and engine specific filtering capabilities, enabling users to effortlessly search and locate the components they need.
In addition to facilitating easy access to premium products, the Wiseco website also serves as a valuable resource for automotive and powersports performance enthusiasts. The platform features a wealth of technical content, including engine building tips, how-to guides, frequently asked questions (FAQs), and much more. Customers can tap into this knowledge base to gain insights and make informed decisions for their projects.
Moreover, the new website offers a plethora of supplementary resources, further demonstrating Wiseco's commitment to customer satisfaction. Visitors can access Wiseco's custom piston order form, installation and operation manuals, racer support information, and various other helpful materials. This comprehensive platform ensures that customers have all the tools they need to achieve their performance goals.
"Wiseco Performance Products is excited to unveil our all-new website, designed to cater to the needs of our valued customers and racing community," said Scott Highland, Director of Marketing at Race Winning Brands. "We invite everyone to visit Wiseco.com today to experience our revamped digital platform, explore our extensive range of performance components, and take advantage of the wealth of technical resources available."
Wiseco Performance Products' dedication to innovation and customer service is exemplified through the launch of its new website. By combining a user-friendly shopping experience with a wealth of technical expertise, Wiseco solidifies its position as a trusted partner for automotive and powersports enthusiasts seeking top-tier performance products.
---
Share