After developing Lukaitis Photo to get my freelance photography off the ground, I quickly realized that without the ability to write about an event the photos would be useless. My writing career had begun and my search for someone to publish it was born.
Early in my career, I wrote about the races I attended for Raceway News and a bit for Cycle News. At the time MotoEast Magazine was in print, and national amateur magazines like Moto Playground and Amateur MX were getting started. I knew the Hultner's from Amateur MX from the message board MotoNews and asked if they wanted coverage of the Race of Champions. So the 2004 event was the first I covered for them.
A couple of years later as I was writing the race coverage from the 30th-anniversary KROC, I realized the great history that the state has, and before we all got too old to remember what happened I thought it was time to archive the state's racing history. At the same time, the person that ran marylandmotocross.com was there, and the lightbulb went off… I had to build a New Jersey motocross website. Well, new jersey motocross.com was unavailable, but NJ Motocross was, and I bought the name and started the web hosting right then. Since I was already trying to figure out Front Page for Lukaitis Photo how hard could two sites be?? Eventually, the site launched with a simple design and links to content related to New Jersey motocross.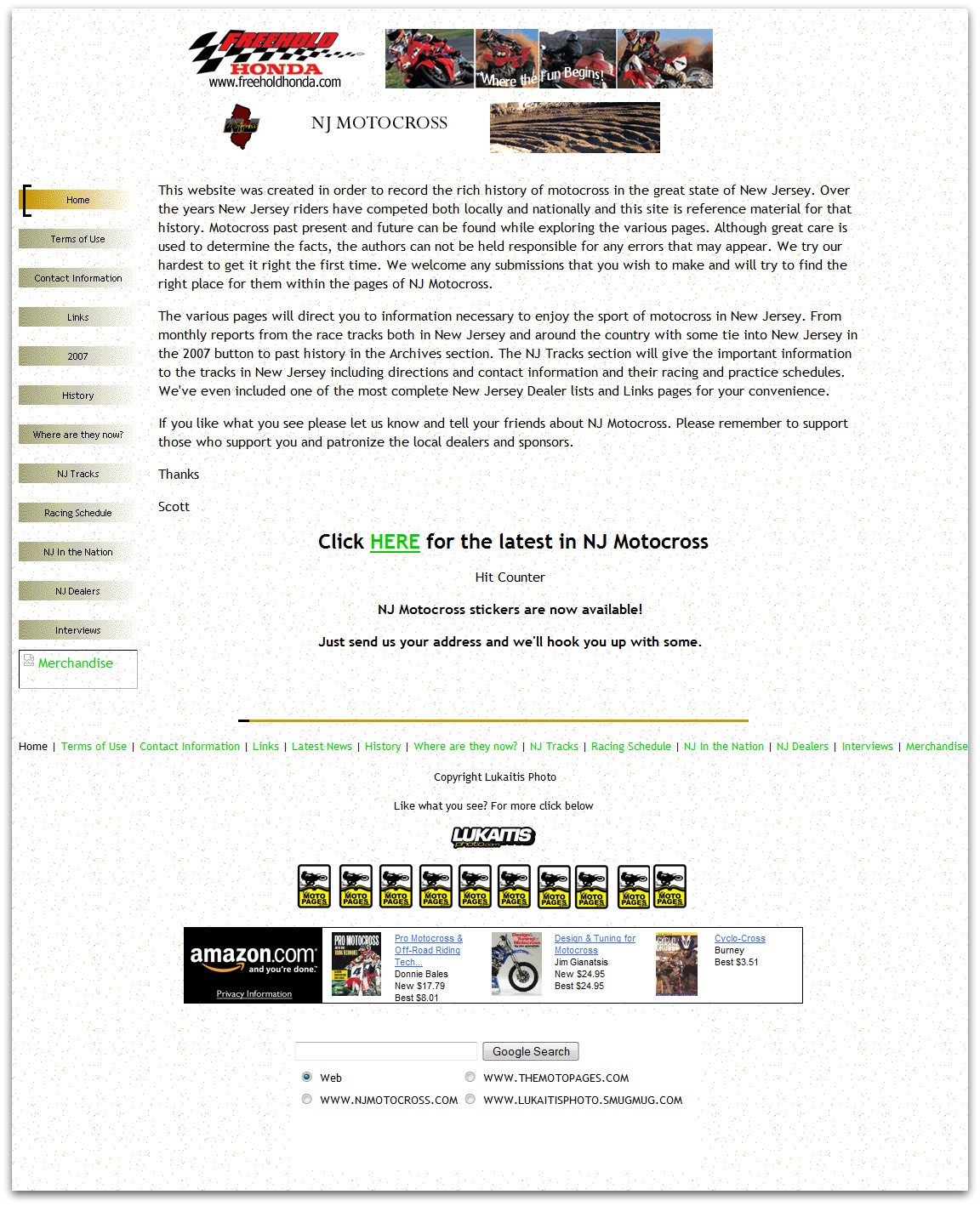 Early on I realized that there is a connection to New Jersey that never leaves so even if you only lived here a short time so are still a New Jersian. This fact has allowed me to keep people interested in what we do here on the East Coast.
Much like Lukaitis Photo, I found FrontPage to be a little limiting and made the switch to a WordPress platform which we are still running today. Using a Studio Press template, we relaunch with the crisp, clean design you see today.
The site has continued to grow as I continually strive to add new features as often as possible. In its current form, we offer a different feature each day of the week.
Sunday: Then and Now
Monday: Website Review
Tuesday: Tweet of the Week
Wednesday: YouTube Video
Thursday: Training Tip
Friday: Flashback Photo
Saturday: Favorite 5
Also, we are, working on archiving results from years past. So far we have been able to get random race days from several different years that we are converting to text and posting in our results tab on the top of the site.
So check out NJ Motocross when you get a chance and be sure to sign up using our secure AWeber Newsletter Sign-up form for a newsletter that will keep you informed of all the great NJ Motocross content.
Check out our next post for a look around the NJ Motocross website.
Thanks for reading.
Update – August 2018 – NJ Motocross is still on the WordPress platform but has evolved into a more magazine-style design thanks to Elegant Themes and their Divi system.
Share